Glycerin Free Hair Products & Tips To Humidity-Proof Curly Hair
This post may contain affiliate links, and I will earn a commission if you purchase through these links. Please read the disclosure policy for more details.
Now that the weather is changing and humidity has increased, you might be struggling with your curly and wavy hair. Many people opt for glycerin free hair products to help combat the high humidity.
If you've read my post on humidity, dew point, and weather styling then you understand why you're having frizz and struggling with hold. But in case you didn't read that post, although I strongly encourage you do, I'll give you a quick little recap.
Glycerin, along with other humectants, is usually what's causing problems in humid weather. So this is a great time to use styling products that don't have glycerin or other humectants. It is also great to use anti-humidity ingredients and emollients.
How humidity affects curly hair
Humidity is how much water vapor is in the air. When the environment is humid, our hair tends to absorb moisture from the air which in turn causes swelling and frizz.
In the summer, the dew point is high meaning that the air can hold a lot more water than any other time of year. So this is why the humidity is such a problem in the summer and your hair struggles.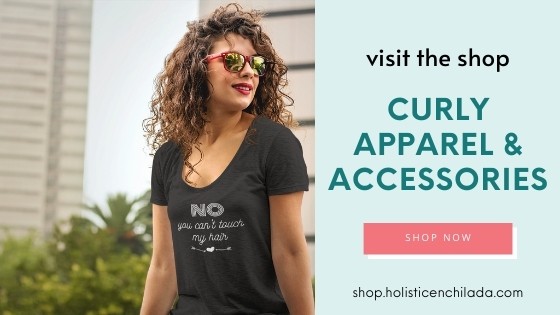 Humectants, like glycerin, are ingredients used to help hydrate your hair. Humectants attract water molecules. So in high humidity, humectants pull from the moisture in the air. You can clearly see why this is a problem.
The most popular type of humectant is glycerin. It's so good at encouraging curl and adding moisture, and usually isn't a problem. But in humid conditions, it might be best to avoid styling products with glycerin and other humectants.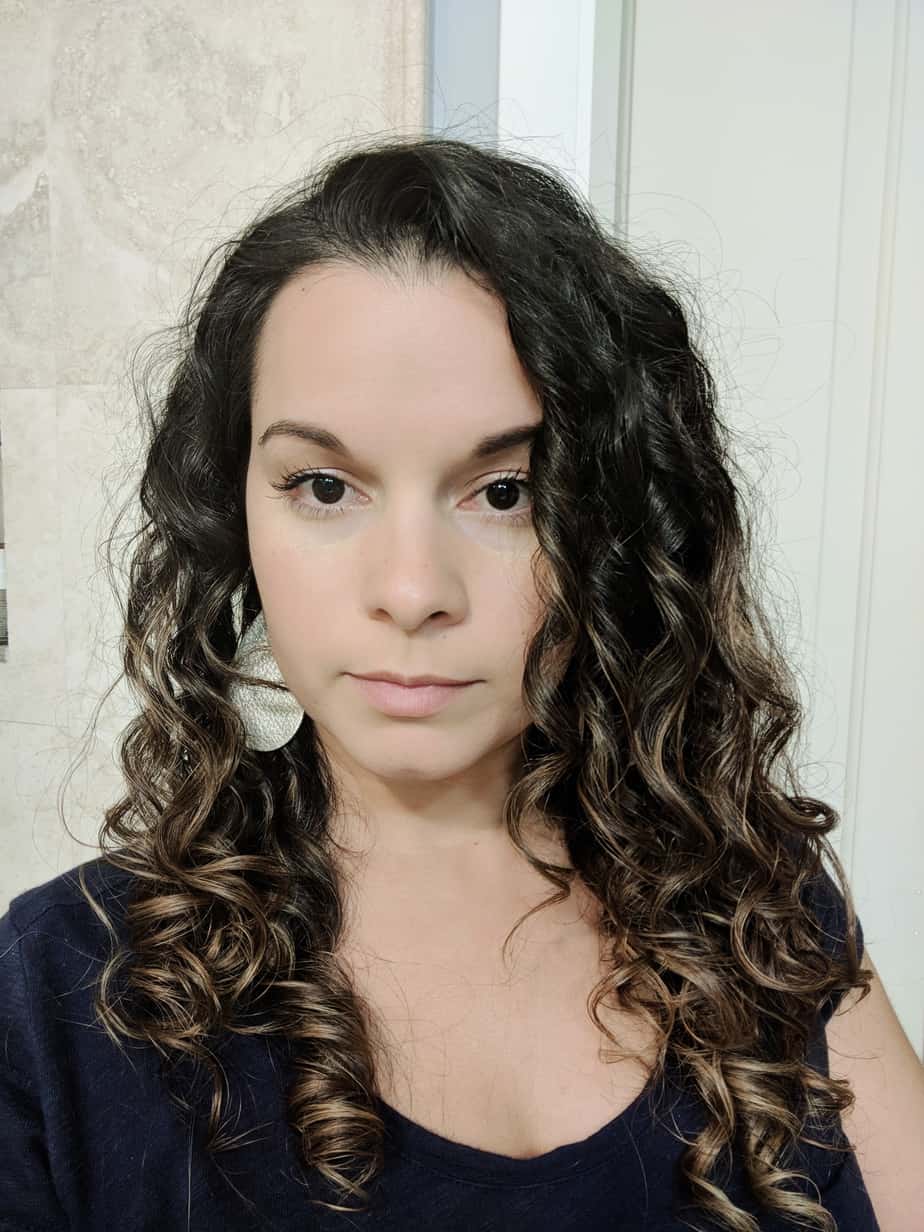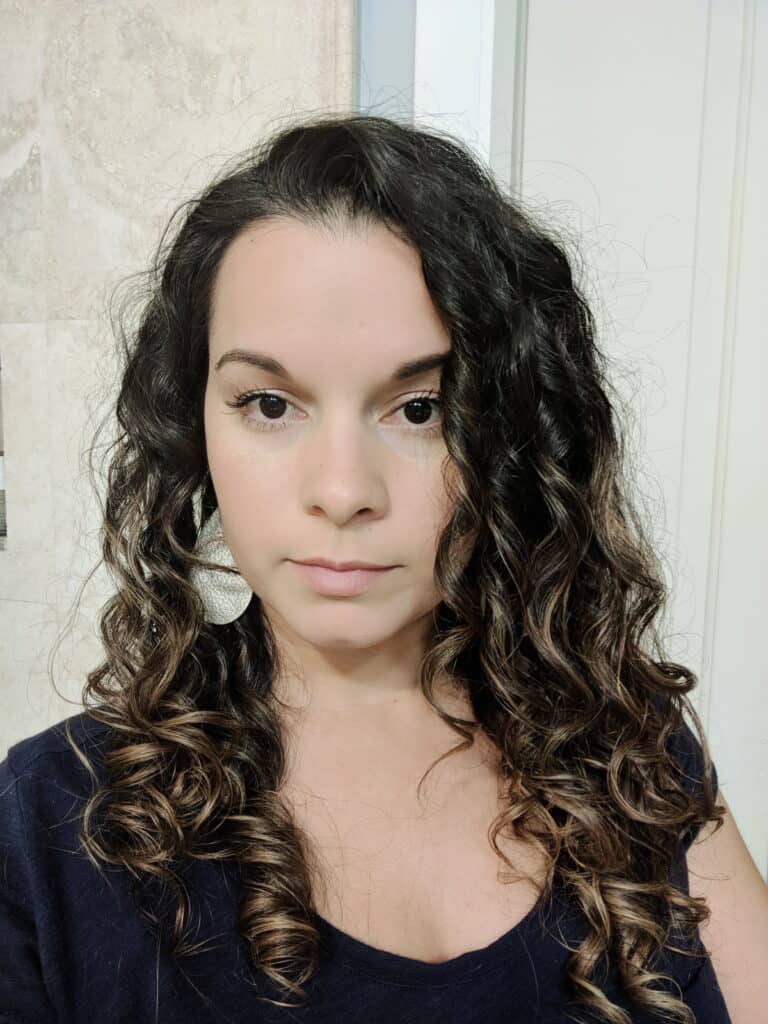 Do you need to totally avoid glycerin?
No. Although some people do better off without glycerin altogether, that's because it's an ingredient that isn't compatible with their hair, whether it's in shampoo or gel, and regardless of the season or weather conditions. For most people, that isn't the case and won't need to have a completely glycerin free routine.
My recommendation is that you focus on the first 5 ingredients in the products you don't rinse off your hair. So don't worry about glycerin in your cleanser or conditioner. But do pay attention to it in your leave-in conditioner and styling products.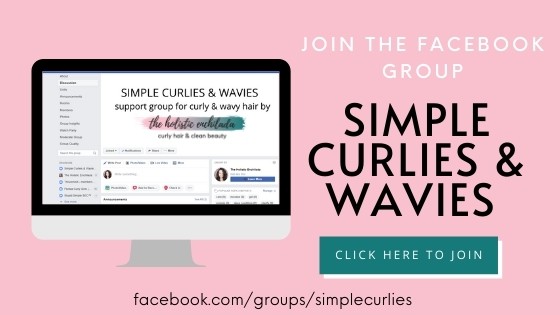 Glycerin Free Styling Products
*Because I focus on clean beauty, this list only contains glycerin free hair products that are considered more natural and clean.
Click on the image or name of the product to shop.
Jessicurl Confident Coils Styling Solution
Shea Moisture Coconut & Hibiscus Curl & Style Milk
EVOLVh Super Curl Defining Cream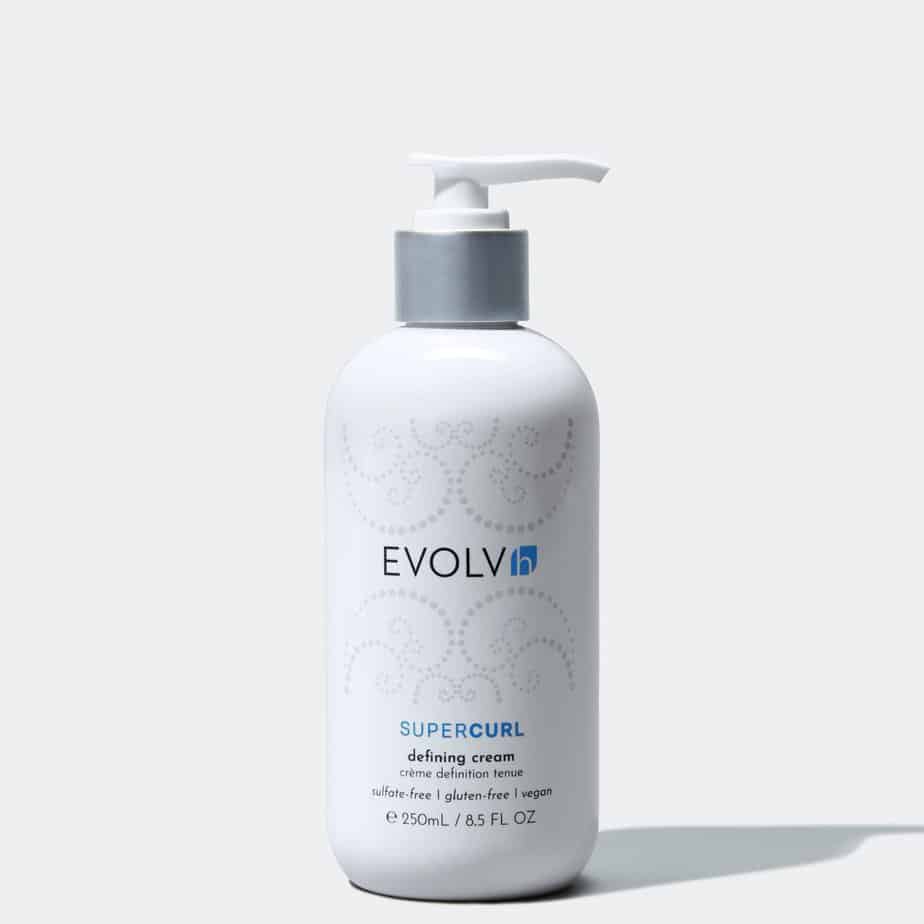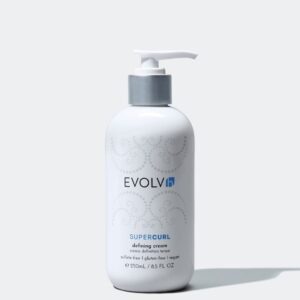 EVOLVh Total Control Styling Creme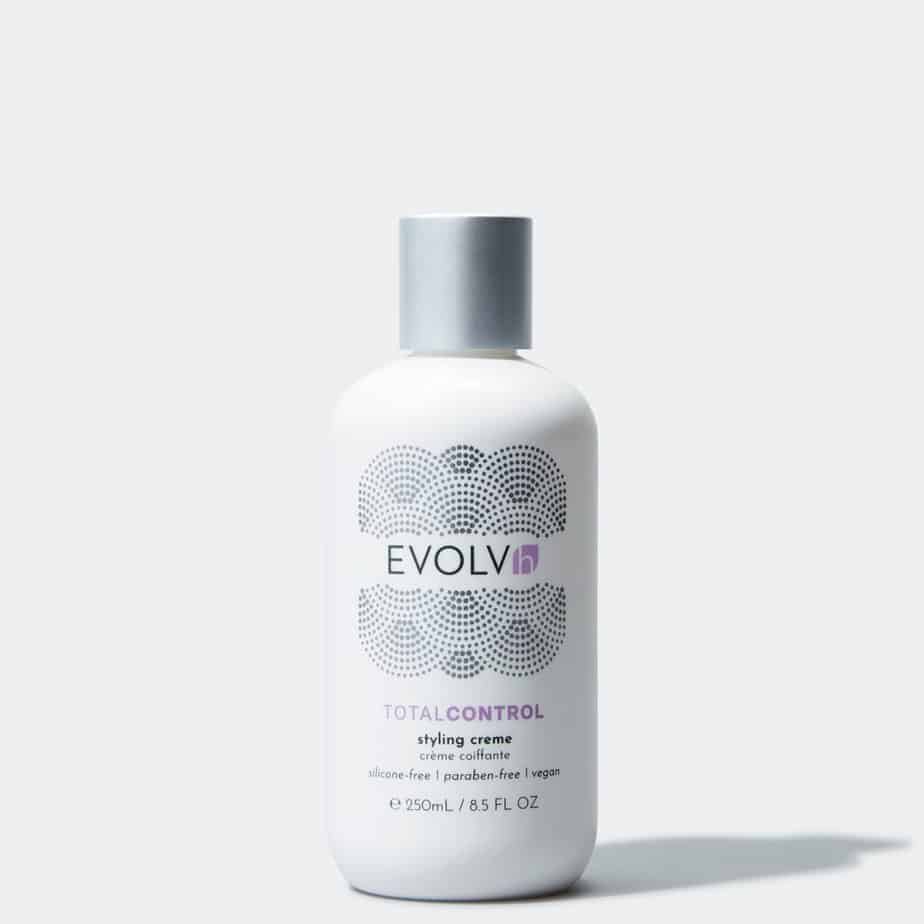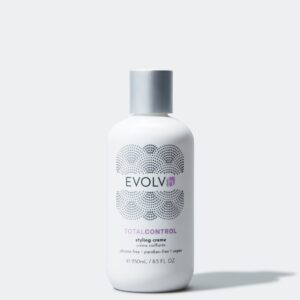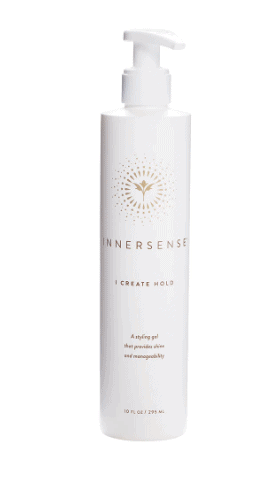 Curls Blueberry Bliss Curl Control Jelly
Brazilian Curly Cocktail Curl Mousse
Glycerin Free Leave-in Conditioners
Giovanni Direct Weightless Leave-in
Other Tips For Humid Conditions
Aside from reducing or avoiding glycerin, you can do a few other things to help your curly hairstyle last a little longer in the humidity.
Reduce or avoid other humectants
Remember that glycerin is one of many humectants. Some other popular ones include:
honey
agave nectar
propylene glycols
algae extract
butylene glycol
panthenol
sodium PCA
So again, look at the first 5 ingredients and see if there are any humectants. If you see one or more of these, I'd set that product aside until the humidity goes back down, or layer a hard hold anti-humectant product over it.
Download my free Weather Styling Guide to help you choose the right products based on the weather. In this guide, I list all humectants, among other things to consider in humid and dry conditions.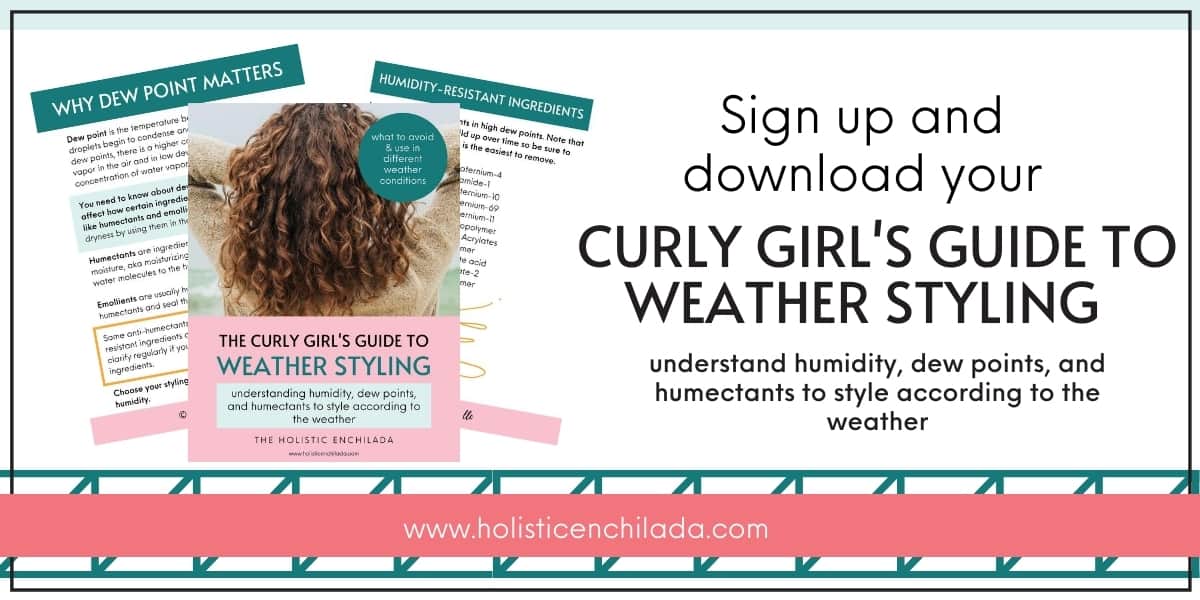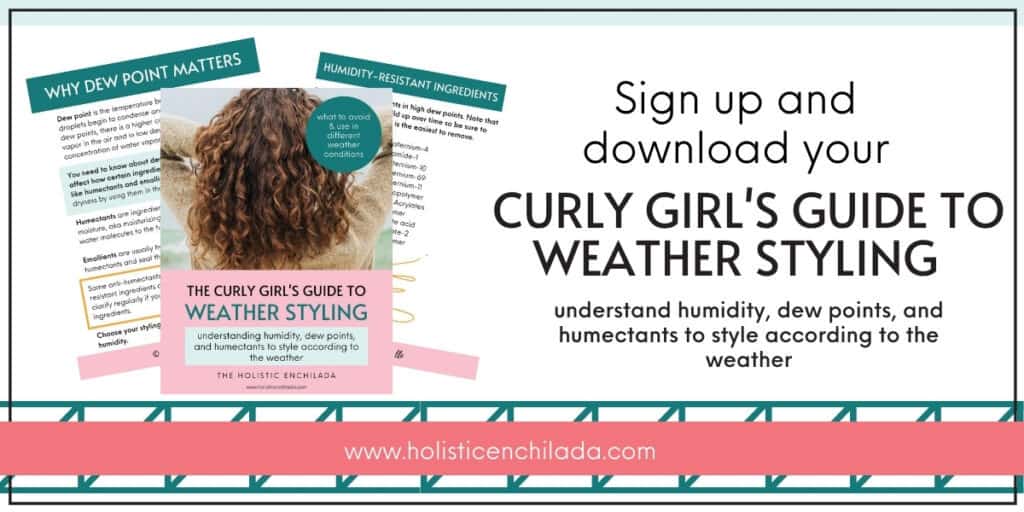 Skip the leave in or use less
Because there is so much moisture in the air, you won't need as much in your hair. Even without using humectants your hair will still absorb some of the moisture in the air around it. It's very easy for hair to get over moisturized in high humidity and dew points.
So you can try skipping the leave-in or using a lot less and see what happens. This works really well for me.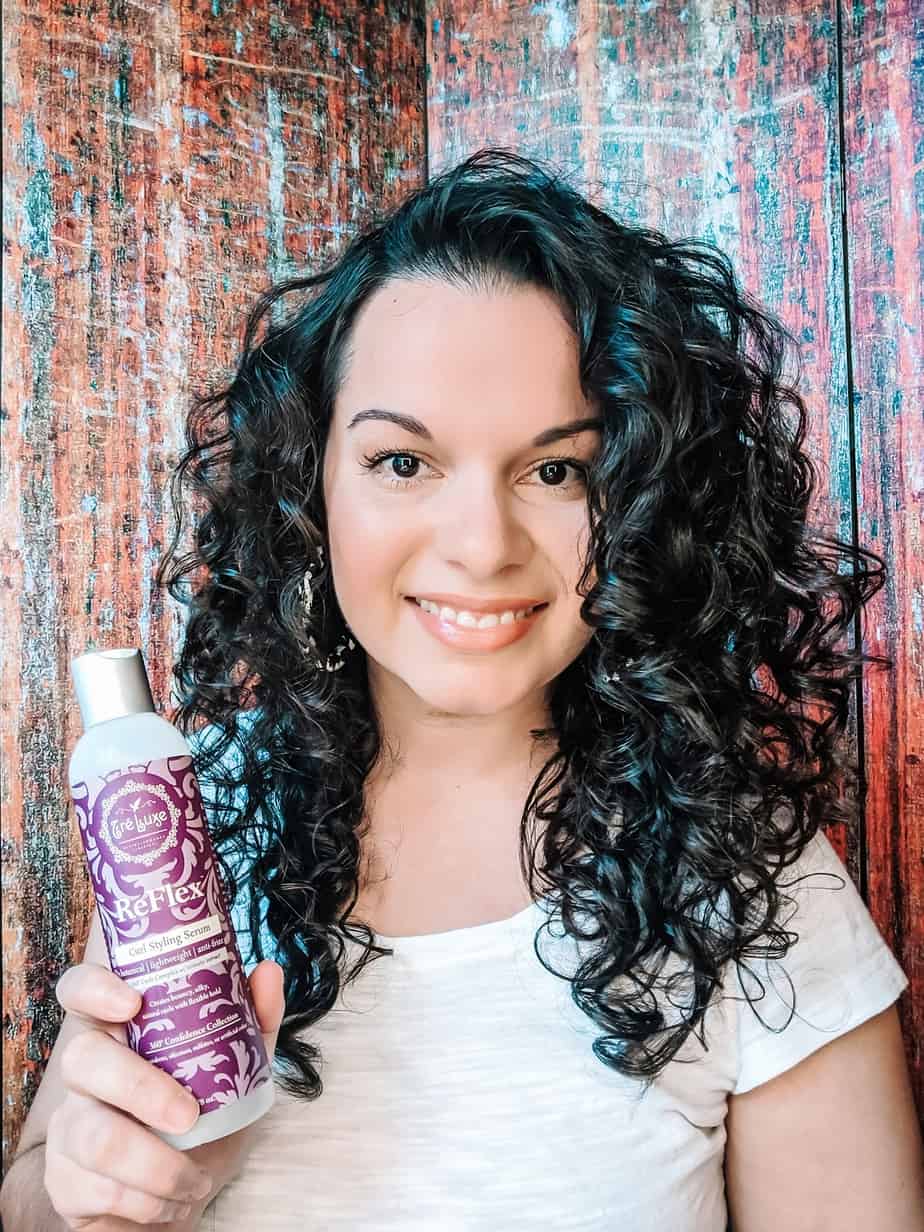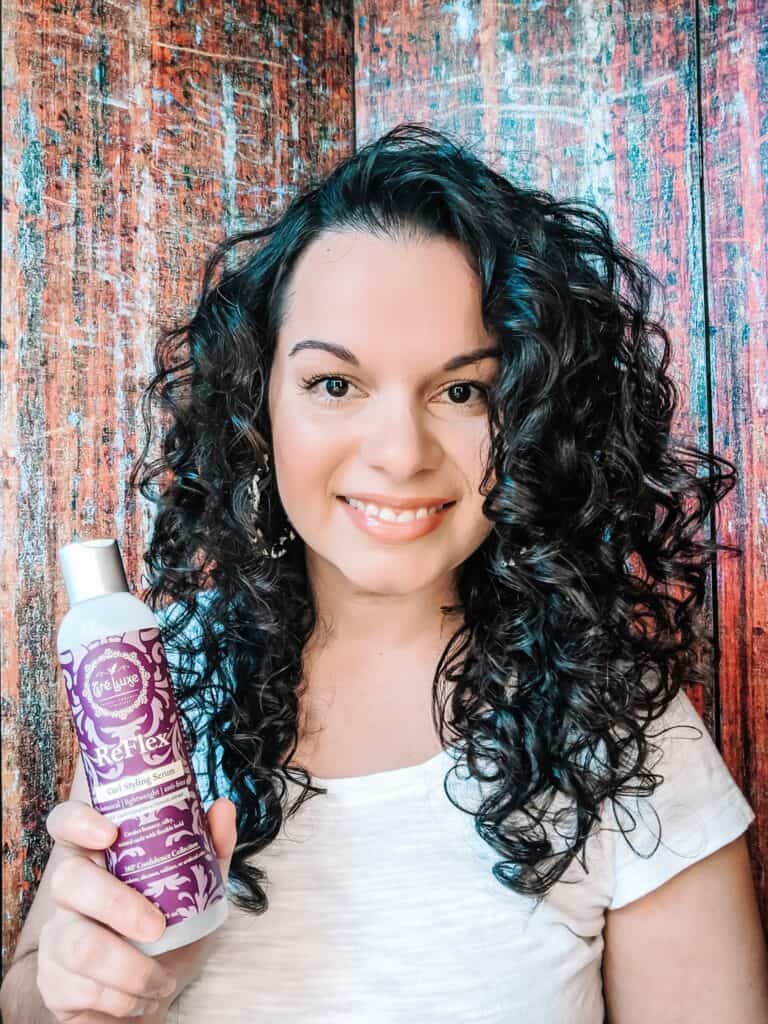 Use hard hold styling products
Hard hold styling gels will help your curls keep their shape and block out some absorption of the moisture from the air. Just remember to keep it light handed, especially if your hair is fine or thin.
Use emollients/anti-humectants
Anti-humectants are the opposite of humectants. Instead of attracting moisture, they seal the hair to block absorption. They include emollients, which are hydrophobic (don't like water).
You can try sealing in your style with emollients by scrunching in a few drops of your favorite oil into your hair after styling. I recommend light oils like jojoba and argan oil. My favorite is The Innate Life Rose Hair Elixir.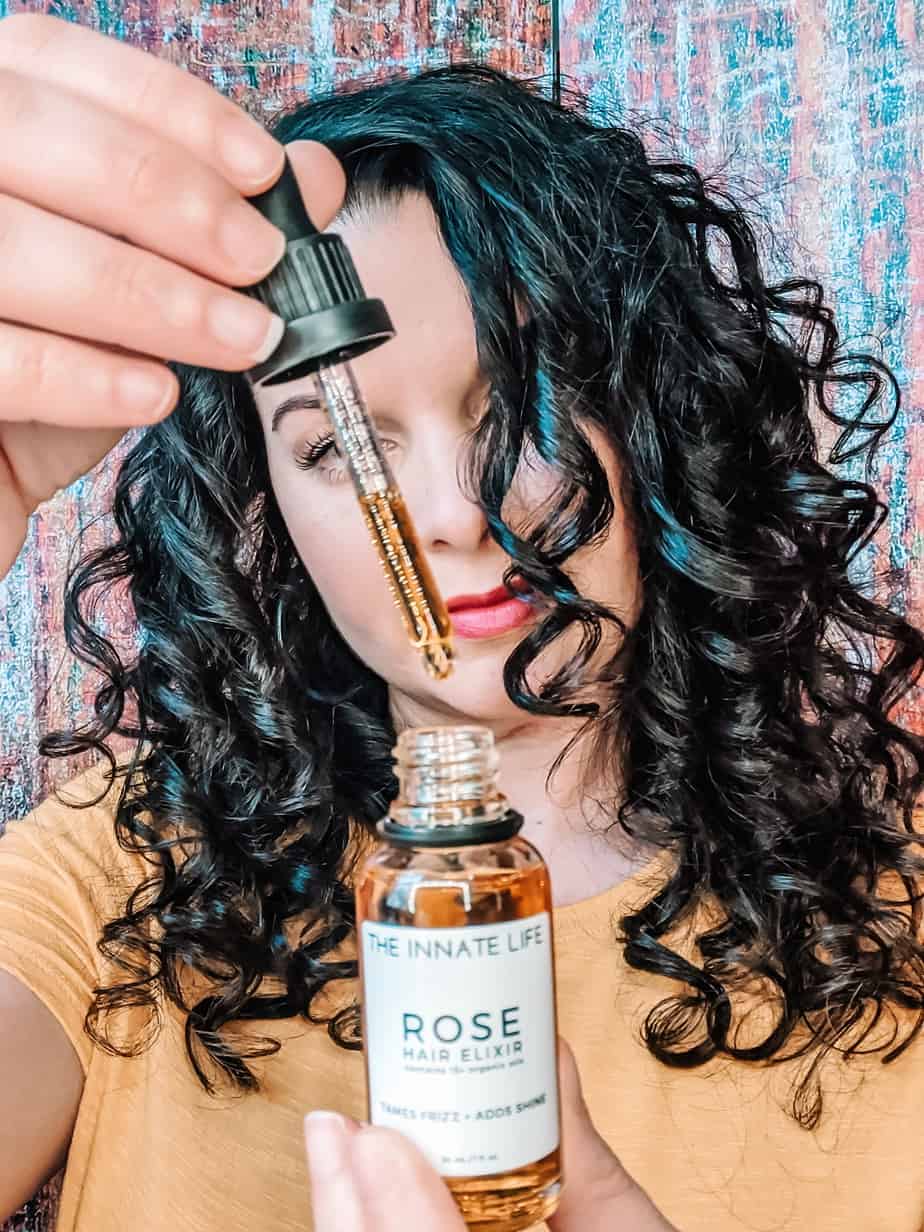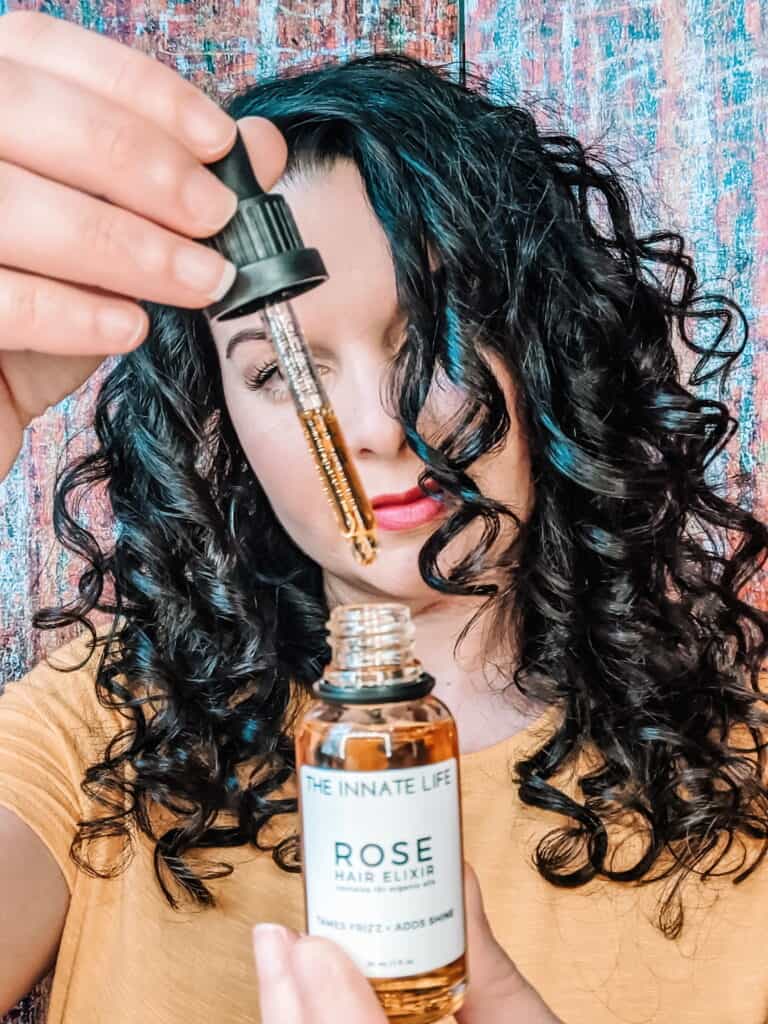 Some other popular anti-humectants are:
butters like shea and mango
oils like coconut and olive
beeswax, which is not CG approved
These can be heavy though so be careful. And they can build up since they are not water soluble.
Use humidity resistant ingredients
Anti-humidity ingredients are great to block out humidity, but they do cause build up. However, they are the most effective at preventing frizz from humidity. I recommend if you use products with these ingredients that you clarify regularly.
Here are some common humidity resistant ingredients:
polyquats (ployquaternium-4 and others)
PVA/VP copolymer
Polyacrylate acid
Try Smasters technique
If you're not sure what Smasters is, it's when you add a small amount of styling product to your hair once it's is mostly or fully dry to help seal in the style and get a good cast. Simply put, glaze and scrunch in some hard hold gel (a small amount) after it has dried.
Leave your hair in the cast
If all else fails, try just leaving your hair in the cast as long as possible, or don't scrunch it out 100%.
The cast is the most protective thing for our curls since it basically encloses our hair in a protective layer which forms a barrier to the outside.

How to determine if a product will work well in humidity
The first step is to look at the ingredients list. Let's have a look at 2 popular gels: Giovanni LA Hold and Shea Moisture Curl Enhancing Smoothie.
Check the top 5 ingredients to scan for humectants. If you don't see any, then it should be fine. Continue to scan the rest to see what else is in the product.
Below is the Giovanni LA Hold Gel. The first 5 ingredients contain an anti-humidity ingredient. Then further down the ingredients list, you can see one emollient. So this is great for my hair because it isn't full of a bunch of butters and oils, it has an anti-humidity ingredient close to the top, and it's hard hold. I can see why this is so popular!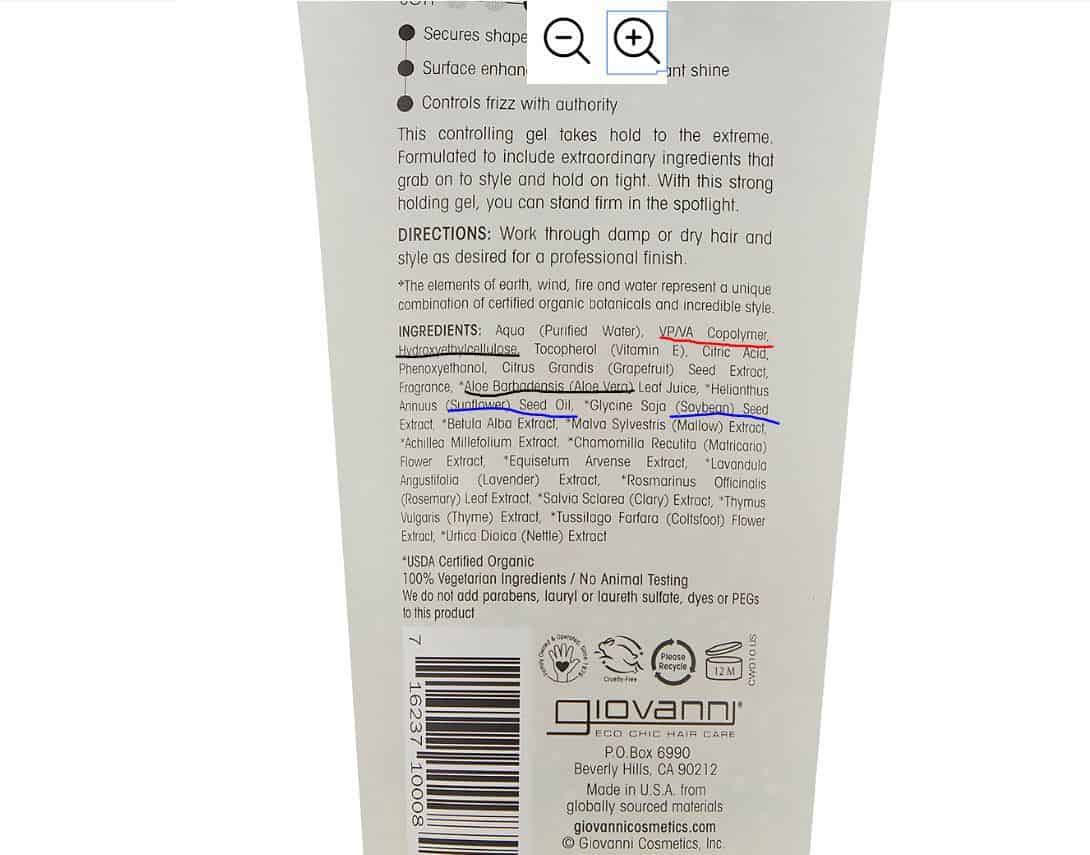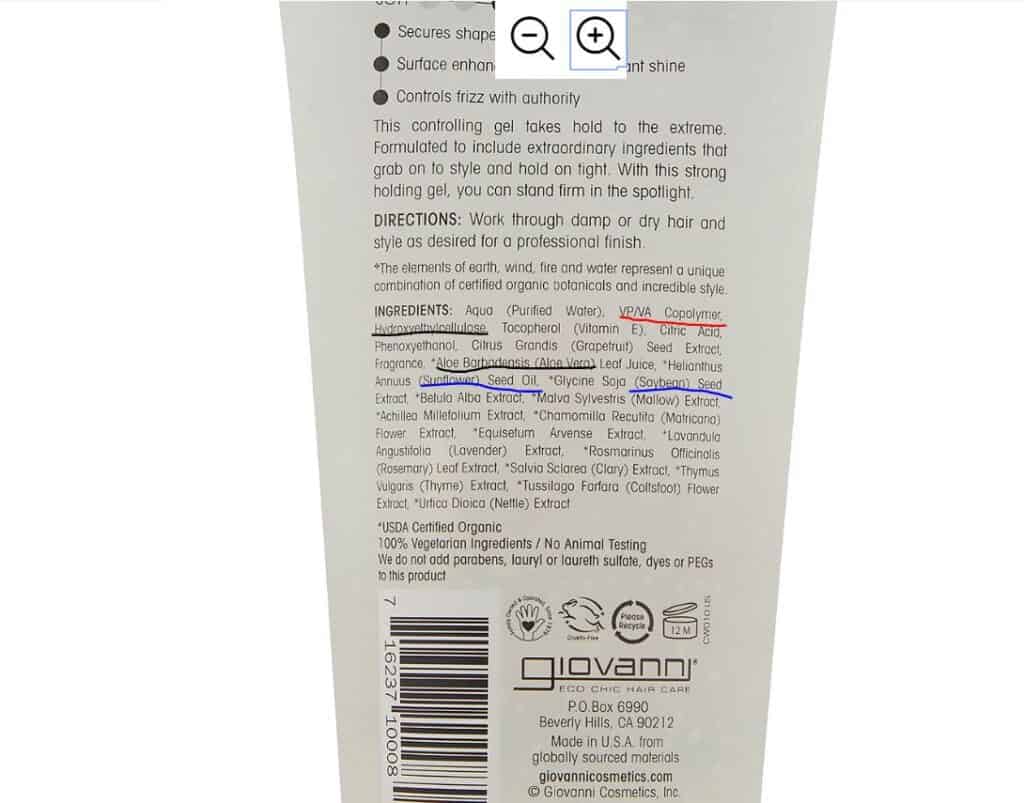 Below is the Shea Moisture Curl Enhancing Smoothie. You can see it has glycerin as the 6th ingredient. It also has a lot of emollients, including in the top 5. So this could possibly work for someone who can handle heavy products, but it doesn't have any anti-humidity ingredients so this one is a toss-up. If it didn't have glycerin then it would be ok.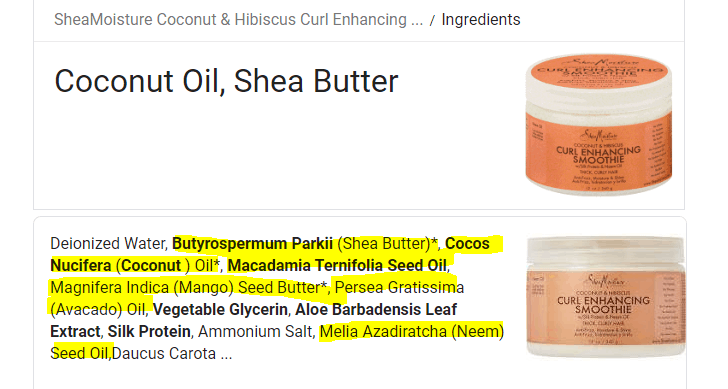 Conclusion
So now you know exactly what you need to avoid and what to look for to have lasting defined curls in humid conditions. I recommend trying out glycerin free styling products to see if it helps you have frizz-free curls in high humidity. And let me know what your favorite summer curly hair product is in the comments below!
If you want help with embracing your naturally wavy or curly hair, you can join my FREE email course and download my FREE pdf guide, THE QUICK START GUIDE TO MASTERING YOUR CURLS, full of everything you need to know to get started and bring out your beautiful waves and curls.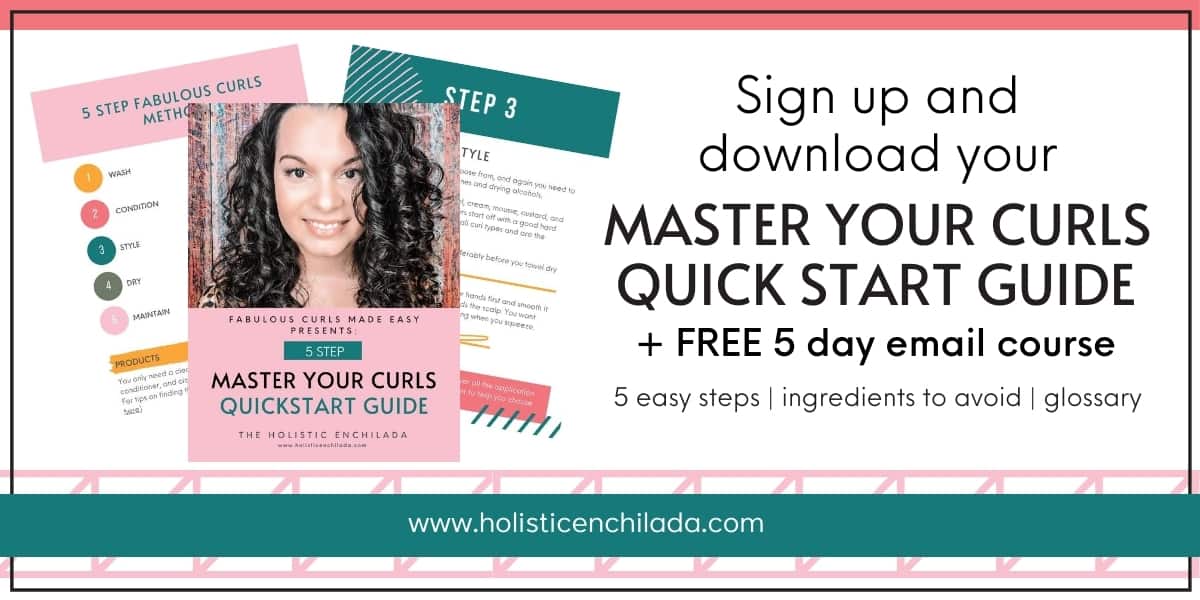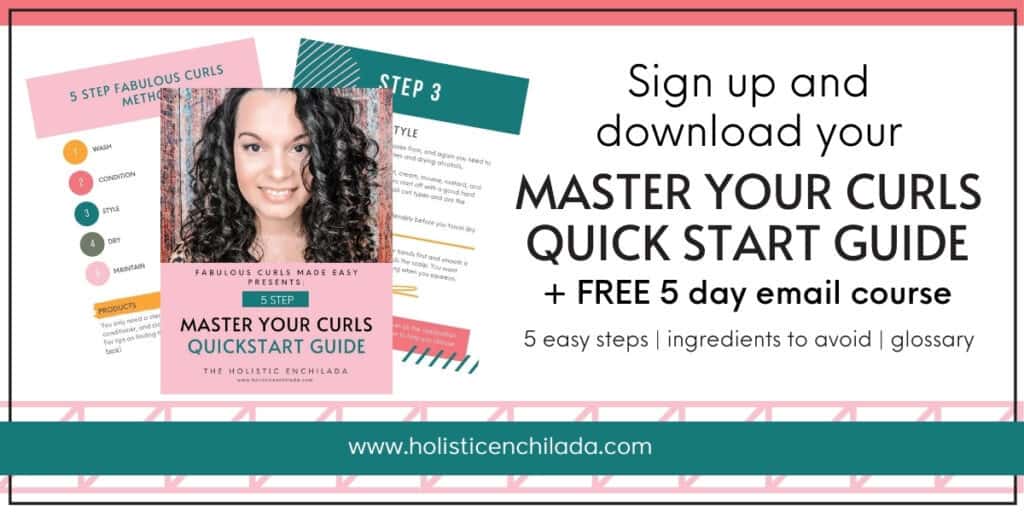 Check out my other popular curly hair posts:
Fabulous Curls Academy
Fabulous Curls Academy is my monthly membership program that gives you access to several online courses that will guide you through creating a simple routine that gives you fabulous results. Learn what your hair type is, which products and ingredients will work for you, and how to style according to your hair type by creating a simple routine that works. No more confusion about products or methods or battling frizz and time. Click here for more info.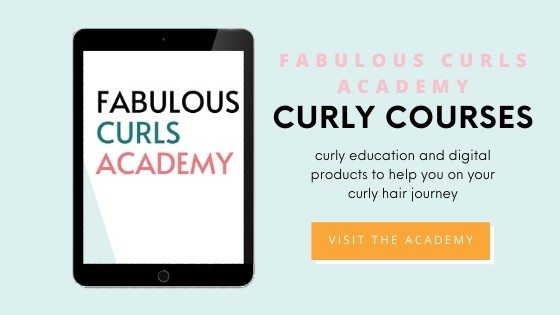 Curly Hair Consultations
I now also offer Curl & Clean Beauty Coaching sessions virtually! You can book a 15-minute, 30-minute, or 45-minute session with me to help you solve your curly hair or clean beauty struggles. Click here to learn more.
Want to remember this? Save Glycerin Free Styling Products To Use When It's Humid to your favorite Pinterest board.