This is my monthly roundup post of the new products I discover during the month and mentions of my current favorites. Check back as I update this weekly throughout the month. 
I have found my new FAVORITE foaming face wash! This is a big deal for my super dry, sensitive, acne prone skin. I have tried so many cleansers, and oil cleansers are the only kind that don't leave my skin feeling tight and dry. Despite that, I keep trying. I had read about this cleanser and how other claimed it left their face so soft. I was skeptical but I decided to give them a try.
Holy Moly was I blown away! This stuff is seriously amazing for my skin. Right away, you notice the unique texture. It's like a serum, a bit thin with a slippery feel like a hyaluronic acid serum – hard to explain but very unique in a good way. It emulsifies into a light lather and spreads easily so that you need a small amount (1 pump) to wash your face and neck, even with full makeup. And then it leaves my face feeling so soft and clean. It just blows my mind every time.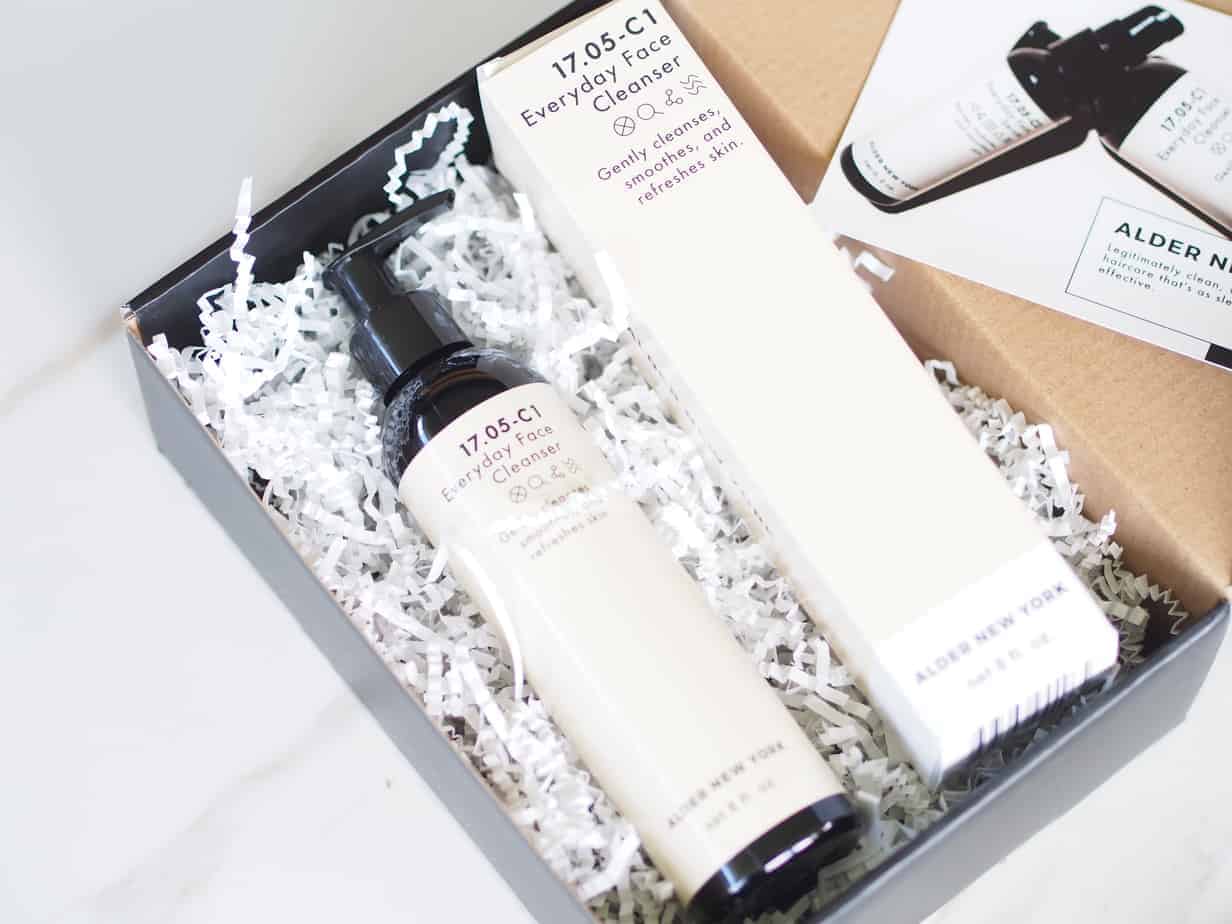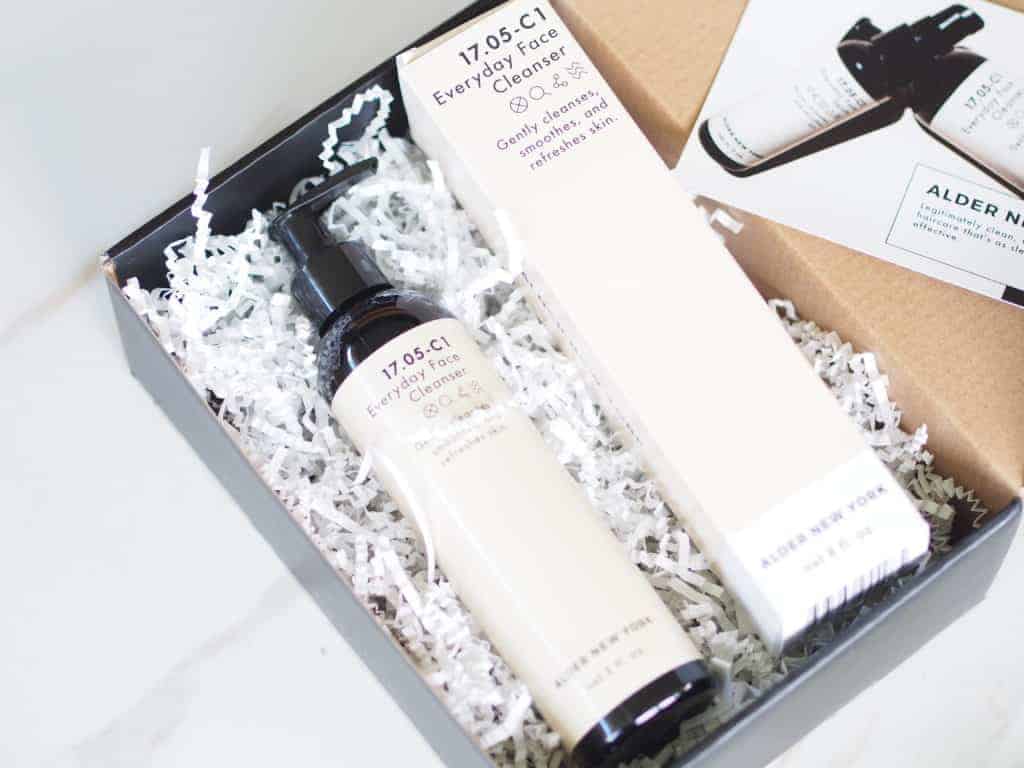 Ok so with that intro out of the way, let me tell you a little about the product formulation and the brand.
The reason this leaves my skin so soft and smooth is because it contains a low dose of glycolic acid, sea botanical extract, and is pH balanced. Here is that they have to say about the cleanser:
"We use a low dose glycolic acid which gently exfoliates to leave skin crazy soft, and help control acne and any bumps for even skin. We also use a sea botanical extract blend to encourage collagen production and cell turnover. Lastly, we designed our plant derived surfactant formula to be pH optimized so it will leave skin feeling healthy and supple, instead of tight and itchy."
Their products are also vegan, cruelty-free, genderless, and clean. I am so in love with this cleanser that I am going to try other products from their line. Go ahead and check them out!
This month's box contains:
Goldfaden MD Bright Eyes – travel size $18
Kani Botanicals Prismatic Highlighter Balm – full size $28
Mai Couture Bamboo Charcoal Blotting Paper – sample pack $10
Formulary 55 Rosehip & Clay Facial Mask – sample $8
Altogether these come out to $64 and this box only costs $18 a month! The Petit Vour beauty box is the biggest bang for your buck. The only drawback is that their products can be expensive if you want to purchase them. I rarely do, but when I do I use the points I rack up from reviewing the products to get them cheaper. Other perks to this subscription are that everything is nontoxic and vegan and they curate very high quality, luxury products. Sign up here.
This month's box contains:
Wyld Skincare French Pink Clay Konjac Songe – full size
Juice Beauty Green Apple Cleansing Bar – travel size (love this soap!)
Juice Beauty Phyto-Pigments Luminous Lip Crayon – full size
Eco Armour Shave With Benefits Shave Foam – travel size
Sade Baron Pro-Vitamin B5 Lotion – travel size
All together these come out to $64.89 and the subscription is only $24.95 a month! Here are a few reasons I love this subscription box so much:
✨ You get to pick 2 products each month
✨only $24.95 a month for $45-65+ worth of products
✨ personalized cruelty-free, clean, beauty and wellness items
✨they include lots of affordable brands ✨ mix of full size, travel size, and deluxe samples
If you join now and use the code RESTOREME you receive a free Restore Treatment by Delia Organics.
I was so excited to receive these products from LATHER this month, mainly because I've been searching for a budget-friendly scrub that isn't oil based and doesn't have soap. The Almond Creme Body Buff is a creamy scrub that exfoliates and conditions. No oily residue with this product and no soap to dry out my skin. It uses walnut shell powder and jojoba beads to exfoliate and leaves your skin soft and smooth. You can see its gorgeous texture in the photo. This product retails for $22 for a 4 oz container.
I follow this up with the Almond, Milk, & Honey Body Butter. This cream is rich and excellent for dry skin. It's a little thicker than a lotion and is not greasy. It soaks in like a lotion but performs like a butter. You don't need anywhere near as much as you do when using a lotion so this product will last a while. It retails for $28 for a 6.5 oz container, which is a steal in green beauty.
The scent in both of these products is somewhat light, noticeable but not overpowering. It smells exactly like you'd expect. I'm so glad I found this brand and will definitely be purchasing the Creme Body Buff.
LATHER was created in 1999 by a migraine sufferer who wanted to avoid synthetic fragrances which triggered her migraines. All of the products in her range are synthetic fragrance-free and use natural ingredients. LATHER is also carbon neutral, uses post-consumer recycled materials and soy-based ink, and is cruelty-free! You can check them out here.
TAHNYC is pronounced "tonic" and it such a unique and beautiful brand. You can pick and choose products, or you can tell them about your skin type and concerns and get a customized regimen. I was sent the Blue Butterfly Hydrating Antioxidant Essence Serum. It's such a beautiful product I didn't even want to use it, but rest assured I did. It says to apply one pump onto the face and neck, so I did this after cleansing and before moisturizing. It has no scent which I really like and is literally like water. I expected it to be a little thicker like most other serums but this is their signature Dew consistency. TANHNYC says all their products feel like that because they do not add bulking, filling, texturizing add-ons to any products.
The product claims to protect, hydrate, and rejuvenate the skin. Over time, it diminishes fine lines and restores the skin's natural glow. It has a great list of ingredients: blue butterfly pea flower which is what makes it blue, aloe, jasmine, and hyaluronic acid. They claim that butterfly pea flowers are "an ancient herb, highly nourishing, containing antioxidants and flavonoids which activate collagen production as well as protect and rejuvenate the skin." After using it for 2 weeks, I can say it definitely helps hydrate my skin. I'll have to get back to you later on how it goes. I really like using antioxidant-rich products to prevent premature aging and usually, you can't see the effects of that so it's hard to judge a product like this.
TAHNYC is clean, cruelty-free, and Chicago based. They have the unique dew consistency in all their products and say that every ingredient serves a purpose. They can be affordable if you keep things simple, but if you start adding on extras then it can be pricey. I might try some more from their brand in the future. You can check them out here.
If you're like me, you've likely never heard of glutathione before. Glutathione is a substance produced naturally by the liver. It is also found in fruits, vegetables, and meats. Glutathione is involved in many processes in the body, including tissue building & repair, making chemicals & proteins needed in the body, and for the immune system. It's given by mouth, inhalation, injection, and intravenously to treat, prevent, and manage various conditions like lung disease, heart disease, liver disease, cancer & chemotherapy, memory loss, autoimmune diseases, anemia, infertility in men, and other conditions.
I received 2 boxes of liposomal glutathione (and a shot glass) from a brand I already love LivOn Labs. I have been using their liposomal vitamin c for years because it's the only one that doesn't upset my stomach and is more effective than any other form of vitamin c. With liposomal technology, you absorb more of the vitamin than any other oral form, making it similar to intravenous.
I wasn't sure what to expect when taking the glutathione, but I have every day for almost 2 weeks now. It does not smell or taste good, but it's a supplement that you take in one shot so that doesn't bother me. I just mixed it in a little juice & drink it quickly. According to them, this supplement is "the master antioxidant"- helps protect cells from free radicals, supports a healthy liver, and recycles vitamin c and other antioxidants for optimal health. They also claim it reduces signs of aging, and I did find that as one of its uses in the research I did. I definitely feel more energetic and have slept a bit better, but since I just started taking it, I can't say much else. However, looking at all its uses, I'd say this is probably a great supplement for anyone who suffers from any of the ailments this helps treat. Check them out here.