How To Style Curtain Bangs On Curly Hair
This post may contain affiliate links, and I will earn a commission if you purchase through these links. Please read the disclosure policy for more details.
If you have curly hair, chances are you've been intrigued by the possibility of getting curtain bangs. Curtain bangs are a trendy style right now, and they can look great on all different types of hair – including curly hair!
In this post, we'll give you all the information you need to know about how to style curtain bangs on curly hair. We'll also share some inspiring photos so that you can see just how good they can look.
So if you're thinking about getting curtain bangs, or even if you're just curious about how they might look on your own curls, read on!
What are curtain bangs?
Curtain bangs are the perfect compromise when you want to try bangs but aren't ready to fully commit.
Curtain bangs look like curtains. They fall to your cheekbone area, tapering out to blend into the rest of your hair.
They are longer than traditional bangs which fall above your eyes. This makes them a little easier to work with since you can hide them if you want and grow them out more quickly.
Do curtain bangs work on curly hair?
Yes! With the right cut and shape, curtain bangs can look beautiful on curly hair. The key is to find a style that complements your face shape and hair texture.
Remember that curly hair has more shrinkage than straight hair so curtain bangs need to be cut longer than you would straight hair. They should also be cut on dry hair so they fall the way you want them to. I recommend you see a curl specialist for best results.
The length of the curtain bangs depends on the shape of your face and the length of your cut.
For shorter hair, go with shorter curtain bangs to provide some contrast. Parting your hair a little to one side also helps make it more flattering.
For rounder faces, go with longer curtain bangs that fall to your chin or cheekbones. This will help elongate your face and make it look more oval-shaped.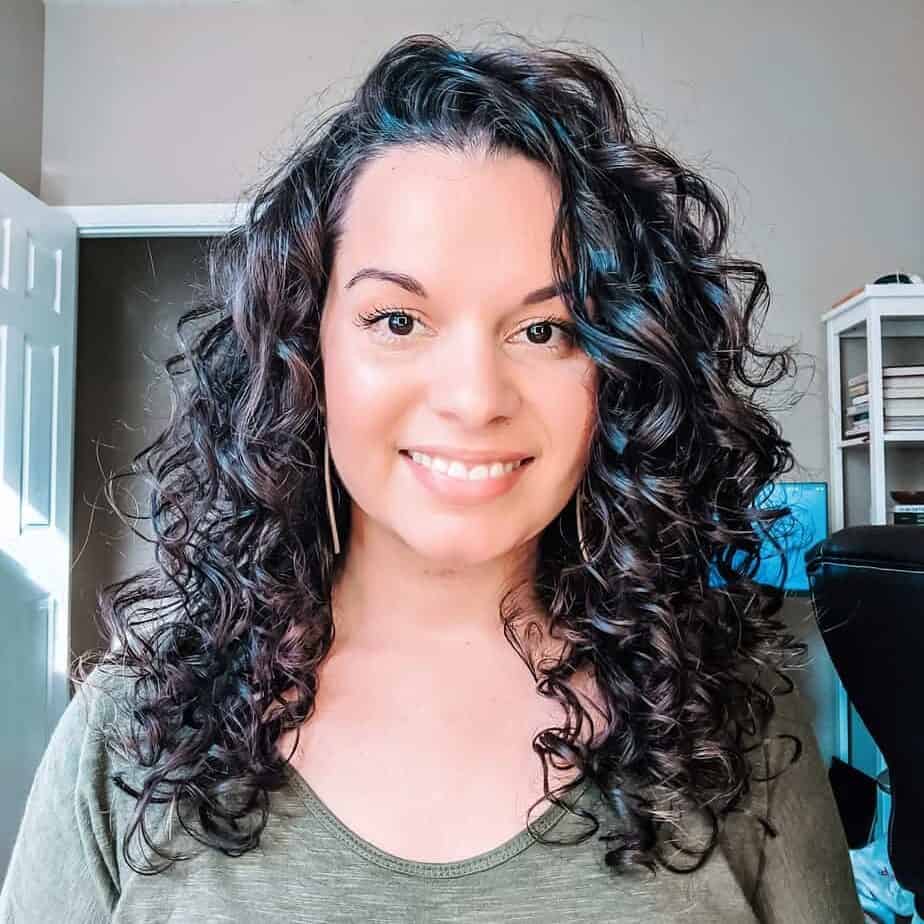 How to style curtain bangs
Curtain bangs are a lot more low maintenance than regular bangs. You can style your curls as usual, but I recommend you spend some time to finger coil the bangs so they lay how you want.
You could also use a styling brush just on your bangs to make sure they look the way you want. Finger coiling and brush styling result in tighter, more defined curls that last longer. Since the bangs will be front and center, you'll want to make sure they look their best.
Just make sure to use a good styling product that will hold your curls so they don't turn into a big poof! A good gel or mousse should do the trick.
Styles for Curtain Bangs on Curly Hair
Below are some inspiration photos for curtain bangs on curly hair.
Bottom Line
Curtain bangs are a beautiful, low-maintenance way to add some style to your curly hair. If you're looking for a change, or want something that will complement your face shape and hair texture, give curtain bangs a try. We have plenty of photos and styling ideas to help get you started. Will you be the newest member of the curtain bang club?