How To Use Coconut Oil For Curly Hair
This post may contain affiliate links, and I will earn a commission if you purchase through these links. Please read the disclosure policy for more details.
Do you have curly hair? Are you looking for a natural way to take care of it? If so, you should definitely try using coconut oil. Coconut oil is great for curly hair because it helps to tame frizz and keep your hair looking healthy and shiny. Read on to learn why coconut oil is good for curly hair and 4 ways to use coconut oil for curly hair.
What is coconut oil?
Coconut oil is a natural oil that has many benefits for hair, skin, and nails. It is an extract from the meat of matured coconuts that is pressed down to create the oil, which is actually pretty thick and solid at cooler temperatures. You will often see it as a thick white substance in jars.
Coconut oil is loaded with beneficial fatty acids which we know curly hair loves!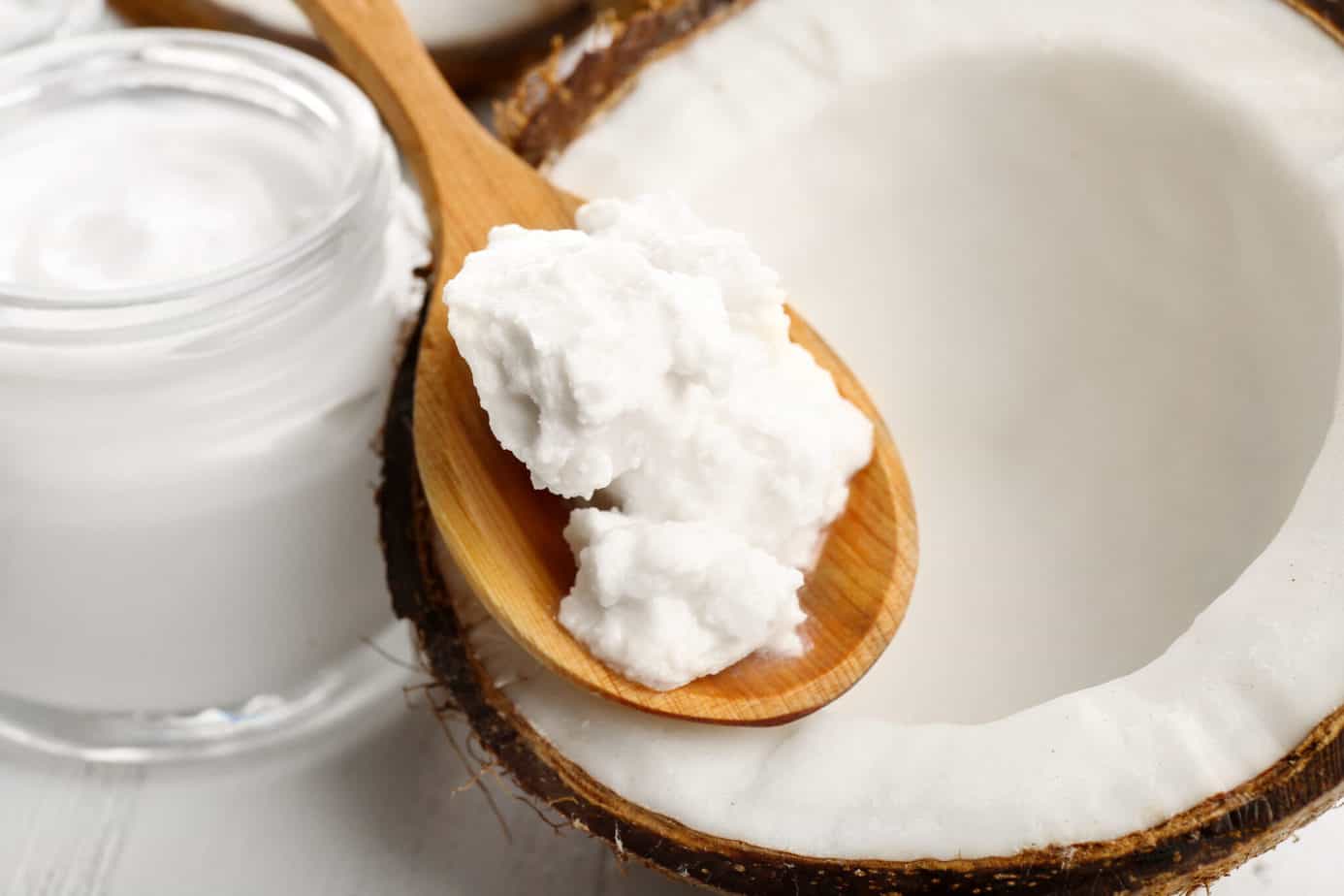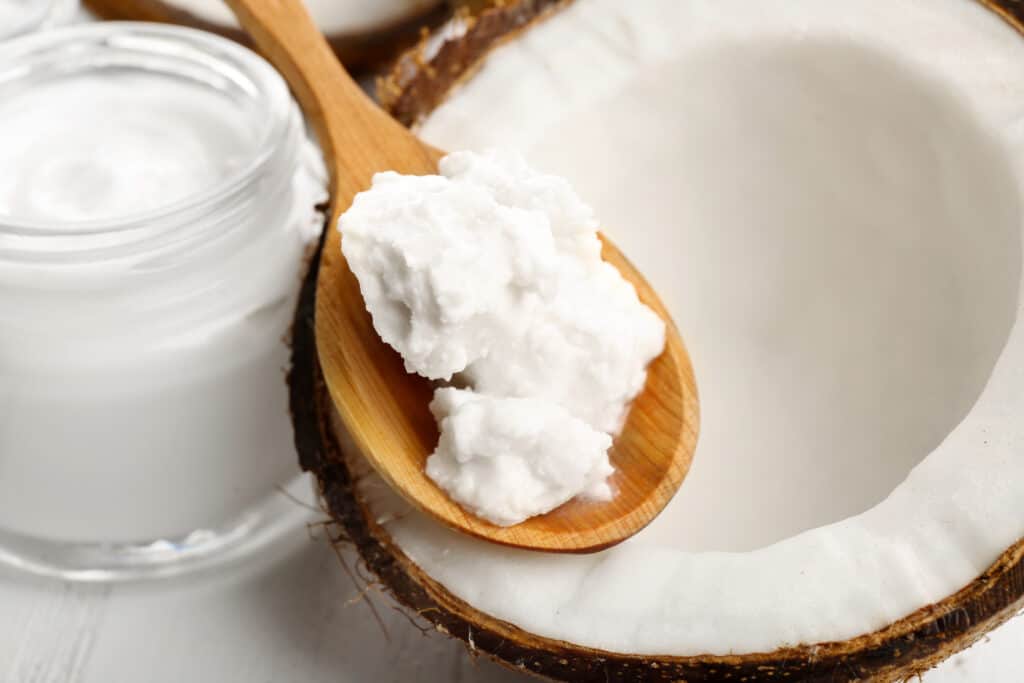 Benefits of coconut oil for hair
There are many benefits of using coconut oil for hair. It helps to:
Moisturize hair
Strengthen hair
Reduce breakage
Nourish the scalp
Expedite hair growth indirectly by reducing hair breakage
Coconut oil is one of the few penetrating oils that actually moisturizes and doesn't just sit on top of the hair. It can act as both a penetrating oil and a sealant.
Is coconut oil good for curly hair?
Coconut oil is great for curly hair because it penetrates deep into the hair shaft to add moisture. Because it helps to reduce protein loss, add moisture, and increase strength, it, in turn, increases shine, softness, and manageability. Coconut oil is especially beneficial for dry or damaged curly hair.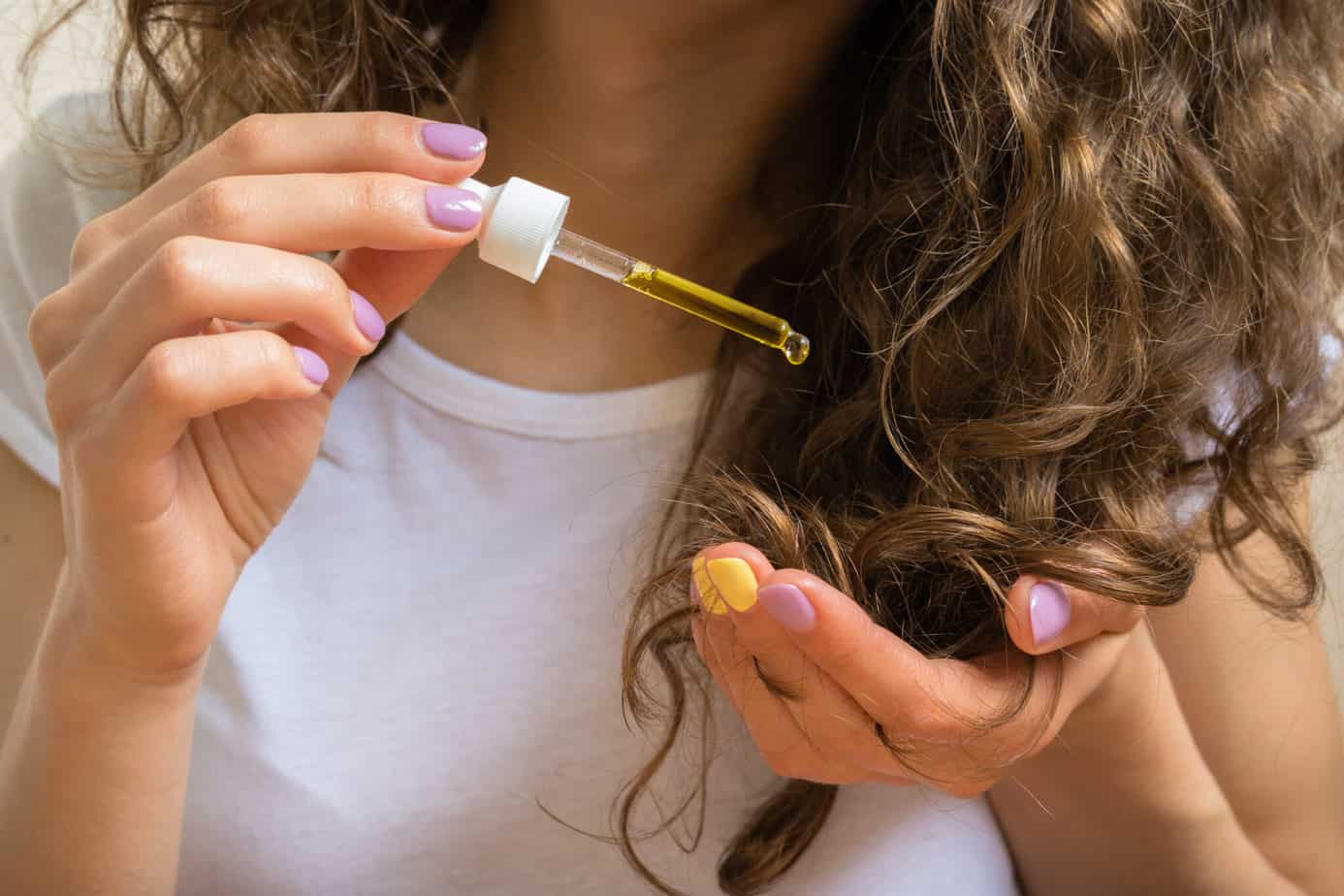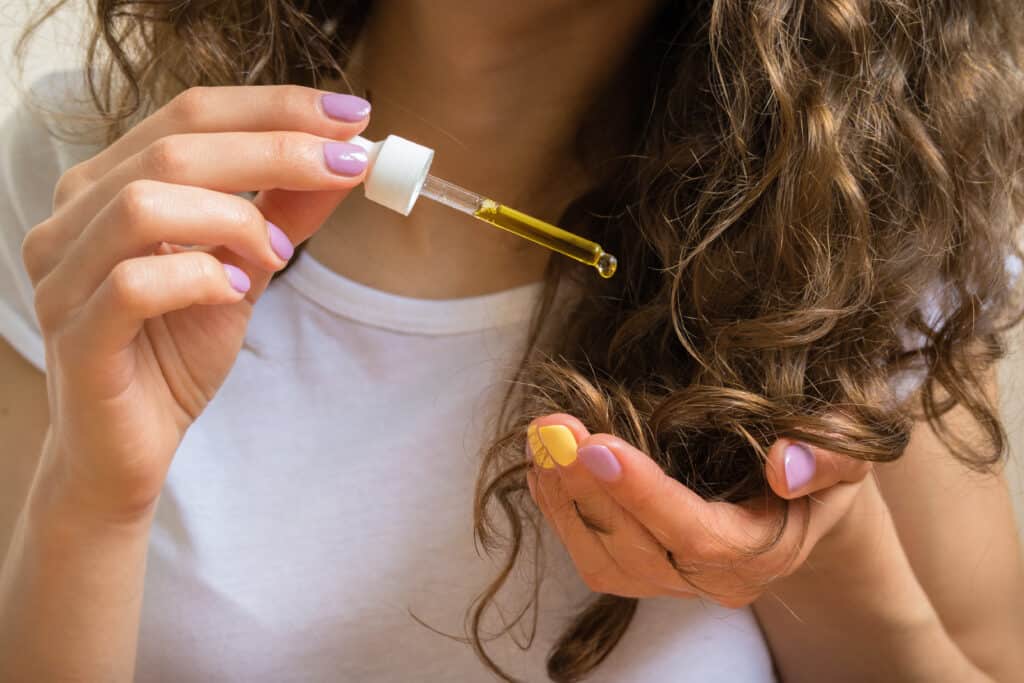 4 ways to use coconut oil for curly hair
There are a few different ways you can use coconut oil for curly hair, but keep in mind that it may not work for your hair.
I recommend you give it a try once or twice to see if your hair does well with it. There are some curl types that experience dryness from using coconut oil. This is sometimes the case for low porosity hair which struggles to hold on to moisture.
Pre Poo
Use coconut oil as a pre poo mask to help prevent your shampoo from stripping too much moisture from your hair. Saturate your hair and scalp with coconut oil, cover it with a plastic shower cap, and let it sit for up to an hour. You can add heat to help it penetrate the hair by wrapping a warm towel around your hair. Wash it out thoroughly and continue your routine as usual.
Read more: Pre Poo Guide For Curls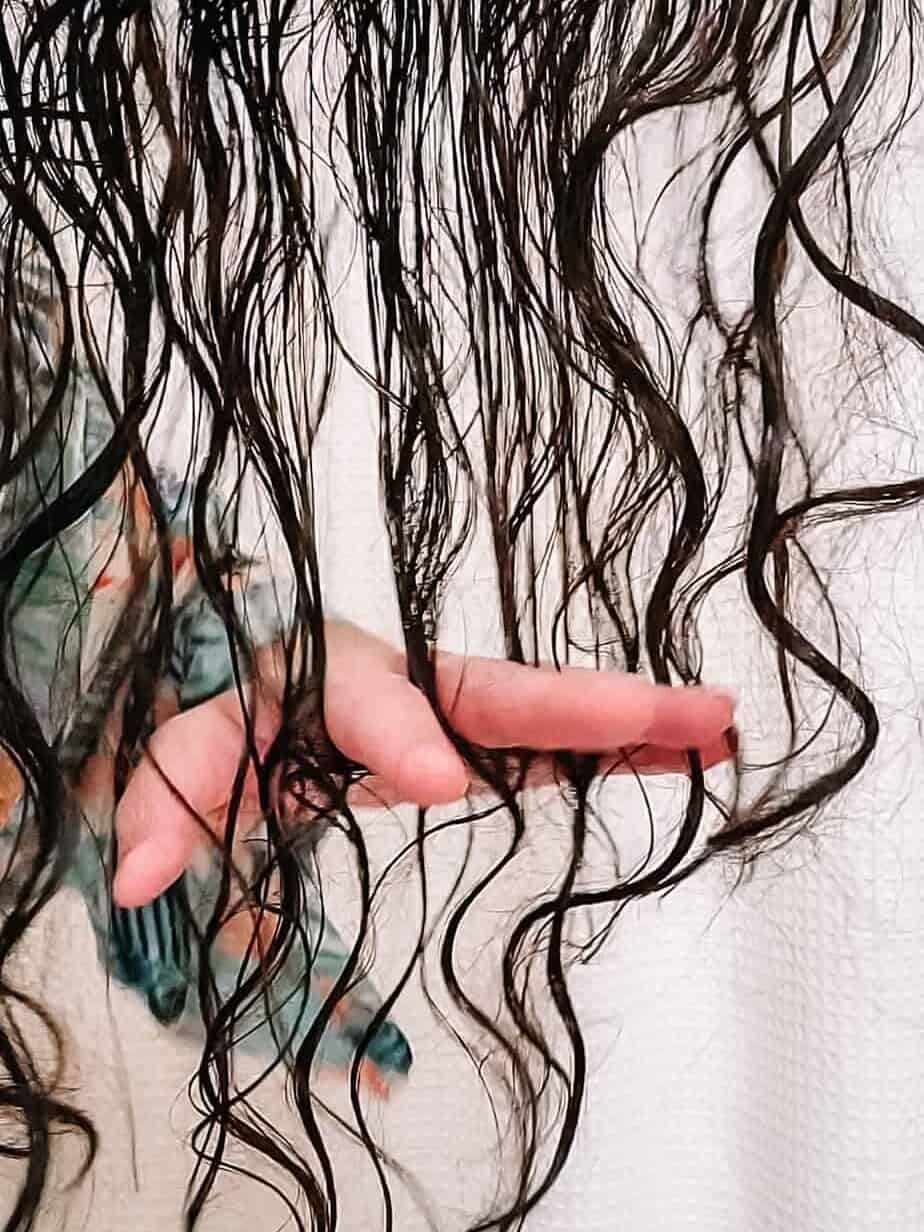 Detangling
Massage a little coconut oil in your hair to help soften tangles. Rub a few drops in between your hands and smooth over the length of your hair. Wait a few minutes then detangle.
Read more: How To Detangle Curly Hair
Scalp Treatment
If you suffer from dry, itchy scalp or dandruff, then a massage with some coconut oil may help. Rub a small amount of coconut oil between your hands to soften it, then massage your scalp with your finger tips. Wash it out after 10 minutes if you need to.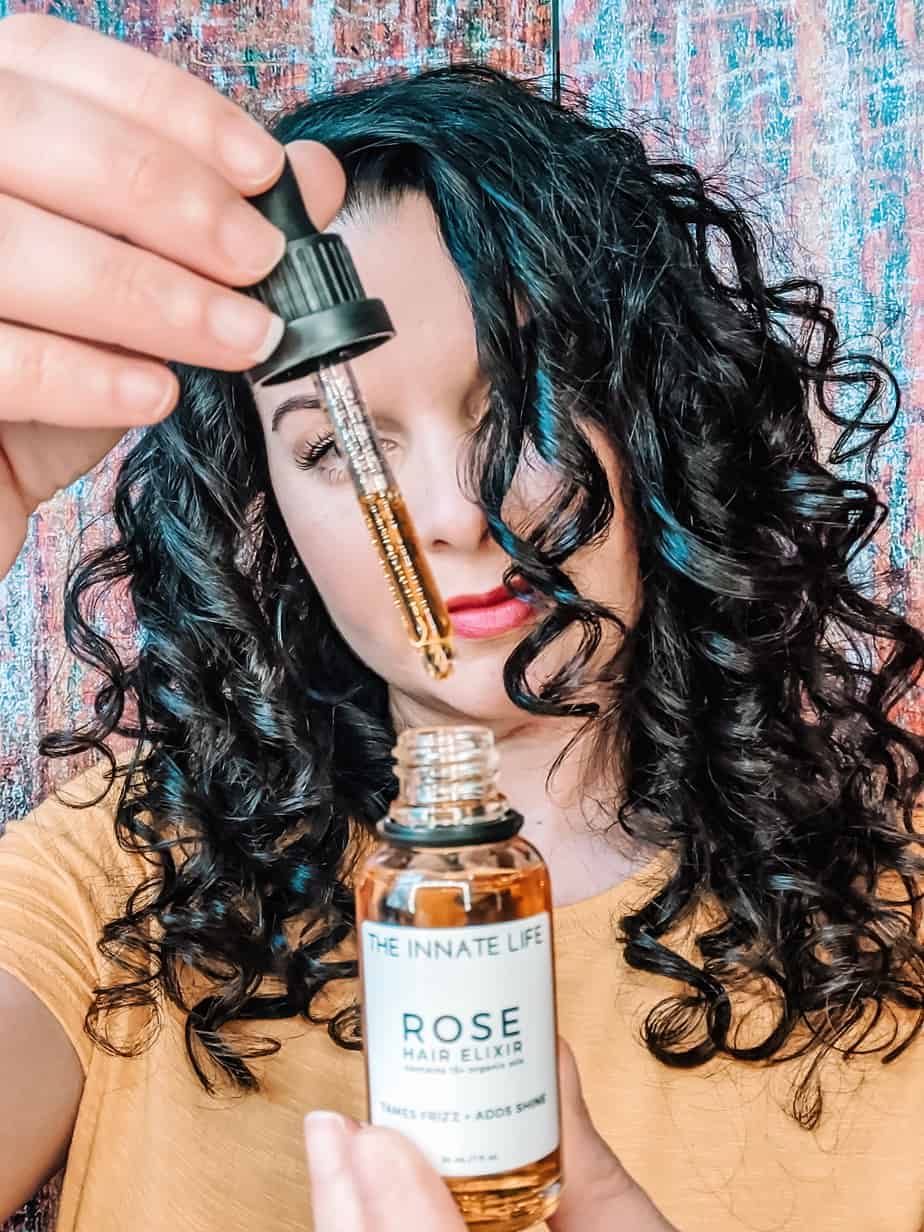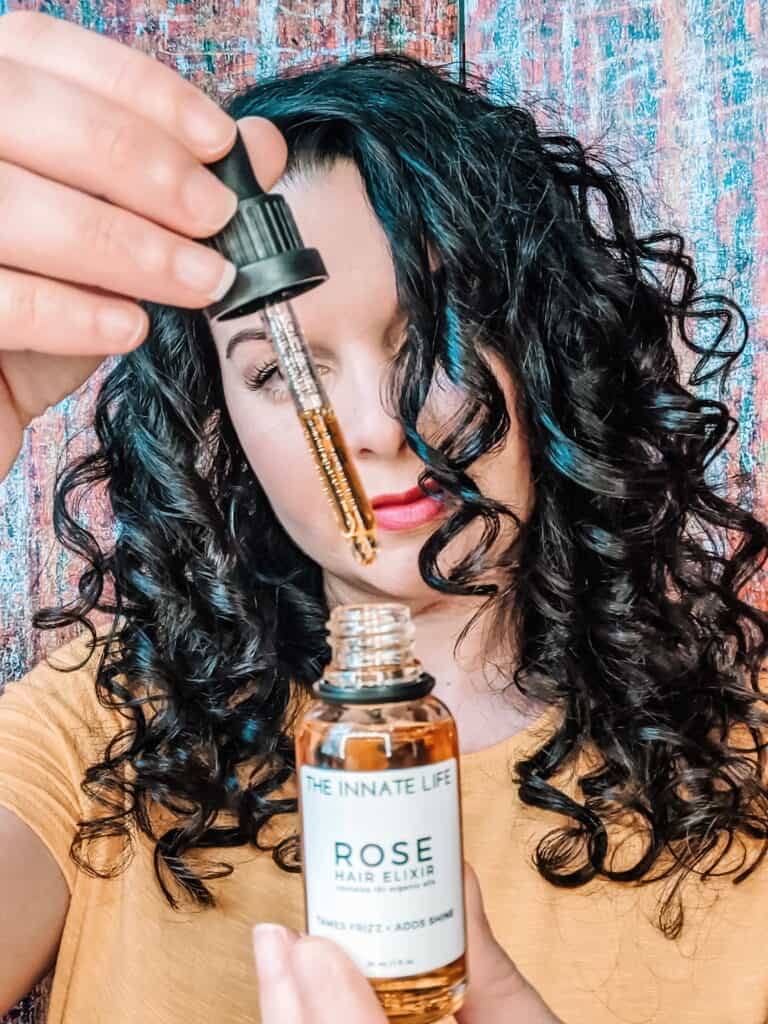 Serum
You can control some frizz and add shine with a little coconut oil. Use it last, after all your other styling products have been applied. I recommend you start off with a tiny amount, since a little goes a long way. Smooth a drop or two over the length of your hair or your ends.
What's the best coconut oil to use for curly hair?
You want to go with a virgin, cold-pressed coconut oil which will have the most benefits. These are the kind that are sold in solid form in jars. Liquid coconut oil is usually further refined and processed which means it has lost some of its benefits.
I recommend the Trader Joe's, Nutiva, or Sky Organics brands of virgin coconut oil.
FAQs about coconut oil and curly hair
Below are some common questions about coconut oil for curly hair.
Does coconut oil make your hair curly?
No, coconut oil will not make your hair curly. It simply moisturizes, which can enhance your natural curl pattern if your hair is naturally curly.
Does coconut oil make your hair greasy?
Yes, it can if you use too much. If your hair tends to get greasy easily, I recommend you use very little and try to keep it away from the scalp and root area.
How can you wash out coconut oil from your hair?
You will probably need to shampoo several times to remove coconut oil from your hair. The stronger your shampoo is, the quicker it will come out. If you're following the curly girl method and using mild shampoos or cowash, it will take a while. A cowash will probably not remove all the oil.
Can coconut oil be used as a conditioner?
Technically it can, because it contains fatty alcohols. But it will not work long term as a replacement for your conditioner. Conditioners are formulated with many other ingredients that help to moisturize, hydrate, soften, and improve the health and manageability of your hair.
Can I leave coconut oil in my hair overnight?
You can but it may not make much of a difference. About an hour is probably the longest I recommend and anything more has a negligible effect.
How long should you leave coconut oil in your hair?
If you're using it as a mask, leave it on for 10 minutes to an hour. If you're using it as a serum then it's fine to leave in until your next wash since it is a minimal amount.
Does coconut oil help hair grow?
It only helps in that it reduces breakage, so your hair can grow longer. Coconut oil itself doesn't directly stimulate hair growth.
How often should you use coconut oil in your hair?
You can use it as often as you like. Most people would do well with 2-3 times per week.
Is coconut oil curly girl approved?
Yes, coconut oil is curly girl approved.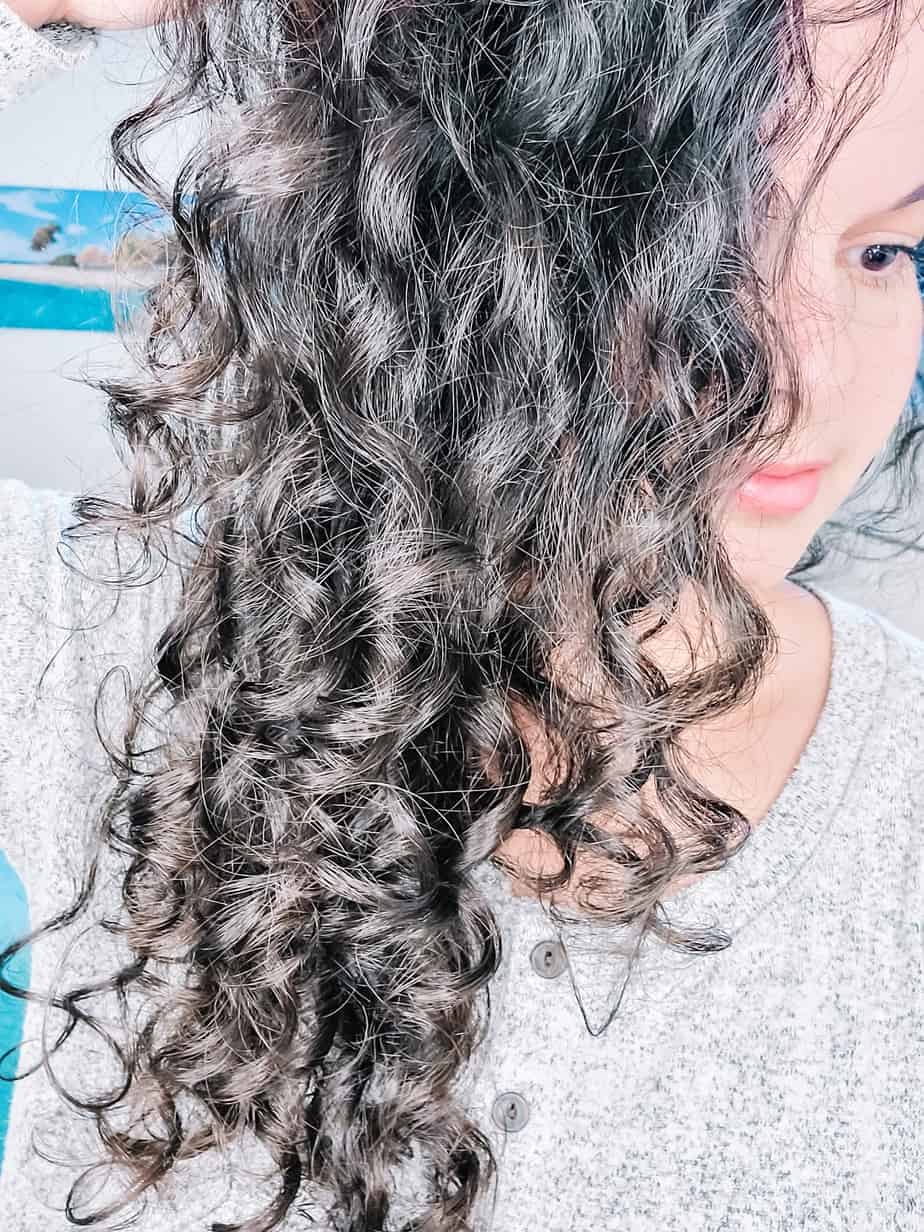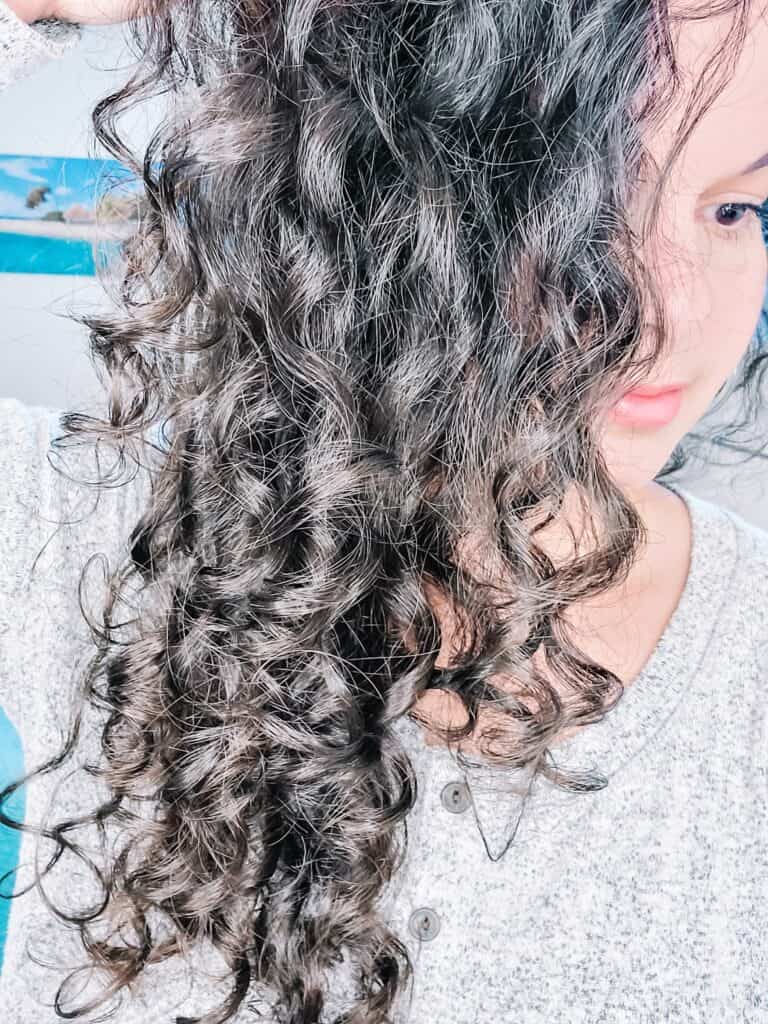 Bottom Line
Have you tried using coconut oil for your curly hair? If not, what are you waiting for? Coconut oil is a great natural product that can help reduce frizz, increase shine, strengthen hair, and nourish the scalp. It's also very easy to use! Which way will you try using coconut oil for your curls?
Please do me a favor and share this post to social media, as it helps me grow my audience and spread the word about our curly hair movement! And remember to subscribe to my YouTube Channel and Instagram for more curly hair tips and product recommendations. Thanks!
---
If you want help with embracing your naturally wavy or curly hair, you can join my FREE email course and download my FREE pdf guide, THE QUICK START GUIDE TO MASTERING YOUR CURLS, full of everything you need to know to get started and bring out your beautiful waves and curls.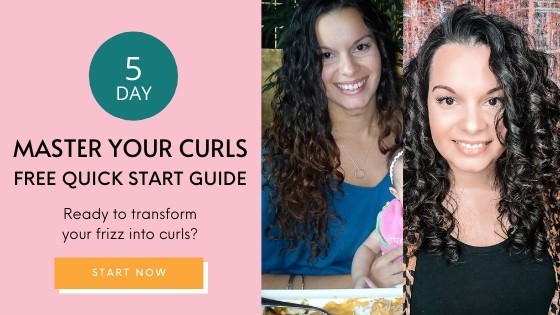 Want To Remember This? Save How To Use Coconut Oil For Curly Hair To Your Favorite Pinterest Board!