How To Identify Heavy and Lightweight Curly Hair Products
This post may contain affiliate links, and I will earn a commission if you purchase through these links. Please read the disclosure policy for more details.
One of the main things I have struggled with since going curly is how heavy most products for curly hair are. Since I have such fine, low density hair I need lightweight products, and most products designed for curly hair are not lightweight. So I often opt for non curly lines making sure the ingredients are all approved.
After years of this, I have figured out how to quickly and easily tell if a product is lightweight or heavy.
Ready to transform your frizz into defined, bouncy curls and waves? Join my free Quick Start Guide To Mastering Your Curls email course below and be on your way to fabulous curls in just a few steps!
What are light products?
Lightweight products are usually water soluble and thinner in consistency than heavy products. They tend to have few or no sealing ingredients, which are ingredients like oils and butters. Sealing ingredients, also called emollients, are moisturizing but they sit on the hair and coat it, weighing it down. This is ideal for thick hair, but something you want to avoid if you have thin, fine, or low porosity hair.
Lightweight products have:
no or few oils
no or few butters
no silicones
no waxes
no petroleum/mineral oil
If you're following the curly girl method, then you're already avoiding silicones, waxes, and mineral oil so we will just focus on oils and butters.
Lightweight products would be products like serums, mousse, gel, shampoo, and some conditioners. It really depends on the ingredients as there are heavy versions of these types of products as well. So let's see how we can tell the difference.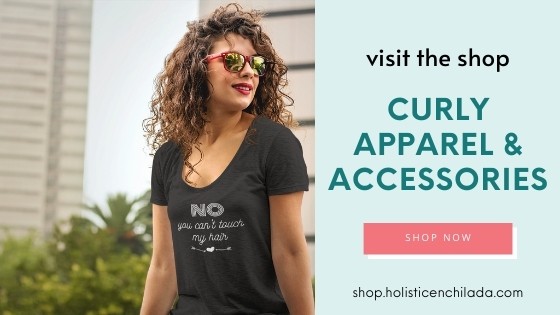 Identifying Lightweight Products
There are a couple of steps to figuring out which products are lightweight. We are going to use the list from above to help us identify lightweight products.
1. The first ingredient should be water or aloe.
This is the most concentrated ingredient in the product so you want to make sure it's lightweight. Water is the lightest way to hydrate hair so that is usually the first ingredient in lightweight products.
Let's look at this curly styling serum from TreLuxe. It is marketed as lightweight and you can see the first ingredient is water so that checks the first requirement.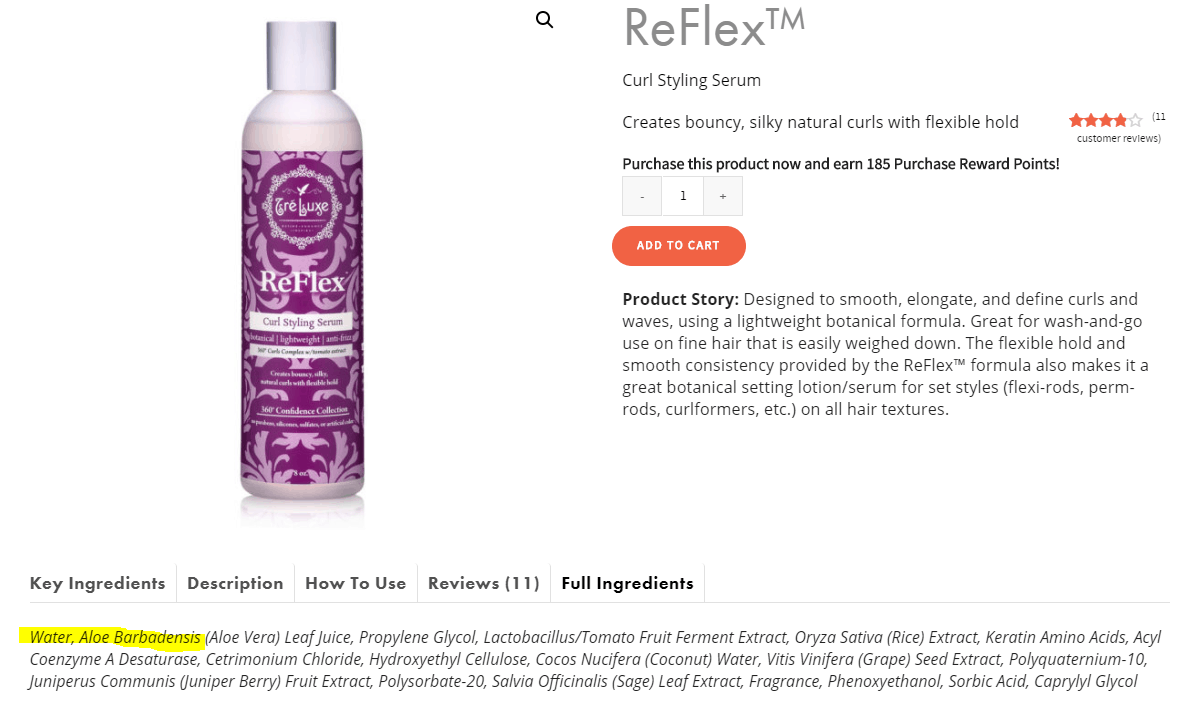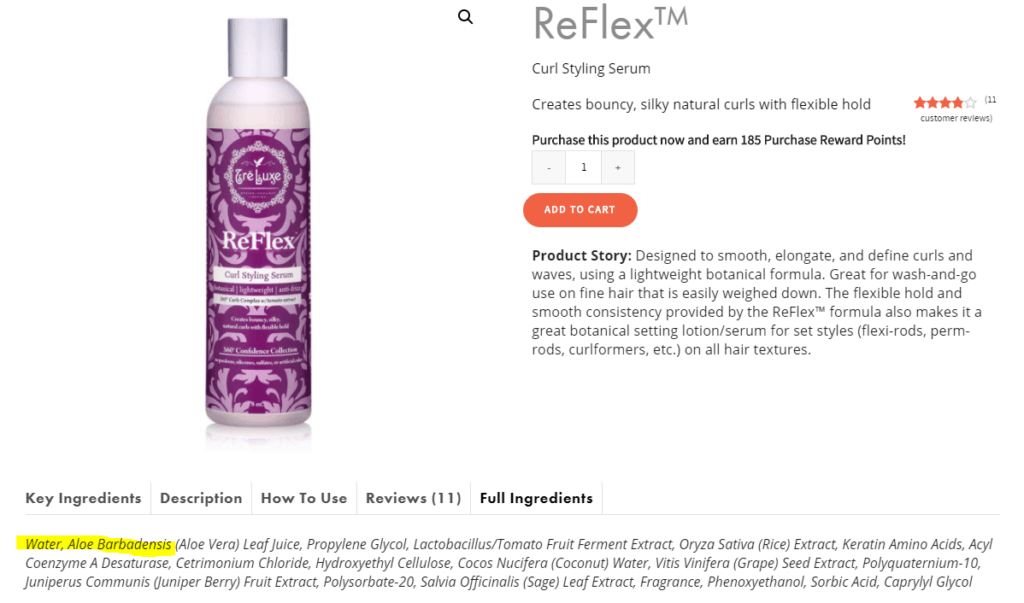 If you're looking for something lightweight and water or aloe are not the first ingredient, then put the product down.
2. Check the top 5 ingredients.
Since ingredients are listed in order of concentration, you want to avoid oils and butters in the top 5. Let's look at a few popular curly girl products and see the differences.
Let's look at the TreLuxe ReFlex Serum again. You can see the top 5 are all lightweight so this is a great choice.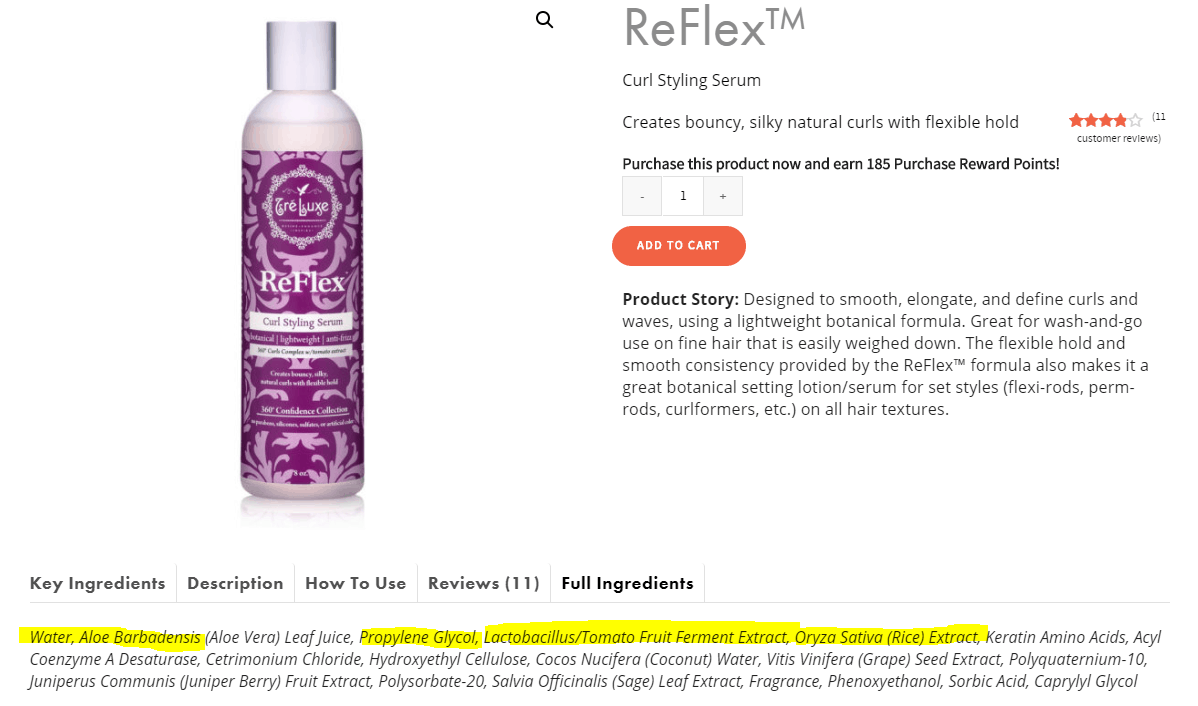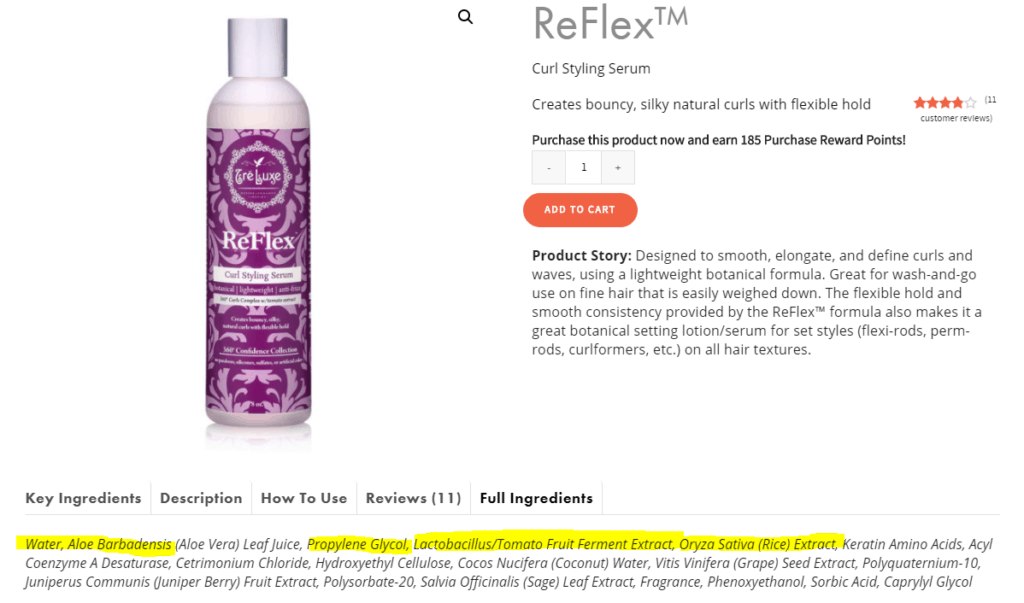 Let's have a look at The Innate Life Leave-In Conditioner. We can see 2 heavy ingredients in the top 5 so this is not lightweight, although because it's not loaded with a ton of heavy ingredients it wouldn't necessarily be heavy, more in between.

Now let's look at the Shea Moisture Curl Enhancing Smoothie. You can see just in the top 5 there are 4 heavy ingredients, all oils and butters. Even beyond the top 5 there are more so this would be considered a heavy product.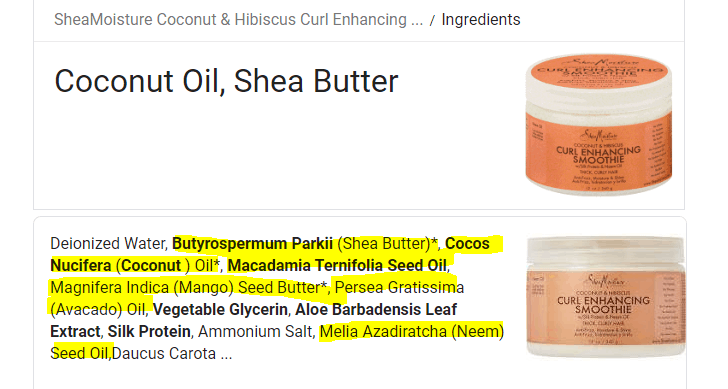 3. Look for lighter ingredients overall and make sure the product isn't loaded with a bunch of heavy ingredients after the top 5.
Once we've established the top 5 are not heavy, you want to see if the product is using mostly lightweight ingredients. Look for extracts, hydrosols, milks, and waters.
It's ok to use products with oils and butters, but you don't want it to have numerous. Scan through the full ingredients list and mentally add up the heavy ingredients. It should just be a few. Let's look at 2 examples below.
Again the ReFlex Serum wins here. It is full of lightweight ingredients all the way to the end of the list.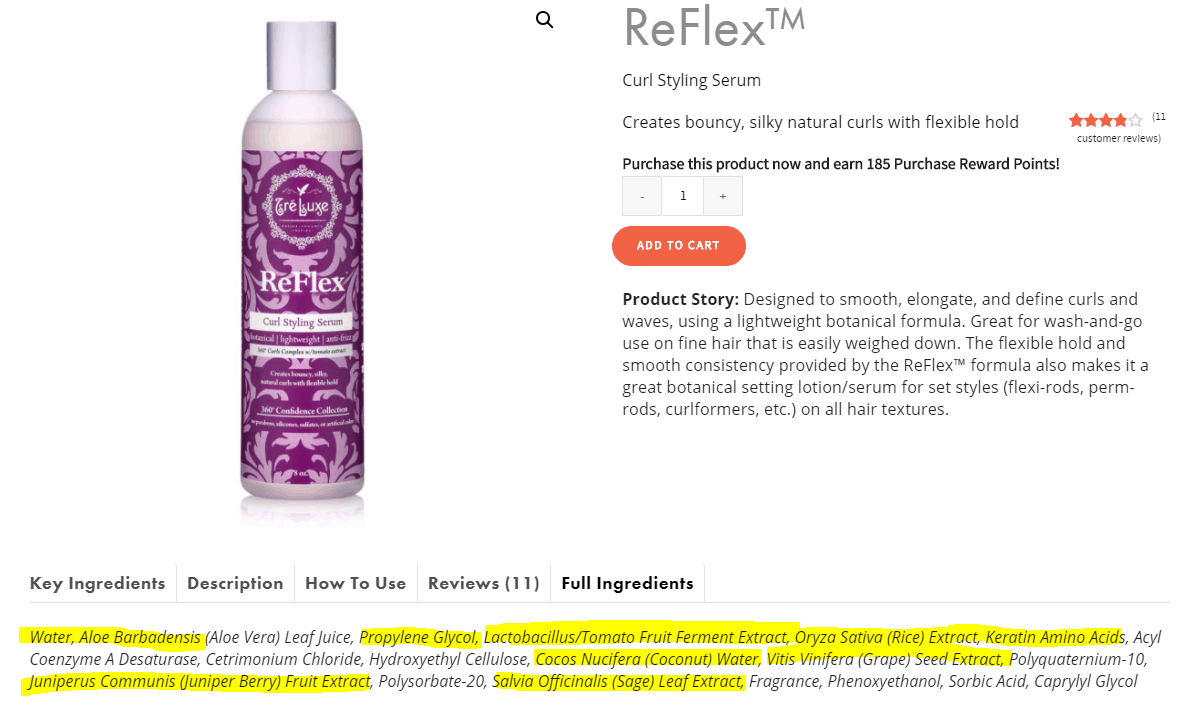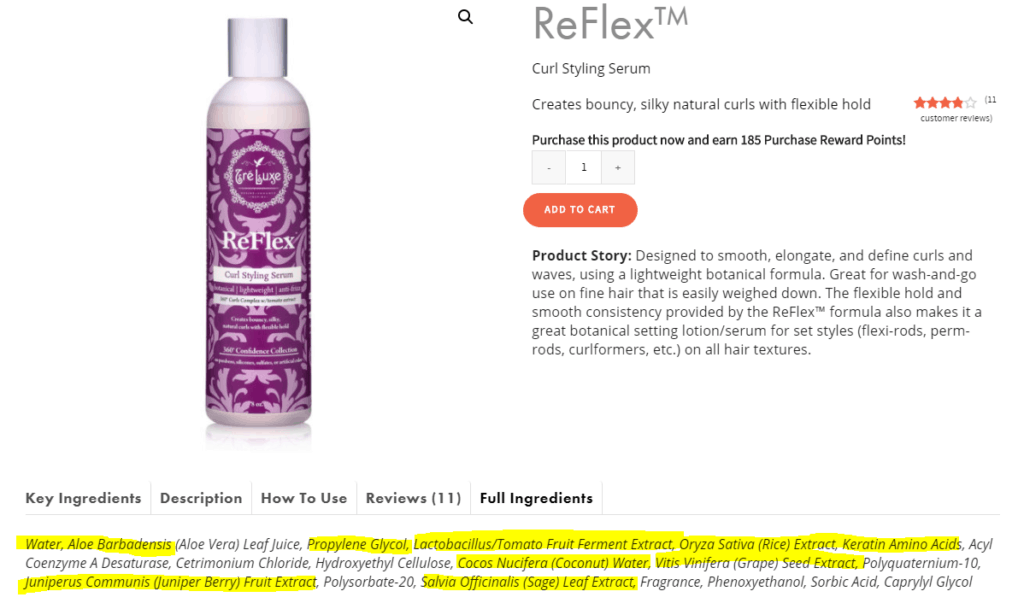 Cantu Twist & Lock Gel on the other hand is loaded with heavy ingredients all the way down. It only has 1 heavy ingredient in the top 5 but the the middle and end are pretty much all heavy ingredients. So this is considered a heavy product.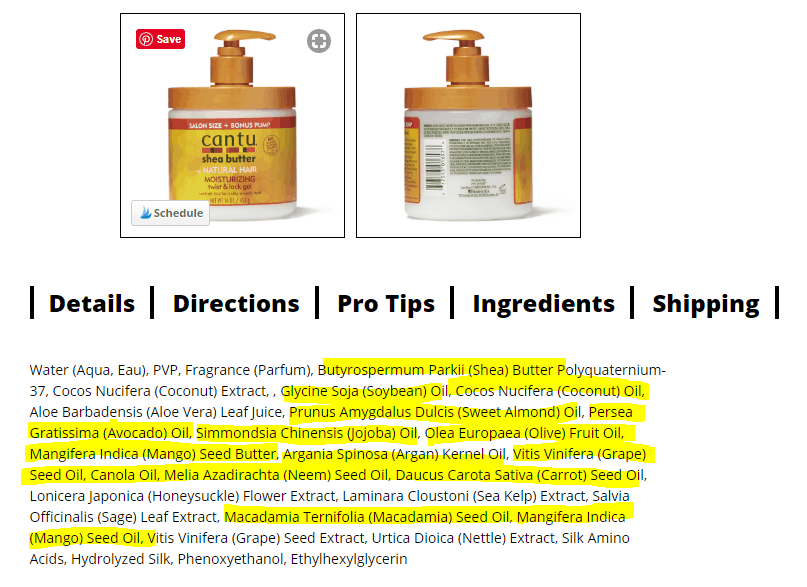 So as usual, you have to be an ingredient detective. It gets easier with practice and the good thing is that oils and butters are easy to spot on ingredients lists.
Check out my post on my favorite products which includes lightweight products I love using on my fine curly hair.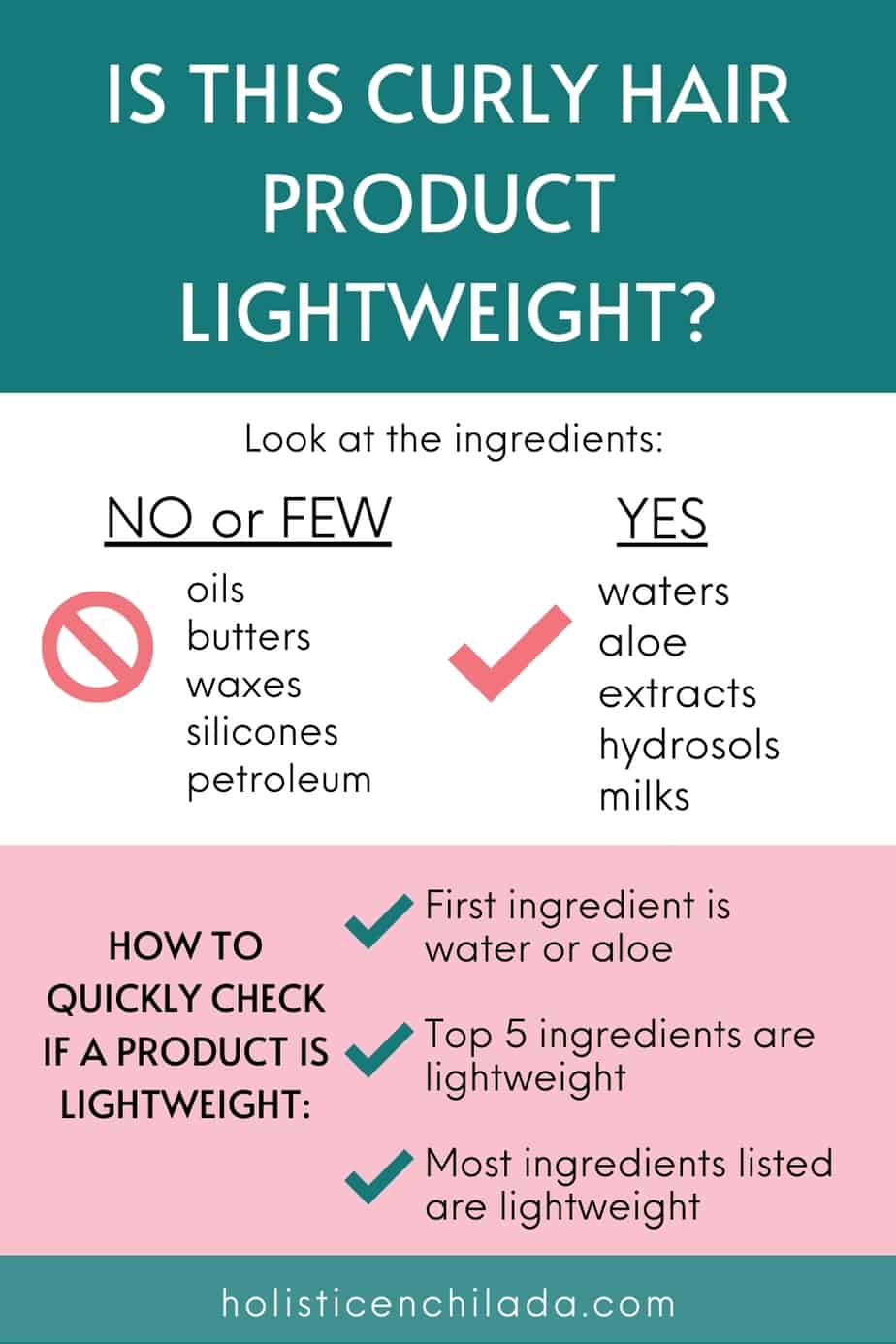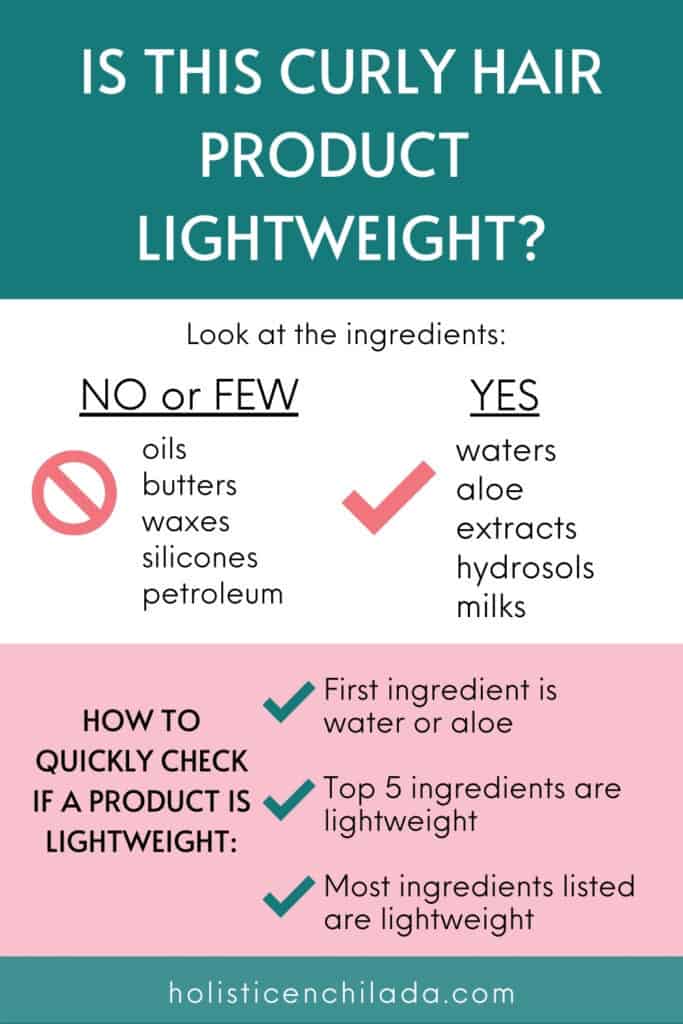 Product Matching Guide
Looking for specific product recommendations for your hair type?
Check out my product finder, the Curly Product Handbook. This guide will show you how to identify your hair type and characteristics, provide some styling tips, and list exact products that will work on your hair type. Click here for more info.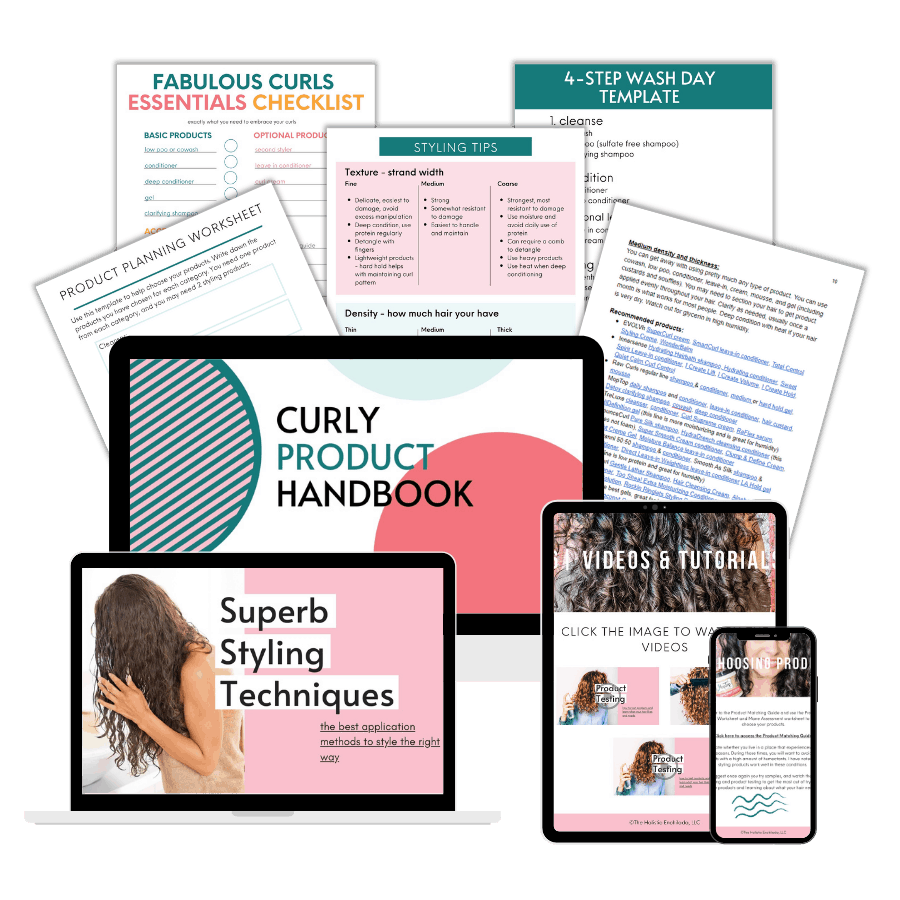 If you want help with embracing your naturally wavy or curly hair, you can join my FREE email course and download my FREE pdf guide, THE QUICK START GUIDE TO MASTERING YOUR CURLS, full of everything you need to know to get started and bring out your beautiful waves and curls.
Check out my other popular posts on curly hair:
Want to remember this? Save How To Tell If Curly Hair Products Are Light Or Heavy to your favorite Pinterest board.