Apple Cider Vinegar Rinse for Curly Hair – Everything you Must Know
This post may contain affiliate links, and I will earn a commission if you purchase through these links. Please read the disclosure policy for more details.
Are you looking for a way to bring life back to your curls?
If you're following the Curly Girl Method or just like to use all-natural products you may want to try the ACV rinse.
Not just for cooking, ACV, is a great way to bring life back to frizzy, damaged, and lifeless curls. Before you jump in and throw ACV on your hair, though, learn how it works, what you should know, and the benefits of the ACV rinse for curly hair.
Reviewed by Laurie Cain, Curl Specialist and Hair Stylist.
What is an Apple Cider Vinegar Rinse?
An apple cider vinegar rinse is something quick and easy curly-haired girls can add to their routine.
If you suffer from an itchy scalp, your curls seem frizzy, you want more bounce to your curls, or you wish your hair had more shine, apple cider vinegar may be just what you need. Before you dive in headfirst, though, make sure you know the ins and outs as there is such a thing as too much of a good thing.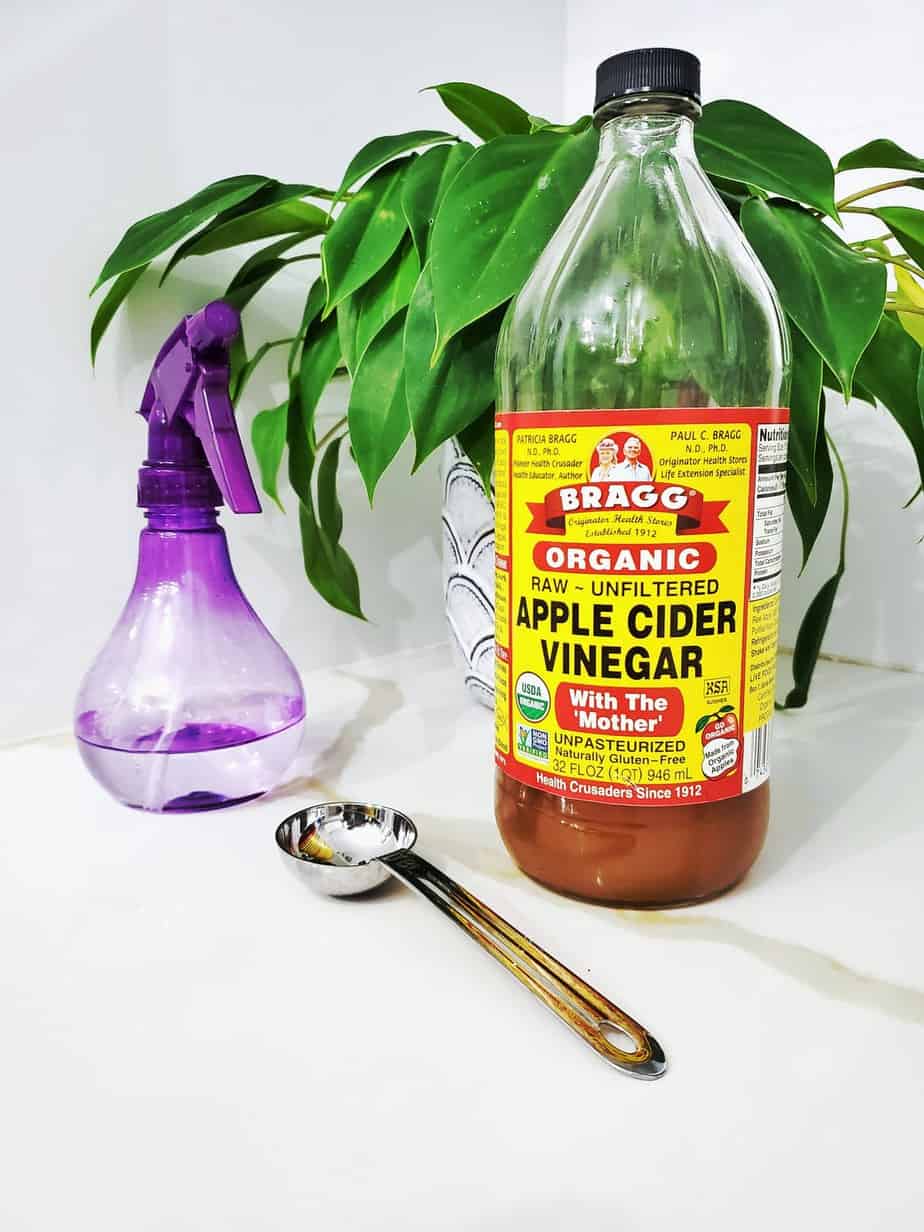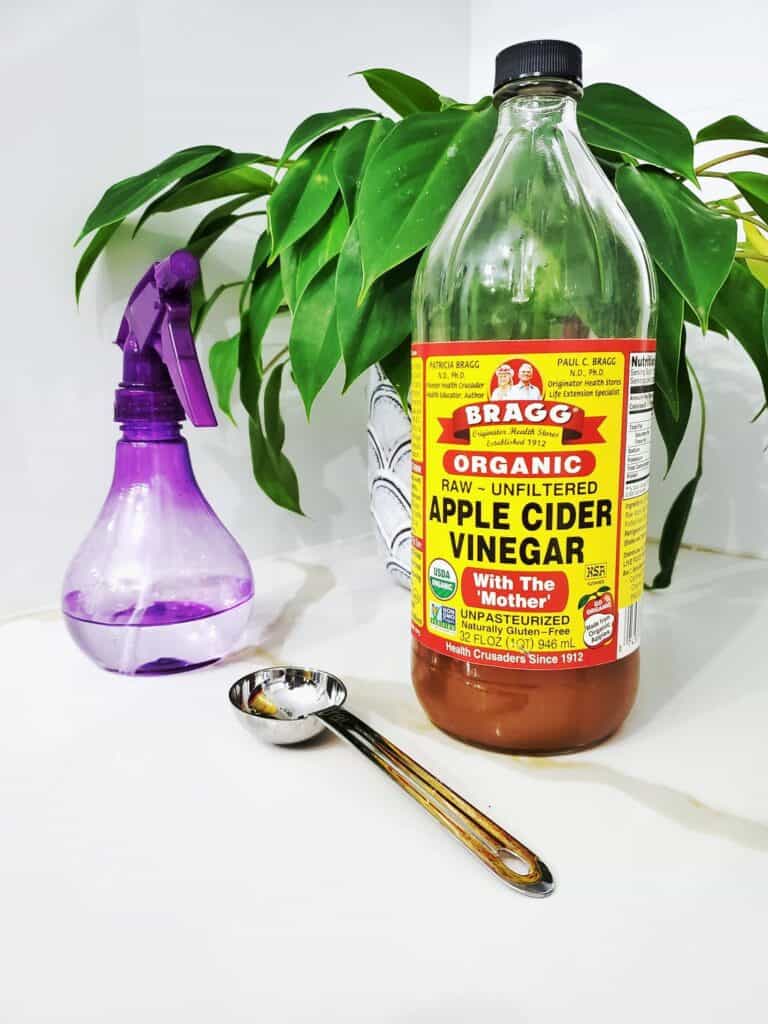 How to do an Apple Cider Vinegar Rinse
Use the following recipe for the best results (and the best smelling recipe too). Since ACV can be a bit strong, using your favorite essential oils can tone down the smell, while providing even more benefits for your curly hair. Rosemary, ylang-ylang, and lavender oil are all great options for curly hair.
Curl specialist Laurie does not recommend using essential oils since they don't really mix with water. And she suggests you do a test patch or start with 1-2 tablespoons per cup to be sure you don't have an unexpected reaction.
I recommend this brand of ACV, but any raw form will work.
Step 1:
In a bowl, combine 2 – 4 teaspoons of raw apple cider vinegar. It should look cloudy (that's the good stuff that your hair needs) with 1 cup of cool water. If you're using essential oils, just a drop or two is more than enough – a little goes a long way.
Step 2:
In the shower, shampoo and rinse your hair thoroughly. Apply the apple cider vinegar rinse for curly hair. Massage your hair with your fingertips (not your nails). This step is important as it's what loosens the dirt, buildup, and bacteria. If you have long hair, you can also keep some of the solution in a bowl and dip the ends of your hair in the bowl to ensure that you cover your entire head.
Step 3:
After thoroughly massaging your scalp, let the mixture sit on your hair for up to five minutes. Experiment with the time it takes – you may want to start with a few minutes and work your way up to see how your hair reacts. You can always add more time the next time you use the ACV rinse.
Step 4:
Rinse your hair thoroughly with cool water. This removes the apple cider vinegar and seals the cuticles for the most dramatic effects.
Step 5:
Condition your hair with your favorite silicone-free conditioner. Start from the ears down. The conditioner will remove any leftover ACV.
When Should you use an ACV Rinse for Curly Hair?
Like any new hair regime, start slow!
You don't know how your hair will react to the acidity in the vinegar. Some curly-haired girls need it more often than others.
We suggest using the ACV rinse for curly hair once every two weeks to start. If you notice your hair seems weighed down, frizzy, or loses its shine sooner, you can increase the frequency slightly, just don't overdo it.
Benefits of Apple Cider Vinegar for Curly Hair
Like any hair treatment, apple cider vinegar for curly hair has many benefits including:
Lowers your hair's pH level – If your hair's pH level gets too high, your curls may look dry, damaged, and frizzy. This happens with overuse of over-the-counter hair products. Rinsing with apple cider vinegar may restore your hair's pH level, reducing the frizz and restoring any damage.
Reduces bacteria – If you have dandruff or an itchy scalp, bacteria may be the culprit. ACV's anti-fungal and anti-bacterial properties will strip your hair of these harmful substances and restore its natural beauty.
Provides important vitamins – Even your hair needs vitamins not just to grow, but to have ample shine too. ACV is rich in vitamins B, C, and potassium, which curly hair needs to stay healthy and shiny.
May help hair grow – The vitamins in ACV may help your hair grow. As a curly-haired girl, you probably feel like your hair never grows. If you're trying to grow your hair out or worry about hair loss, the apple cider vinegar rinse for curly hair could be a great addition to your routine.
Fights frizz – If you've used every product on the market to fight frizz to no avail, try ACV. The acidity in the vinegar smooths your hair's cuticles, which helps reduce frizz and make your curls more defined.
Fights high porosity – If you feel like your hair absorbs moisture too well, it may be highly porous. If your curls feel like they take days to dry and yet your hair looks and feels dry or brittle, it may be highly porous. An ACV rinse closes up those cuticles, reducing your hair's porosity and creating more defined curls.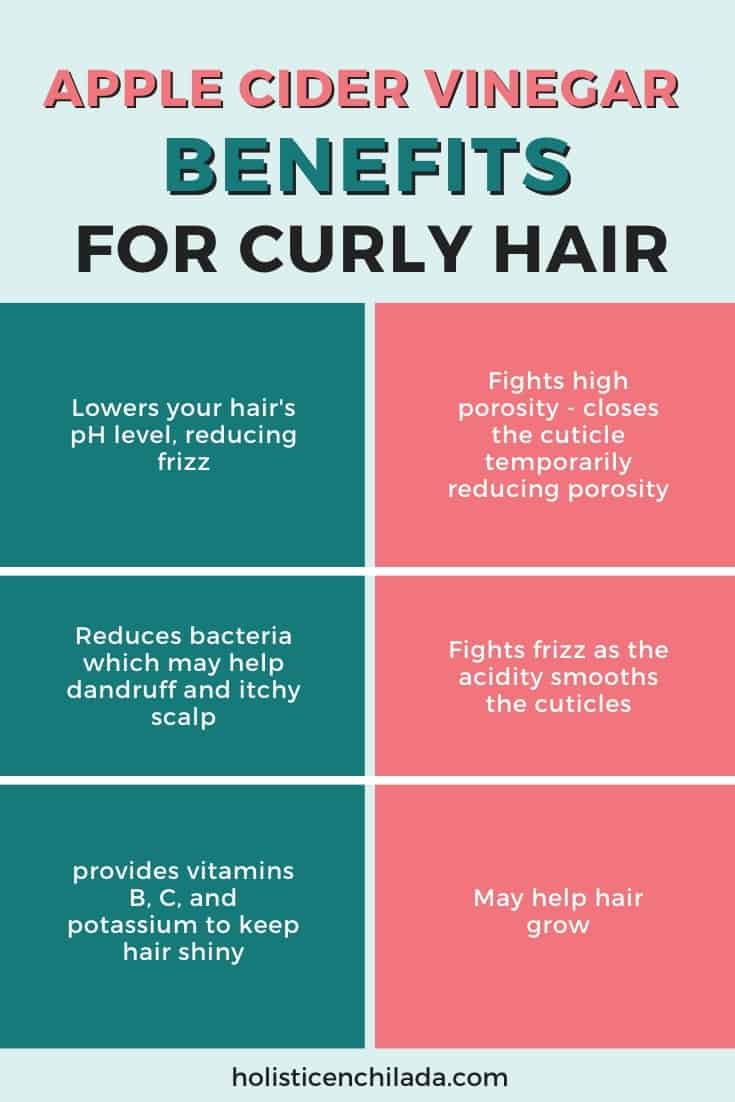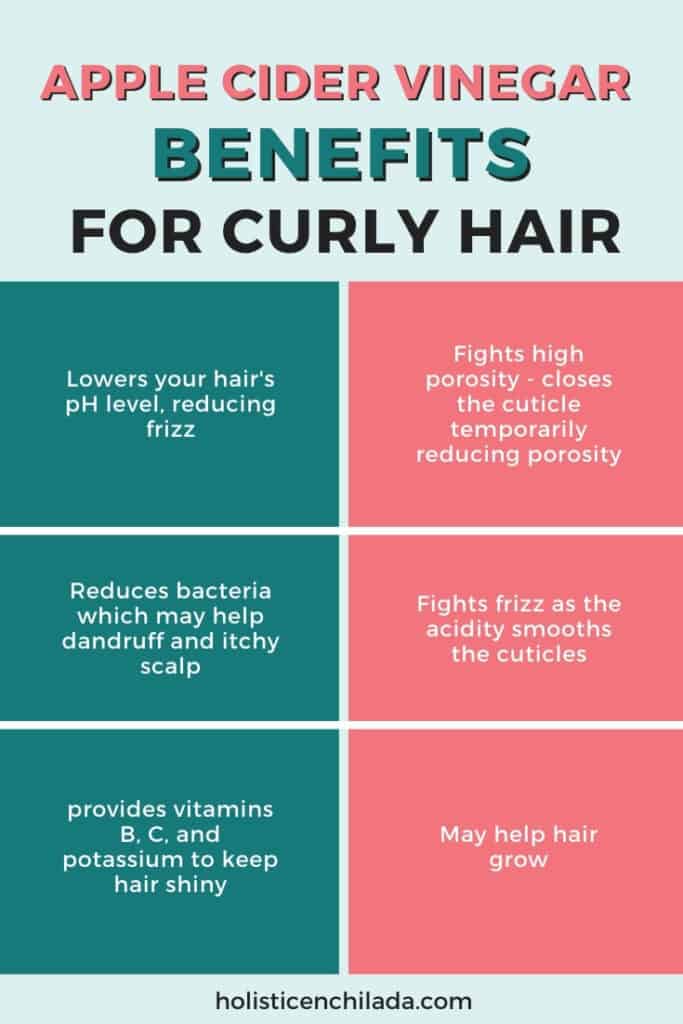 Can you use an ACV rinse to clarify your hair?
The short answer is no. An apple cider vinegar rinse is not a clarifying treatment. Read more about clarifying curly hair here.
If you have hard water, you can do an apple cider vinegar rinse to help dissolve the minerals but you will still need to use a chelating clarifying shampoo.
Curl specialist and hairstylist Laurie Cain actually does not recommend ACV rinses for this purpose but acknowledges that they do remove some mineral buildup.
According to her, "It [ACV rinse] may help if used very regularly, but generally speaking, it won't necessarily remove mineral buildup and I discourage it being used for this purpose, unless used at a higher concentration or for minimal routine use."
She also warns it can fade color treated hair so beware!
Bring Life Back to your Curls with the ACV Rinse for Curly Hair
If you're tired of lifeless or frizzy curls, try the ACV rinse for curly hair. It's all natural and may help reduce frizz, eliminate dryness, and give your curls more shape.
Use it in addition to your natural routine, including either low-poo or no-poo, and silicone-free conditioner to have gorgeous, defined curls that look good no matter what the weather is like in your area.
Want to remember this? Save Apple Cider Vinegar Rinse for Curly Hair – Everything you Must Know to your favorite Pinterest board!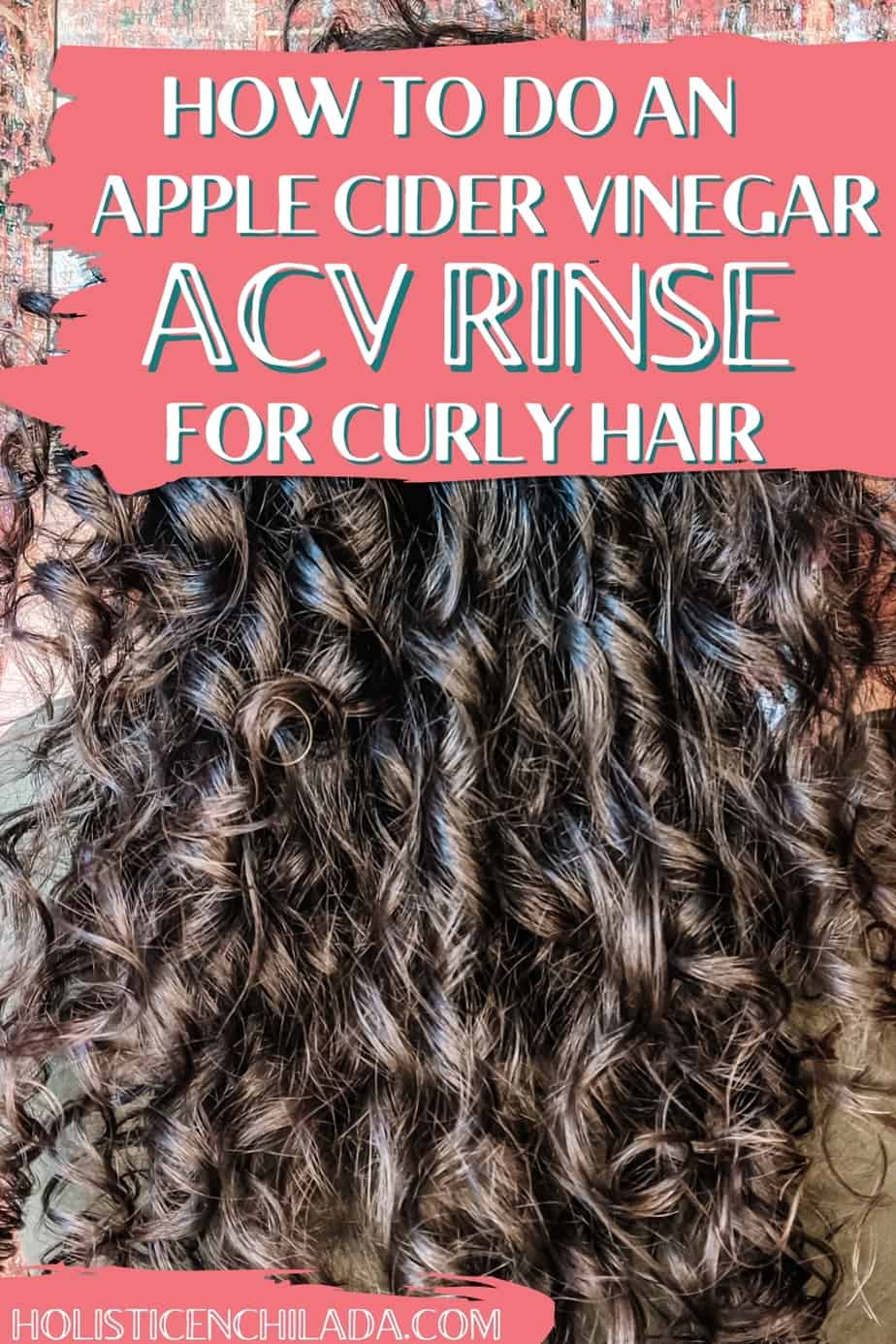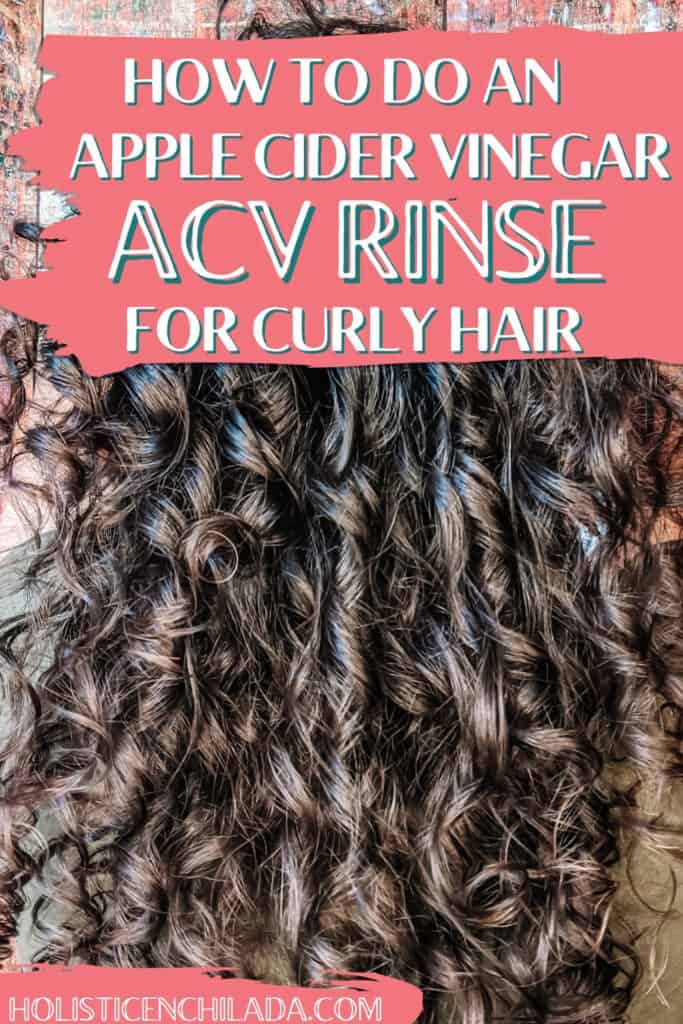 CHECK OUT THESE OTHER CURLY HAIR POSTS: