With all the info on the curly girl method out there, it can get quite overwhelming for beginners. If you're trying to figure out how to start the curly girl method, the abundance of products, gadgets, information, and things to consider can make it difficult to know exactly what you really need, aside from feeling overwhelming.
Ready to transform your frizz into defined, bouncy curls and waves? Download my free Quick Start Guide To Mastering Your Curls and be on your way to fabulous curls in just a few steps!
So this post is for all the curly girl method beginners. I'll share only what you need to get started, and spoiler alert, it's not a lot!
This post includes affiliate links, and I will earn a commission if you purchase through these links. Please note that I've linked to these products purely because I recommend them and they are from companies I trust. There is no additional cost to you. Please read the disclosure policy for more details.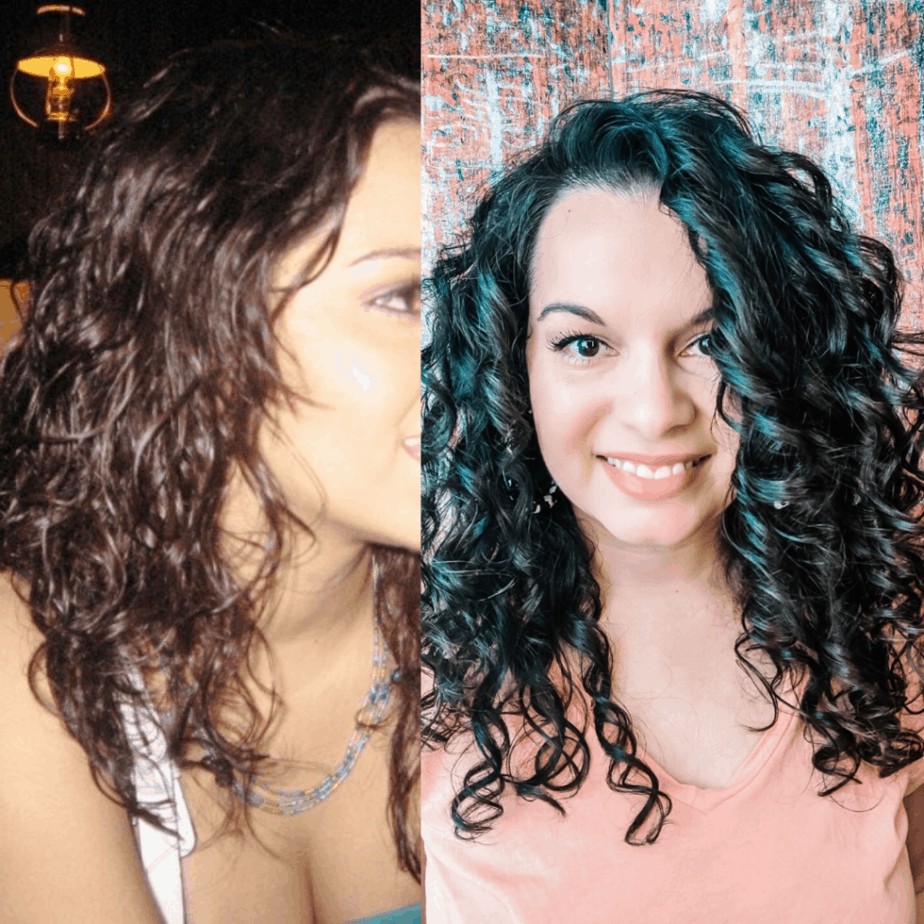 Knowing Your Hair Type
First up, you have to know a little about your hair type to help you choose the right products or at least be on the right track.
Curl type doesn't matter so don't concern yourself with that. You don't choose products based on the pattern of your curls. You choose them based on how your hair behaves.
So ask yourself these questions:
Does my hair have color or heat damage?
Is my hair fine or coarse? (this refers to how thick the individual strands are)
Do I have a lot of hair (high density) or can you easily see my scalp (low density)?
Does my hair get weighed down easily?
This is the important information. Forget about curl types, protein, porosity, and all that. You don't need to know that in the beginning. Just answer the questions above to help guide you with product choices.
What products do you really need?
The big question here. I get asked for product recommendations more than anything else.
What you really need is:
a low poo (if you need less moisture) or cowash (if you need more moisture)
a clarifying shampoo
a conditioner
a styling product (maybe 2 for some hair types)
if your hair is damaged or very dry, then you also need a good deep conditioner
Now I'm going to sound like an outlier to the typical recommendations. You really don't need much to get started. But the products you do have need to be free of silicones and sulfates, with the exception of the clarifying shampoo which should have either a sulfate or olefin sulfonate.
So before you go shopping for new products, search for the products you already have on a website ingredients checker like curlscan.com to see if they are CG approved. You don't have to use "curly" hair products at all, they just need to be free of sulfates and silicones and you might already have some products that don't need to be replaced.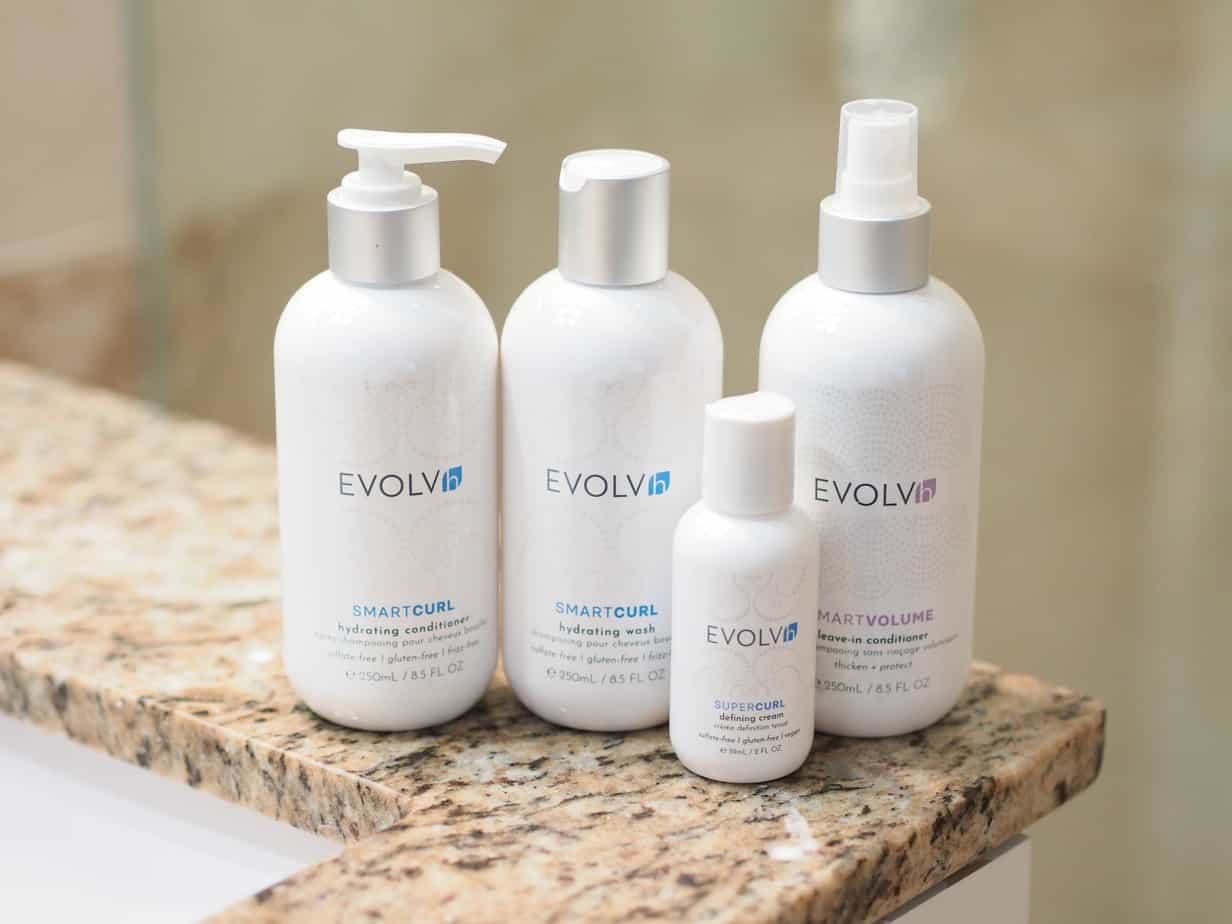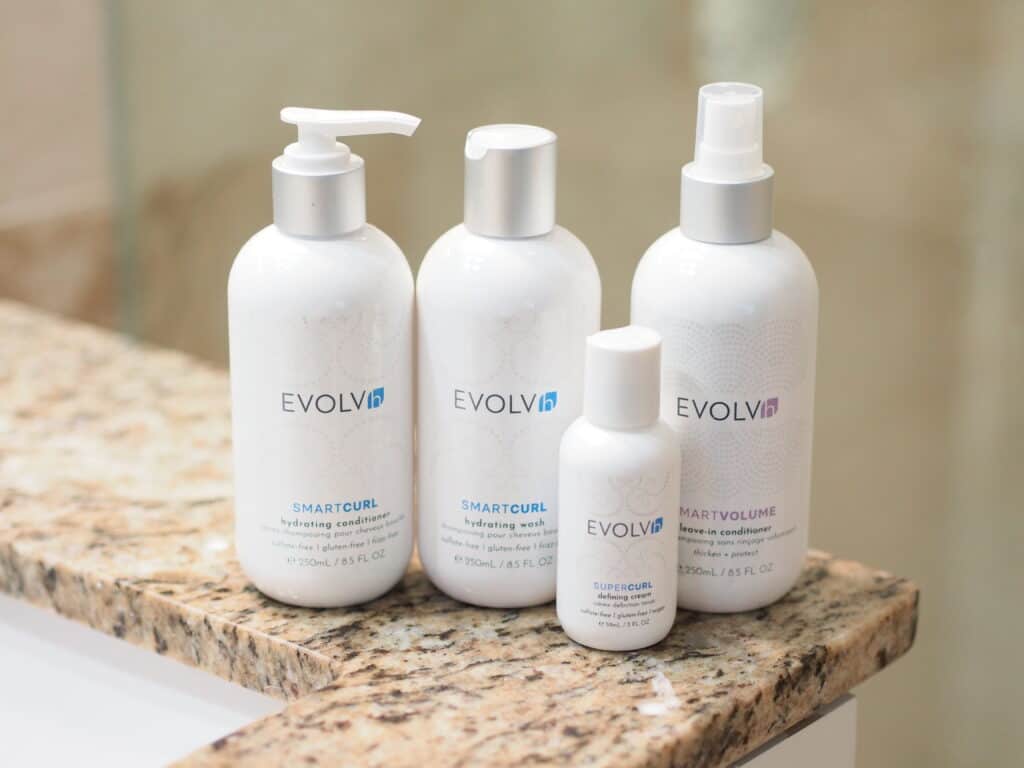 Curly Girl Method Beginner Products
Here are specific product recommendations if you're a curly girl method beginner, since I know that's what you're really here for 😜
And if you're on a budget, check out the Instagram post below. I have these graphics available as a free download in my library of resources for subscribers. You can sign up to get access here.
Some brands also offer trial sets and this is a very affordable way to try different brands and products. Here are a few:
I don't believe this method to improve the health of your curls is focused on products like others do. Yes, it is important to use high quality products with the right ingredients. But it's more about how you use them that makes or breaks this. You need to learn about your hair more than anything else.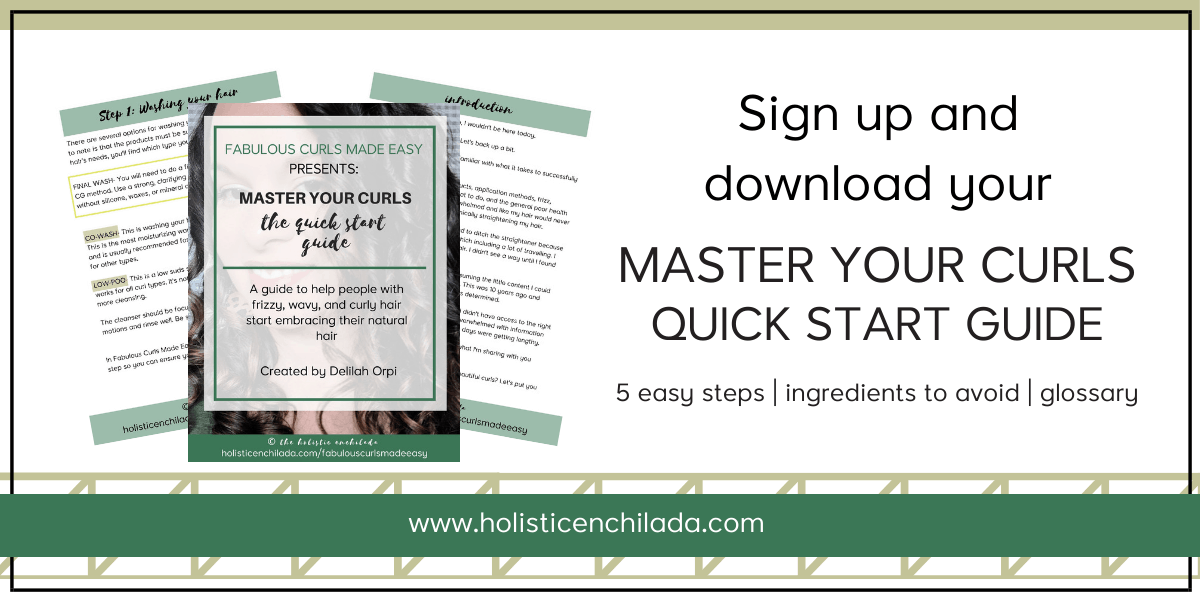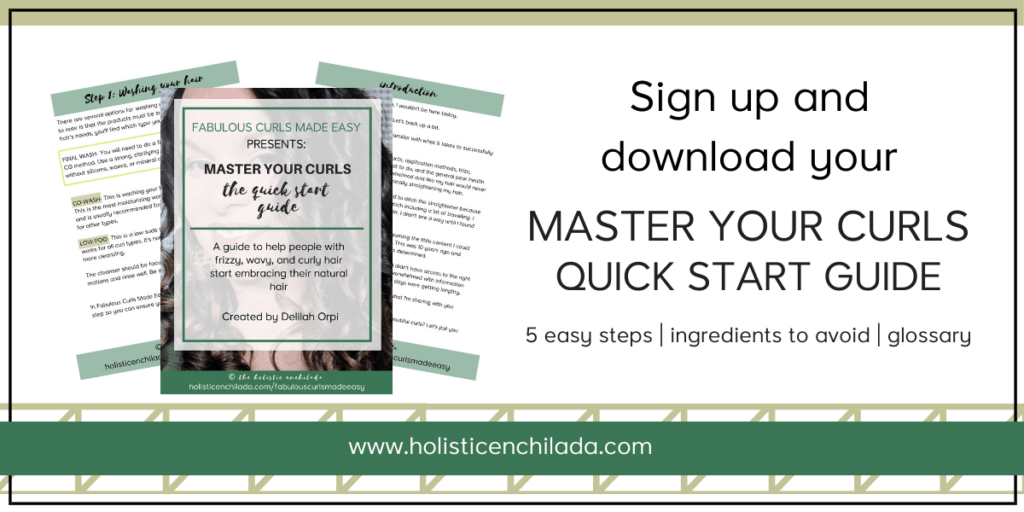 How to choose the right products for your hair type
It's very important to really consider the answers to the questions above to choose the right products. Based on your answers, here are some tips to help you choose from the products I listed above:
Damaged hair needs more moisture
Fine and low density hair needs lightweight products, less product, and usually less moisture
Thick and high density hair will require heavier products and more product
EVERYONE NEEDS TO CLARIFY. Everyone. At least once every 4-8 weeks.
Deep condition once a month or more often if your hair is very dry or damaged.
You can use your regular conditioner as your leave-in and as a deep conditioner. You don't need to buy a separate product for those but you can.
You most likely don't need more than 1 styling product. But you can use 2 if you want to. And if you use 2, make sure it's something lightweight first like a serum or mousse, followed by a gel or custard.
If you use a curl cream or mousse, you'll still need to apply a gel over it. Curl creams and mousses don't have any hold so your style won't last long.
Try a product multiple times before concluding it doesn't work for you. Try using more or less or a different application method.
So you only need 4 or 5 products. In addition to that, a few accessories can help make it a little easier.
CG Method accessories that help beginners
a hair towel

– to reduce frizz (use code HOLISTICENCHILADA for 15% off)

a hair buff

or scarf for sleeping – to protect your hair and reduce time spent refreshing the next day

a diffuser

– to help your curls dry faster. Unless you want to air dry. That's ok too.
That's it. There are lots of other gadgets and products for the CG method but for getting started this is all you need.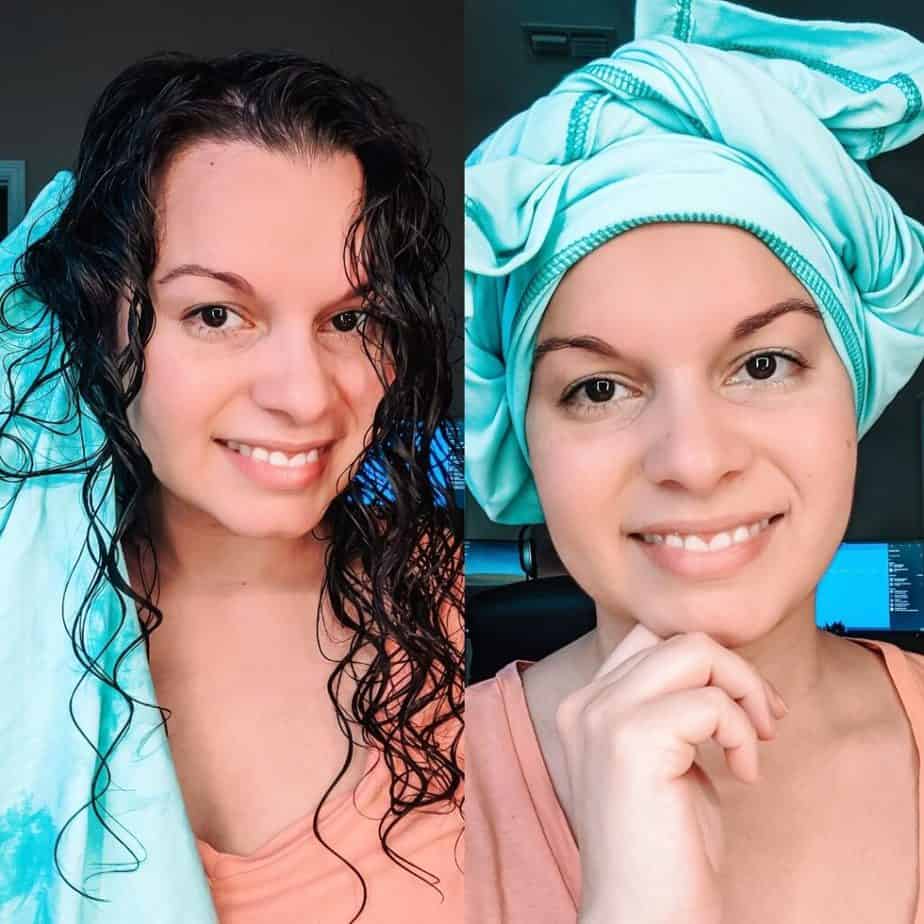 What to do once you have everything
Once you've acquired what you need, you just have to start the process.
If you haven't already, download my Quick Start Guide To Mastering Your Curls to help guide you through the steps and understand how to treat your hair.
Below is a snapshot of the steps in the curly girl method. It's not as complicated as some make it out to be. As I said before, if you're a beginner don't worry about protein, dew points, porosity, rice water rinses, and anything else that makes your head spin.
Wash your hair, condition, style, and protect. Keep it simple. The most important thing is to pay attention to your hair. That is how you learn about its characteristics to make better choices regarding products and treatments in the future.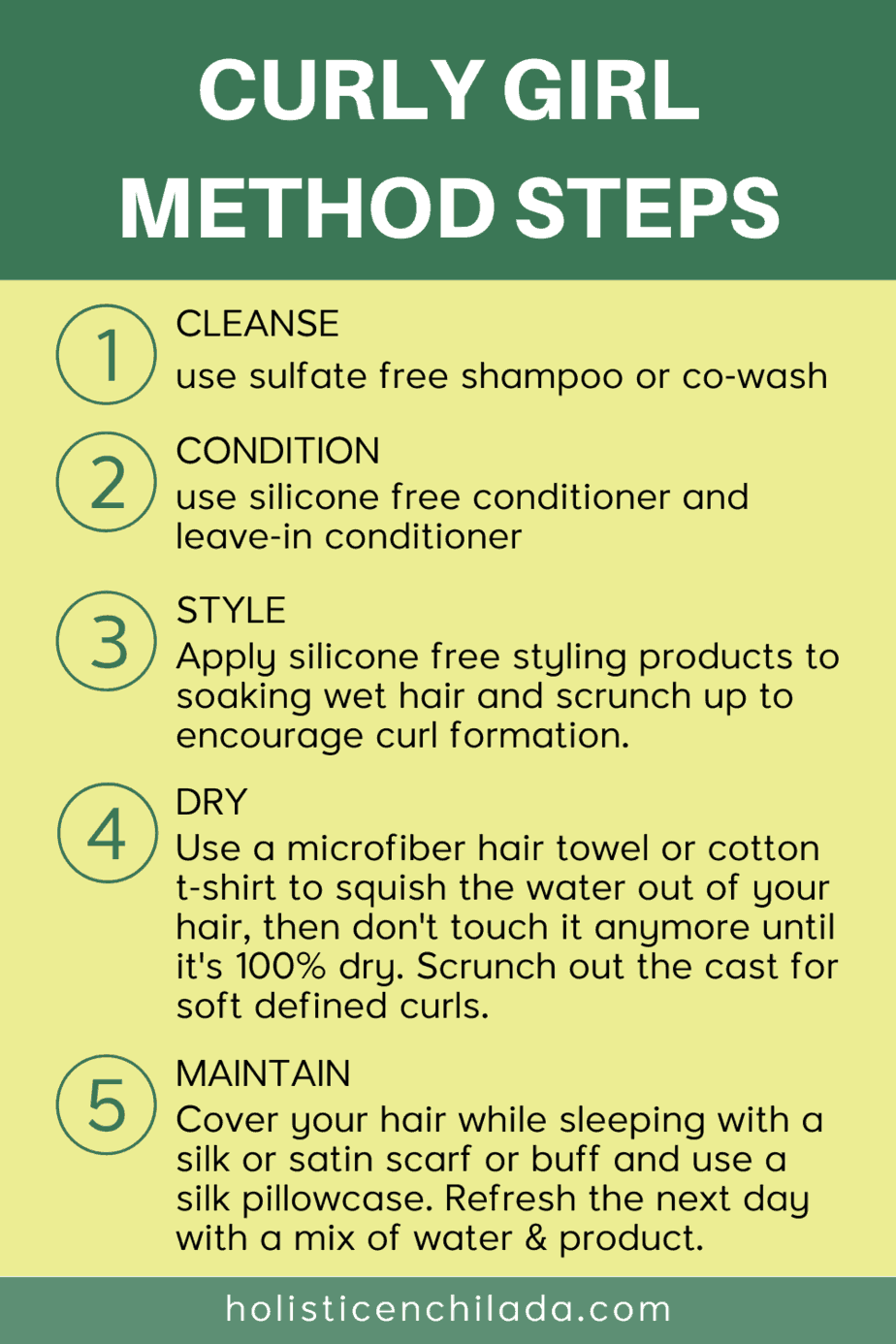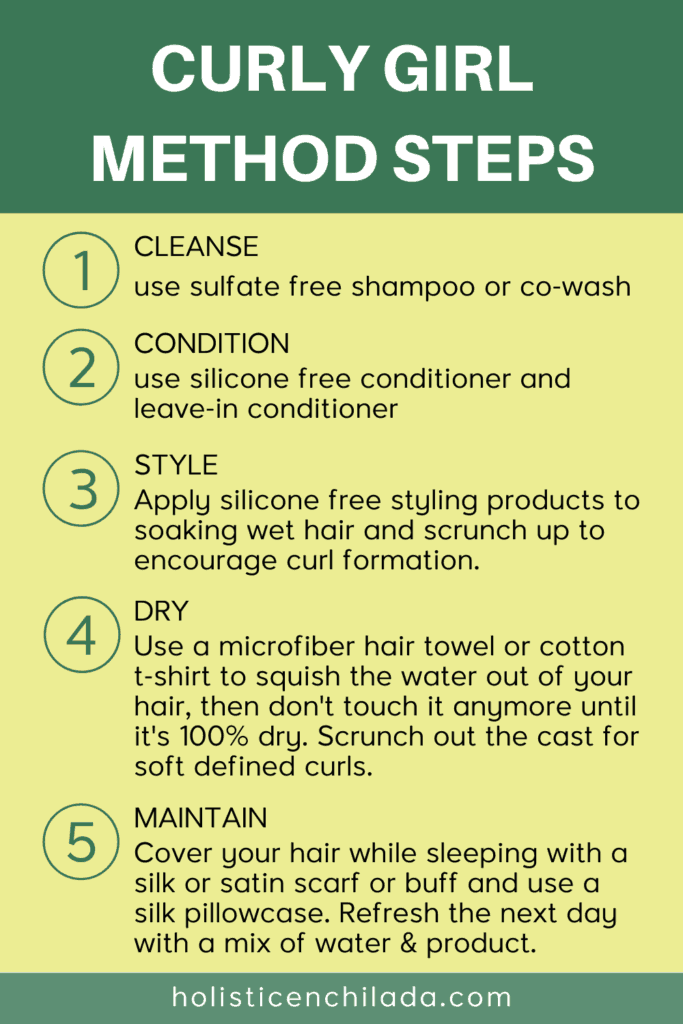 How to ensure success
Have the right mindset.
This is so important. Many people jump in thinking that just by changing their products their hair will magically look great. But as I said before this is more than just a product thing. The method is more important than the product.
You also need to understand that progress is not linear, and this largely depends on your ability to stick with it. In the beginning, it's frustrating as you learn about your hair and inadvertently use the wrong products or methods. You'll have bad hair days and product flops. You'll have lots of frizz. It's normal.
Think of this beginning phase as the trial. You're trying different things, some totally new and different, and the point is to observe the differences. When you use a certain product, how does your hair feel? Does it look stringy? Does it last a few days? Does it feel rough? Does it frizz when it dries? Or when it's wet? These are all important observations. Then you can determine what your hair likes and doesn't like which will help you choose the right products.
You're also trialing different methods. Some products give me crap results if I rake them in but beautiful curls when I scrunch it in. You don't know until you try. And if your hair looks awful, you can always start over or just slap on a pretty headband and put it in a bun. No one will know!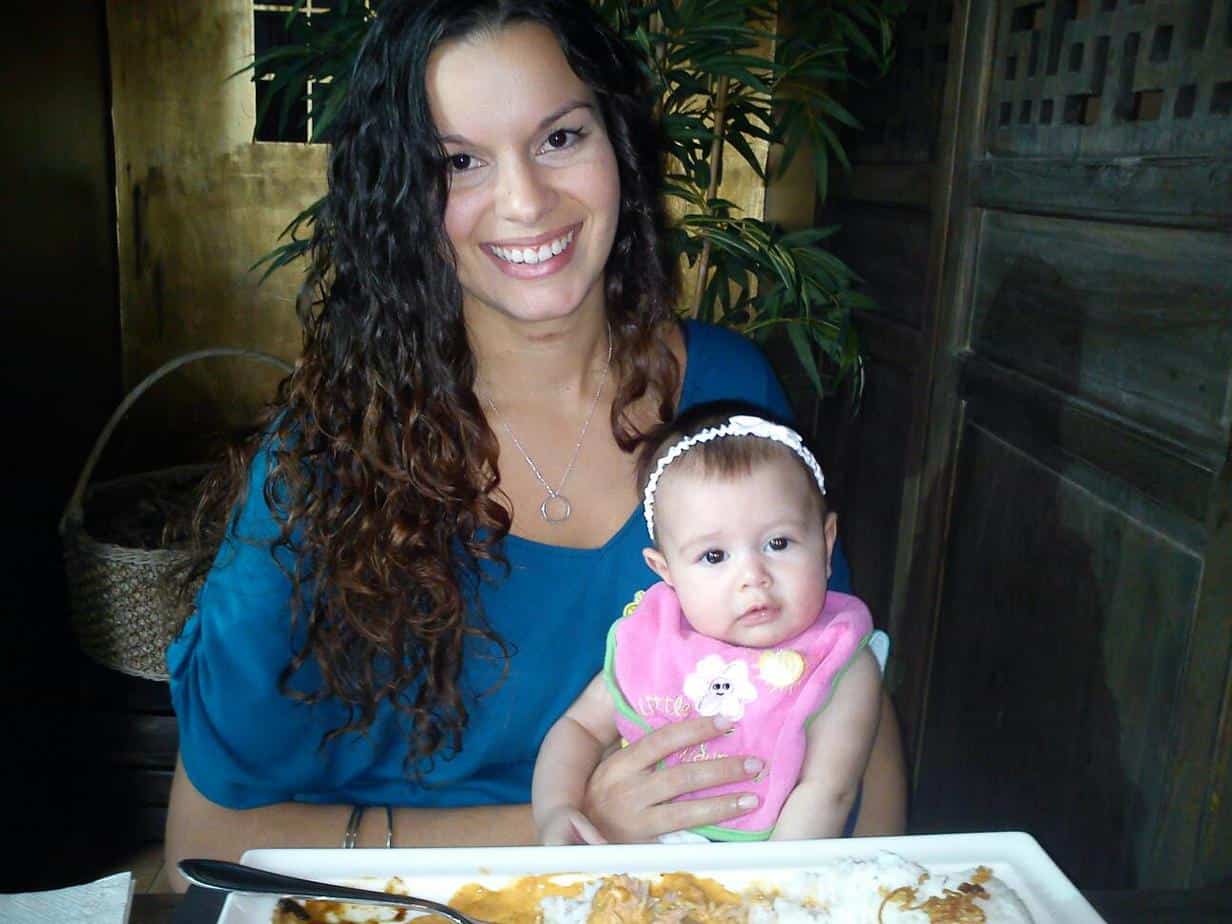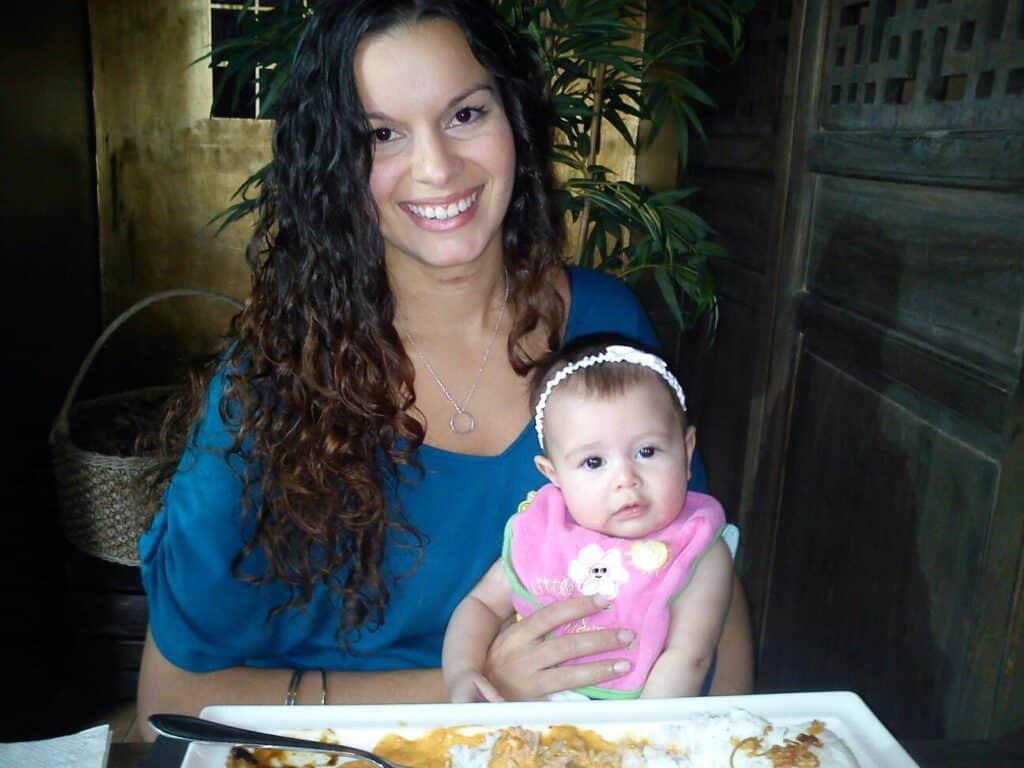 Record everything!
It's so important to keep track of what you're doing and using. Without this you end up spending a ton of money on products and not truly understanding your hair.
Take pictures of your hair and keep them in a designated folder. Record what you use on wash day in your calendar or notepad. This way you can look back and see exactly what changes you made that triggered a different result.
I really like this daily tracker for this reason. It's great for beginners. But as I said before, you could simply use your calendar or a planner to record progress.
Embrace the frizz!
I know this is shocking to hear since we've been programmed to fight frizz at all costs. But frizz is a part of our hair texture. You're not going to eliminate it no matter what. Trust me, I've tried.
But you can reduce frizz. Typically it's caused by using the wrong products, the wrong styling methods, or just having dry or damaged hair. You can read this post I have with my top tips for frizz.
But please don't make eliminating frizz your top goal. Your goal should be to have healthy hair that requires less maintenance. Frizz is part of healthy hair. So don't be so scared of it.
And remember that you are your biggest critic. No one else notices the tiny flaws that you do. I see people complain about frizz all the time and I honestly cannot even see it. I promise it doesn't look as bad as you think.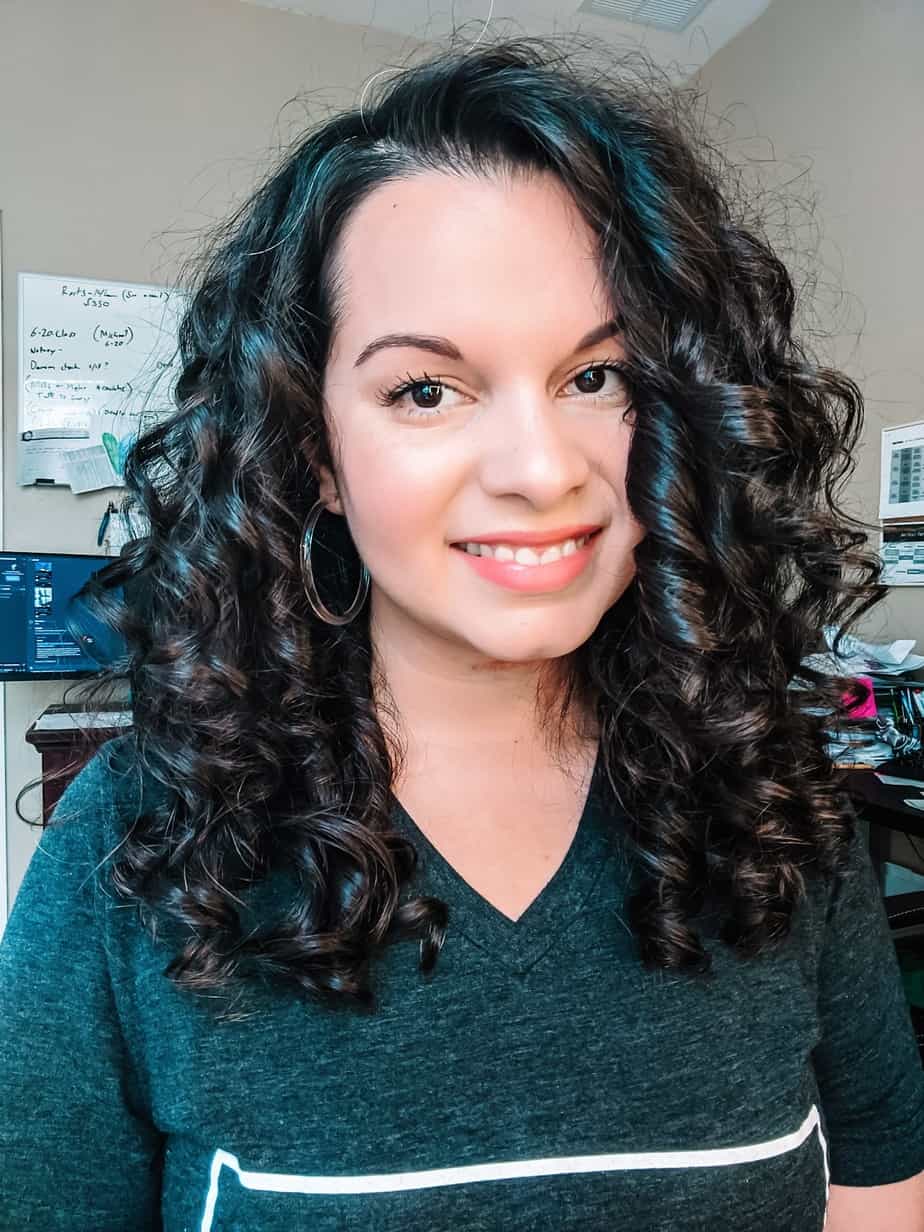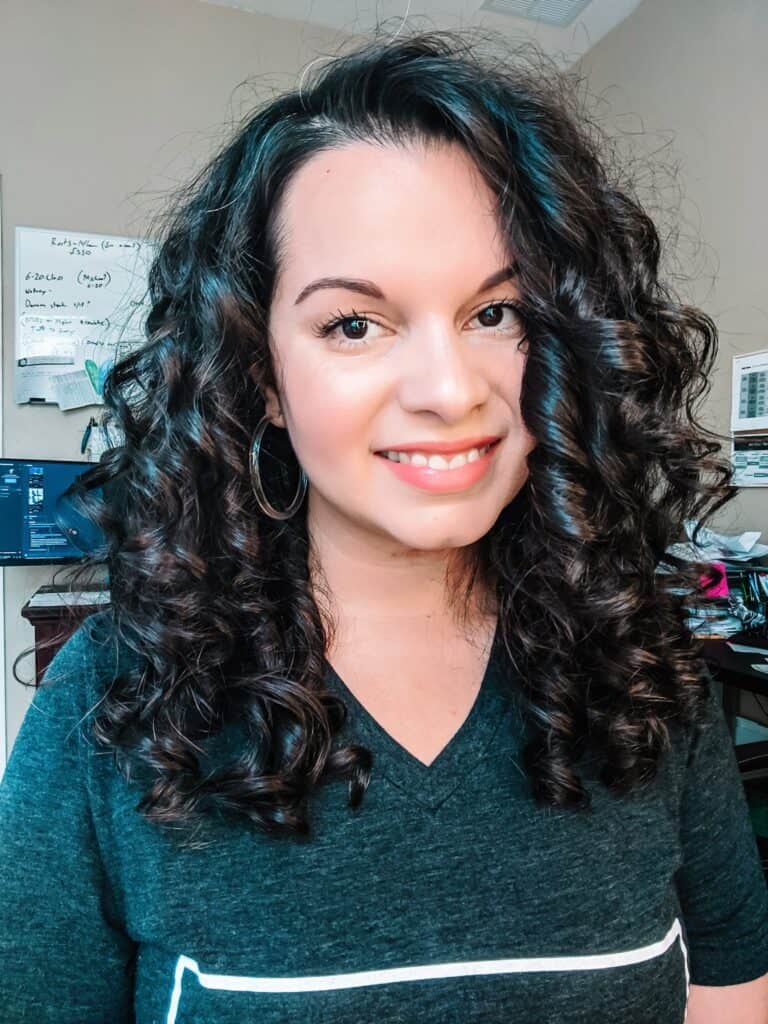 Follow a schedule
Create a flexible wash and style schedule. I don't mean to plan it ahead but to ensure you're maintaining balance make sure you are washing at least once a week, deep conditioning biweekly or more often if needed, and clarifying once every 4-8 weeks.
You can do this by recording it in your calendar, an app, an agenda, or by using the tracker I recommend. You can set a reminder or do something like clarifying every first weekend of the month. It's up to you but you need to have a regular routine so your hair doesn't get out of balance.
And since I get this question so often, yes you can wash your hair as often as you like. Ideally not daily, but every other day is fine. As long as you're using the right products it's ok.
Join a community
A lot of people find more success when they join the curly Instagram community, which is extremely supportive and inclusive. It's really the most helpful, kind, and uplifting online community I've come across, way better than Facebook. And having a community to keep cheering you on, teaching you, and holding you accountable helps you stay on track.
Sometimes it's nice knowing others have the same struggles. And it's helpful to find others with your hair type, espcially if you don't have many others around you in real life with curly or wavy hair.
So come join the community! I'm @holisticenchilada on Instagram, and I'm telling you there are thousands of others just like you. Create a private profile and don't accept any real life friends or family and get on with your curly hair journey.
Putting it all together
Based on this info, choose a handful of products, and start embracing your naturally curly or wavy hair. Record your progress, keep a schedule, have the right mindset, and join a community. And try not to get sucked in by all the influencers and product marketing while you're just starting out. Keep it simple!
So I think I've gone over all I can to help out beginners. I wanted to include enough but not too much so hopefully I did just that.
If you still feel overwhelmed, you can book a coaching call with me for some more guidance. You can book a 15-minute, 30-minute, or 45-minute session with me to help you solve your curly hair or clean beauty struggles. Click here to learn more.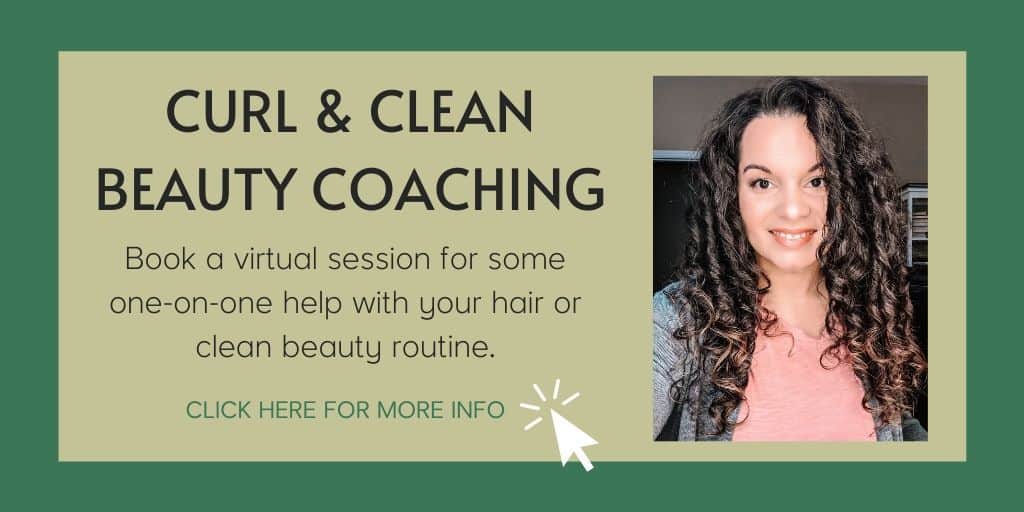 Or you can purchase my course, Fabulous Curls Made Easy.
Fabulous Curls Made Easy is my online course that will guide you through creating a simple routine that gives you fabulous results. Learn what your hair type is, which products and ingredients will work for you, and how to style according to your hair type by creating a simple routine that works. No more confusion about products or methods or battling frizz and time. This is even great for beginners as it guides you step by step. Click here for more info.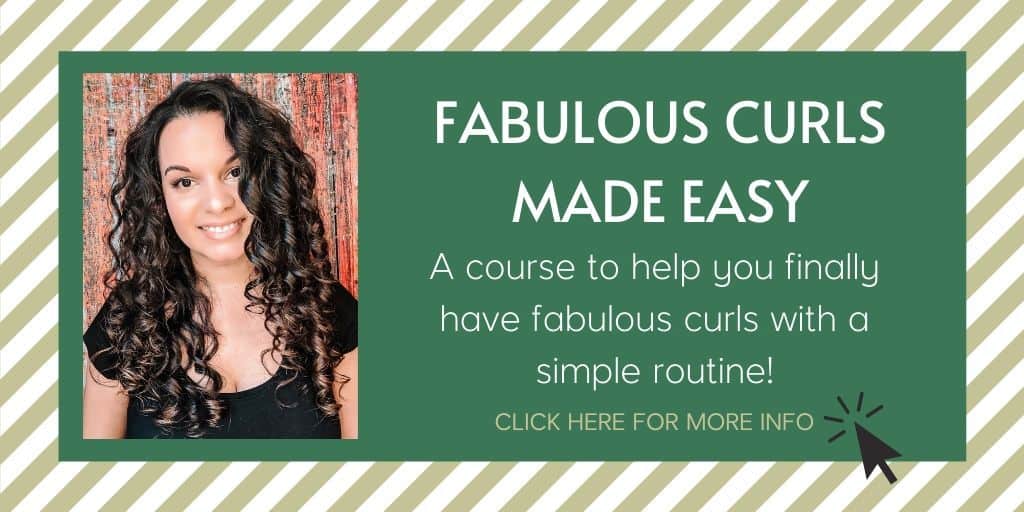 YOU CAN ALSO READ MY OTHER POPULAR POSTS ON CURLY HAIR:
Want to remember this? Save How To Start The Curly Girl Method – The Products You Really Need to your favorite Pinterest board!