In my EVOLVh review for curly hair, I review all of EVOLVh's products for my curly 2b, 2c, 3a hair following the curly girl method. I detail how each product performs and have a video tutorial towards the end.
This post may contain affiliate links. Please read our disclosure policy for more details.
I first became interested in EVOLVh's Smart Curl line after trying a trial size of their shampoo and conditioner in a beauty subscription box. I had tried their volumizing leave-in conditioner spray before and while it worked, I wasn't wowed.
EVOLVh is a natural hair care line that uses clean, high end ingredients. I was excited to try this line because I had seen a few other rave reviews. And let me tell you, this line delivers! My curls are so bouncy, shiny, soft, and defined when I use the shampoo and conditioner. I thought I liked my hair before but after trying this line I am a total convert!
Remember that I have very fine, thin 2c-3a hair that is high porosity and I live in a warm, humid climate.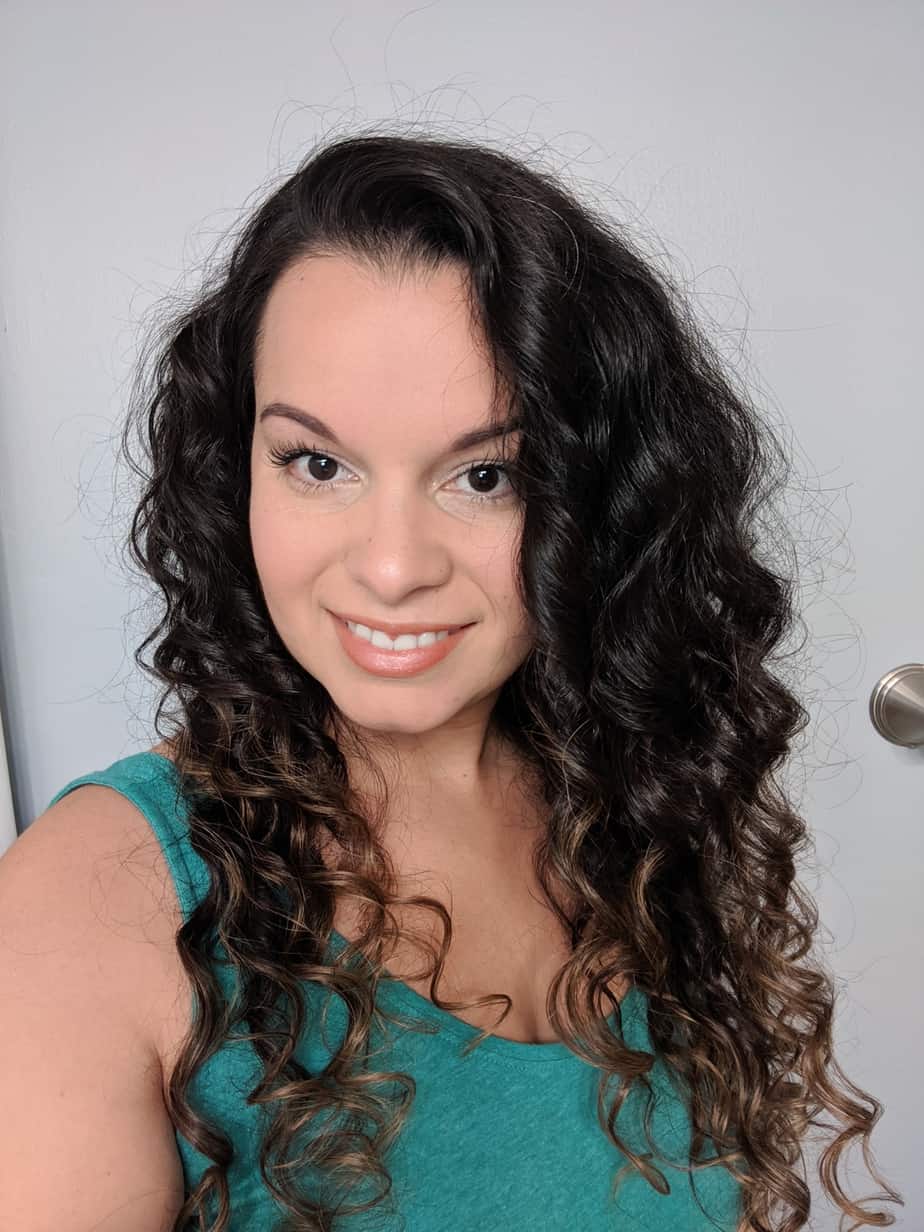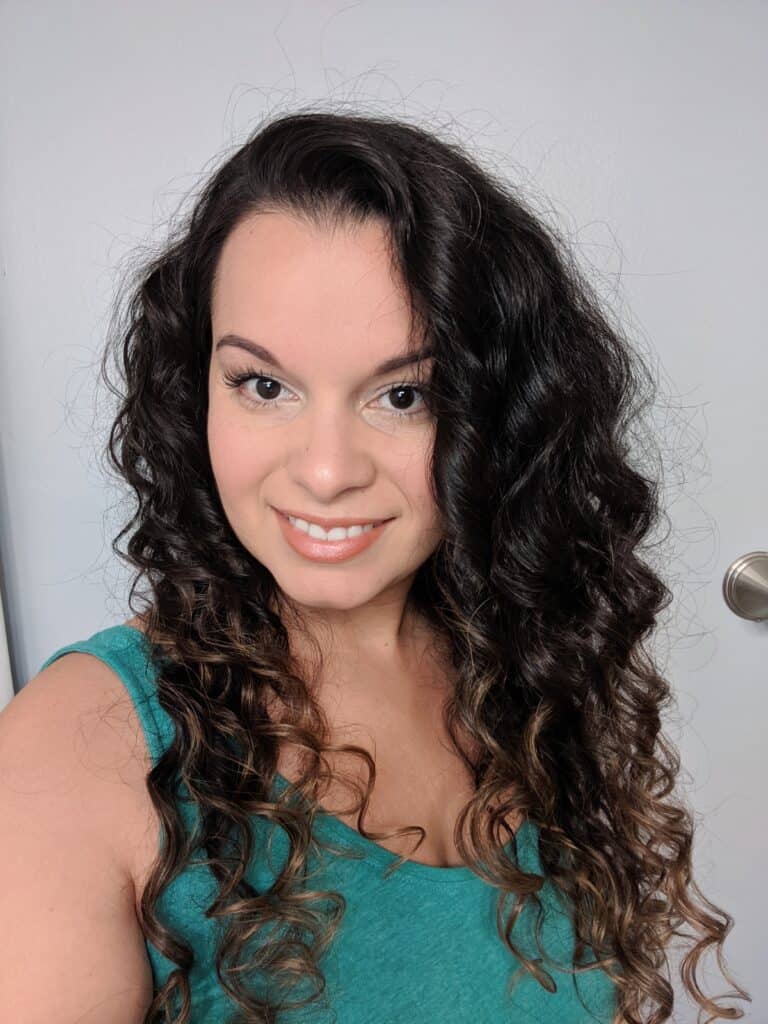 EVOLVh Product Reviews
The first thing you notice is the scent. It is nice and fresh which they call "Smart Scent"- you can read about it here. It used to be strong but it's less intense and now smells more like grapefruit. In fact, they recently reformulated all their products to have this same new scent.
The shampoo lathers nicely and leaves my scalp squeaky clean. It is not as hydrating as other curl lines which I actually prefer for my really thin and fine hair. It reminds me of the conventional shampoos I used to use years ago that left my scalp really clean. If you need something very hydrating, then skip this.
This has the same scent as the shampoo. Right away you'll notice that it almost feels like water as your hair instantly absorbs it. The slip is ok for me but it might not be enough for others. I use about 2 squeezes and after squishing it into my hair I wait a few minutes before I detangle with my fingers. I also add water if I feel like I need more product before adding more conditioner. Usually, it just needs water since it's so concentrated.
It rinses out well and leaves my hair really soft, with minimal frizz, and defined curls that have lots of bounce. Again, this is not as hydrating as other lines but as I said before, this works very well for my hair. The lightness of this line doesn't weigh my hair down so that I actually have some volume!
This is my favorite leave-in. It instantly softens my hair and adds volume. I like that all their leave-ins are in spray form because it really helps me concentrate the products on the length of my hair. I spray it liberally all over and scrunch up my hair before applying styling products.

The results:
These pictures are using only the SmartCurl shampoo, conditioner, and volumizing leave in along with Raw Curls gel. The rest of the EVOLVh line is reviewed below.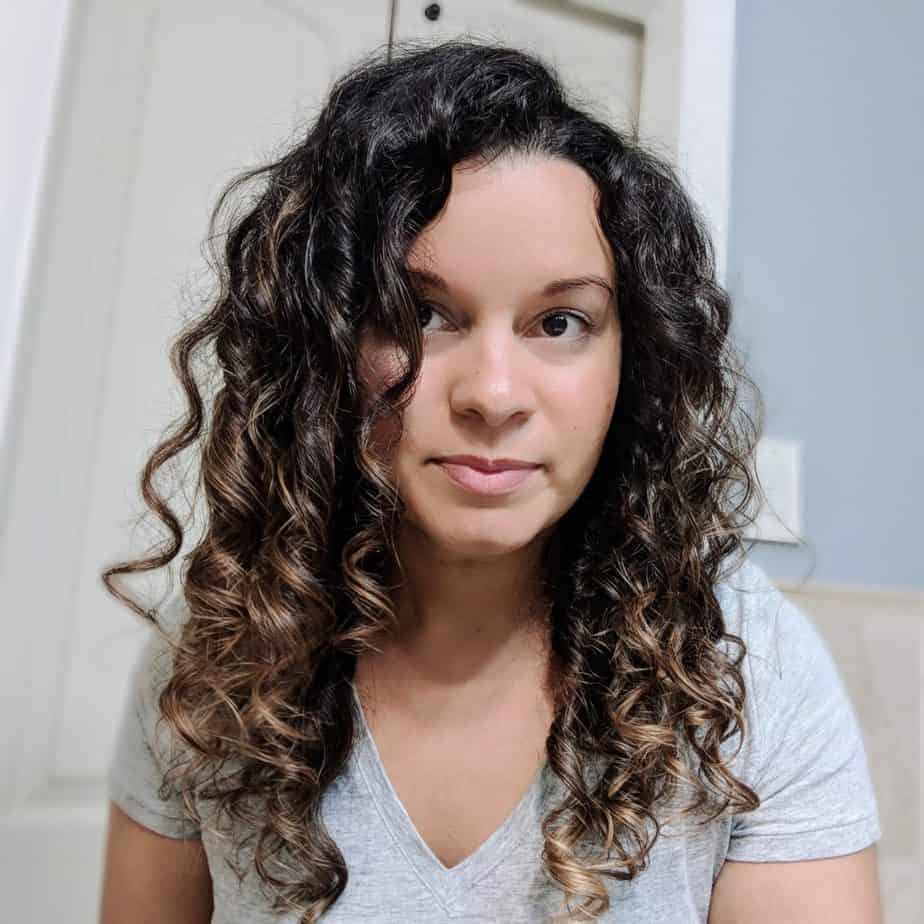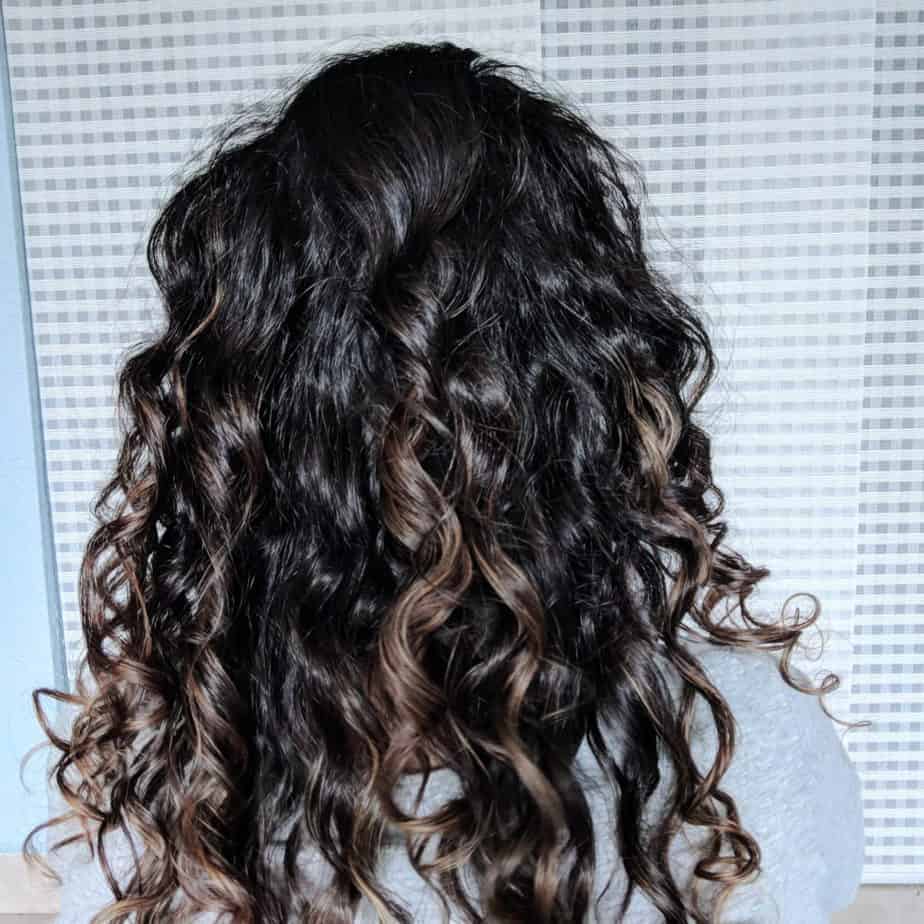 The pictures speak for themselves. Every time I use these products my curls turn out amazing. Just for reference, the only other product I used here is Raw Curls medium hold gel. I never get such good results with any other combo so I know it's the shampoo and conditioner that are making this big difference.
This wash lasted me 5 days. For all 5 days I could leave my hair down and I needed minimal refreshing. My curls stayed shiny and bouncy, defined, and frizz was minimal. Since then, I have experimented with other brands and products but I always get great results with Evolvh's Smart Curl line.
If you're interested in trying this line out use code HE15 for 15% off your purchase. They also have a Curls Discovery Kits for only $38 with 4 different products making it a great way to try out the line.
EVOLVh sent me the rest of their products for review, and I am even more in love with this brand. I now understand the shampoo and conditioner are not as hydrating because their styling products are very hydrating. It took quite a bit of tweaking around with the products as far as how much to apply, what method to use, and in what order to apply them.
I mix the lines and don't stick to the SmartCurl only because that is what works for my hair. But I will review each product below so you can decide which might work for you.
This product is like a gel and cream in one with medium hold. It is thin but not runny as you can see below. It feels it as if you're not even putting anything in your hair when you apply it because your hair just soaks it in. But don't be fooled!
It is very hydrating, has a minimal cast with great hold, and imparts some shine and great definition. It can be used alone but I prefer to add the WonderBalm on top for extra softness, definition, and ultimate shine.
To use it I rake and scrunch it in all over.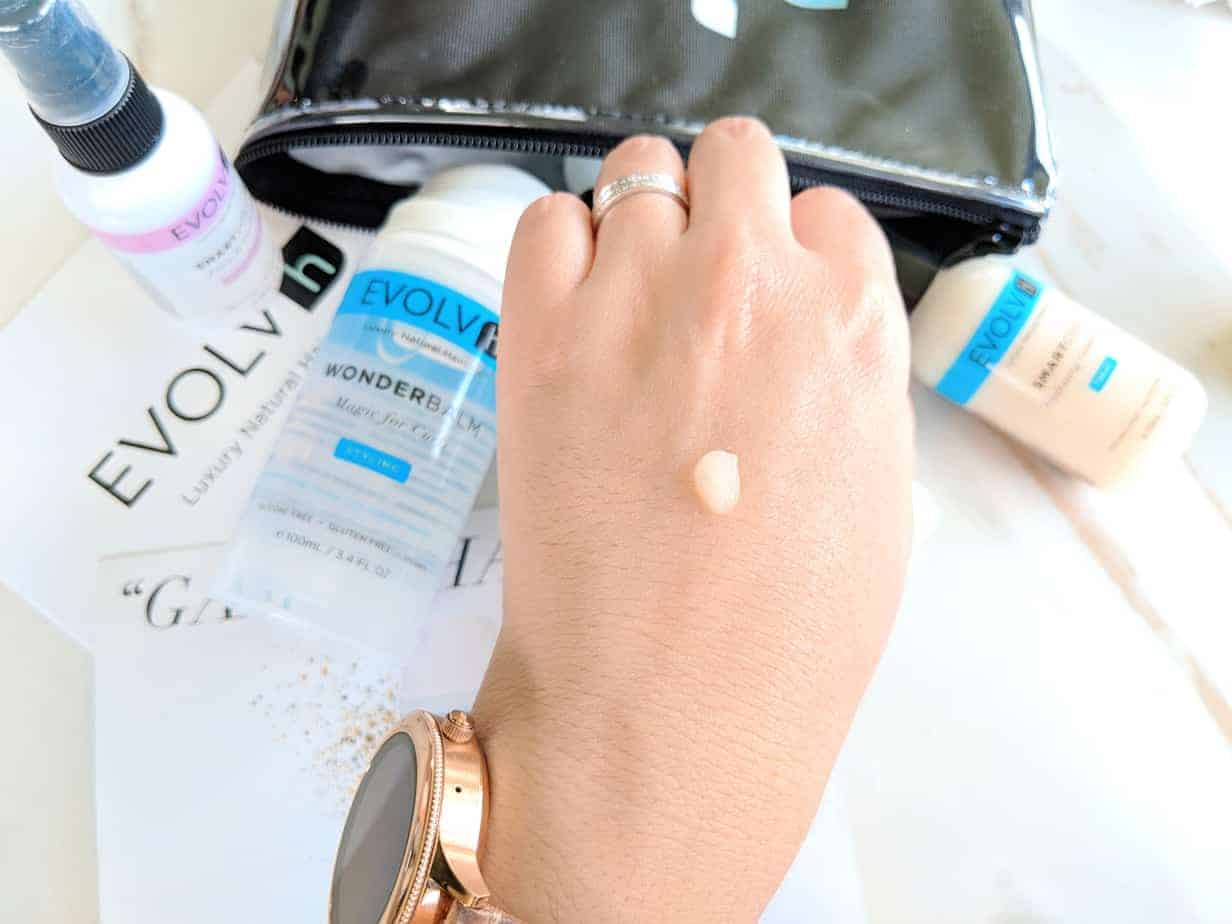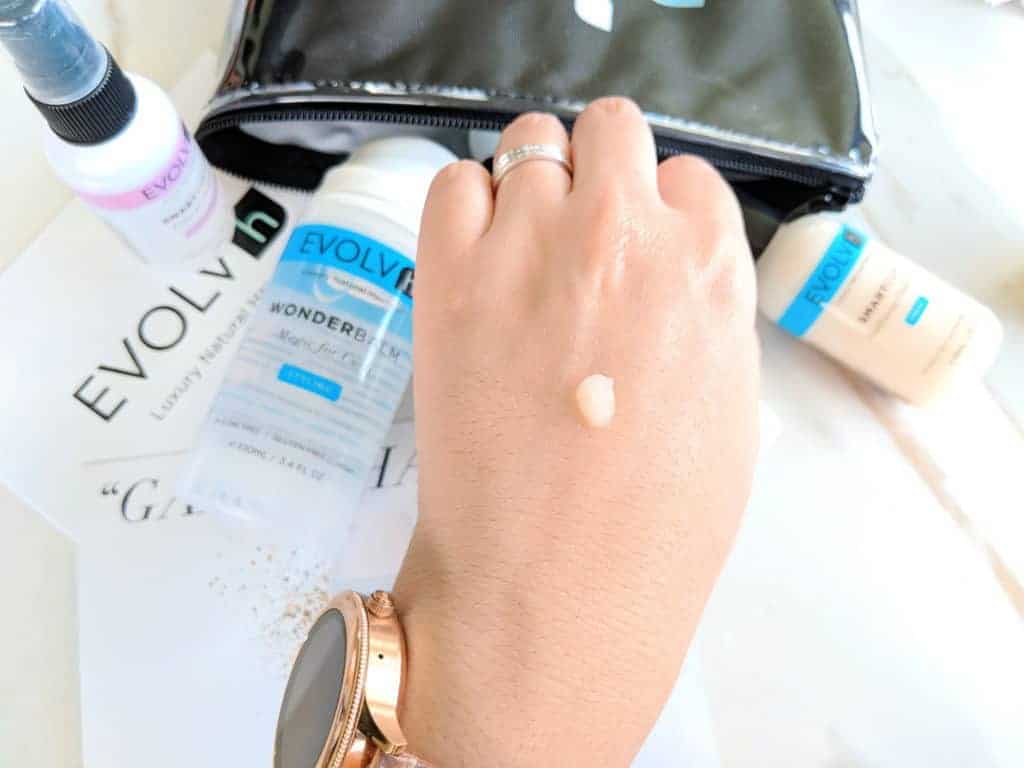 This product is like a hair serum. Again, it feels like water and you can't feel it as you apply it. Their styling products really melt right into your hair which can be quite deceiving and lead to using too much product. Start small! This stuff gives incredible shine and softness. I find it doesn't give me enough hold which is why I like to layer it on top of their styling creme. They recommend it be used under but I prefer my results using it over the creme.
Again, I always stress to experiment with new products to find what works for you. This product is also very expensive, but honestly, I can see this bottle lasting over a year. They really should sell it in a 1 ounce. And they actually do offer a sample size for $12, which will last a few months.
I add half a pump and scrunch up from the ends.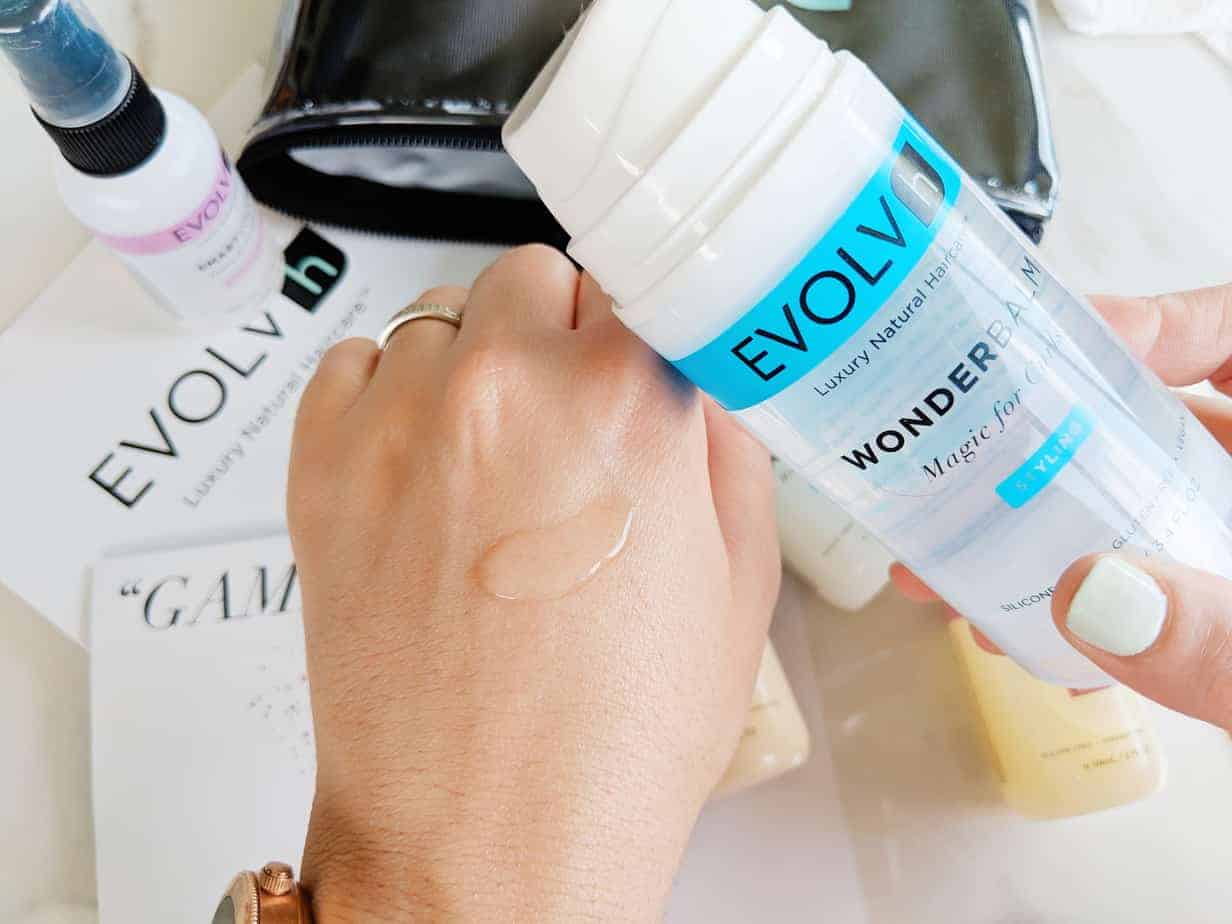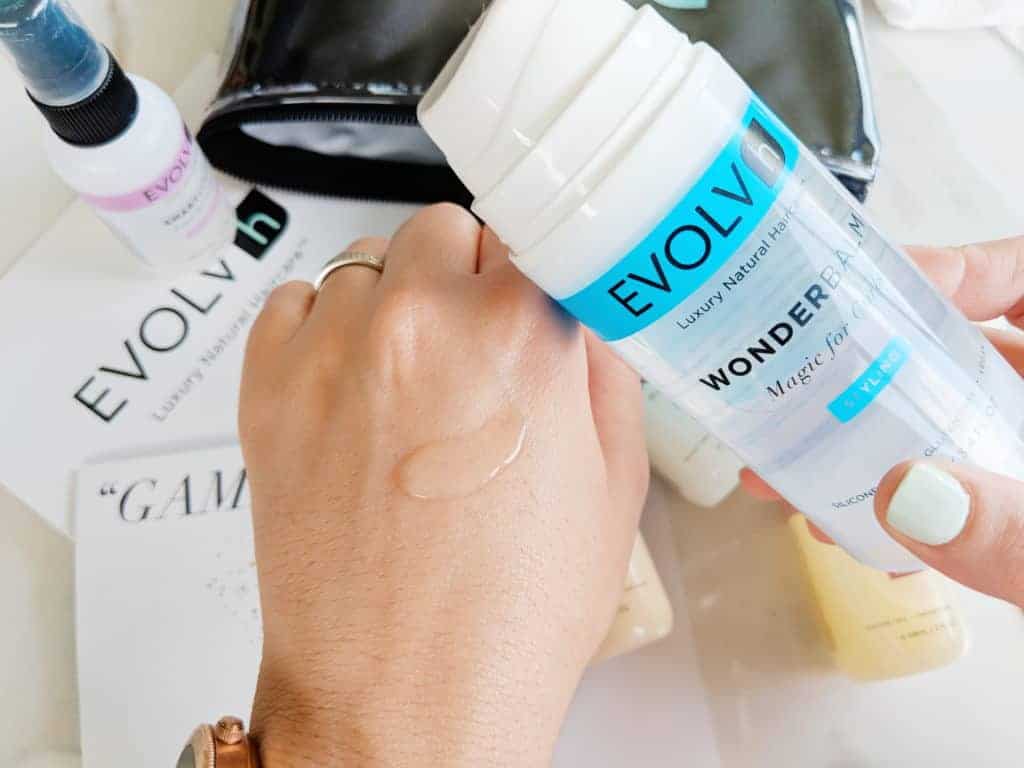 This is a deep conditioner and it works like any other. It is not as hydrating or thick as other deep conditioners for curly lines but it is perfect for my hair. I like to apply it and use a heat cap to help it penetrate the hair. It seems to have a decent amount of protein which my hair loves.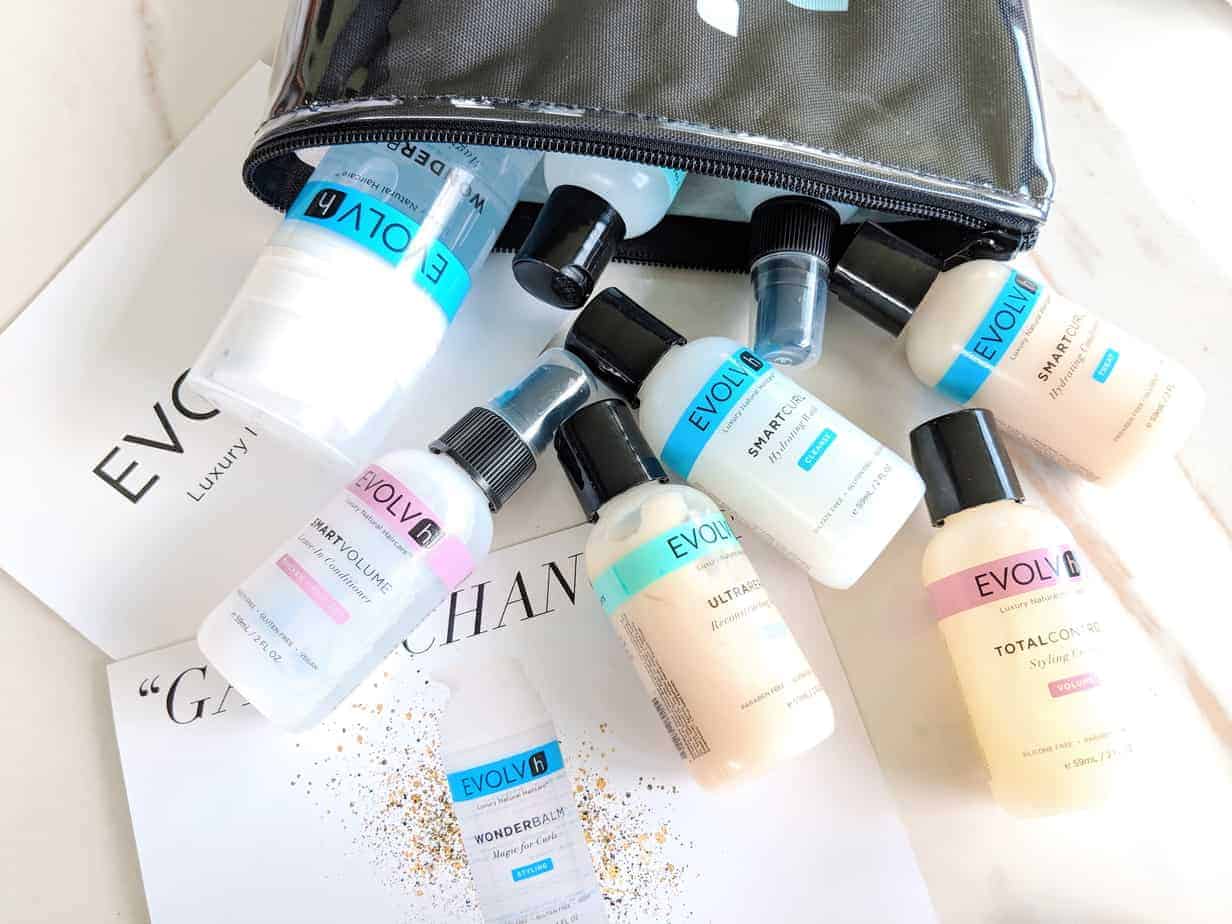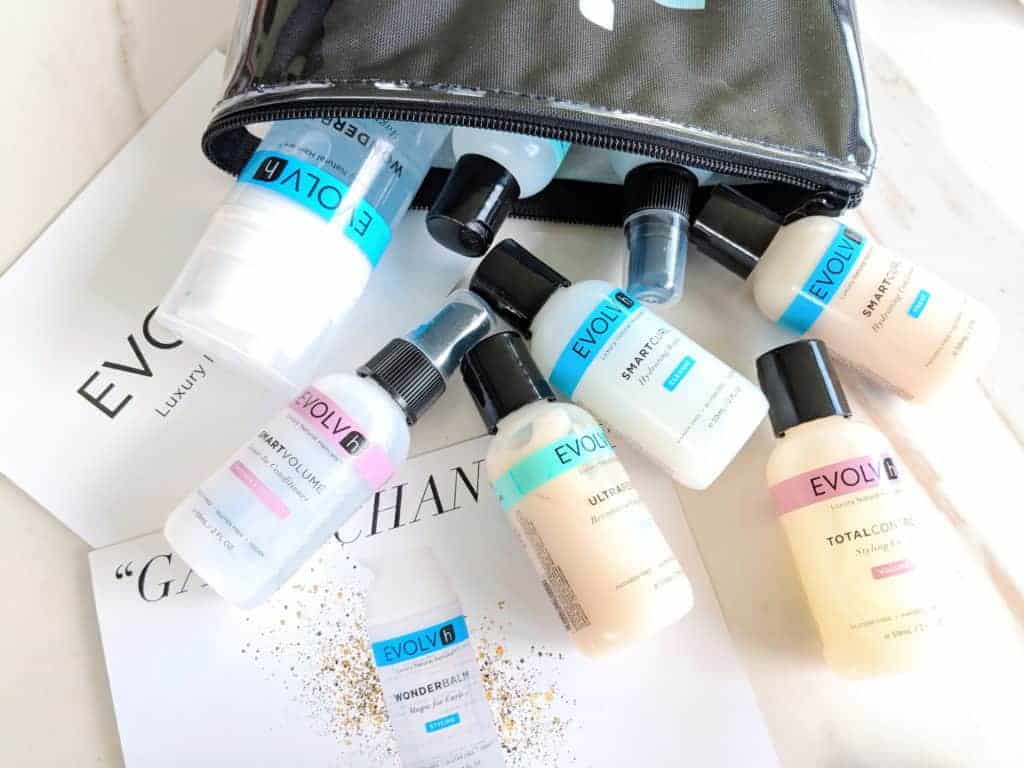 I have given this product several tries but I do not like it at all. It is a thin lotion that to me does not provide any hold. It does not give my curls any definition and it starts to get frizzy quickly. This is one I'd say to skip if you're wearing your hair curly.
I was very excited to try this cream and the new leave-in below. It provides less hold than the Styling Creme but more definition and shine. It works like a curl cream and my hair doesn't love these. Although my hair looks great on wash day, it weighs it down so it doesn't last as many days after.
This would be great for most curly hair types, especially thick and dry hair. This has minimal scent.
This spray conditioner makes my hair so incredibly soft but it is just too moisturizing for my hair. It weighs my hair down a bit but I really love how it feels. It also has the same scent as their other products.
I think this leave-in is best for thick, dry curly and wavy hair. Since my hair is so fine and thin it's too much.
This is my second choice leave-in. It softens but doesn't add volume. It's a great choice if you don't need volume. But the SmartCurl is more moisturizing.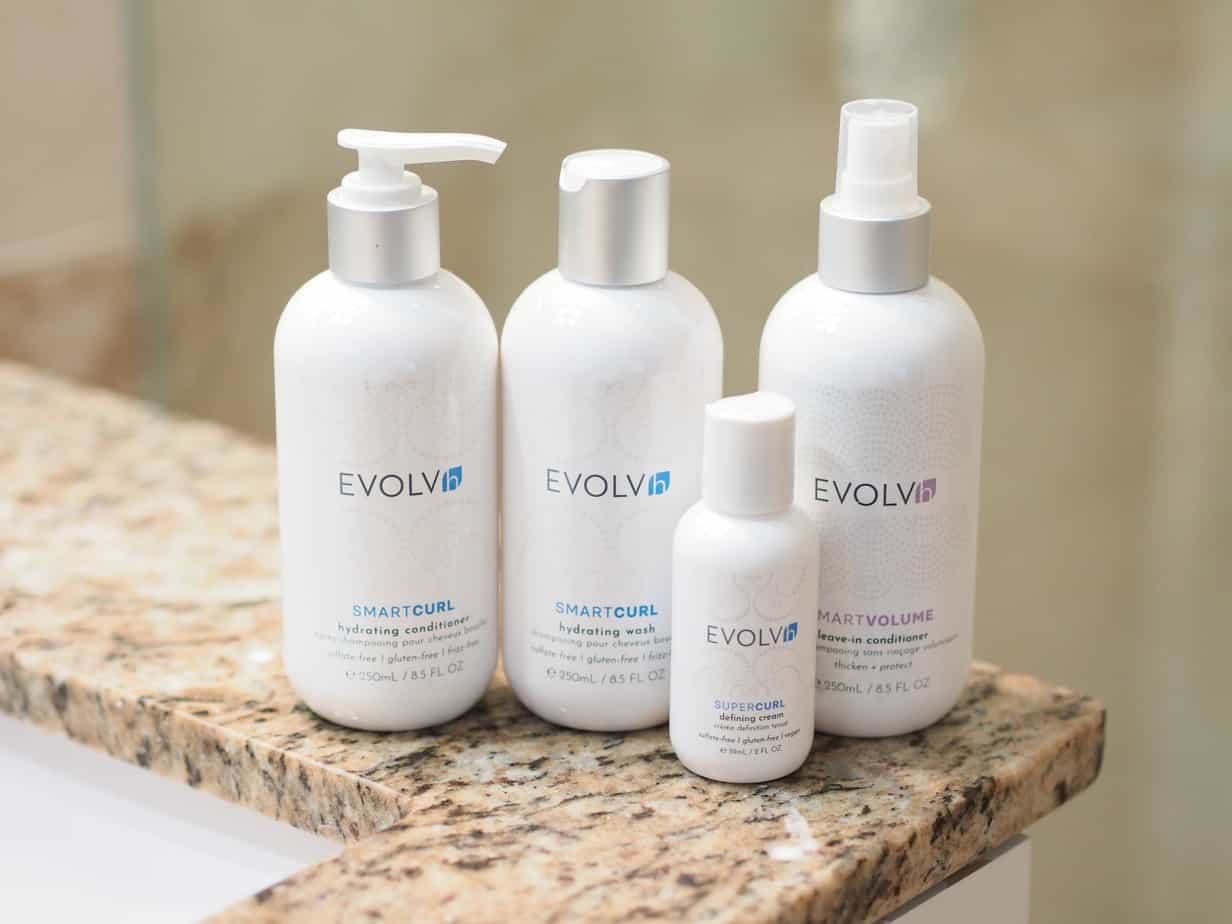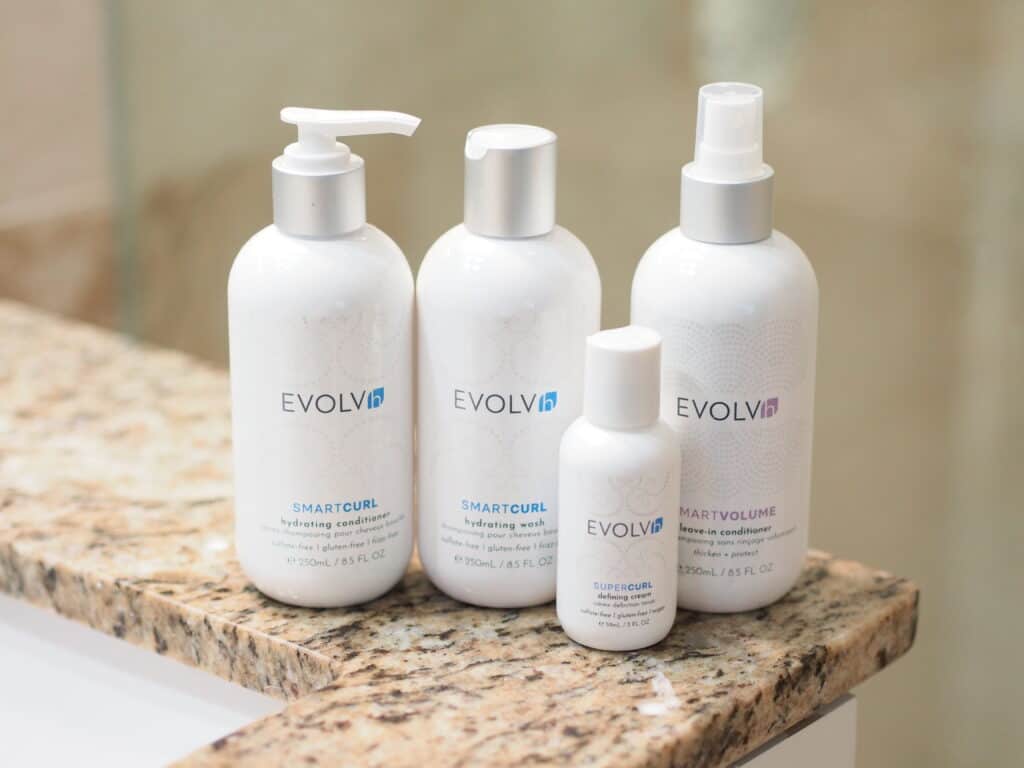 Other EVOLVh Products
I have tried the SmartColor shampoo and conditioner a few times. It has the same new scent all their products have and honestly seems to work the same as the UltraShine line does on my hair. It isn't any more or less moisturizing than UltraShine so I"m guessing it just provides more protection for color-treated hair. I'd say it's a great option for color-treated hair but if your hair is curly, stick with SmartCurl since it is also color-safe and will provide better moisture and definition.
I love the UltraShine line almost as much as the SmartCurl. It is such a slight difference in how my hair looks when using it. I only notice a little better definition and softness with SMartCurl.
So if you have straight or wavy hair then this line will work for you. It is also color-safe.
Here is my current curly hair routine:
Wash and condition with the Smart Curl line. Flip my head upside down and spritz liberally with the Smart Volume leave in conditioner. This part is the most important as this is when you want to clump your curls, prior to applying the styling products. So I add water or conditioner as needed and squish and pulse towards my scalp to get the clumps I want.
Once I have nice clumps, then I apply about a nickel size of the styling creme. I scrunch and pulse up from the ends and take my time to ensure it spreads out evenly. Then I apply 1 half pump of the WonderBalm (dime size) in the same way. I keep scrunching and pulsing up to my scalp then I use a flour sack towel to scrunch out the excess water. I then either air dry or diffuse after about 30 minutes.
The reason I love this brand so much is that it leaves my curls ridiculously soft, without frizz, shiny, and defined without feeling like it has any product. My curls are totally weightless and the style lasts. Below are my results using only EVOLVh products.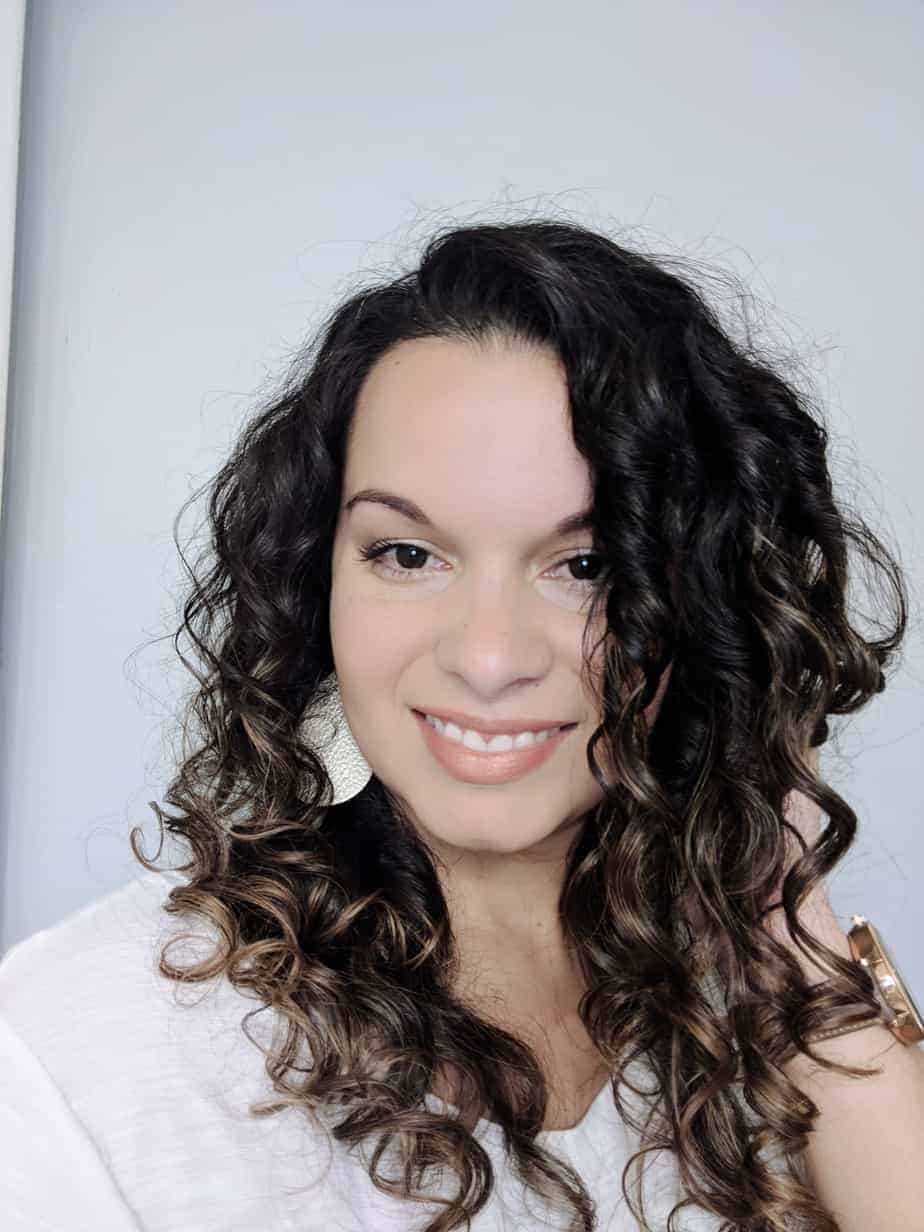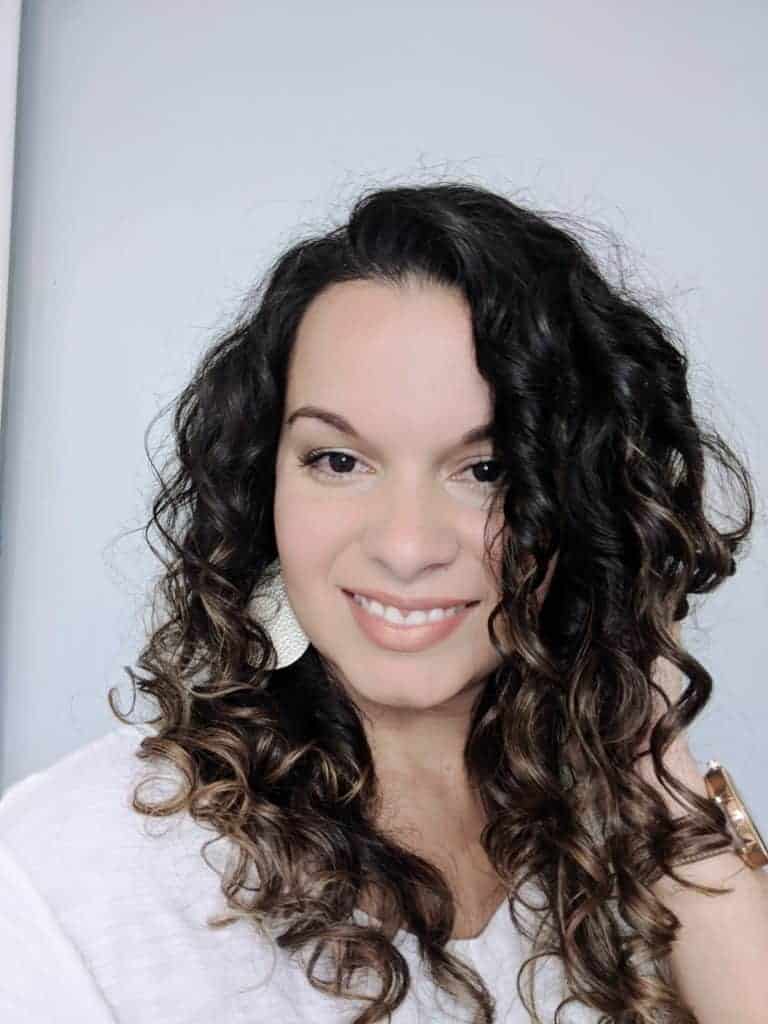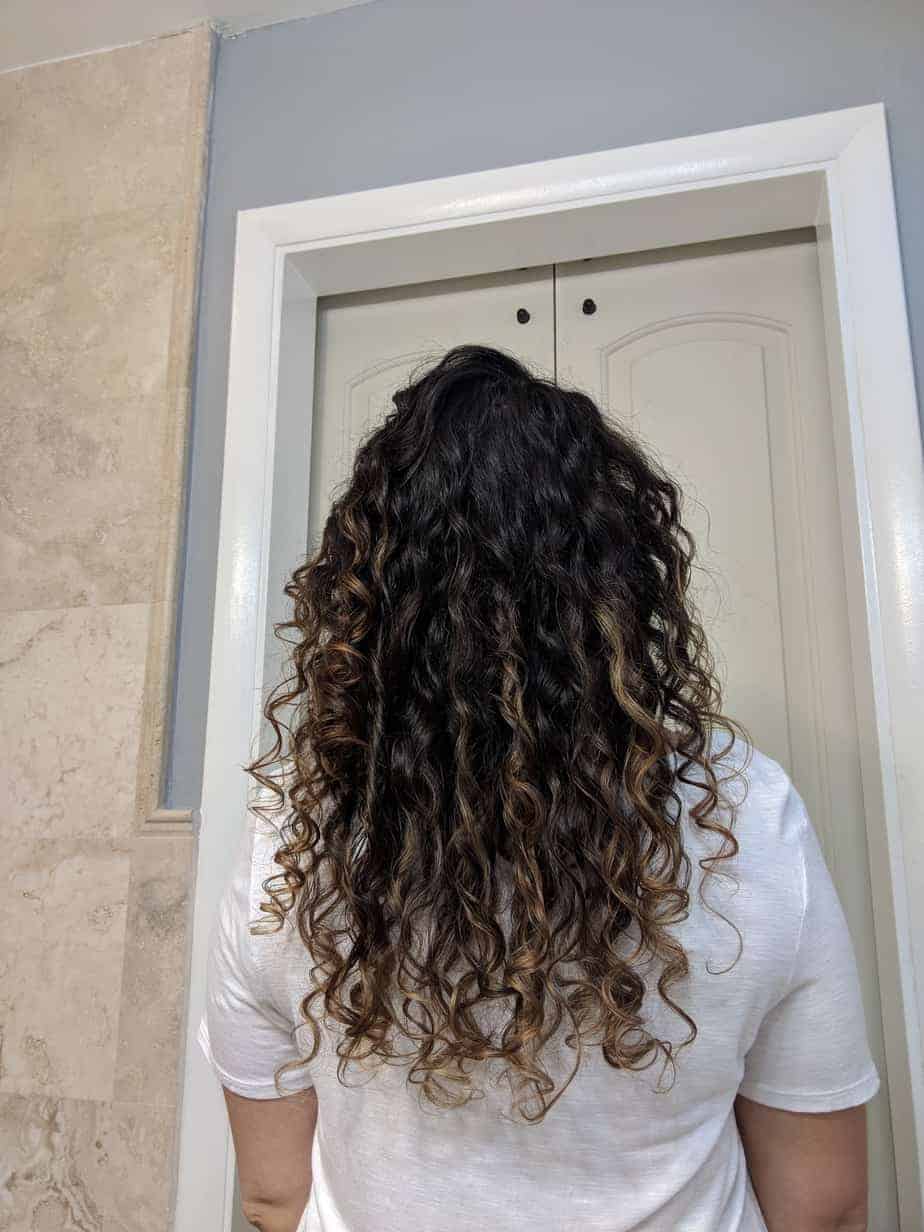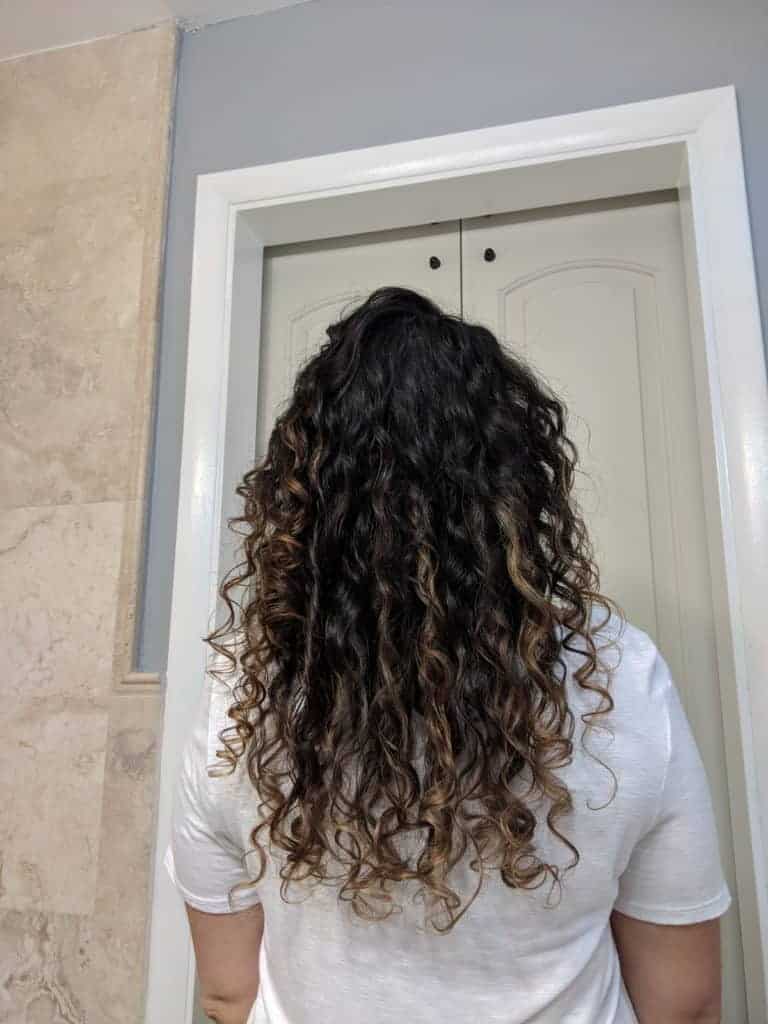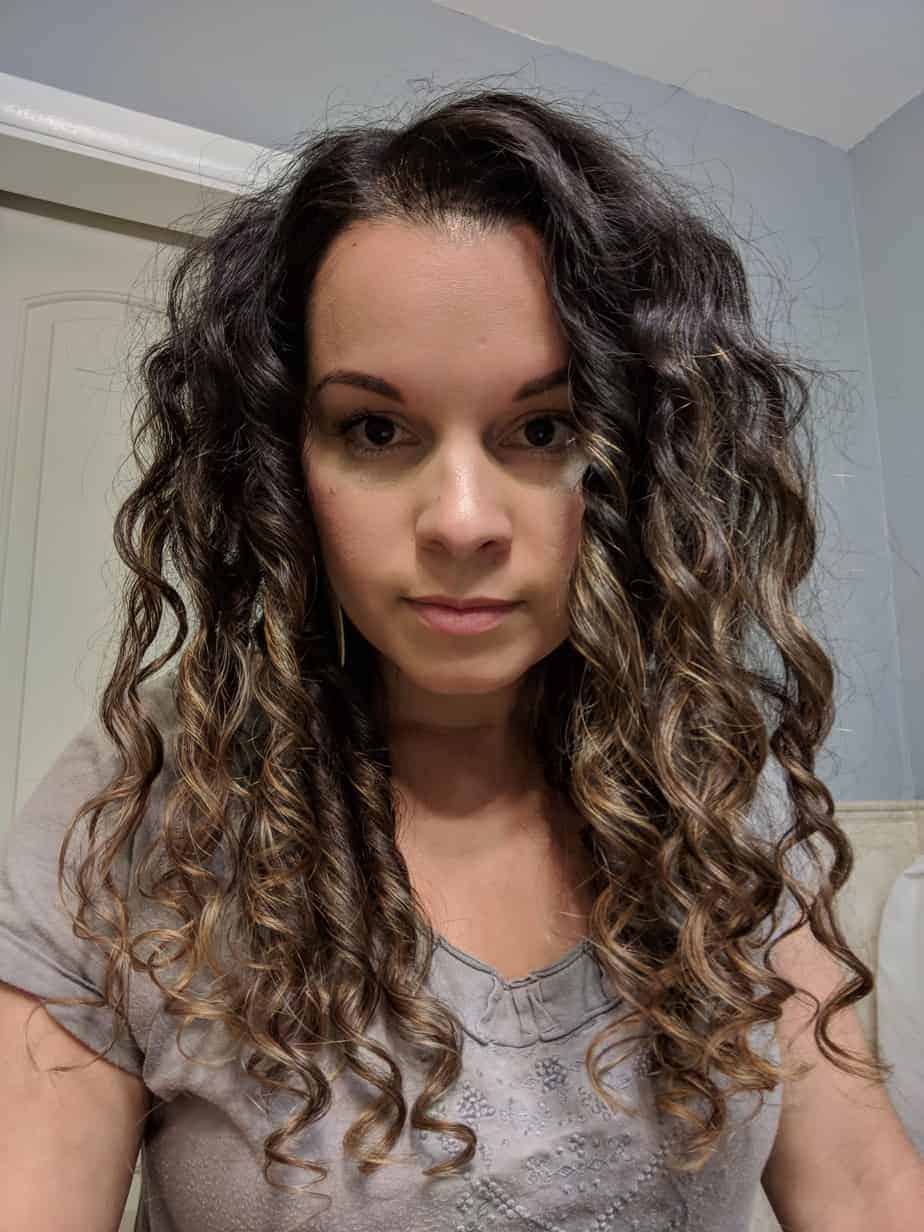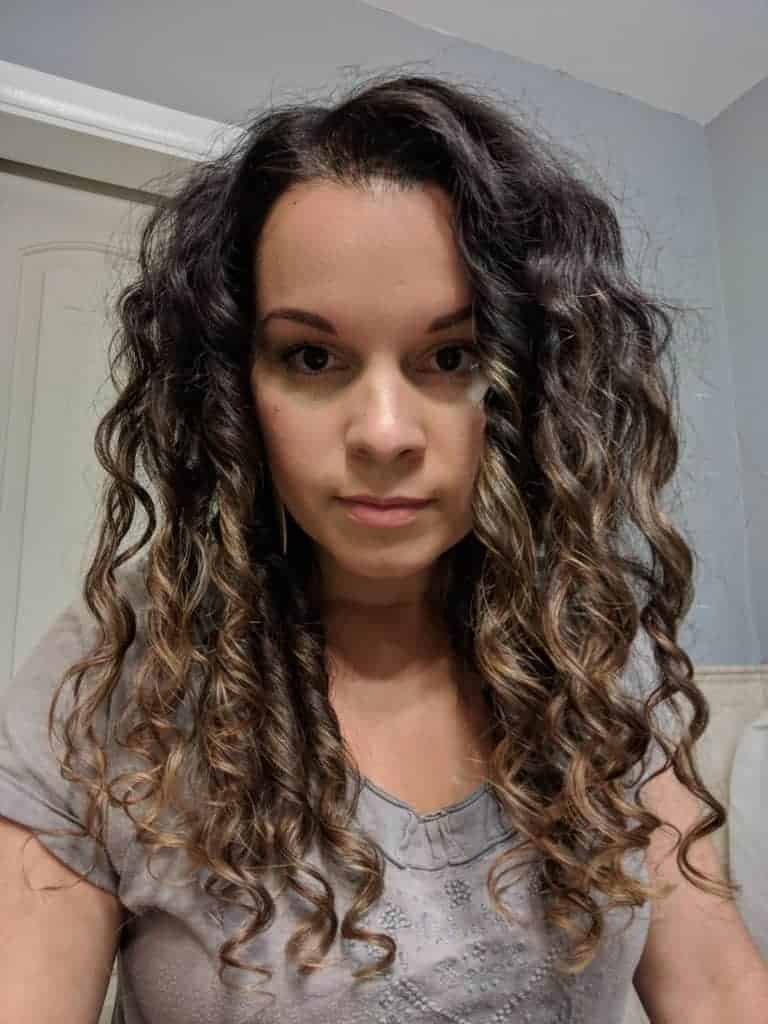 If you're interested in trying this line out use code HE15 for 15% off your purchase. They also have a Curls Discovery Kits for only $38 with 4 different products making it a great way to try out the line.
IF YOU WANT TO LEARN MORE ABOUT THE CURLY GIRL METHOD YOU CAN DOWNLOAD MY FREE 10 PAGE GUIDE HOW TO GET STARTED ON THE CURLY GIRL METHOD.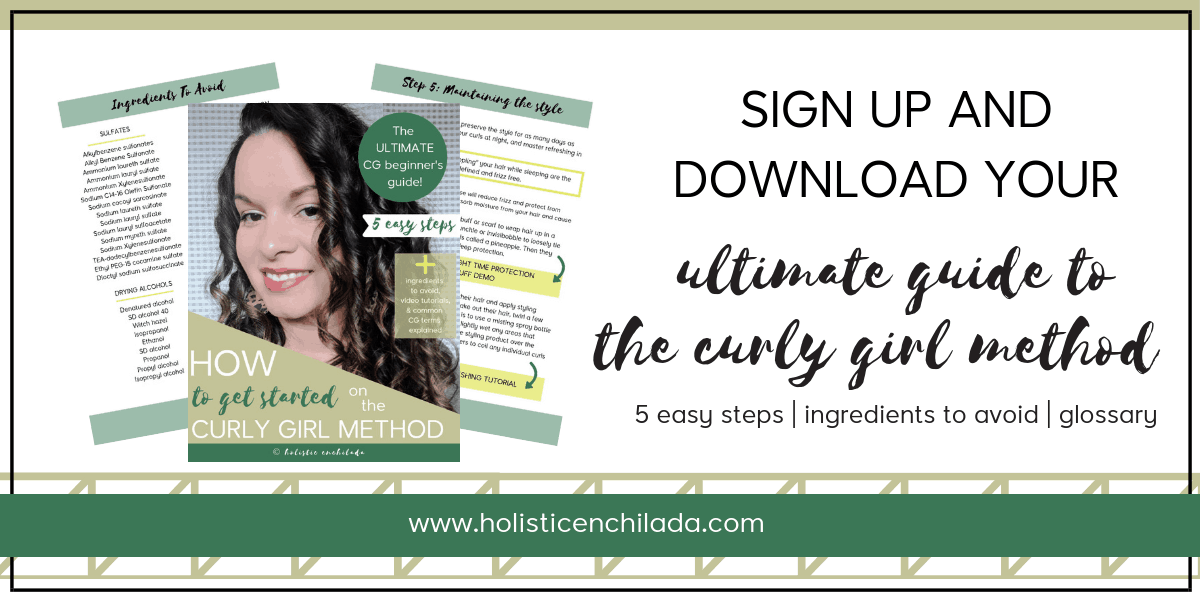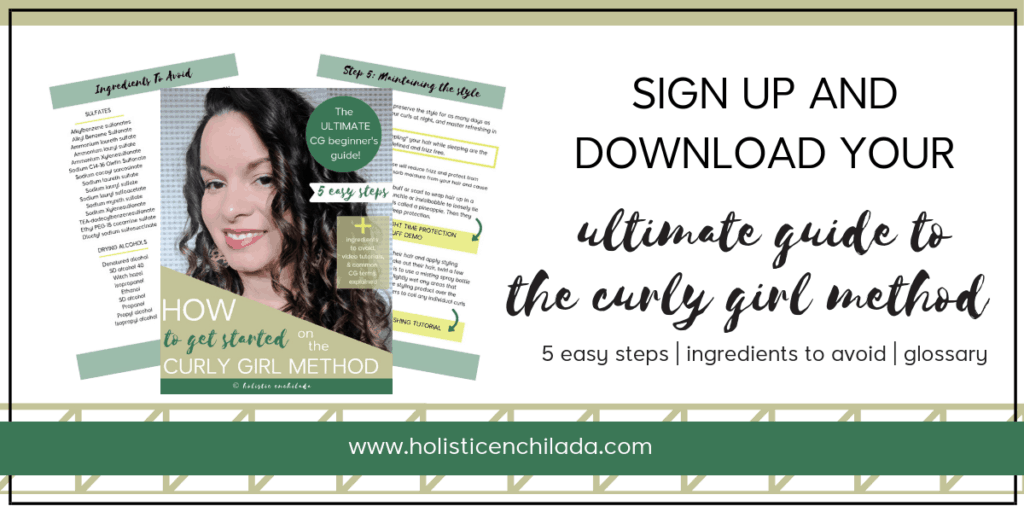 YOU CAN ALSO READ MY OTHER POPULAR POSTS ON CURLY HAIR:
Want to remember this? Save EVOLVh Review for 2C 3A Curly Hair to your favorite Pinterest board!