Refreshing Your Waves and Curls
This post may contain affiliate links, and I will earn a commission if you purchase through these links. Please read the disclosure policy for more details.
I can't believe it's taken me so long to write a post about refreshing curly hair. Now that I think of it, it's probably because I NEVER refresh my hair. But I see that many of you really struggle with refreshing your curls so here are my top tips and tricks for refreshing curly hair.
Now, before I get into the how to's and all that, I want to make sure you understand that getting your hair to look good past wash day is VERY difficult to achieve for the first 6 months of embracing your natural hair.
It's even more difficult if your hair is especially damaged or very fine/thin.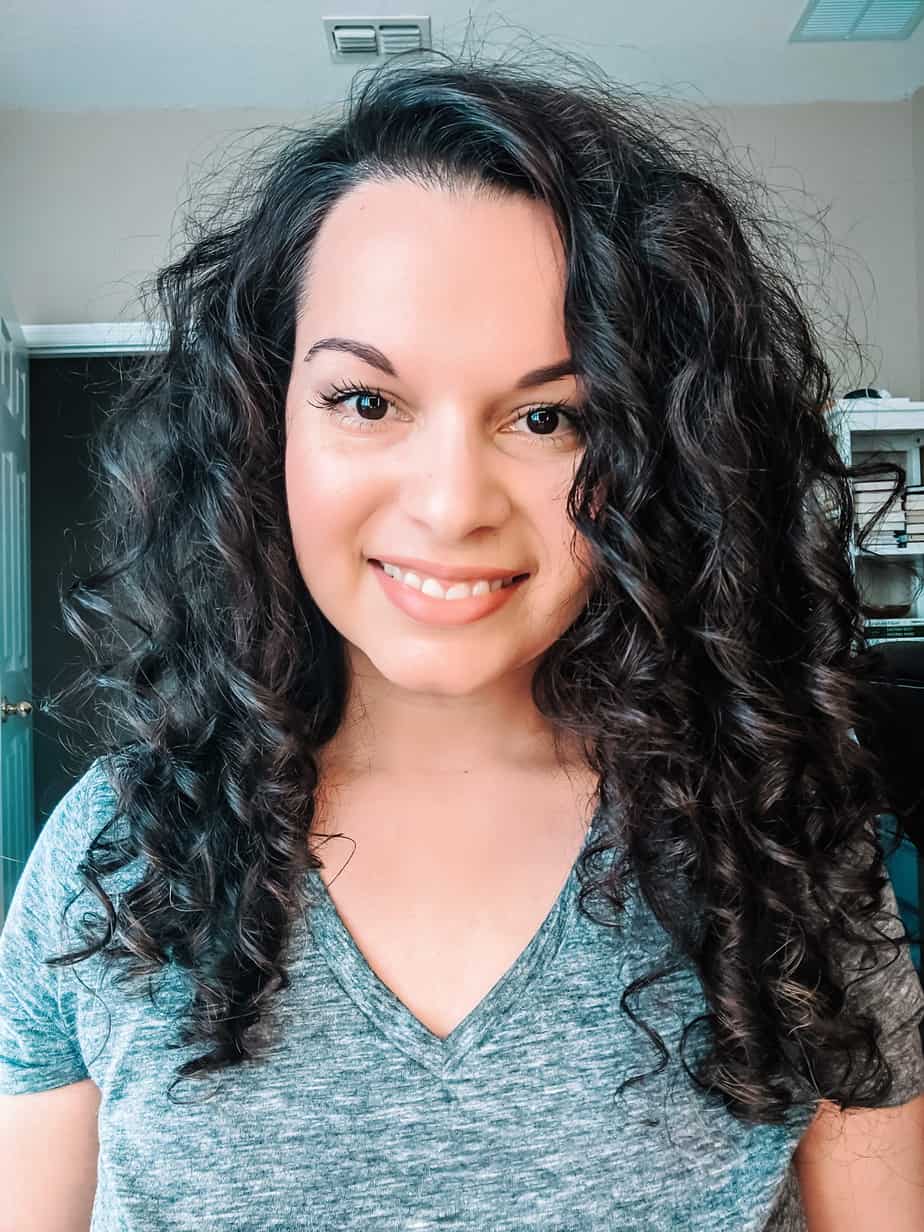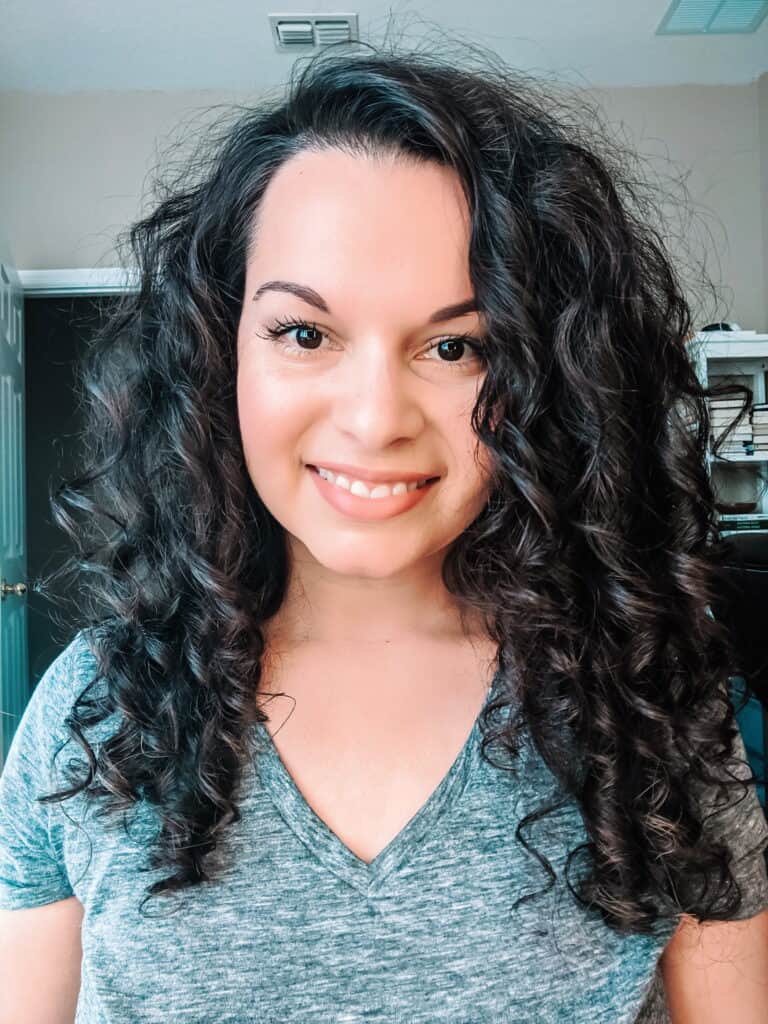 It was at around 4 months into the curly girl method before I could successfully refresh my hair and I didn't have to just put it up.
So please understand that even if you do everything I say, your hair still may not look as good as you want it to after refreshing. It will certainly look better, but not ideal.
So don't stress it. Put it up if you have to and don't bother wasting time if you can figure out refreshing. Eventually, you won't have this problem.
Master Your Wash Day
Before we get to the refresh, it's very important to nail down your wash day.
How your hair comes out on wash day sets it until your next wash day. And since it looks best on wash day and goes downhill from here, you want to start off with the best possibility.
If you are struggling with getting good hair on wash days, check out my program Fabulous Curls Academy. Phase 2, Master Your Wash Day, will teach you how to use the products you already have to have more defined, longer lasting curls in just one day.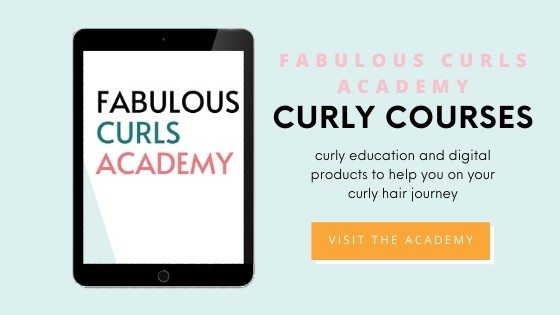 Sleep In A Pineapple or Buff
You also need to preserve your curls overnight as best you can. Most people sleep in a pineapple or use a buff.
Protecting your curls at night helps preserve them so you don't have to do much the next day. It helps prevent frizz, tangles, and stretched out curls.
Check out this post for ideas, tips, and tricks on sleeping with curly hair.
Use a shower cap when you're not washing your hair.
To prevent your hair from frizzing up and falling flat from the steam and water in your shower, I recommend you use a shower cap to protect your curls.
I prefer not to use disposable products so this is the shower cap I use.
How To Refresh Curls
There are a few different ways to refresh. In general, using water will give you some more frizz, adding product will add definition but also weigh it down and make it feel "producty", and using watered down conditioner adds definition without making it feel as heavy as styling product.
I like to recommend a simple DIY curl refresher. Fill a small spray bottle about 3/4 of the way up with purified water, add a few squirts of conditioner (can be your regular conditioner or leave in), and a few squirts of a gel. This would be your refreshing "liquid", aka curl refresher. Shake it well before using it.
Not into the DIY life? Check out these ready made curl refreshers: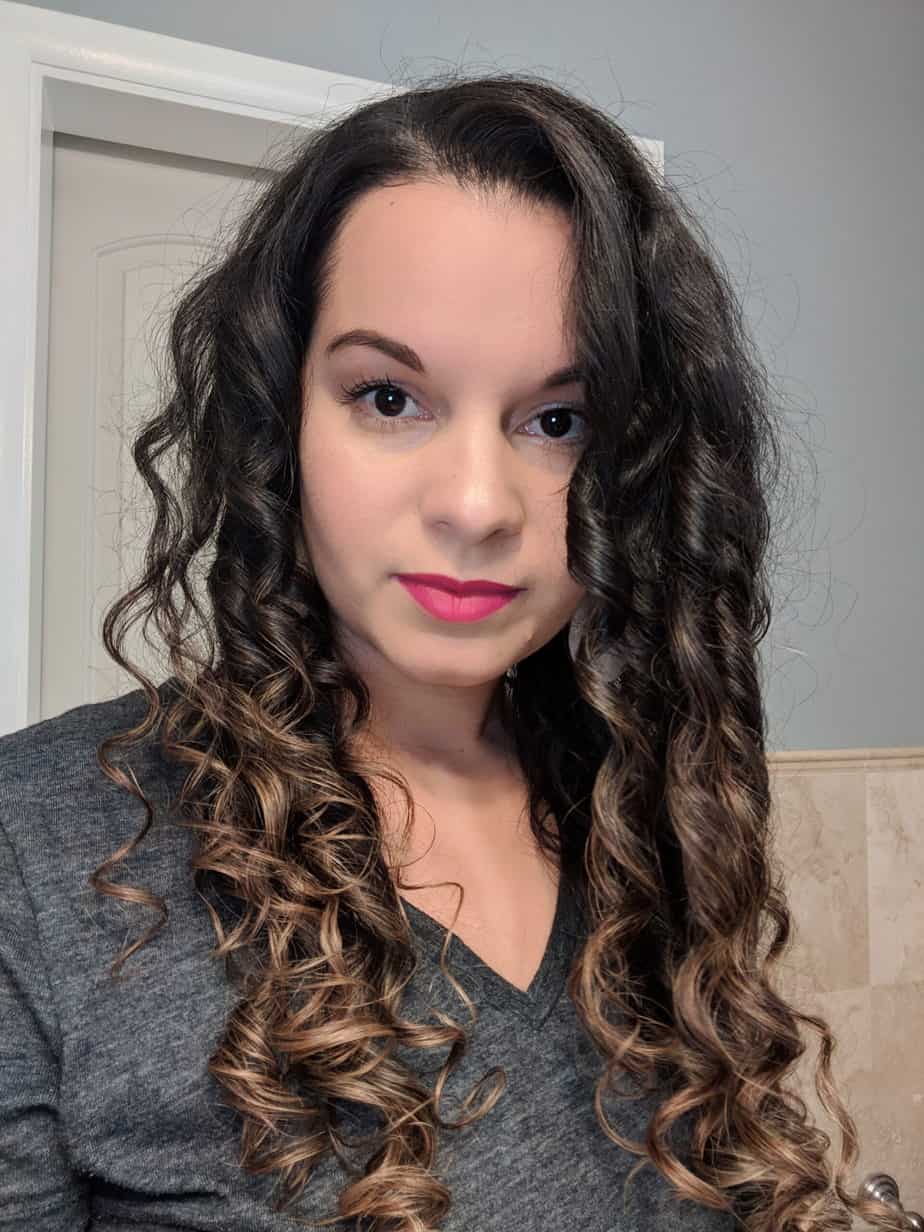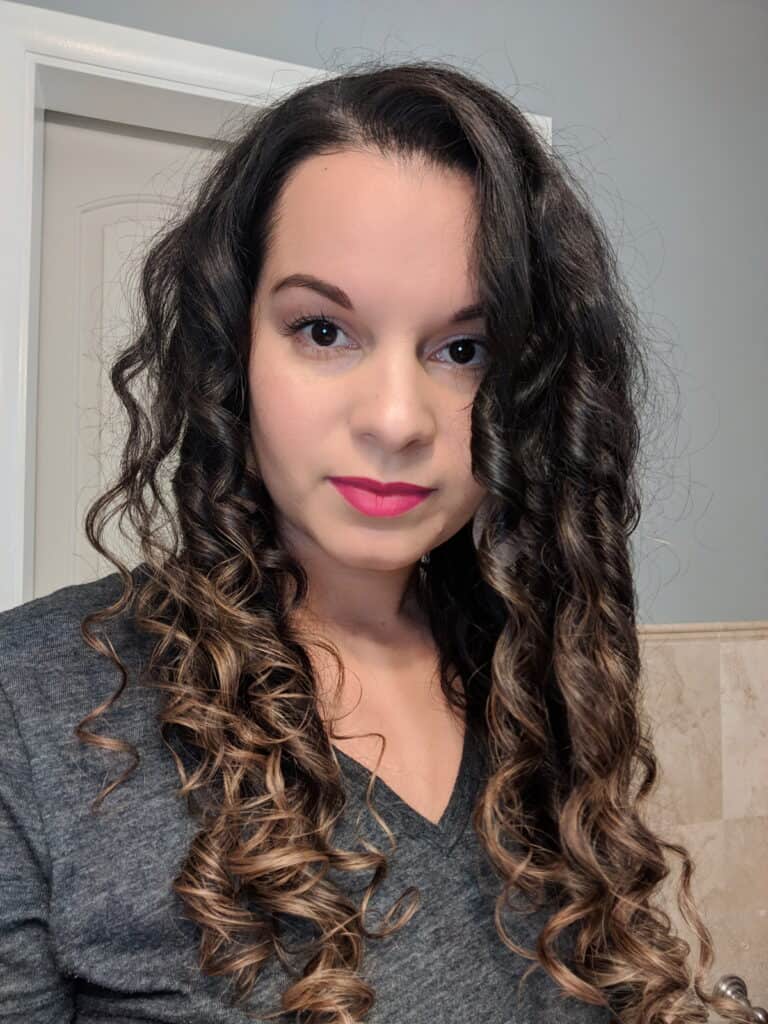 Wet Refresh
You can fully wet your hair and style again, or dampen your hair depending on how much you need to fix.
Most people have success spraying their curl refresher (or whatever liquid you're using) all over to dampen hair, then doing praying hands to smooth down frizz. You can do this in sections or all over at once. You want to glide and lightly pull on each section to really smooth it out. Then you can spray more into your hands and finger coil individual curls clumps or spray more on sections that need more work.
It may help to brush out a section that is very knotted and frizzy. Just make sure it's pretty damp before brushing it.
Once you have wet your hair and restyled it, scrunch a bit to encourage curl formation. Don't be too aggressive or you will cause frizz. You can air dry or diffuse dry. Dry time will be much quicker than on wash day since your hair isn't soaking wet. If you get a cast then release it by scrunching or doing praying hands as usual.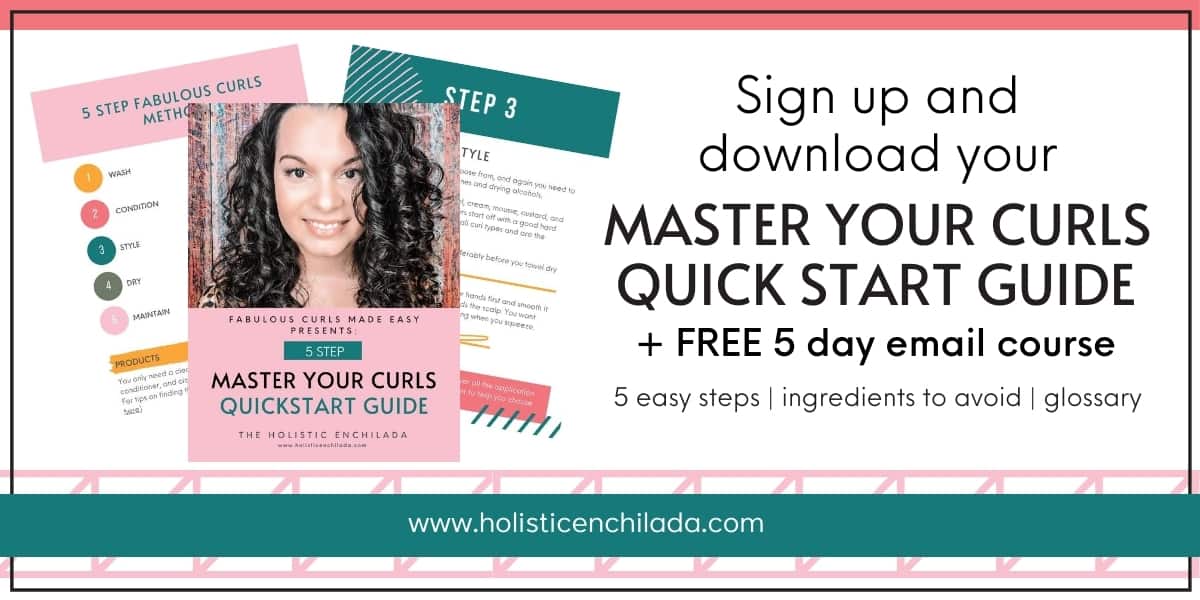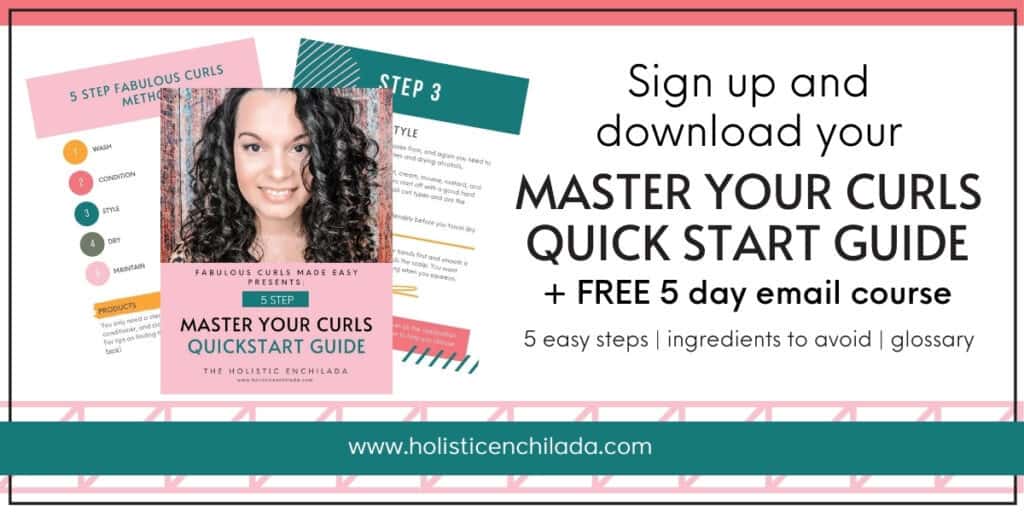 Dry Refresh
This is what I do. This is refreshing without wetting your hair, and probably isn't something you can do in the early days of the curly girl method.
A dry refresh is best when you just need to get rid of oily roots or to add volume. The curls are fine but may be limp or just a bit frizzy.
Add dry shampoo to help with oily roots and volume. A quick scalp massage is good to do for this. I like to finger coil curls to help smooth them out if they're fluffy. I also finger detangle individual curl clumps that have knots then recoil them. Then you can add a small amount of refreshing liquid or styling product directly onto dry hair to restyle. Do the same process of smoothing the hair and scrunching. You can watch a few dry refresh videos on my YouTube Curly Hair Refreshes playlist shown at the end of this post (or click here to go there now).
And when all else fails, you can always do a bun and headband! 😁
I also have a few other go-to hairstyles for when my hair is beyond repair, as is usual days 3 and on. You can check them out here.
So, as with everything else curly hair, you will need to try a few different methods and techniques to find which works best for your hair. Remember though that your hair isn't supposed to look exactly like wash day every day. Be realistic and embrace your beautiful natural hair.
I am going to link my YouTube playlist that includes all my refreshing videos

here

. You can also watch the playlist below.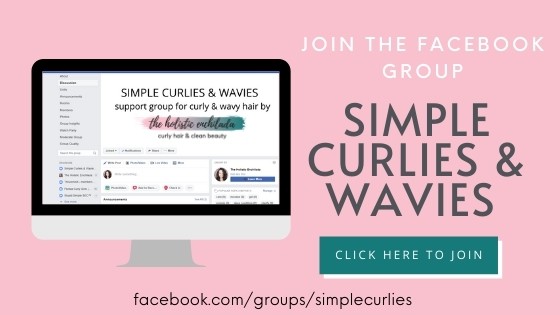 If you want help with embracing your naturally wavy or curly hair, you can join my FREE email course and download my FREE pdf guide, THE QUICK START GUIDE TO MASTERING YOUR CURLS, full of everything you need to know to get started and bring out your beautiful waves and curls.
Check out my other popular posts on curly hair:
Want to remember this? Save How To Refresh Curly Hair to your favorite Pinterest board.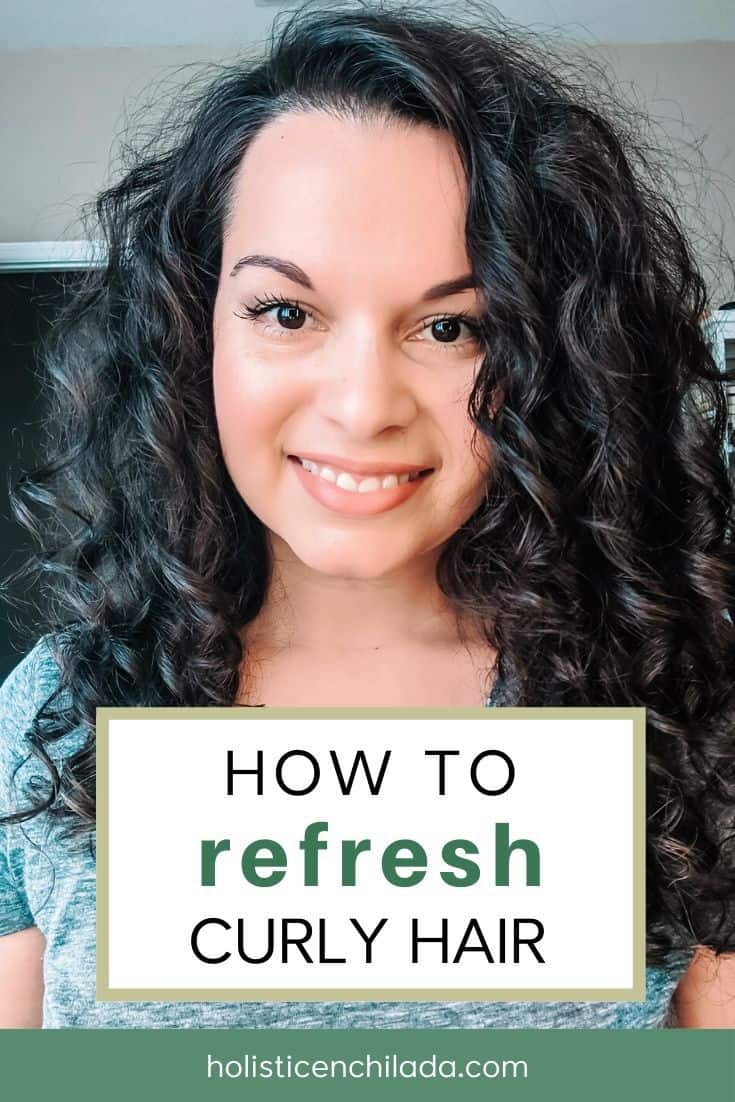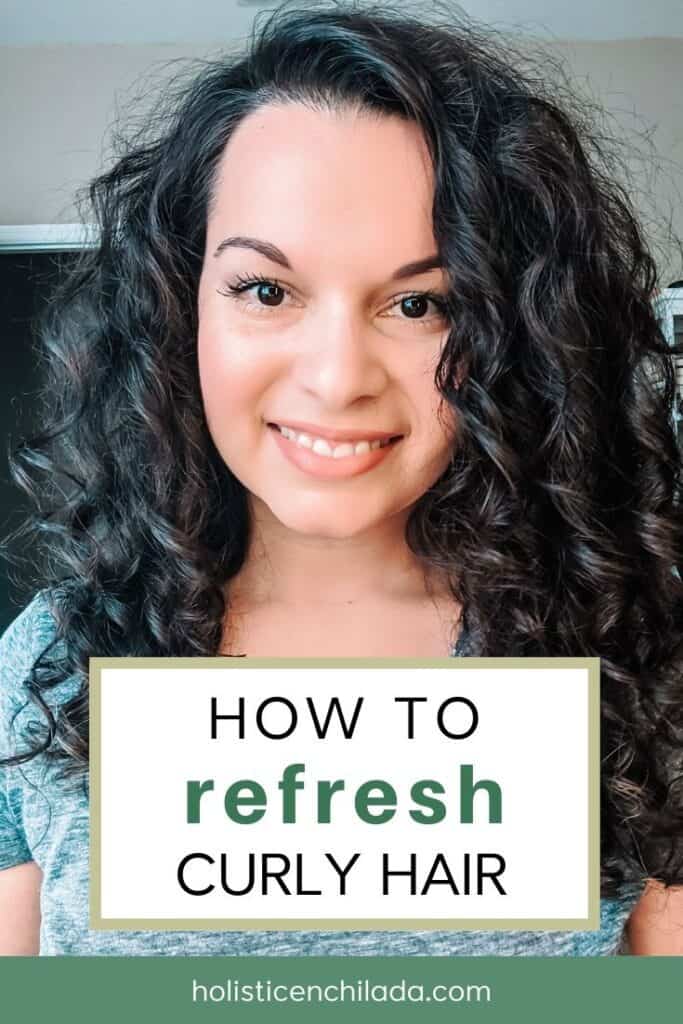 Curl Coaching
I now also offer Curl & Clean Beauty Coaching sessions virtually! You can book a 15-minute, 30-minute, or 45-minute session with me to help you solve your curly hair or clean beauty struggles. Click here to learn more.