Common Causes Of Limp Curls & How To Fix Them
This post may contain affiliate links, and I will earn a commission if you purchase through these links. Please read the disclosure policy for more details.
How many times have you styled your hair to get those perfect bouncy, defined curls only to see that within 2 hours they have fallen flat? It' can be very frustrating after all that work, but limp curls are actually a common problem for anyone with curly or wavy hair.
There are actually a few reasons your curls are drooping throughout the day and a simple fix for each one. So read on to solve your flat curl problems asap!
Ready to transform your frizz into defined, bouncy curls and waves? Join my free Quick Start Guide To Mastering Your Curls email course below and be on your way to fabulous curls in just a few steps!
7 Causes of Limp Curls
Using too much product
Using heavy products
Buildup
Humectants
Humidity
Moisture overload
Not enough hold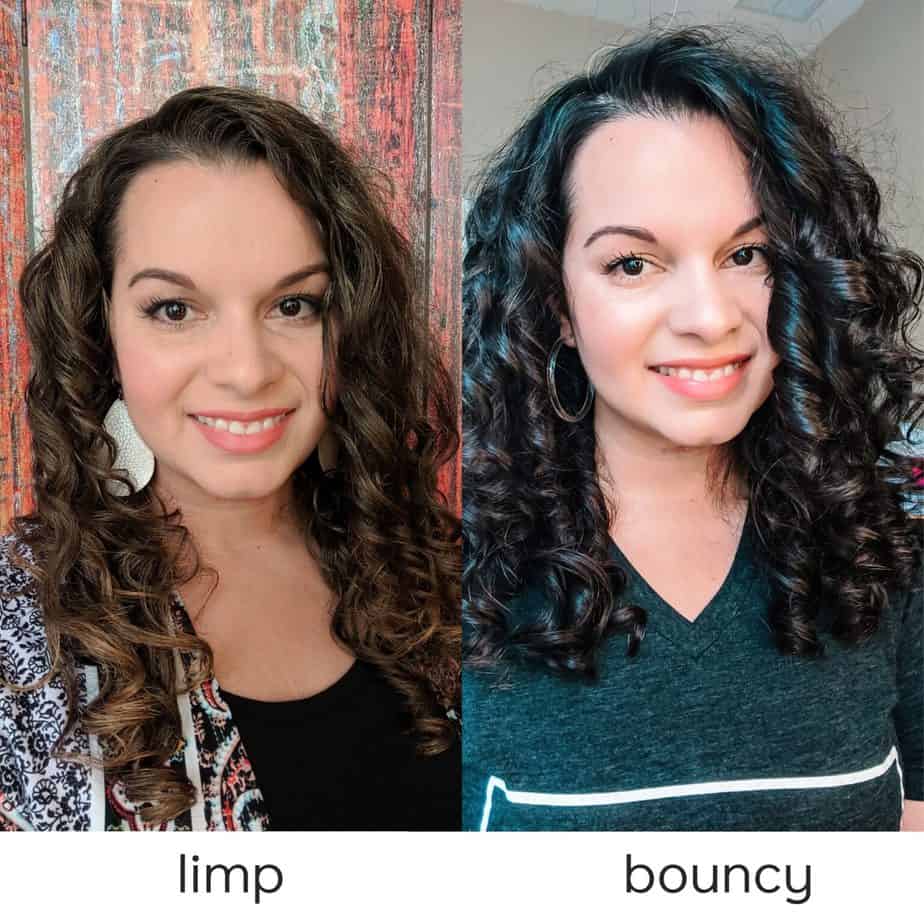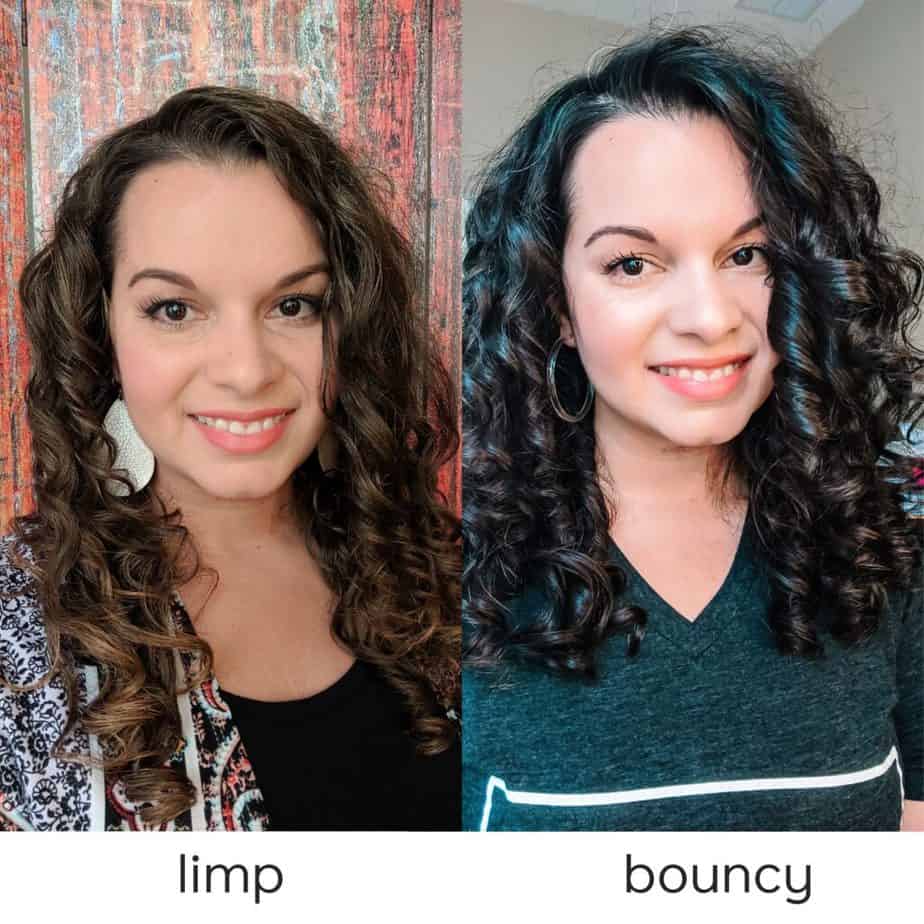 In the photo above, you can see a side by side of my curls looking limp and bouncy. It's limp on the left side because I used a really heavy product, a color wax, which really weighed down my hair. Just one wrong product can make such a big difference.
1. Using Too Much Product
This is probably the most common cause of limp curls I have seen, especially for anyone who has thinner, or wavier hair. Most people with curly hair will need to use globs of styling product, but not all!
Many do well being much more light handed with their styling products, especially when you have fine or thin hair. I only use about a nickel sized amount of any styling product, and I never use more than one.
Layering multiple products or using a lot of a product might look good at first because you'll get a ton of definition, but it will weigh down your hair throughout the day and cause your curls to go flat. The weight of the product pulls on your curls so they will stretch out and droop.
Luckily, the fix is as easy as just trying out less product on your next wash day. You might be surprised to see that you don't need as much as you thought.
Check out my favorite products for fine curly hair here.

2. Using Heavy Products
This one is pretty obvious. If you use products full of butters, oils, silicones, and waxes, they will weigh down your hair much like using too much product will.
Opt for lightweight products. These include products with no or low amounts of butters and oils. You can read more about identifying lightweight hair products in this post.
3. Buildup
Buildup is so common, it's one of the top causes of limp curls. Especially with people just starting to embrace their curls, since they often use heavy products, or too much product, and go months without clarifying.
Heavy products, as well as silicones, waxes, and hard water all build up on the hair. This all needs to be removed on a regular basis with a clarifying shampoo, like Kinky Curly Come Clean or MopTop Detox. I usually recommend everyone clarify once every 4-8 weeks to keep things in check.
If you notice your hair is suddenly dull, frizzy, weighed down, flat, feels or looks dirty even when clean, stringy, or your scalp is itchy and flaking, these are all signs you need to clarify!
Read my guide to clarifying curly hair here.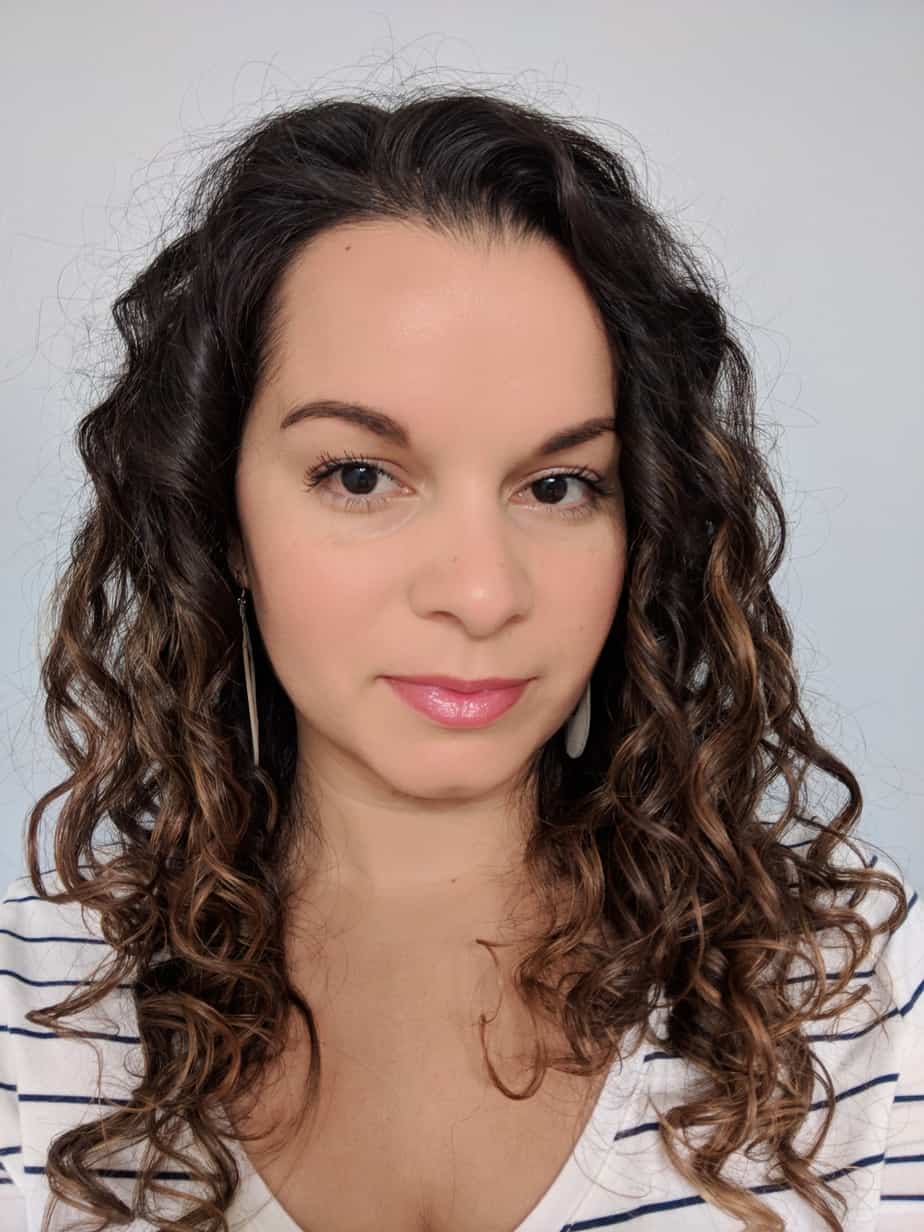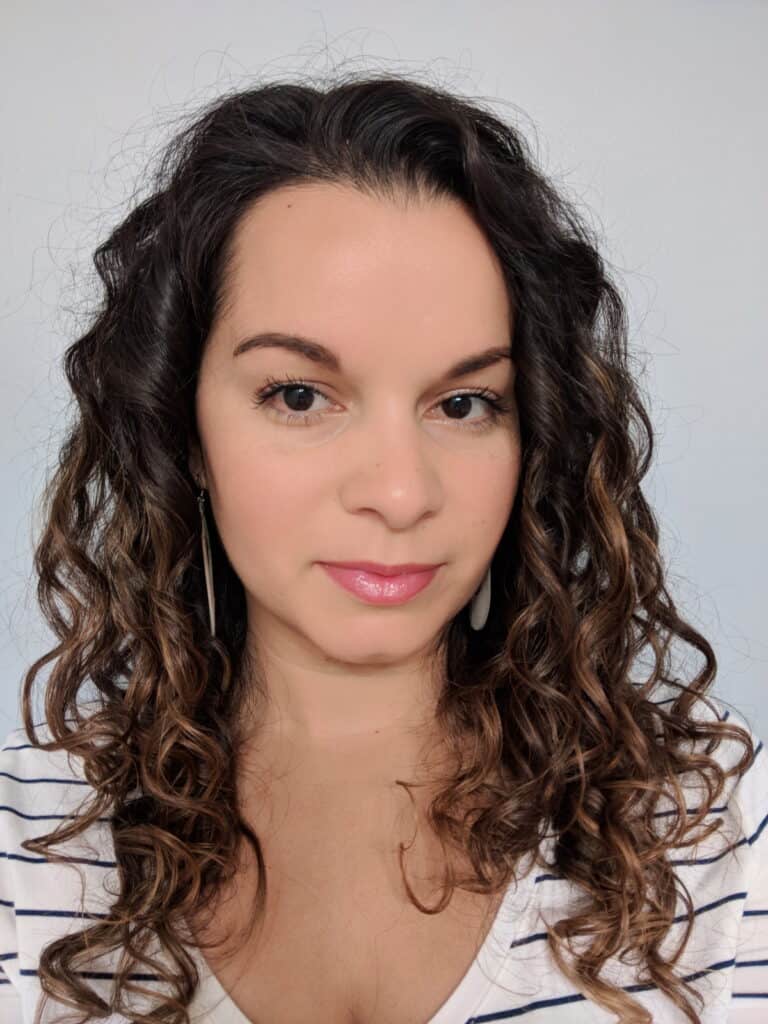 4 & 5. Humectants & Humidity
I combined these 2 because they are related and work together.
Humectants are ingredients that reduce the loss of moisture. They attract water molecules to the hair to keep it hydrated. Because of this, they can cause your hair to fall flat in dry or humid weather.
When the weather is cold and dry, they actually pull moisture from within the hair because there isn't any in the air around it. This dries out your hair and causes it to lose its shape. The fix is removing styling products with a high concentration of humectants.
In humid weather, the opposite happens. The humectants will pull moisture from the air around it and your hair will then absorb it. This added weight then causes your hair to go limp. The strands get weighed down by this extra water as they swell up, and you get the additional companion of frizz. The fix is also eliminating humectants from leave in products like stylers.
Confused about humidity, dew points, and how the weather affects your hair? Download my free guide to weather styling below.
6. Moisture Overload
Moisture overload is so common because all we hear about our curls is how dry our hair is so we go overboard with the conditioner, deep conditioner, creams, and moisturizing products. This is great for some hair types, but not necessary for most.
And sure, your hair might be really dry at first, but after a few weeks or months of this, it gets balanced and you need to change your routine and reduce the moisture.
What's happening here is you are giving your hair a lot of moisture and not enough protein to balance it out.
Over moisturized hair will droop, feel soft, and look fluffy. All you need is some more protein.
Add more protein into your routine with leave in products like conditioners and gels that contain some protein. If it's particularly bad you may do well with some protein treatments, but it's important not to do too many protein treatments as your hair can then go into protein overload. It's much safer to just use products that have some protein in them and do less deep conditioning to balance out your hair.
If you're looking for more info on protein, check out this guide here.
7. Not Enough Hold
If you use products with light to medium hold, it might not be enough to hold your curls throughout the day. This is usually true for those with looser curl patterns and fine hair.
Opt for hard hold styling products like gels, which can be layered over a cream if you prefer a softer feel. My favorites include Giovanni LA Hold gel, Raw Curls Firm Hold, Jessicurl Spiralicious, and Briogeo Curl Charisma gel (this one has more of a medium hold).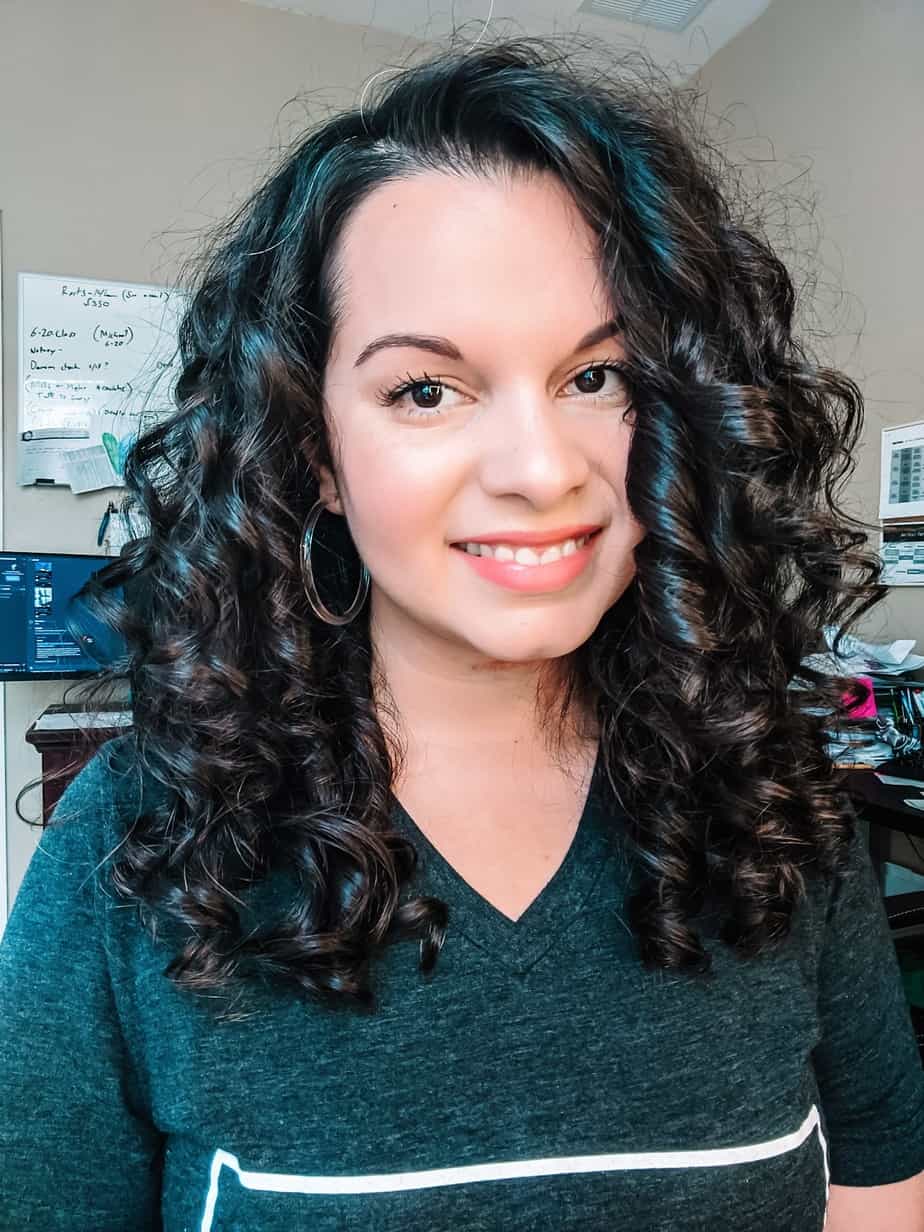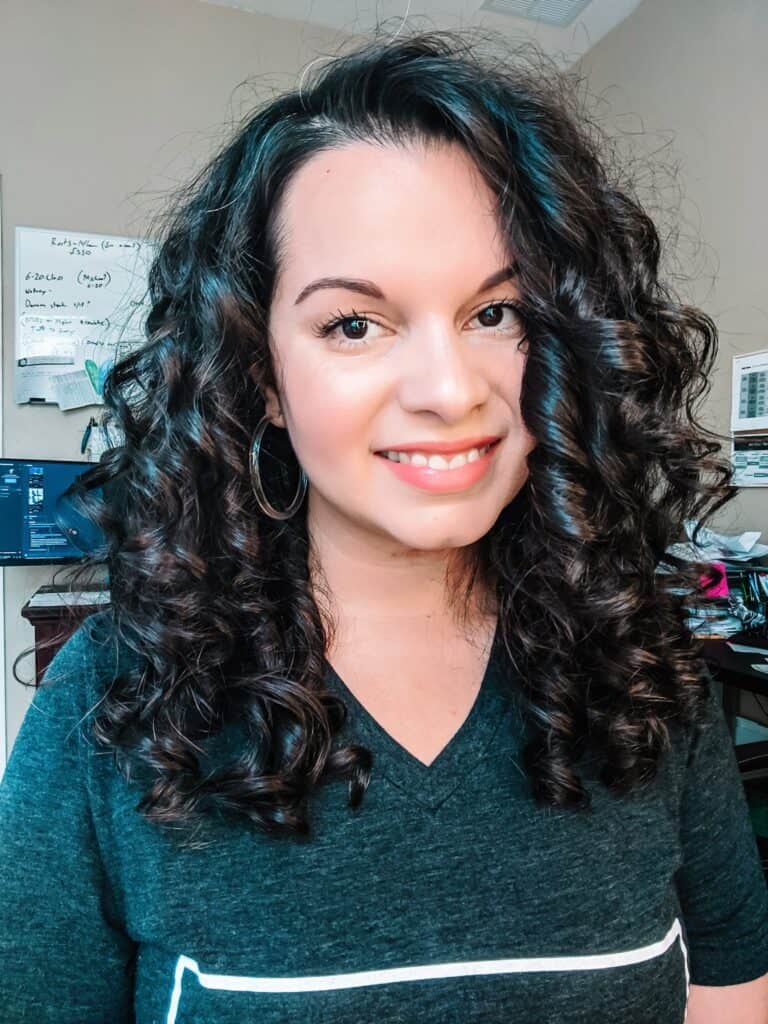 Hopefully you have identified a possible cause, or maybe even multiple causes, to your limp curls and you can get to trying out the recommended fix.
CHECK OUT MY OTHER POPULAR POSTS ON CURLY HAIR:
If you want help with embracing your naturally wavy or curly hair, you can join my FREE email course and download my FREE pdf guide, THE QUICK START GUIDE TO MASTERING YOUR CURLS, full of everything you need to know to get started and bring out your beautiful waves and curls.
Want to remember this? Save Common Causes Of Limp Curls & How To Fix Them to your favorite Pinterest board!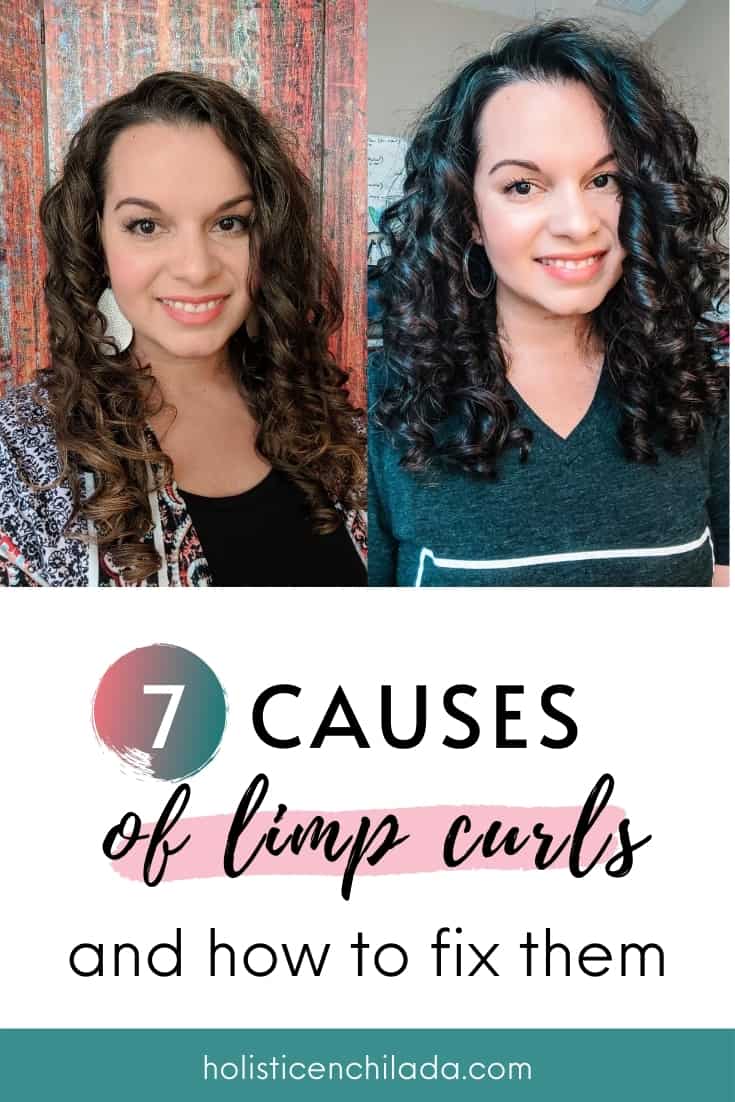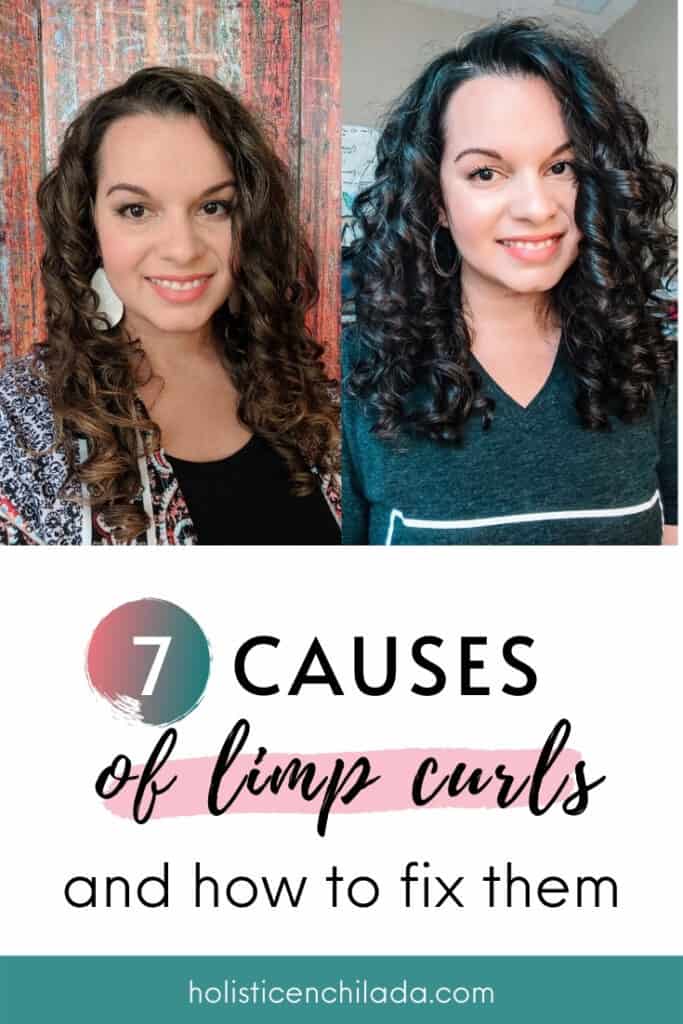 Fabulous Curls Academy
Fabulous Curls Academy offers the curly hair resources you need to master your curls and create the routine that will give you fabulous curls. Check out the digital downloads and courses to help you have the defined, bouncy curls you want. The monthly membership is the most affordable way to access everything you need to embrace your curls with success. Click here to learn more.
Curl Coaching
I now also offer Curl & Clean Beauty Coaching sessions virtually! You can book a 15-minute, 30-minute, or 45-minute session with me to help you solve your curly hair or clean beauty struggles. Click here to learn more.