How I Made Money My First Year Blogging – Make Money Blogging 1
This post may contain affiliate links, and I will earn a commission if you purchase through these links. Please read the disclosure policy for more details.
Welcome to Holistic Enchilada's first part in my Make Money Blogging series. I am a very small clean living and beauty blog and hear so many others who think that they can't make money blogging anymore, but that's not true! In this post, I will share how I grew my blog and made money in the first year. I did not have any traffic, an email list, or blog about blogging.
I started this website in August 2017 after finding a free 5 day crash course and created a handful of blog posts on a few different topics. I let it sit for about 6 months without adding any more posts or working on the blog at all before I decided to take it more seriously and try to make money from it.
I had some experience with having an online presence and blogging from a handmade skincare online store I used to own so I had an idea of what I needed to do to be successful. I had to be seen and keep readers coming back. I had to write about what they wanted to read, not what I wanted to write about. Then I had to figure out how to get my posts out there in the world. So I decided on creating more good content and focusing on Pinterest. The only way I knew to make money was with affiliate links. So these are the things I focused on.
Traffic
Here are the overall traffic stats for the year 2018: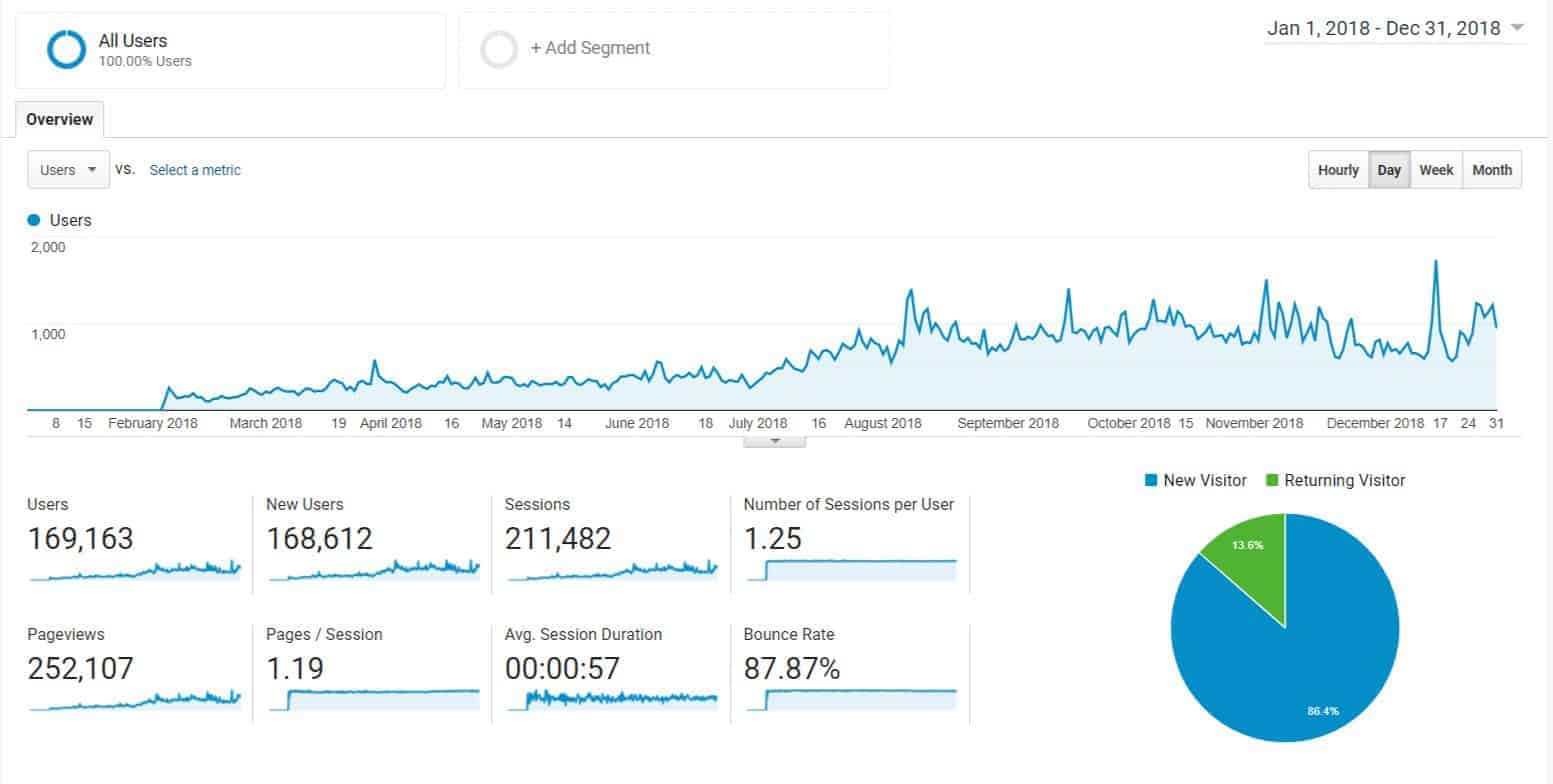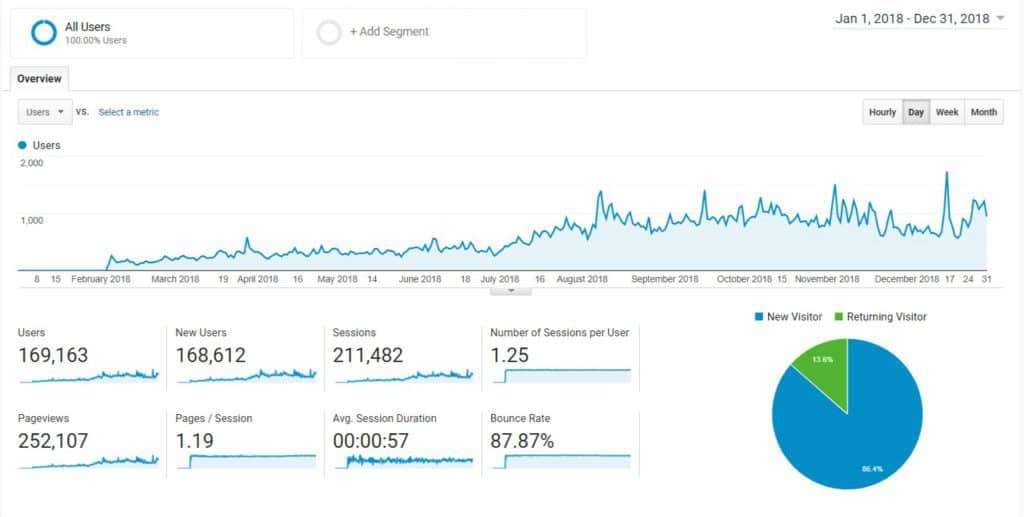 You can see an increase in July/August, which is when I decided to take things more seriously and started using Pinterest to promote my blog. By using the Pinterest strategies that I had learned from a course (that is no longer available), I increased my views to around 1,000 per day. I ignored my Pinterest in December and you can see a slight drop in traffic but not much.
Pinterest is actually a lot of work, although it's not difficult. You have to create multiple pins for each post and then spend time on the platform to build up your traffic. I'm not too graphics savvy so I use Canva and Picmonkey for all my graphics. I probably worked on Pinterest 3-4 days per week for several hours each day.
Below you can see Pinterest brought in about 56% of my traffic in 2018.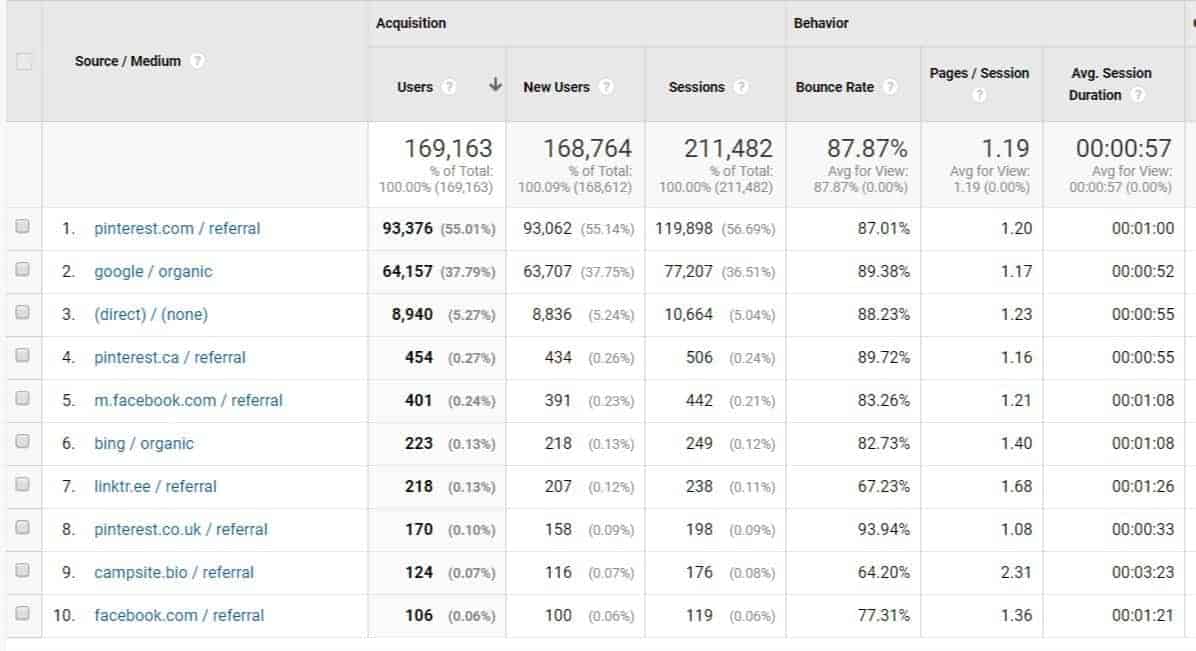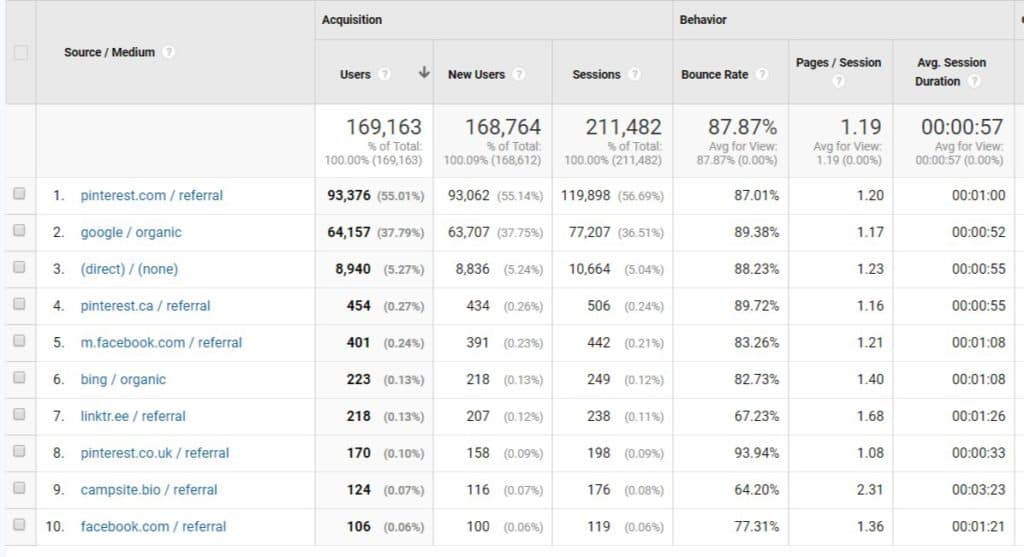 As far as content, I wrote about a few different topics and analyzed the response to each one so that I could decide which topics my readers wanted more on and focus on those. Quality content is so important so I wanted to narrow down some topics to create great content.
Writing blog posts actually takes me a really long time, usually several days. I also take and edit all the pictures and always do research before I start writing. For product reviews, I would buy my own products and review or sometimes receive free products to review. People do search for product reviews so these posts are good to have.
So after publishing a few posts, I was able to narrow down a few topics and create more content. And since using affiliate links was my only plan for income strategy, I tried to incorporate them as best as I could and create content for them.
Income
Affiliate income for the year: $3,004.71
These earnings average out to around $250 per month for the year. I want to point out that I only earned around $80 in total between January and June. So the other $2,900 was made from June to December. My highest month was December at just over $500. So you can make money blogging with affiliates, though probably not as much as with other strategies.
Affiliate links, if you don't know, are special trackable links to products that pay you a small commission when anyone makes a purchase through them. I use Amazon Affiliates and a few other programs with smaller beauty brands that I work with. Most of this income came from Amazon and one other brand. I had to reach out to all of the brands and ask about their affiliate programs because most of them were not on the big networks like Shareasale.
I noticed my most of my conversions came from my top two performing posts, so I created more content like these posts with affiliate links. I also promoted these posts the most and updated them a few times.
I did not have any other income streams. I also did not focus on building my email list which I am doing now. My goal was creating content that my readers wanted and driving traffic to my blog so that's pretty much all I did.
There are several other ways to make money blogging and I have now added sponsored posts, joined an ad network, and am working on a product to diversify my income. I will post an update going over the first quarter of 2019 in which I made over $3,000.
Expenses
Of course I have to bring up the costs I had. They were minimal but do take away from my actual income.
Bluehost website hosting: $47.40
Ads: $309
I already had a good camera so I did not have to buy one, although many people use their phones and do just fine. I didn't buy any apps or programs until this year so these are truly the only expenses I had.
2019 Goals
Because of the success I had in the last 6 months of last year, I decided to really ramp things up for 2019. I want to increase my traffic, diversify my income, build up my email list, and create a product. I added Tailwind to my Pinterest strategy and am working on SEO to build my organic traffic. This is all so much more work than I anticipated but I know it will be worth it in the long run.
If you re thinking about starting a blog I strongly recommend this free 5 day start a blog crash course to get started. I took their paid course which is what really helped me be successful at blogging.
Pin this post for later!