How Behentrimonium Methosulfate Measures Up: The Good & the Bad
This post may contain affiliate links, and I will earn a commission if you purchase through these links. Please read the disclosure policy for more details.
If you have seen behentrimonium methosulfate in the ingredient list on your hair care products, you might wonder if it's safe to use on your locks.
Behentrimonium methosulfate is used in hair care formulations by many of the top beauty industry brands, and it has a lot of benefits for wavy, curly, and coily types.
So let's take a deep dive into this misunderstood ingredient and find out why it features in so many of your favorite hair care products. Once you know more about what it is and what it does, you can decide whether to use it on your curls.
What Is Behentrimonium Methosulfate?
Behentrimonium methosulfate is also known as Docosyltrimethylammonium Methyl Sulphate, BMS or BTMS 25. It is a synthetic quaternary ammonium compound derived from rapeseed oil. This oil is produced from the seed of the oilseed rape plant, which is part of the brassicaceae family.
BTMS is a key ingredient in hair care products like shampoos, deep conditioners, and hair masks. You'll also find it listed in many skincare products and cosmetic formulations.
BTMS acts as an emulsifier that binds water and oils together to form a creamy consistency. This makes the product easier to apply to the hair shaft and helps provide more slip between your strands. This ingredient is also used as a softening and hydrating ingredient in many hair care products.
Many natural shampoos and conditioners use BTMS as a detangling and conditioning agent, and it's also a great alternative to silicones as it doesn't dry your hair or cause build up.
The word 'sulfate' might make you think BTMS could damage your hair, especially if you have curly or coily hair. However, it's important to remember that although the name has 'sulfate' in it, behentrimonium methosulfate is not a sulfate.
So if you follow the Curly Girl Method and stick to non sulfate products for the health of your curls, you don't need to avoid BTMS.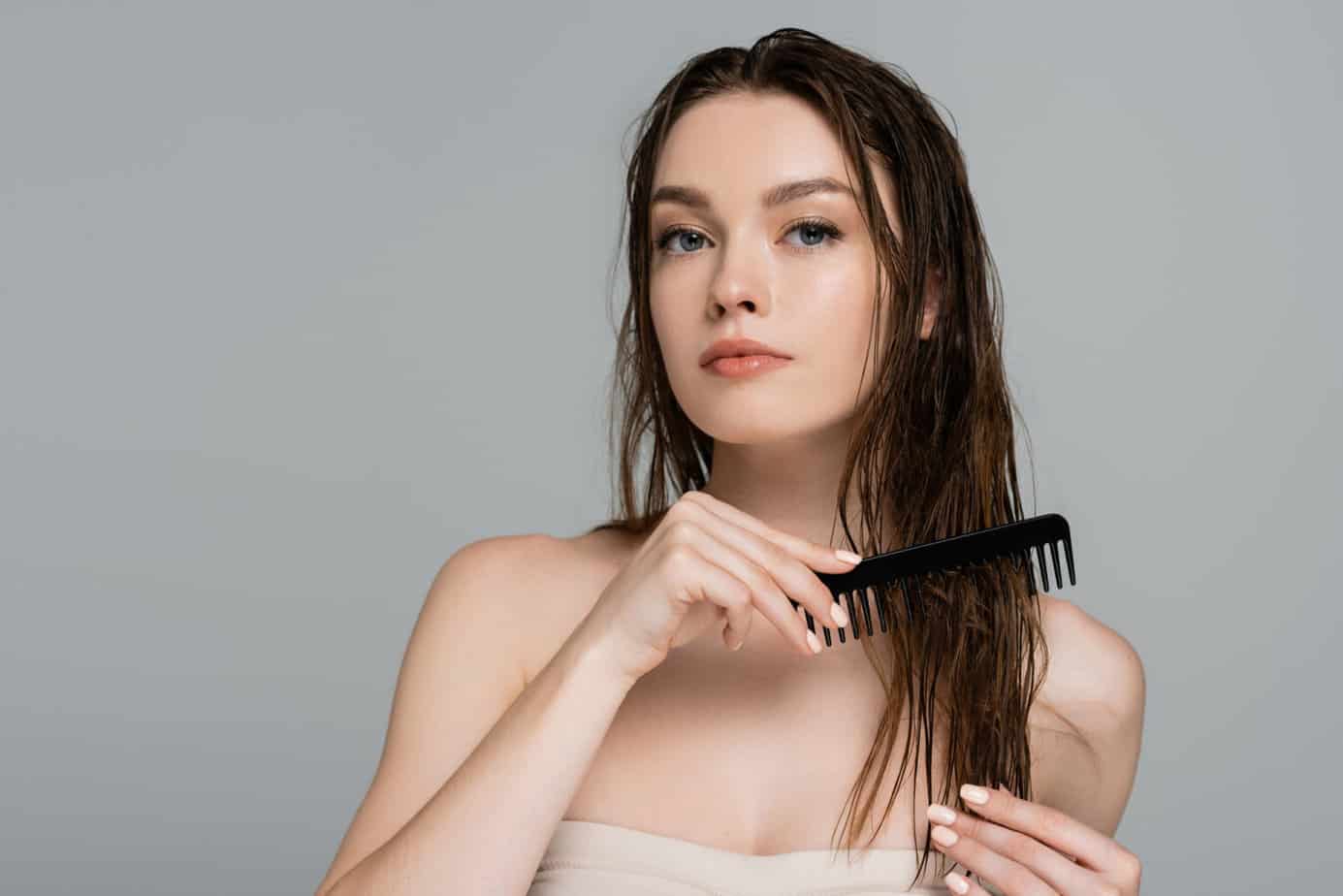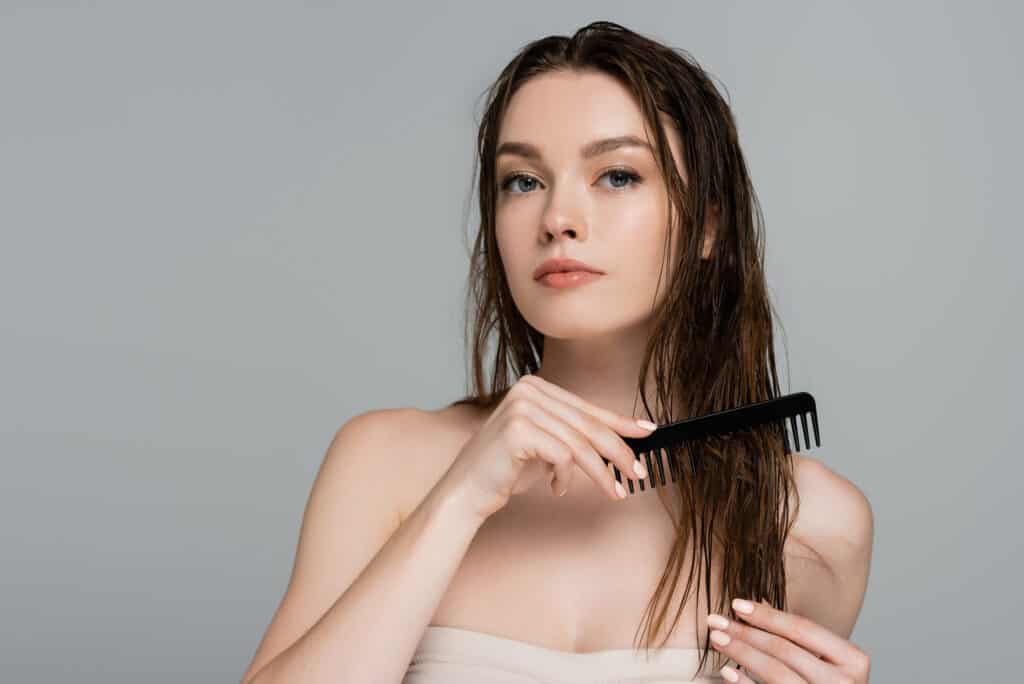 Healthy or Hazardous?
BTMS is a non sulfate ingredient derived from rapeseed oil, and scientific studies have shown that it's safe and non-irritating for most people(1). It has been approved for use by the European Union(2), which requires stringent testing of all cosmetic ingredients before a product goes to market.
It also won't cause product build up and has a lot of benefits for dry and damaged hair.
However, some may find it causes allergic reactions including skin and eye irritation, so it could irritate your scalp. If you have sensitive skin, you should do a patch test before using any products containing behentrimonium methosulfate and avoid them if you find you have an allergy to BTMS.
Behentrimonium Methosulfate vs. Behentrimonium Chloride
Behentrimonium methosulfate is sometimes confused with behentrimonium chloride. This is another common ingredient in hair and skincare products and has a lot of similar effects.
However, although the safety of behentrimonium chloride has been shown in testing(1), some people may find that it irritates their skin and eyes.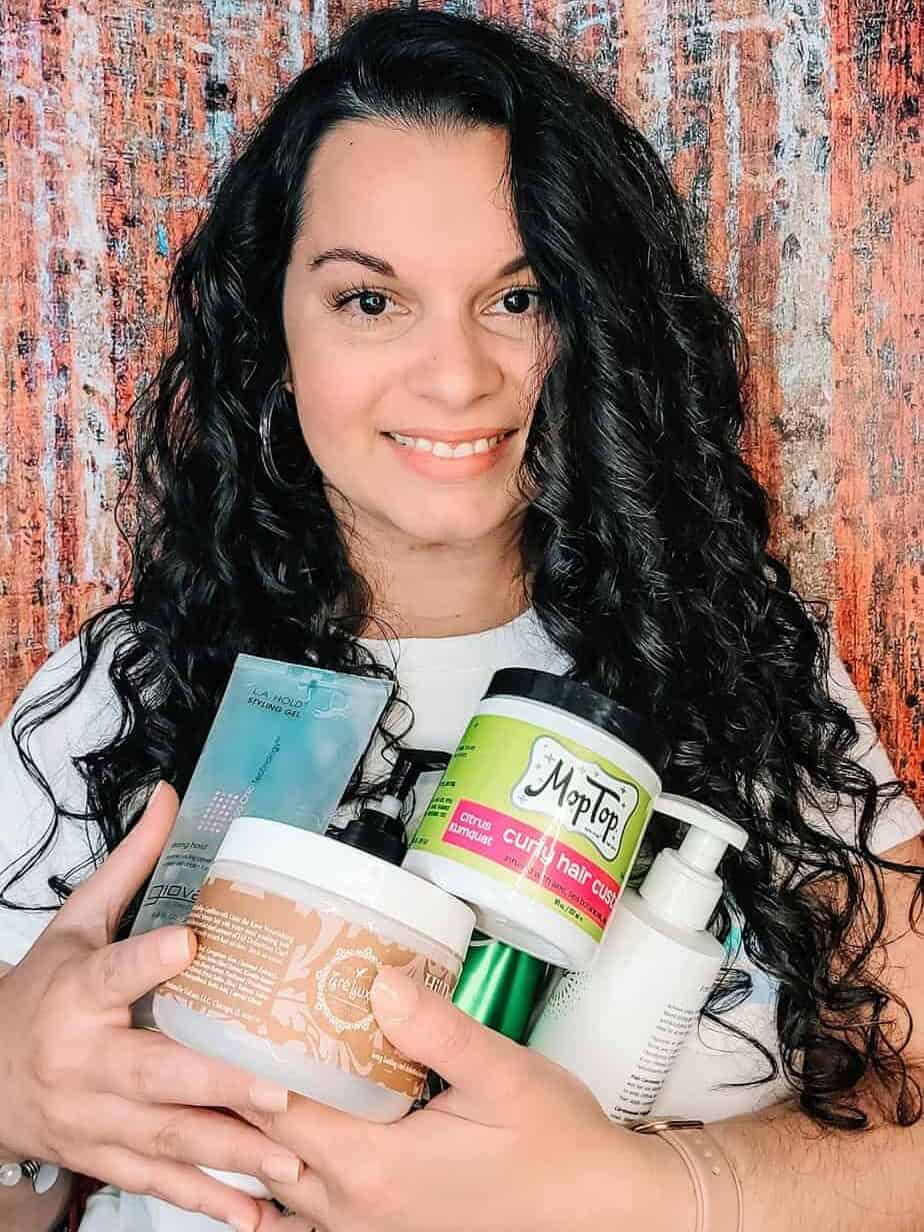 Benefits of Behentrimonium Methosulfate in Hair Products
Behentrimonium Methosulfate is widely used in hair care products, especially curly hair products, thanks to these fantastic benefits:
Reduces Frizz
Because behentrimonium methosulfate is negatively charged, this gives it the ability to flatten the cuticles on your hair strands, leaving your locks smooth and shiny.
This will reduce frizz and static in the hair shaft, making your curls more manageable and helping to reduce tangles and breakage. As an added benefit, BTMS can also keep puffiness under control in humid weather.
Adds Moisture and Hydrates Hair
Behentrimonium methosulfate hydrates your curls and also leaves a thin film on the surface of the hair strand. This will help to prevent moisture loss from the hair shafts, which is a major benefit if you have high-porosity hair that struggles to retain moisture.
Conditioning/Detangling
BTMS adds slip to your strands for easier detangling. This will also help to reduce breakage and split ends, making length retention easier.
Increase Hair Thickness
Combining BTMS with other hair-thickening products can make the hair shaft look thicker and enhance the bounce in your curls.
Improves Product Texture
Behentrimonium methosulfate improves the texture and consistency of conditioning treatments. This makes the product easier to spread over the hair shaft, making it more pleasant to use and giving better results.
Common Products With BTMS
BTMS is a popular hair care ingredient in shampoo, conditioner, and hair masks, including these great products for natural hair:
SheaMoisture Jamaican Black Castor Oil Treatment Masque
This rich deep-conditioning hair mask helps to restore and strengthen dry, damaged, or chemically processed hair.
We earn a commission if you make a purchase, at no additional cost to you.
Argan Magic 10-in-1 Treatment Leave-in Spray
This lightweight spray is packed with nutrients and antioxidants to hydrate, nourish, and protect all hair types.
We earn a commission if you make a purchase, at no additional cost to you.
Olaplex Hair Perfector No.3 Home Treatment
This popular home treatment repairs chemical, heat, and environmental hair damage to leave your tresses stronger and healthier.
We earn a commission if you make a purchase, at no additional cost to you.
Mielle Organics Rosemary Mint Leave-In Conditioner
This leave-in conditioner will strengthen and moisturize your locks, leaving them soft, healthy, and smelling fantastic!
We earn a commission if you make a purchase, at no additional cost to you.
Behentrimonium Methosulfate Natural Alternatives
If you prefer to avoid using hair products that contain synthetic ingredients, you could try using these alternatives to behentrimonium methosulfate. They won't give exactly the same results, but they can have a similar effect to BTMS.
Avocados and Avocado Oil are packed with monounsaturated fats that coat your strands and provide slip to help your hair feel more manageable.
Amla powder comes from the Indian gooseberry (Emblica officinalis) and can be made into a DIY hair mask that adds volume and texture to your tresses.
Henna is a popular natural hair color that also helps seal the cuticle, making your tresses shinier and less likely to break.
Marshmallow root creates a gel that adds slip to natural conditioners. It also soothes dry, itchy scalps and makes detangling easier.
Slippery Elm is a great natural detangler and also helps add volume to your locks.
FAQs
If you're still unsure about using Behentrimonium methosulfate, here are some of the questions we get asked most often.
Is Behentrimonium Methosulfate safe?
According to research published in the International Journal of Toxicology(1), behentrimonium methosulfate is considered safe if used in the correct concentrations and in a non-irritating formulation.
However, some people may find it irritates their scalp, causing allergic reactions like swelling or rashes. If you have sensitive skin, you should do a patch test before using products with BTMS in them. It's also important to avoid using haircare or skincare products containing BTMS on open wounds or broken skin.
Is Behentrimonium Methosulfate Natural or Synthetic?
Behentrimonium methosulfate is a synthetic quaternary ammonium compound derived from rapeseed oil. This is produced from the seed of the bright yellow flowers of oilseed rape, a member of the brassicaceae family.
BTMS for Hair: The Bottom Line
Although behentrimonium methosulfate has a long and complex name, that doesn't mean you need to avoid putting it on your locks. This mild ingredient, produced from rapeseed oil, offers many benefits for curly and coily types and is very popular with the hair and skincare industry. You'll find it on the ingredient list for many of your favorite natural hair products.
Many naturals will find that BTMS doesn't cause them any irritation, but if you have sensitive skin, it's best to do a patch test before you use any products that contain it. If you do have an allergic reaction to BTMS, there are plenty of natural alternatives that you could use.
So next time you see behentrimonium methosulfate on your product label, don't worry; you can relax about using this ingredient on your natural hair journey.
References
1 – https://journals.sagepub.com/doi/pdf/10.1177/1091581812467378
2 – https://echa.europa.eu/registration-dossier/-/registered-dossier/11466/