Oral Care Review: Clean and Green Pick: Dr. Brite Brand
This post may contain affiliate links, and I will earn a commission if you purchase through these links. Please read the disclosure policy for more details.
Dr. Brite is a natural oral care company created by a dentist and cancer surgeon. They use plant based ingredients and stay away from synthetic ingredients, artificial colors, sweeteners, or colors. They are also a California based company and source their ingredients from sustainably within the U.S. with the exception of neem oil.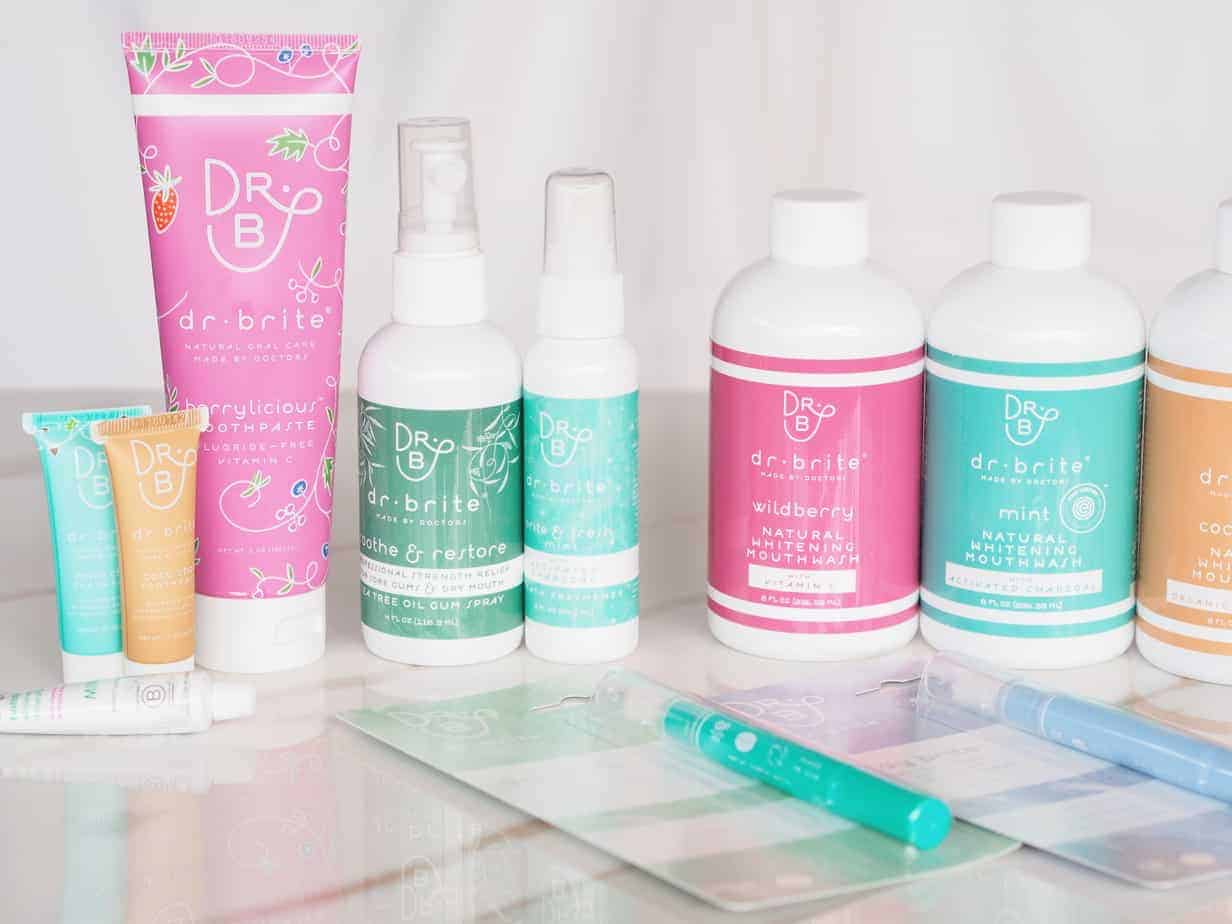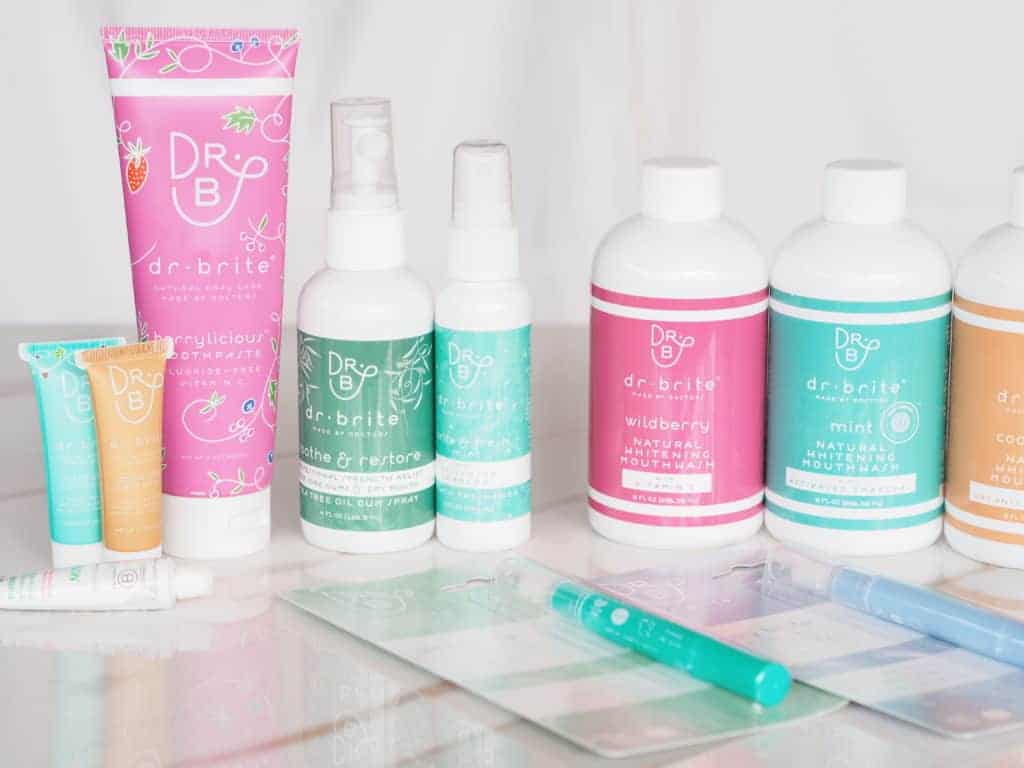 Why natural oral care?
I first heard about how damaging and dangerous fluoride really is around 10 years ago. I was skeptical of the information at first. For most of us, we have been drilled our whole lives about how important fluoride is for strong, healthy, cavity free teeth. I have a history of lots of cavities so I decided to look a little more into it. Here is what I uncovered:
So if you didn't click on those links above, I'll just mention that those are all studies, not just quotes. There are many more, and really it is alarming that with the information that is out there, the US has done little to combat this growing problem.
I had never even heard of "fluorosis" which is a condition where the teeth become stained due to overexposure to fluoride. And, that due to fluoridation of public water, we are all overexposed to fluoride. I also didn't know that it is a neurotoxin. I always wondered why they don't put fluoride in children's toothpaste and now I know why.
So to see all these studies correlating fluoride intake with low IQ, negative effects on learning and memory, causing week teeth and bones, and not being that effective at preventing cavities, I was reassured that fluoride free was the way to go.
When I first made the switch, I would make my own tooth powder because I was not happy with the taste, texture, or efficacy of the natural toothpaste that were on the market. They all either tasted bad, didn't leave my teeth clean enough, or had a strange texture. I love the tooth powder but it was messy and I had to make it. So when I came across Dr. Brite which checked all the boxes, I was sold!
Conventional dental care also contains some other ingredients that aren't dangerous but also aren't ideal like SLS, triclosan, propylene glycol, and artificial sweeteners and colors. These have links from endocrine disruption, to irritation, and a number of cancers so I'd rather use products without these ingredients to be safe.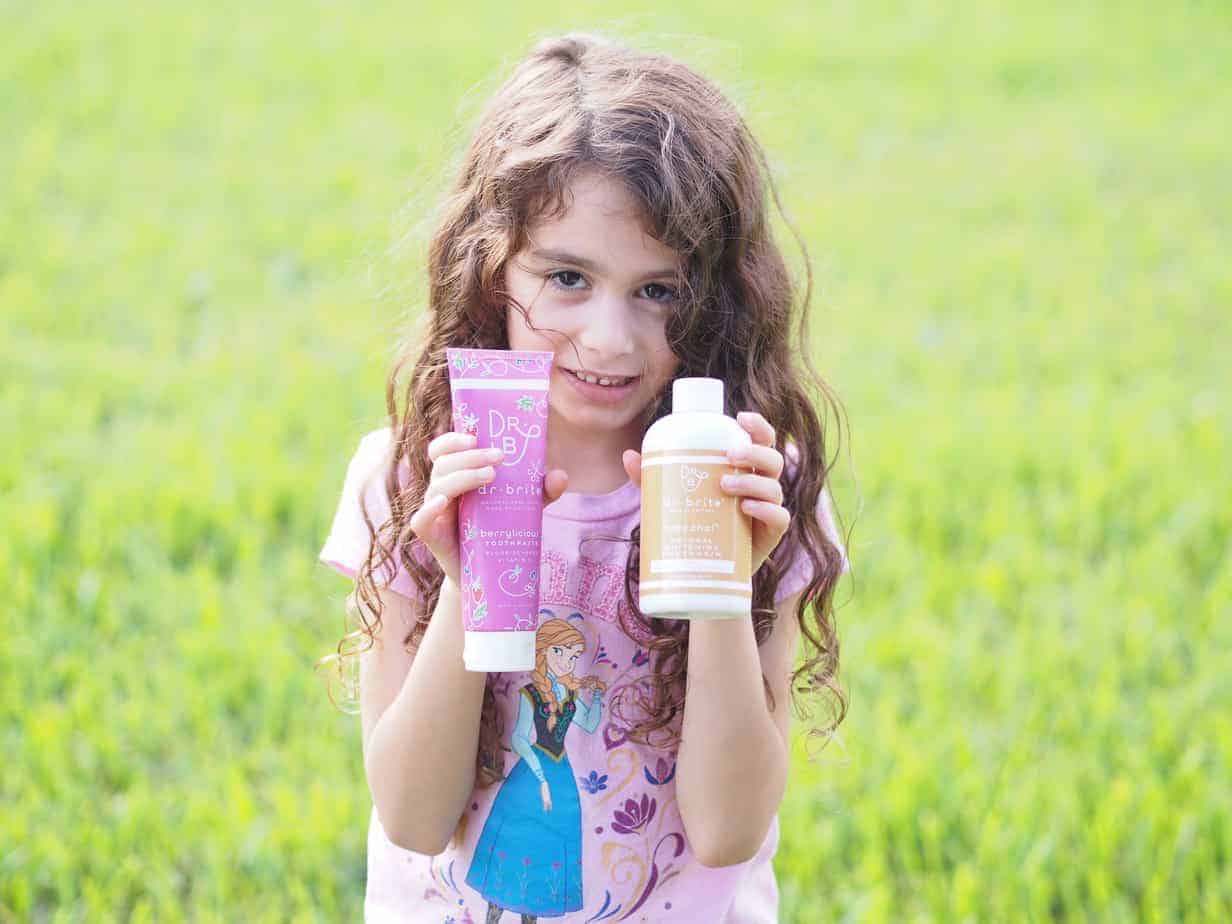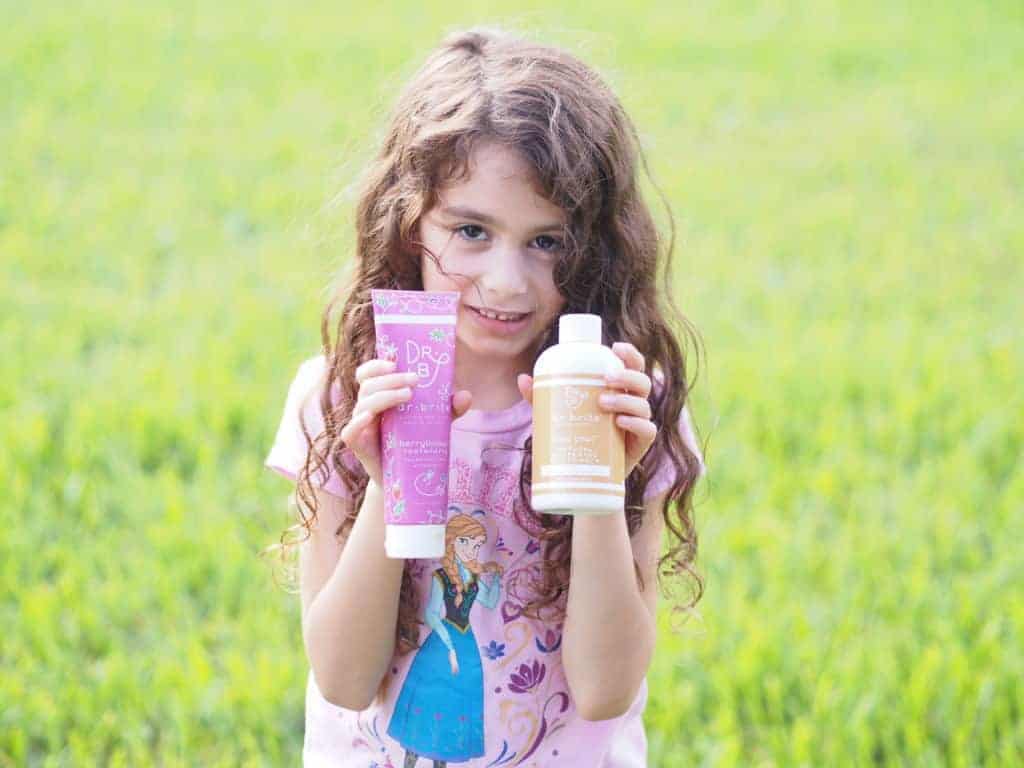 Dr Brite Toothpaste
Dr. Brite offers 4 different toothpaste flavors: mint, coco chai, berrylicious, and mint chip. I have tried them all and like all of them, but my favorite is the mint because I prefer a strong minty taste. My daughter loves the berrylicious and coco chai.
Aside from their yummy flavors, they feel and work like regular toothpaste. My teeth feel clean and my mouth feels fresh. These also provide whitening effects and of course eliminate cavity causing bacteria. They contain clean ingredients without any known irritants, and actually use soothing aloe vera. These would even be great for people with sensitive teeth and gums.
The one difference you'll feel if you're used to conventional toothpaste is that they don't foam. I have gotten used to it and like it because the ingredient that creates the foam is a known irritant and used to cause canker sores in my mouth.
Dr Brite Mouthwash
Similar to the toothpaste, they offer 3 different flavors: mint, wildberry, and coco chai. Again, I prefer the mint but they all taste good and have some mint.
These mouthwashes don't burn and also don't contain any irritating ingredients. They contain soothing aloe vera and non-acidic vitamin c to help support gum health.
They also make a refreshing spray which is much like the mouthwash but in a small spray bottle. I love having this in my purse to use after eating smelly foods or when I feel like my mouth is too dry.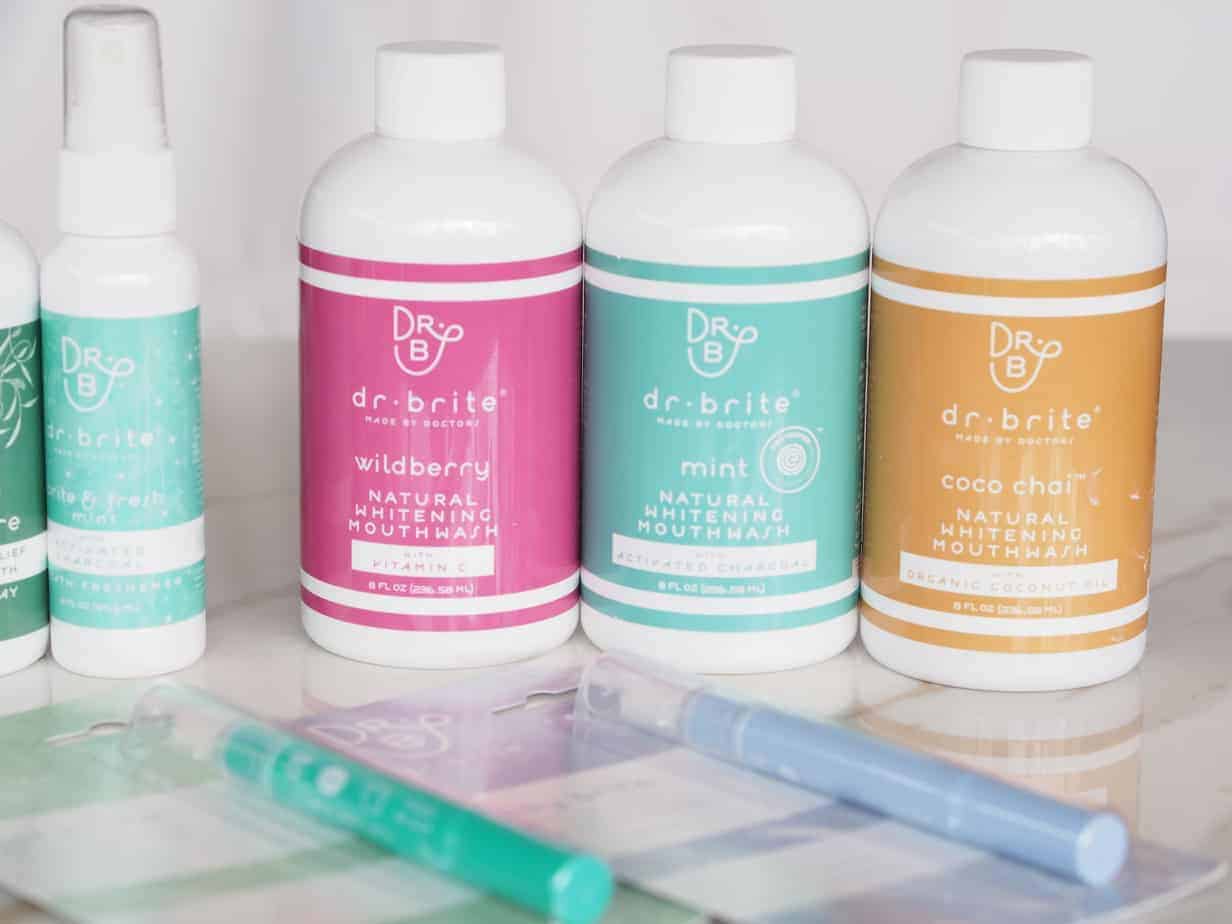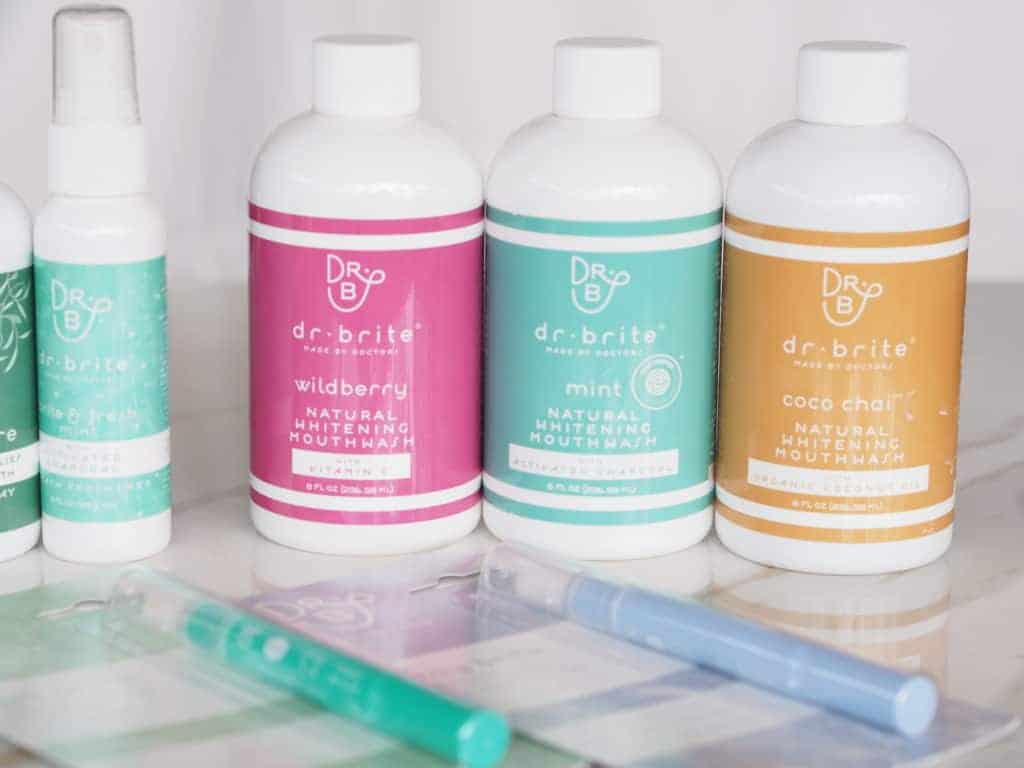 Dr Brite Whitening Pens
They even have natural whitening pens. I don't know how they created a natural tooth whitening product but they did and it works. They just launched a new one that will make your teeth 5 shades whiter in 5 minutes.
This one I was excited about because my poor daughter is always biting her cheek and tongue, and I sometimes burn my mouth or have inflammation from flossing. This spray contains a blend of essential oils to soothe irritation and it definitely works. It's not a cure, but it does numb the pain for a while, and if I need more I just spray again. It has a minty flavor but I can notice the stevia leaf, which I am not a fan of. Despite this, I continue to use it.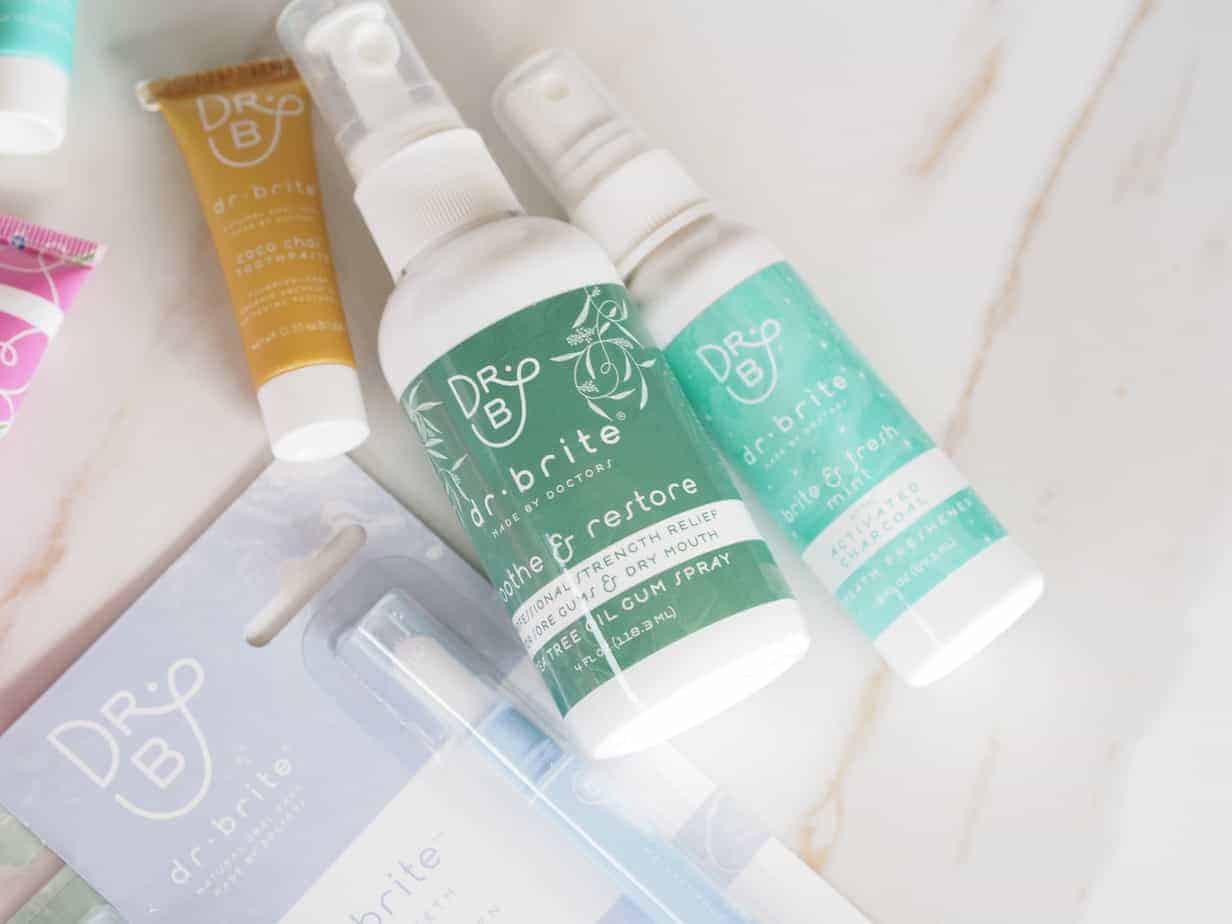 Dr. Brite offers some other products which I have not tried yet. This is my new go to toothpaste and mouthwash brand and my whole family has been very satisfied using the products for the last few months.
*Some of these products were sent to me for my honest review. I purchased most of these products myself.
Check out these related posts:
LOOKING FOR BUDGET NATURAL BEAUTY PRODUCTS?
In addition to reading my posts on affordable clean beauty, be sure to join my email list to get access to my freebies with clean beauty shopping guides.
Want to remember this? Save Dr. Brite Natural Oral Care Review to your favorite Pinterest board!