8 Easy Ways To Go Low Waste In Your Home (That Also Save Money!)
This post may contain affiliate links, and I will earn a commission if you purchase through these links. Please read the disclosure policy for more details.
Are you trying to reduce your waste, go low-waste or even sero waste, or just be more mindful? Then I have a few easy and cheap ideas for you.
Don't worry, this post is not going to be all preachy about waste and calling on you to become a minimalist.
That's not easy or cheap.
But I do want to point out some facts on waste just for some perspective.
Clearly, trash in an issue. We live in world full of convenience and consumables without even thinking about their long term effects.
That said, sometimes you NEED convenience. And sometimes you NEED consumables. That's ok.
But there are plenty of opportunities to reduce your waste which also happen to save money.
Here are my top 8 easy ways to go low waste in your home.
switch to Cloth napkins
Cloth napkins are such an easy option. You buy them once, and they last for years. I bought this set of 12 cloth napkins 5 years ago that still have many years to go before they need to be replaced.
I keep the napkins in a small basket by the dining table, and toss the used ones into another small basket in the opposite corner. Whenever I do laundry, which is a few times a week, I walk by and grab whatever napkins are in the dirty basket and toss them into the wash with the load I was doing. This way it's not extra laundry and there's always clean napkins. If you have a larger family just buy a few more to last a bit longer between washings.
Think about the savings in cost. Say a pack of 100 napkins costs around $2. In a year I would spend around $72 to have enough napkins for the 3 of us. A pack of 12 cotton napkins costs around $25 and lasts years. And if you're crafty, you could even make your own.
use Cloth wipes instead of paper towels
This is another easy, and possibly free option. I cut up old shirts and have taken my daughter's wash cloths from when she was a baby to use as wipes and rags. I still buy paper towels for certain uses, but they last much longer because I use the cloth wipes for everyday cleaning and spills.
I have 13 wipes so that I can use a different one every day and have a few extra. Just like with the cloth napkins, at the end of each day I toss the wipe I had been using into the dirty napkins basket so that it gets washed in the next load I do.
Paper towels are even more expensive than napkins so the savings are bigger here.
Use your dinnerware on a daily basis
Save the disposable plates and silverware for parties and gatherings, when you don't want to wash a bunch of dishes.
On a daily basis, stick to your regular dinnerware. I used to use paper plates daily because I REALLY hate doing the dishes but I have a dishwasher and a helpful husband so it's a small sacrifice. I run the dishwasher every few days once it's full and wash whatever doesn't fit.
But you can bet that when we have company, those paper plates come out. The point is to reduce your daily waste, not perfection.
Again, using less disposable tableware saves you lots of money over time.
Think before you dump any food scraps
Remember that quote about all the food we throw away? You can save veggie scraps to make broth, any random small amounts of food can make a snack on another day, give the leftovers to your pet, or you can compost for a garden.
One good idea is to freeze small veggie scraps and leftover bones and make a broth out of them when you have enough piled up. Then freeze the broth in small portions to have ready to use at any time.
I freeze my broth in an ice cube tray then pop them into a bag or container and place in the freezer. With this you can save money by not having to buy broth anymore.
use reusable Travel cups and bottles
Travel cups are so easy now with all the options we have. Just choose one that you know you will easily carry around and that washes easily.
I have one travel coffee cup and a large water bottle. My daughter also has a reusable water bottle that she takes to school. I try to stay away from plastic and stick with stainless steel, but that's a personal choice.
This is my favorite travel coffee cup. It keeps my coffee warm for hours and has a lock so it doesn't spill. It's also stainless steel which is a bonus.
For water bottles, I really like Hydro Flask bottles because they have great quality, a good warranty, and good customer service. They are pricier than other water bottle brands though. Klean Kanteen is another great, more affordable option, and that's what I use for my daughter.
Buy in bulk
If you can, buy some things in bulk. This saves money and packaging, especially if you can take your own containers and fill them up yourself.
I have not found a place to do that near me but I hear it's gaining popularity. Things you can buy in bulk include dry foods, personal care products, office supplies, and cleaning supplies.
Switch to a Safety razor
I started using a safety razor 2 years ago and I can't believe I waited so long! Not only is it better for the environment, but they are also so much better than regular razors, and you SAVE SO MUCH MONEY! Seriously, these will last many, many years and replacement blades only cost around $0.20! 20 cents!!! I couldn't believe that when I saw it. I always hated spending $2-3 per replacement cartridge for crappy razors.
My husband and I both use this safety razor. I also purchased a bag razor blade variety pack and we have used up maybe 40 in 4 years. So far I have saved over $400 by switching to a safety razor. There is a bit of a learning curve but just read up a little before using one.
Recycle
This one might seem obvious but I have spoken to a lot of people who don't recycle. Check with your local waste management to see what you can recycle in your curbside program. I used to think it was all glass, plastic, paper, and cans, but it's not that simple. I was surprised to learn that grocery bags are NOT recyclable.
My recycling bin always fills up before the trash bin does (and we have the extra large one). We recycle everything we can – bottles, cans, jars, boxes, paper, packaging, etc.
You can also reuse certain items yourself. I like to save glass bottles and jars to use as storage. I usually remove the stickers and run them through the dishwasher then use them to store liquids or dry goods. I started doing this because glass food storage is so expensive.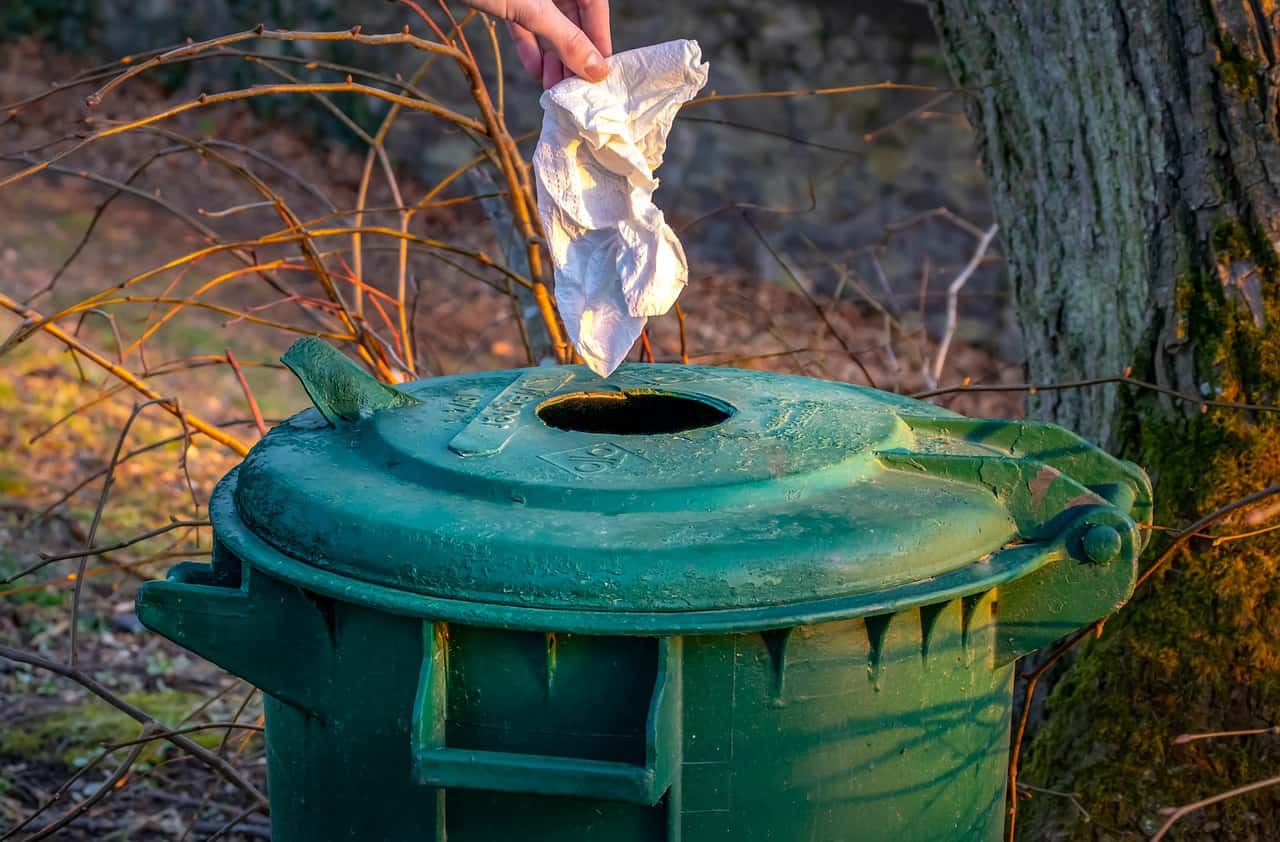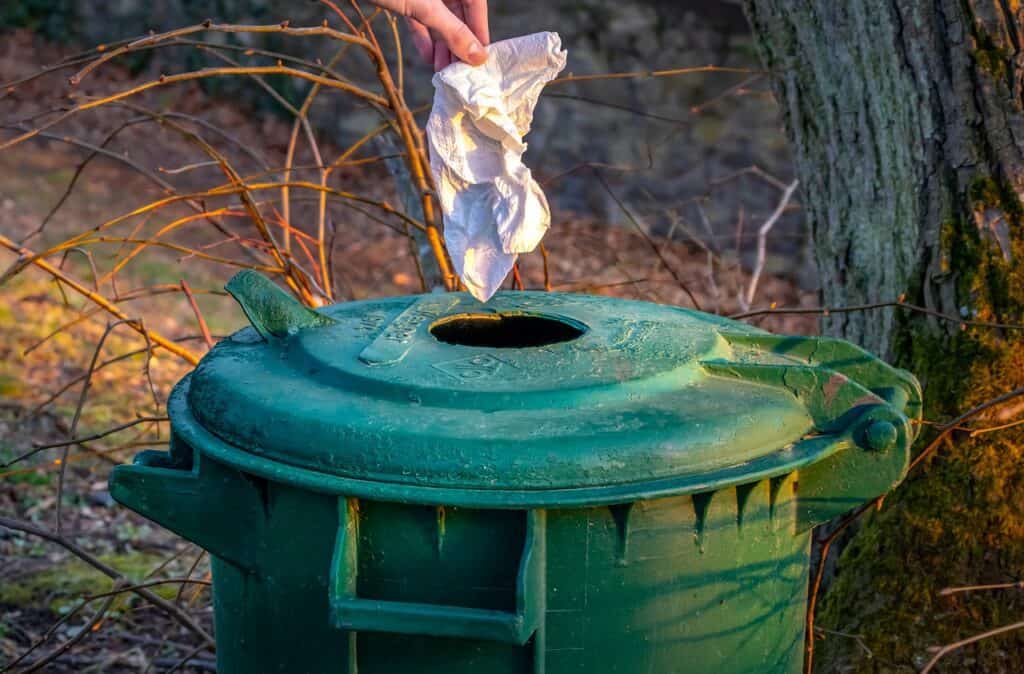 So those are my top 8 easy ways to go low waste and save money.
You can also check out this post on 40 ways to use less plastic.
I want to challenge you to be more observant of your trash. Notice how many products you use in plastic packaging that does not get reused. After a while you might come up with some solutions that work for your family and lifestyle to help minimize your waste.
And remember that it's not an all or nothing approach. A little bit here and there does make a difference.
Have you tried any of these ideas to reduce your waste? I'd love to hear about it in the comments.
Check out these other clean living posts:
Want to remember this? Save 8 Easy Ways to Go Low Waste and Save Money to your favorite Pinterest board!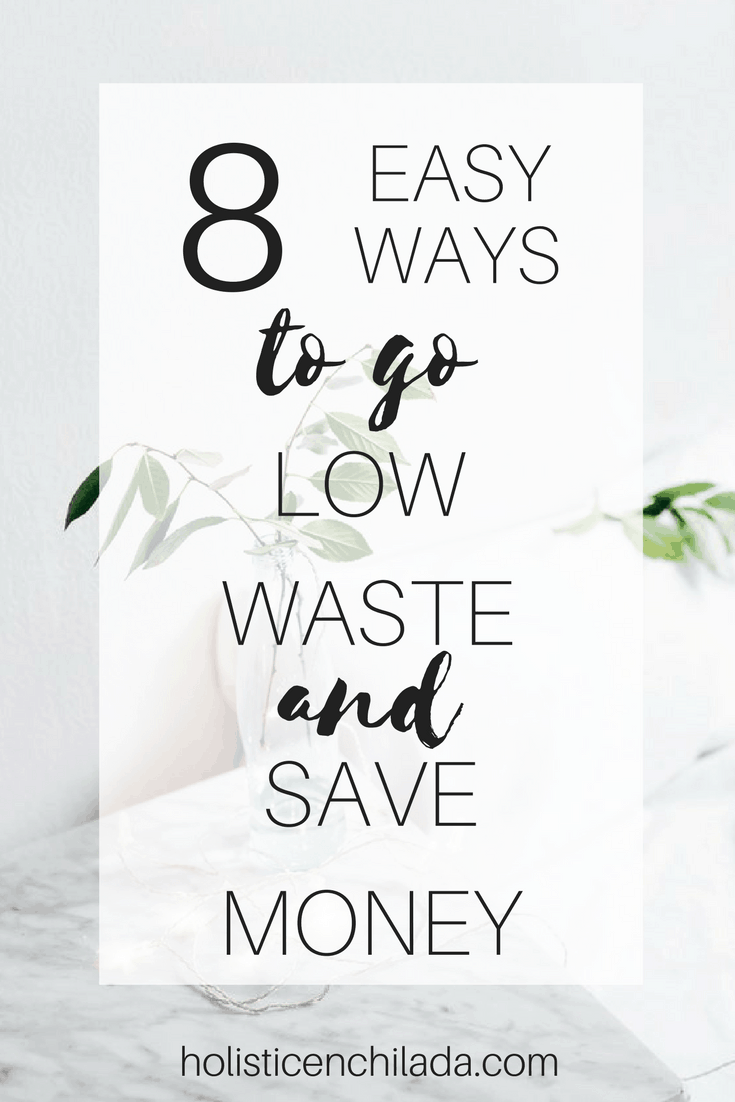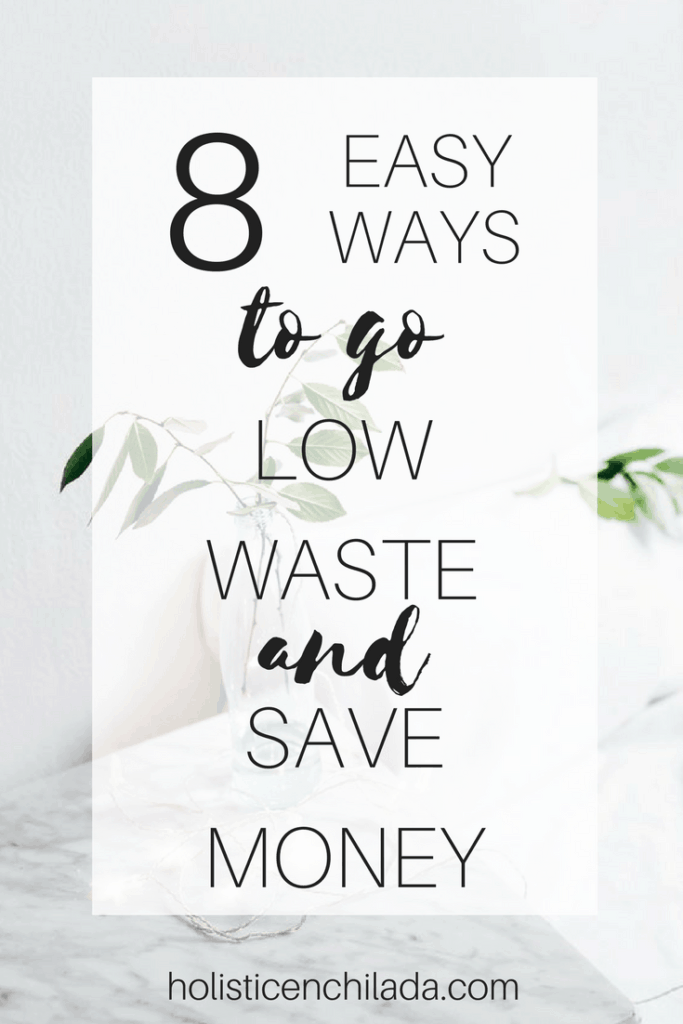 In addition to reading my posts on affordable clean beauty, be sure to join my email list to access my clean beauty shopping guides and more in my freebies library!