How I Afford Clean Food And Feed My Family of 3 On A Budget
This post may contain affiliate links, and I will earn a commission if you purchase through these links. Please read the disclosure policy for more details.
My clean food diet is a blend of vegan and paleo, meaning in my house we eat mostly organic vegetables and fruit with some grains and good quality meat. Eating this way can be very expensive (one pound of grass finished beef can easily cost $20) and often requires lots of trips to the store. I am not a fan of grocery shopping and we do not have the budget to use those popular delivery services. We also do not have any farms nearby that I can get meat or eggs from, and the farmer's markets are in very high end neighborhoods with matching price tags.
So how do I do it? I plan my meals and focus on buying in season, use the dirty dozen and clean fifteen lists for produce, and buy quality meat in bulk. Then, I cook the food in ways that I can stretch the meat out, since that is usually the most expensive part. I often make double batches and freeze for another day or use the leftovers in different ways for other meals throughout the week.
Where I Shop
Trader Joe's
This is my favorite place. It's not even close to my house but I manage to get over there once a month. They have more organic produce than any other place and CHEAP. I fill my cart up to the top with clean food and never spend more than $125. My staples here are organic produce (everything!), almond milk, canned organic coconut milk, coconut milk ice cream, organic decaf coffee, organic dried fruit, and nuts. Sometimes I also get wine or prepackaged salads when I know I'll be really busy during the week. In a month I spend $125 or less there.
Aldi
This is another super cheap store. I mainly go here for produce and a few other staples like rice and almond butter. Their selection has grown a lot since it opened so I'm finding lots more items than I used to. I usually go to Aldi once a month and spend around $50.
Costco
I know this place has a membership fee, but seriously you cannot beat the prices even with the fee factored in. I normally buy organic rice, organic frozen fruits and vegetables, snacks foods, soups, organic chicken and ground beef, wild caught fish, and the very delicious Kerrygold butter. I shop there maybe 4 times a year and usually spend around $300 each time. This does include some household cleaning supplies so it's actually less money on food, probably about $200. So that works out to $70 a month including the membership fee.
Thrive Market
This is where I shop to get things I cannot find locally (at affordable prices), like coconut aminos, organic spices, sauces, and dressings, dried fruit, paleo granola, grain free flours, dairy free chocolate chips, and cleaning supplies. I don't know why they don't sell these kinds of items locally but for now I use Thrive. Thrive Market is like an online Costco and Whole Foods. You pay $59.95 a year and get access to tons of healthy food options at amazing prices.  They are really the cheapest for health foods. They have vegan, paleo, raw, and gluten free options, plus lots of household and personal care products. Now you might be thinking, $60 is not really affordable! But, that depends on your diet. Because I focus on eating clean food, which includes organic and no processed foods, I cannot find what I need to actually cook without shopping here. So it is worth it for me. Technically I could go to Whole Foods, but that would cost a hell of a lot more than what Thrive Market works out to. I spend between $50 and $100 each shop and do it every 3 months. This works out to around $35 a month including the membership fee.
Amazon Fresh is a new service I recently started using. It may seem counterintuitive to pay a monthly fee for grocery delivery, but they have good pricing and I don't have time to get to the store every week. I usually use this service twice a month and spend between $50 and $75. I order pastured eggs, milk, produce, and sometimes meat. Since they own Whole Foods, a lot of the food they offer is from there. I could save even more money by not using this service but at this point, it is something I am willing to spend money on.
So in all I spend less than $450 a month on clean food for a family of 3. I know that is not as little as some people spend eating more conventional foods, where they can load up on pasta, rice, and processed foods and do around $300 a month for a family. I cannot eat most of those foods and want to feed my family as healthy as possible. Food is medicine, and what you put into your body affects your health whether you want to believe it or not. So I believe in paying a little more up front to be healthy and delay or avoid illness.
How I Make The Food Last
First I meal prep. I take my cookbooks and sit on the floor with them. Then I look at what I have on hand and browse through the books to put some meals together. I make a list of the meals I want to make and then list the ingredients I need to buy. It usually only takes about half an hour and saves so much time and money.
For cooking, I mostly rely on my oven, large wok, and the Instant Pot
.

The Instant Pot
 has changed my life. Seriously, it's like a slow cooker in that you dump and leave it alone, but cooks the food in less than an hour. I usually roast a bunch of vegetables on a sheet pan (potatoes, peppers, onions, carrots, broccoli, cauliflower, anything really) and make a batch of rice in the Instant Pot. I often do this on Sundays to prep for the week. Then all I have to do throughout the week is cook the meat and prepare any salads to have a full meal. Dishes that are always on rotation are stir fries that I serve on zucchini noodles or rice, salads, and soups. One of my favorites is from Nom Nom Paleo's Ready or Not cookbook Pot Sticker Stir Fry. It tastes just like the inside of a pot sticker. Yum! Basically I cook up some kind of meat, like a stir fry, soup, or roast meat, then serve it with roasted veggies and/or salad. Bam, super easy and healthy.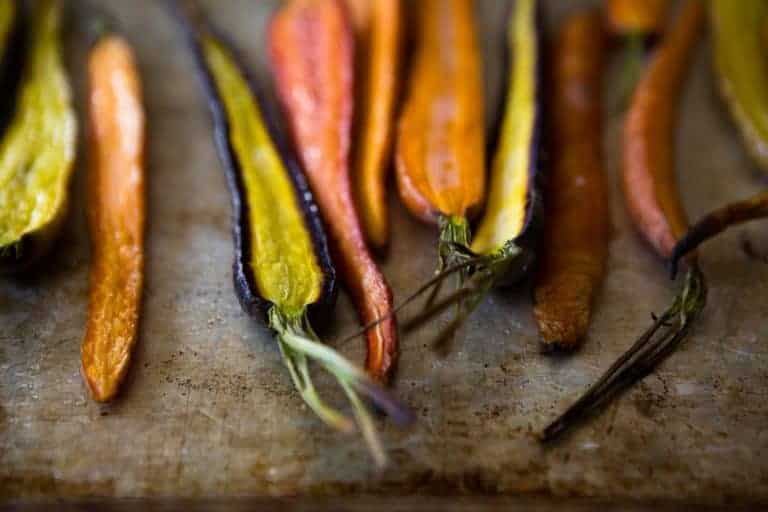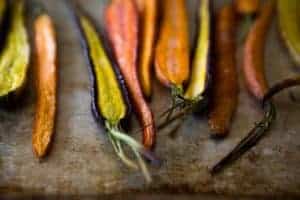 For breakfast and lunch I usually prep a bit too. I will make a batch of grain free muffins or loaf that we can quickly grab in the morning along with some fruit. I sometimes make easy peeling hard boiled eggs in the Instant Pot.  I also do lots of smoothie bowls with spinach, frozen banana, whatever frozen fruit I have, a scoop of grass fed collagen, and top it off with shredded coconut, nut butter, pumpkin seeds, bee pollen, and cacao nibs. Lunch is usually a salad or leftovers. I sometimes cook some chicken in the Instant Pot and shred it to then use throughout the week for lunch. Or canned tuna does the trick.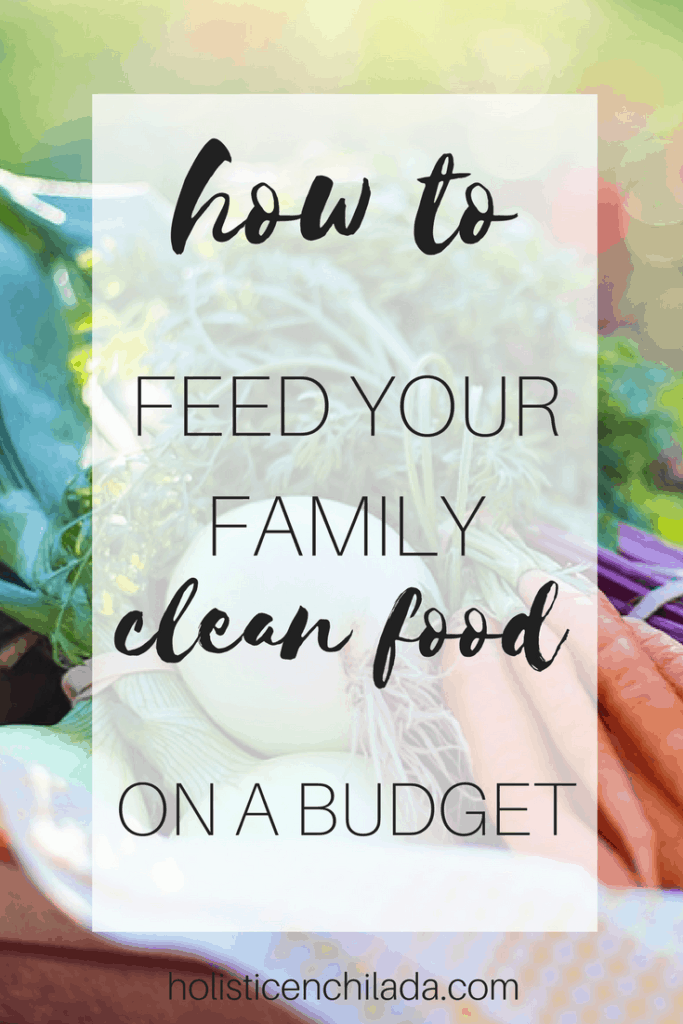 As you can see eating this way on a budget takes a little work but it beats going through the drive through or heating up a microwavable meal. Meal planning also helps a ton, so that I only buy what I need and there's very little waste.
Do you have any other tips or tricks to lower your grocery bill?