Today I'm sharing my natural skincare routine for my dry acne prone skin. This is the routine I implement when I have bearkouts and sensitivities. I have dry, sensitive skin with hormonal acne so my main concerns are really hydration and dullness.
But every month I have 1 week where I may have just one or twenty hormonal breakouts, or sometimes my skin reacts to all the products I'm testing.
So when that does happen, I pare down my routine and eliminate common irritants to help my skin calm down and heal quickly.
Ingredients and Products That Cause Acne and Irritate Skin
I try to avoid scented products, including essential oils, balms, exfoliating masks, and heavy creams. I go very basic and use a foaming face wash, rosewater spray, light cream, and an oil serum. The cream and serum are both formulated for sensitive skin so they work perfectly to soothe and prevent further irritation and acne. I spot treat with an acne mask, acne patches, and a liquid spot treatment.

This post may contain affiliate links. Please read our disclosure policy for more details.
Natural Skincare Routine for Dry Acne Prone Skin
Face Wash
I alternate between the Alder Everyday Face Cleanser and Acure's Brightening Cleansing Gel. Both are foaming but the Alder face wash is much more gentle and hydrating. I use this on days I don't wear much makeup. I have my review on this face wash here. For heavier makeup days I use the Acure face wash because it's stronger and can leave my face feeling a bit drier.
In addition to the cleanser, I use the BFF electric pore cleanser (the blue tool in the above photo) to exfoliate gently. I have found that this helps speed up the healing process when used daily when I have breakouts. It really helps the pimples go through their process much more quickly, even without the spot treatments. If you purchase through this link, you get it at 40% off. However, that discount expires 7 days after you first click on the link.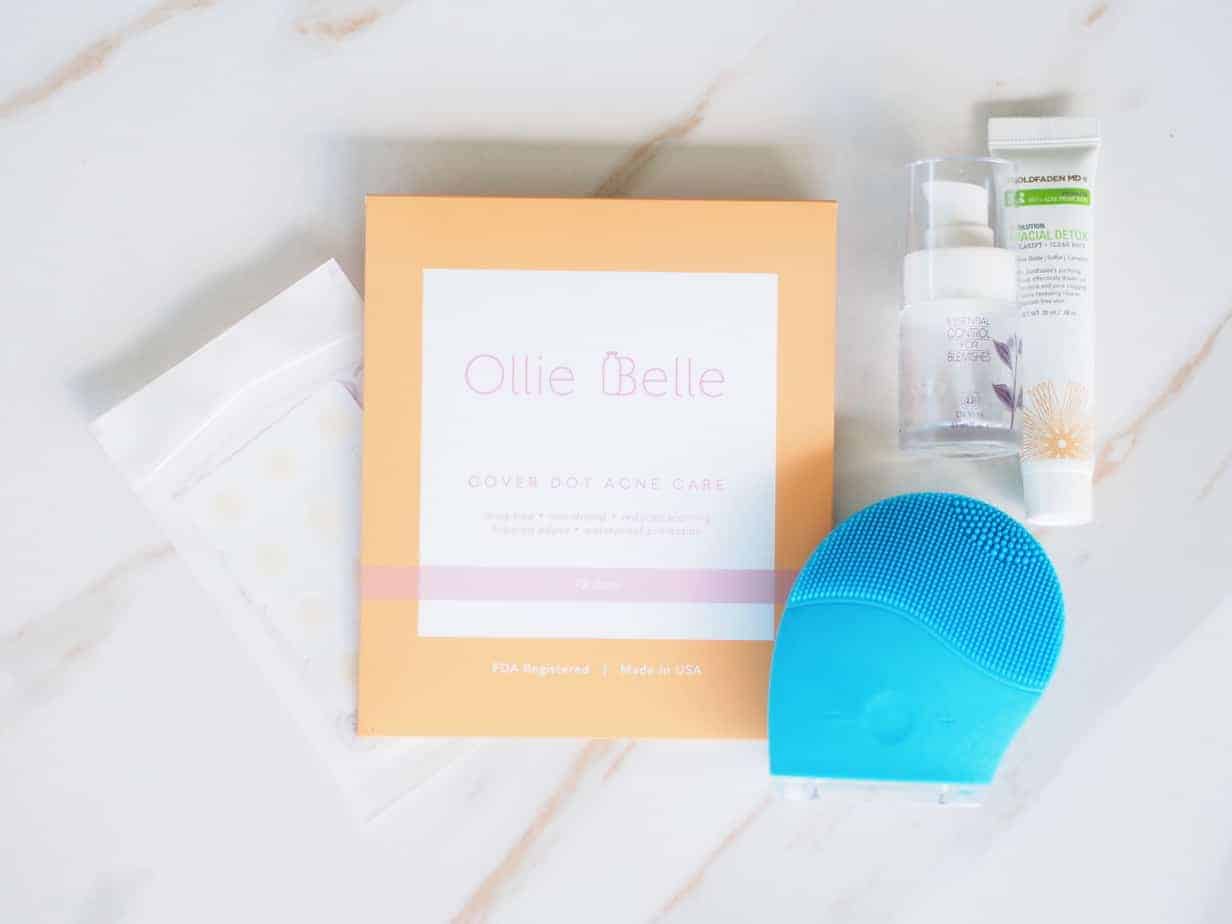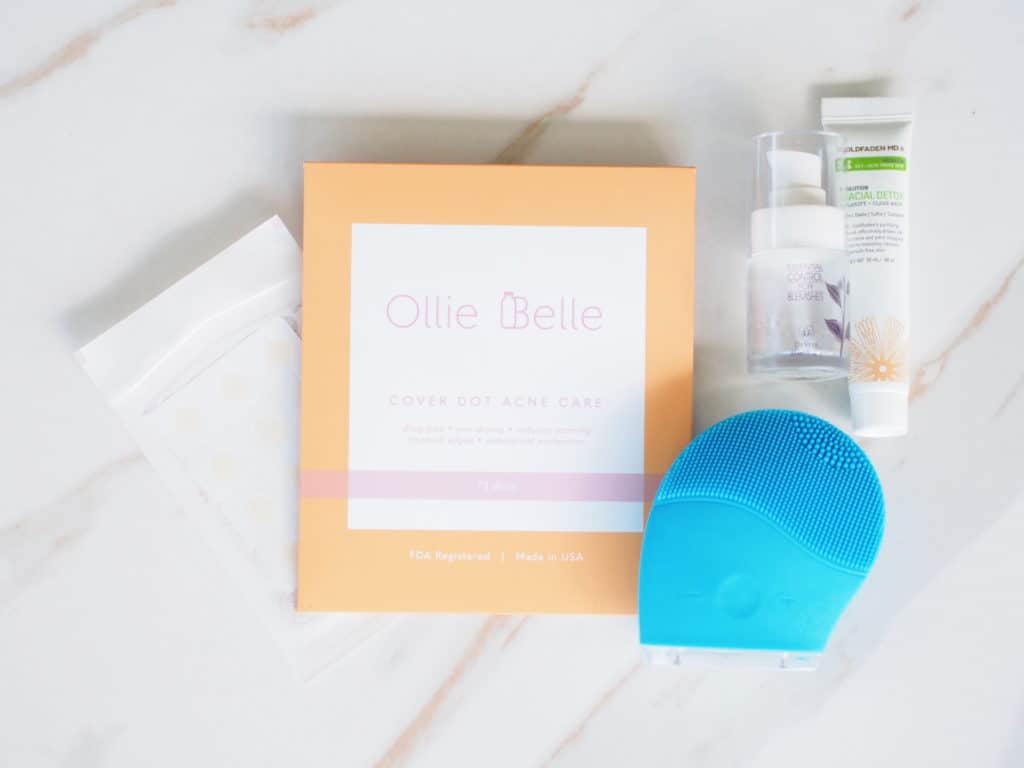 Toner
I use the Sky Organics Organic Rosewater spray. I like this one because it's just one ingredient and it's very affordable. I have a few other hydrating facial mists and toners but they all have added essential oils and other ingredients.
Moisturizer
I only use the CV Skinlabs Calming Moisture. This is just the best cream I have tried for sensitive skin because it really hydrates but it's not heavy or oily, and it helps reduce redness and irritation. Their whole line is actually designed to help treat sensitive skin. Although it's not as affordable as other options, it lasts a long time because I use a small amount. This is a daily staple year round.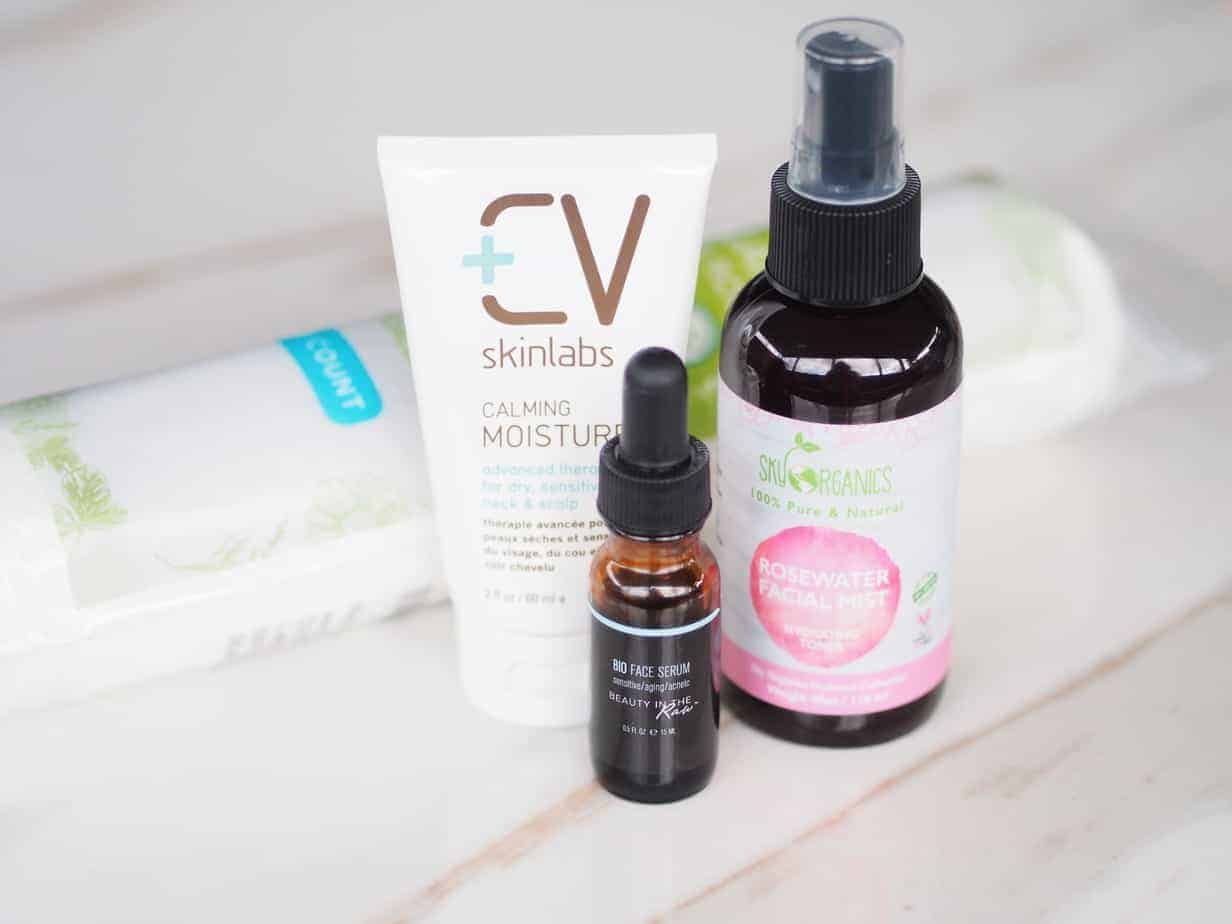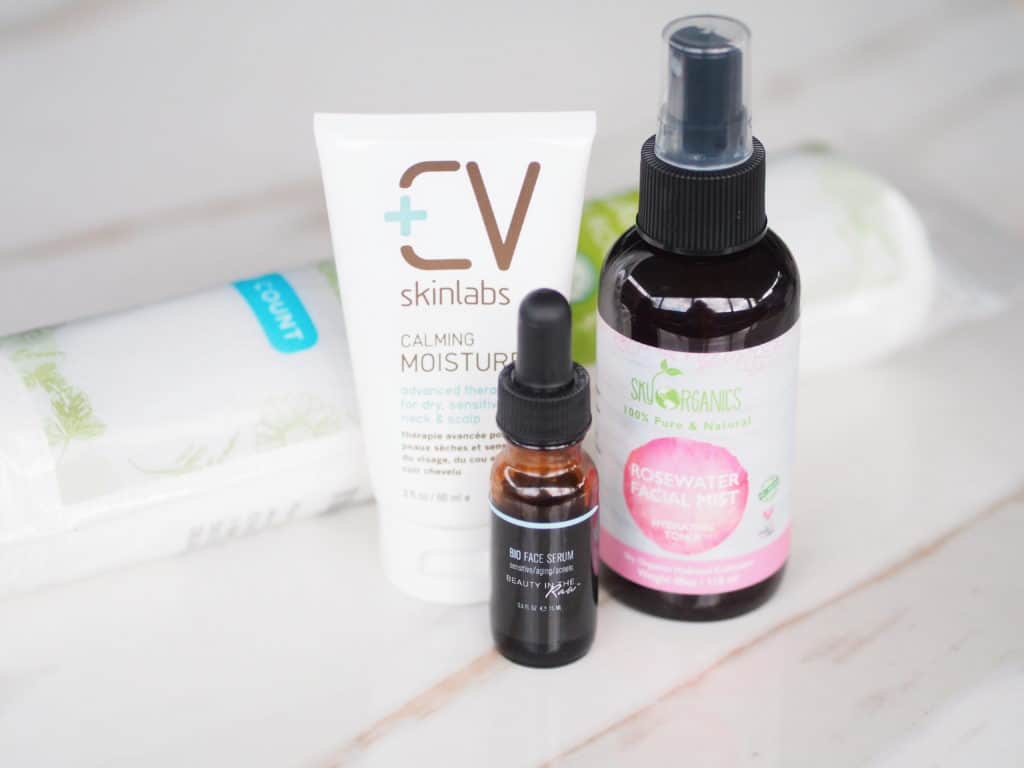 Oil Serum
I use the Beauty in the Raw Bio Face Serum as the last step. I apply 2-3 drops right after the moisturizer to seal it all in. This serum is great for acne because it's hemp based. Hemp seed oil is non-comedogenic, antioxidant and anti-inflammatory and is commonly used in acneic and oily formulations because it's a quick absorbing oil that helps reduce breakouts and balance oil production. This serum also has an earthy scent with a hint of a few essential oils so it doesn't irritate my skin and actually helps heal my acne.
Spot Treatments
I use a Ollie Belle Cover Dot acne patch overnight whenever I have a pimple. I put these on before bed and they help speed up the process without any irritation. These are made of hydrocolloid and are soothing, scent free, and free of medication.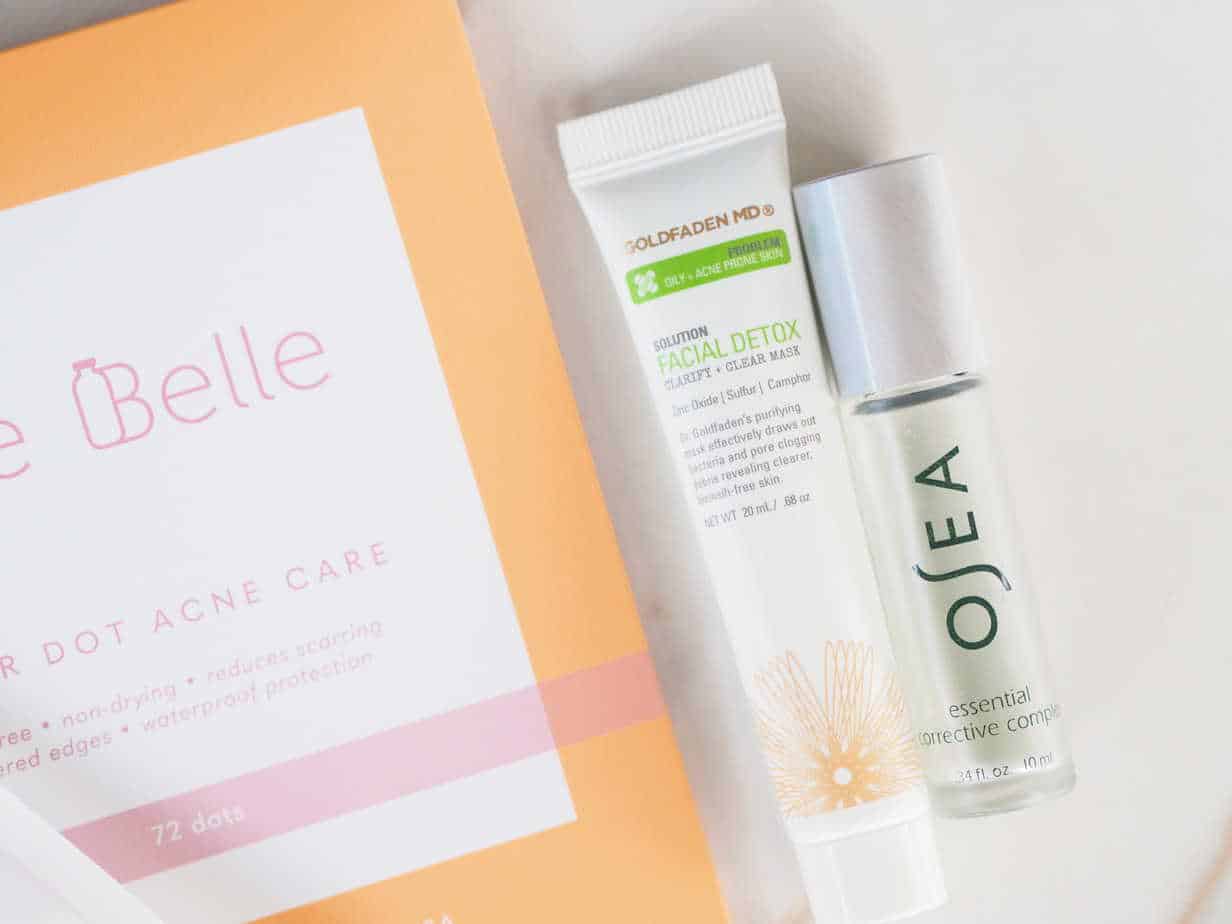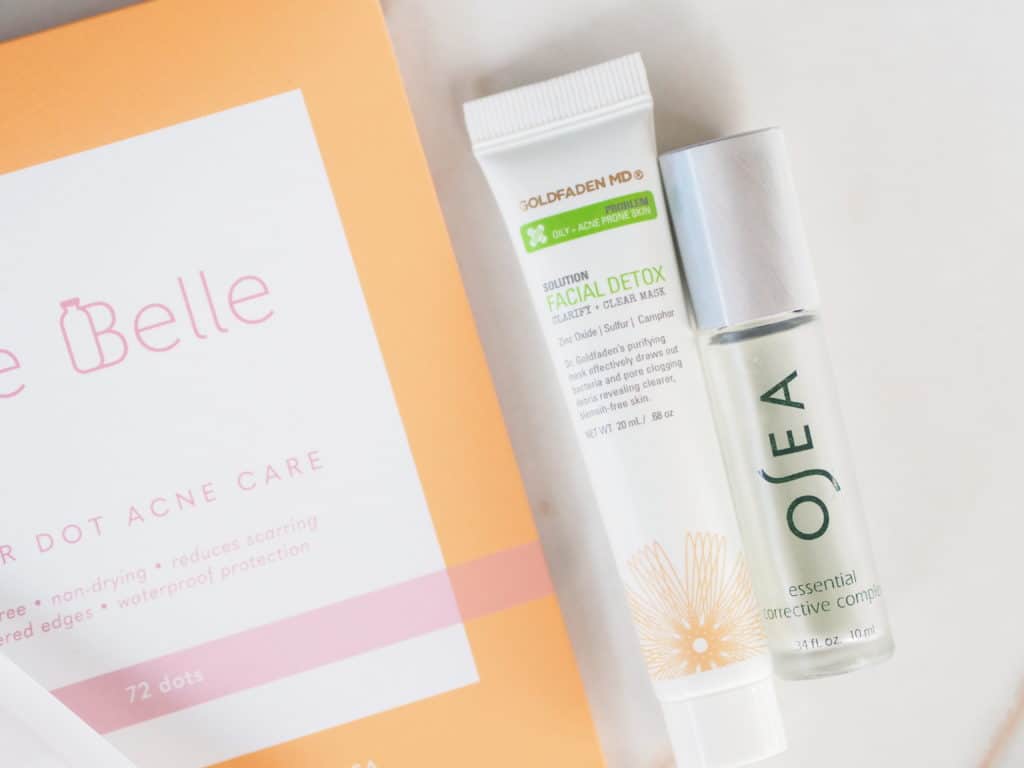 I also spot treat with the DeVita Essential Control for Blemishes, OSEA Essential Corrective Complex, and Goldfaden MD detox mask . The DeVita product is very affordable and I use it by pumping once onto a cotton round. It has a water consistency and is oil free. If you prefer an oil based product, then use the OSEA. It's a roll on product and a little goes a long way so it lasts a long time. The Goldfaden MD detox mask is quite pricey though. I use it because I got it in a beauty box (this is why I love beauty boxes) and it works very well. But the full size is too expensive so I would replace it with a clay mask. Any clay mask works and those are all affordable and easy to use.
So that's my whole natural skincare routine for dry acne prone skin. I hope this helps you. Please Pin this so you can refer to it later.
And sign up to download my free Ultimate Guide to Green Beauty On A Budget.