Green Beauty On A Budget – Affordable Nontoxic & Organic Skincare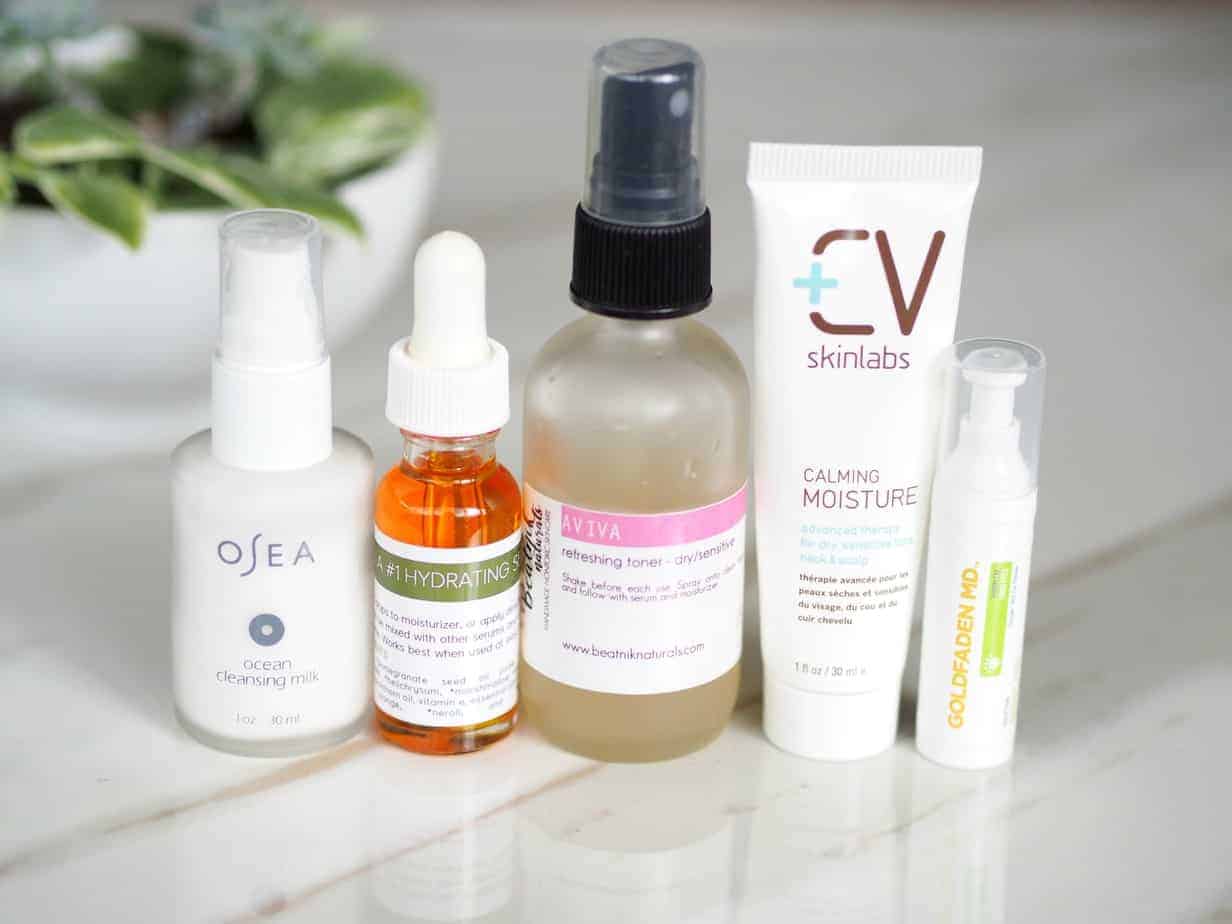 This post contains affiliate links. Please read our disclosure policy for more details. 
My last green beauty post where I talked about makeup, I had many of you ask about skincare. It used to be that green beauty was expensive and not widely available, but things have changed a lot in recent years. There are lots of brands that are committed to offering safer and affordable products, though you won't see them in your local Sephora or Walgreens. Green beauty on a budget is very doable.
Skincare is another industry where companies hide toxic ingredients. If you do a google search for toxic ingredients in personal care products you will find many long lists with lots of scary claims. While many are valid, some are a bit overblown for dramatic effect, and I am not a purist. If a products contains 0.05% of a questionable ingredient, then that's not really a big deal to me.
Some great resources to start learning about what's in products and how they can be harmful are the EWG's Skindeep Cosmetics Database and the ThinkDirty app which allow you to search and scan products and individual ingredients to see a rating, along with the toxicity for each ingredient. This is a good starting point but I suggest you really read why a product or ingredient was rated the way it was as they can be a little unfair and sometimes exaggerate.
The top toxic ingredients to look out for:
Fragrance – Sometimes listed as parfum, this is like an umbrella term so that companies can hide chemical ingredients claiming "propriety information". The Campaign for Safe Cosmetics found that the average fragrance contained 14 chemicals that were not disclosed on the label. Fragrance itself is not toxic, but who knows what's really in the product.
Parabens – These popular preservatives have been a hot topic for a few years, for their supposed link to breast cancer and other hormonal concerns.
Phthalates – Phthalates are found in a variety of products from skincare to vinyl flooring. They are used to soften plastics but have been linked to adverse effects on the development of male reproductive system.
Triclosan – Triclosan is usually foudn in antibacterial products, though it was recently banned from soaps. It has been associated with hormone and muscle disruption in humans. Studies have also linked triclosan to cancer, developmental defects, and liver and inhalation toxicity.
Formaldehyde – Many personal care products contain ingredients that generate formaldehyde, so you will not find "formaldehyde" on any ingredients list. This is one that everyone knows causes cancer so just look for these: DMDM hydantoin, Imidazolidinyl urea, Diazolidinyl urea, Quaternium-15, Bronopol (2–bromo–2–nitropropane–1,3-diol ), 5-Bromo-5-nitro-1,3-dioxane, Hydroxymethylglycinate
Toluene – Toluene is usually found in nail polish. It is a solvent used to make aviation gasoline, spray and wall paints, paint thinner, medicine, dyes, explosives, detergents, spot removers, lacquers, adhesives, rubber, and antifreeze and a VOC (volatile organic compound).
Petrolatum – Petroleum jelly, aka mineral oil, liquid paraffin, toluene, and xylene. Petrolatum absorbs UV light and contains 1,4-Dioxane.
As I have said before, the nontoxic life is a journey. It can get overwhelming and seem like too much so please take it slow and do your research so that you can make your own decisions.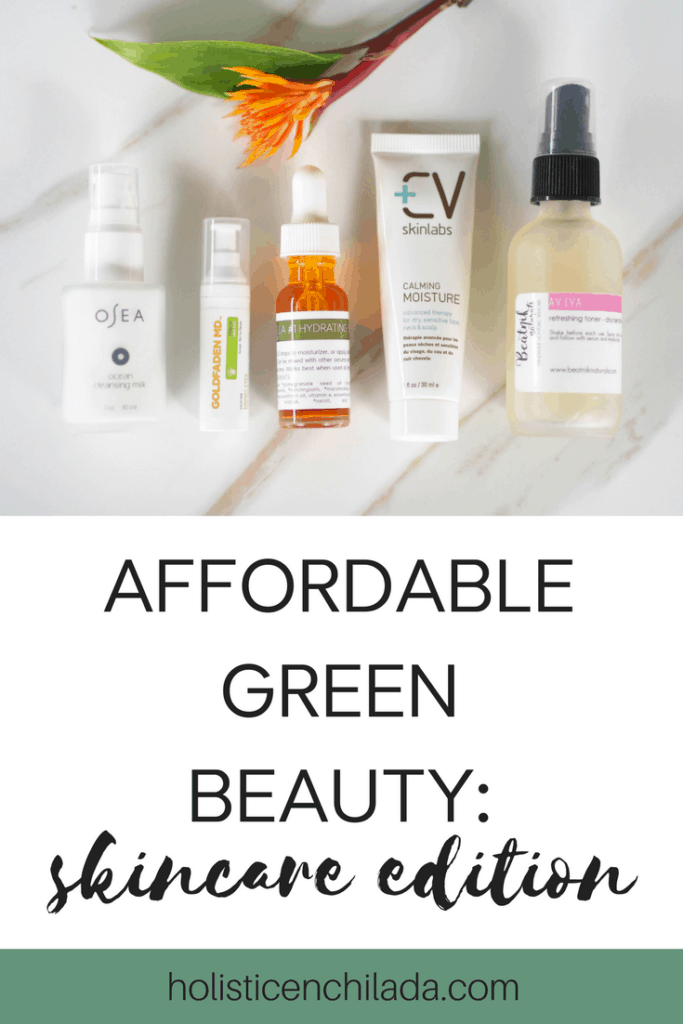 A few tips to keep things affordable:
Switch 1 product at a time. Start with the products you use on a daily or more regular basis that cover a lot of your skin like lotion, deodorant, and foundation.
Decide where your line is. What ingredients are you not comfortable with in any amount, and which ones are ok. Do your research and make your own decisions. If you only use certain products once a month, you might be ok with them having parabens or other not so clean ingredients.
Remember that green beauty brands are not huge corporations with mega profits like Cetaphil and MAC. Yes these products will cost a bit more, but you are supporting small businesses doing good things, as well as your health. It's like that quote about paying for good food now or cancer later. Although that's an extreme comparison, the idea is you pay less overall by focusing on living healthy now.
Take advantage of samples or try out subscription boxes.
Purchase during sales or with coupon codes after signing up.
Affordable green beauty brands
Most of these I have tried, and the others have great reviews overall.
Remember that "clean" has a different meaning for everyone. I'm not anti synthetics, just anti toxic ingredients and I usually stay away from fragrances (not essential oils). Most of these brands are organic, plant based, and eco-friendly too.
Credo Beauty and The Detox Market are green beauty stores that carry hundreds of clean skincare and makeup brands at different price points.
100% Pure: Fruit pigmented makeup and  natural skincare. They are very affordable but many of their products contain fragrance. However, they are still pretty clean and they have great nail polish.
Beatnik Naturals: Small batch, handmade tropical skincare with a focus on self-care. They have great concentrated serums that can be added into any routine and mixed with other brands. Another favorite is the facial mist– very helpful for my dry skin.
Acure: Very affordable brand with a variety of products.
OSEA : They have everyday essentials starter kits with trial size products which are great for trying out the brand. I love everything I have tried so far from this brand. The cleansing milk is amazing!
Lone Body Care: The BEST baking soda free deodorant I have found. I have tried all of them and this one not only helps with smell and sweat, it's a creamy formula much like conventional deodorants making for a nice application. Plus, it doesn't stain your clothes!
Annmarie Gianni Skincare – Wildcrafted, organic skincare that is ]affordable. I have not tried this brand but have heard lots of good things.
CV Skinlabs – An excellent moisturizer for sensitive skin types. It hydrates my dry skin very well and reduces redness. It's my favorite moisturizer right now.
Juice Beauty – All kinds of skincare at affordable prices.
I hope this post has helped you find some green beauty skincare products. If you're interested in nontoxic makeup, read my blog post on affordable green beauty makeup.
---
---