How to Straighten Curly Hair: The Steps for Sleek Results
This post may contain affiliate links, and I will earn a commission if you purchase through these links. Please read the disclosure policy for more details.
If you've been blessed with naturally curly hair, you might have wondered how to straighten curly hair and whether it's worth the effort.
The good news is that achieving glossy, straight hair is totally doable and it's a fantastic way to give yourself a new look. After all, it's fun to switch things up for a few days!
But straightening natural hair takes time, work, and patience, and it exposes the strands to heat from your blow dryer and hot irons. Curls, waves, or coils are often naturally dry and brittle, so it's essential to know how to straighten curly hair without causing additional damage.
So in this guide, we'll share the tricks and tips that will help you get the straight hair of your dreams without damaging your curls. We'll give you a step-by-step guide to achieving straight hair, share some of the best products for flat ironing curls, and help you avoid making mistakes.
How To Straighten Curly Hair: Step-By-Step
Whether you have wavy hair, curly hair, or coily hair will influence how easy it is to straighten your natural hair and how long it takes to achieve your desired straight hair.
Everyone's hair texture is different, however, the general process will be the same for all hair types. This step-by-step guide will take you through how to straighten curly hair.
1. Shampoo and Condition Your Locks
It's important to start with clean, freshly washed hair, so use a sulfate-free shampoo to gently cleanse your hair. A moisturizing shampoo will help to avoid frizz, and you should follow up with a silicone-free nourishing deep conditioner to get as much moisture into your locks as possible. Be sure to rinse with lukewarm water as hot water will strip the natural oils out of your hair.
Always use a microfiber towel or old t-shirt to dry your wet hair instead of a regular cotton towel. It's gentler on your strands and will help avoid frizz. It's better to blot your hair instead of rubbing it to remove excess water, and avoid scrunching your hair dry, as this will shape your curls.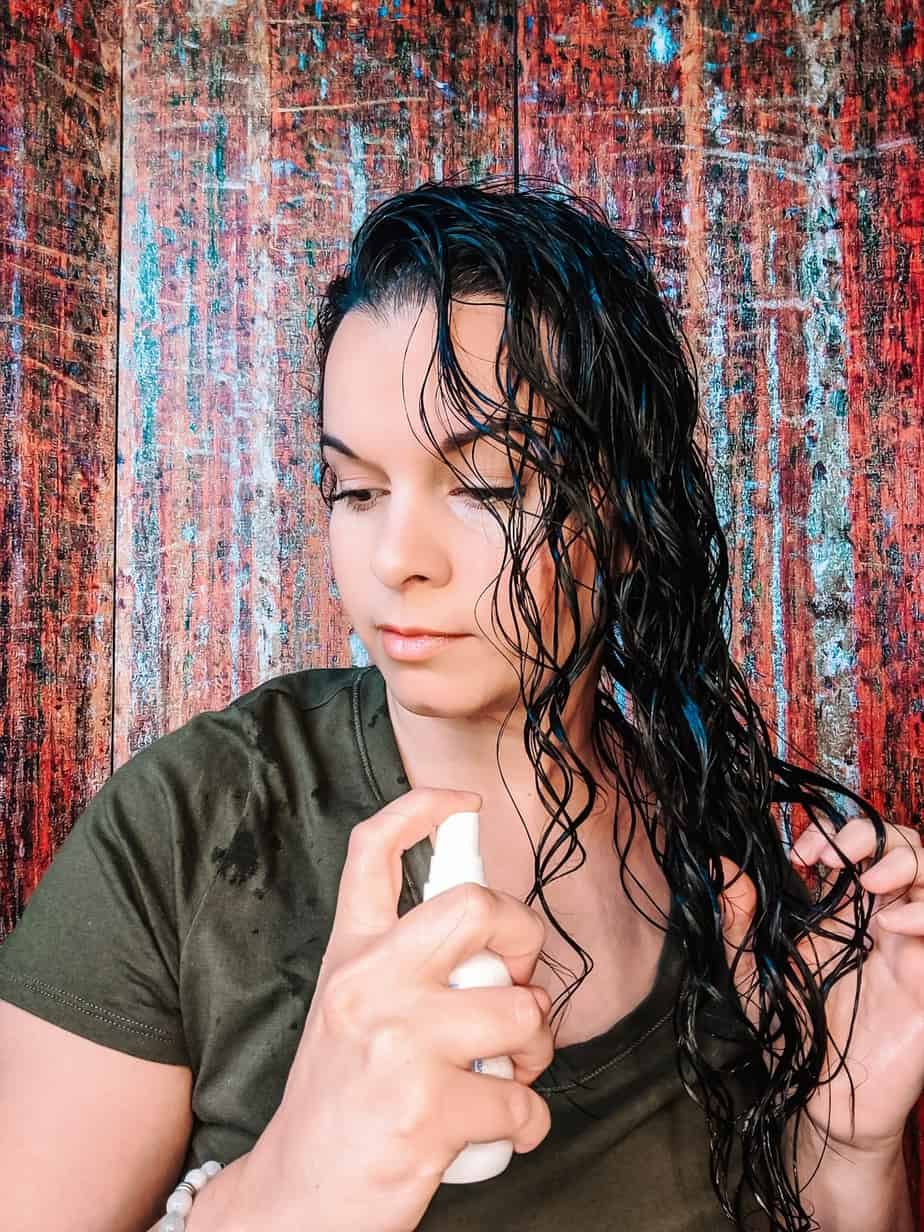 2. Detangle Your Hair
Next, detangle your tresses so they're as smooth as possible before you start styling them.
Apply your favorite detangling product and use a wide tooth comb or your fingers to work up the strands from the ends to the roots. Once your tresses are tangle-free, you can move on to the next step.
3. Add Styling Products
You don't want to overload your mane with product, but it's essential to prepare your strands properly before exposing them to hot tools.
First, apply a little more leave-in conditioner to get as much moisture into your hair as possible and control frizz.
Follow this up with a good heat protectant – this is essential to shield your hair from the heat of your hair dryer and flat iron, so never skip this step. You can choose from a cream, gel, serum, or spray but look for a product specifically designed for flat iron styling. Coconut oil or argan oil are excellent ingredients to look for if you have thick, coarse hair.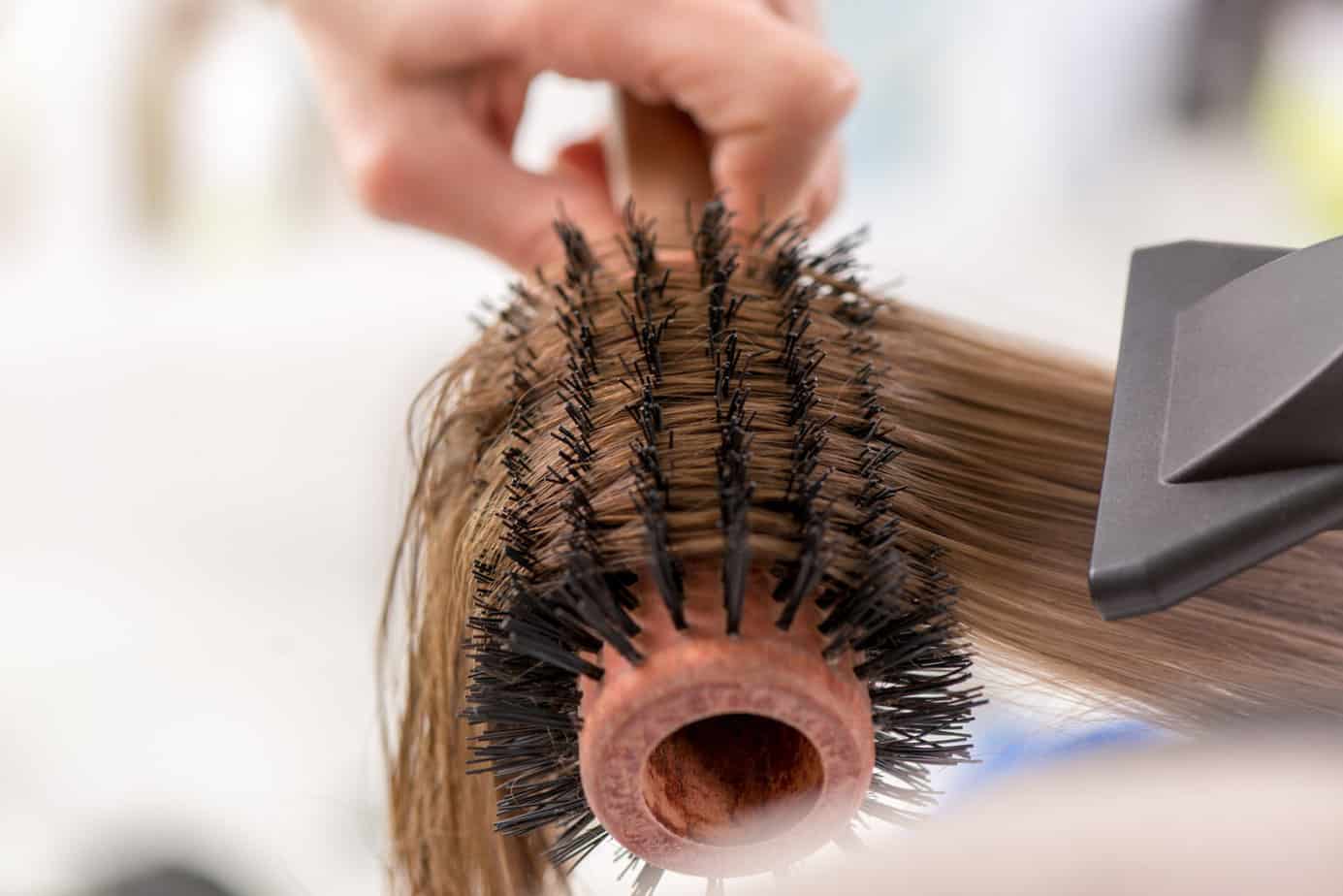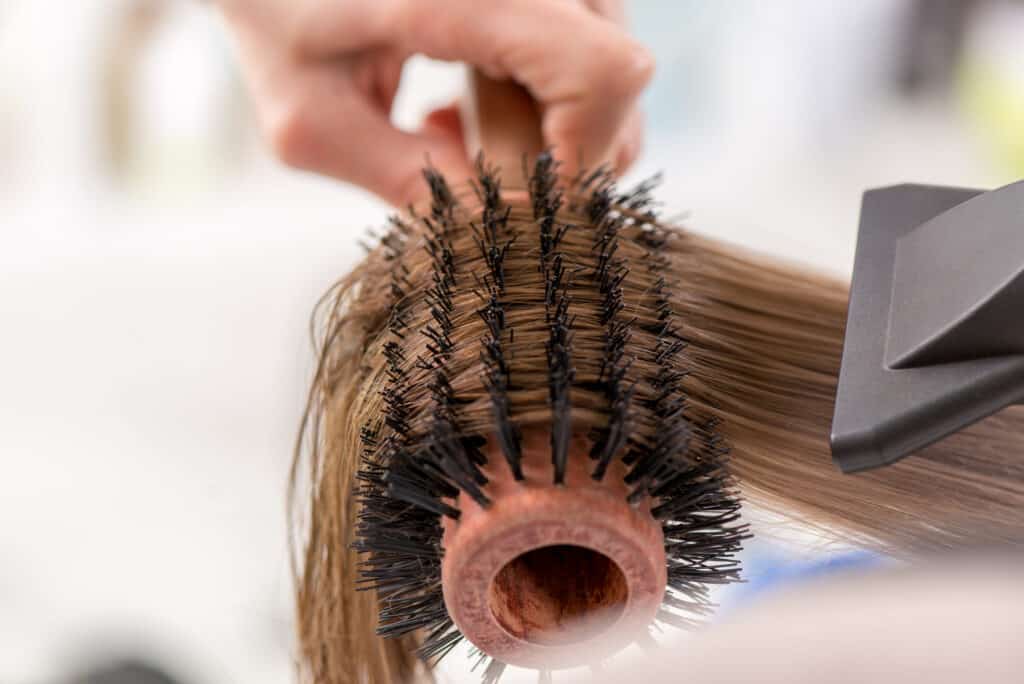 4. Blow Dry Your Hair in Sections
Sectioning your hair first will make drying easier. Part your hair into four quadrants and then divide each quadrant again into small sections about an inch wide. You'll dry each section individually, using elastics, bobby pins, or clips to keep the rest of your hair out of the way.
Use a round bristle brush, preferably boar bristle, and set your hair dryer on a medium/low heat setting. Work through each section, pulling your hair upward with the round brush to create volume at the roots and then blow drying with a downward motion to smooth the rest of your mane. Using a nozzle attachment on your hair dryer will help reduce frizz.
Continue to work through all of the sections with your blow dryer until your hair is totally dry. It's vital not to flat-iron wet or damp hair as this is less effective and can cause additional damage.
5. Use a High-Quality Straightening Iron
When buying straighteners, investing a little more in a high-quality flat iron is a good idea. Cheap flat irons often have plastic plates or have no temperature control, which could mean that straightening your hair takes longer and causes more damage.
High-quality straightening irons have ceramic, gold, or titanium plates and multiple heat settings so you can choose a lower heat setting. Some straighteners have single-pass technology, which minimizes the number of times you need to pass the iron over each section. This means you can straighten natural hair with as little heat as possible.
It's also better to choose a straightener that has plates no more than an inch and a half wide. Wider straighteners can make the straightening process more difficult.
I also recommend you use the lowest heat setting possible. And of course, limit the number of times you use a flat iron because this does damage your hair.
We earn a commission if you make a purchase, at no additional cost to you.
6. Start Straightening
Set your straighteners to around 350°F or lower and divide your hair into quadrants and smaller sections again, just like in step 4. Start at the bottom of each quadrant and work on each half-inch section in turn, pulling the hair taut as you pass the irons over just one or two times. Keeping some tension in the hair is vital, as this makes the task quicker.
If you hear any sizzling, your hair isn't completely dry, and you should go back to your blow dryer again before you continue flat ironing your locks.
If your hair isn't straightening in one or two passes, try turning the heat up slightly but don't go above 400°F. You could also try the Chase method, which uses a rattail comb to lift and comb through each section as you pass the flat iron over it.
If your hair is thinner, drier, and more prone to breakage at the ends, you can protect them from excess heat by stopping mid-shaft as you straighten each section, then gathering up all of your hair and straightening the ends together.
7. Finish the Look
Once you've straightened all of your hair, it's time to put the finishing touches to your straight style. You can use your straightener to flip the ends out, curl them under, straighten your bangs, or anything else you like.
Take a good look over your straightened locks and check if you missed any spots. You can also run the straightener over any areas that aren't as straight as you like.
Don't be tempted to add masses of styling products to keep your straight strands in place, as this will just weigh down your hair and leave it looking limp and greasy. A little hair serum or smoothing cream from the mid-lengths down to the ends will keep your hair looking glossy, and a spritz of light hair spray will keep your locks in place while avoiding frizz.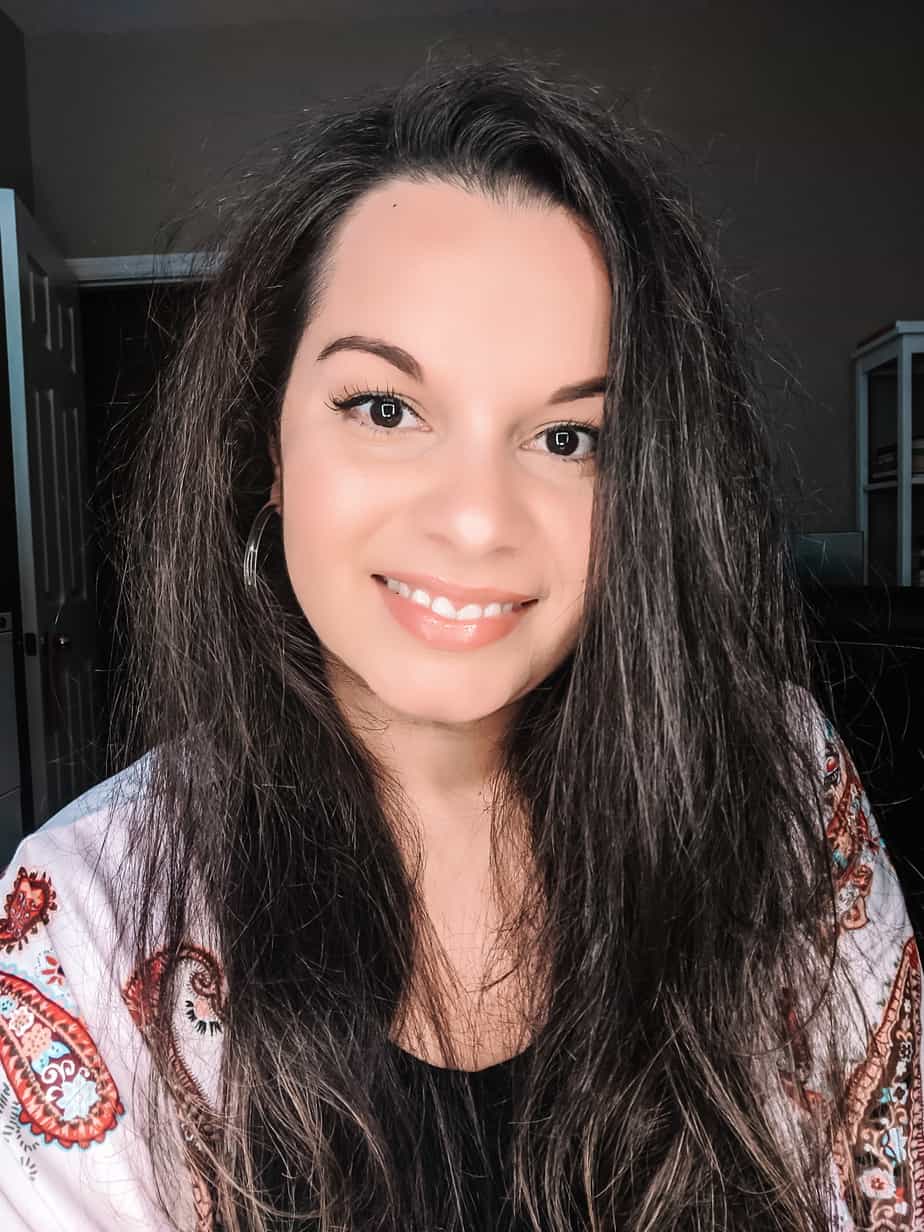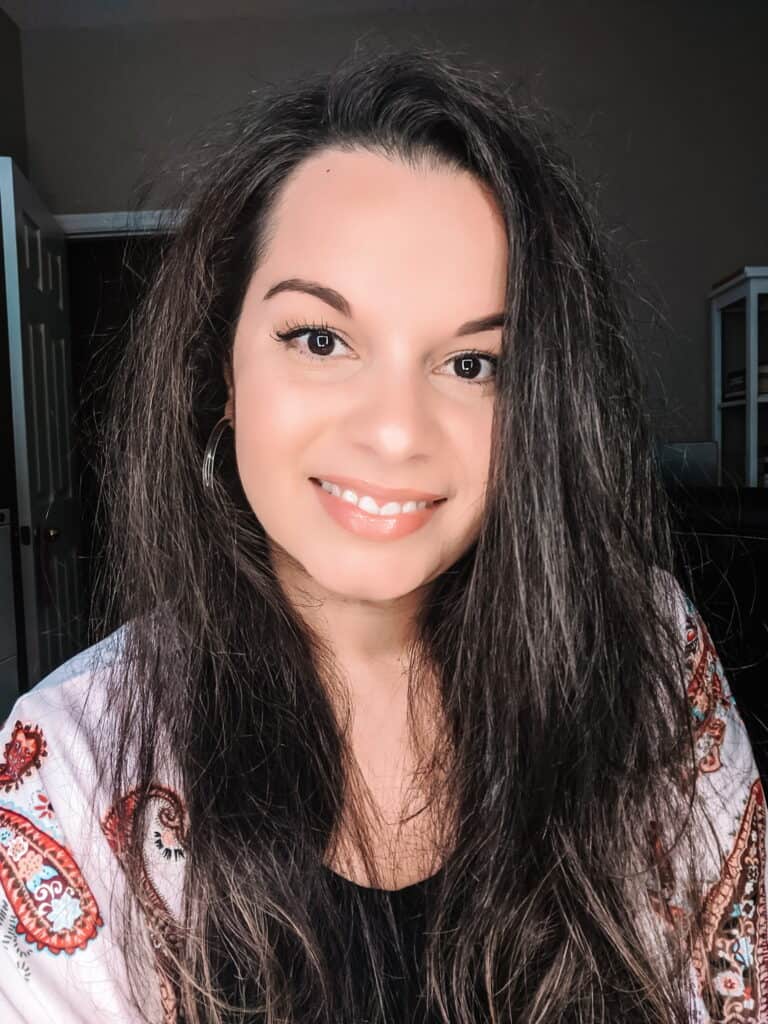 How To Straighten Curly Hair Permanently
Although it's not possible to straighten curly hair permanently, you can make your style last longer. If you want to reduce the time it takes to straighten your curly hair regularly, you could consider keratin straightening treatments.
The treatments must be applied in the salon. Your hair stylist will first cleanse your hair, then apply a keratin solution to your freshly washed hair. The keratin will be locked into your strands with a flat iron, leaving your locks straight, smooth, and shiny.
These treatments take around 1-2 hours to apply, depending on the length, thickness, and porosity of your hair. But the results can last up to 6 months with proper care, you'll be able to go longer between washes, and your blow-drying time could be cut by around 50%.
What Should I Apply Before Using a Hair Straightener?
Start with a sulfate-free moisturizing shampoo and a silicone-free conditioner to ensure your hair is perfectly clean and hydrated before straightening.
We earn a commission if you make a purchase, at no additional cost to you.
Follow up with a leave-in conditioner to hydrate your damp hair before heat styling.
We earn a commission if you make a purchase, at no additional cost to you.
Next, you'll need to apply a heat protectant to shield your strands from excessive heat damage. Choose one with argan oil if your hair is thick or coarse.
We earn a commission if you make a purchase, at no additional cost to you.
After you've finished styling, apply a serum to keep your strands smooth and frizz-free.
Top Pick
EVOLVh WonderBalm Magic For Curls
This is the best serum for smoothing, controlling frizz, and adding shine and definition. It makes a great finishing product for all hair types but helps with humid and dry conditions. It's pricey but there really is nothing else like this.
Use code HE to save on your first order with EVOLVh.
We earn a commission if you make a purchase, at no additional cost to you.
Lock in your look with a spritz of light hairspray to protect your style from humidity.
We earn a commission if you make a purchase, at no additional cost to you.
Mistakes to Avoid for Straightening Curly Hair
Straightening curly hair isn't difficult, but it's still easy to make some mistakes. Here are a few more tips to help you achieve the best possible results.
Don't overload your hair
Straightened locks can look greasy if you overload them with styling products. A little leave-in conditioner and a good heat protectant should be enough before you pick up your straighteners, then you can use a smoothing serum and light hairspray on your locks afterward.
Never ever skip heat protectant
Hair protectant is essential because it protects your delicate natural hair from the damaging effects of direct heat, helps control frizz and keeps static at bay.
Use the lowest heat possible
Because your curls are naturally dry, they can also be fragile and prone to breakage. A low heat setting (no higher than 400°F) will protect your strands from overdrying, so start by setting your straighteners at 350°F and increase the heat only as much as you need.
Don't air-dry your hair
Wavy-haired girls can let their hair air dry completely before straightening. If you're a curly girl, blow dry your hair to give you a better starting point when you use your flat iron, so your strands are exposed to less heat.
Don't put your hair up right away
Your newly straightened hair is more likely to get damaged by hair elastics than hair that was straightened two or three days ago. If you must tie it back back, use a silk-covered scrunchie or hair tie to protect your locks.
More Tips for Keeping Your Curly Hair Straight
Once you've got your gorgeous straight hair, you'll want to keep it looking good for as long as possible. These tips can help!
Sleep on a Silk Pillowcase
Silk or satin pillowcases help to reduce the friction between your strands, keeping your tresses looking great the next day. Sleeping with your straightened hair wrapped in a silk bonnet or silk scarf will have the same effect, and putting it into a loose bun or wrap style will give the best results.
We earn a commission if you make a purchase, at no additional cost to you.
Avoid getting your hair wet
Straightened hair will quickly kink back up if you let it get wet, so avoid damp or humid environments. When you shower, pin your hair up and protect it from steam and water with a towel or shower cap. You can use dry shampoo to freshen up your roots if they look oily.
Occasional touch-ups are fine
Over time your straight strands will start to frizz or even curl. If you want to prevent this, you can run your straightener over the top layers and any areas that are beginning to curl. This will smooth hair without needing to section or straighten your entire head of hair.
Apply a smoothing serum and spritz your mane with hairspray to control frizz and keep it looking gorgeous all day.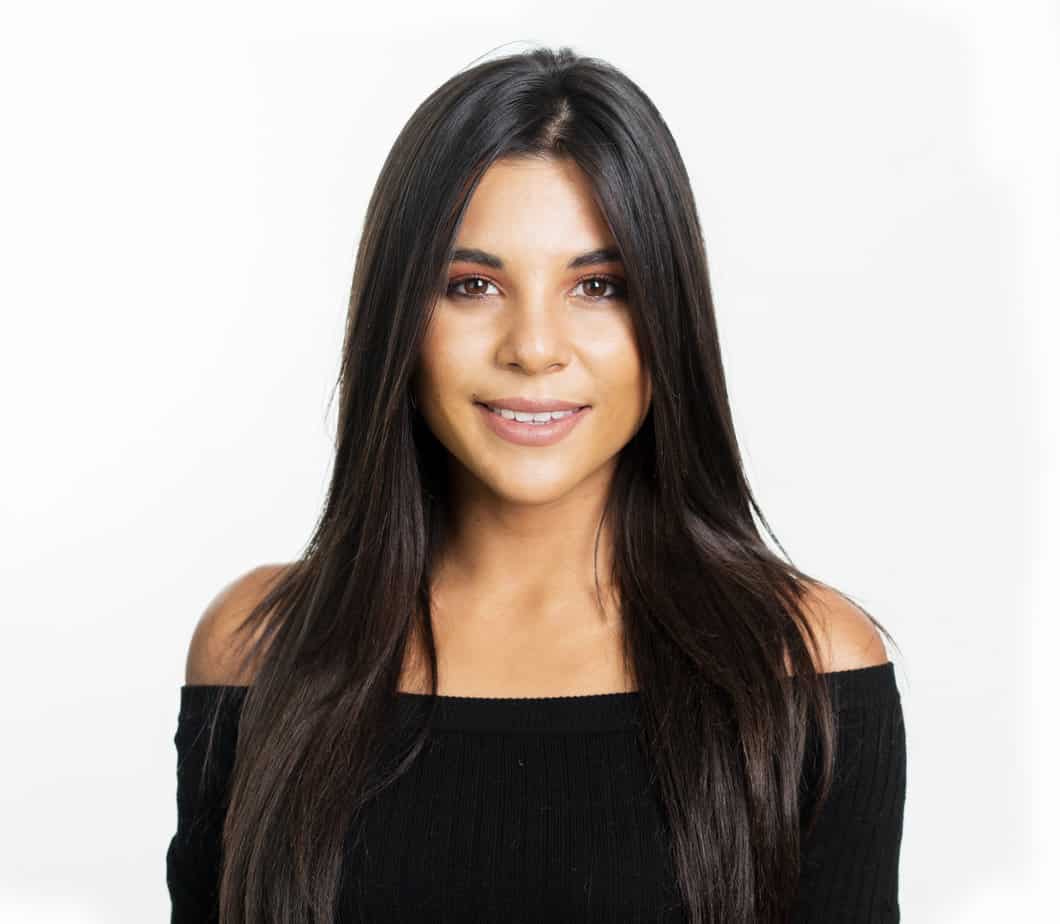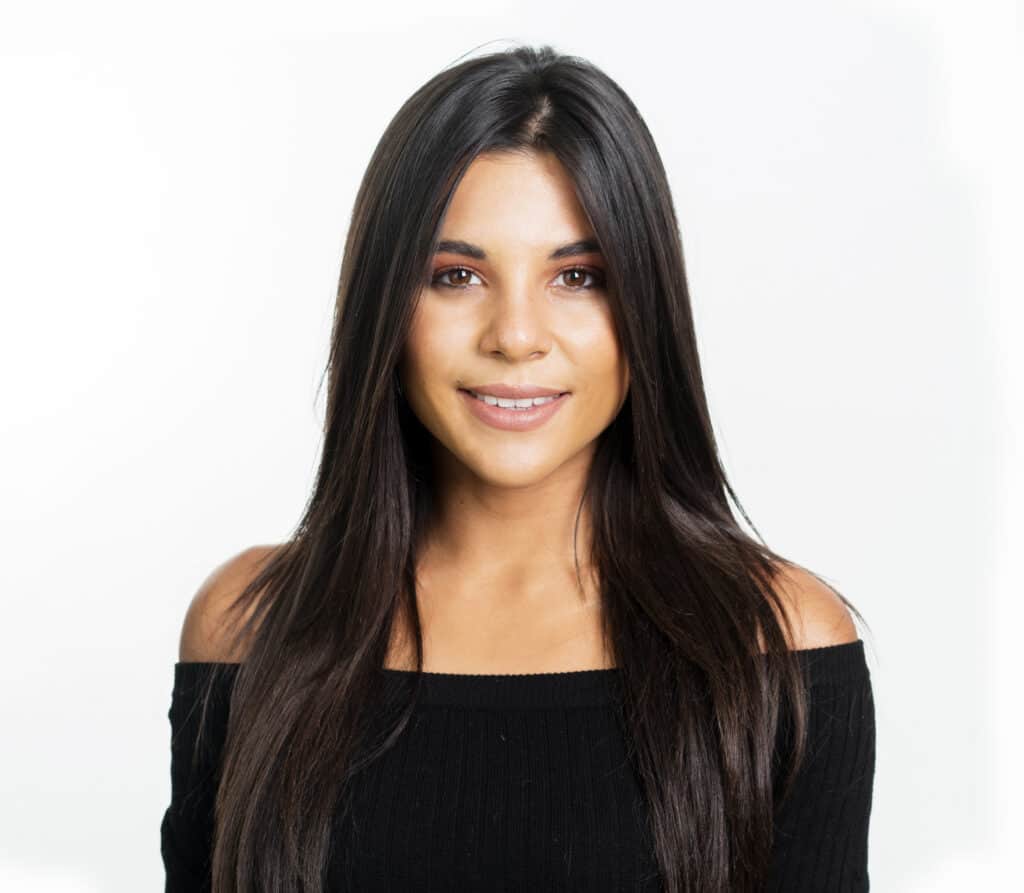 FAQs
If you're still nervous about straightening curly locks, here are some frequently asked questions to help reassure you:
How Long Does It Take To Straighten Curly Hair?
This will depend on your hair type and the length of your hair. Straightening medium-length hair could take 1-2 hours, but if you have long and/or thick locks, it might take 3 hours or even longer.
Is It Better To Straighten Curly Hair Wet or Dry?
You should always straighten your hair when it is completely dry. Straightening wet hair will take longer and can result in additional heat damage to your strands.
Can Curly Hair Turn Straight Permanently?
No, you can't permanently straighten your hair, but some keratin straightening treatments will last for up to 6 months with proper care. You will need to visit the salon regularly if you want to maintain your straight locks.
How Can I Make My Frizzy Hair Straight?
Carefully following the steps in this guide will help you to straighten your frizzy hair and keep it looking gorgeously glossy.
Is It Healthy To Straighten Curly Hair?
Any heat styling exposes your curls to potential damage. Because curly hair is prone to being dry, you risk making your locks even drier and more brittle. But if you follow the tips and techniques in this guide, deep condition your mane first and always apply a good heat protectant before you start styling, you will minimize the risk.
Should I Put Oil in My Hair Before Straightening?
It's better to apply a hydrating leave-in conditioner and a heat protectant before straightening your curls. Once you've finished styling your hair, using a hair oil or serum will keep frizz at bay.
Is There Any Shampoo To Straighten Hair?
A smoothing shampoo, like OGX Ever Straightening + Brazilian Keratin Therapy Shampoo, will help smooth your hair if you use it alongside a keratin straightening treatment. But this type of product won't actually straighten your curls, coils, or waves.
Why Is My Hair Not Straightening?
If you're struggling to straighten your hair, it may be that your sections are too wide. It might seem like making larger sections will cut down on the time your strands are exposed to heat, but it will actually make the process take longer and expose your hair to more heat.
Making 1-inch sections will be more manageable and could even allow you to work with your flat iron set at a lower temperature. You'll finish styling your hair quicker and see better results.
Wrapping It Up
Turning your curls into perfectly straight hair is an easy way to update your look, but it does carry a risk of damage from exposure to heated styling tools.
But by following the simple step-by-step process, applying high-quality products, and avoiding some basic mistakes, you can get a fabulous new look without damaging your curls!