Dominican Blowout: Everything You Must Know
This post may contain affiliate links, and I will earn a commission if you purchase through these links. Please read the disclosure policy for more details.
Dominican culture places a lot of importance on perfectly straight hair. So it's no surprise that Dominican hair salons have perfected a fantastic straightening technique that gives body and bounce to silky smooth hair.
The Dominican Blowout is a temporary hair straightening process that is becoming really popular, especially as the cost can be much lower than visiting a Black salon for a regular straightening treatment.
More and more curly girls are becoming aware of the Dominican blow out, but it's important to do your research and choose an experienced stylist from a reputable hair salon. You'll probably want to know the answers to questions like 'what is a Dominican Blowout?' and 'can I get a Dominican Blowout on natural hair?'.
So if you're thinking of booking your first Dominican Blowout, here's all the information you need to make your decision:
What Is a Dominican Blowout?
The Dominican Blowout is a non-permanent technique for straightening hair that can make even the curliest natural hair look smooth, soft, and full of movement.
Lots of city salons are now offering this service. It uses less heat and fewer chemicals than other straightening processes like a Silk Press, which makes it especially popular with those who want to minimize damage to natural hair. Its versatility also makes it popular, as you can opt to wear your hair down after a Dominican Blowout, tie it back or pin it up – the choice is yours!
Dominican Blowout Process
If you're now wondering what is involved in this specialist hair treatment, here is the information you've been looking for. Of course, not all stylists will perform a Dominican Blowout in exactly the same way, but this is the general procedure that you can expect: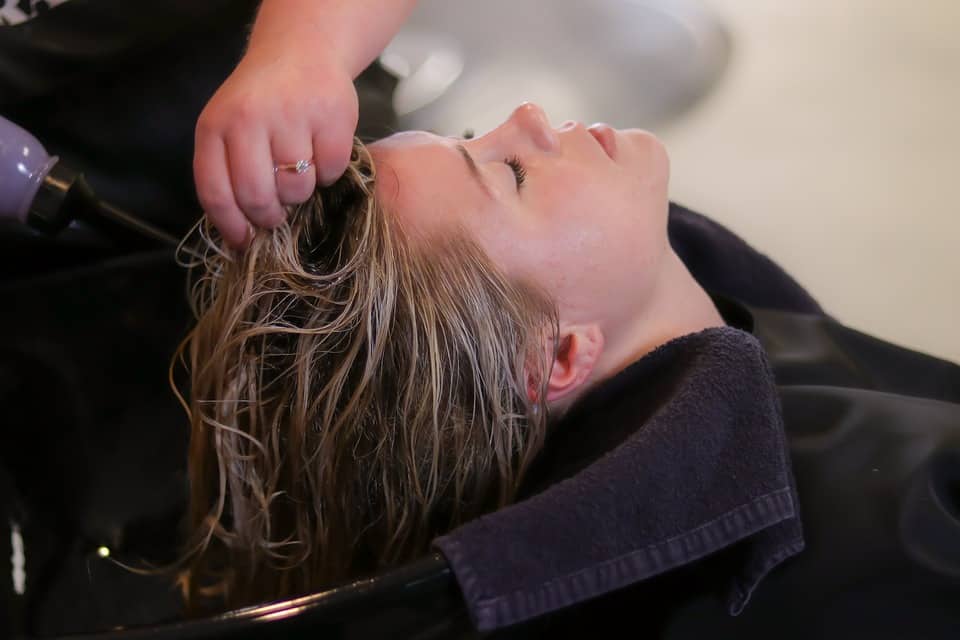 Wash and Deep Condition
First, your stylist will wash your hair with clarifying shampoo to remove any product buildup, then your curls will be deep conditioned with rich and nourishing Dominican conditioners. This is a vital part of the process and the deep conditioning treatment really helps to minimize the risk of damage while your hair is being dried.
Detangling
Many women who have Dominican Blowouts are of African descent and are looking for a way to straighten natural hair with fewer chemicals involved. If you're looking for a temporary straightening process for your natural hair, some detangling will be necessary even if you have relaxed hair.
Rollers
Your stylist will next use large rollers to really stretch out and smooth your curls while you sit under a hood dryer for at least an hour. You'll be sitting under the hood until your hair is 100% dry, which will take at least 20 minutes longer than a regular blowout.
The large rollers will help to dry your hair quickly while also keeping it as straight as possible. This step also helps to give your hair a lot of bounce, volume, and movement as well.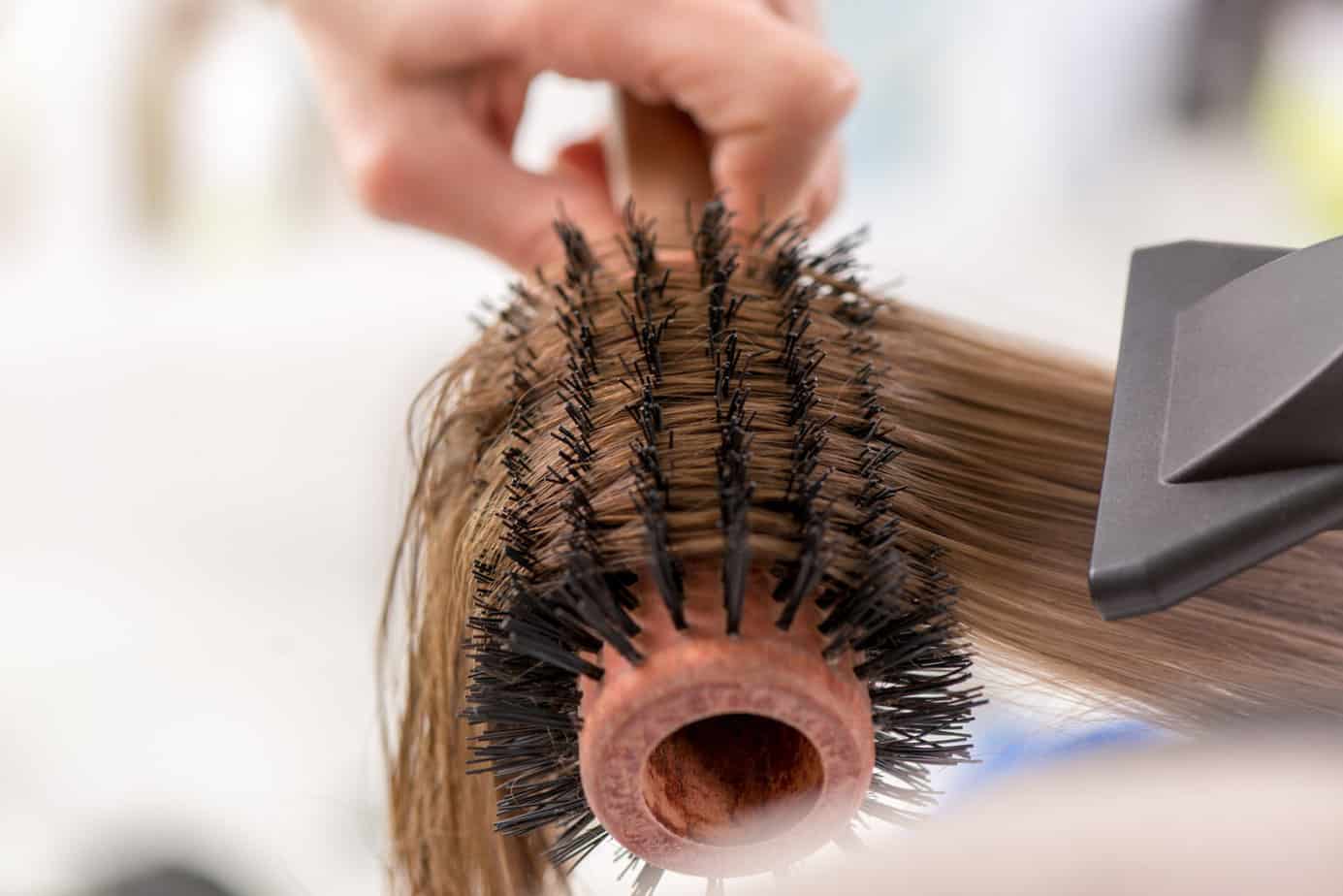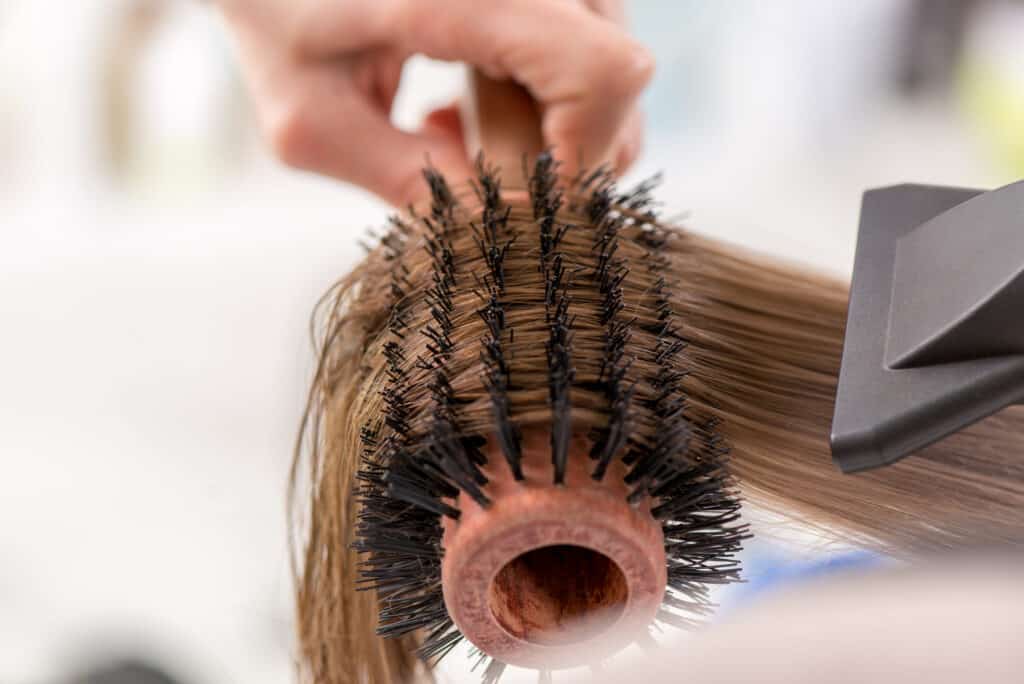 Blow Dry
Dominican stylists really excel at this part of the process and have practically turned it into an art form.
Your stylist will take a big round brush with bristles and use a nozzle to focus the hot air from the blow dryer onto a small area of your hair. At the same time, they will move the brush and dryer down sections of your hair from root to tip until it's completely straight. An experienced stylist will be able to blow dry your hair incredibly quickly, even if you have long hair.
After blow-drying your hair, your stylist might use a flat iron on any areas that need a little extra attention, especially on natural hair. After the flat iron, they'll apply a serum or oil to lock in moisture and give your hair a little extra shine.
Wrapping
Finally, your stylist will finish things off by wrapping your hair around your head before fixing it in place with bobby pins.
This is called the "Doobie" or wrap and will make your hair smooth and straight while also giving it more bounce and movement. It also makes your Dominican Blowout easier to maintain.
The final result will be a silky smooth finish and healthy hair that's full of body, shine, and movement.
Aftercare Tips for Dominican Blowouts
The Dominican Blowout is not a long-lasting treatment, but there are a few things you can try to preserve the salon-fresh look of your hairstyle:
Use Products That Protect Against Humidity
It's a really good idea to use hair products that will help to shield your hair against humidity, as this will help to keep natural hair looking smooth for longer. A good anti-humidity serum like the Garnier Fructis Sleek and Shine Anti-Frizz Serum smoothed over the hair every day is a good idea.
As well as commercial hair products, you could also try putting a little light olive oil on the ends of your hair to keep them looking smooth and hydrated.
Avoid Water and Water Based Products
Try to avoid getting water or steam on your hair by using a shower cap in the shower and avoiding any water-based skincare products or body butters.
You should also carry a cover in your purse just in case you get caught in a sudden rain shower.
Wrap Your Hair
Another way to protect your hairstyle is to wear your hair in a doobie or wrap at night. This means brushing your hair in one direction around the circumference of your head and using bobby pins to secure it in place, just like your stylist did in the salon.
Use Pin Curlers or Rollers
Securing your hair with pin curlers or rollers every night before bed will also help to preserve the smoothness and style of your Dominican Blowout.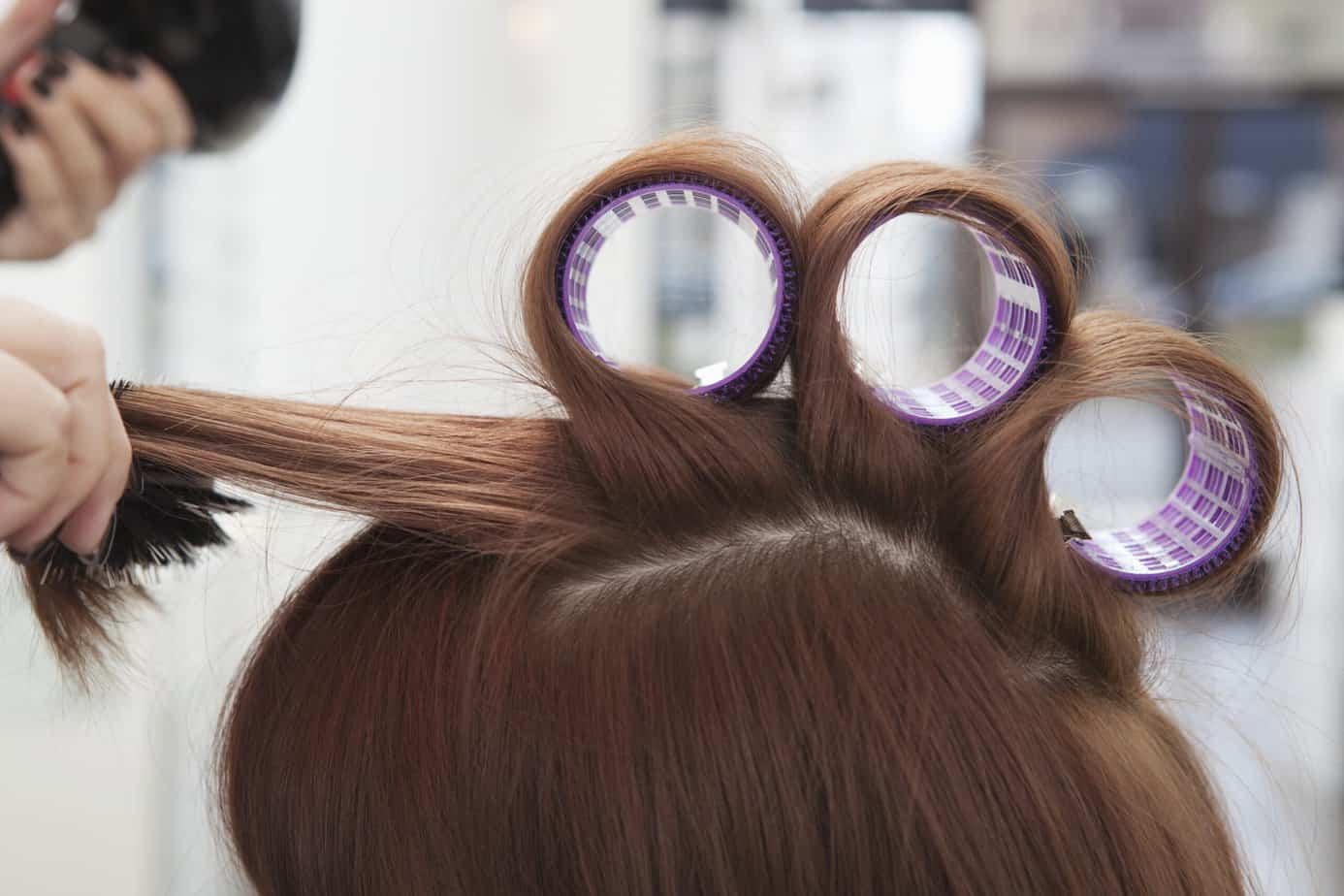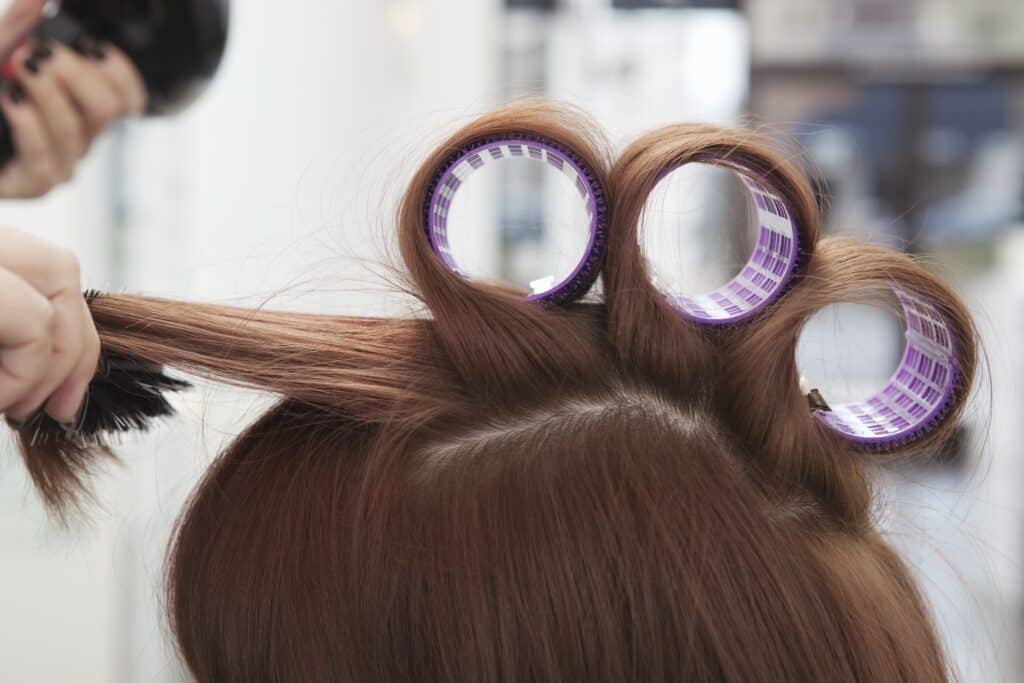 Benefits of Dominican Blowouts
Dominican Blowouts can give you glossy, smooth hair and a degree of straightness that other methods can't generally achieve on tightly-curled natural hair.
This treatment also gives more movement and greater volume than other processes like the silk press, and puts your hair at a lower risk of damage, thanks to the lower exposure to direct heat.
There is also a strong emphasis on smoothing and conditioning that will help your hair to look healthier.
Dangers of the Dominican Blowout Process
Although this is a very effective treatment that can make your hair look fantastic, there are some potential dangers that you should be aware of before you head to the salon.
Heat Damage
Permanent heat damage is a common danger associated with this type of treatment because the process involves heat styling tools like blow dryers and flat irons.
Too much heat can break the protein bonds in your hair, which could cause a loss of structure. It could even cause your natural curl pattern to be permanently altered.
A good stylist will be aware of this risk, so they will use a heat protectant product on your hair and avoid high heat levels on their flat iron and dryer. But unfortunately not every stylist will take these precautions and unfortunately, you won't know until you have permanent heat damage.
Chemical Exposure
The smoothing conditioner used in your treatment contains chemicals that could release dangerous fumes when heat is applied. Some of these chemicals include:
Formaldehyde – this gas is often released from keratin-based smoothing products and can irritate the mucous membranes.
Methanol – some products may contain methanol, which can cause symptoms like headaches and stomach discomfort. It may also cause birth defects.
Artificial fragrances – many beauty products contain artificial fragrances. The synthetic chemicals in these can cause a range of health issues.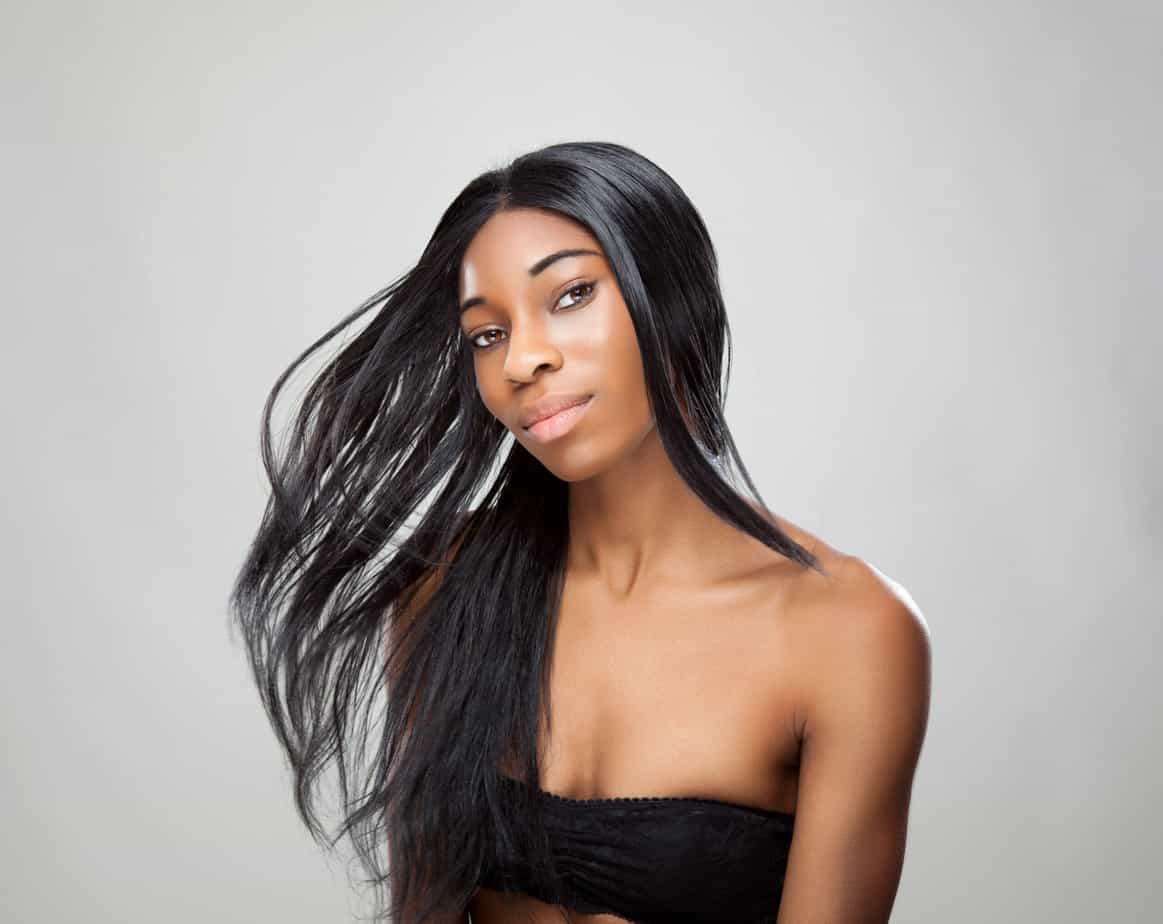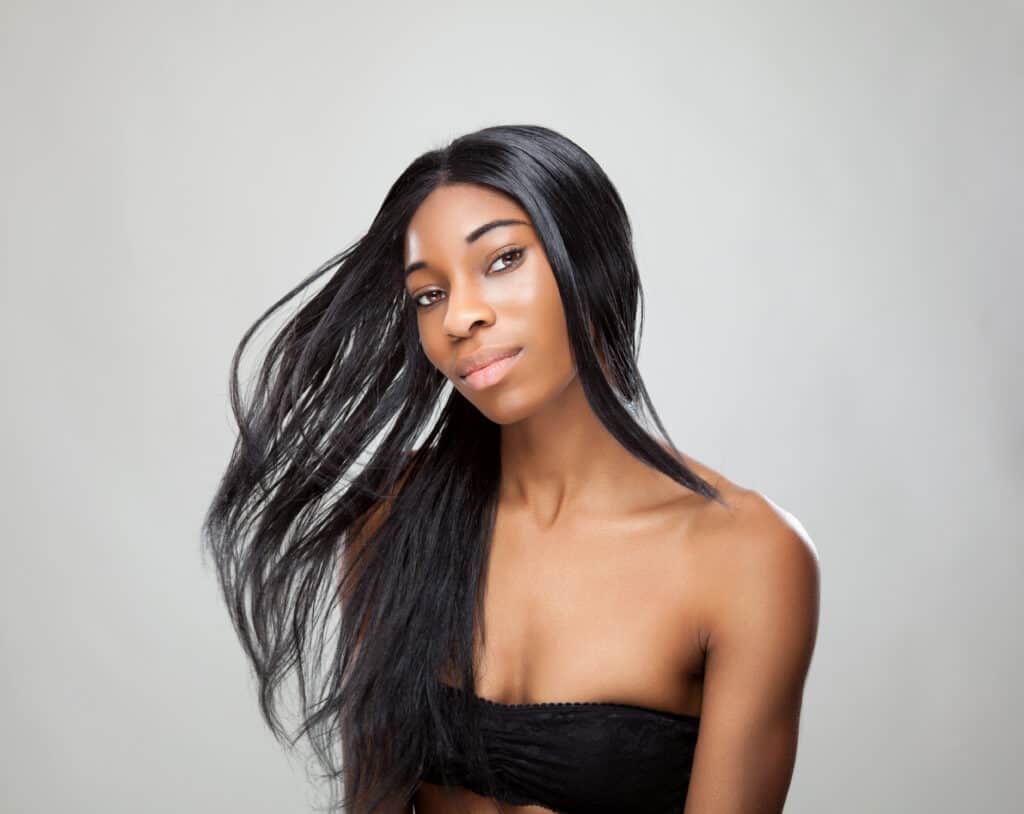 How Long Will a Dominican Blowout Last?
Dominican Blowouts are a short-term hair treatment and the results will only last a few weeks. Your hair type and the porosity of your hair are the main factors that determine how long your blowout will last. With proper care, a Dominican Blowout will last up to a month on healthy hair that has low porosity. If your hair is damaged or more porous, you may only get about two weeks out of each treatment.
Extending Life of a Dominican Blowout
A Dominican Blowout only straightens tight curls temporarily but luckily there are a few tips you can use to make your style last longer. These are even more important to keep natural hair looking good.
Apply a little light oil on the ends of your hair each day – olive oil is good
Avoid getting water or steam on your hair wherever possible
Wear a shower cap when you shower and carry a hair cover with you in your purse for emergencies
Avoid water based moisturizers and skin butters
Cover your hair with a satin wrap when you sleep
Cover or wrap your hair when you are exercising.
Where Can You Get a Dominican Blowout?
Lots of salons are now offering this service as it is becoming very popular with their clients. But for the best results, especially on natural hair, you should try and find a Dominican Blowout salon with a highly experienced stylist.
If you don't have a personal recommendation, you could try using Google Maps or Yelp to search for 'Dominican Blowouts Near me' and look for a salon that gets great reviews.
The Cost of A Dominican Blowout
The cost of a Dominican Blowout will vary depending on the location of the salon and how experienced the stylist is. Generally, the treatment will take around 3 hours at the salon and will cost about $15-60.
What To Expect From Your Blowout With Different Hair Lengths
Short
Dominican Blowouts look great on a short bob, making it look sleek and smooth.
If your curls are very short, your stylist will be able to give you what is known as a 'partial Dominican Blowout' and use a flat iron to give a cool slicked-back look.
Medium
This treatment is perfect for hair that is shoulder length or collarbone length. A Dominican Blowout will give it masses of movement and volume to help it look its best.
Long
Your long tresses will look silky-smooth and full of life after your Dominican Blowout. But the additional length does mean that your treatment may take a little longer and your stylist may have to work harder with the round brush to achieve the finished look.
Dominican Blowout vs Silk Press
A Silk Press is another hair treatment that is similar to a Dominican Blowout, and they will both give you glossy straight hair.
Both treatments use a blow dryer to straighten natural curls, sometimes using flat irons as well, and this means that both a Silk Press and Dominican Blowouts expose your hair to the risk of heat damage.
There are two major differences between the treatments.
A Silk Press uses silk products to smooth and strengthen the hair strands but these products contain harsh chemicals which could cause side effects or alter your curl pattern. There are fewer chemicals used in the Dominican conditioners so there is less chemical exposure.
The Silk Press also involves blow drying wet hair, which increases the risk of 'bubble hair'. This is a type of damage caused when wet hair is exposed to high temperature. Blow drying on a high setting makes the water boil inside the hair strands, causing bubble-shaped cavities to form which lead to brittleness and breakage.
The Dominican Blowout uses a roller set and hood dryer on wet hair, and the dryer and flat irons are only used on completely dry hair. Combined with a good heat protectant, this will give a lower risk of permanent heat damage or curl reversion than Silk Presses.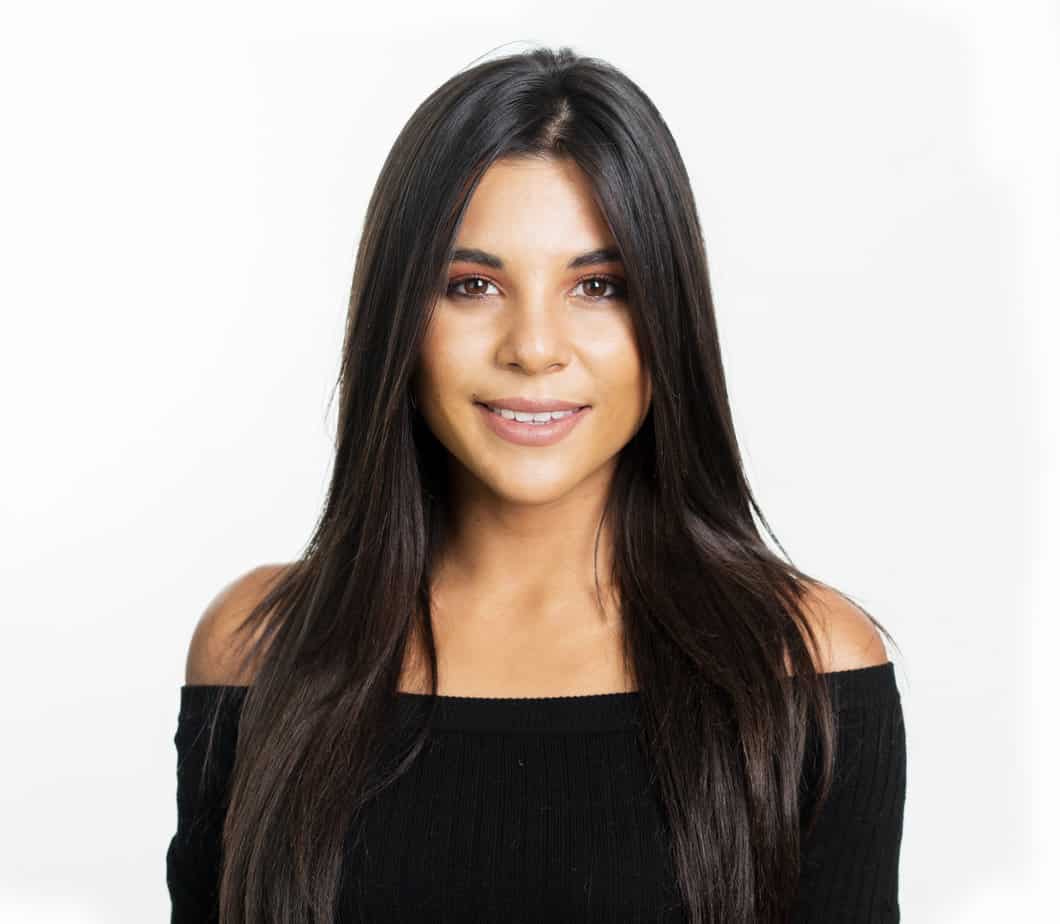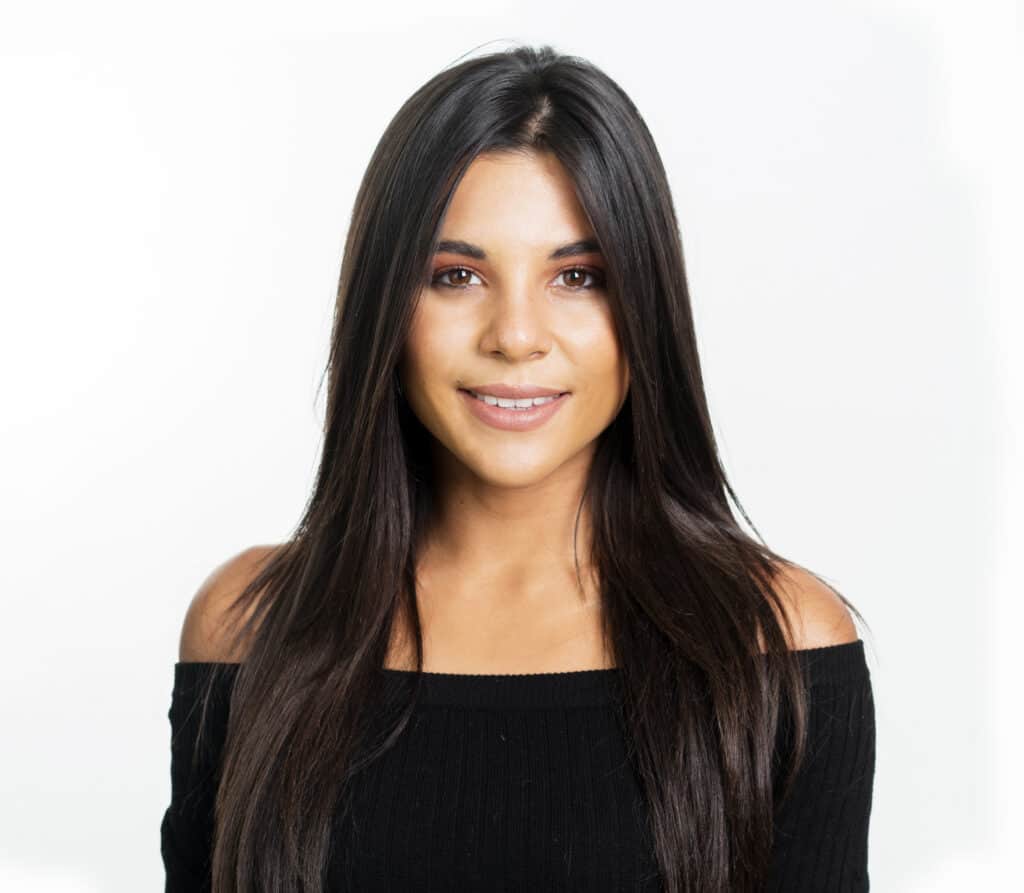 FAQs
Do Silk Presses Use More Heat Than Dominican Blowouts?
A Silk Press uses direct heat from the blow dryer and flat iron throughout the straightening process. While the amount of high heat exposure varies, silk pressed hair is exposed to a high risk of damage.
The Dominican Blowout only uses direct heat when they blow dry your hair and because your hair will be dry when it is flat ironed and blow dried, the risk of damage will be lower.
Will a Dominican Blowout Damage my Hair?
The Dominican Blowout is a straightening method that doesn't use many chemicals however it does involve quite a lot of heat. Heat can damage any hair type so treatments and processes that involve applying heat do risk damaging your hair. But if you have healthy hair and you pick an experienced stylist, the risk of heat damage should be fairly low. And you can also reduce the risk of damaged hair by caring for your hair's health in between treatments and minimizing your use of heat tools at home.
Will A Dominican Blowout Ruin My Curls?
Yes, because Dominican Blowouts cause heat and chemical damage, they can ruin natural curls. It is not recommended to have Dominican Blowouts done if you want to wear your natural curls.
Is There Anyone Who Should Avoid a Dominican Blowout?
If you have damaged hair, relaxed hair, chemically treated hair, or extensions, you should avoid this treatment. Your hair is likely to get damaged even more by the styling process and you will probably end up disappointed by the final result.
It's better to give your hair time to heal and then have your Dominican Blowout when your hair will look its best.
Also, if you prefer to wear your natural curls, avoid Dominican Blowouts and other straightening treatments which cause enough damage to ruin your curl pattern.
Can I get a Dominican Blowout on Short Hair?
Experienced stylists can do a Dominican Blowout on short hair, but your hair may not fully wrap around the rollers. If this is the case, your stylist can do a partial Dominican Blowout that still gives a smooth and sleek look.
Can I Do a Dominican Blowout Myself?
It's technically possible to do a Dominican Blowout on your own hair, but you'll need to buy the right equipment and know how to use the round brush technique properly. It's generally easier to go to a salon instead.
How Often Can I Have a Dominican Blowout?
The main factors to consider are your hair type and how well your hair will tolerate the process before getting damaged. This can vary, so if your hair is prone to damage, you should leave at least six weeks between treatments.
How Much Does a Dominican Blowout Cost
The price varies depending on where you live, but you can expect to pay around $15-$60 for a Dominican blowout.
Do Dominican Blowouts Hurt?
The process does have some tugging and pulling involved which may be uncomfortable, but it shouldn't actually be painful if you have picked an experienced stylist.
Should You Get a Dominican Blowout?
If you're still wondering if you should get a Dominican Blowout, here are a few final points to consider:
Do you have any reasons why you might want to avoid the chemicals in Dominican Blowout products?
How would you feel if your curl pattern was permanently altered by your Dominican Blowout?
Do you have a great stylist who you know well and trust totally with your hair?
A blowout could damage your hair, so is your hair condition good enough to cope with this?
Are you happy to spend hours in the salon chair for a hairstyle that will only last a few weeks?
Conclusion
Now you have all the information you need about what a Dominican Blowout is and how to get one done professionally.
If you decide to go ahead, you will know how to find the right stylist and salon to carry out your hair treatment and what to expect when you get there.
---
Want to remember this? Save Dominican Blowout: Everything You Must Know to your favorite Pinterest board!