Wolf Cut Curly Hair: What Is It and How Do You Style It?
This post may contain affiliate links, and I will earn a commission if you purchase through these links. Please read the disclosure policy for more details.
If you've been on TikTok recently, you're sure to have seen the wolf cut trend. It's inspired by pop culture in the 70s and 80s, creating a modern wild look that echoes the style of rock stars like Joan Jett and Patti Smith.
The modern-day look first gained popularity in South Korea, thanks to K-Pop stars like Beomgyu. Since then, it's also been embraced by celebs in the West like Billie Eilish and Natasha Lyonne.
And because the cut is incredibly versatile, it works brilliantly on curly hair. The extra volume of curly hair makes the wolf cut look even better – you just need to look at Keke Palmer, Gabrielle Union, or Zendaya to see how fantastic a curly wolf cut looks.
So if you're ready to jump on the wolf cut trend and channel your inner '70s rock goddess, read on to discover how to achieve this fantastic look and how to style a curly wolf cut. We'll also share some wolf cut hair inspiration and the products you need to keep it looking great.
What Is a Wolf Cut?
Wolf cuts first took off in South Korea in the 2010s, where it was also known as the Korean mullet. The look that is so popular today has taken a lot of inspiration from Korean actors and singers, who have really embraced the style.
The wolf cut is often described as somewhere between the 1970s' shag haircut and the 1980s' mullet. But it's more stylish than the mullet, with choppy layers distributed throughout the style rather than just on the top of the head, and it's less fussy than a shag haircut, with a lot of natural texture and personality.
The wolf haircut combines wispy volume around the crown and face-framing layers on the sides with longer cascading layers and shaggy bangs. It's incredibly versatile, and luckily, it doesn't need much maintenance to look fantastic.
Ideal Hair Type for a Curly Wolf Cut
If you're wondering if curly or wavy hair will work with a curly wolf cut, the great news is that it works well with nearly every type and length of hair.
In fact, if you have hair that's thick, coarse, or curly, the wolf haircut can make it easier to tame your locks. The shorter top layers will remove excess weight, leaving your hair feeling lighter and bringing your curls to life.
However, if you have fine hair or thin hair, you might find it harder to get the volume the wolf shag haircut needs.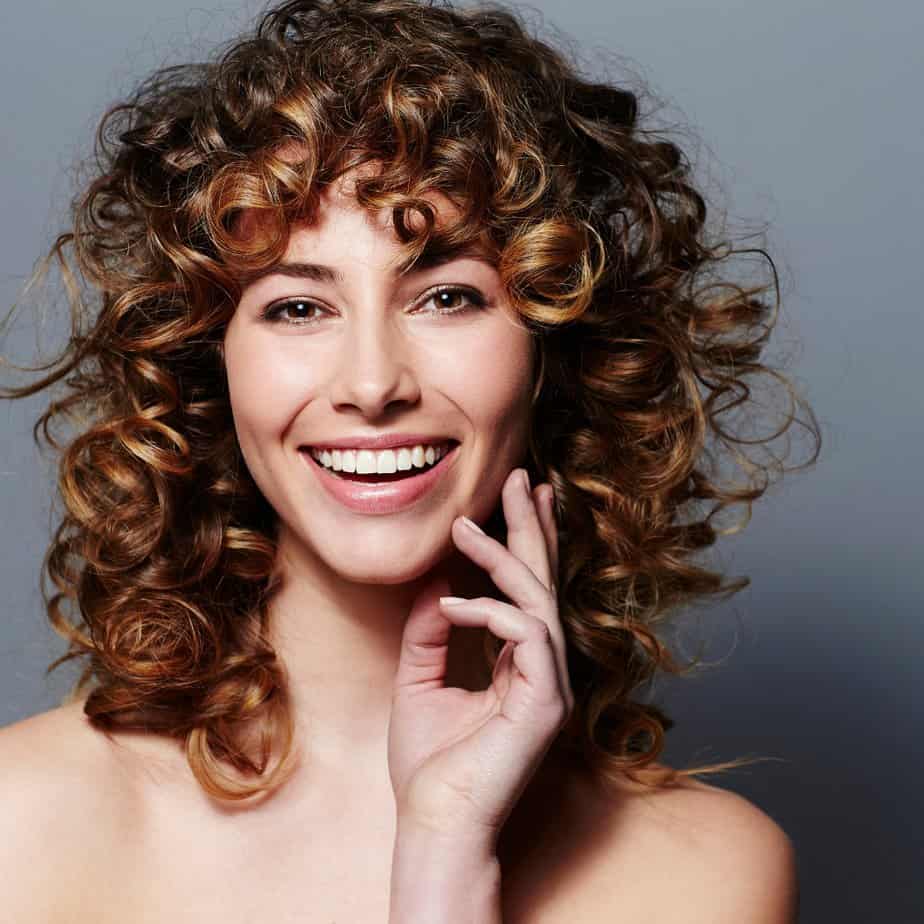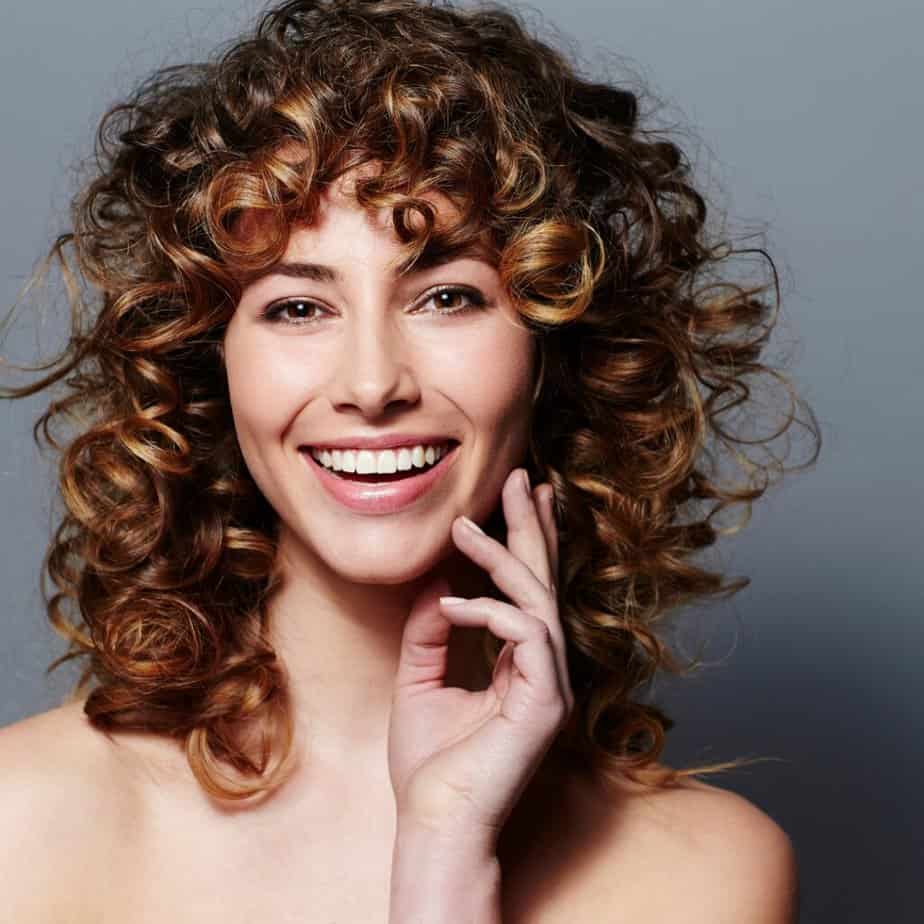 The Wolf Cut's Appeal
It's no surprise that the wolf cut has taken TikTok by storm. It's a choppy, contemporary look with a hint of retro nostalgia and a no-nonsense attitude that recalls the days of punk rock.
It's an easy-care style with a lot of attitude, edgy enough to be cool but easy to maintain. And those choppy layers make the wolf cut style incredibly versatile, so it'll look great with most face shapes, hair lengths, and types.
Styling a Wolf Cut Curly Hair Style At Home
One of the best things about the curly wolf cut is how easy it is to style. Most of the time, you just have to run your fingers through your curls to make your wolf haircut look great, especially if you have thick hair.
A pomade or wax will give a more polished finish, or you can add texture and body with a volumizing mousse or sea salt spray.
If you have layered short bangs, you can sweep them to the side, wear them straight down, use a flat iron to smooth them out, or just let them air dry for a messy, tousled look.
Up or down
Tying wolf cut hair up in a ponytail transforms this cool, punk-inspired cut into a softly chic Parisian style. The longer layers create a ponytail without too much bulk at the end, while the baby bangs and shorter layers give a flattering face-framing effect.
Different Types of Curls
The natural texture of your hair will affect how much work you need to put into styling your wolf cut hair.
If your hair is naturally curly, you can just use your fingers to style your hair, as the face framing layers and your natural curls will give the wolf haircut plenty of movement.
To define your curls and really make them pop, scrunch a curl cream or leave-in conditioner into damp hair and let it air dry for a tousled look. Alternatively, you can use a volumizing mousse to add body to a curly wolf cut.
If you have wavy locks, add volume to your wolf cut by applying a sea salt spray or a dry shampoo. Gel will give waves a more polished look or add definition to ringlets.
Straight hair
If you wear your natural hair relaxed, you'll need to create extra volume through the crown to keep your wolf cut looking great. Apply a mousse to damp hair and then use a diffuser to blow dry your hair.
Styling Products
If you've decided to get a wolf cut, the products in this selection will help to keep your locks looking great:
INNERSENSE I Create Lift Volumizing Foam
This volumizing hair mousse creates curls with the wow factor. It enhances your natural curl pattern and controls frizz while also giving high-impact body and brilliant shine.
We earn a commission if you make a purchase, at no additional cost to you.
Not Your Mother's Beach Babe Sea Salt Spray
This sea salt spray creates beautifully separated, tousled beachy waves with a luscious tropical coconut scent. Its matte finish is perfect for the wolf cut, plus it's safe for curly, natural, and color-treated hair.
We earn a commission if you make a purchase, at no additional cost to you.
Maui Moisture Curl Quench Gel
This rich gel has 100% Aloe Vera as the first ingredient and also contains coconut oil. This blend will drench your curls with moisture, leaving them feeling hydrated and healthy. It gives fantastic hold with no flakes and lack the crunchy texture of other gels.
Kenra Volume Spray 25
This quick-drying, volumizing hair spray gives your wolf cut the perfect finishing touch. It's flake-free, wind resistant up to 25 mph, and offers high humidity resistance for 20 hours.
Wolf Cut Curly Hair Lengths
The wolf cut is an excellent option for naturally curly hair. There are lots of style variations, so you can choose the one that's perfect for your individual hair texture and type.
It's best to visit a stylist who is experienced in cutting and styling curly hair types, so you know your wolf cut will look its best.
The Short Curly Wolf Cut
The short wolf cut looks amazing with shaggy bangs, giving a look that's a little bit edgy, a little bit laid back. You can also pair the wolf cut hairstyle with pixie-length hair without losing too much body.
The Shoulder or Medium Length Curly Wolf Cut
Mid length is the classic length for the curly wolf haircut, and this length looks great with your curls. Sometimes the original really is the best!
The Long Curly Wolf Cut
If you have long hair, you can still get a curly wolf haircut without losing too much length off your locks. This longer length curled wolf cut gives subtle Farrah Fawcett vibes but without using half a can of hairspray.
Getting a Wolf Cut: Pros and Cons
Like any other hairstyle, the wolf cut has some pros and some cons.
A big advantage of the curled wolf cut is that it's a low maintenance haircut that is really easy to style. It's also suitable for most hair types and face shapes and can be styled in many different ways.
On the other hand, the wolf hairstyle will need frequent trips to the salon to keep it looking good. It's also not a cut that works well on fine or thin hair, as achieving the style's volume will be difficult.
How to Wear a Wolf Haircut
Here's some wolf cut hair inspiration to help you choose from the many style variations:
The Classic Wolf Cut
Subtle curtain bangs, gentle waves, and textured volume are the hallmark features of the classic wolf cut. This is the original wolf cut, and it's the perfect style to choose if you want to fully embrace the wolf cut.
The Wolf Cut for Curly Hair
The wolf cut for curly hair is a fun style that takes full advantage of your curly hair's natural texture, while long or short bangs flatter the shape of your face without adding too much weight to your hair.
The Long-Layered Wolf Cut
A long-layered curly wolf cut can be worn both curly and blown out. But if you want to switch between the two looks, you need to discuss this with your stylist to ensure they layer the hair to work with both styles.
The Korean Wolf Cut
The wolf cut was first seen on K-pop stars and Korean actors, so if you want to go back to the style's roots, this is what you need to ask for.
It is closer to the original 80s mullet than the 70's shag cut and will work better on thicker hair.
The Waterfall Curls Wolf Cut
The Waterfall Curls Wolf Cut works brilliantly with boho beach waves, natural curls, or a blowout. The vertical cutting technique gives soft fullness and shape, so the style looks just as gorgeous on curly or straight hair.
The Elegant Wolf
The Elegant Wolf puts a chic spin on the classic cut by keeping layers to a minimum. This gives a stylish look that's perfect for formal events and everyday wear.
The Short Wolf Cut
You can get a wolf cut on short hair too, and the style works particularly well when you blend it with soft, shaggy bangs. Mixing the soft layers of the wolf cut with pixie-length hair will help you to maintain volume.
The Lob Wolf cut
The mid length Lob Wolf takes the wolf shag haircut just above the shoulders for a real echo of Joan Jett, David Bowie and 1970s rock music.
Getting a Wolf Cut at the Salon
If you're considering a wolf cut, your best option is to visit an experienced hair professional at the salon, such as a curl specialist.
Your stylist can assess your hair type and your face frame to make sure that the wolf cut will work for you, and they'll be able to skillfully layer the hairstyle to give the wolf cut its edgy look.
Be sure to take along some photos of wolf cuts that you like, and ask your stylist to create lots of shaggy layers with bangs. You might want to start with just a few face-framing layers; you can always have more layers cut in at your next salon visit if you want more texture.
Read more: The Ultimate Guide To Getting A Curly Cut
DIY Wolf Cut
But if you prefer to do a DIY wolf cut, the video below is the best tutorial to follow.
FAQs
Still need more info before you take the plunge on a wolf cut? Here are some of your most frequently asked questions:
What Is the Difference Between a Layered Cut and a Wolf Cut?
Layering hair is a hair-cutting technique that uses a mix of long and short hair lengths to create the illusion of both length and volume.
A wolf cut is a shaggy haircut that uses different lengths of layers to frame the face and add fullness throughout.
Are Wolf Cuts and Mullets the Same Style?
At first, you might think that the wolf cut is just like a modernized mullet, but there are some differences.
The wolf cut has more layers throughout the hair than the mullet, which concentrates layers at the top of the head. Wolf cut layers frame the face, making it closer to the shag than the mullet.
Can You Do a Wolf Cut on All Hair Types?
This style will work well on nearly all types and lengths of hair, but it isn't the best style for very fine hair. That's because the wolf cut is all about shaggy volume, which is difficult to achieve on fine or thin hair.
What Face Shape Is Wolf Cut Good For?
The wolf cut is so versatile that it can suit any face shape as long as you make the right adjustments to the cut.
Adding more volume with shorter layers on the crown will help to make round faces look more oval, while layers at chin length will even out a heart-shaped face. Wispy layers will soften the strong jaw of a square face, and as for oval faces, they suit pretty much any cut!
Wolf Shag Cut Curly Hair – Key Takeaways
The wolf cut is the hot new style that looks like it will be sticking around for a while. And as you can see, the wolf cut is a versatile haircut with no firm rules – it's all about fun styling and low maintenance.
And as an added bonus, if you're blessed with natural curls, your hair's natural volume and texture will help to make the wolf cut look even better.
So whether you're feeling nostalgic for 70s and 80s rock or just feel like trying an edgy new look to turn heads, the wolf cut could be your ideal new hairstyle!
---
Please do me a favor and share this post to social media, as it helps me grow my audience and spread the word about our curly hair movement! And remember to subscribe to my YouTube Channel for more curly hair tips and product recommendations. Thanks!
Want to remember this? Save Wolf Cut Curly Hair: What Is It and How Do You Style It? to your favorite Pinterest board!