Best Diffuser for Curly Hair: Your Ultimate Guide
This post may contain affiliate links, and I will earn a commission if you purchase through these links. Please read the disclosure policy for more details.
A hair diffuser is a game changer for those with curly or wavy locks, as it helps distribute the air flow from your hair dryer, reducing frizz and maintaining your natural curl pattern. With so many options available, finding the best diffuser for your curly hair can feel overwhelming.
In this article, we'll explore some of the top diffusers on the market, catered specifically to the unique needs of those with curly hair. From popular brands to innovative designs, we'll break down the features and benefits of each option so that you can make an informed decision and get your curls looking their best.
Top Pick
We earn a commission if you make a purchase, at no additional cost to you.
Why Use a Diffuser?
A diffuser can be a game-changer for those with curly hair. That was the case for my hair. By using a diffuser attachment on your hair dryer, you can achieve voluminous curls with less frizz and more definition.
First, a diffuser can help you maintain the natural shape of your curls. When you use a traditional hair dryer nozzle, the harsh airflow can cause your curls to lose their shape and become frizzy. A diffuser, on the other hand, spreads the air evenly over your hair, so your curls can retain their natural structure and stay defined.
Another advantage is that the diffused heat from a diffuser reduces the risk of heat damage. Since the heat is evenly distributed, it's less likely to cause breakage or dryness, which can be problematic for curly hair. By using a diffuser, you're giving your hair a gentler approach to drying, ultimately promoting healthier locks.
Finally, diffusing your curls can save you time. Curly hair can take much longer to air dry compared to other hair types. A diffuser speeds up the process and, as a bonus, can give you that extra volume that you're aiming for.
I also find that diffusing my hair allows my style to last longer when compared to air drying.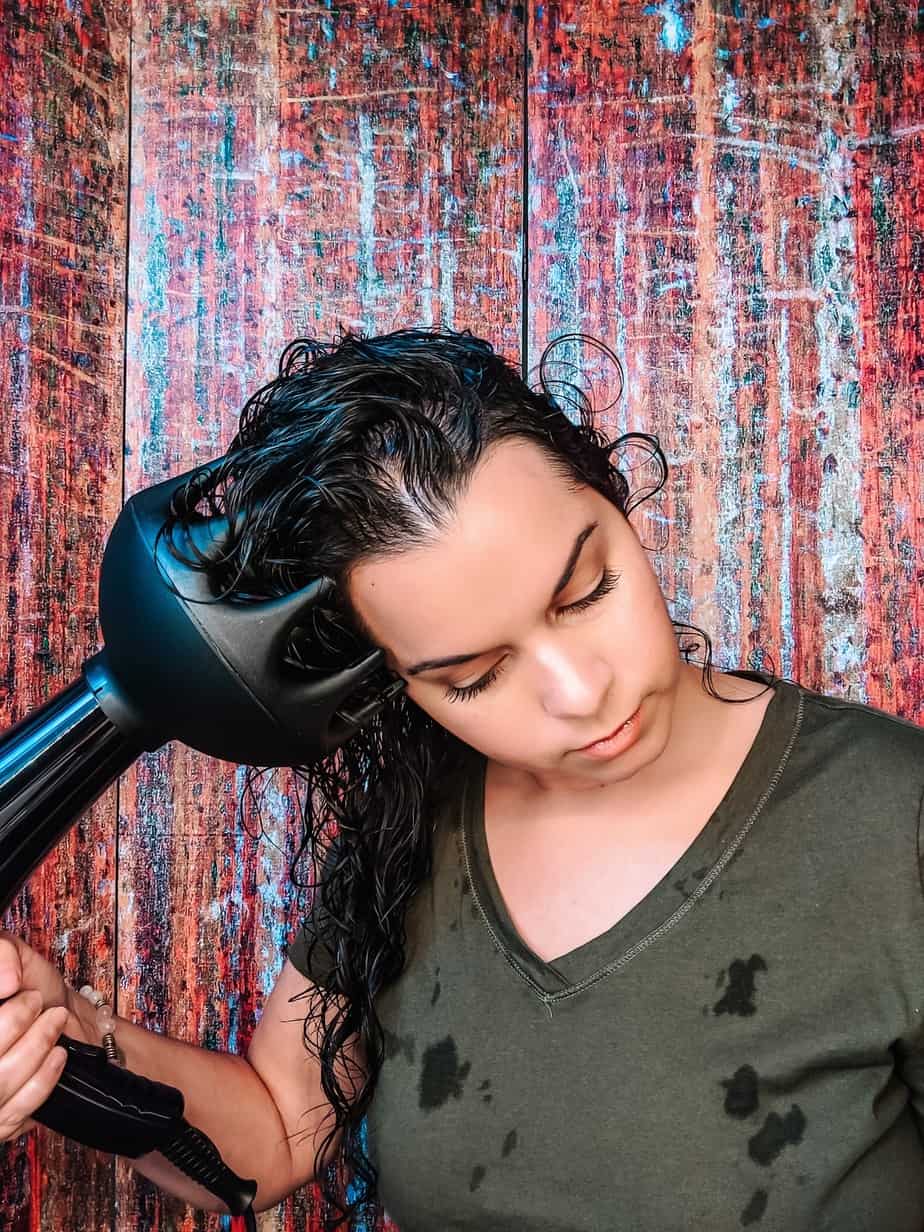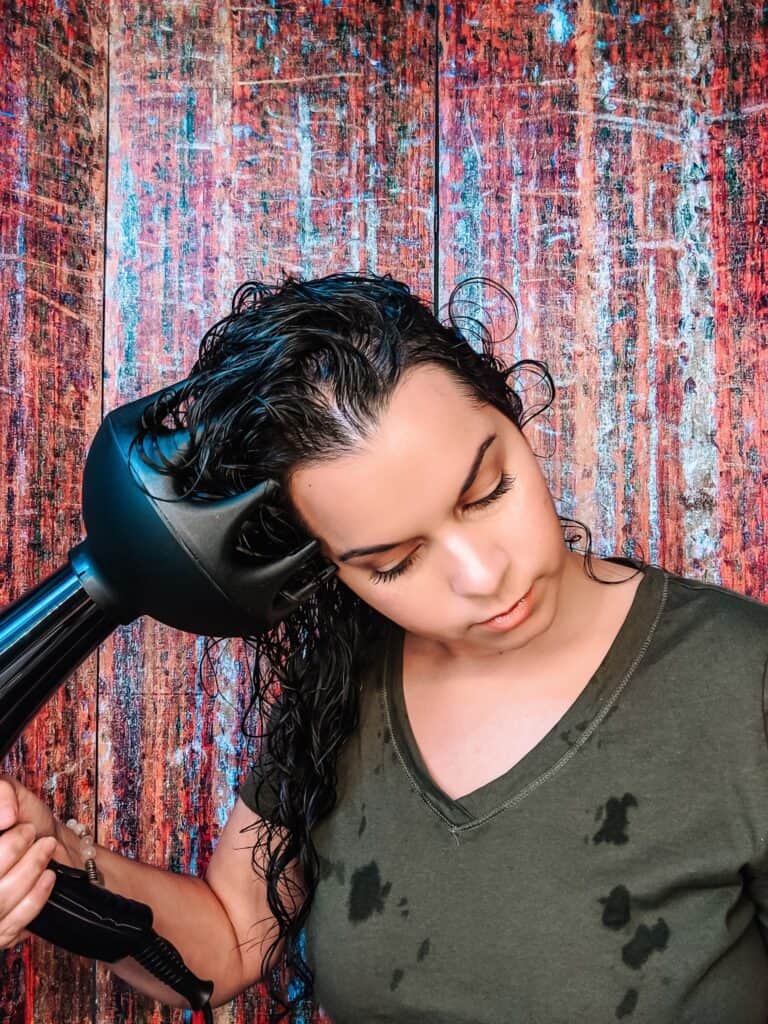 Choosing the Best Diffuser for Curly Hair
Key Features to Consider
When searching for the perfect diffuser for your curly hair, consider the following features:
Finger-like prongs: Prongs help lift and separate your curls while drying, which can add volume and reduce drying time.
Air flow holes – Smaller holes that are evenly distributed throughout the bowl of the diffuser are ideal to get the right airflow that will dry your hair without causing frizz. Larger holes lead to stronger airflow and more frizz and flyaways.
Bowl size – Larger, deeper bowls are ideal for longer hair and smaller, more hsallow bowls are better for shorter hair.
Take the time to analyze these features to find a diffuser that caters to your specific needs.
Compatibility with Hair Dryers
Not all diffusers will fit every hair dryer. Before purchasing a diffuser, make sure it is compatible with your hair dryer's nozzle. Many diffusers come with a universal attachment allowing them to be used with most dryers.
You could also try the Snozzle Pro universal attachment that connects pretty much any diffuser to any hair dryer.
Best Diffusers for Curly Hair
Best Overall: Xtava Black Orchid
The Xtava Black Orchid is a very popular and fantastic choice. This is my personal favorite diffuser for its large size and perfect airflow.
This hair diffuser's large design allows it to distribute air evenly throughout your locks, minimizing frizz and providing impressive definition. Moreover, it's compatible with most hairdryers, making it an excellent overall choice.
Top Pick
We earn a commission if you make a purchase, at no additional cost to you.
Best Universal: Hairizone Universal Hair Diffuser
If you're searching for flexibility, consider the Hairizone Universal Hair Diffuser. As it fits a wide range of hairdryers, it's a convenient option to have. With its 360-degree airflow, it evenly distributes air and heat to dry your curls. Additionally, this diffuser features a silicone connection for easy attachment and detaching.
We earn a commission if you make a purchase, at no additional cost to you.
Best for Volume: Diva Pro Styling XXL Pro Diffuser
Want volume and definition? Look no further than the Diva Pro Styling XXL Pro Diffuser. Its unique design helps lift your roots, creating volume and enhancing your curls simultaneously. This massive diffuser is the secret to achieving salon-quality results at home, especially for those with longer locks.
We earn a commission if you make a purchase, at no additional cost to you.
Best Splurge: Shark HyperAir Dryer with Diffuser
For those willing to invest in their haircare routine, the Shark HyperAir Dryer with Diffuser is worth considering. This high-end option provides faster drying, with its HyperAir technology offering consistent airflow and temperature control. With the included diffuser attachment, your curls will appear healthy, shiny, and frizz-free. The diffuser connects magnetically so you can't use it with another dryer. This is currently what I use and I love it.
Best Budget Friendly: BaByliss PRO Universal Diffuser
If you're on a budget, the BaByliss PRO Universal Diffuser makes it possible to achieve beautiful curls without breaking the bank. This affordable option is compatible with most hairdryers and features three interchangeable attachments to suit any curl type and hair length. Its design ensures even heat distribution while gently lifting your roots for a voluminous and defined look. Its also small enough to be a good option for traveling.
We earn a commission if you make a purchase, at no additional cost to you.
Best Travel-Friendly: Best Trendy Universal Hair Diffuser
Frequent travelers with curly hair will appreciate BestTrendy Diffuser Hair Dryer Attachment. This unique diffuser fits round hair dryers with a diameter from 1.4 inches to 2.4 inches, so you can use it on the dryer in your hotel room. Its smaller design makes it easy to pack and transport, while still delivering exceptional results. Simply attach it to your hairdryer for a professional, frizz-free finish on the go. I chose this over the commonly recommended silicone diffusers because the silicone ones always fall of and collapse while using.
How to Use a Diffuser for Curly Hair
Diffusing Techniques for Different Hair Lengths
Short Hair: If you have short curls, it's best to tilt your head to the side, allowing the diffuser to reach the roots. Hover diffuse, and you can use your hands to gently scrunch the curls up while diffusing if you want some extra texture and volume.
Medium-Length to Long Hair: For medium-length curls, flip your head upside down to create maximum fullness. Gently push your hair into the diffuser, being careful not to disrupt the curl pattern. Remember to use a low/medium heat setting to minimize frizz and preserve your curl definition.
Watch my diffusing tutorial video to see exactly how to diffuse your curly hair.
Achieving Desired Volume and Frizz Control
Preparation: After washing your hair, apply your styling products to help with curl definition. This will also ensure your curls are protected from potential heat damage when using the diffuser.
Define Curls: Gently scrunch your hair using your fingers to encourage your natural curl pattern. Avoid pulling or tugging on the curls as it can lead to frizz and breakage.
Air Dry: It's essential to air dry your hair partially before using a diffuser. I prefer to wait just a few minutes to help the ends set a bit and prevent wonky curls.
Attach the Diffuser: Connect the diffuser attachment to your hairdryer and set it to a low or medium heat setting. This will promote even airflow and guide your curls to their most defined state.
Diffuse Your Hair: Use the previously mentioned techniques for your hair length and diffuse each section separately. Remember to be gentle and maintain your curls' shape when using the diffuser.
By following these steps, you'll achieve voluminous and defined curls with minimal frizz. Happy diffusing!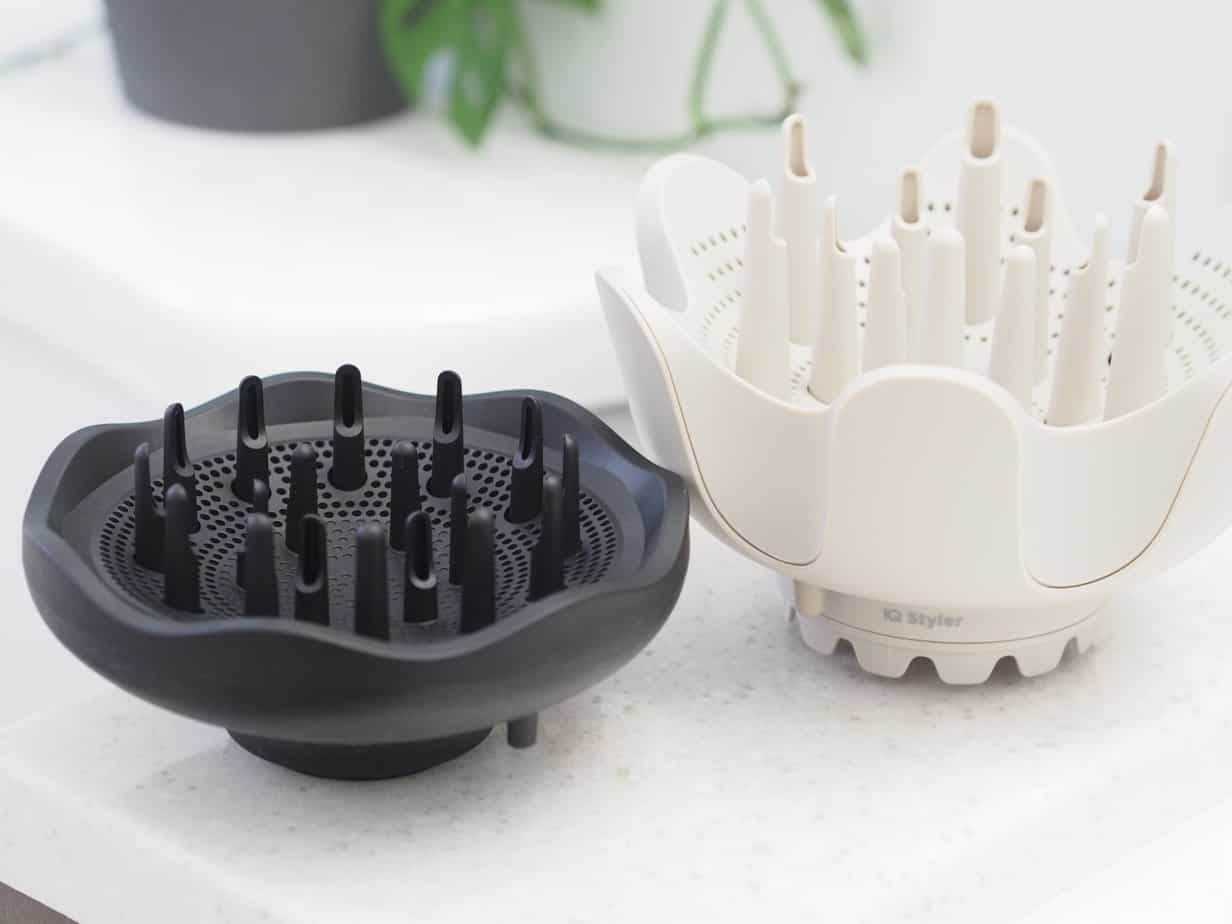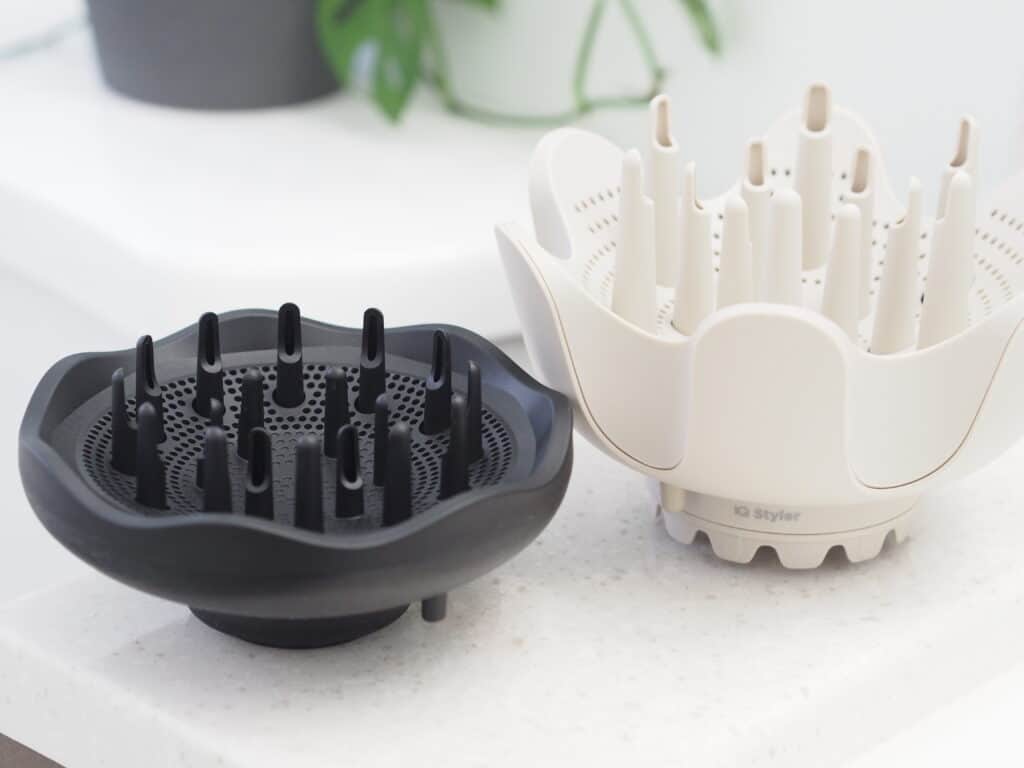 Frequently Asked Questions
Can you use diffusers for wavy hair?
Yes, you can definitely use diffusers for wavy hair. Diffusers work by distributing the air from a hairdryer evenly, which can enhance your natural wave pattern and reduce frizz. When using a diffuser on wavy hair, it's essential to use a low-heat setting and gently scrunch your hair with the diffuser to encourage your natural curls and waves.
Which diffusers are good for fine hair?
For fine hair, it's crucial to choose a diffuser that enhances volume without causing too much frizz. The Conair Volumizing Diffuser is an affordable option that provides gentle air diffusion, which is perfect for minimizing frizz while giving your fine curls a boost.
Is there a universal diffuser attachment?
Yes, there are universal diffuser attachments available that can fit most hairdryers. One such option is the Snozzle Pro, a flexible silicone attachment, allowing it to fit a wide range of hairdryer sizes. However, it's always a good idea to double-check the compatibility with your specific hairdryer model before purchasing.
Is the Deva Curl diffuser any good?
The Deva Curl diffuser, officially known as the DevaFuser, is a popular choice among people with curly hair. According to the product listing, its unique hand-shaped design helps to dry curls evenly and enhance natural texture, resulting in bouncy, well-defined curls. Many users have praised the DevaFuser for its ability to reduce frizz and drying time and some consider it be a good option for those with curly hair. But I personally do not like it, and most people I have worked with feel the same way.
Bottom Line
Finding the right diffuser for your curly hair can make a huge difference in your styling routine. By using a diffuser that works well with your hair type, you can enhance your natural texture and achieve frizz-free, defined curls. Whether you opt for a universal diffuser or a model designed specifically for your hair dryer, there are plenty of options on the market to choose from. Experiment with different styles and techniques to find the diffuser that works best for you and your curls. Happy styling!
---
Want to remember this? Save Best Diffuser for Curly Hair: Your Ultimate Guide to your favorite Pinterest board!