TreLuxe Product Review for Thin Curls and Waves
This post may contain affiliate links, and I will earn a commission if you purchase through these links. Please read the disclosure policy for more details.
TreLuxe kindly sent me three of their products to try out. I chose the Curls Renew & Restore Cleanser, Untie The Knot conditioner, and their very popular Hi! Definition gel. After trying them for a few weeks here is my full review of each product.
Overall, I was happy with the line. Their products all work as advertised, have great ingredients, and are simple to use.
My one complaint is how scented the products are. Most smell nice but the scents are stronger than other natural lines so if you're sensitive to scented products I am not sure these would work for you.
Otherwise, they are a great choice overall and I would recommend this brand for most people.
You can try them with 15% off using my affiliate code holisticenchilada15 on their website.
About TreLuxe
TreLuxe is a brand that aims to help those with curly and wavy hair find quality products while keeping things simple. Now you all know I love simple so this is right up my alley. Just 3 products to wash and style is something I totally support. Their products work on a wide range of curlies and wavies and use quality ingredients.
They also fund health, wellness, and education for at-risk girls in low income communities! I love it when brands give back like this.
They are now starting to show up on Walgreen's shelves around the country in addition to being online and in Whole Foods. Their prices are fairly moderate too so they are a more accessible curly brand.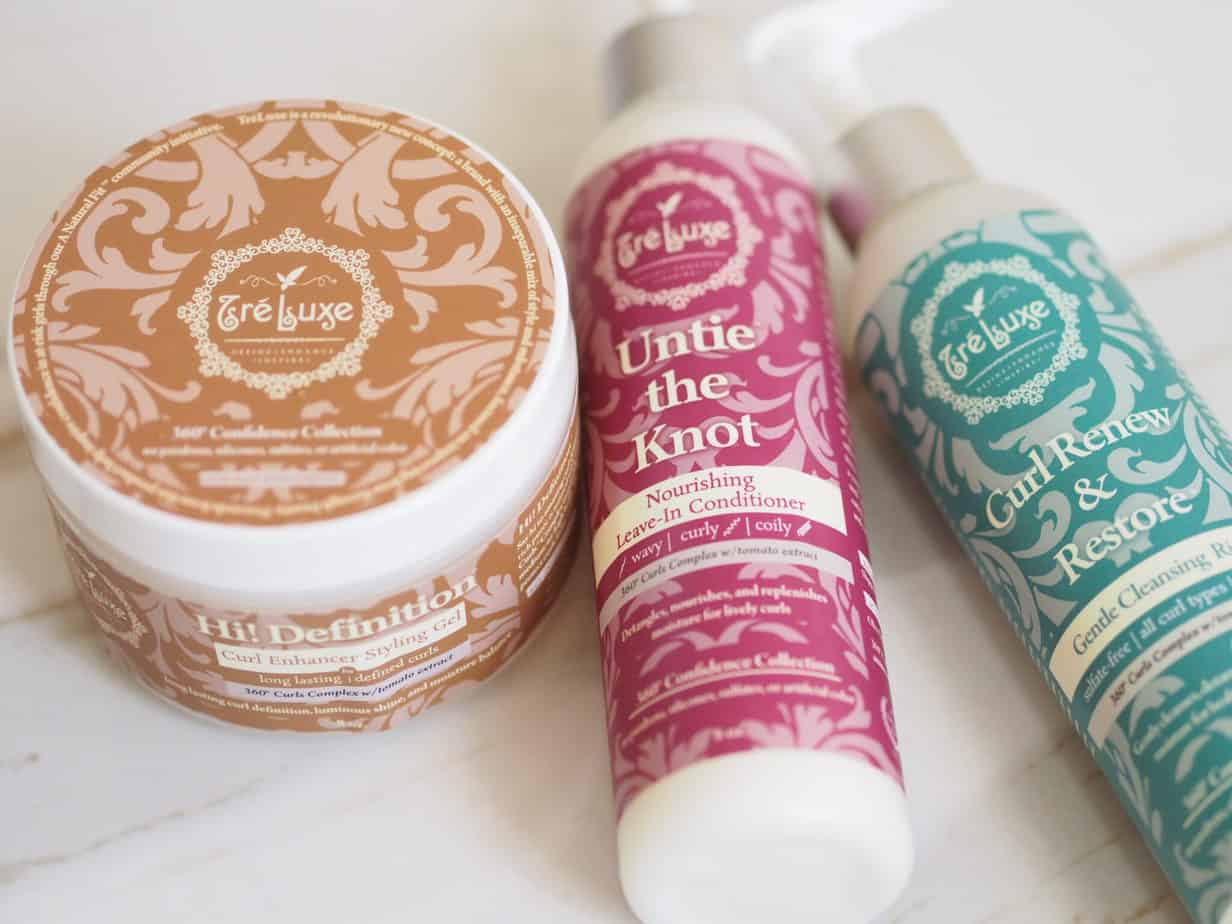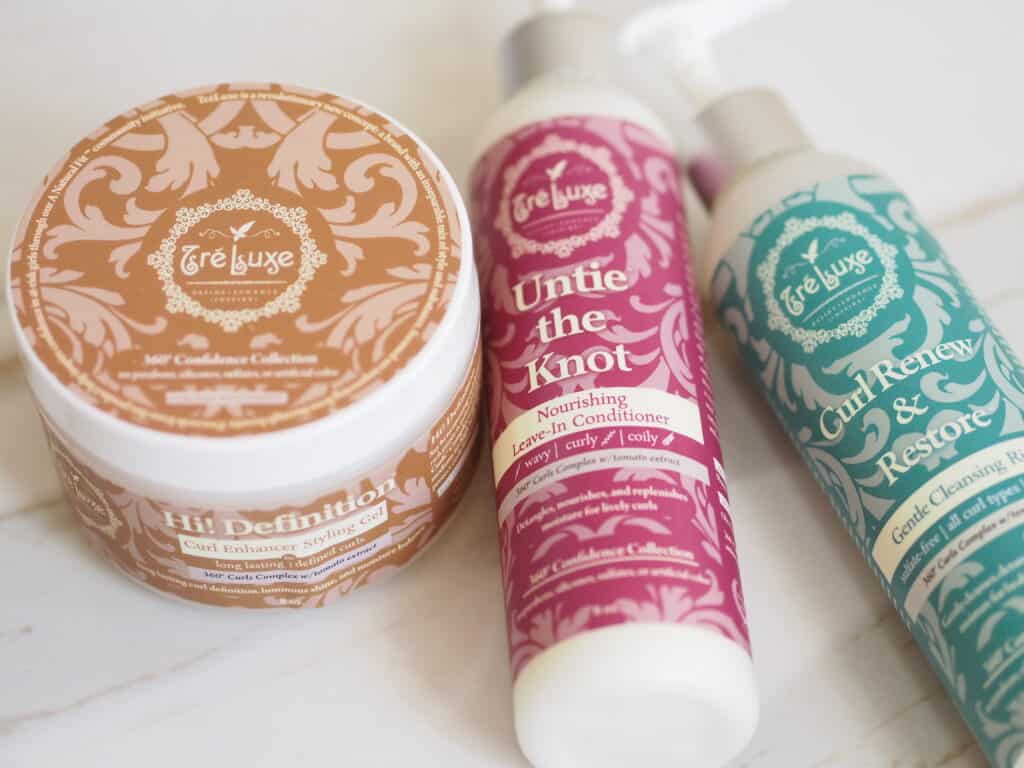 TreLuxe Curl Renew & Restore Review
This is their low poo cleanser, pictured above in the green bottle. It's a low sudsing shampoo that doesn't strip my hair and isn't too cleansing. I find it more moisturizing than the low poos I normally choose, so I think it would work well for most people.
It has a nice fresh scent, although it's definitely synthetic. I didn't find it overpowering and it didn't linger. It left my hair clean and fresh feeling.
It's not stripping enough for me to use every wash. I would have to alternate it with a more cleansing shampoo and clarify often. For most people though, this would be perfect.
You can find the cleanser here.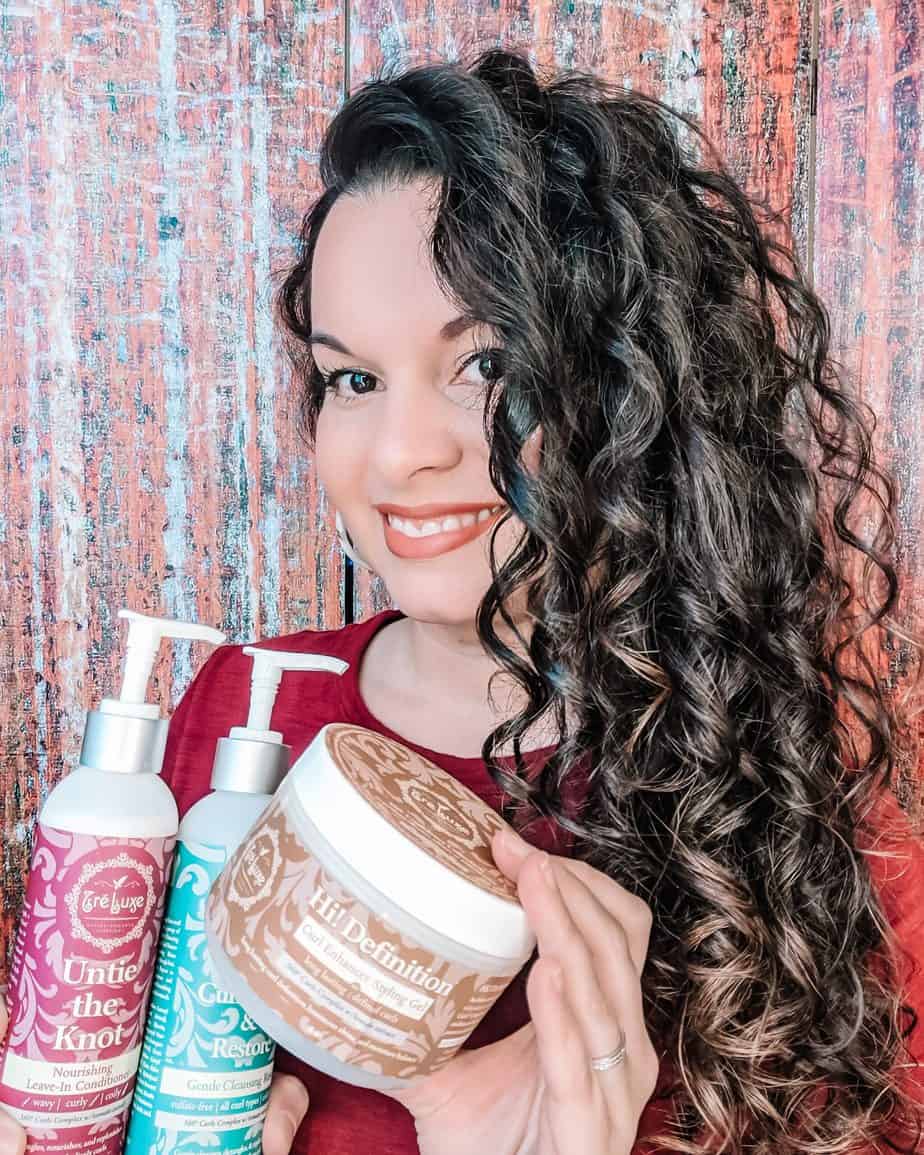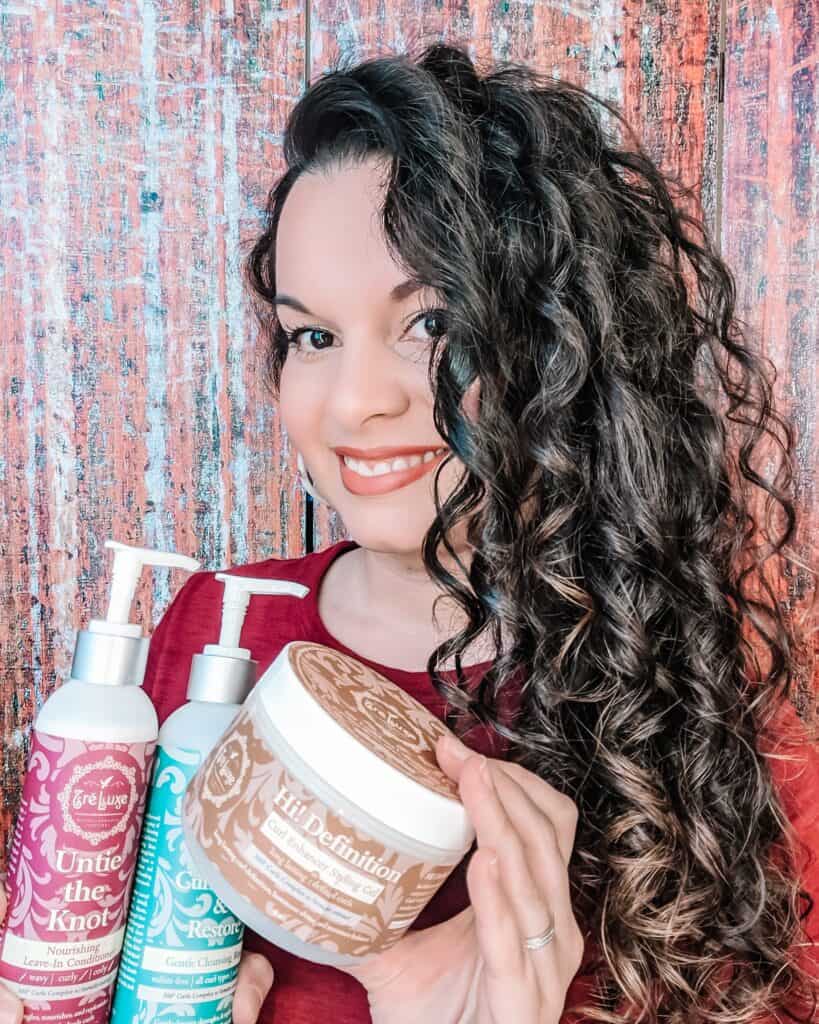 TreLuxe Untie The Knot conditioner Review
I love dual purpose products and this is a conditioner and leave in. It is creamy and moisturizing but this one has a much stronger cinnamon scent. I did find that it lingered so that's the one thing I didn't like about it. But it left my hair perfectly soft and not over moisturized.
I did use too much the first time so I rinsed it all out and only left in a tiny dab squished with lots of water the next time, and that worked perfectly.
It spreads easily and has good slip so detangling was easy. I always let my conditioner sit for a few minutes then squish in some water before detangling anyway.
As a daily conditioner, I think this might be just slightly too moisturizing for me, so I would probably not use any leave in if I was solely using this. Remember though, that is just the case for my hair which does not like a lot of moisture. I am not the norm in the curly world!
You can find the conditioner here.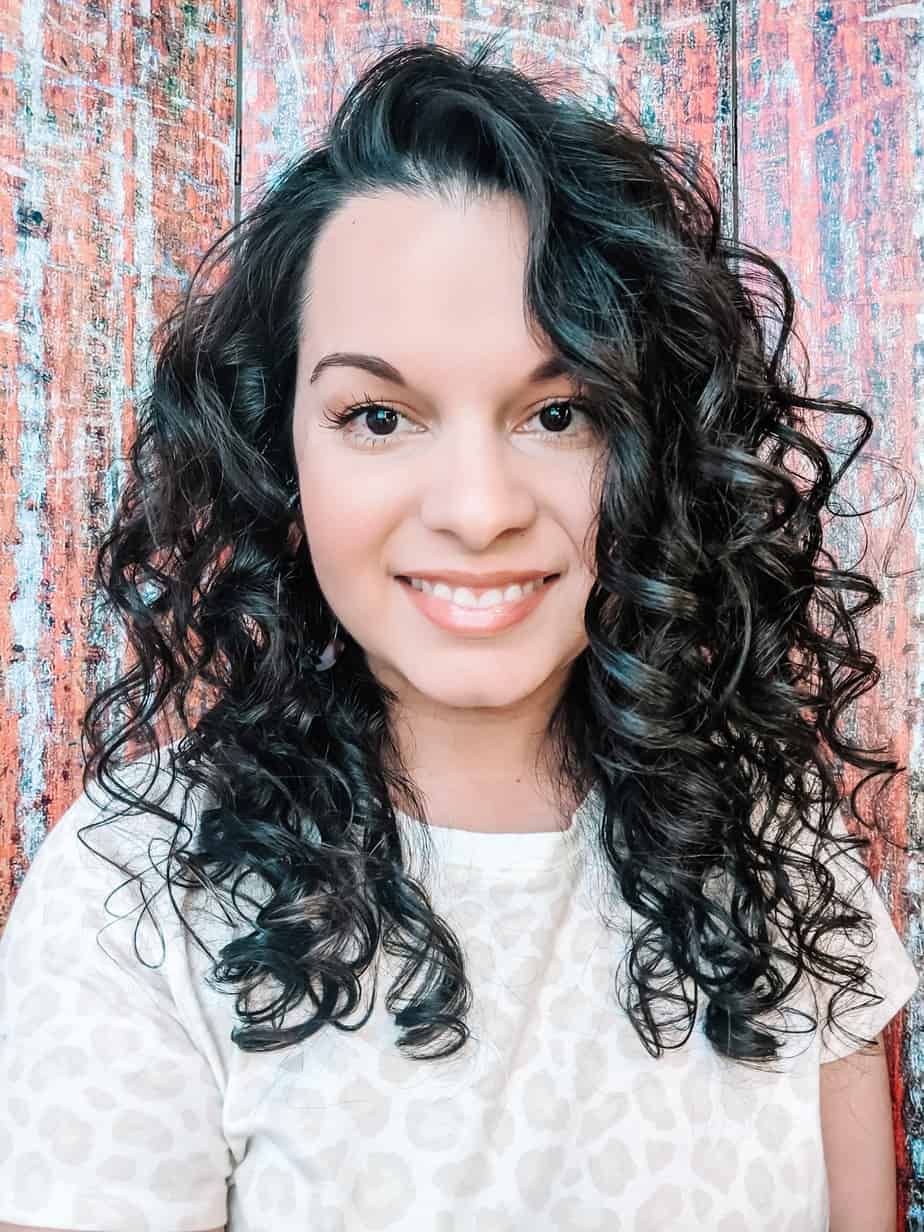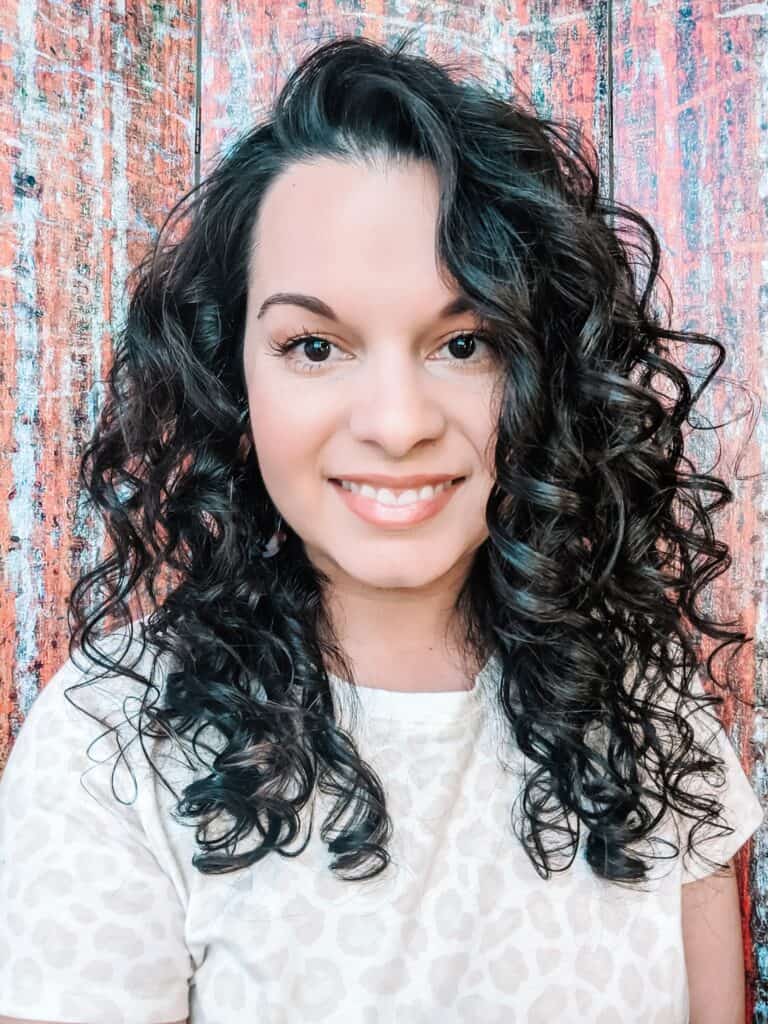 TreLuxe Hi! Definition Gel Review
This curl enhancing gel is very popular. It comes in a jar but it's thicker and has a lot of protein. It also has that clean scent much like the cleanser.
This gel is aloe based but it is glycerin free. My hair loves aloe based gels but it also loves glycerin. Also, the amount of protein is much more than my other styling products.
It works for well me but I definitely notice that my hair has tighter curls when I use styling products with glycerin. Still, as you can see from the photos it works great for my hair.
The gel gives amazing definition without weighing down my hair. The hold lasts several days, and it also adds some shine. As I said before, it's not as springy as when I use products with glycerin but this is a great option to use in the summer when glycerin is something I want to avoid. And although it lasts several days, it falls flatter each day likely due to the lack of glycerin which makes my curls spring more.
If your hair likes aloe and protein then this would be a great gel for you. I will continue to use it because it works great, but I might leave it for the summer when I try to avoid glycerin heavy products.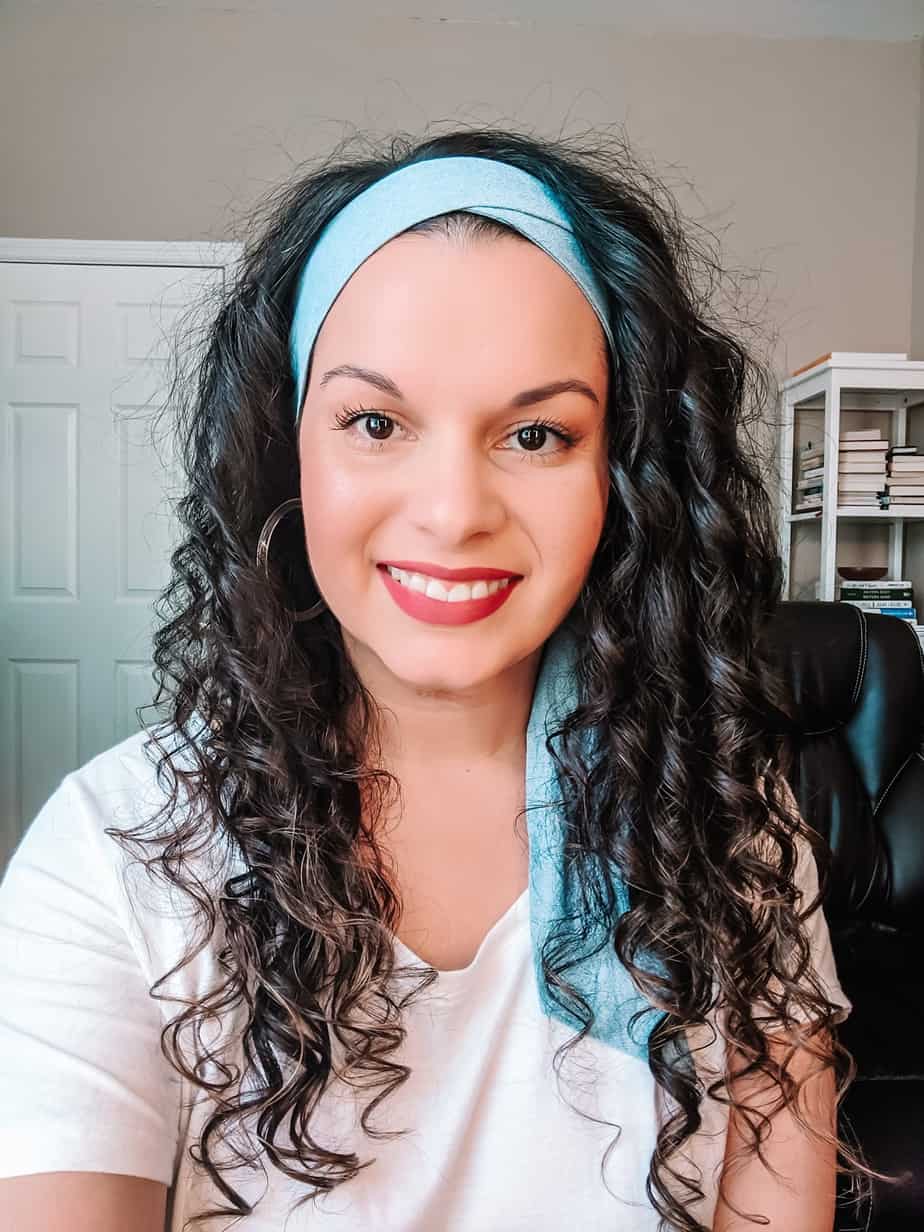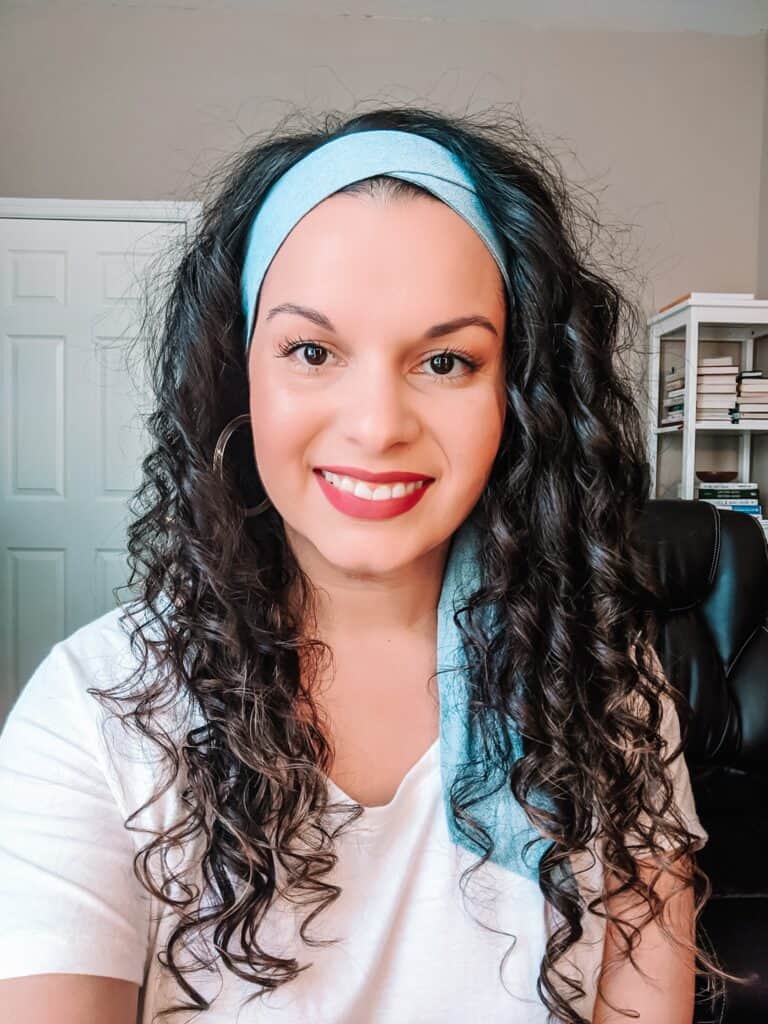 TreLuxe ReFlex Curl Styling Serum
This product I purchased myself after seeing so many glowing reviews. And they were not wrong!
This is by far my favorite product of theirs and I regularly use it with EVOLVh to get ultimate volume and definition in my thin curls.
It's a clear oil-free liquid that can be used on its own or paired with another styling product. According to the listing of TreLuxes' website, the ReFlex serum helps to:
Increase curl elasticity
Improve hair flexibility
Hydrate hair/reduce moisture loss
Strengthen hair by stabilizing bonds within the hair's cortex
Improve the texture of hair and create a smooth, polished appearance
I find that this product does indeed do all of these things. It's pretty amazing!
My hair is extra shiny and soft with this serum. It's as if it smooths down each strand of hair and I notice fewer tangles with it.
It does have a strong scent but I use it anyway because it works so well.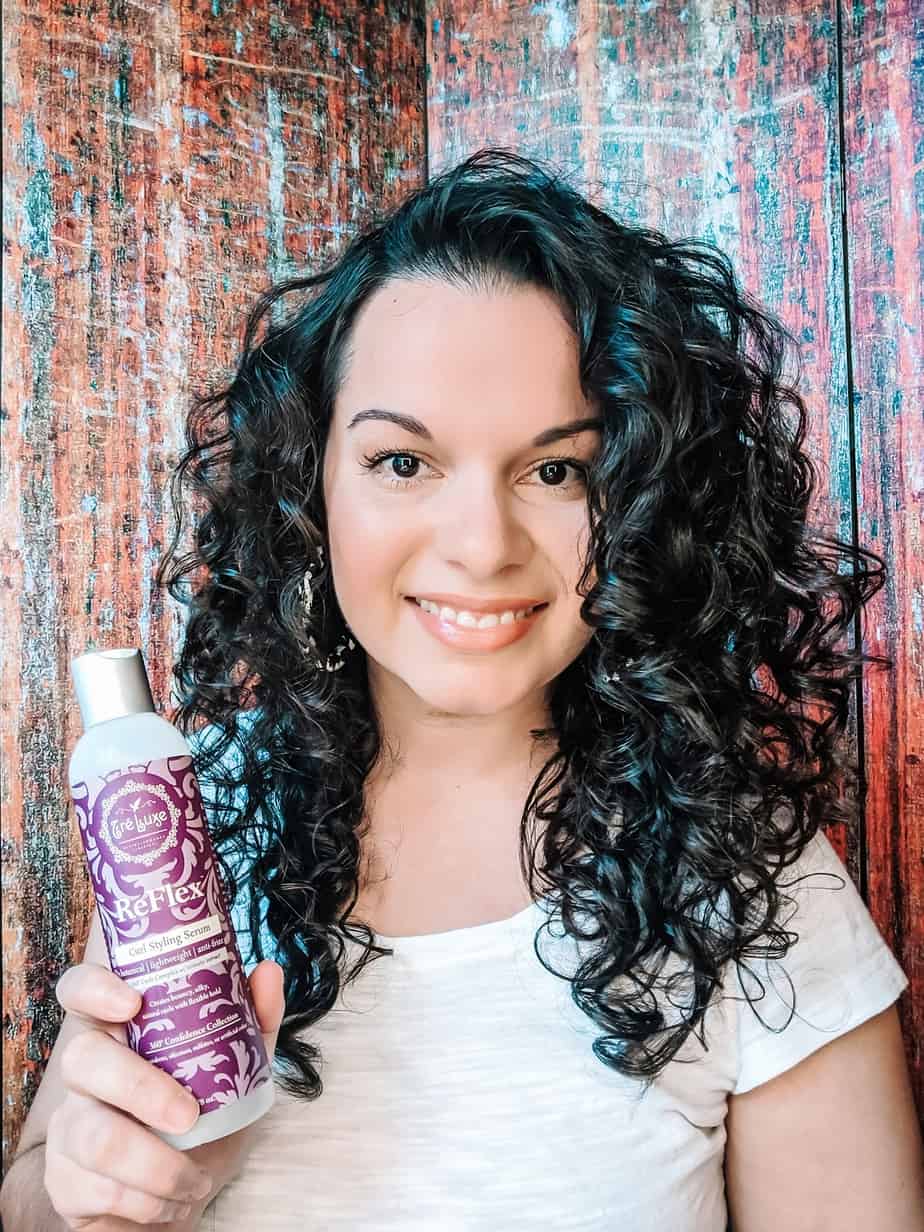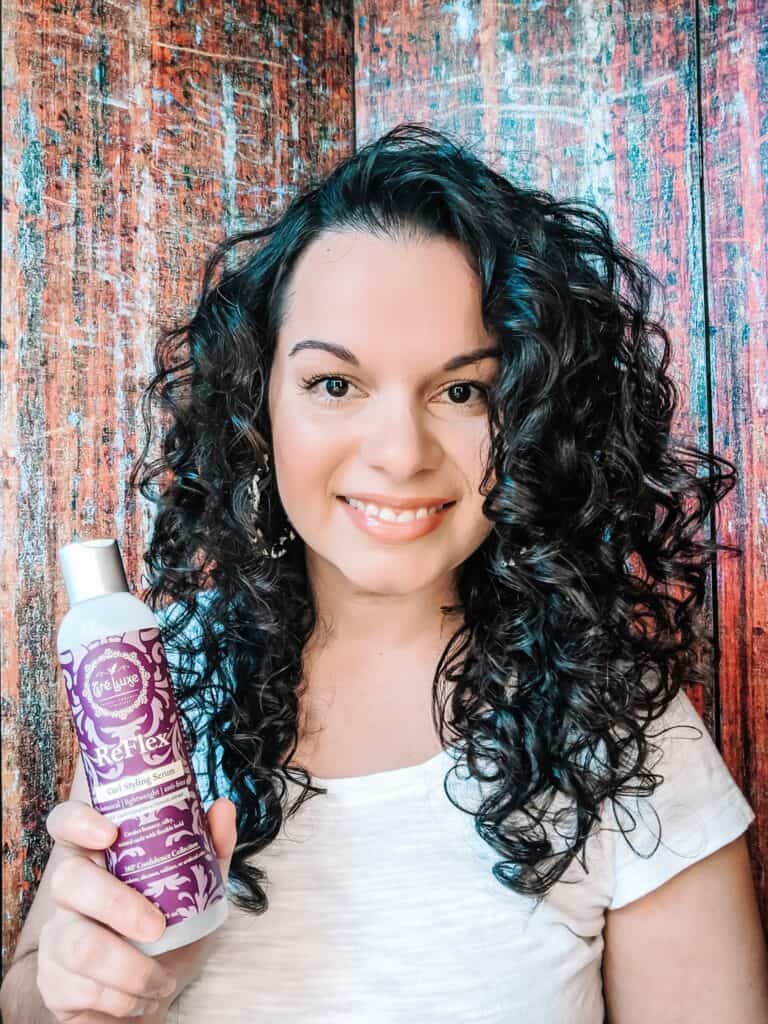 Final Thoughts
Overall I really liked the products and will continue to use them.
If your hair is like mine and it doesn't like moisture, then I'd avoid the cleanser and conditioner and just try the gel. Otherwise, these products would work well for all hair types that like protein and aloe.
You can try them with 15% off using my affiliate code holisticenchilada15 on their website.
Check out my other popular posts on curly hair:
Want to remember this? Save TreLuxe Review For 2C 3A Fine Curly Hair to your favorite Pinterest board.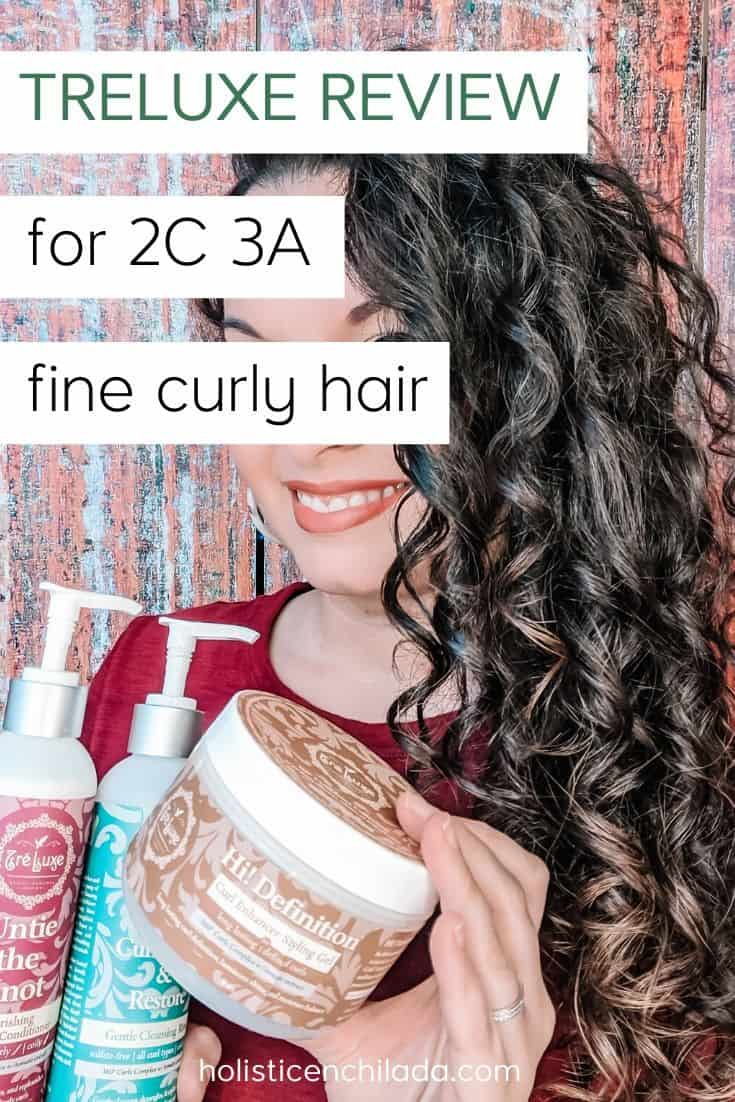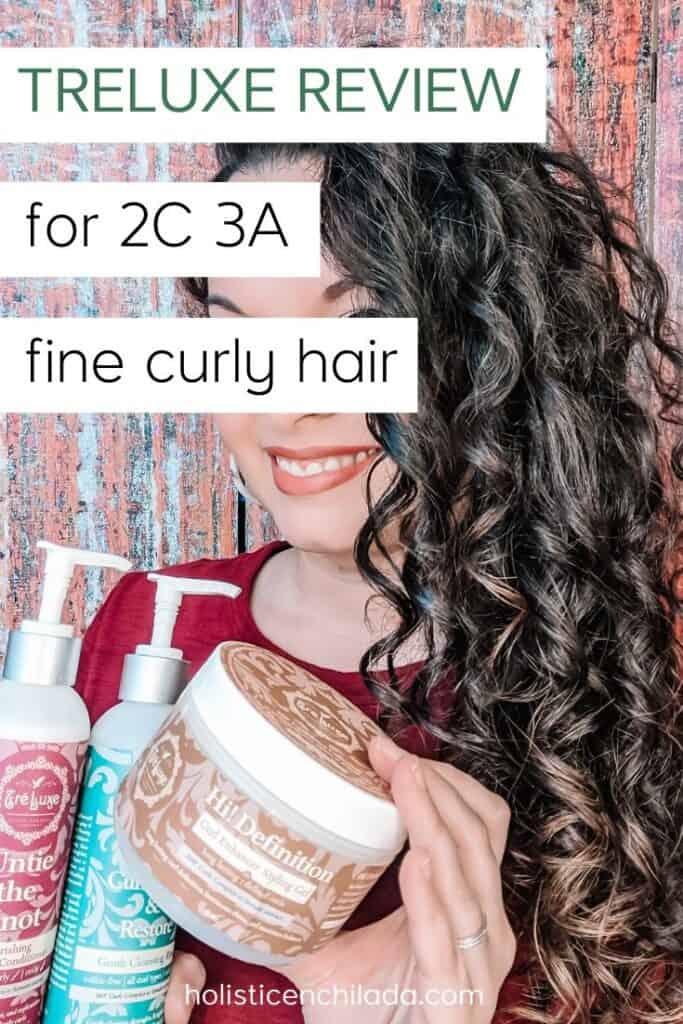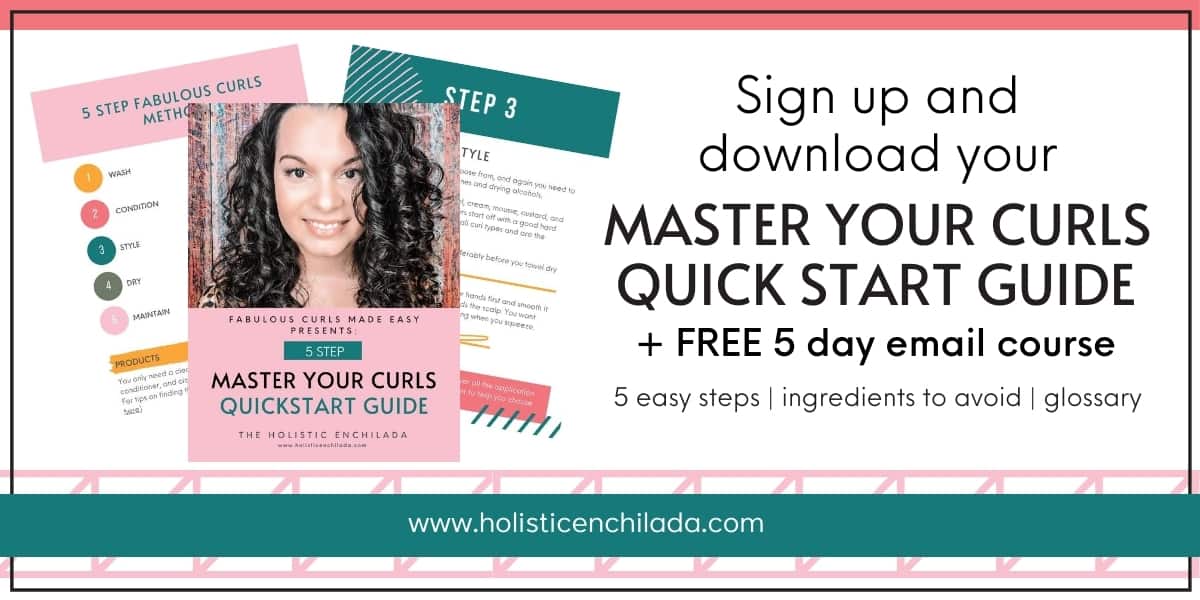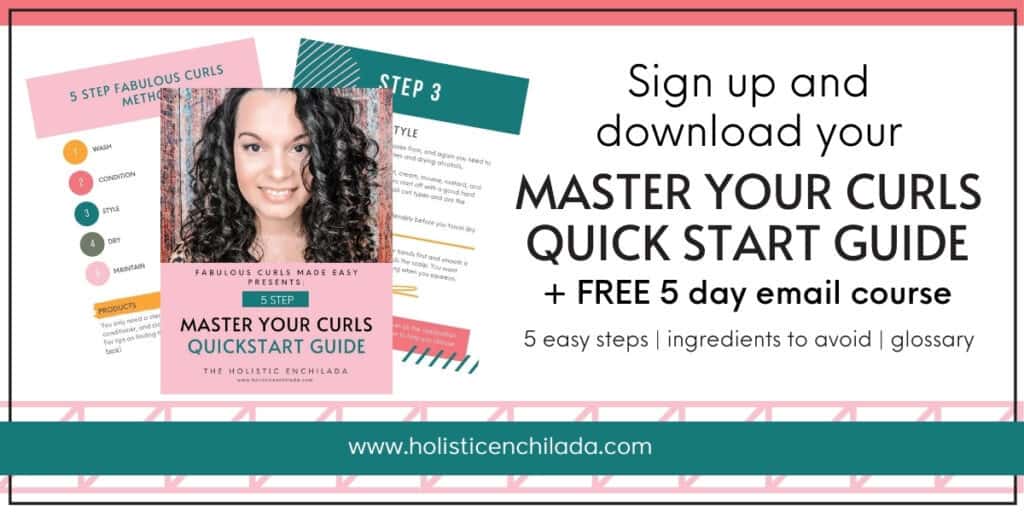 If you want help with embracing your naturally wavy or curly hair, you can join my FREE email course and download my FREE pdf guide, THE QUICK START GUIDE TO MASTERING YOUR CURLS, full of everything you need to know to get started and bring out your beautiful waves and curls.
Curl Coaching
I now also offer Curl & Clean Beauty Coaching sessions virtually! You can book a 15-minute, 30-minute, or 45-minute session with me to help you solve your curly hair or clean beauty struggles. Click here to learn more.