Volumizing Curly Girl Routine For Thin Curls
This post may contain affiliate links, and I will earn a commission if you purchase through these links. Please read the disclosure policy for more details.
If you're a regular reader, you know I am always looking for more ways to add volume to my fine curly hair. Having thin curly hair makes it difficult to get those luscious big curly hairstyles many with wavy and curly hair have.
But it is possible to have volume even if you have fine or thin curly hair. You simply need the right products and the right styling methods.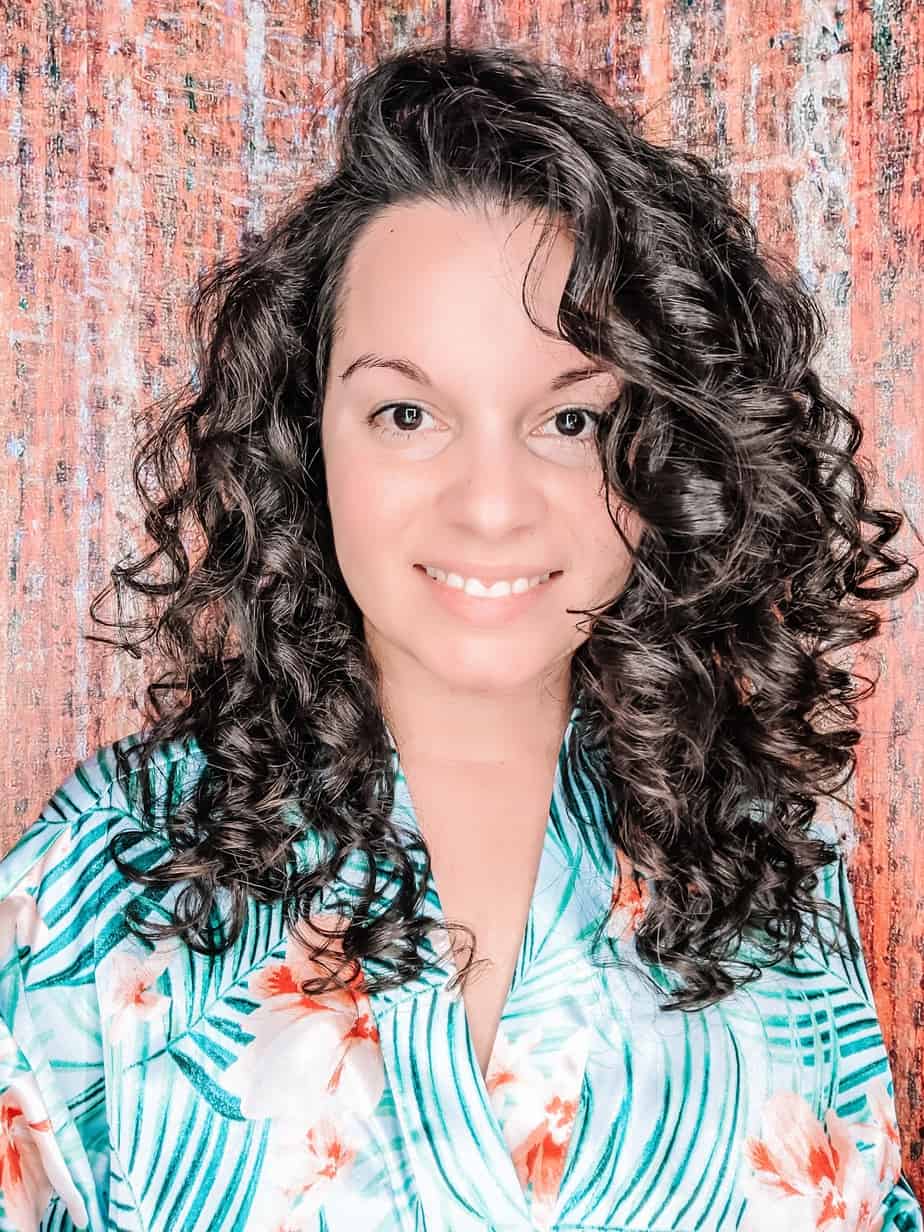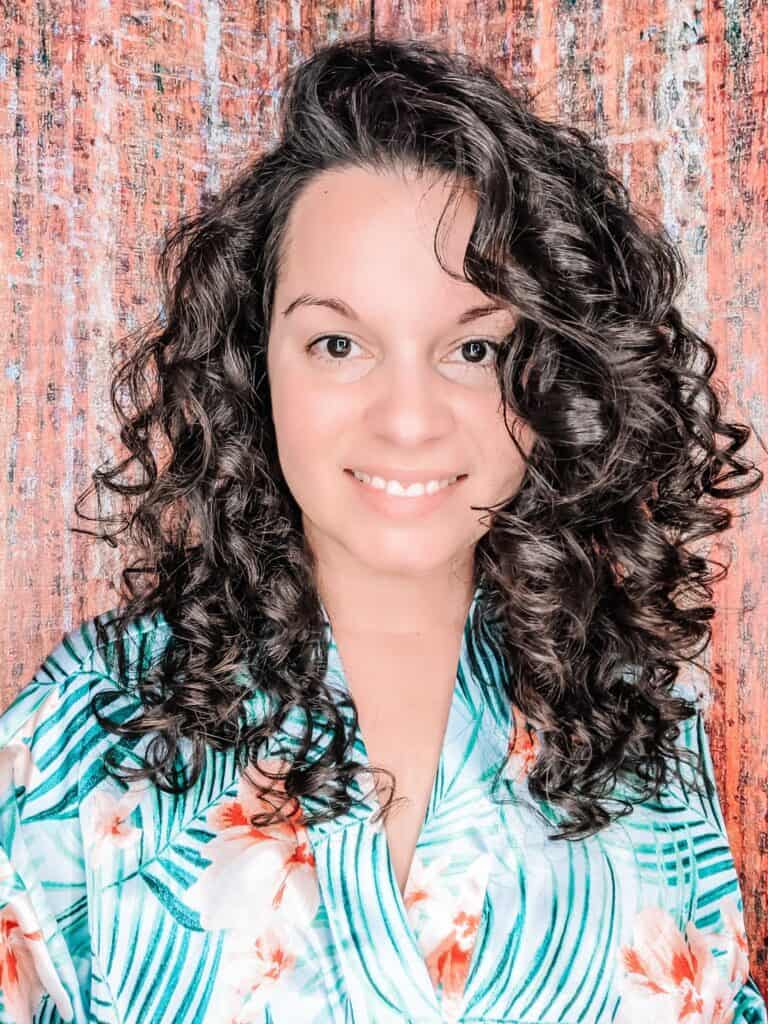 How To Get Volume In Curly Hair
Along with my tips for low density and fine curly hair, I have now created a styling routine that always gives me maximum volume. So I am sharing it with you and hopefully you can get more volume too!
Be sure to check out my first post on tips for thin curly hair. Those tips will help you ensure you're doing the right things to encourage volume in thin or fine curly hair.
Aside from those tips, you need to use volumizing products and style in a way that creates volume.

Volumizing Products For Curly Hair
Of course, you have to start with some good volumizing products. I used to try different volumizing products all the time when I wore my hair straight but since going curly it's been difficult to get more volume as moisture tends to weigh down my hair and curly products are all moisturizing.
Volumizing products tend to be on the lower end of moisturizing. My hair likes a lot less moisture than most curly and wavy types so I can go all out with my products and reduce moisture as much as possible. But for many others you'll have to modify and put together what works for you and is balanced for your hair.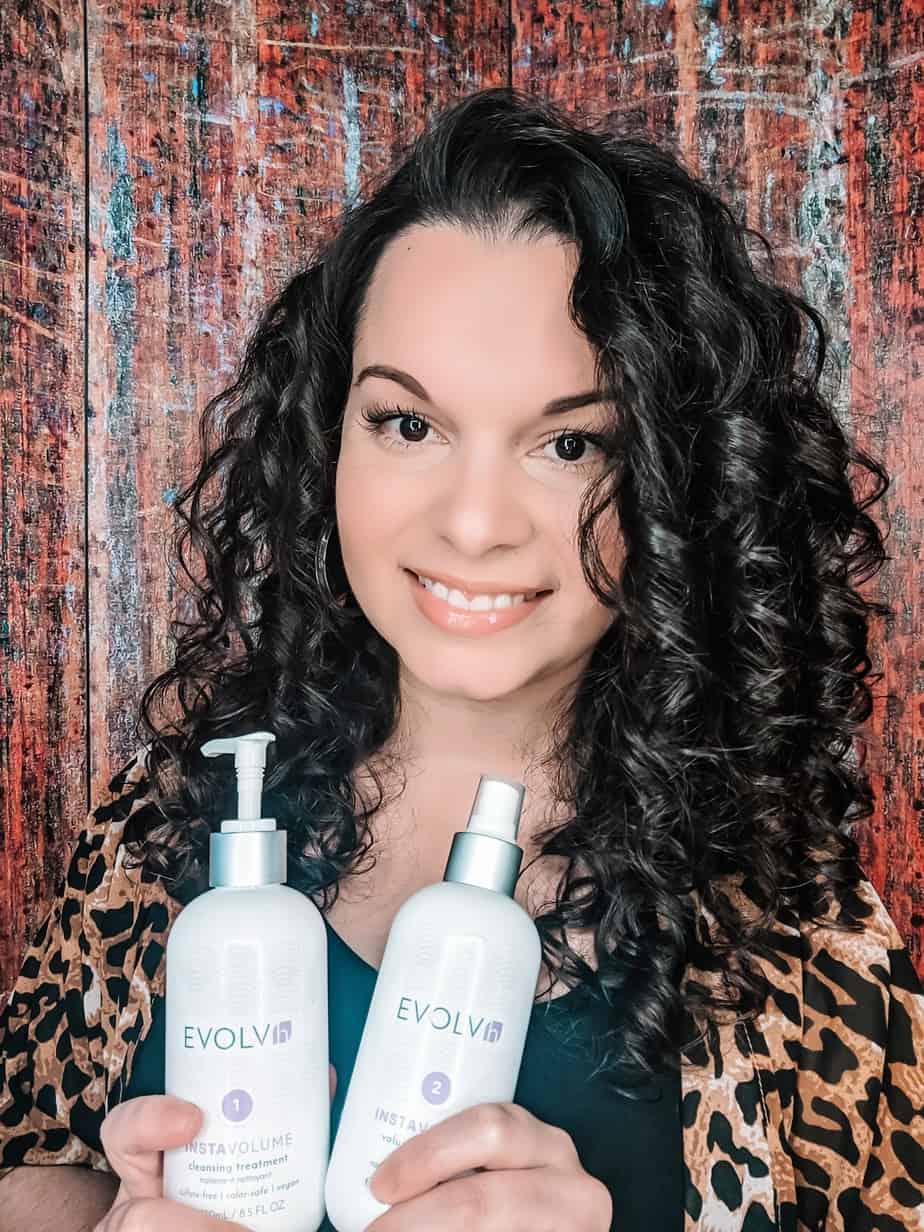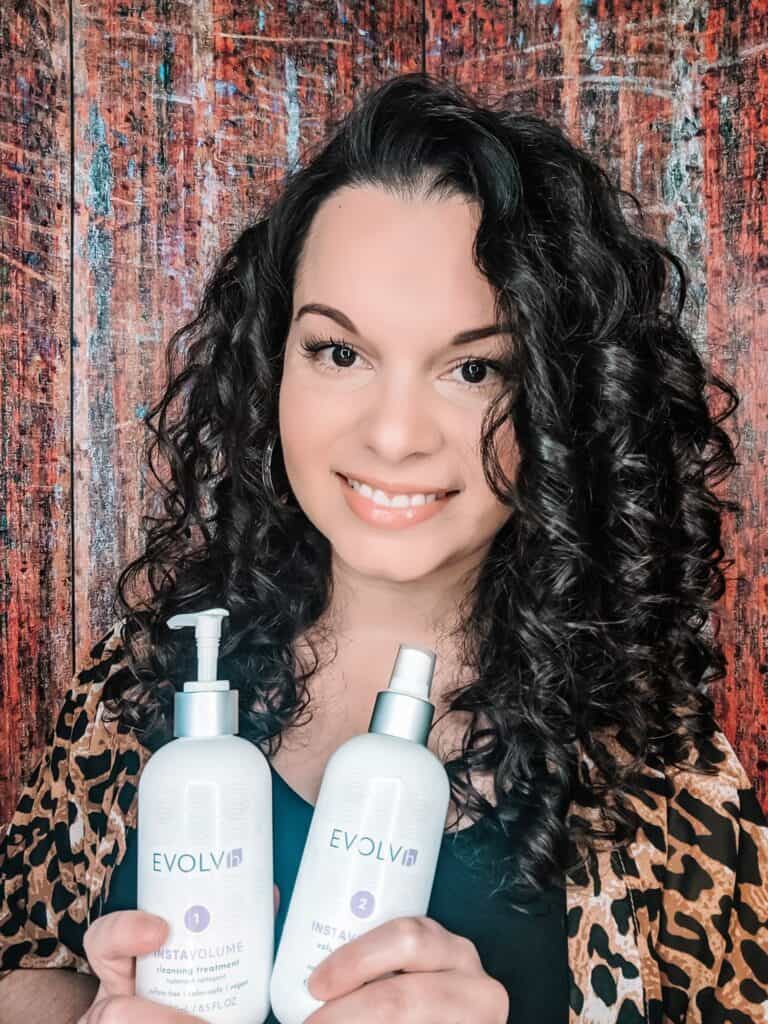 EVOLVh InstaVolume
InstaVolume is EVOLVh's newest line and gives me more volume than any other line I have tried. It's a shampoo and leave in conditioner duo. The shampoo is very lightweight and a stronger cleanser on the low poo spectrum. If your hair likes moisture, this will not provide enough for you. But it's perfect for my hair. It leaves it super clean and light without drying it out.
Then you go straight into the leave-in. There is no conditioner in this line which makes sense since you need to sacrifice moisture to get more volume. So again, if your hair likes moisture this will not be enough.
TreLuxe ReFlex Serum
ReFlex Serum is an extremely lightweight product that provides flexible hold along with definition and shine. It really helps my curls look smooth and shiny and gives amazing slip while styling.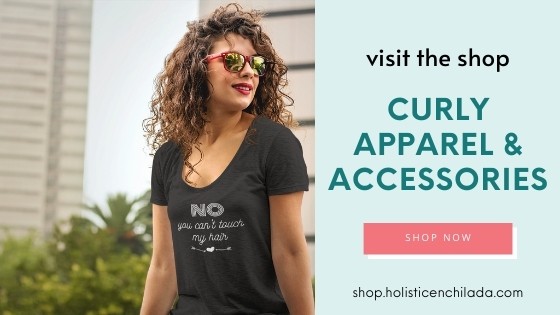 EVOLVh Total Control Styling Creme
After testing out a ton of different products and combinations, including the Total Control Styling Creme product always gives me the most volume. It's not a curl cream though so it isn't moisturizing. It's like a creamy gel with medium hold and is lightweight. It gives my hair some texture which really helps with volume.
EVOLVh UltraFlex Hairspray
UltraFlex Hairspray is the BEST hairspray I have tried so far! This hairspray is CG approved and is truly unlike any other. It's not sticky at all and provides great hold while giving your hair some texture to revive or add volume.
Styling Methods For Volume
I use something I call the Rake Shake Scrunch method, which is exactly what it sounds like. After glazing the product over my hair, I rake through to distribute and reduce frizz. I shake my hair to encourage the clumps to naturally form. Then I scrunch to seal in the clumps and ensure the product is all over my hair.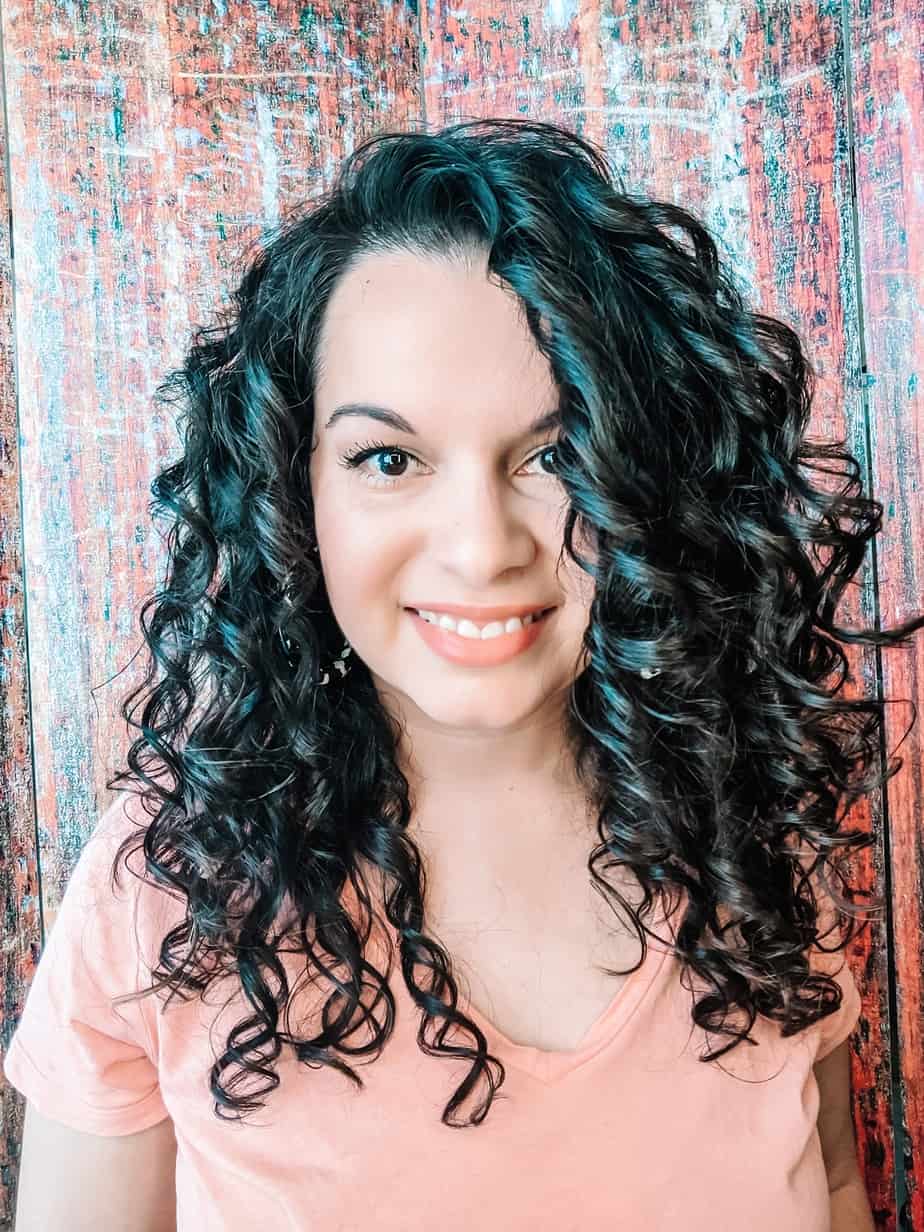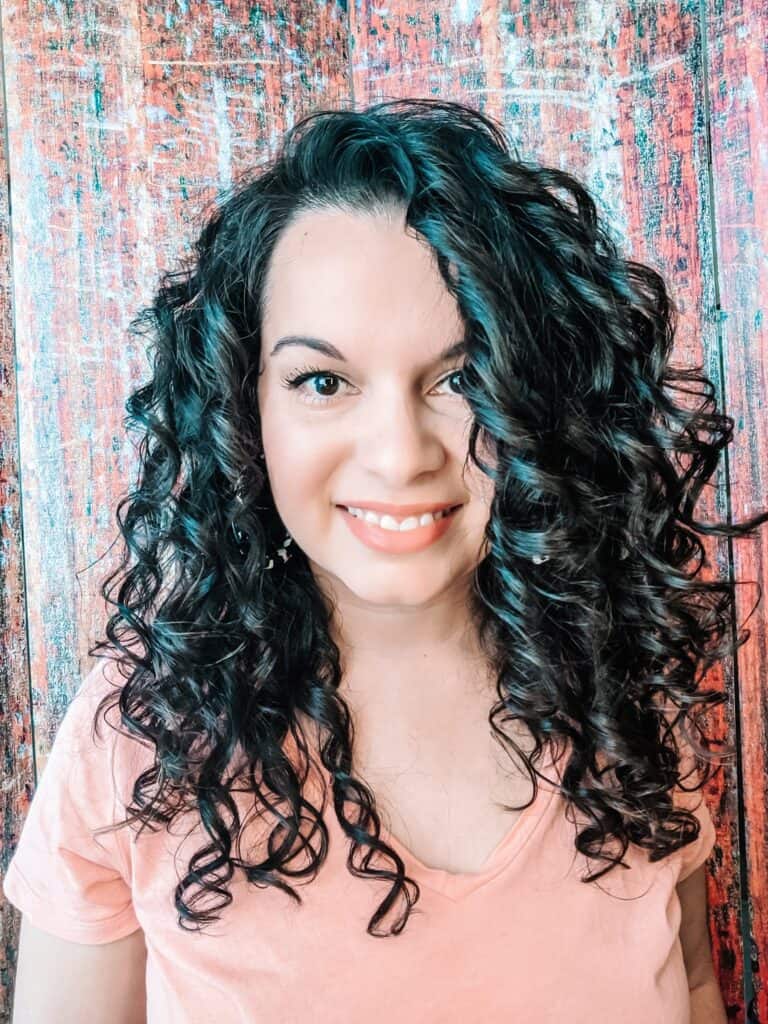 Here is a breakdown of my routine:
Shampoo with EVOLVh InstaVolume. I leave it in for a few minutes while I soap up. Rinse it out completely.
Spray the EVOLVh InstaVolume elixir liberally all over my hair. I try not to get much near the roots and focus more on the ends. I flip my hair and spray the underside as well. I let it sit a bit then squish in a little bit of water. Then I finger detangle with my head upside down.
Rake in a pea sized amount of the TreLuxe ReFlex serum. Shake and scrunch a little.
Rake in a nickel sized amount of EVOLVh Total Control Styling Creme. Shake and scrunch all over, flipping my head to the sides to ensure the curls fall naturally and avoid wonky sections. Scrunch in a pea sized amount of the styling creme to set the ends.
Microplop with my hair towel.
Wait a few minutes then pixie diffuse.
You can watch my full styling routine below.
And for the next day, I love using EVOLVH's UltraFlex hair spray along with some dry shampoo to add back in some volume. I use it if I'll be spending some time outside to help hold my style and whenever I decide to refresh my hair a bit.
I'd love to hear if this routine works for anyone else. I know some of you who follow me on Instagram have seen my amazing results a few times, went ahead and ordered the InstaVolume line and have loved it as well.
---
If you want help with embracing your naturally wavy or curly hair, you can join my FREE email course and download my FREE pdf guide, THE QUICK START GUIDE TO MASTERING YOUR CURLS, full of everything you need to know to get started and bring out your beautiful waves and curls.
You can also read my other popular posts on curly hair:
Want to remember this? Save Curly Hair Routine For Volume For Thin Curly Hair to your favorite Pinterest board.