Tips For Curly Hair In Summer
This post may contain affiliate links, and I will earn a commission if you purchase through these links. Please read the disclosure policy for more details.
Summer seems to be everyone's favorite season, but for those of us with curly hair, it can bring some confusion and difficulties. As the warm weather sets in, seasonal challenges like humidity and heat can affect the overall health of your curls. Because of this, you might have to make some changes to your curly hair routine for the summer.
In this article, you'll discover some wonderful summer curly hair care tips, from protecting your locks against the sun to mastering a foolproof styling method. These curly hair tips for summer will help you have gorgeous and healthy curls all summer long!
Beat the Humidity
How many times have you styled your hair, walked outside in the humidity, and within minute it just fluffs and falls out?
The reason your hair frizzes in the humidity has to do with hold and humectants. Humectants are ingredients that attract moisture, and when the air is humid there is a lot more moisture that humectants end up attracting to your hair.
Many people avoid humectants in their styling product during the summer to deal with this. It's an easy fix that won't involve a bunch of experimenting. But I suggest you avoid humectants if they are in the top 5 ingredients AND there aren't any humidity-resistant and anti-humectant ingredients.
Sealants and humidity-resistant ingredients can help smooth and protect your curls in the summer heat. Look for products containing ingredients like polyquats, oils, butters, or silicones that create a barrier between your hair and the environment, locking in moisture and preventing frizz. Just be careful if your hair requires lighter products.
Adding a finishing hairspray with humidity blocking ingredients is an excellent way to protect against the effects of humidity.
Reduce the Moisture in Your Routine (if the humidity is high)
If you live in a high-humidity area, it's essential to balance the moisture in your hair. Overly moisturized hair can become frizzy and unmanageable.
Consider using lightweight hydrating products like a leave-in conditioner instead of a cream to keep your curls hydrated without weighing them down.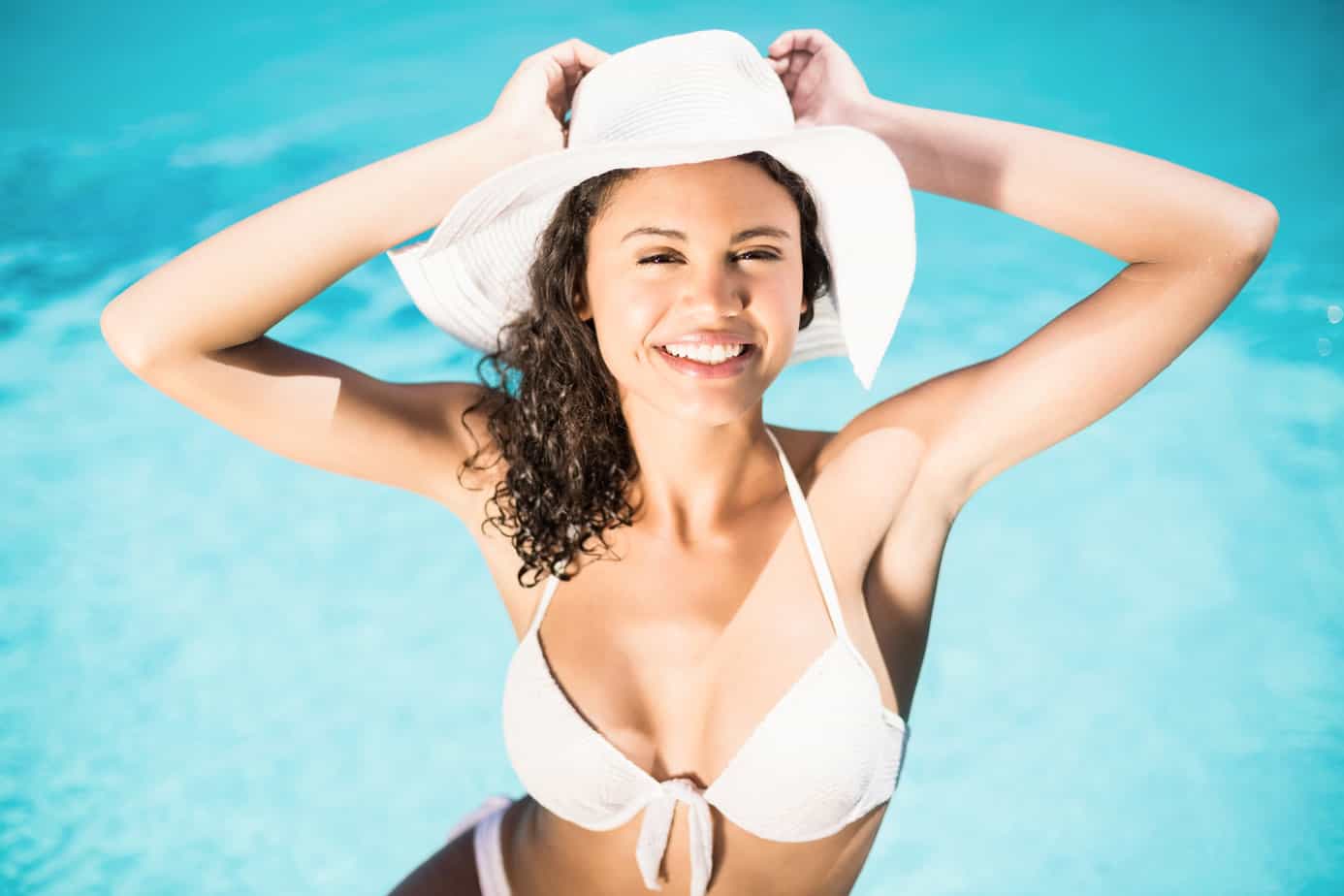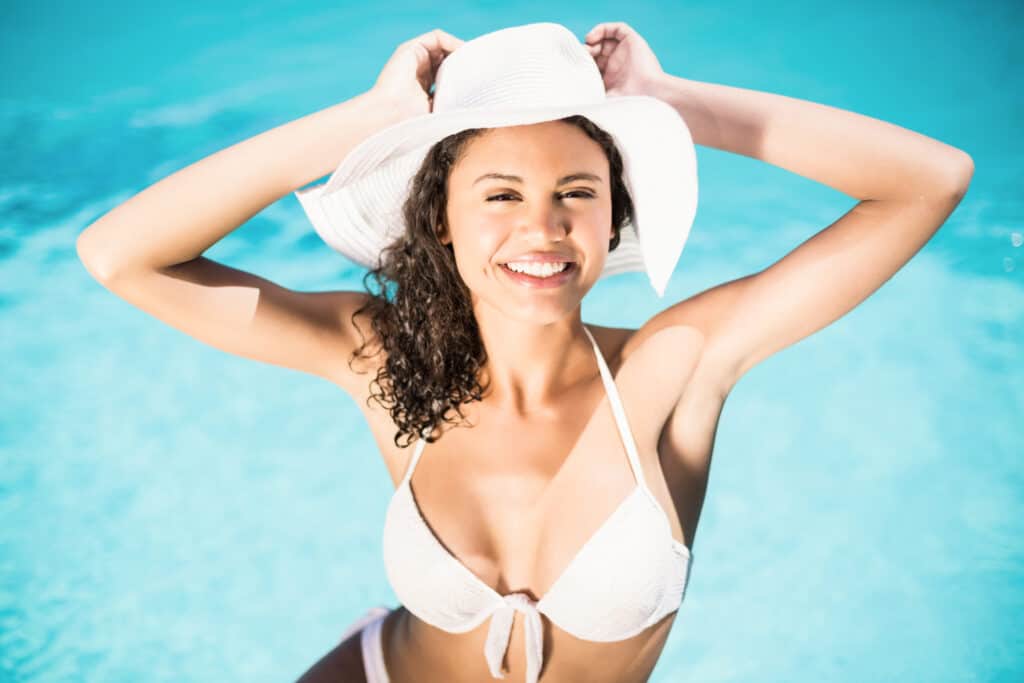 Use Sun Protection
Your curly hair needs protection from the sun's harmful UV rays. Make sure to use SPF on your hair just like you do for your skin. This helps prevent damage to both the inside and outside of your hair strands. There are even products made to protect your scalp in the sun, something which most of us forget about as we slather SPF cream on our face and body.
You could also use a hat or scarf to cover your hair and protect it against the sun's rays.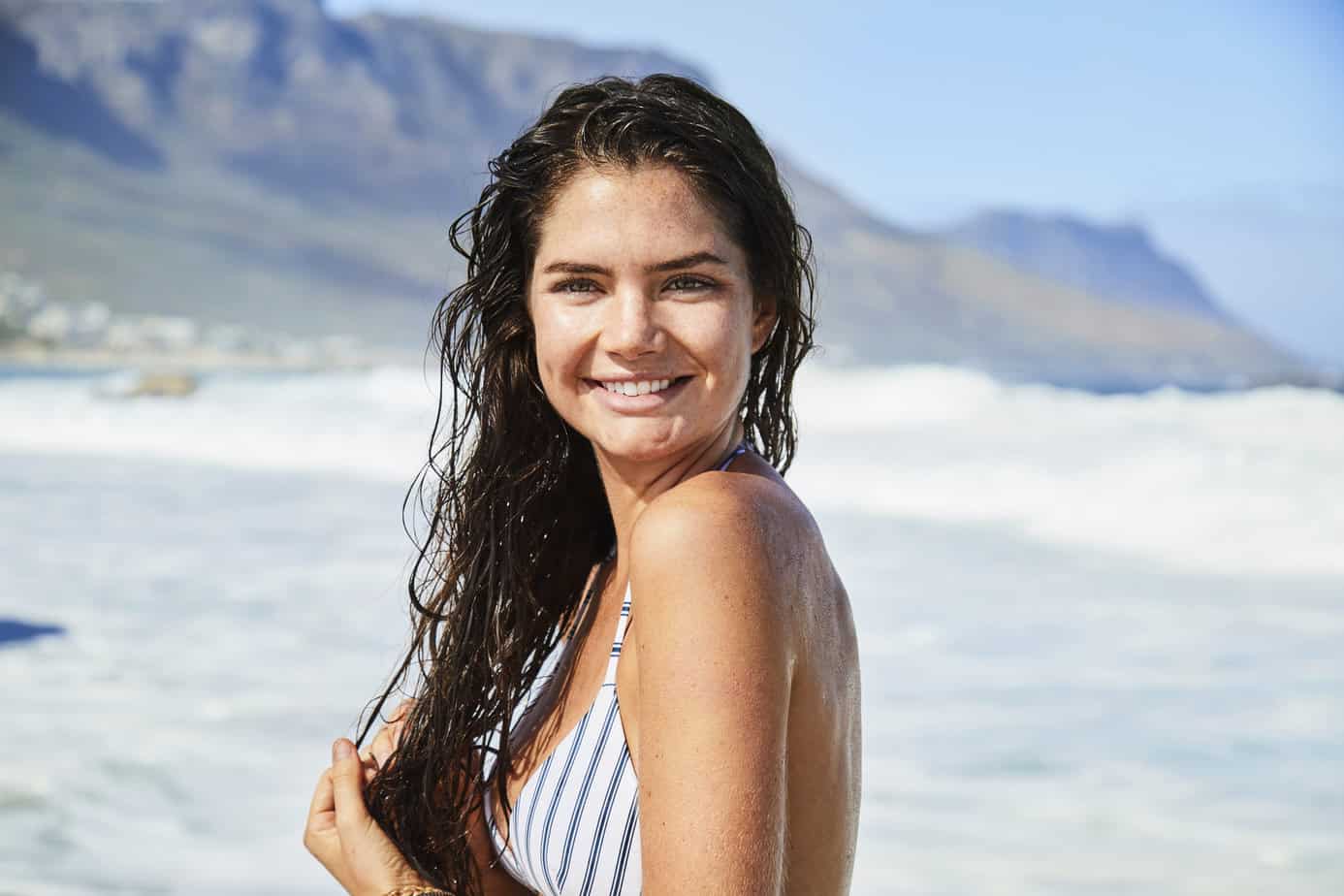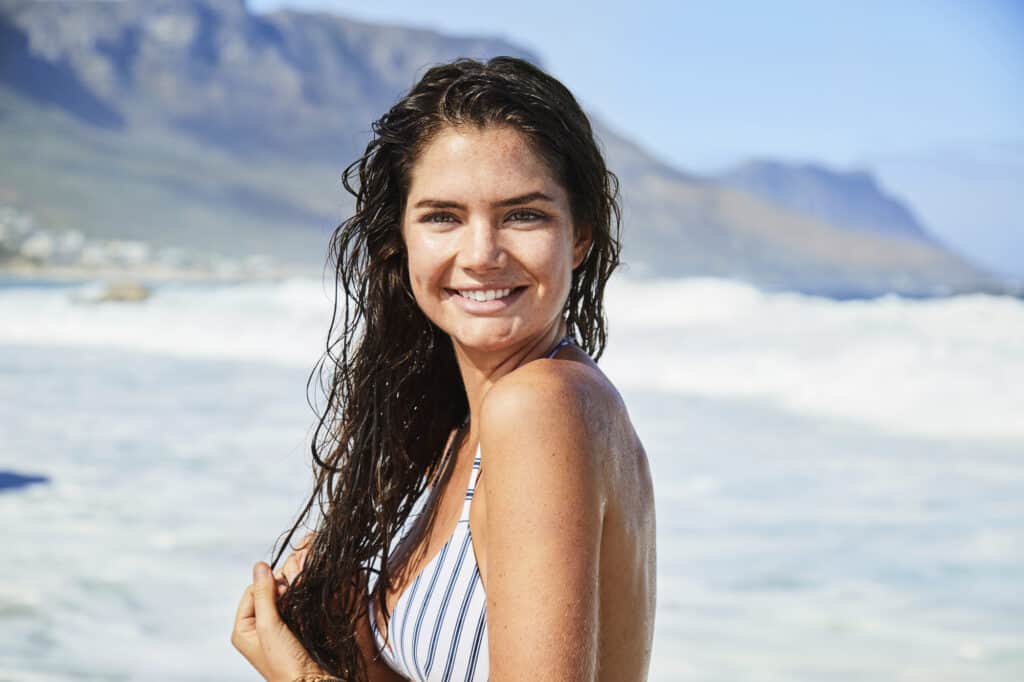 Protect Your Hair When Swimming
Before taking a dip in the pool or ocean, make sure you protect your curls from chlorine and saltwater. Wet your hair with clean water and apply a leave-in conditioner or hair mask to keep your hair hydrated.
Braiding or putting hair up in a bun is a great option to prevent tangles while swimming. I do this to my daughter's hair after wetting it and applying some leave-in.
Additionally, you can cover your hair with a swim cap or scarf to keep it safe from chemicals and harsh elements while swimming.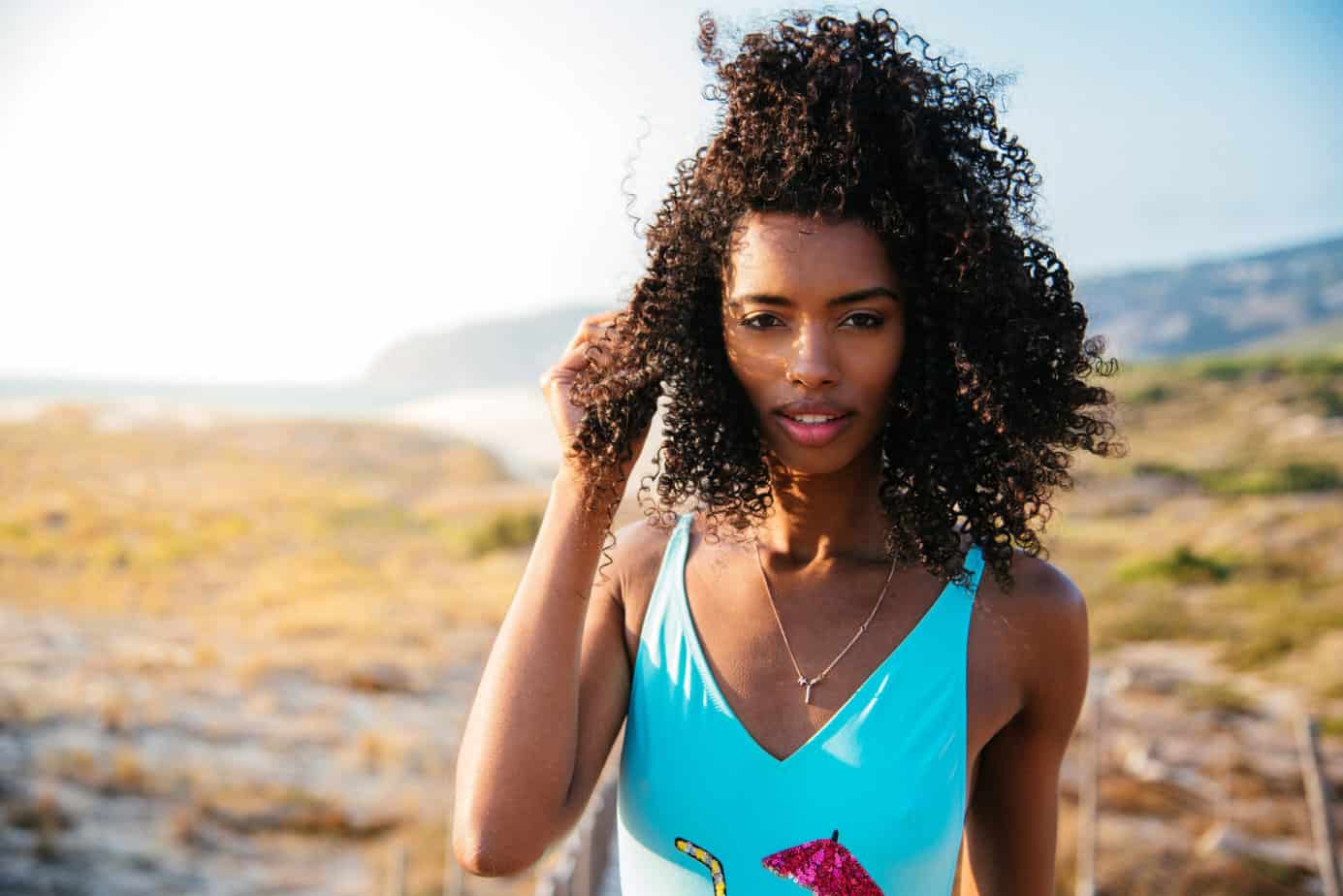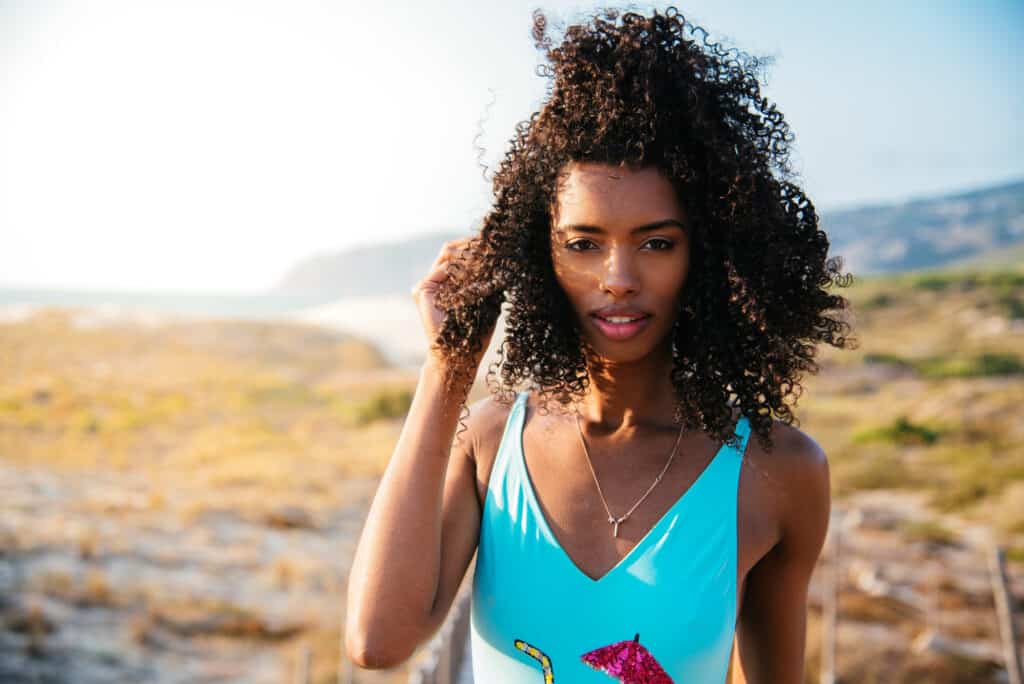 Ensure Your Routine Has Protein
If you're spending time outdoors or swimming, it's really important to include protein in your routine.
Protein is essential to maintaining healthy curls, so include protein-rich products in your summer hair care routine. Protein strengthens the hair, reduces frizz, and helps keep hair hydrated.
Look for conditioners, leave-ins, and hair masks containing hydrolyzed proteins, which can help strengthen and protect your curls.
Increase The Hold In Your Styling Products
In hot and humid summer months, your curls may need extra hold to maintain their shape. Opt for styling products with stronger hold, such as gels, sprays, or mousses, to help your curls stay put in high humidity.
Hard hold ingredients include a variety of polymers: PVP/VA, polyacrylates, some polyquats, and polyamide. Look for products that contain a combination of a few of these closer to the top of the ingredients list.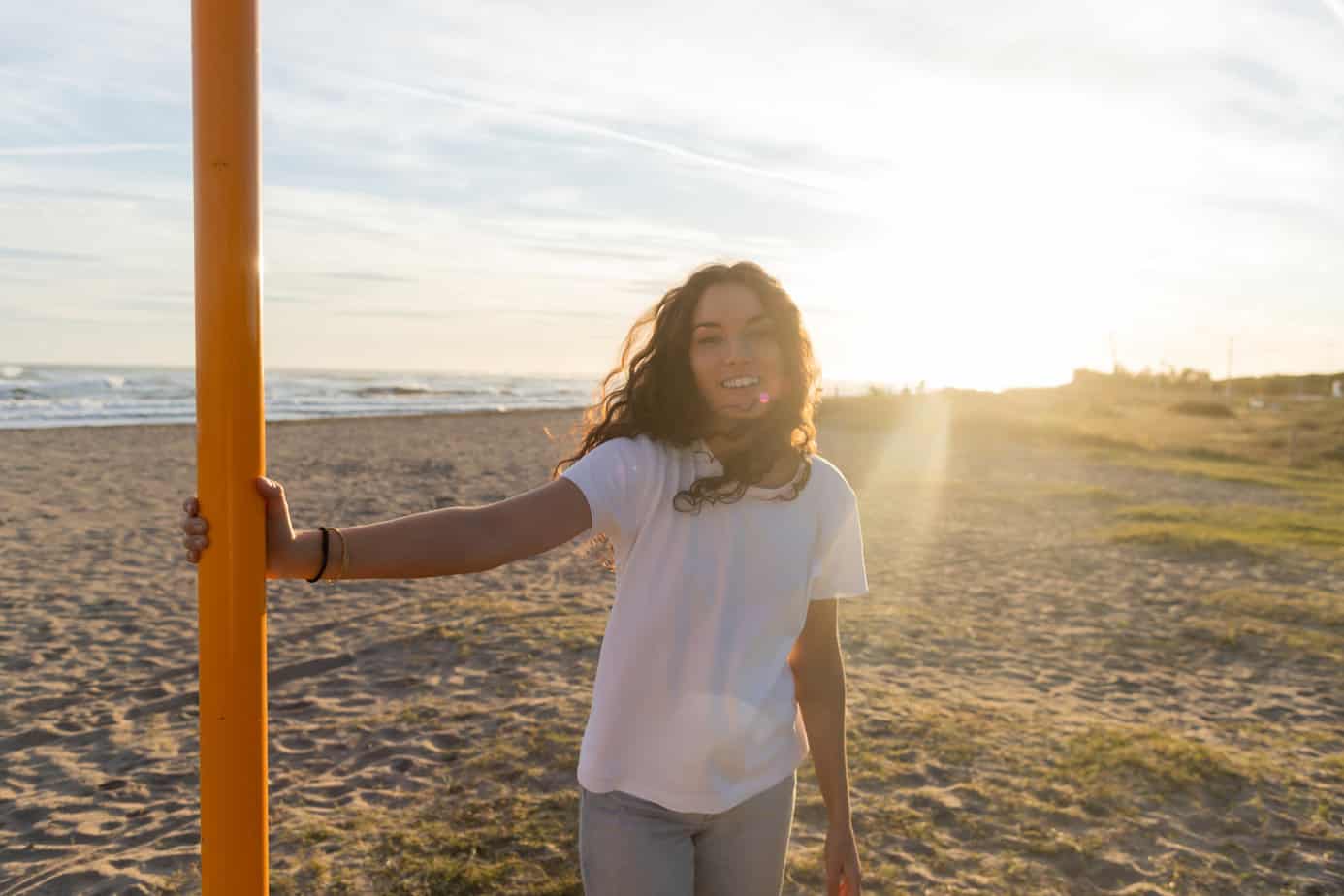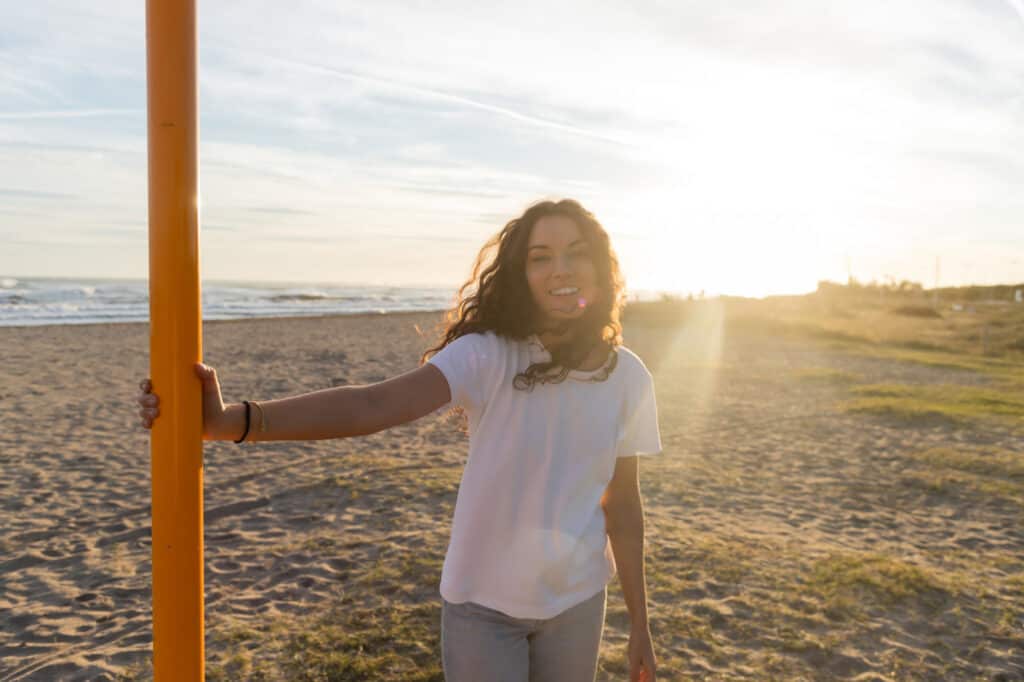 Clarify & Deep Condition Regularly
Not that this is specific to summer, since you should be clarifying on a regular basis anyway.
But summer activities can expose your curls to sweat, chlorine, and saltwater, which may cause buildup and damage. Regularly clarify your hair to remove these impurities and follow up with a deep conditioning treatment or hair mask to restore hydration and health to your curls.
Top Pick
We earn a commission if you make a purchase, at no additional cost to you.
A chelating or chlorine removing shampoo are great for those who spend a lot of time in the water.
Follow up with a good deep conditioner to ensure your curls stay hydrated and healthy.
We earn a commission if you make a purchase, at no additional cost to you.
Summer Curly Hair Routine
Below is my go-to summer curly hair routine. It's simple with only 3-4 products: shampoo, conditioner, gel, and an optional finishing serum. You could use a hard hold spray as the finishing products for extra hold and humidity protection.
Bottom Line
If you have curly hair, summer can be a challenging time to keep your locks looking their best. But with the right care and attention, you can enjoy beachy waves and springy curls all season long.
From using hard hold gels to deep conditioning masks, there are many tips and tricks you can try to keep frizz at bay and enhance your natural curls. So don't let the heat and humidity get you down! With these summer curly hair care tips, you can rock your curls with confidence all summer long.