How To Care For Low Density & Fine Curly Hair
This post may contain affiliate links, and I will earn a commission if you purchase through these links. Please read the disclosure policy for more details.
One of the biggest issues I had when I started my curly girl journey was finding products and styling methods that actually worked for my fine curly hair that is also low density.
I even pleaded to the stylist that gave me a Deva cut about my struggles with volume and she basically told me unless I was willing to lose A LOT of length, there really wasn't much I could do in that area. My hair is too fine and thin.
So I have now been following the curly girl method for over 3 years and wearing my hair curly for even longer and I've figured out that my hair likes and dislikes, and the best methods that work with and not against my fine curly hair.
What is fine curly hair?
Fine hair is smaller in diameter than coarse hair, meaning the individual strand of hair is thinner. Hair being fine has nothing to do with how much hair you have (aka the number of strands). You can have a lot of fine hair, very little fine hair, or be in between.
In addition, fine curly hair is also very fragile when compared to other curl patterns because the strands themselves are so thin, which makes them even more susceptible to damage or breakage from dyes, flat irons or blow drying.
Because a fine curl will not hold as much moisture as a thick curl, it needs to be treated differently in order to maintain luster and manageability.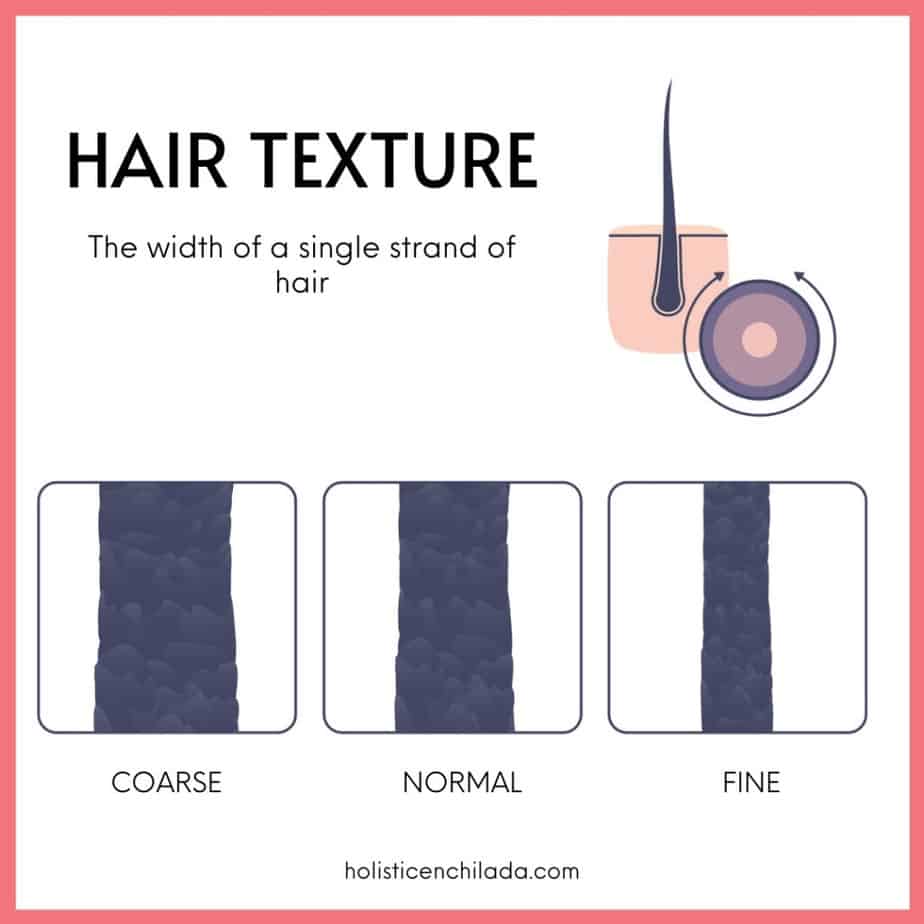 What is low density curly hair?
Low density hair is where your hair strands are spread very far apart from each other and you can more easily see the scalp. You can have fine, medium, or coarse low density hair.
Anything that has a low density will have an easier time being affected by the factors in your day to day life, such as weather conditions, and air, because they're more prone to not having enough support or protection from the elements.
Low density hair typically struggles with volume. Low density curls are also called thin curls.
So low density fine curly hair means each individual strand is thin and there aren't many strands on your head.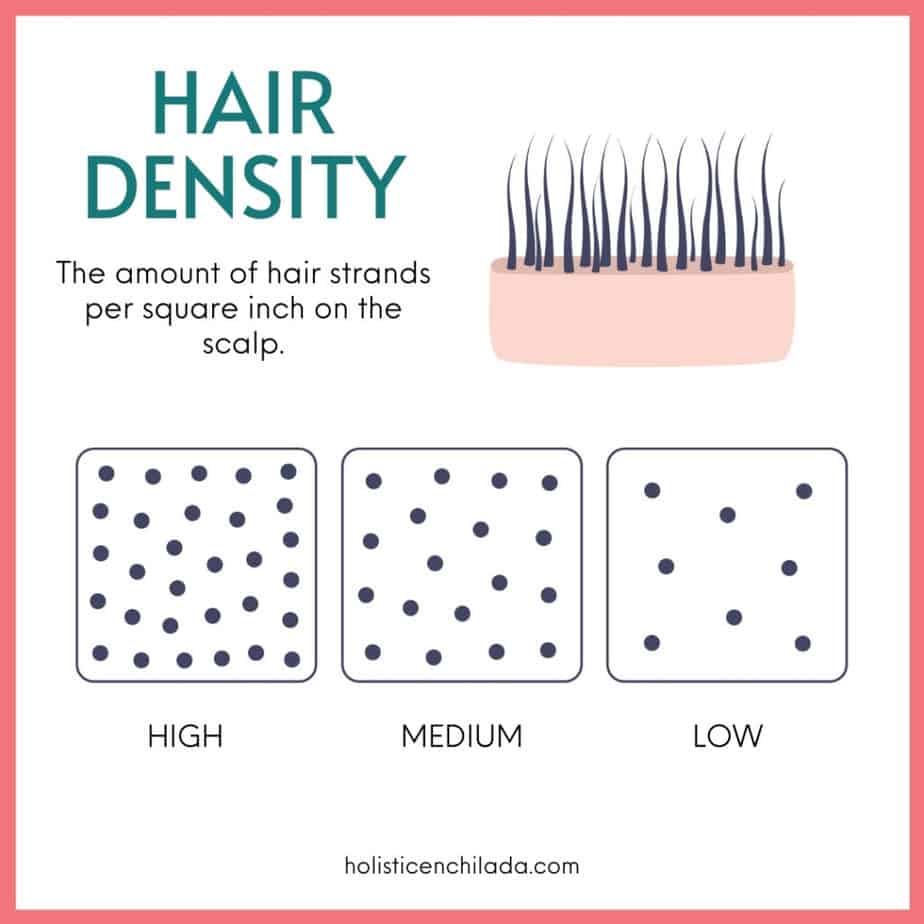 Product tips for fine curly hair
Here are my top tips for using products on low density or fine curly hair:
Use Lightweight Products
First up is the product issue. Although my hair is more curly than wavy, it behaves more like wavy hair. It prefers really lightweight products, shampoo, and a very small amount of styling product.
Lightweight products have less moisture and will not weigh down the hair as much. These products will define and hold the curls without all the heaviness.
So I stay away from heavy products with butters and oils like curl creams and heavy lines.
Use 1 Styling Product
I see lots of other curlies slathering on the leave in, creams, mousses, and gels and there is no way that my hair could handle all that. I even recently experimented with using a volumizing mousse and a gel to see if that would help but it was a total flop. My hair was heavy with product, dull, and got greasy very quickly.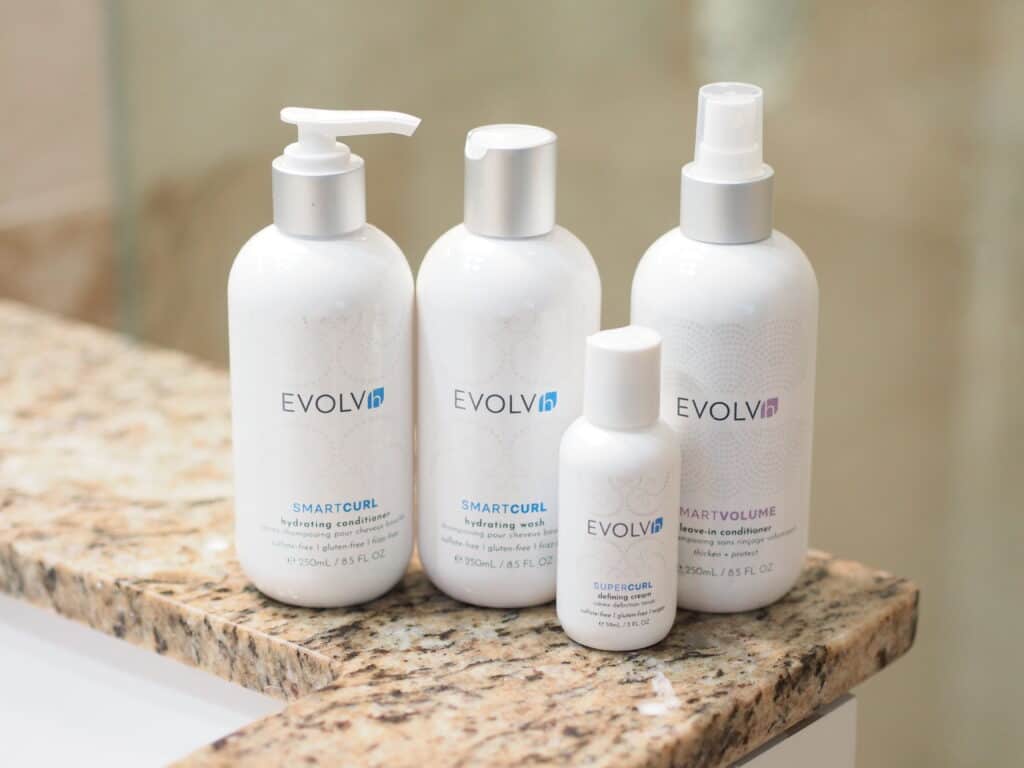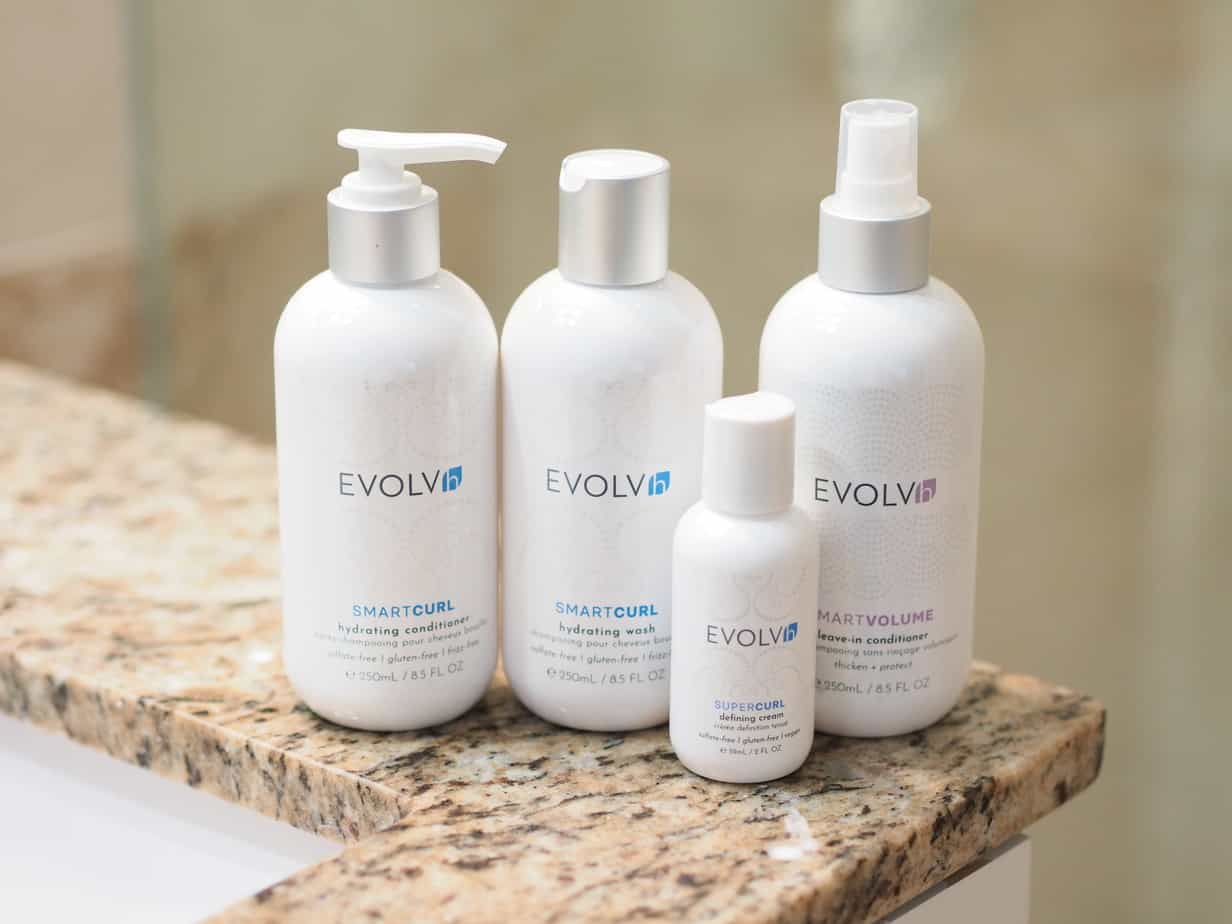 The two times I have had a Deva cut both stylists used only 1 product on my hair. The first time it was the Devacurl Volumizing Foam, and the second time it was the Ouidad Climate Control Gel.
I have always only styled with 1 product out of pure laziness, and because quite honestly my hair always looked fine with only 1 product. If it works, I don't really mess with it.
But thinking back on the discussions I had with the stylists, I see now that because my hair is so thin they did not want to layer it with products because it would weigh it down.
Use Less Conditioner
When I use conditioner, including leave-in, I don't use a lot. I emulsify a small amount in my hands and spread it over the length of my hair while it's wet, then let it sit for a few minutes.
The key to making this work is emulsifying the conditioner in my hands first. Just rub it for a minute or so and it will cream up and transform into more product on your hands.
It's also a good idea to squish to condish to really help lock in the moisture, reduce frizz, and help with tangles.
Use Volumizing Products
I also use products that add volume, like a volumizing foam or conditioner.
Deep Condition on Dirty Hair
One other thing I noticed was that whenever I deep conditioned, my hair felt so soft and almost wispy. Like it was too much moisture. It would be smooth and shiny but lose its curl quickly and get frizzy.
So I tried deep conditioning on dirty hair and that was the ticket. On wash day, I wet my hair then apply the deep conditioner. I proceed with my shower and once done I rinse out the conditioner. Then I shampoo, conditioner, and style as usual. This method seems to help my hair not to absorb too much moisture. I also only do this one every month or two. (This method is also known as pre poo).
Use Low Poo & Clarify
My hair is also high porosity, meaning it absorbs things easily. Products and moisture build up and weigh it down making it dull. Because of this, I need to always use a low poo shampoo and clarify often.
Low poo shampoo ensures I don't have too much moisture in my hair. The clarifying helps with the buildup to bring back bounce, softness, and shine after some time.
Try Protein Treatments
In addition to monthly deep conditioning, I do protein treatments. Protein treatments help my curl keep its shape, volume, and shine.
Fine hair often needs protein to strengthen the strands and prevent breakage. It also helps bulk up your hair and make it feel and look thicker.
And because I know you will ask, I'll list my favorite products in each category:
Shampoo:
Conditioner:
Stylers:
I also have a whole post dedicated to my favorite products which you can read here.
If you need more help in choosing specific products based on your hair type, check out my product finder, the Curly Product Handbook.
This guide will show you how to identify your hair type and characteristics, provide some styling tips, and list exact products that will work on your hair type. Click here for more info.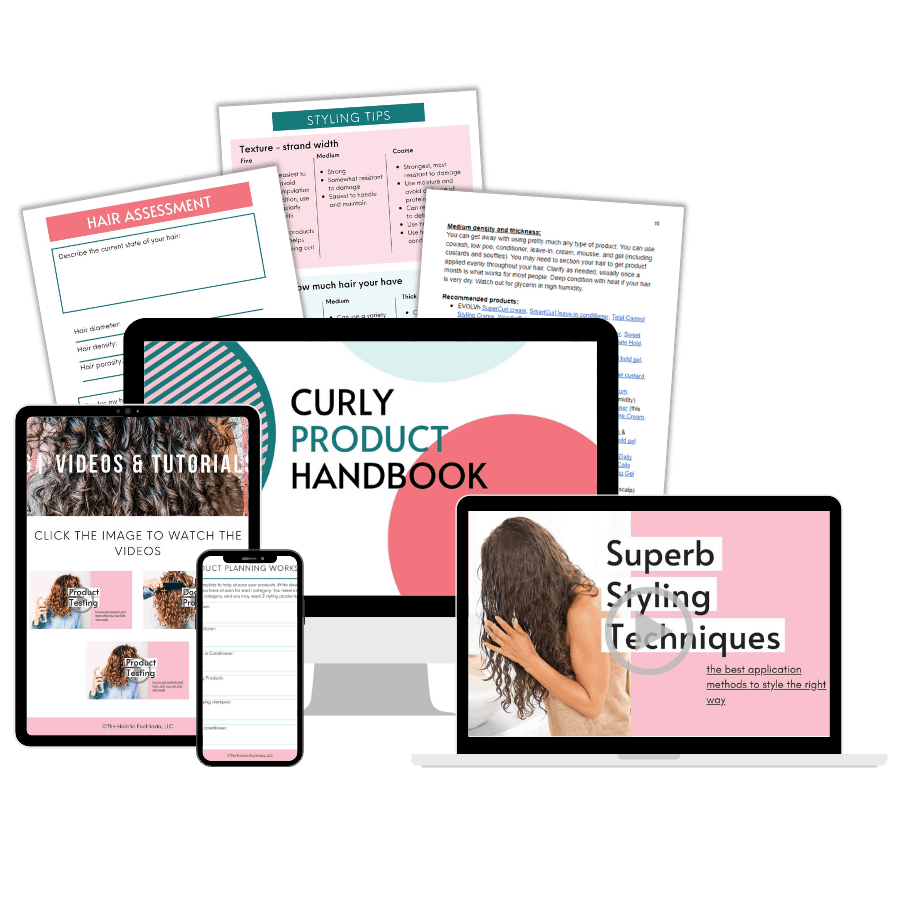 Styling Tips for low Density or Fine Curly Hair
Aside from using products that give me volume and don't weigh down my hair, I have some tricks to help my hair look fuller.
Don't apply styling products near the roots.
Style in a way that pulls hair away from the scalp, like upside down or sideways.
Don't let your hair clumps get too big while styling.
Squeeze out as much water as you can with your hair towel.
Gently flip your hair to the side and forward while drying to lock the lift in the roots away from the scalp.
Use dry shampoo after wash day.
Put your hair up in a buff at night.
Fluff your hair with your fingers or a comb/pick.
Scrunch out the crunch soon after your hair has dried.
Flip your part every day.
Some of these are pretty obvious but I will expand on a few. If you need visuals watch the YouTube video.
I never apply products near my roots. You can see in my wash day and styling videos I apply products, including conditioner, from the ears down. I then scrunch up and get some product in the root area but it's never applied directly. This helps to not weigh it down.
I also make sure not to let my clumps get too big when I'm applying products. Big clumps mean the hair condenses into a smaller area so it will look flatter. Instead split them into smaller clumps for a fuller look.
I squeeze out as much water as I can with my hair towel. I microplop, which you can see in the video above. I do this until my hair is no longer dripping to help reduce the weight the water puts on my hair.
Using a hair buff and dry shampoo also helps lengthen wash day and hide my scalp since the root area doesn't get greasy and flat as quickly.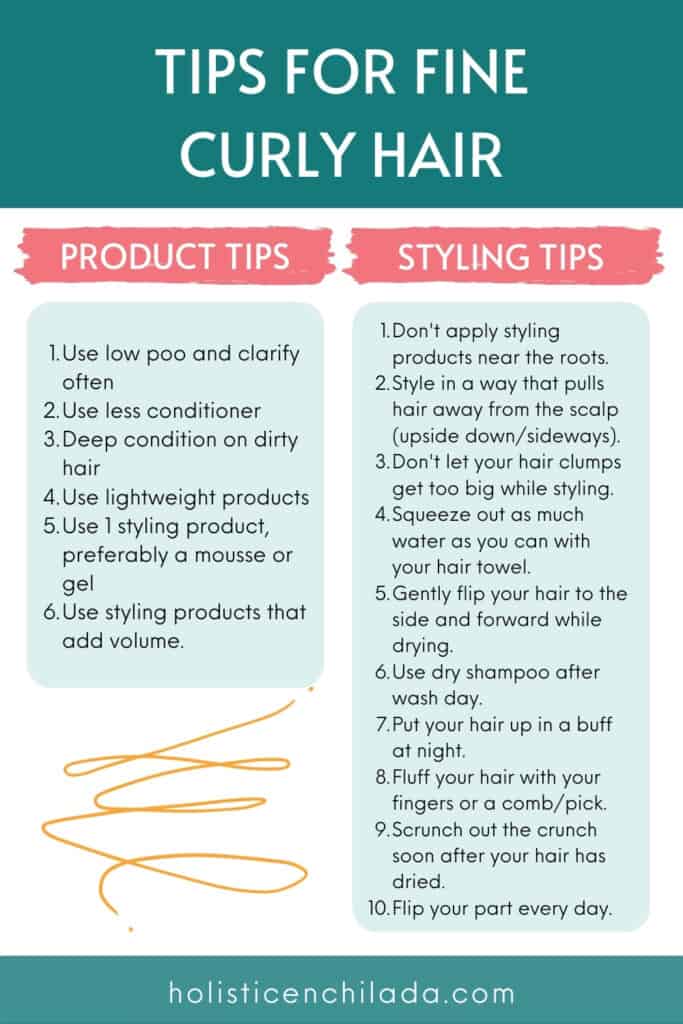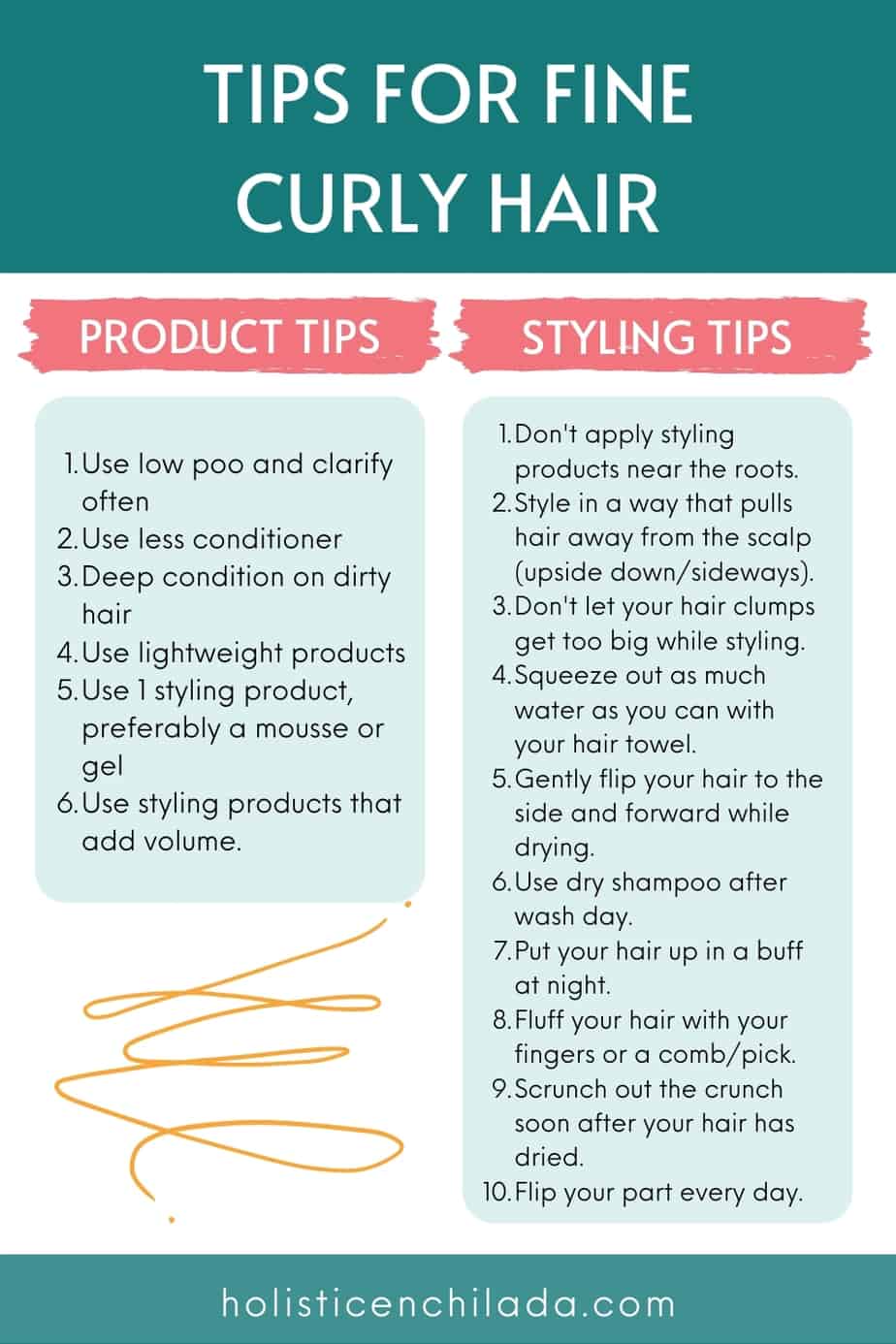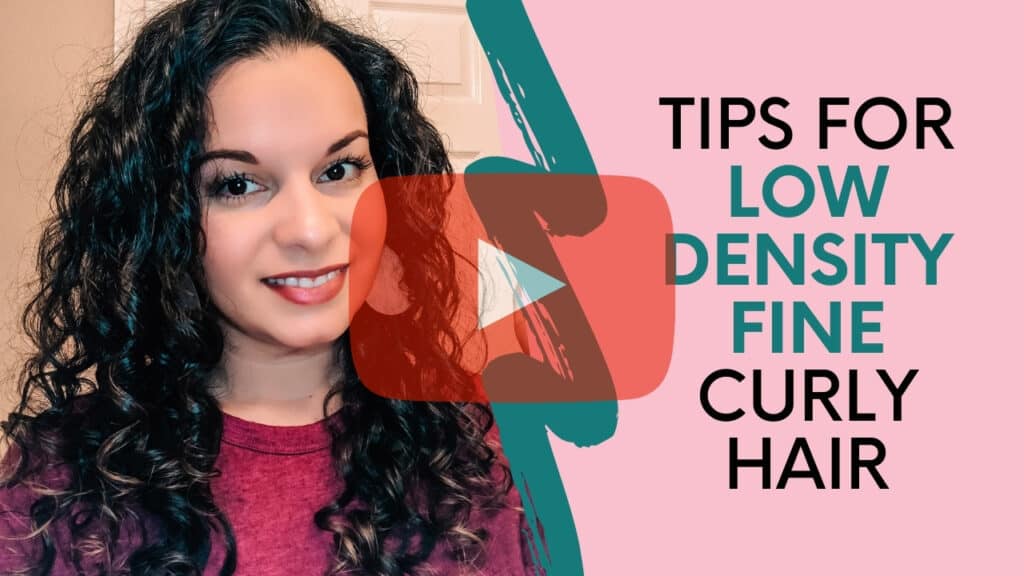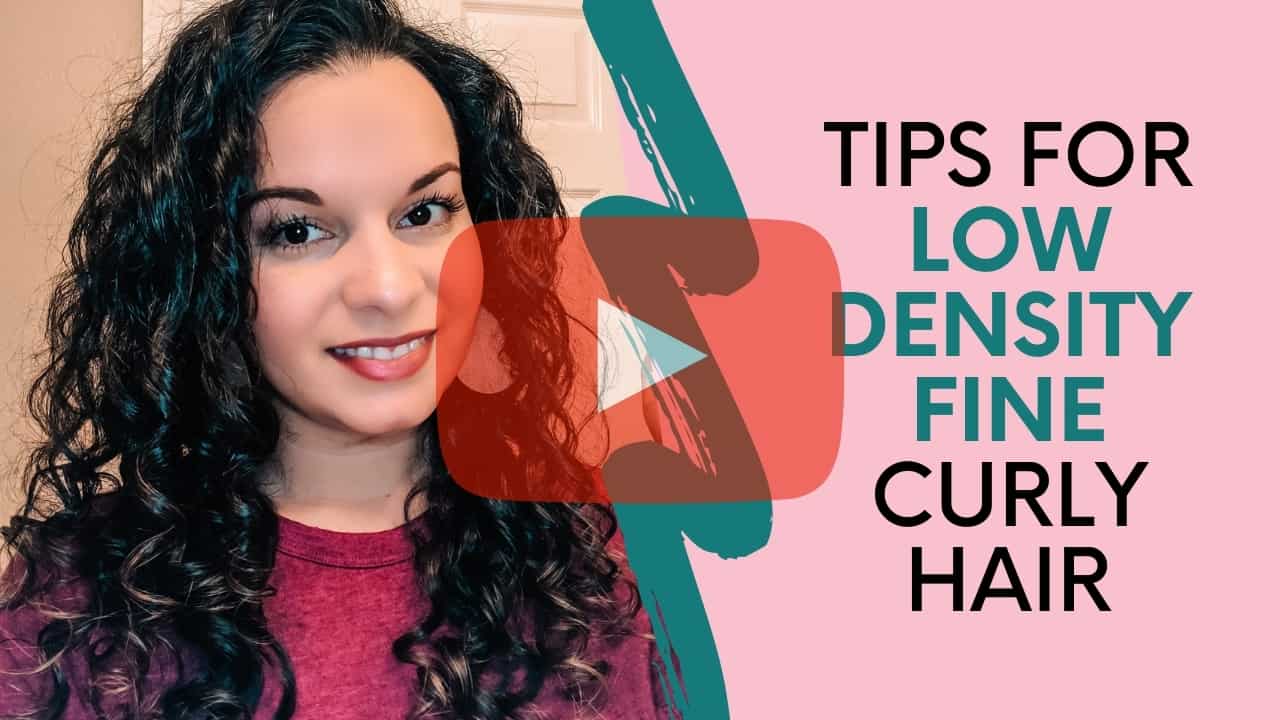 If you want help with embracing your naturally wavy or curly hair, you can join my FREE email course and download my FREE pdf guide, THE QUICK START GUIDE TO MASTERING YOUR CURLS, full of everything you need to know to get started and bring out your beautiful waves and curls.
Posts On Fine Curly Hair Care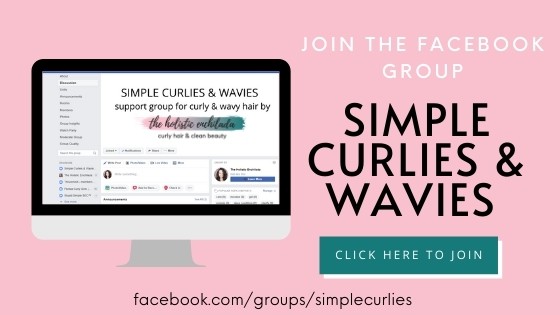 Want to remember this? Save Tips For Low Density & Fine Curly Hair to your favorite Pinterest board.