Curlsmith Strength Line Review for Fine Curly Hair
This post may contain affiliate links, and I will earn a commission if you purchase through these links. Please read the disclosure policy for more details.
If you're curious about how the Curlsmith Strength Line performs on fine curly hair, then this Curlsmith review is for you.
I have used these Curlsmith products on and off for over a year. I typically struggle with other Curlsmith products since they seem to be moisture heavy. My fine, low density, medium to high porosity hair does best with minimal moisture and loves protein. I prefer a simple routine and my typical routine is shampoo, conditioner, and gel.
This Curlsmith review goes over how these products worked on my hair along with my recommendations for similar and other hair types.
*Disclaimer – All products were gifted by Curlsmith. I tested these products for over a year before sharing my experience and recommendations in this post.
Curlsmith Strength Line Review
Curlsmith products are all vegan, cruelty-free, and curly girl friendly. They are currently in the process of becoming B-Corp certified. Their products are all free of sulfates, parabens, silicones, and mineral oil.
They do offer a few different lines, but this review is specifically for their Strength Recipes. You can identify products from their strength line by the purple on the label.
Is CurlSmith a clean brand?
The answer to this depends on how clean you want your products to be. Most of their ingredients are great and would be considered clean.
The biggest issue is the fragrance. Although they say they are phthalate free, the fragrance is still very strong and synthetic.
As far as their other synthetic ingredients, like copolymers, these are needed for hold and humidity protection. I don't see it used where it isn't needed.
So overall, I would say that yes the yare clean except for the fragrance.
*Note: Curlsmith has recently come out with a fragrance-free line, but it's not related to the Strength line.
Curlsmith Strength Recipe
The Strength Recipes are a line of Curlsmith products that contain protein. None of Curlsmith's other lines contain protein, so this one is more balanced.
However, I would not consider this line to be protein rich. While the products do contain protein, they are not full of lots of protein. If you look at the ingredient lists of these products you will find one or two proteins listed halfway down the list which indicates a small amount of protein.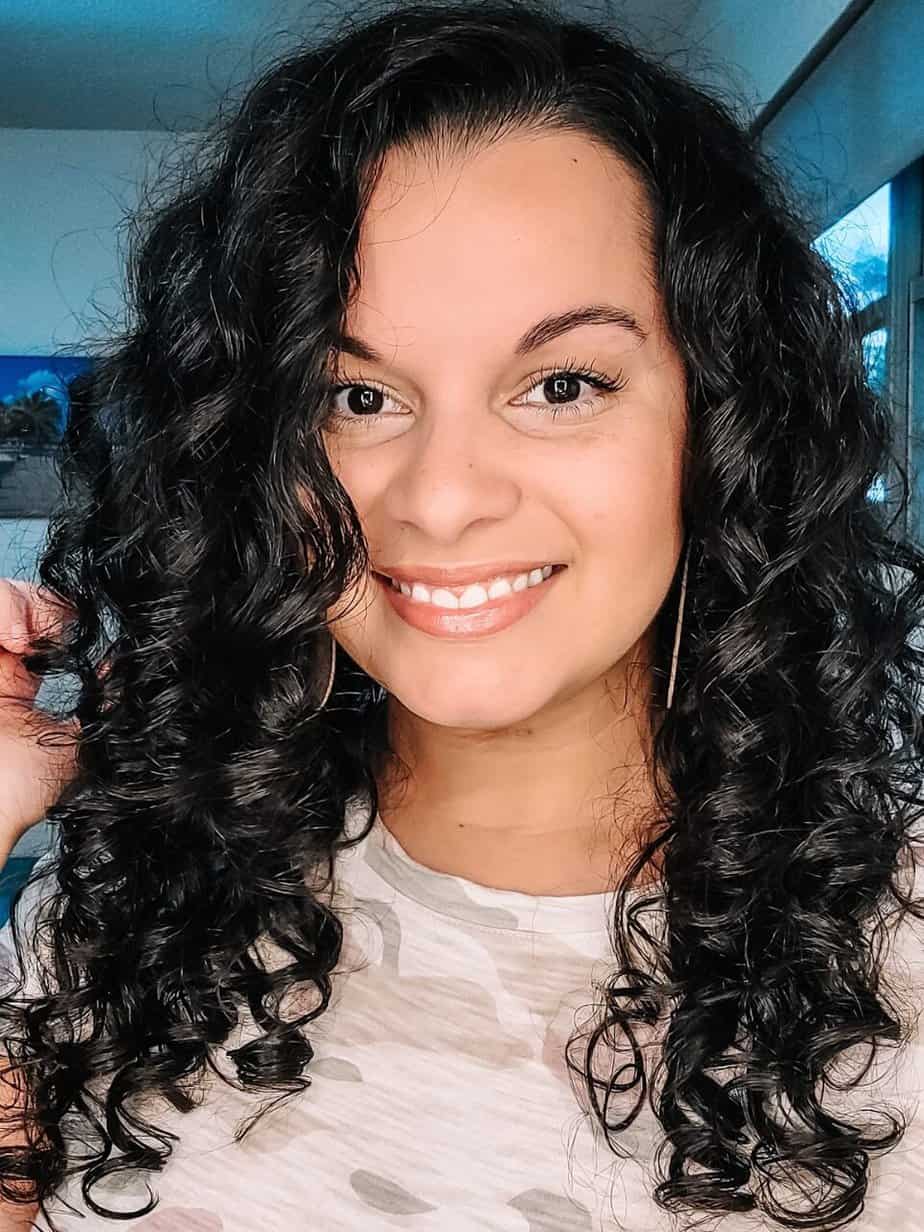 Pros & Cons
What did I love about this line?
It seems to be balanced well so that it doesn't really weigh down my hair. It's hard to find a curly hair product line that isn't all about moisture and this one has a good balance and is mostly lightweight.
I also loved that most of their products are pretty concentrated. With the exception of the shampoo, I used about the same amount as I do from other high end lines which means I won't run through these bottles quickly.
What did I not like about this line?
Mainly, the scent. Every product has the same scent and it is just so strong and lasts for days. When I used any of these products the scent would fill up the bathroom, hallway, and rooms nearby. That's how strong they are!
I also did not like the shampoo. I found that it just was not strong enough.
Another thing I did not like is that the foam left my hair feeling like it was full of product if I used too much. I really had to be careful with the amount.
My main gripe with Curlsmith products is that they tend to cause buildup on my hair over time. So although they aren't heavy and don't lead to over-conditioned hair, I find I need to clarify more often because my hair gets yucky and weighed down after a few uses.
In looking at the ingredients I am not quite sure why this happens, because I only see a few polymers here and there, and those are what build up over time. So this is a mystery to me.
I actually did a whole YouTube video on reasons I would not recommend Curlsmith.
What Hair Type Would These products Work For?
These products would work best for anyone with hair that gets weighed down easily and needs some protein, especially damaged hair. If needed, you can add a clarifying shampoo once every 2 weeks or so to avoid buildup.
Also, if your hair is "too soft" like mine, these styling products add some grit which is very helpful.
If your hair needs lots of moisture or generally misbehaves with protein, then avoid these.
Core Strength Shampoo
I already mentioned that I did not really like this shampoo. It was just too mild.
I like a shampoo that deep cleans and lathers nicely. I struggled to get this to lather, even when washing twice. I had to use more than usual as well. It just didn't leave my hair clean enough so it wasn't as voluminous as usual.
It was also hard to squeeze the shampoo out of the bottle, which I have found to be the case with all the Curlsmith shampoos I have tried, regardless of the line.
So this shampoo would work for those who need a milder low poo, something that isn't too strong.
Buy the Core Strength Shampoo from Curlsmith, Target, or Amazon.
We earn a commission if you make a purchase, at no additional cost to you.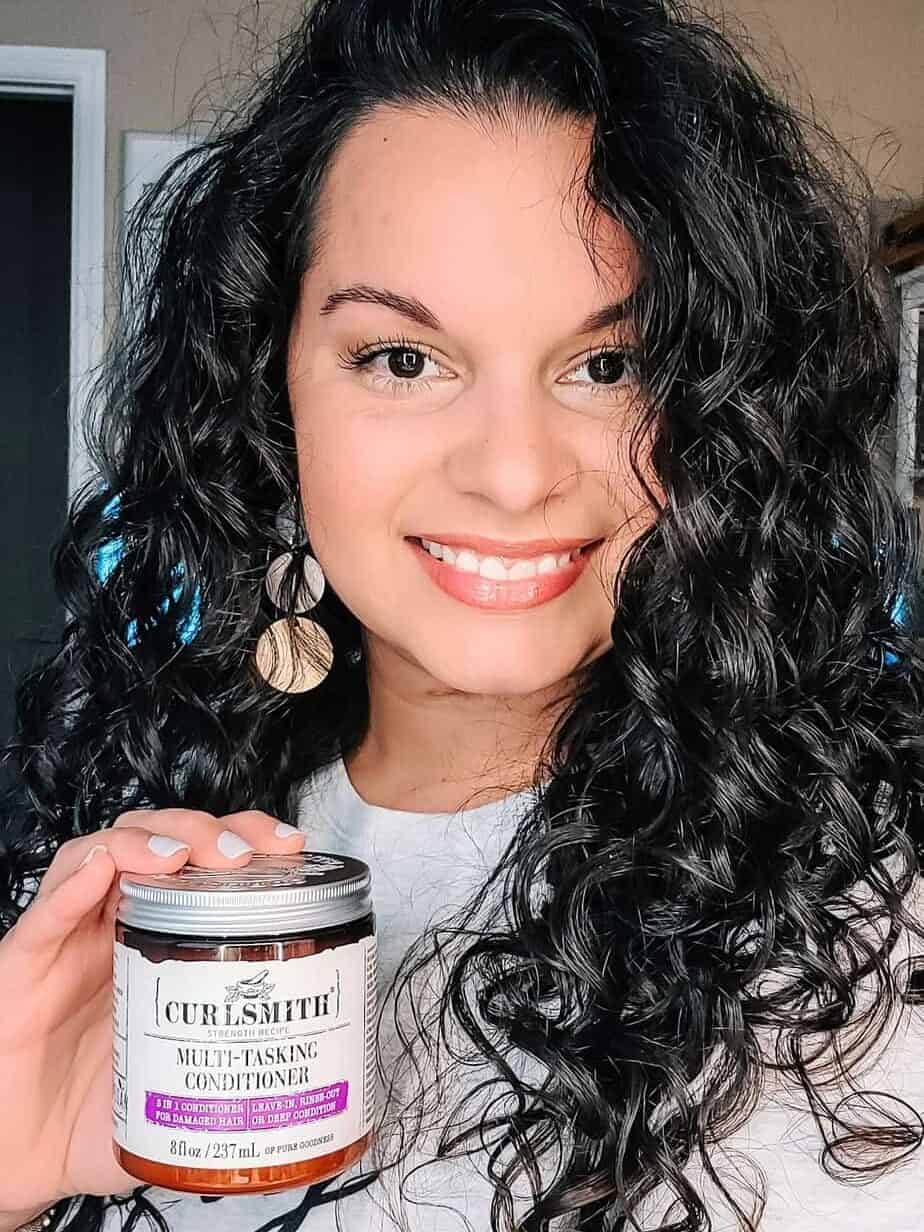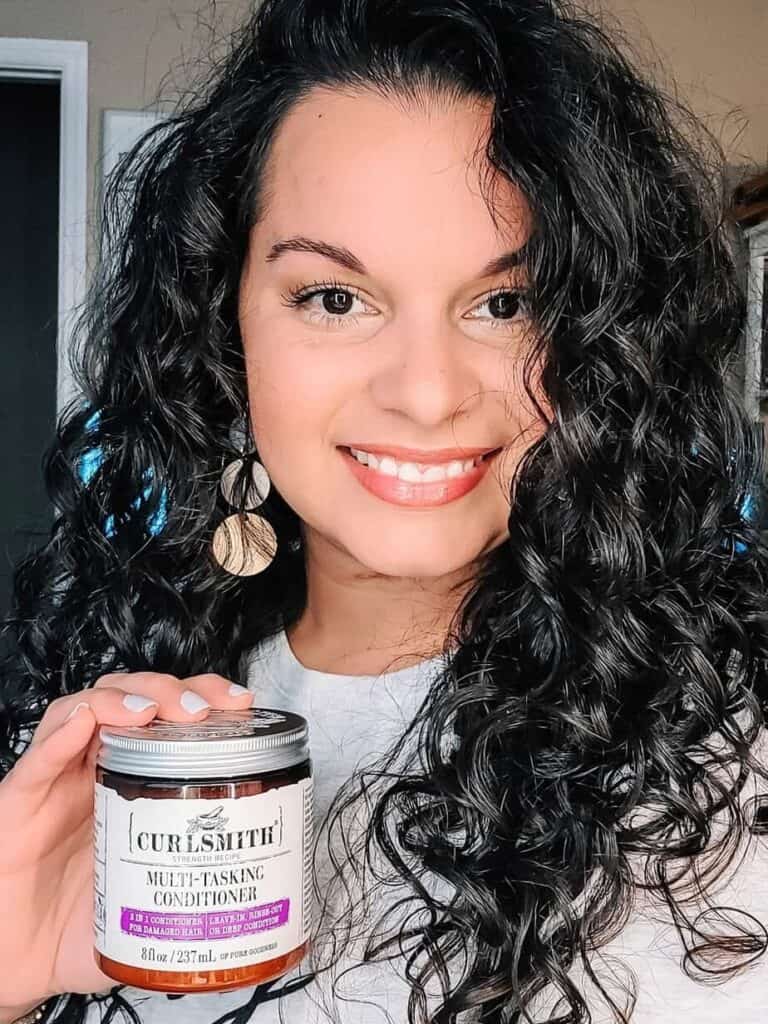 Multi-Tasking Conditioner
This conditioner is really nice. It has a nice creamy texture and is easy to apply. It gives good slip and instantly softens my hair. My daughter fell in love with this conditioner because of the slip it gave to help her detangle.
This conditioner is called 'multi-tasking' because it can be used as a rinse-out, leave-in, or deep conditioner.
In testing it out, I realized I had to rinse it out rather quickly or it would be too moisturizing for my hair. I did not use it as a leave-in since I never use leave-in, but I can see it working well for that.
So while it is lightweight, it wasn't lightweight enough for regular use for me. But, since my hair is moisture averse, this should work fine for most others.
Buy the Curlsmith Multi-tasking Conditioner from Curlsmith, Target, or Amazon.
We earn a commission if you make a purchase, at no additional cost to you.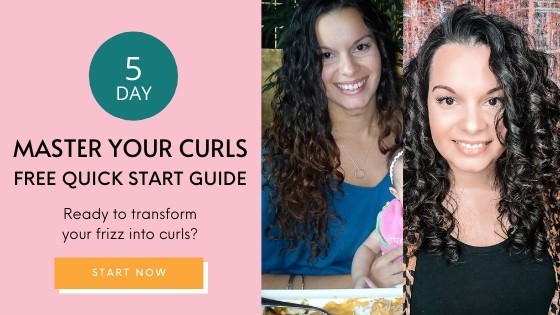 Feather-Light Protein Cream
I typically avoid creams because my hair simply doesn't ever need any extra moisture. But this one proved to be light enough for me to use.
The Feather-Light Protein Cream actually has a decent amount of protein which is probably why it worked so well for me. It's creamy and you don't need much.
In addition to defining hair, it adds some light hold. This cream does well to curb frizz and when paired with a gel should result in a lasting style.
It's a great option for lightweight moisture in humidity. I recommend you use this in place of leave in, unless you deal with dryness, in which case you can layer both.
Buy the Feather-Light Protein Cream from Curlsmith or Amazon.
We earn a commission if you make a purchase, at no additional cost to you.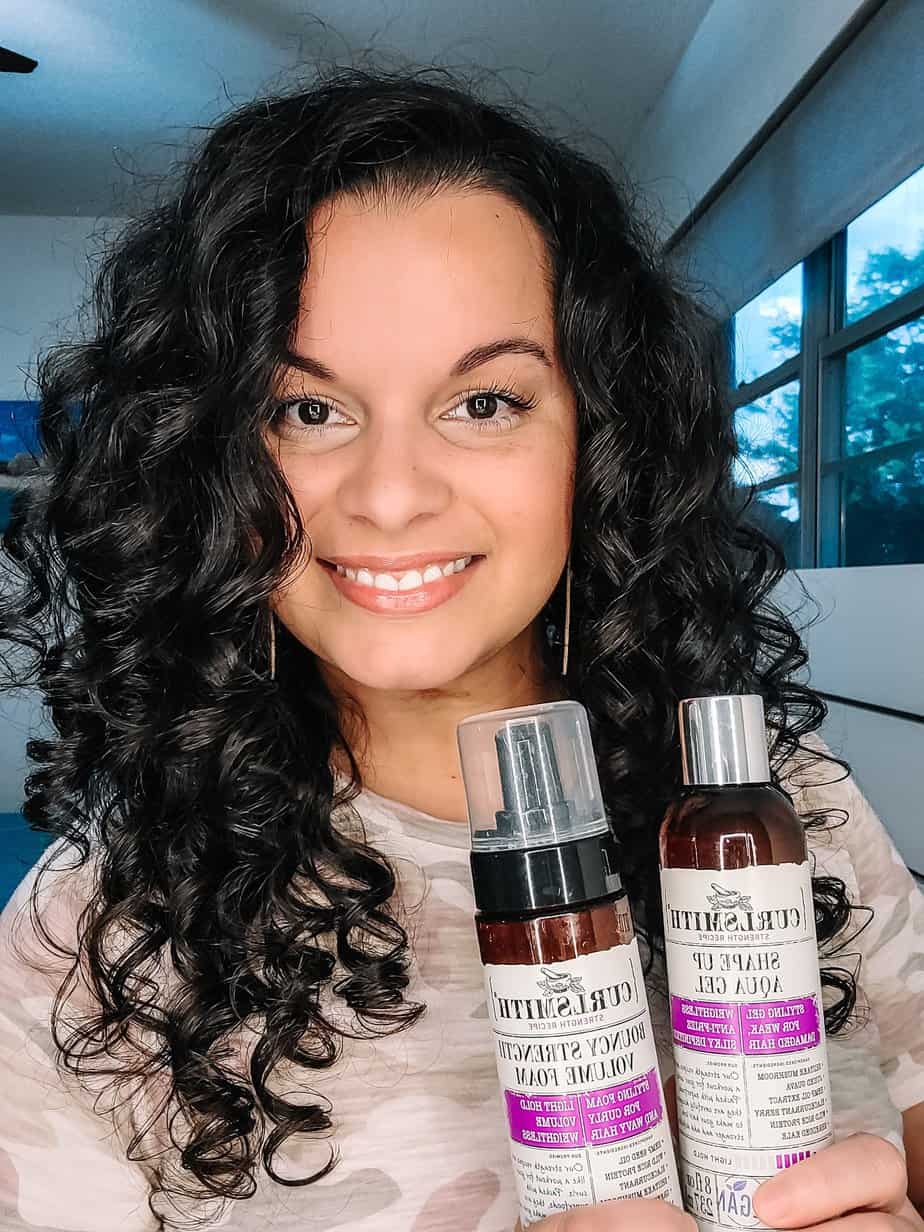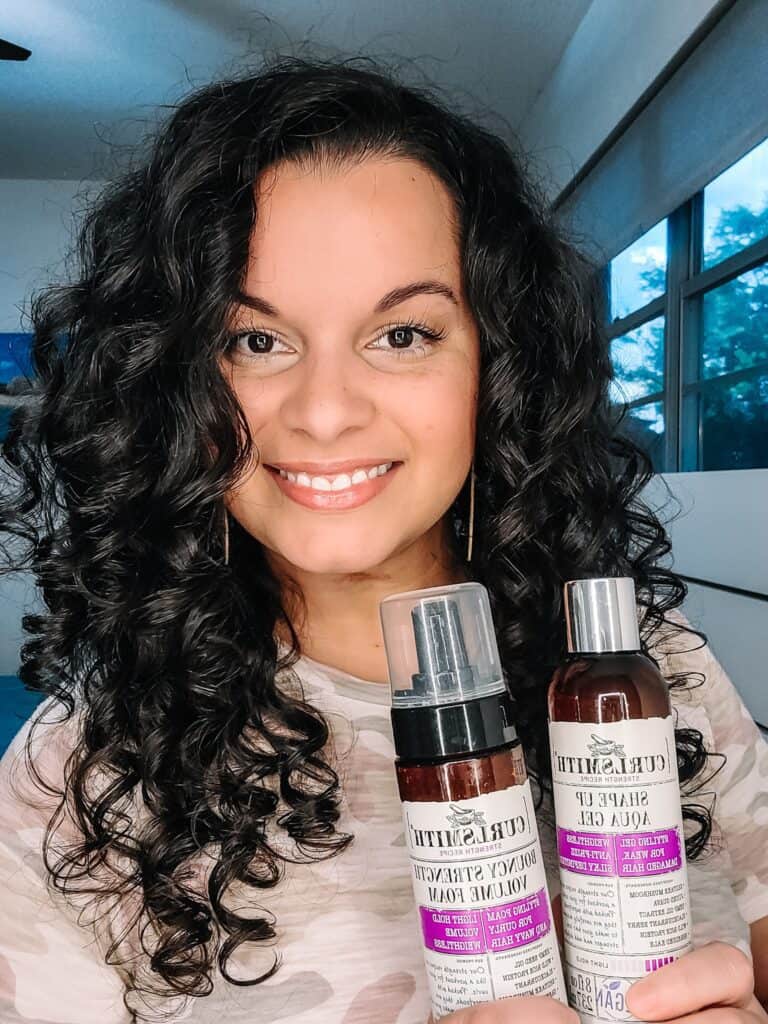 Bouncy Strength Volume Foam
The Bouncy Strength Volume Foam is a foam that adds texture and volume with a soft hold. It doesn't do well on its own but when paired with a gel it works great for me.
It adds some grit to my hair which really helps hold the style and add volume. I did feel like it made my hair feel a little yucky if I used more than one pump. But my hair is very sensitive to that kind of stuff and I typically use about a nickel-sized amount of styling product in total.
It did give me lots of volume which I love! Even with just half a pump I'm able to get better volume than usual so this is a keeper for me.
I recommend you rake it in and apply some near the roots for volume. Layer a gel over it for a longer lasting style and better definition.
Buy the Bouncy Strength Volume Foam from Curlsmith, Target, or Amazon.
We earn a commission if you make a purchase, at no additional cost to you.


Shape Up Aqua Gel
The Shape Up Aqua Gel is a light hold gel that is very lightweight. This gel has very mixed reviews so I wasn't sure what to expect.
Because it's light hold, I made sure to layer it over the foam. This helps get more of a medium hold. I do this because with light hold gels like this one, my hair tends to fall flat by the next day and becomes fluffy.
Overall I like this gel, but I don't love it. I just have a thing for hard hold gels and this one is good, but not good enough.
It did give me great definition, good frizz control, nice shine and softness, but it just isn't enough hold for me to reach for it on a regular basis. I prefer the Hydro Style Flexi Jelly over this one because it's hard hold.
I recommend you rake this in and use it over the cream and/or foam for best results.
Buy the Shape Up Aqua Gel from Curlsmith, Target, or Amazon.
We earn a commission if you make a purchase, at no additional cost to you.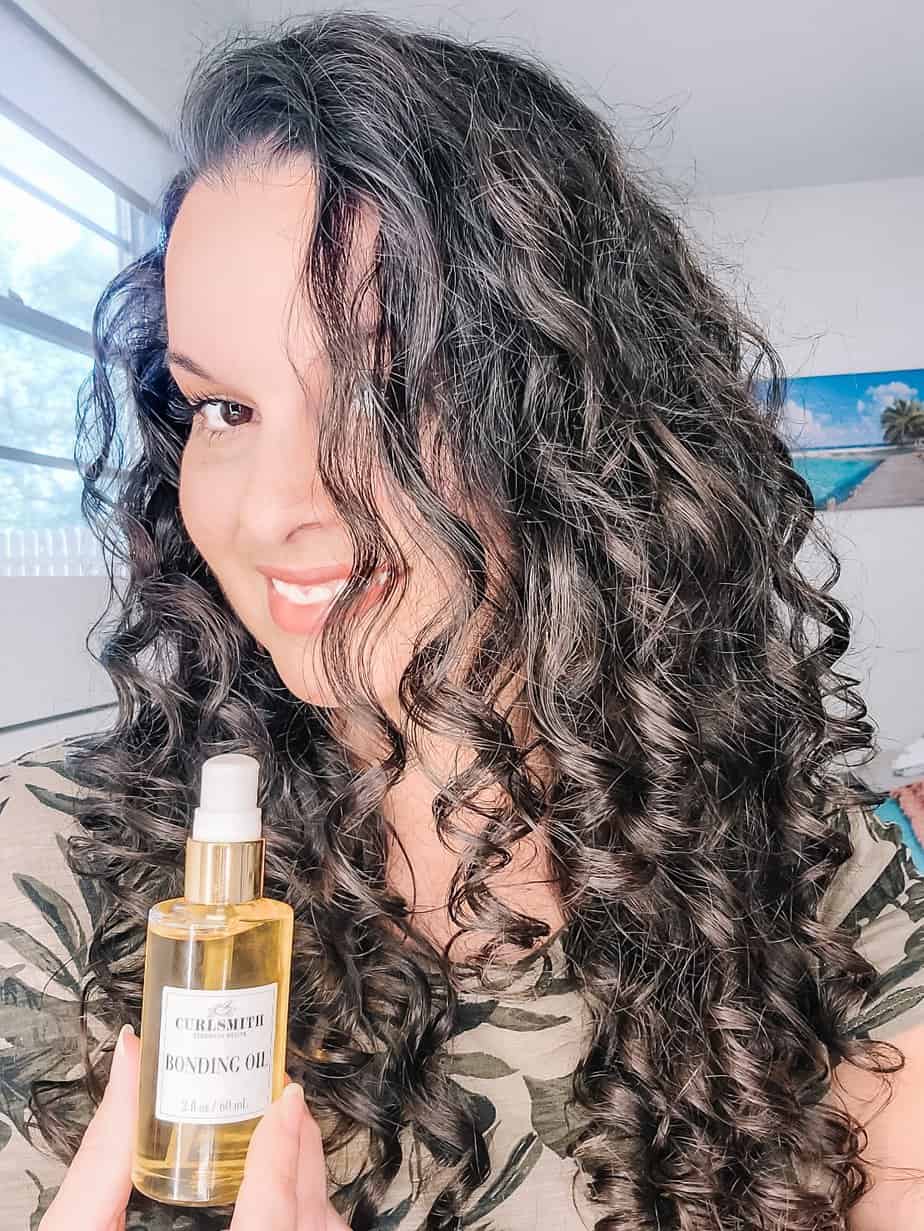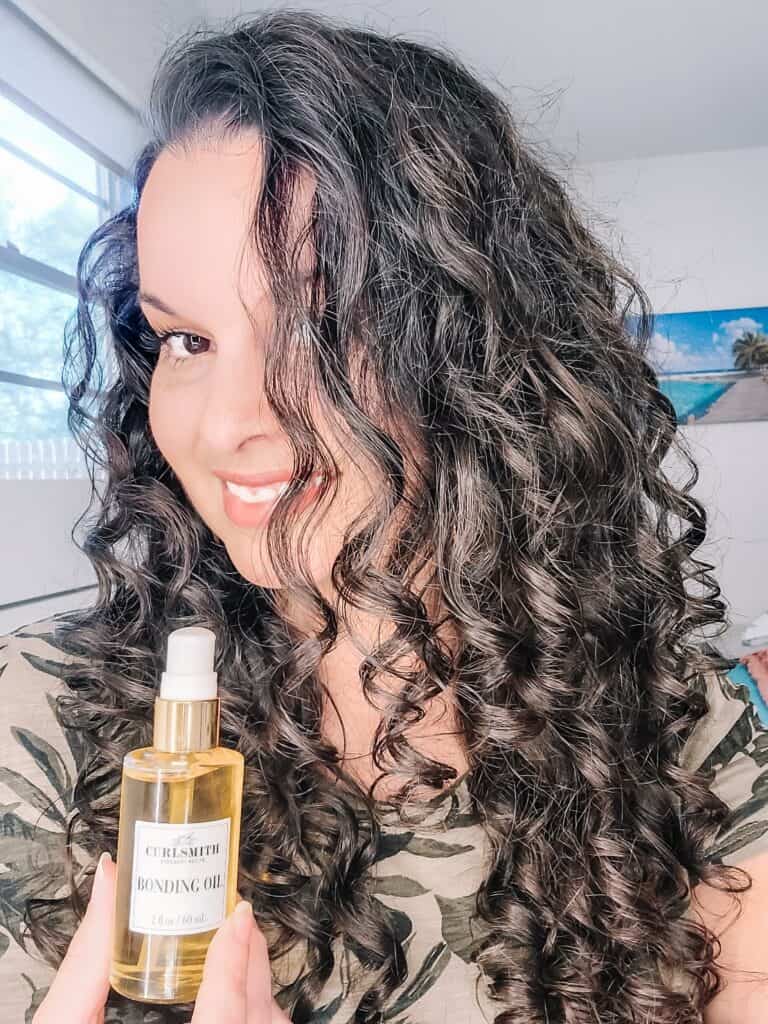 Bonding Oil
The Bonding Oil is a newer product that has several uses. It's a silicone-free serum with some protein meant to be used as a finishing oil. It's said to "target hair bonds to seal cuticles, add shine and help hair look and feel smoother."
This is one of the more lightweight oils I have ever used, and my hair just soaks it in. I found it really did add shine and made my hair feel smoother.
Curlsmith recommends you use this after your hair is dry. Smooth it over and scrunch. This will help break the cast, if you have one.
Buy the Bonding Oil from Curlsmith, Target, or Amazon.
We earn a commission if you make a purchase, at no additional cost to you.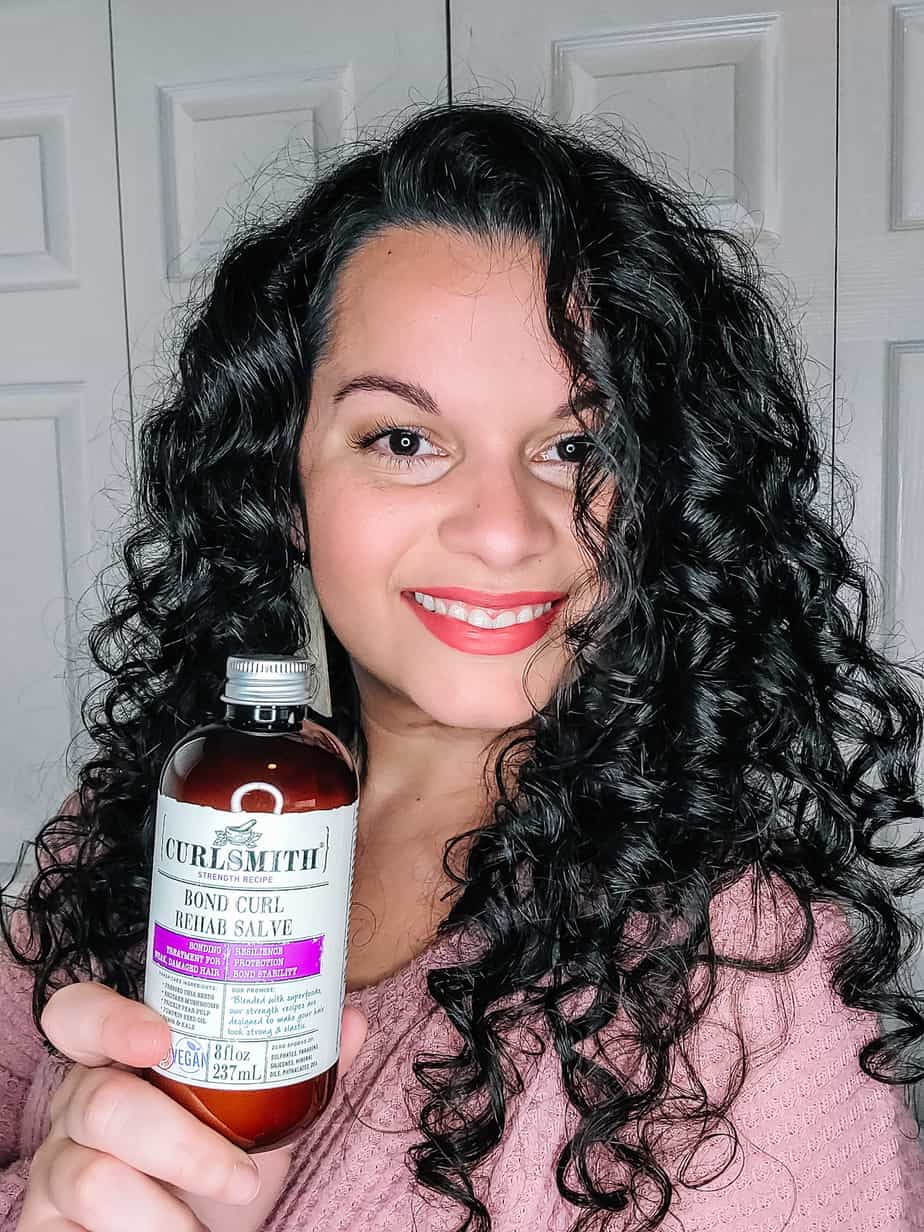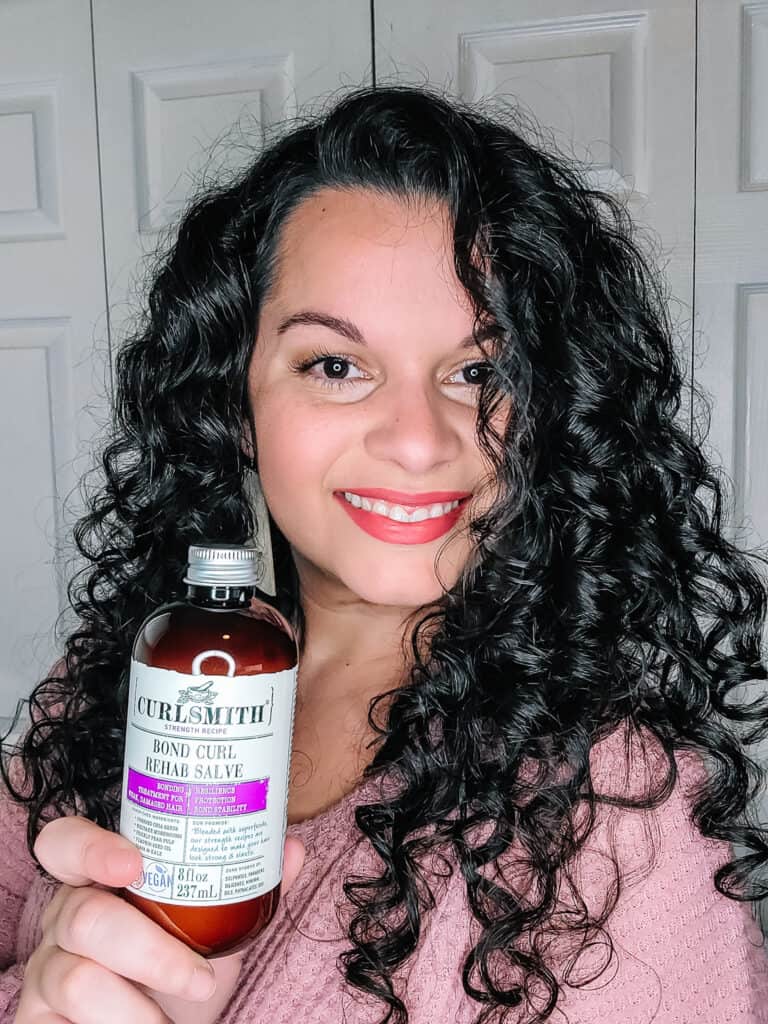 Bond Curl Rehab Salve
The Bond Curl Rehab Salve is a pre-shampoo strengthening treatment that targets hair bonds to strengthen and repair from the inside out. I so appreciate that it is a pre-poo treatment and is not moisturizing, so I actually get the benefits of the protein boost.
Think of this as an Olaplex treatment with added protein. It is really helpful for damaged hair, but also those with fine hair that need protein could benefit from this treatment.
As someone who rarely does treatments, I have to admit I really like this one. I usually see a boost in curl formation, shine, and hold after a protein treatment and that's exactly what this did for my hair.
For anyone who needs protein treatment without all the moisture then this is a great pick and a good value.
Buy the Bond Curl Rehab salve from Curlsmith, Target, or Amazon.
Curlsmith Bond Curl Rehab Salve
If your hair needs a boost of protein without a lot of moisture, this is a great pre shampoo treatment. It's also a bond building treatment that strengthens and repairs hair form the inside out.
We earn a commission if you make a purchase, at no additional cost to you.
Curlsmith Products Styling Routine
If you're interested in seeing how I use some of these products, the video below demonstrates my styling routine. I do start off with a review of the foam and gel, and the 6:57 minute mark is when the styling begins.
Final thoughts
Overall, I like most of the Curlsmith Strength Line. I would reach for and purchase the conditioner, cream, foam, bonding oil, and bond treatment.
If you're looking for lightweight products that have protein and don't mind a strong scent, then give these a try.
You can check out their full line on their website Curlsmith.com. They do offer mini sizes of some of their products which is a good way to try them out.
---
Please do me a favor and share this post to social media, as it helps me grow my audience and spread the word about our curly hair movement! And remember to subscribe to my YouTube Channel for more curly hair tips and product recommendations. Thanks!
Want To Remember This? Save Curlsmith Strength Line Review To Your Favorite Pinterest Board!