How to Care For 4A Hair In Style
This post may contain affiliate links, and I will earn a commission if you purchase through these links. Please read the disclosure policy for more details.
What makes 4A different from the other hair types? If you have type 4 hair and aren't sure whether it's 4A, 4B, or 4C, don't worry!
Whether you're at the start of your natural hair journey or have been wearing natural hair for years, understanding your hair type is essential for great-looking, healthy hair. It makes choosing the best hair products and hair styles easier and will help you find your perfect hair care routine.
So read on to learn how to tell 4A curls from the other coily hair types and discover some great hair care tips for your gorgeous natural curls.
What is 4A Hair?
4A hair falls in the type 4 category of the Andre Walker Hair Typing System, meaning it is coily or kinky hair. The other classifications are type 1 (straight hair), type 2 (wavy hair), and type 3 (curly hair types).
Each of those classifications is broken down into three sub-types, A to C. These describe the size of the curl or the amount of texture. A is the least textured, and C has the tightest curls.
Type 4A is the first coily hair type, and it has looser coils than the other 4 types.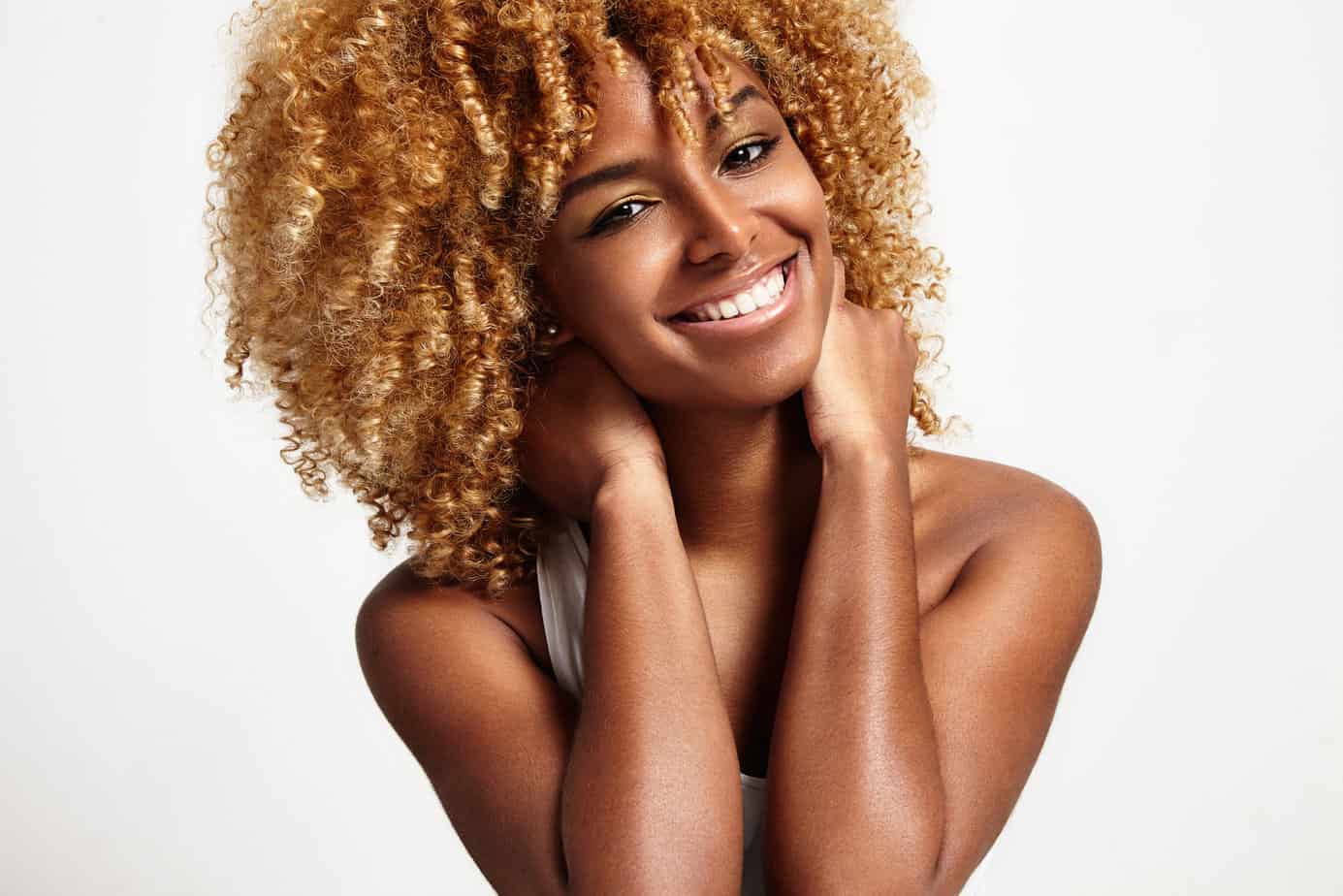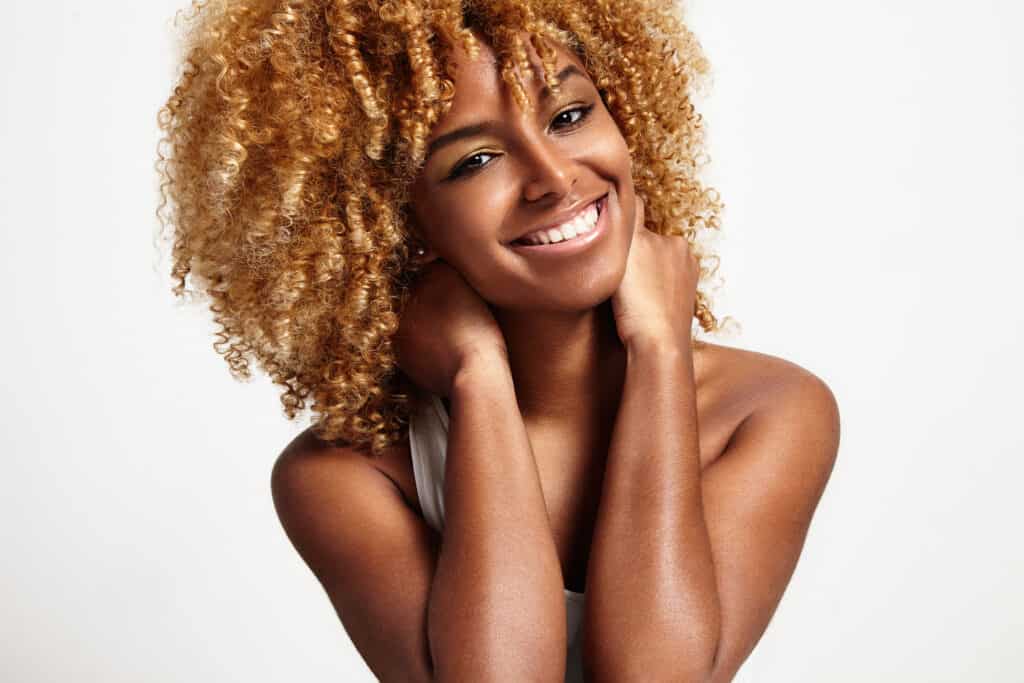 What Does 4A Hair Look Like?
Type 4A hair has a dense, kinky natural texture with masses of volume. Each 4A curl is about as wide as a crochet needle, and its defined curl pattern is S shaped, so it experiences less shrinkage than types 4B and 4C.
The kinks and curls in each strand make it difficult for your scalp's natural oils to travel down the hair shaft from roots to tips. Dry hair is a common problem for this hair type and can easily lead to frizz. So you will need to use regular hydration to keep your hair moisturized and healthy with well-defined curls.
The Feel of the 4A Hair Texture
Compared to 4B and 4C hair types, type 4A hair has the softest, silkiest texture. Unfortunately it also means that 4A strands are more easily damaged if you touch or brush them too often.
This hair type is also more likely to be damaged by dyes and relaxers, so it's best to avoid chemical treatments as much as possible.
If you're unsure about your hair type, our quick Curly Hair Type Quiz will help you know your most important hair characteristics which can help you find the right products and techniques.
The Difference Between 4A vs. 4B vs. 4C Hair Type
The curl pattern is the main difference between the 4A, 4B, and 4C hair types. 4A curls have an S pattern, while 4B hair has a tighter Z-shaped pattern. And 4C locks have the tightest curl pattern, with very tight coils that are hard to separate.
Because of their tighter curl patterns, 4B and 4C hair types are even more fragile than 4A curls. They tangle and break more easily and also experience more shrinkage.
You may find that you have a mix of 3C and 4A hair. The 3C hair type has classic corkscrew curls about the width of a pencil, which are a bit bouncier than 4A coils and less dense.
Caring for 4A Natural Hair
Now you know what 4A curly hair looks and feels like, you need to know the best way to care for the 4A texture.
Let's begin by looking at the best products for 4A hair.
Choosing the Right 4A Hair Products
Remember to consider your hair's porosity and density, as these will help you select the perfect products to pamper your locks.
Moisturizing Your Type 4A Hair Daily
4A hair needs plenty of moisture daily to prevent it from drying out. The easiest way to do this is to spray your hair and scalp lightly with clean water and then use your favorite hair oil to help your hair retain moisture. Argan oil, avocado oil, or Jamaican black castor oil work well, but don't overload your curls.
If your hair isn't very dry, you could use a little serum or spritz it with a leave-in conditioning product to keep your curls frizz-free.
Shampooing Your Type 4A Hair
Don't shampoo your hair too often, as this will make it even drier. Twice a week may be enough, but experiment until you find the right frequency.
Once your hair is wet, gently detangle it to avoid matting. Then use a sulfate-free shampoo, focusing on your scalp and roots before letting the suds rinse through to cleanse the mid-lengths and ends.
Top Pick
We earn a commission if you make a purchase, at no additional cost to you.
Conditioning Your Type 4A Hair
Hydration is the key to great-looking 4A type hair, so be sure to pamper it with plenty of moisturizing products.
As well as moisturizing daily, you should also use a deep conditioner each week. Heavier conditioning products like butter and creams will deliver an extra dose of the intensive hydration and nourishment your hair needs.
Avoid Tension on Hair
Protective styles are a great way to protect your 4A hair, but don't leave your style in for too long. Wearing them for longer than six weeks can cause irritation and an itchy scalp or even lead to traction alopecia and hair loss.
Minimize Heat Usage
Delicate 4A hair breaks easily, so it's better to avoid heat styling tools as much as possible. Minimizing heat styling can reduce breakages and give you softer and shinier curls.
If you must use hot tools, use a low heat setting and cover your curls liberally with a heat protectant first.
Sleep With Satin Fabric
Super-absorbent cotton pillowcases draw moisture out of your hair overnight, causing tangles, frizz, and breakage.
Switching to satin or silk pillowcases will help retain vital moisture in your locks. You could also try wearing a satin-lined bonnet overnight or tie your hair up in a high pineapple with a satin scrunchie.
We earn a commission if you make a purchase, at no additional cost to you.
Be Gentle With Your Curls
Coily hair is fragile and needs to be handled with care, so avoid hard accessories like bobby pins and metal hair clips, which can cause breakage.
If your locks get tangled, apply a detangling lotion and use your fingers or a wide-tooth comb to carefully detangle them from the bottom up.
Use the Plop Method
This simple routine for drying curly hair helps to retain moisture in your ringlets, maximizes softness and boosts curl definition.
Remove Excess Water by Squeezing
Use a microfiber towel or an old cotton T-shirt to gently squeeze out excess water from your wet hair. Don't use a regular terry towel or rub at your locks, as these can both cause damage to fragile coils.
Apply Appropriate Products
Apply a good leave-in conditioner all over your hair, avoiding your scalp. Add a little argan oil or a few drops of serum to the ends to control frizz and prevent dryness.
Time to Plop
Lay a long-sleeve T-shirt down with the collar closest to you, and plop your hair down, right in the center of the shirt's body so the collar is by your forehead. Then pull the body of the shirt around your head and keep it in place by tying the sleeves behind your neck.
Drying
Leave your hair wrapped in the T-shirt until it is completely dry. When you remove it, you'll have defined curls without any crunchiness.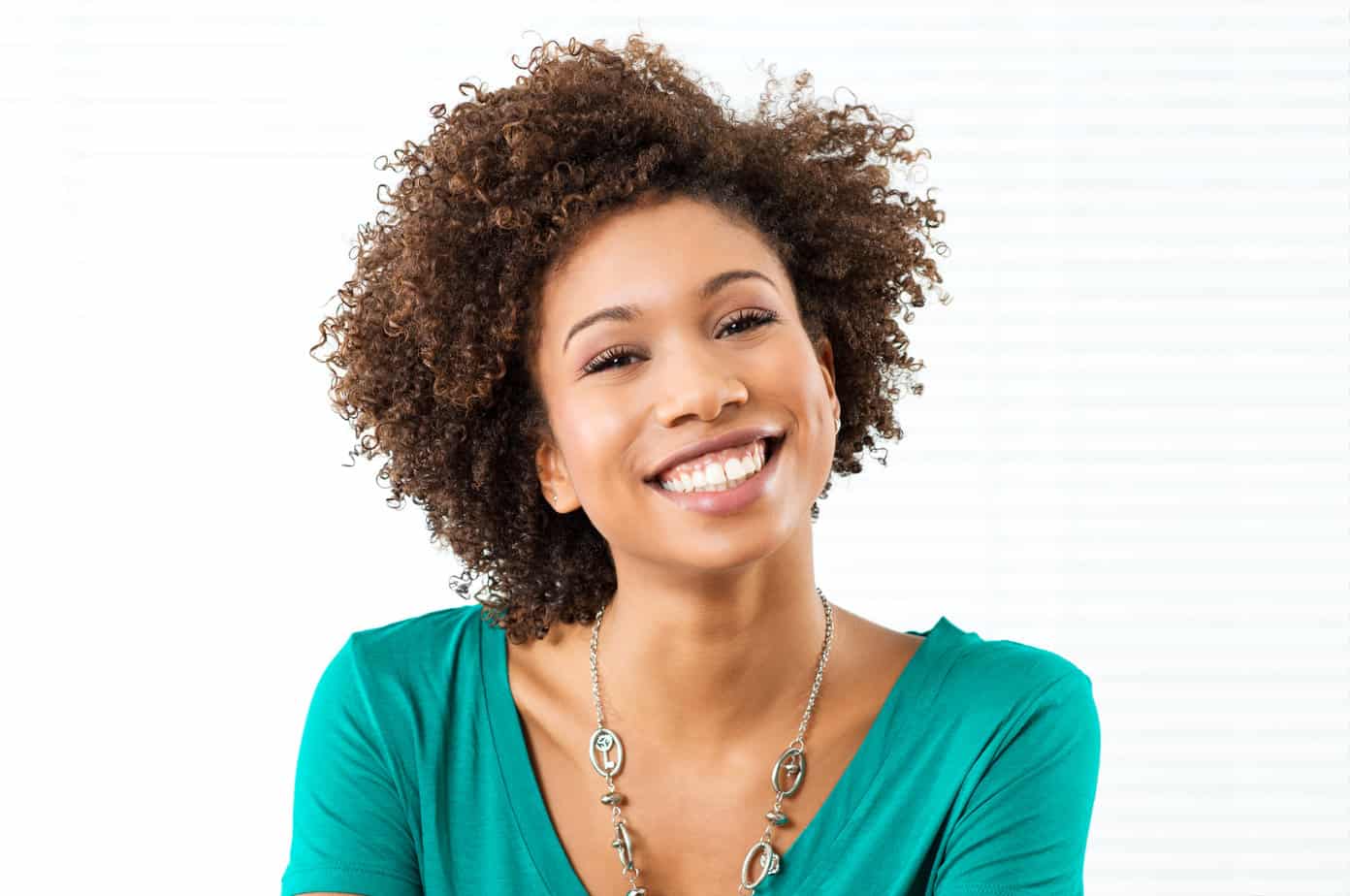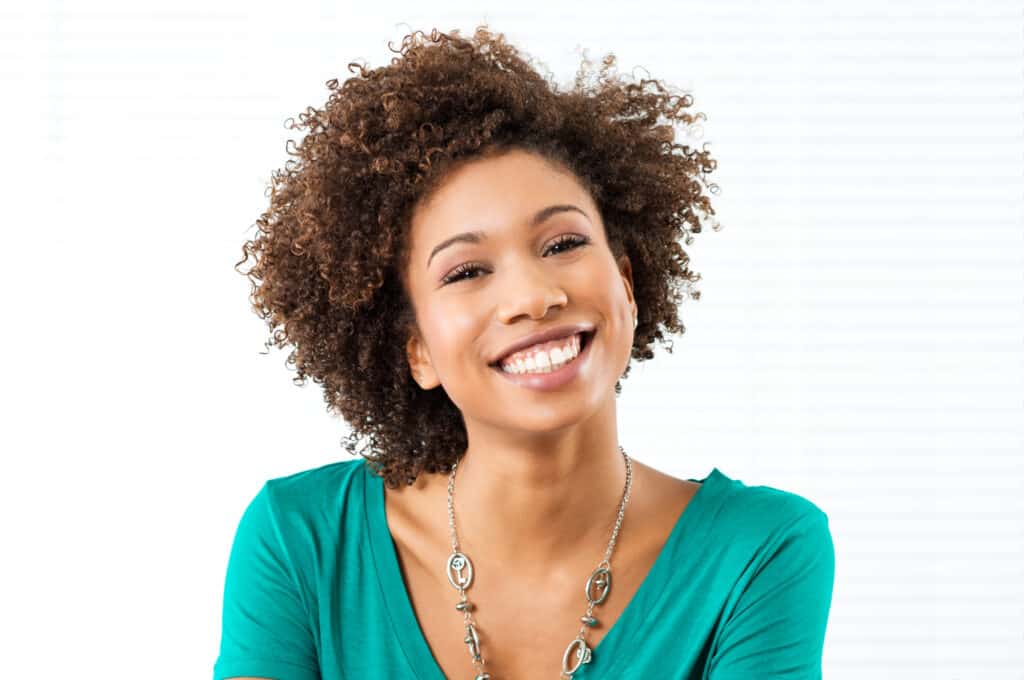 Pick the Right Hair Styles for 4A Hair
This hair type is really versatile, so you have a wide range of styles to choose from. But your curls are easily damaged, so try and minimize manipulation, especially if you want to grow your 4A locks.
Layering will add volume and movement to your ringlets, and protective styles will help you to prevent hair damage. But avoid tight ponytails and twists, as these can cause damage to your scalp or even traction alopecia. And visiting the salon for a regular trim will help to eliminate split ends and keep your hair looking healthy.
Best 4A Hair Styles
Here are some of the best styles for you to try on your own locks:
Pigtails: This is a fresh, fun hairstyle that will protect your hair. Tie your coils in two loose pigtails with soft ties to avoid breakage.
Bantu Knots: This is a traditional protective hairstyle from southern Africa that has been around for over 100 years. They are made by twisting a section of your hair until it forms a knot and can be kept in place for up to two weeks.
Puff: A puff is a curly ponytail tied high on your crown. Secure it with a soft tie or satin scrunchie, and dress it up with a colorful headband or scarf.
Wash and Go: Let your curls do their own thing with a classic wash-and-go style. Just be sure to use a good moisturizing leave-in conditioner or curl cream to keep your ringlets hydrated all day.
Braid-outs: This simple style will enhance your curl pattern and add elongation to your ringlets without using heat, and causes less frizz than twist outs.
6 Common Myths About Type 4 Hair
It seems like everyone has a story about how you should or shouldn't look after type 4 curls. Here's the truth behind some of the common myths that you might have heard:
1. Type 4 Hair Does Not Grow To Be Long
It's harder to spot hair growth on tightly coiled hair compared to straight hair or wavy hair types. You might not see how much it's growing without carefully stretching out a coil.
Your locks will grow long if you keep caring for them properly and get regular trims to prevent split ends and breakage. And if you're really desperate for instant results, you could try adding extensions for a while!
2. Washing Type 4a Hair Is Not a Necessity
Regular washing is an essential part of caring for 4A hair, as it will keep your scalp healthy and make your curls more defined. But your hair type is prone to dryness, so make sure you use moisturizing products as part of your wash day routine.
3. Type 4 Is Difficult to Manage
Managing natural hair can be challenging, but that doesn't mean it's difficult. You may need some time and error to find the care routine that suits you and your locks, and then you'll find that looking after coily hair can be pretty straightforward.
4. You Shouldn't Straighten Type 4a Hair
Straightening Type 4 hair can damage the strands, but if you use caution and care for your straightened hair properly, you can avoid causing severe damage.
Some in the natural hair community choose not to straighten their hair. But if you want to straighten your natural hair, go ahead – it's a personal decision, after all!
5. Type 4 Hair Is Stronger Than Other Types
Type 4 hair is often thicker than Type 1 to 3, but the curl pattern and kinks in each individual strand make this hair type quite fragile. Type 4A can be brittle and breaks easily, so you need to treat it with a little TLC.
6. Protective Hairstyles Help To Grow 4A Hair Longer
Protective hairstyles can rest your strands and let them grow longer and stronger, but it's also essential to give your hair a rest from the style every two to three weeks. Never leave your hair in a protective style for more than six weeks maximum.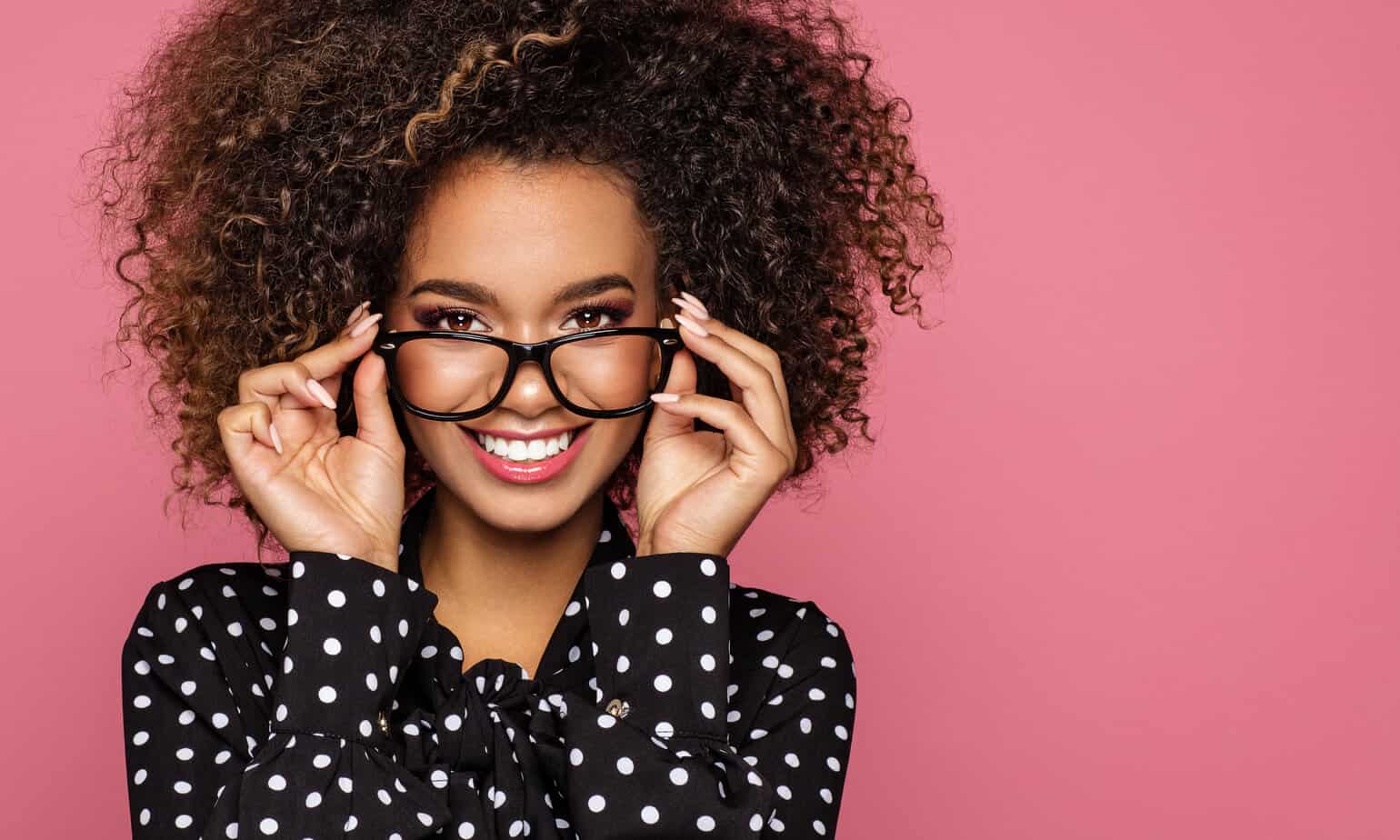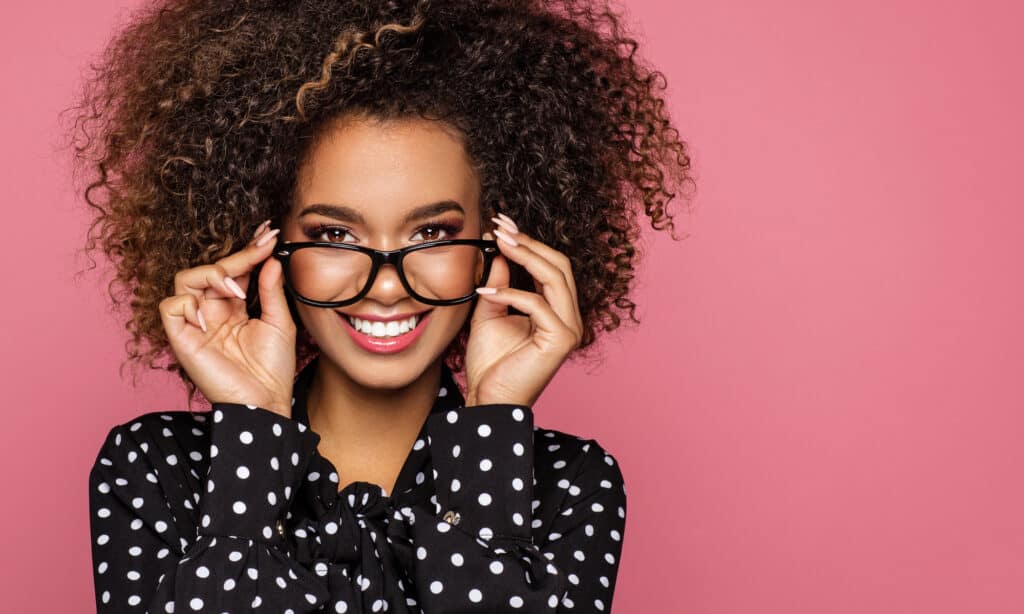 FAQs
Still looking for more info on 4A hair? These are some of the questions we get asked most often:
Can 4A Hair Be Silky and Smooth?
Absolutely! 4A hair has a natural silky-smooth texture that feels gorgeous, but you can give it a little extra help by pampering it with moisturizing products.
Should I Have Long 4A Hair or Short 4A Hair?
As long as you care for your curls well, you can wear your 4A hair as long or short as you like. The important thing is to follow a good haircare routine and get your hair trimmed regularly to keep it looking healthy.
Final Thoughts on 4A Hair
4A coils are bouncy, voluminous, and attract attention, however they also need careful management. You'll need to deal with dryness daily, and your fragile coils can easily snap if you handle them too roughly.
But well-defined 4A curls look fantastic, and they feel silky soft too. So with the information from this guide, a good haircare routine, and a little TLC, your 4A hair will surely thrive!
---
Want to remember this? Save How to Care For 4A Hair In Style to your favorite Pinterest board!