Graying Naturally With Katie Emery of Katie Goes Platinum
This post may contain affiliate links, and I will earn a commission if you purchase through these links. Please read the disclosure policy for more details.
Lately, I have been getting lots of questions about growing out gray hair and transitioning away from hair dye. Since I have no experience with this, I reached out to Katie Emery of Katie Goes Platinum to share her experience with ditching the dye and embracing gray hair.
Katie is the founder of KatieGoesPlatinum.com, a blog devoted to the subject of gray hair. Katie founded the blog in 2018 to provide comprehensive information about gray hair, and to show women that growing out their grays could be fun and empowering. Katie's blog has been featured in publications such as Authority Magazine, Thrive Global, Vogue Brazil, and Woman's World.
Although Katie isn't a curly girl, the tips and resources on her blog also help gray curlies and she has a few transition stories featuring curly girls on her blog, like this one, this one, and this one.
And, at the bottom of this post, curl specialist Laurie Cain details specific tips for going gray with curly hair.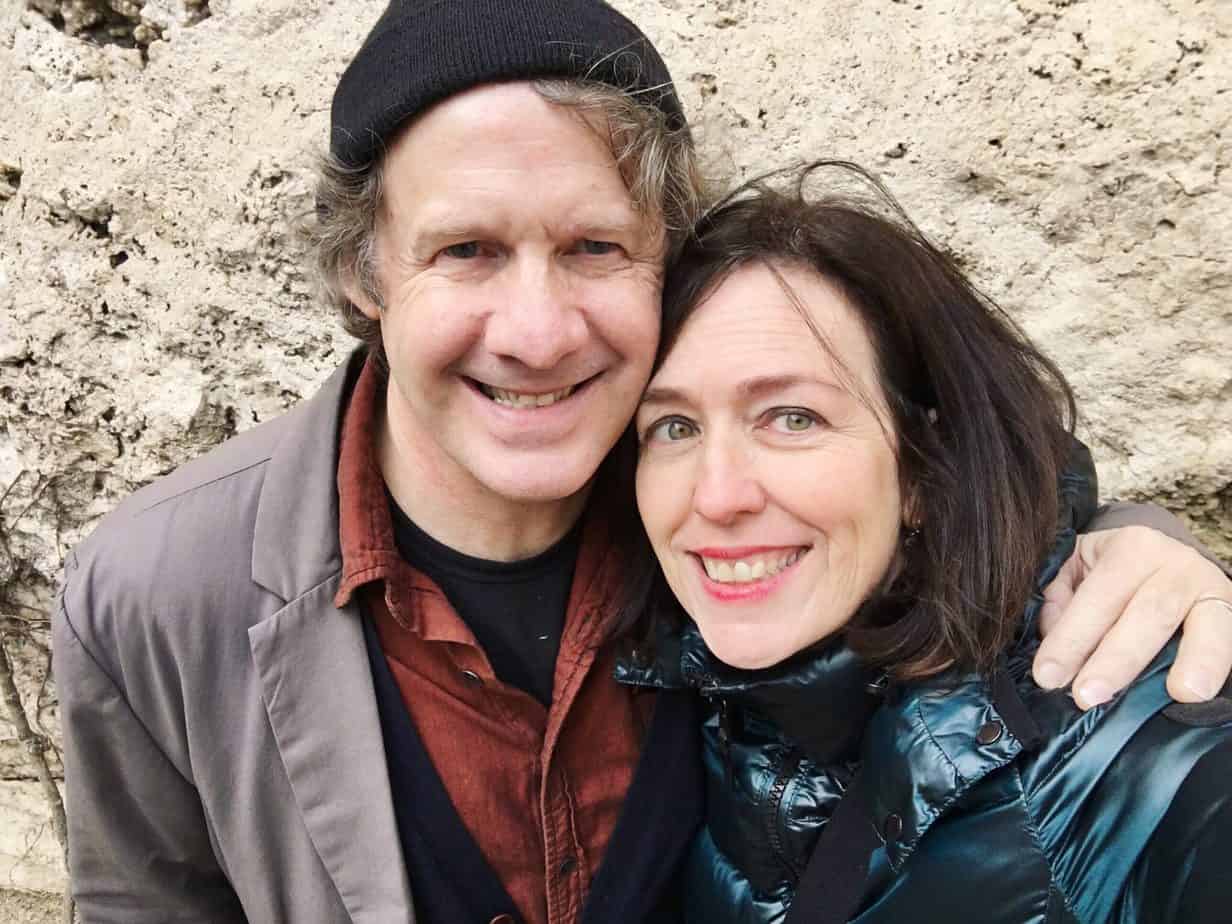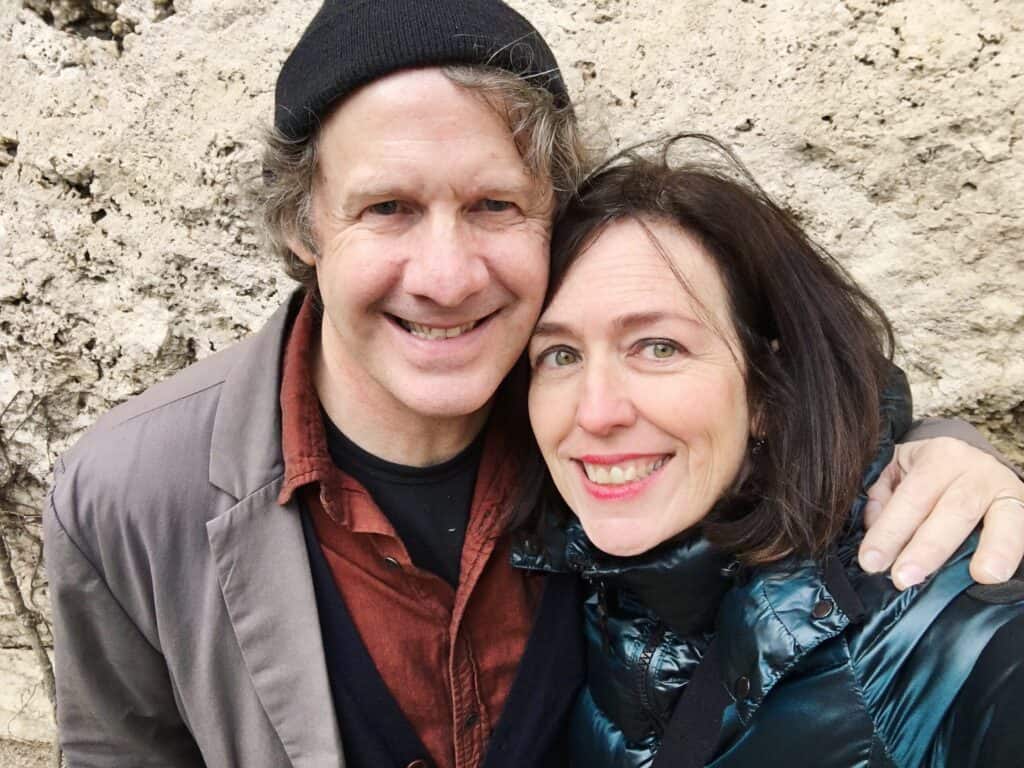 1. What made you decide to transition to gray hair?
I had toyed with the idea of going gray for years but kept putting it off because I was afraid I'd look "old."
But by my late 40s, I had grown so tired of sitting in that salon chair every month for hours while my hair got colored. I would sit there resentfully thinking about how I'd rather be spending my Saturday at home with my kids instead of sitting in that chair, with my scalp itching and burning, and for what? My hair would only look really nice for a few days before the roots started to show, and the shine began to fade.
It seemed like such a big waste of time and money. So, in April of 2018, at age 50, I said "enough!" and I've never looked back.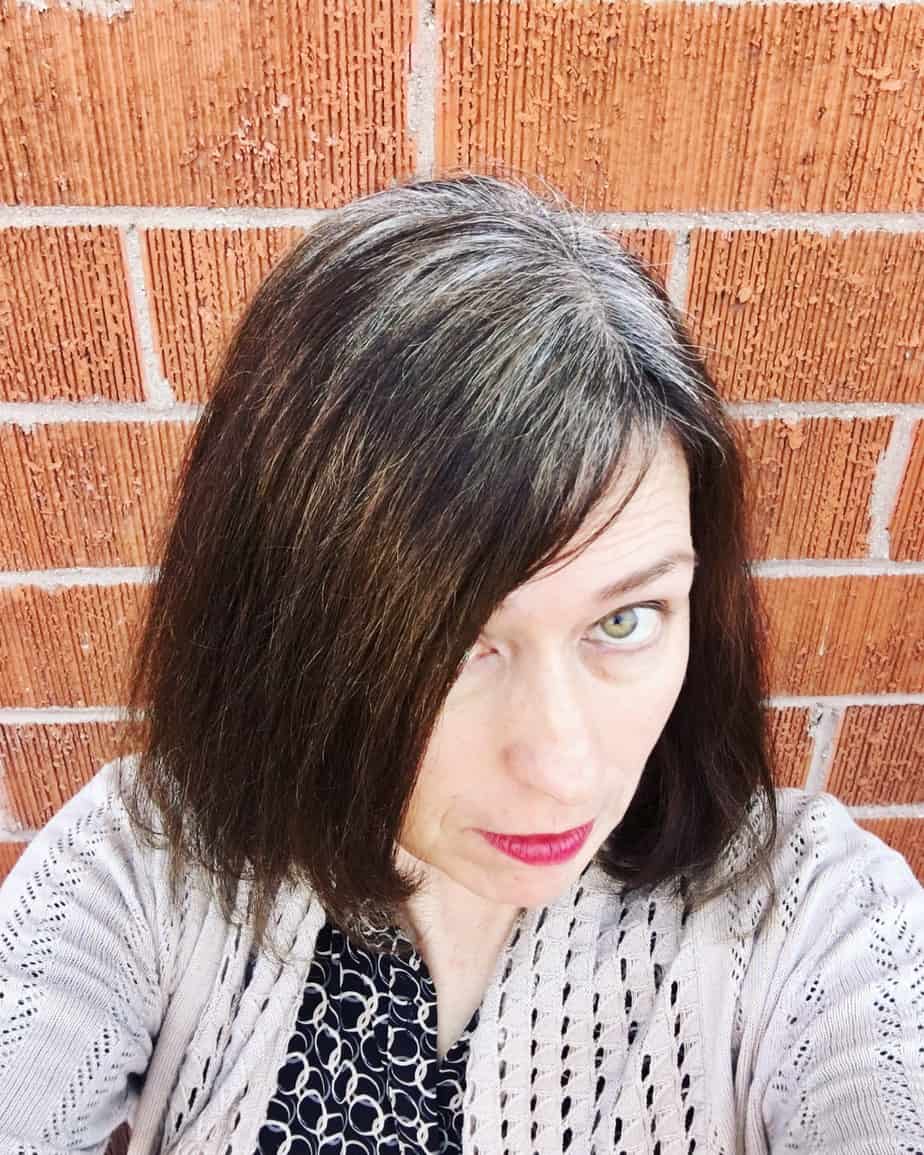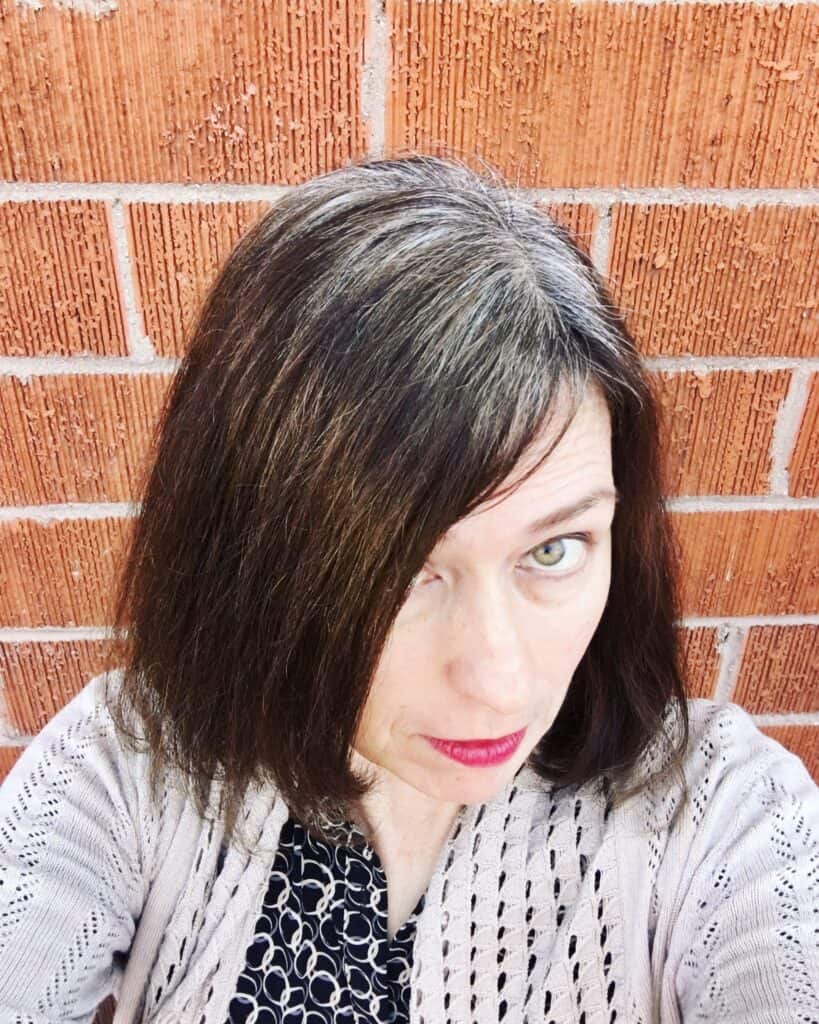 2. What was your biggest struggle?
I was so excited to be done with dyeing that I felt pretty euphoric. So I didn't really struggle too much.

The only thing I found difficult at first was that my gray grow-out was often the topic of conversation. I'd get comments from other women about how brave I was, or how it was great that I was doing this, but that they cared too much about their looks to go gray.
I cared about how I looked, too, of course, but I actually got a kick out of my crazy, calico-colored hair. It was fun to watch the dye slowly fade and the silver take over. It was like being part of a living science experiment.

3. Was there anything that surprised you during this journey?
Advertisers have lead us to believe that gray hair will always be coarse and wiry or dull. But I (and many others) have found to our delight that our naturally silver hair is actually smooth and shiny!

The other thing that surprised me was that my hair stopped falling out.

I'd assumed my hair was falling out due to hormonal fluctuations caused by menopause. I used to find clumps of hair in the shower – it was gross! But once I stopped dyeing my hair, my hair loss lessened, and I started seeing a lot of new growth.
My hair hasn't been this thick since I was in my 20s!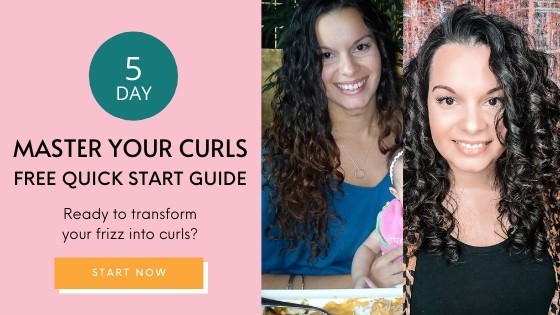 4. Has going gray made your routine easier or more difficult?
My gray hair care routine is so much easier than my old, dyed hair, routine!
I used to dye my hair every 3-4 weeks, and then I'd use a lot of products to make it appear smooth and shiny. I blow-dried my hair every time I washed it, to smooth it out and reduce frizz. In between colorings, I'd spend a lot of effort to hide my roots (with root powder or spray).

Now that I've gone gray, for the first time since I was a kid, I can actually let my hair air dry after I shower and it comes out wavy, shiny, and NOT frizzy. I'm ecstatic! I do less to my hair than I've ever done, but it looks so much better!
5. Did you like the way you looked while it was growing out or did it bother you?
The first month or two felt only mildly awkward, but growing my roots out made me feel rebellious so I got a kick out of it. I once caught a man staring so hard at my roots that he walked into a table and banged his knee. It was fun to confound people!
Once my roots were past my eyebrows, I really enjoyed the grombre look; I kept putting off getting the dyed ends cut off just so I could keep the transition going.
A lot of women find that they enjoy that transition period, and I was definitely one of them. It was a great period of self-discovery, actually, so I didn't mind if others found my hair a little crazy looking sometimes.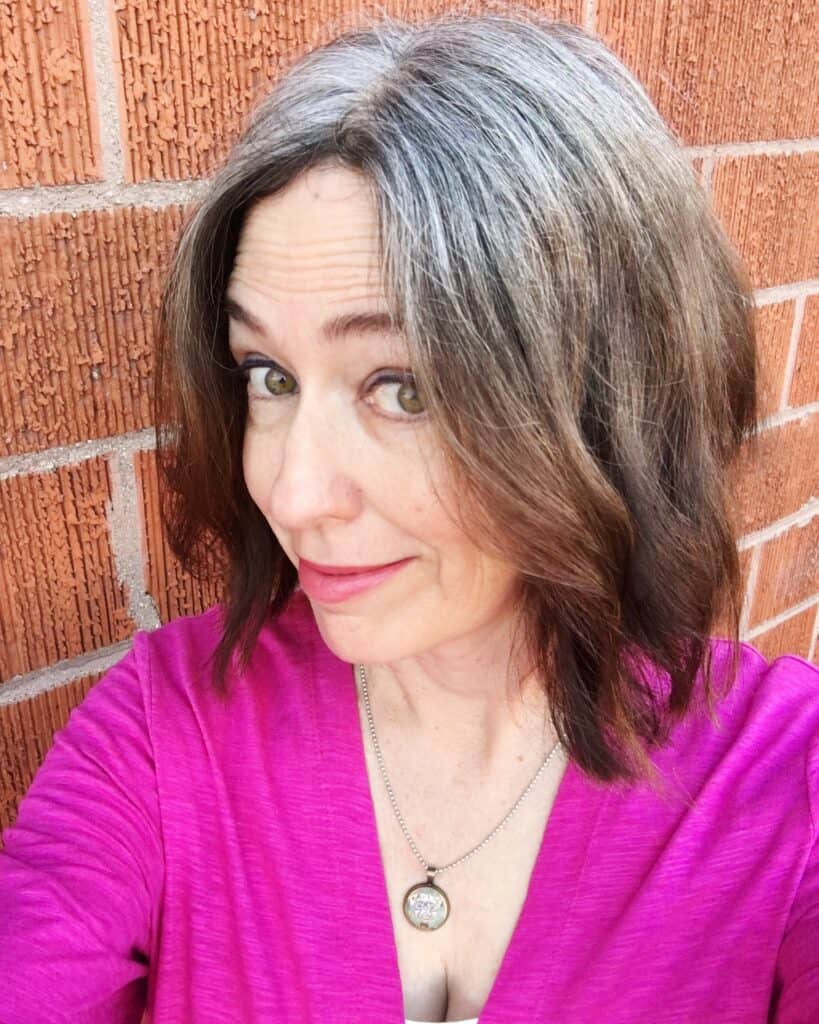 6. How did other people react to your decision and journey?
My family and friends have been very supportive, thank goodness, as that made my grow-out so much easier.
My younger son is on the autism spectrum and became very concerned about my mortality once my grays started showing. (That's actually not an uncommon reaction, it turns out). But after I explained to him that my hair had been gray for years – it started when I was 16 – he understood that gray is just a hair color, not a sign of old age.

I fielded a lot of questions from friends about the fact that I chose to go gray cold turkey. Everyone wanted to know why I didn't just dye my hair gray. I had to explain that I didn't want to use damaging products like bleach, as my hair was already severely damaged from 25+ years of dyeing.

Also, I knew my own temperament and going gray quickly (either by salon methods or by cutting my hair short) would have sent me over the edge. I was very invested in my identity as a green-eyed brunette, and going gray overnight would have been traumatic for me.
7. How long did it take to grow out?
It took me two years to grow out my gray hair to shoulder length. But my hair grows faster than average, which I didn't realize until I started tracking my progress. My hair grows about ¾" a month, and the average is ½".
Now I understand why my roots showed so quickly after I got my hair dyed!
Obviously, I could've cut my hair short and gone gray in a few months, but the fast route wasn't for me. Also, I look terrible with short hair! So I chose to go gray with long hair.
I sometimes wish I'd been one of those badass women who buzz off all their hair to go gray, but it's just not my personality.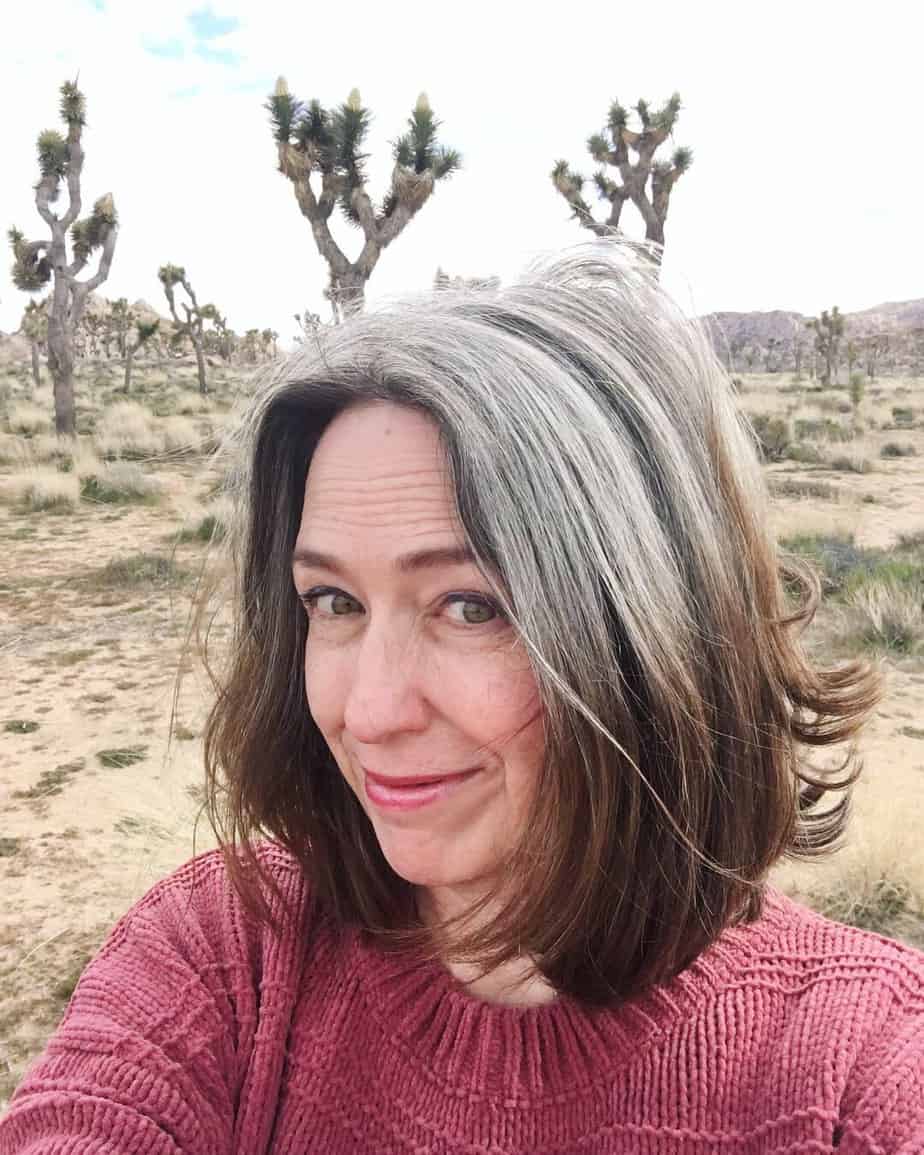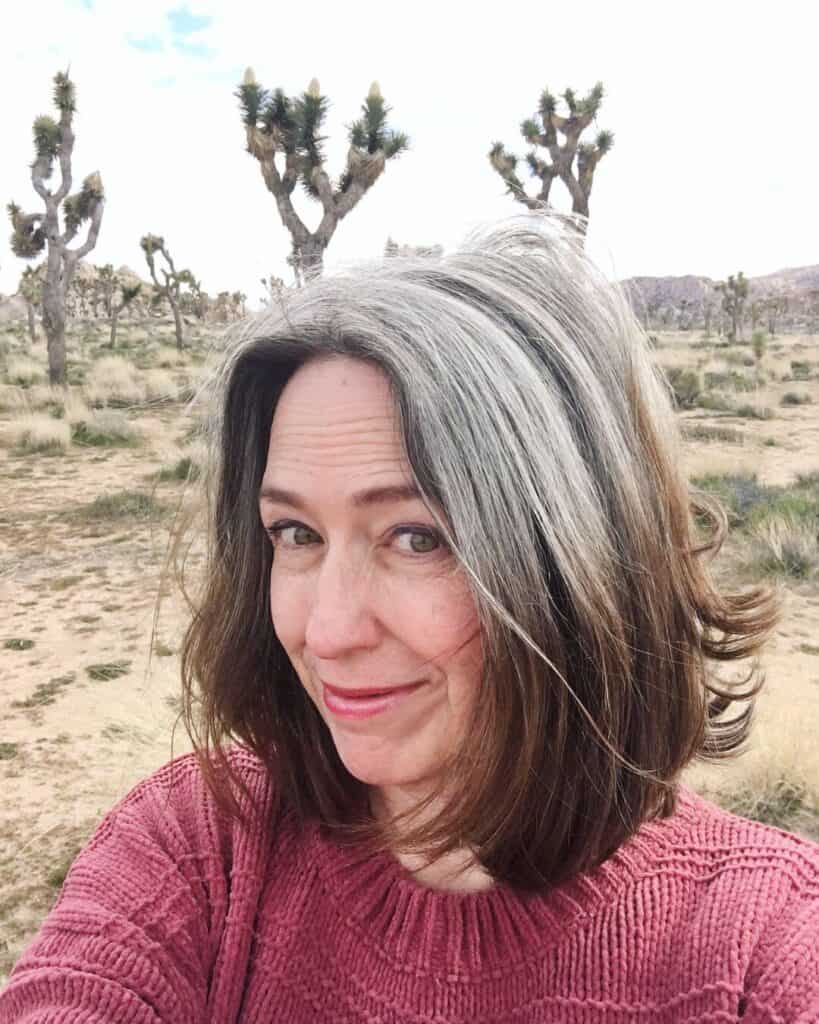 8. Did you break up the grow out so it wasn't so noticeable?
Nope! I went cold turkey all the way, so I had a big demarcation line. Some women call it a "skunk stripe" and, you know what? Skunks are adorable – why wouldn't I want to look like one?
However, knowing what I know now if I were to do the whole process over again, I might ask my stylist JUST to dye my fading ends darker (and leave the silver roots untouched).
The reason I say that is because as my brunette dye faded, it became super brassy. At first, blue shampoo really helped, but after a while, even that didn't work. I learned to live with the "blorange," but my friend Jonie dyed her ends darker and it looked really good.
9. How do you keep your hair moisturized?
I only wash my hair twice a week, to keep it from drying out. After one of those washes, I use a deep conditioner. My favorite is Joico K-Pak Intense Hydrator. I usually leave it on for 5 minutes, but if I really feel like my hair needs some moisture, I'll leave it on for up to 30 minutes. I love it!

And once a month, I'll use a conditioning mask. It's like a spa day for my hair!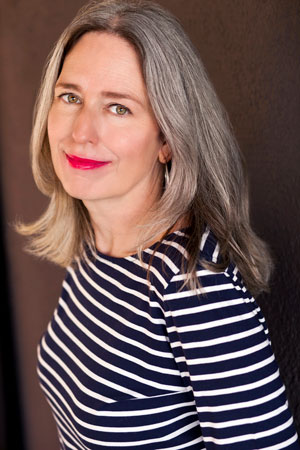 10. Do you find the gray hairs have different properties from the rest of your hair? Are they more difficult to tame or do they require different care?
No, not at all. I was so afraid they'd be wiry or coarse, but they're not. I think that misconception might arise because, when you dye your hair, the new gray growth shows up like a sore thumb next to that brunette dye. And new growth almost always sticks straight up, right?

But my hair is super smooth and soft. MUCH better than my dried out, damaged dyed hair.
11. What type of shampoo do you find works best?
A lot of people think that gray hair requires specific products to look good. But actually, just like with natural (or dyed) hair, you only need specialized products if you are targeting a specific problem.
If your gray hair is problem-free, you can continue to use your regular shampoo and conditioner.

But, if your hair starts to turn brassy orange or brassy yellow, that's when you want to start looking into tinted shampoos.
Blue shampoo works best for women with dyed brunette hair. It neutralizes brassy orange tones because blue is the opposite color from orange on the color wheel.

Purple shampoo works best for blonde or gray hair that is taking on brassy yellow tones, because purple is the opposite color from yellow on the color wheel.

Both purple and blue shampoos can be very drying, so you should try to not use them more than once a week, and always follow up with a deep conditioner afterward. They won't do anything to your gray roots except to make them a bit more silvery looking than usual, which can be a fun look.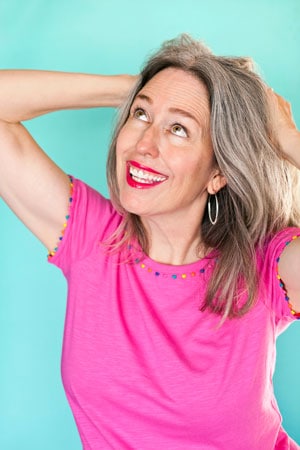 12. Any specific product or styling recommendations?
(If you're following the curly girl method, some of these products are not approved.)
For my "every day" shampoo and conditioner, I use The BTW Co. Daily Moisturizing Shampoo and Conditioner. They are cruelty-free, sulfate-free, and free of all the other nasty things I'm trying to avoid. They work for all hair types, not just gray. My auburn, curly-haired oldest son loves them!
When my dyed brown hair was fading into a brassy orange, I swore by Joico's Color Balance blue shampoo. I used it once a week to reduce the orange tones, although, as I said above, eventually even that stopped working for me.

Now that my hair is all silver, I occasionally wash my hair with Pantene Pro-V Silver Expressions, as it doesn't dry out my hair, and it brightens things up a bit.
My absolute favorite product is QuickSilverHair Clay. It brightens my silver hair, removes yellowing and product build-up, and my hair feels soft for days afterward. Anyone can use it, but it's especially great for gray or white hair.

In terms of styling, my style is pretty simple, as I mainly just air dry my hair and let the waves fall where they may. After I get out of the shower, I wrap my hair in a T-shirt towel and let it dry for about 10 minutes. Then, I spray it all over with Oilology Coconut Oil 10-in-1 Multipurpose Spray, brush my hair, and let it air dry.
Once a week, or so, when I feel like straightening my hair, I use my absolute favorite styling tool: the Revlon One-Step Hair Dryer and Volumizer.

I try not to use heat products, as heat can cause yellowing on gray hair, but I use the One-Step to give my hair that professionally blown-out look. I always use it on the Low setting, so as to reduce the risk of discoloration.
I think gray hair (or silver hair, as I prefer to call it), looks great in any style, but I have a partiality for long hair. If I had the dexterity to do so, I would braid it. Have you ever seen @silvergirlmx on Instagram? Wow!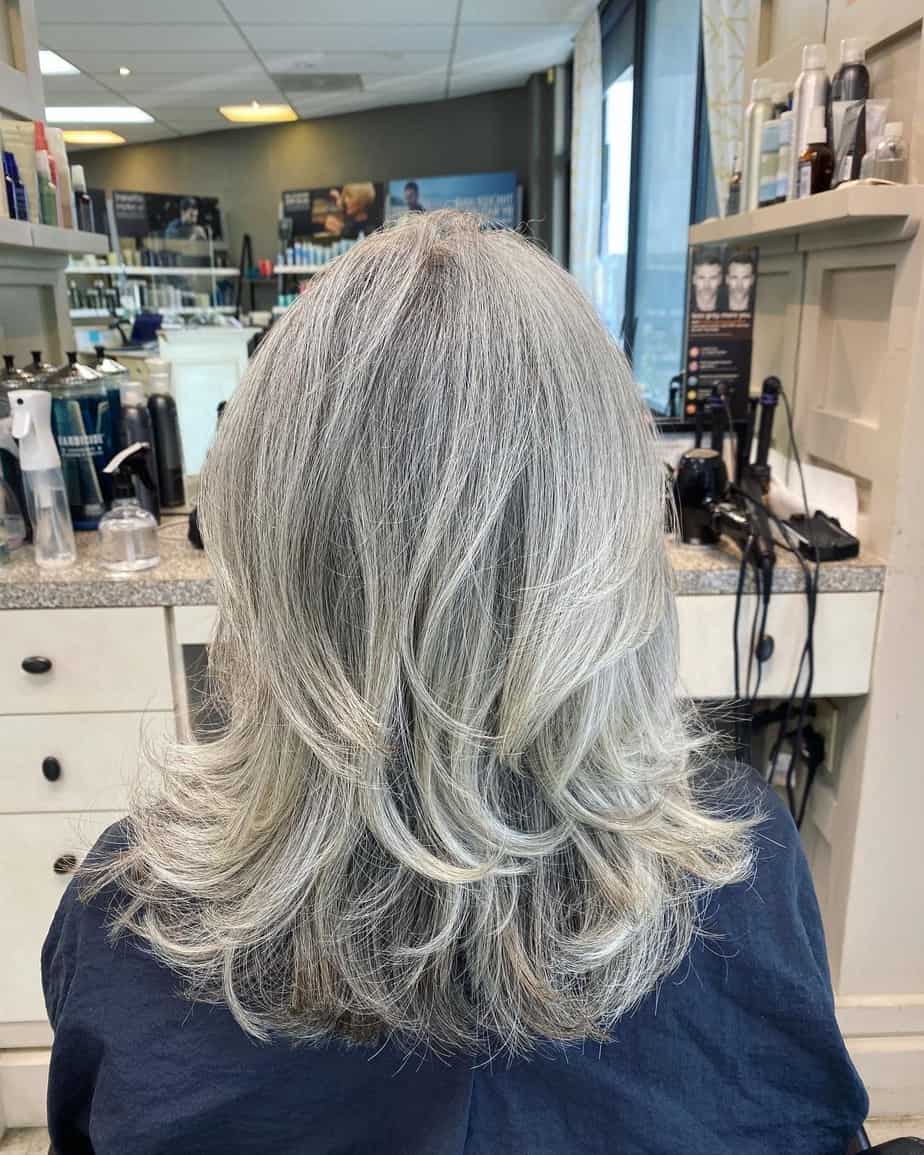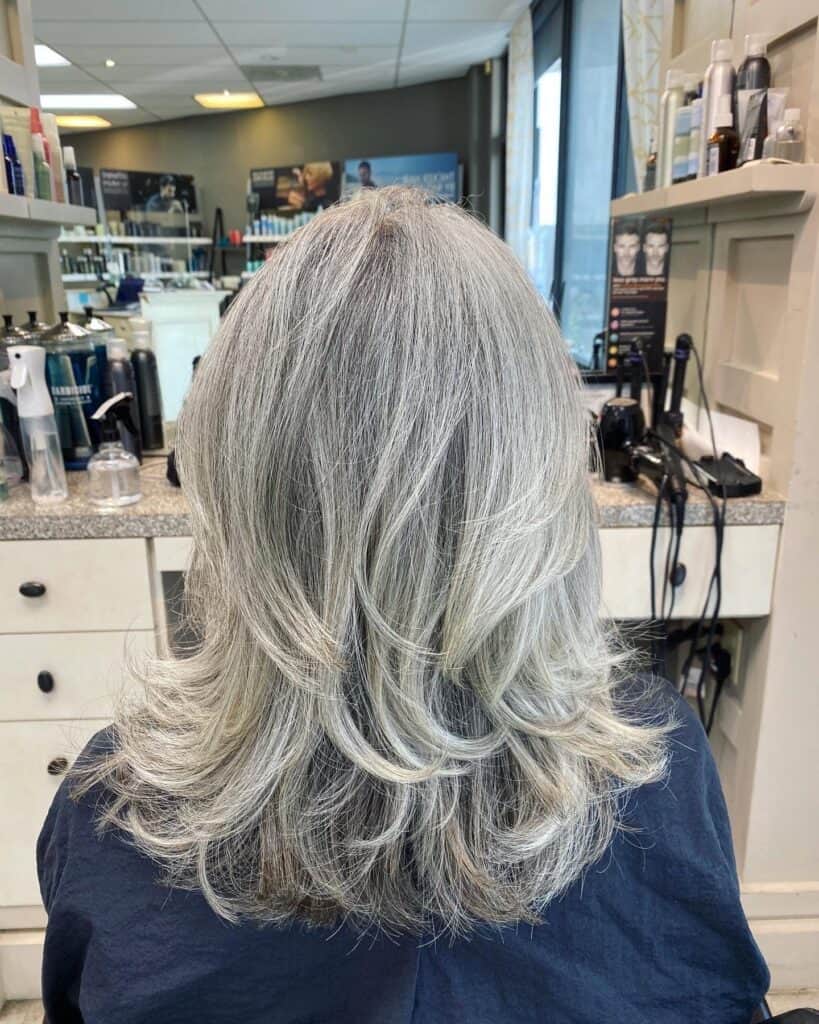 13. What are your top tips for growing out gray hair?
I think it helps to be patient and to have a sense of humor. If you are sensitive to people's comments, come up with a few comebacks so that you aren't taken off guard by someone's insensitive remark.

I also think you should consider your temperament – are you the kind of person who is happy to grow out your gray hair over time, or do you want to rip the Band-Aid off and go gray overnight? Make a plan of action so that you're happy during your grow-out and don't regret it.

Recently, I found an alternative method of going gray that I'd never heard of before, and I think it could be a great solution for a lot of women. It's called the Dye-Strip Technique and it's an amazing solution for women who don't want to bleach their hair, don't want to cut it, AND don't want a demarcation line.
My biggest tip? If your current stylist gives you negative feedback about your decision to go gray, you need to find a new, supportive stylist who will make you feel fabulous during your gray hair journey.
I created a Directory of Gray-Friendly Salons so that women all over the world could find the support that they needed. It's growing by leaps and bounds, as women sitting in those salon chairs are vulnerable and don't need to be made to feel bad about their decision to go gray.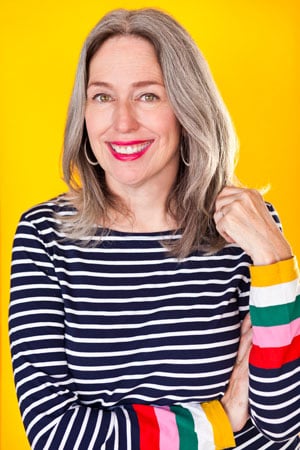 14. Any other advice or words of encouragement for those thinking about going gray?
If you have been thinking about going gray but just aren't sure, one thing that really helps is to join the gray hair community and take a peek around. Dip your feet in the water, so to speak, and see if it feels right.
Check out gray hair influencers on Instagram. Join my group, the Silver Revolution, on Facebook. Read silver hair transition stories to find out how other women transitioned to gray hair. I showcase all kinds of women on my site: women with gray curls, women of all ages, races, and hair types, as I know from experience that reading other women's stories helps while you're growing out your gray.
And if you do all that, and decide it's not for you? There's no pressure – you can keep dyeing. But I'll bet you'd be surprised by how much you'll love your gray hair if you DO go gray.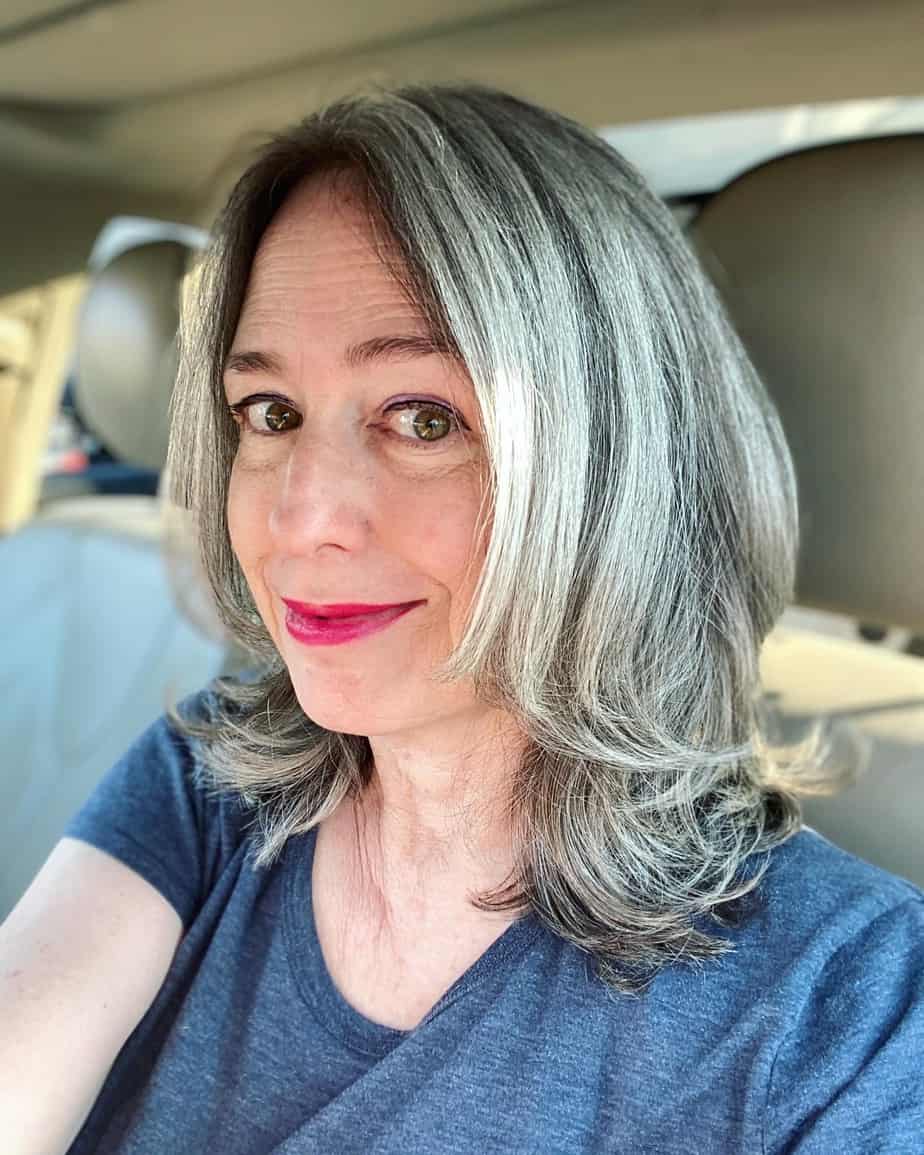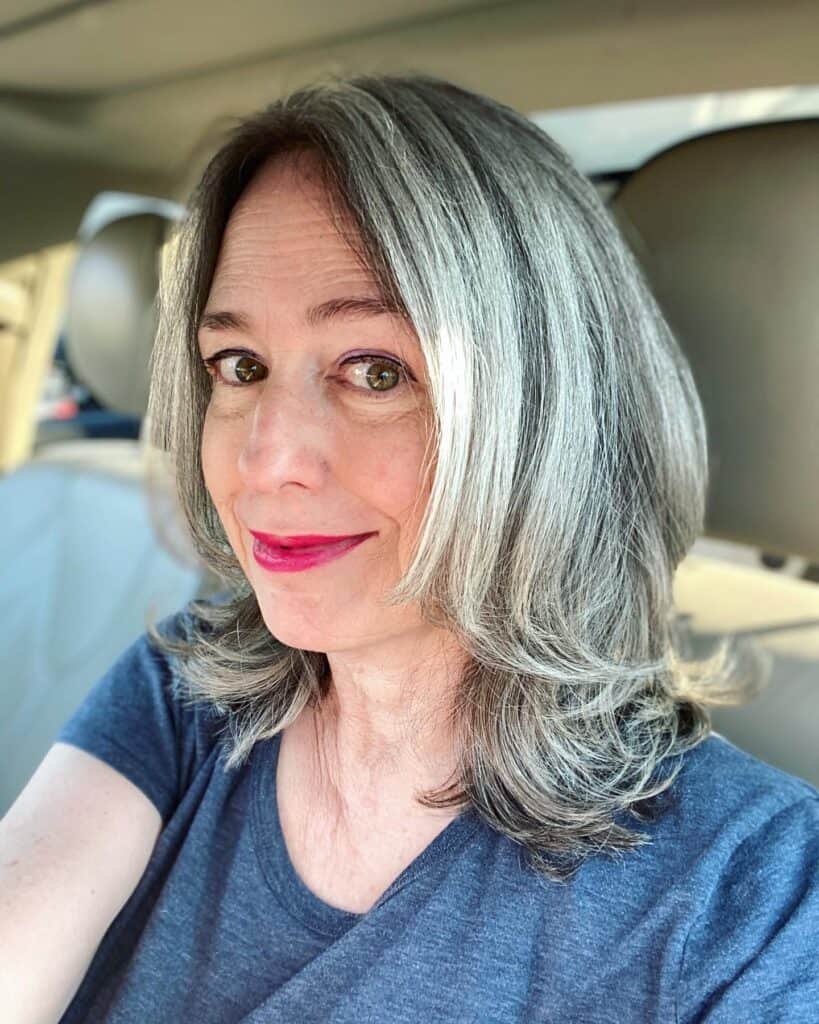 Going Gray Tips For Curly Hair
Here are curl specialist Laurie Cain's tips for grey curly hair.
Going gray can be painless and even BEAUTIFUL!!! I have worked with several guests to transition to wearing their hair natural – both in texture and color, without the painful "grow out" period and without damage that will create additional problems to overcome. Here are my tips for loving your silver curls:
I recommend working with a stylist that is supportive and encouraging you to embrace your natural hair color – silver, gray, charcoal, or just a few sparkles!
If you are uncomfortable with your stylist, either because of negative comments or the plan they develop, find another stylist! Gracefully decline and leave the salon. Warning: this could result in a small fee for late cancellation of your appointment, so I suggest scheduling a consultation prior to your appointment to discuss your goals. This will allow you both to work together to find the best solution for your particular needs.
If you have regular appointments already scheduled to cover your gray, contact your stylist ahead of time and let them know your wishes. They may ask you to come in for a consult or need to reschedule or adjust your appointment time.
While there are many different techniques to "go gray" these are the most common:

Quit the Dye -cold turkey and use styling techniques to help disguise the demarcation line. It took a few months before my line was visible and then (thanks to the curls) it wasn't dramatic. (note, I am not completely gray)
Chop it off.
Complete Make-Over -allow your stylist to remove the color from your hair through various processes/techniques which include a Color Remover and Lightening (similar to highlighting, but all over). This will usually require multiple services or an all-day appointment. After this, color/toner will be applied to create the shade that you desire.
Many Curl Specialists have been trained to highlight without foil, by painting either lightener or color onto the strand. This technique is similar to Balayage, so your stylist may be familiar with it. This technique is by far, the easiest, least expensive and healthiest option next to simply letting your natural color grow out.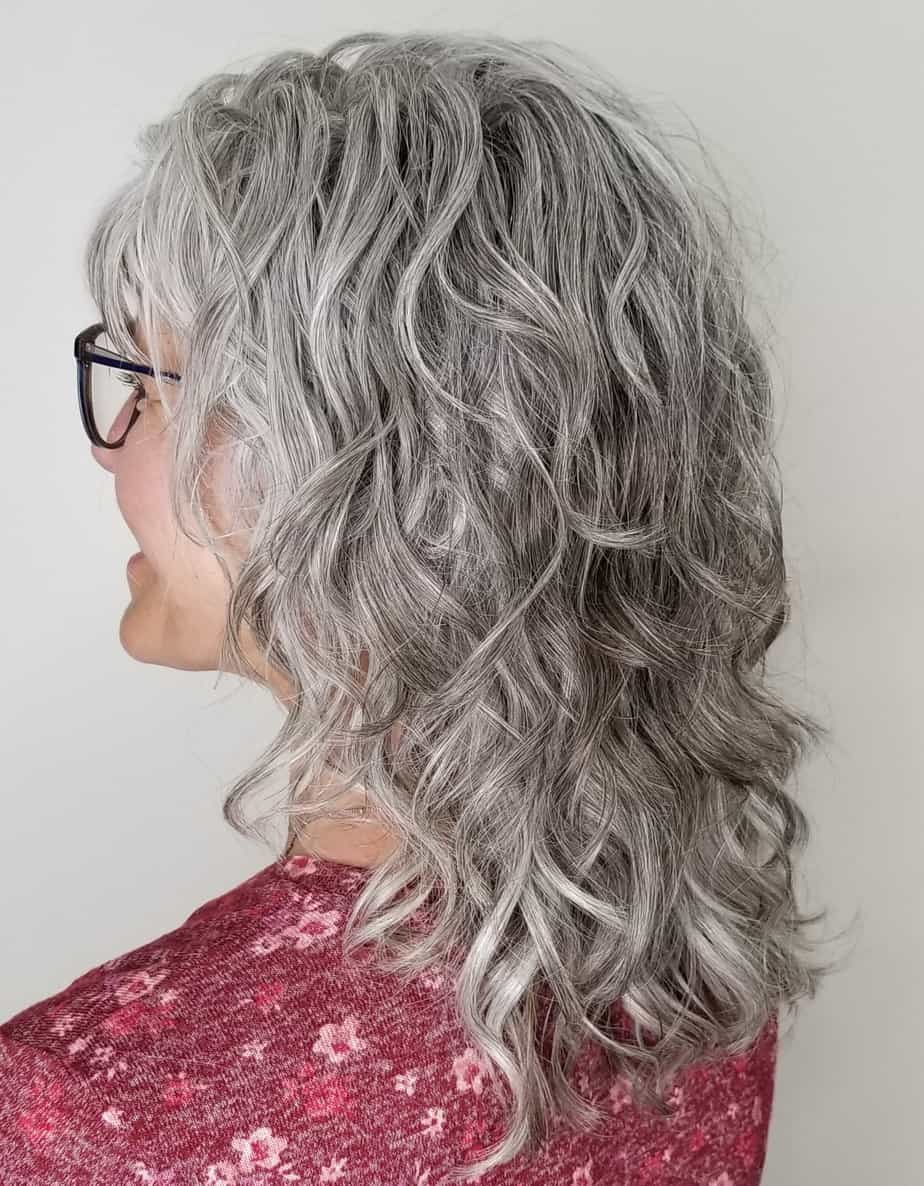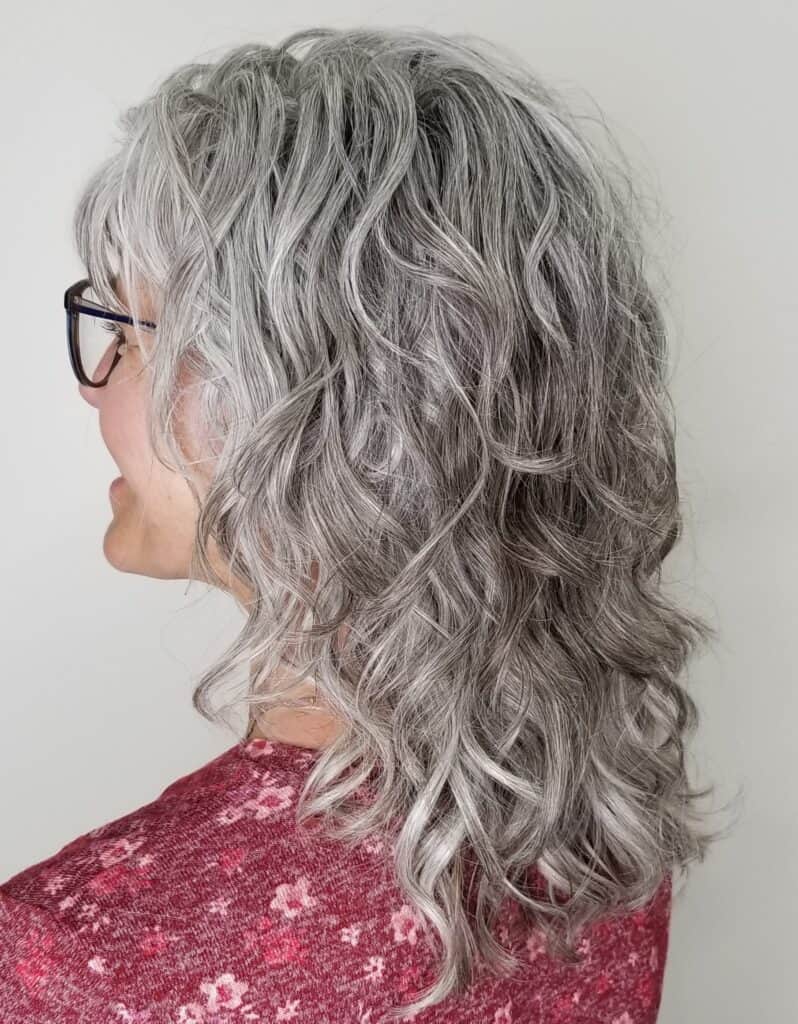 I offer a highlight service that is specifically for this purpose. I call it The Color Transition. This service can be done one time to help blur the demarcation line or can be done multiple times to create the effect of your gray "just starting to come in." I use the current color that you have been covering your gray and apply it as I would for my Curly Lights service. This can be customized to your specific goals to transition quickly or slowly. I have guests that have done this service only once, after about 6 months of allowing the gray to grow in and I have guests that do this regularly to create a lived in look of being "just a bit gray."
Remember that regardless of what you decide, you should be working with a stylist that will understand your goals and provide a solution to best fit them!! If your stylist is interested in learning more about this technique, I am happy to work with them! My contact information is www.CainCurls.com [email protected]
Check out these other curly hair posts:
If you want help with embracing your naturally wavy or curly hair, you can join my FREE email course and download my FREE pdf guide, THE QUICK START GUIDE TO MASTERING YOUR CURLS, full of everything you need to know to get started and bring out your beautiful waves and curls.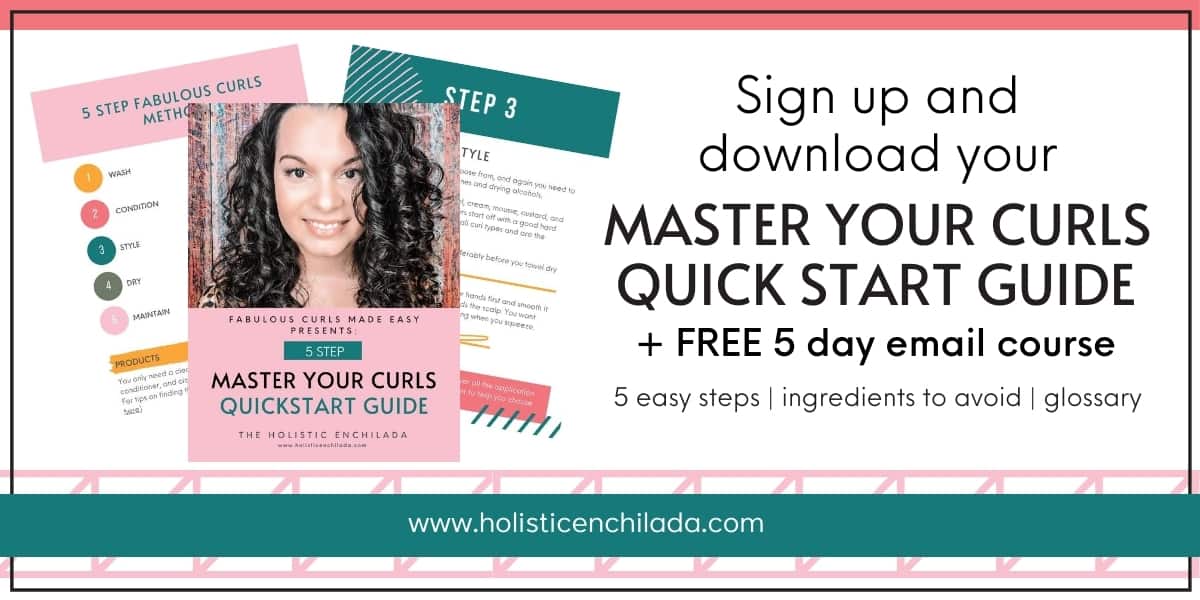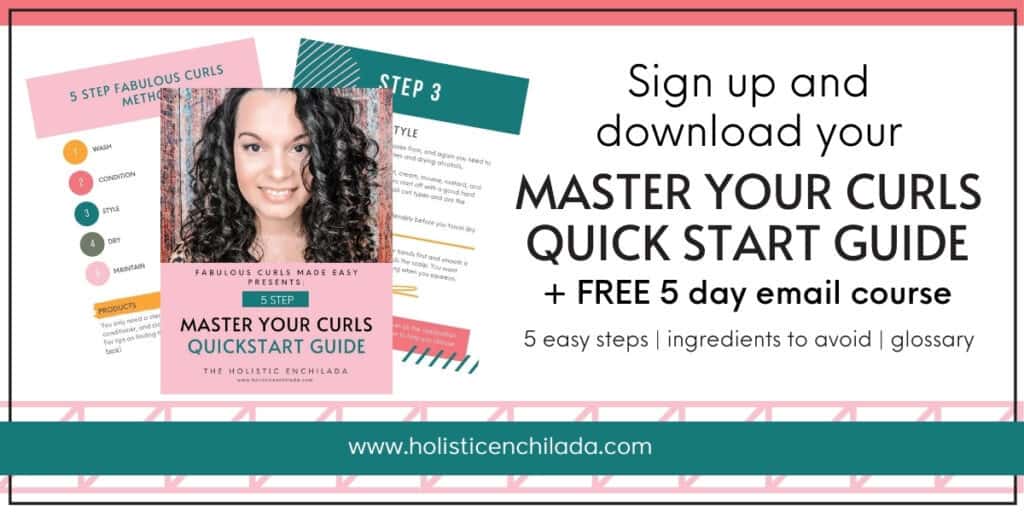 Want to remember this? Save Going Gray Tips With Katie Emery of Katie Goes Platinum to your favorite Pinterest board!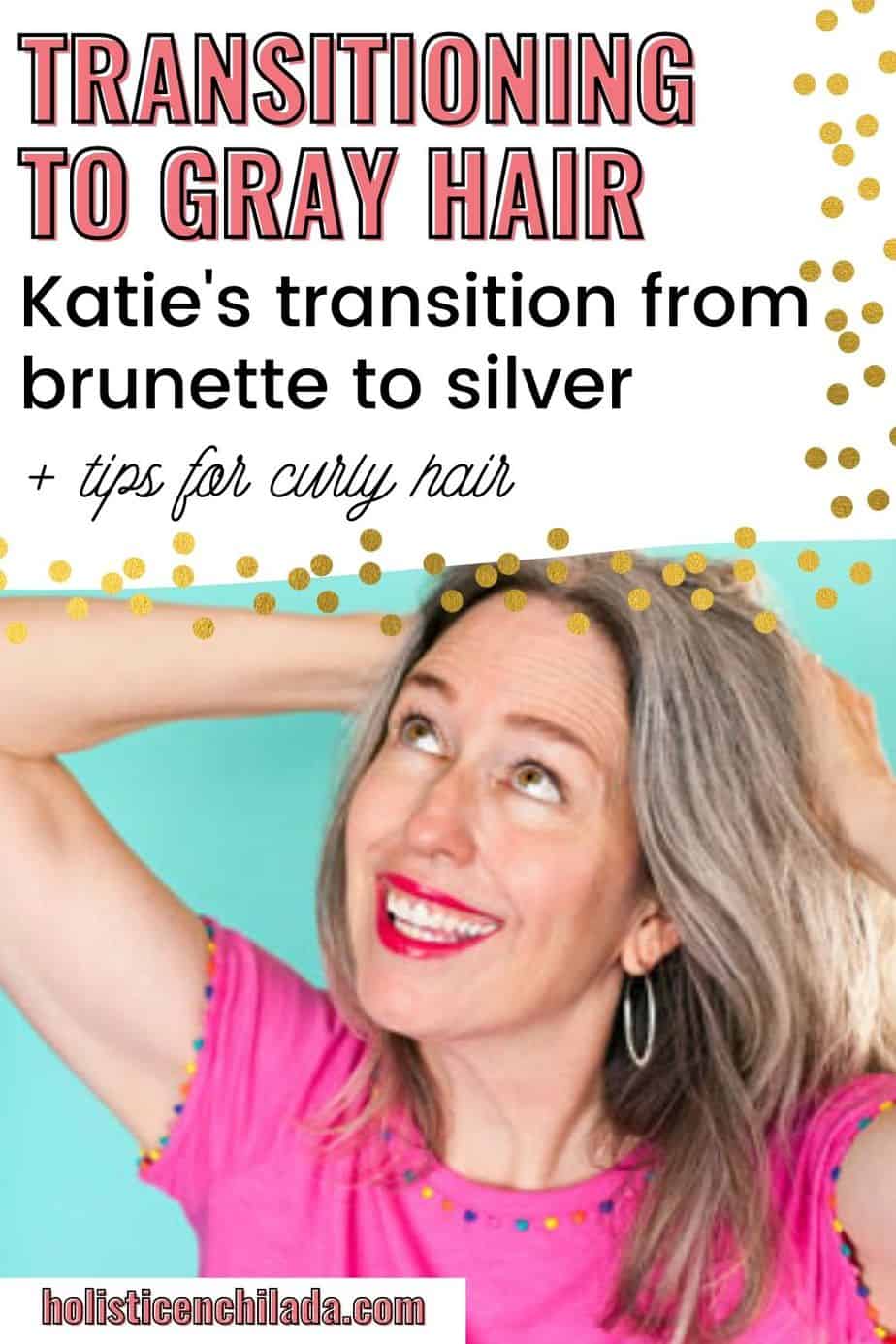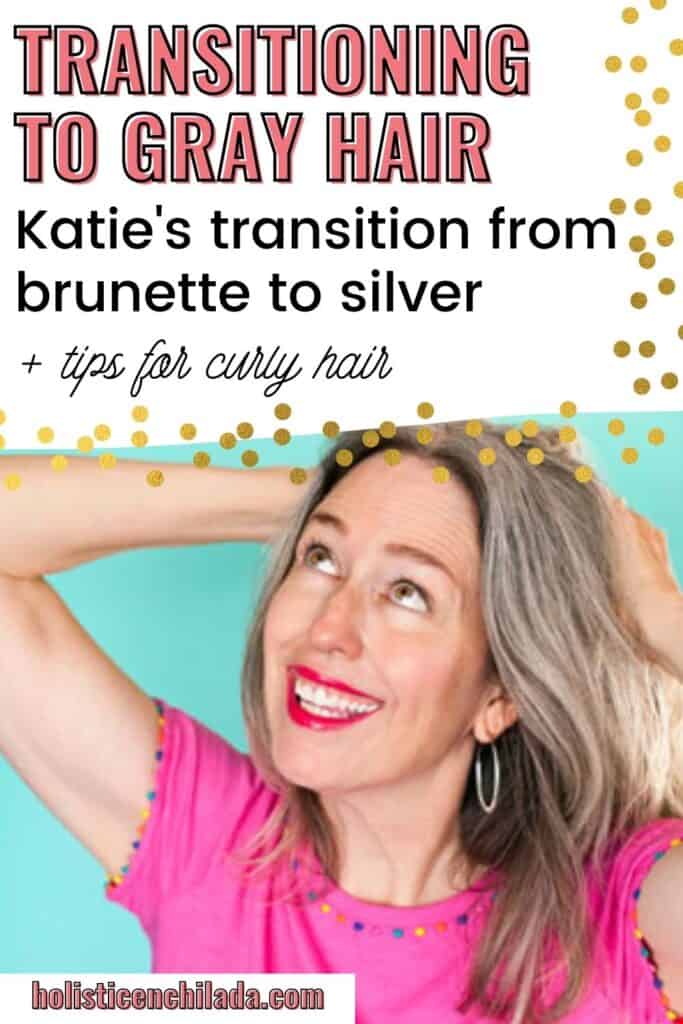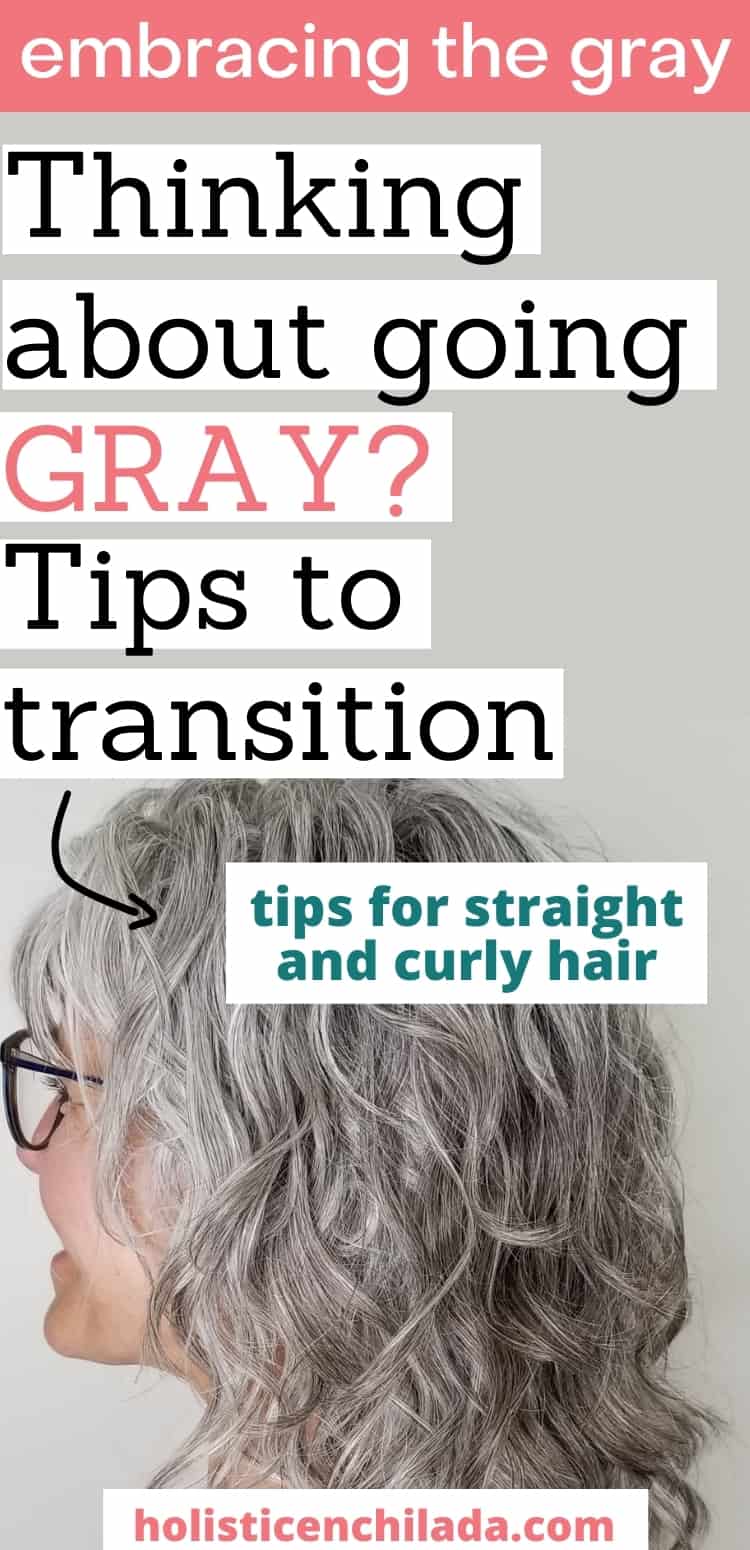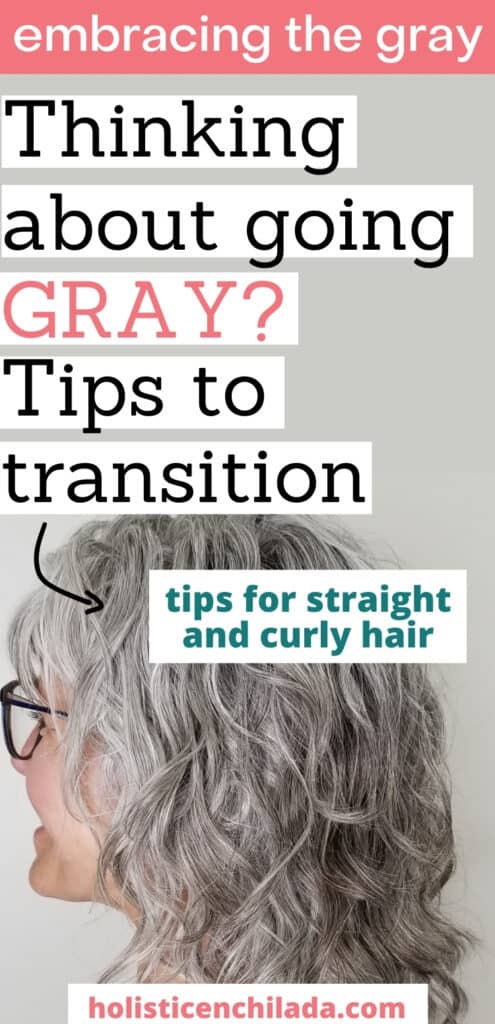 Curl Coaching
I now also offer Curl & Clean Beauty Coaching sessions virtually! You can book a 15-minute, 30-minute, or 45-minute session with me to help you solve your curly hair or clean beauty struggles. Click here to learn more.
Fabulous Curls Made Easy Online Curly Hair Course
Fabulous Curls Academy offers the curly hair resources you need to master your curls and create the routine that will give you fabulous curls. Check out the digital downloads and courses to help you have the defined, bouncy curls you want. The monthly membership is the most affordable way to access everything you need to embrace your curls with success. Click here to learn more.