The Best Heat Protectants for Curly Hair & Their Benefits
This post may contain affiliate links, and I will earn a commission if you purchase through these links. Please read the disclosure policy for more details.
Every curly girl knows that either diffusing or letting natural hair dry naturally are the best options for curly hair care. Still, it's also nice to have different styling options for when you want to switch things up.
But whether you use a blow dryer to straighten hair, a curling wand for some different ringlets, or a flat iron, you can cause irreparable heat damage by heat styling curly hair with these tools. So the heat protection offered by a good heat protectant for curly hair makes it an essential part of your curly hair care kit.
Let's take a look at heat protectants for curly hair, how to use them, and what benefits they can offer to keep your curly hair healthy. We'll also share some of our favorite products and help you choose the right heat protectants for natural hair.
What Is the Best Heat Protectant for Curly Hair?
Are you wondering which heat protectant is best for your curls? Here are some of our favorite heat protectants for natural hair:
Best Heat Protectant Spray
For the most lightweight option, a spray is usually your best bet. Sometimes the application can be tricky so I spray it into my hands and then apply it through my hair with my hands.
Shop on Amazon Buy from Curlsmith

We earn a commission if you make a purchase, at no additional cost to you.

11/30/2023 05:56 pm GMT

Shop on Amazon

We earn a commission if you make a purchase, at no additional cost to you.

11/30/2023 02:26 pm GMT

Shop on Amazon

We earn a commission if you make a purchase, at no additional cost to you.

11/29/2023 07:31 pm GMT
Best Heat Protectant Serum
Serums offer a little more sealing power than sprays, so they're usually not as lightweight as sprays. One exception is the WonderBalm.
Best Heat Protectant Cream
Cream heat protectants are great to use if your hair prefers creams in general. Creams offer more moisture than leave-ins and sprays but are a bit heavier.
Shop on Amazon

We earn a commission if you make a purchase, at no additional cost to you.

11/30/2023 12:46 pm GMT

Shop on Amazon

We earn a commission if you make a purchase, at no additional cost to you.

11/30/2023 12:51 pm GMT

Shop on Amazon

We earn a commission if you make a purchase, at no additional cost to you.

11/30/2023 12:56 pm GMT
What Is Heat Protectant for Curly Hair?
A heat protectant is a specialist hair product designed to protect your hair from the heat damage caused by heat styling tools.
Many different formulations are available, so you could choose a heat protectant spray, serum, or a cream. Each of these options will create a protective barrier that shields your hair strands, reducing their exposure to heat.
This protective shield helps you achieve your desired style without the risk of long-term damage to your curls.
Many heat protectants for curly hair also contain lightweight hydrating ingredients like jojoba oil, argan oil, and coconut oil. These nourish your hair and add moisture, giving a healthy shine without weighing down your tresses.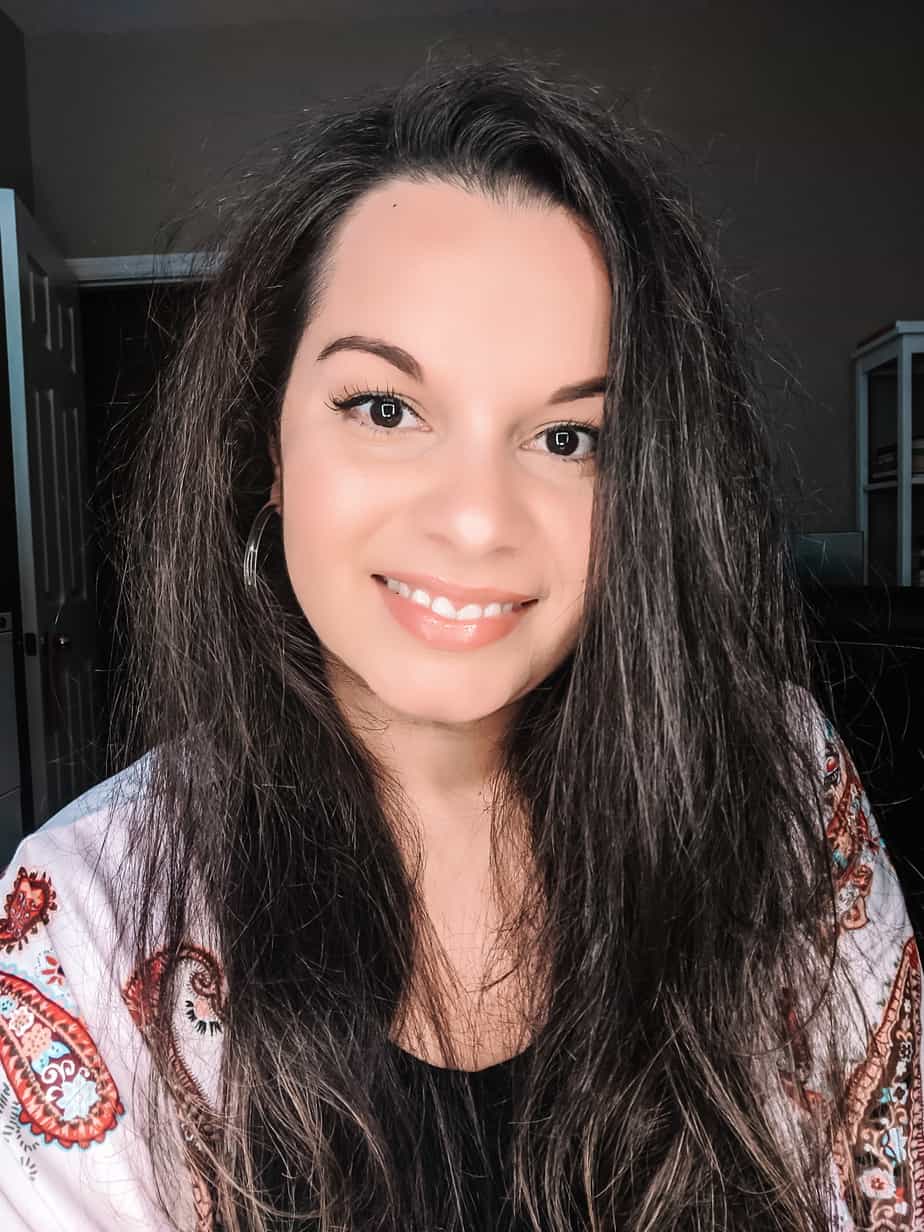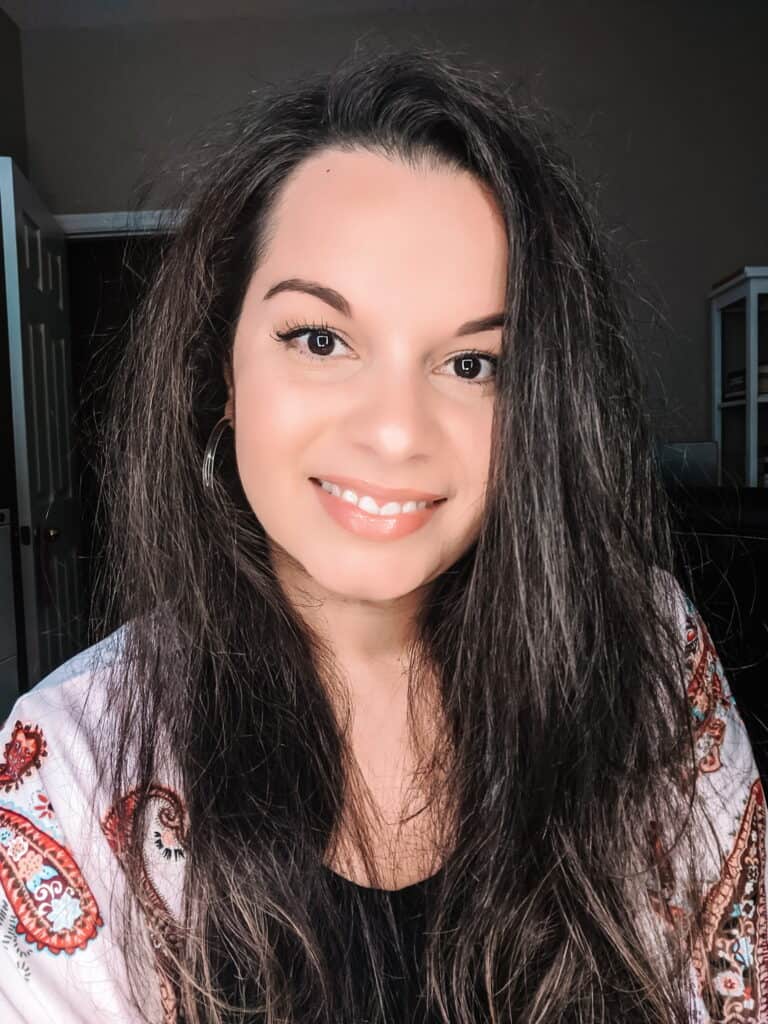 Why Does Curly Hair Need Heat Protectant?
If you want to style your curls with blow dryers, hot irons, or curling tongs, using a heat protectant is one of the most important ways to care for your curls. It adds a protective layer to the outside of your hair shafts, shielding them from the harmful effects of heat exposure.
So, what happens if you don't use a heat protectant on curly hair?
If you apply heat to your curls without any protection, you risk causing permanent heat damage to your curl pattern. That's because the protein structure that makes your hair curl can be damaged by heat exposure, leaving your curly hair straight, limp, and lifeless.
As well as damaging your curl pattern, the heat will break down the keratin bonds that give your hair strength and elasticity. It also opens up your hair cuticles, resulting in moisture loss that leaves you with dry, frizzy hair and split ends.
You might be able to repair some of the heat damage by using deep conditioning treatments and protein treatments. However, if the damage is severe, your only option may be to cut out the damaged hair or wait for it to grow out.
That's why it's so important to use a heat protectant every time you use your blow dryer or other heated styling tools.
Benefits of Using a Heat Protectant for Curly Hair
Heat protectants add a protective layer to your hair shaft, which has several benefits for curly hair:
Heat Protection
Heat protectants help to prevent heat damage by forming a protective barrier around the strands of hair. This shields hair from direct heat exposure, helping to prevent dryness, frizz, and split ends.
Many products also offer UV protection to help prevent damage from exposure to the UV in sunlight, which is especially helpful for color treated hair.
Preserves Curl Pattern
Straightening your curls without heat protectant damages the protein structure in the hair shaft. Repeated damage will eventually cause permanent damage to the curl pattern, which you can only treat by cutting the straight parts off or letting them grow out. Protecting your hair before styling will help prevent this type of heat damage.
Minimizes Breakage
Exposure to heat from blow drying or using hot styling tools dries out your strands, leaving you with dry, brittle hair that's prone to breakage. Applying a heat protectant reduces the heat exposure and lubricates your strands, which makes them less likely to snap during brushing or detangling.
Makes Styling Easier
A heat protectant protects hair by wrapping the shafts in a smooth coating. Your brush or styling tools will glide over the surface of the strands, making styling easier and resulting in a sleeker, shinier finish.
Enhances Hair Health and Appearance
Using a heat protectant consistently helps to prevent damage from everyday styling and exposure to environmental stressors like sunlight. It will also help keep your curls frizz free by sealing the hair cuticle, which makes your hair less porous and less likely to react to humidity.
Boosts Moisture Retention
As well as helping to hydrate your locks, many heat protectants help lock in moisture for healthier hair that's less prone to dryness.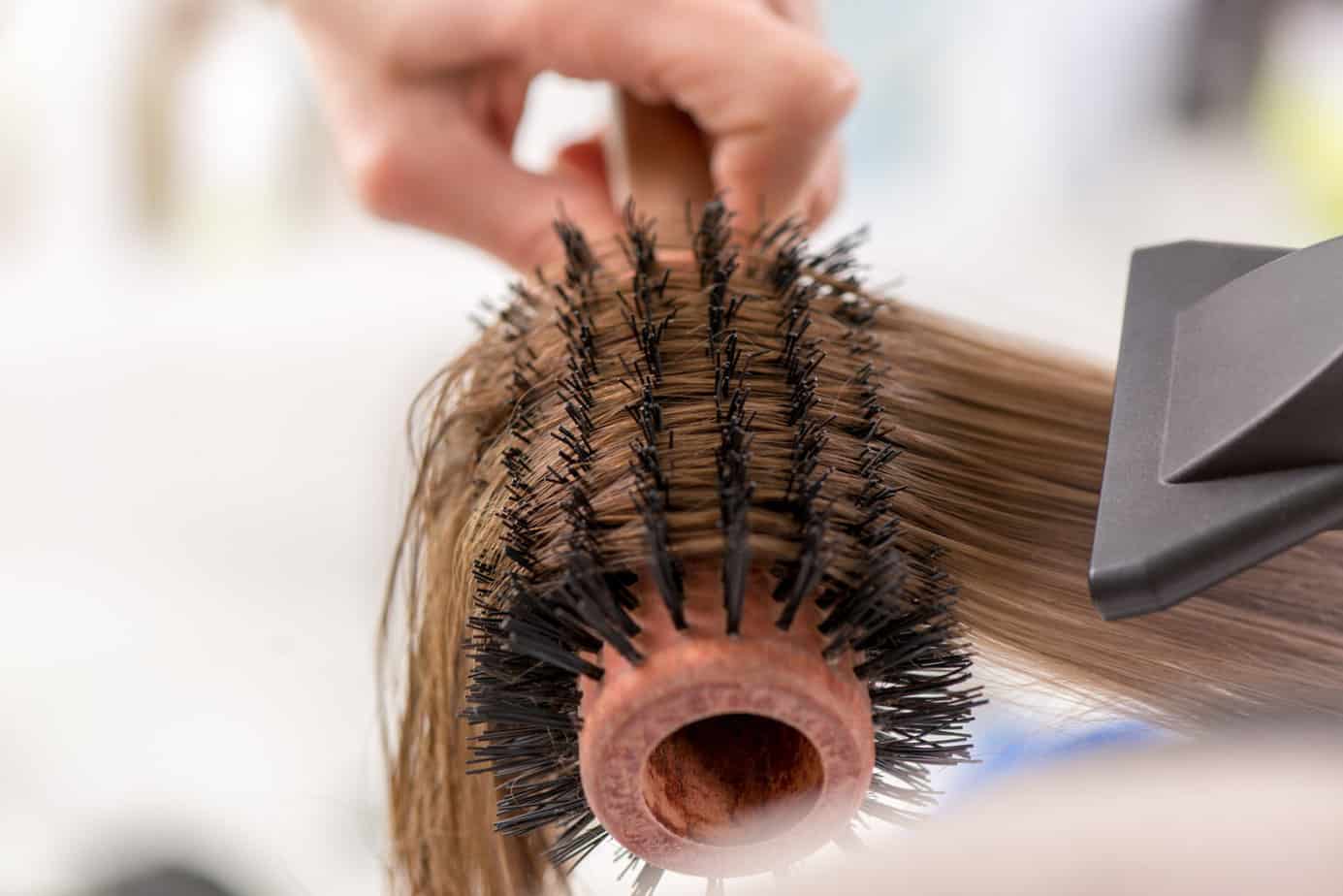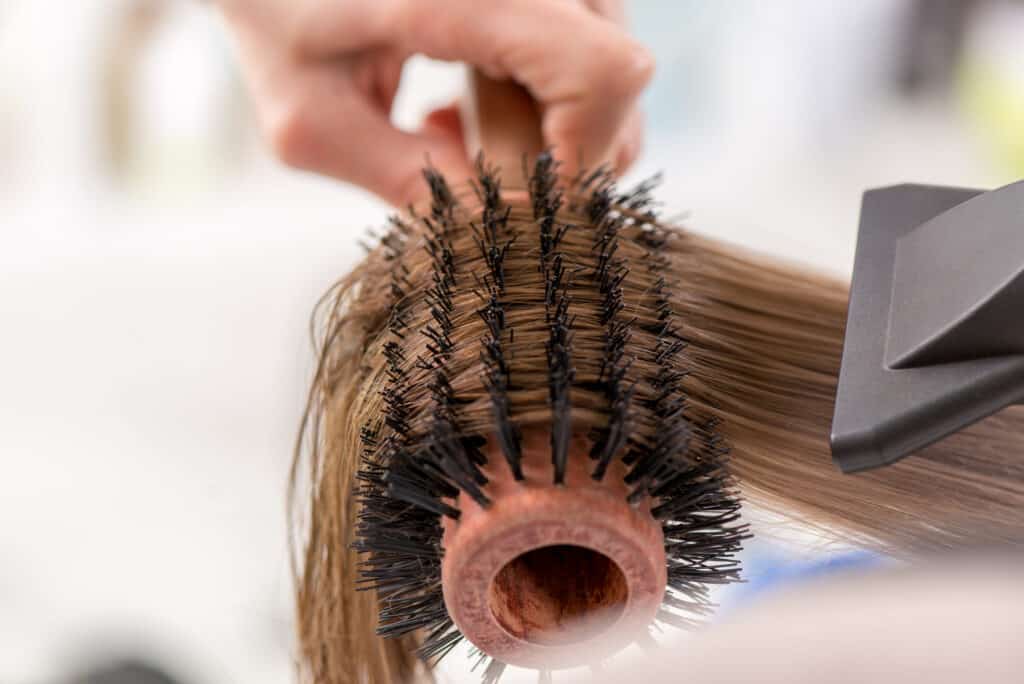 Potential Side Effects of Heat Protectants
Heat protectants are generally safe to use on your hair when applied correctly. However, excessive heat exposure can damage hair health, so you should limit heat styling to once or twice a week.
This type of product often contains silicones, as they are one of the best ingredients for heat protection and can give your hair a brilliant shine. Using silicones too often can cause buildup on your hair, making it look limp, flat, and greasy.
To avoid this, use a clarifying shampoo every few weeks to remove the product buildup.
Also, I have found that the EVOLVh WonderBalm uses a silicone alternative that provides the same protection but does not buildup on the hair. Curlsmith is also silicone free. So if buildup is an issue with your hair, I'd stick with either the WonderBalm or the Curlsmith spray.
Choosing the Best Heat Protectant for Curly Hair
Here are a few key factors that you need to consider when you're choosing the best heat protectant for curly hair.
Specifically formulated for curly hair
Look for heat protection products that mention curly or natural hair and frizz control, as these are formulated to meet the unique needs of natural hair types.
Moisturizing and nourishing ingredients
Check the label to be sure that the product contains ingredients like coconut oil, argan oil, or pure shea butter. These will hydrate your curly hair texture and stop your locks becoming dry or brittle.
Maximum heat protection
Make sure you choose a product suitable for the temperatures you'll be exposing your hair to, especially if you plan to use a flat iron or curling irons.
Application method
If you have thin or fine hair, a lightweight heat protectant spray will suit your hair better. On the other hand, if you have coarse or thick hair, a rich cream or serum could be better.
How to Properly Apply Heat Protectant
It's better to apply a leave in conditioner before heat protectant to give your curls maximum hydration.
It's essential to ensure that you cover your entire head of hair evenly, so apply your protectant to damp or dry hair, section by section. If you are using a heat protectant spray, spray it evenly over your curls from about 15cm away from your head.
Once you've applied the protectant, comb it through to distribute it evenly throughout your hair.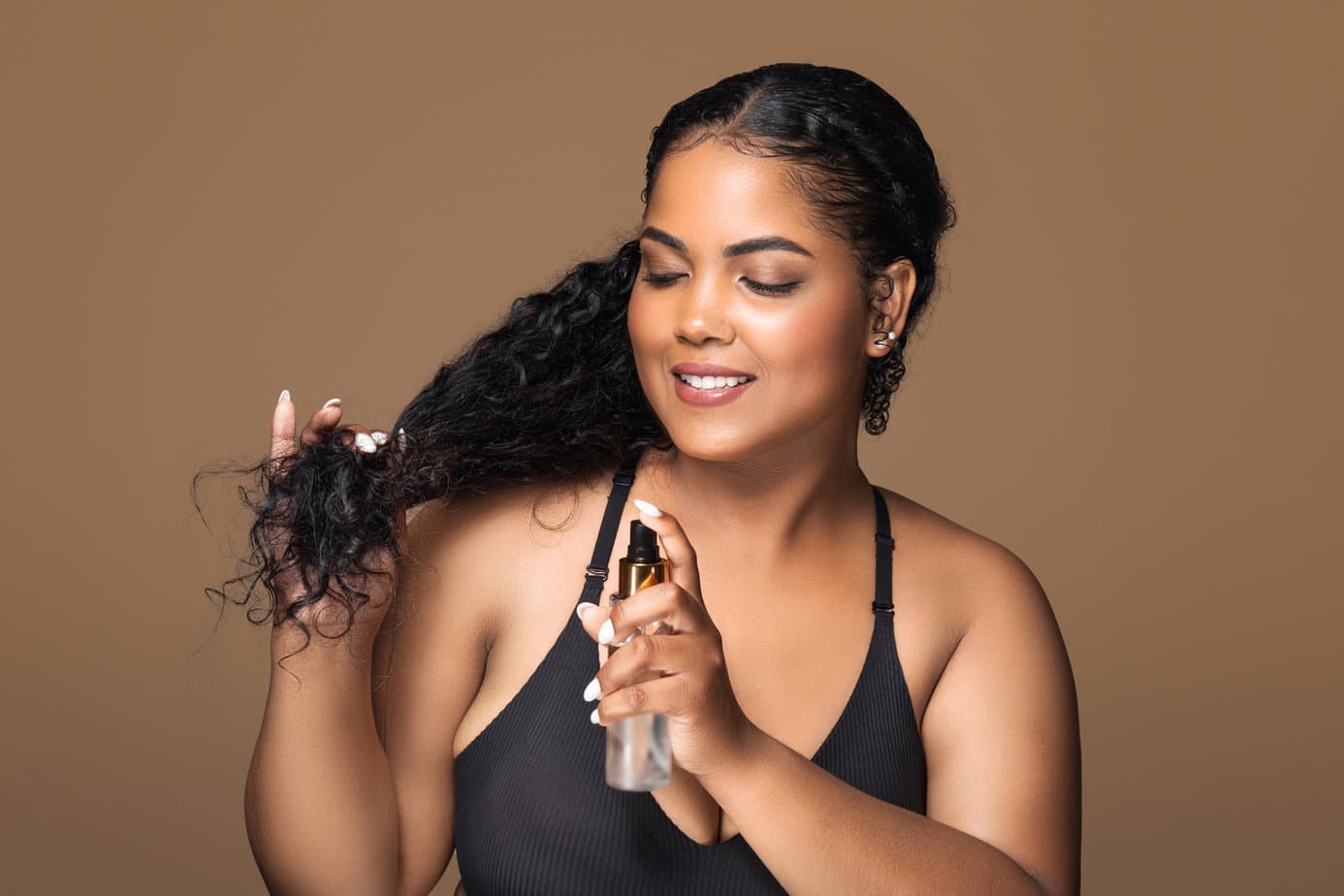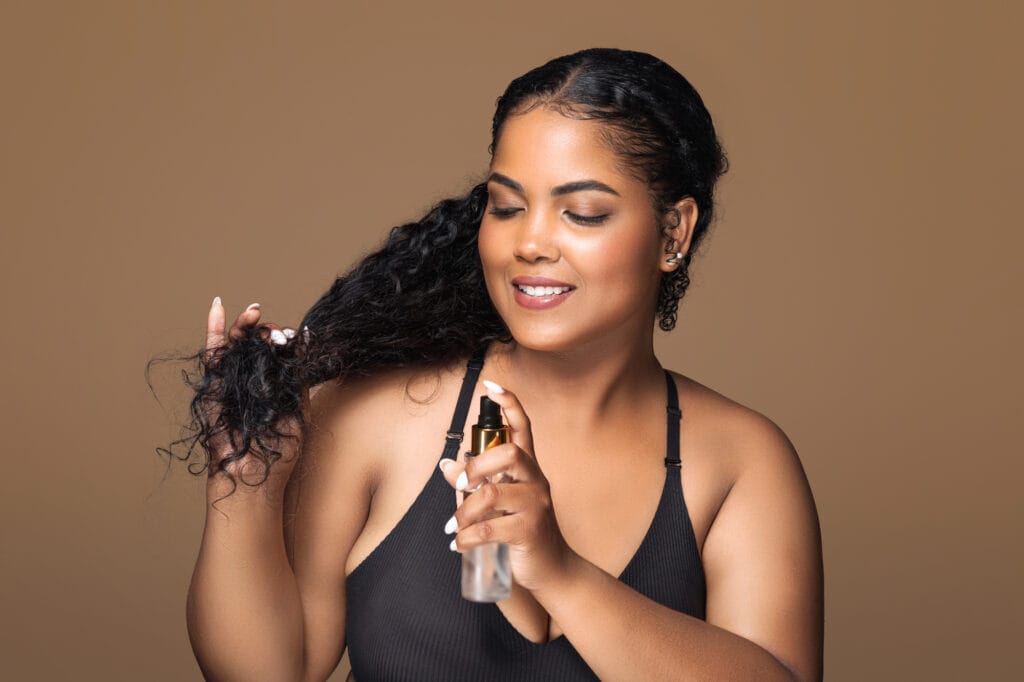 FAQs
Still need more info about heat protectant for curly hair? Take a look through these frequently asked questions:
How Often Should I Use a Heat Protectant?
You should apply a heat protectant whenever you use hot styling tools on your curls. However, it's better not to use heat on natural hair types more often than twice per week to avoid damaging your curls.
The one exception is diffusing as this does not really cause heat damage.
Should I Use Leave-In Conditioner With Heat Protectant?
Heat draws moisture from your strands, so always use a leave in conditioner before applying heat protectant to hydrate your hair, improve manageability, and minimize breakage.
Cream typically takes the place of a leave-in conditioner so if you use a heat protectant cream, you don't also need a leave-in.
Can I Straighten My Curls Without Using Heat Protectant?
If you're styling natural hair with heated straightening irons, you should always use a heat protectant to protect your hair from the high temperatures.
If you have a fine to medium wavy hair type, it may be possible to straighten your waves without heat. However, you won't achieve the glossy straight style that heated straighteners will achieve
You could try using rollers, wrapping the hair around your head, or brushing your hair while drying it using your blow dryer's cold setting. Your hair could take several hours to be totally dry, and you should apply hair oil afterward to keep your hair frizz free.
Can a Heat Protectant Be Used on Wet or Dry Hair?
Depending on which product you choose, you may be able to use it on either damp or dry hair. You can use your protectant on wet hair before blow drying and on dry hair before using heat styling tools like curling irons or flat irons.
The Bottom Line
Heat exposure can damage healthy curls, which are naturally prone to dryness, frizz and breakage. So if you choose to use heat styling tools on your curls, applying a heat protectant for curly hair is essential to reduce the risk of heat damage.
Heat protectants also nourish your tresses with ingredients like argan oil, black castor oil, or shea butter, and lock moisture into every strand. All of this helps make styling easier, so you can achieve the glossy, frizz free hair of your dreams.
Whether you choose a heat protectant spray, cream, or serum, it's essential to choose a heat protectant specifically formulated for curly hair. This will provide your curls or coils with a protective shield from the heat of your blow dryer, curling wand, or flat iron.
And with so many excellent products to choose from, you're sure to find the perfect heat protectant for your hair type.