A Guide on Caring For 2A Hair
This post may contain affiliate links, and I will earn a commission if you purchase through these links. Please read the disclosure policy for more details.
Type 2A hair has loose waves with just the right amount of natural volume, and it just needs a little touch of styling product to look effortlessly glamorous. But without proper care, 2A hair can also look flat and lifeless, or frizzy with split ends.
Understanding your hair type can really help you to manage any problems that you might have with your 2A hair. In this guide, we'll show you how to tell if you have 2A hair and give you some easy styling tips to help you pamper your wavy locks.
What Is 2a Hair Type?
Type 2A hair is one of the subcategories of the Andre Walker hair typing system, which ranges from the straightest (1A) to the tightest coils (4C). The number 2 indicates that you have wavy hair – the other types are 1 (straight), 3 (curly), and 4 (coily). The letters are used to describe the tightness of the wave or curl patterns, so a is the loosest and c is the tightest curl pattern within each of the 4 hair types.
Type 2A is a wavy hair type, with the loosest wave pattern out of the three wavy hair types. The strands range from fine to coarse, with straight roots and loose S-shaped waves starting from a few inches down. This can make your wavy locks look flat and lacking body, but a little careful styling will help to define the soft waves.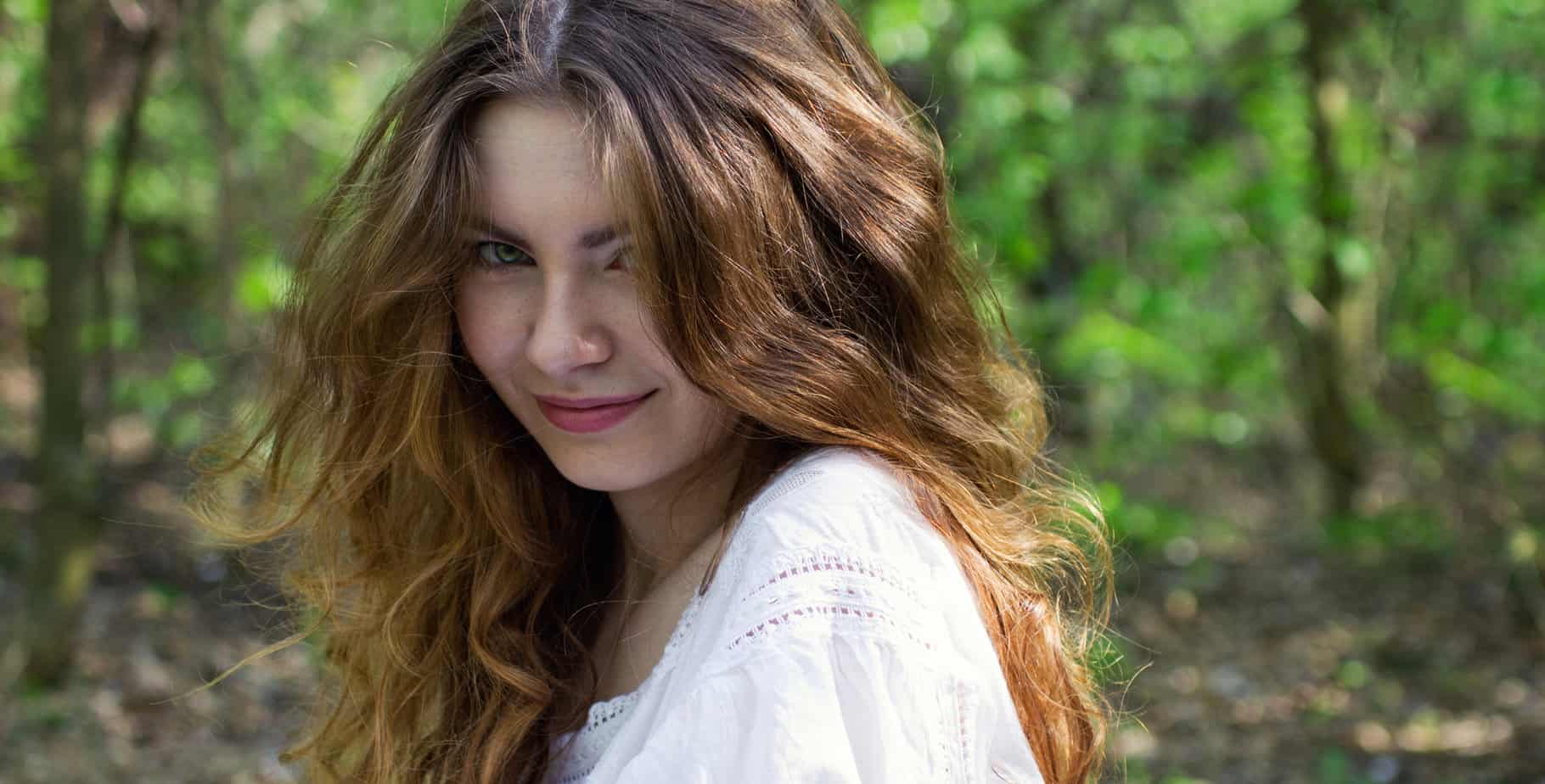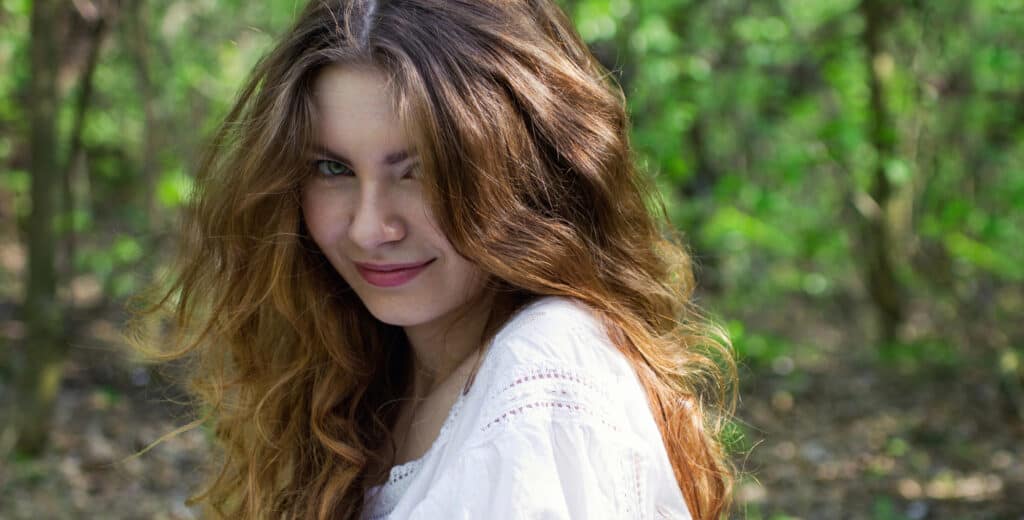 If you're not sure what hair type you have, our simple hair type quiz can help you to work it out.
Knowing your curl type only gives you a general description of the kind of hair you have. Everyone's hair is unique and it's more important to know your own hair's porosity, density, and texture. This will allow you to tailor your hair care routine to keep your mane looking its best.
Benefits of Type 2a Hair
There's a lot to love about your 2A waves, especially because their natural texture creates plenty of body and movement. You won't have to work hard to make 2A locks look gorgeous, just adding a little curl definer to damp hair and letting it air dry will be enough to bring out the beauty of your waves.
Type 2A can be very low-maintenance as long as you care for it properly. It can lie a bit flat at the roots, but with the right hair care routine and products, your loose waves can look naturally tousled.
And because your roots are quite flat, your hair is less likely to be dry along the full length of your strands. So as long as you care for the ends, wavy hair types don't usually have the problems with dryness that curly or coily hair has.
Challenges of Type 2a Hair
Type 2A hair can easily get weighed down by products or become dry and damaged by over-washing. Excessive use of hot tools or over-brushing can also cause split ends and even breakages.
2A strands tend to fall flat at the roots and then wavy from the mid-lengths. Those waves stop your scalp's natural oils from traveling down the strands, so you might have oily roots and dry ends.
And type 2A hair can have an inconsistent wave pattern that needs curl-enhancing products to get the look that you want. Simply air drying your hair without adding any product can cause your flat roots and irregular waves to look more messy than tousled.
Similar Hair Types
The two types that are most similar to 2A hair are types 1C and 2B. If you have wavy tresses, you might not be sure which hair type you have, so here's how to tell the difference between them:
1C
1C can look very similar to 2A hair. It is fairly straight hair with a slight wave pattern underneath but usually there is minimal frizz. 1C hair is easier to straighten and has more volume than 2A hair, whereas 2A has more prominent waves than 1C hair.
2B
2B hair has a similar wave pattern to 2A type hair, but the waves are more defined. It lies flat at the crown and defined S-shaped waves start from the midlength of the strands. You will need to work harder to straighten 2B hair.
How to Care For 2a Hair
If you have type 2 hair, you're probably used to dealing with oily roots and dry ends. The porosity of your hair affects how dry it gets, and there are three categories: high, medium, and low porosity.
Wavy, curly, or coily hair types all tend to have medium to high porosity, which means they have open cuticles that allow moisture to escape. Knowing the porosity of your own hair will help you to select products that will hydrate your locks so they'll look their best.
Here are a few tips to help you care for 2A tresses:
Washing And Brushing 2a Hair
Shampoo can be very drying so it's best to wash type 2A hair once every few days, using a hydrating shampoo and conditioner to add moisture to your locks. Focus the shampoo more on your scalp than the mid-lengths and ends of your wavy locks, as these tend to be drier than the roots.
A lot of people use too much conditioner on 2A hair, so make sure you're only using a quarter-sized dollop or less if your hair is short. A final rinse with cold water will smooth the hair cuticles, sealing in moisture and giving even better shine.
Towel dry your hair gently with a microfiber or t-shirt hair towel, but avoid rubbing the strands as this can disrupt the curl pattern. Try plopping to encourage clumps and curl formation.
Use a detangling product like a leave in and a rake comb to get rid of any stubborn knots before brushing and styling, as this will help to reduce breakages. Rake and scrunch in some styling product to enhance your waves. A good mousse or gel will help reduce frizz and hold your style.
If your hair does start to look greasy between washes, a little dry shampoo on your roots will help to refresh it.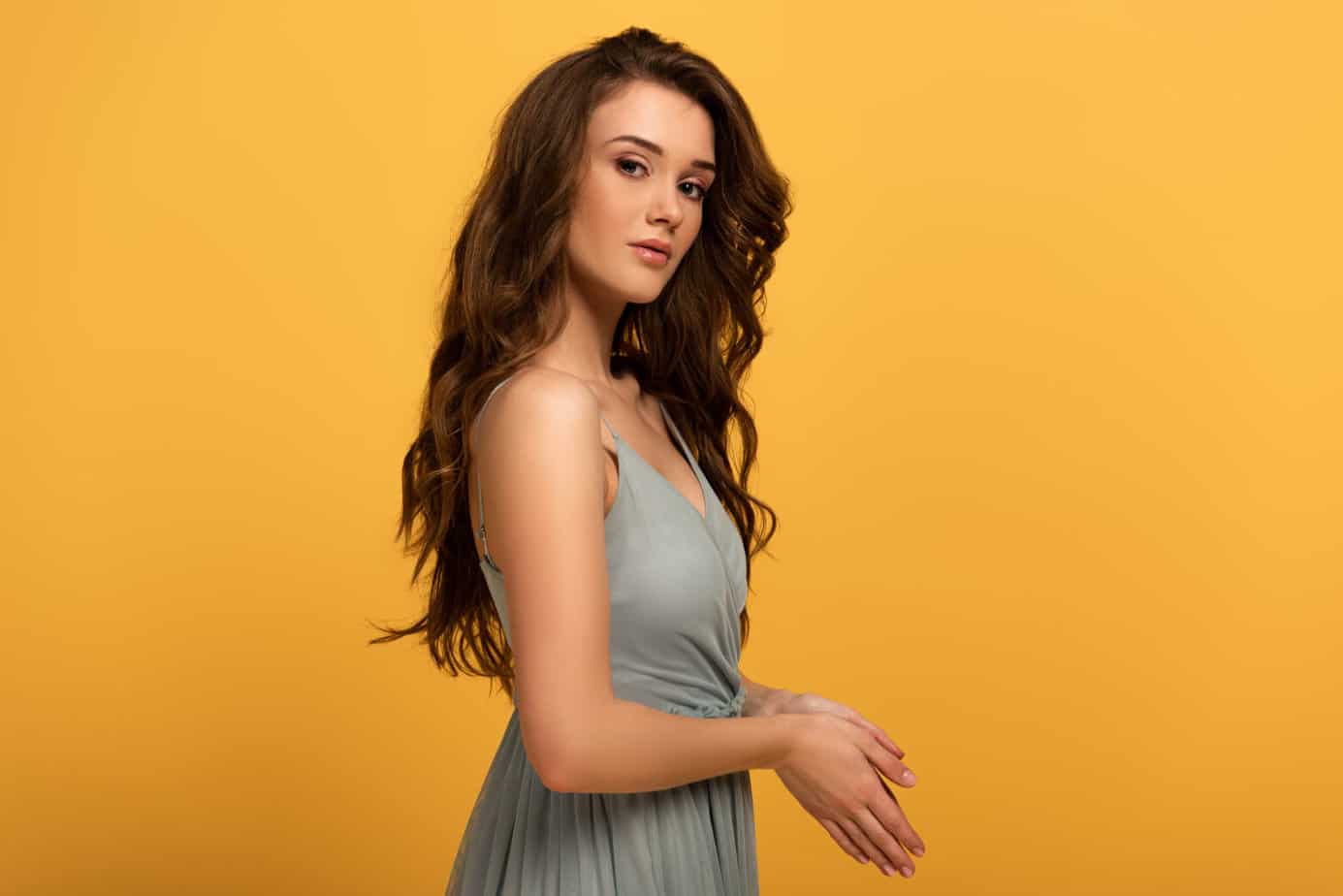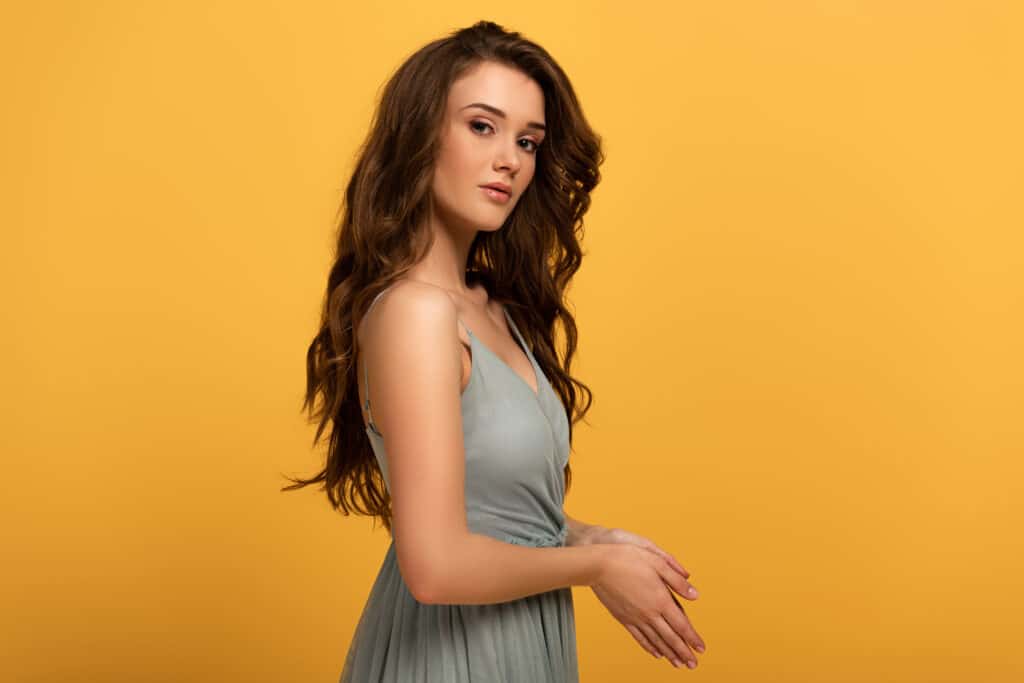 Type 2a Hair Products
Below are some of the best products for 2A hair.
But remember that you should choose products based on your texture, density, porosity, and healthy, NOT based on your curl pattern.
Not sure what your hair stats are? Take our quiz.
TWIST Hit Reset Shampoo
This is one of the best shampoo for 2a hair because it's cleansing enough to not weigh down your hair but provides just enough moisture.
TWIST Weather Or Not Element Defying Conditioner
This conditioner is moisturizing and helps reduce frizz in humid and dry weather. It adds nice slip to detangle and softens hair. It's the perfect balance for type 2 hair that needs moisture but not too much.
TWIST Weather Up Gel Weightless Curl Defining Gel
A hair gel is great to use when styling because they define waves and curls and eliminate frizz. This one is light enough for type 2 hair.
Top Pick
We earn a commission if you make a purchase, at no additional cost to you.
Cantu Curl Activator
If you want to enhance your waves, layering a curl activator under your gel can help.
We earn a commission if you make a purchase, at no additional cost to you.
Kerotin Volumizing Duo
If your hair needs a volume boost give this duo a try. The mousse will give all over volume while the root lifter helps with flat roots.
Top Pick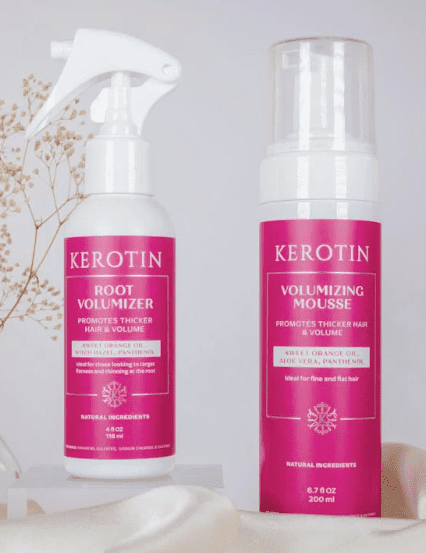 We earn a commission if you make a purchase, at no additional cost to you.
EVOLVh SuperCurl Cream
This is the best curl cream for type 2 hair providing definition, moisture, and light hold. If you don't want the definition and hold of a gel then try a cream.
Top Pick
EVOLVh SuperCurl Defining Cream
A defining cream for all wavy and curly hair that adds lightweight moisture and light hold. Works well on its own but style lasts longer when paired with DreamGel.
Use affiliate code HE15 to save on your first order.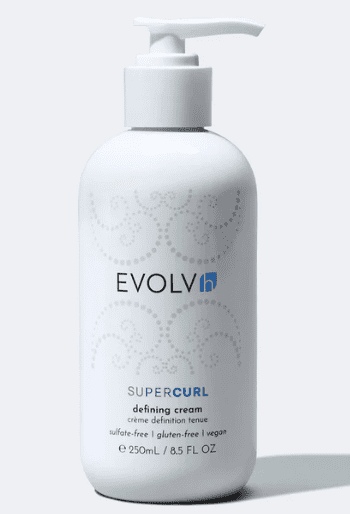 We earn a commission if you make a purchase, at no additional cost to you.
Mielle Babassu & Mint Deep Conditioner
This deep conditioner has some protein which type 2A hair needs to help it hold onto moisture and have better curl retention.
Curlsmith Bond Curl Rehab Salve
Type 2 wavy hair needs protein to keep hair moisturized, strong, and healthy. This protein treatment also contains bond repairing technology which is great for all damaged hair.
Curlsmith Bond Curl Rehab Salve
If your hair needs a boost of protein without a lot of moisture, this is a great pre shampoo treatment. It's also a bond building treatment that strengthens and repairs hair form the inside out.
We earn a commission if you make a purchase, at no additional cost to you.
Hydration
Textured hair strands naturally tend to lack moisture, which is why your 2A waves are prone to frizz. So it's really important to make hydration a priority and avoid anything that could dry your hair out even more.
Avoid heavy creams and choose lightweight moisturizing products like a leave-in conditioner instead to help hydrate your wavy locks. You should definitely use a good heat protectant before using any kind of hot tool.
A weekly deep-conditioning treatment, oil, or hair mask before shampooing will add moisture back into your waves and keep them looking their best. For maximum hydration, put a shower cap on after applying the treatment to let it penetrate the hair shaft even more.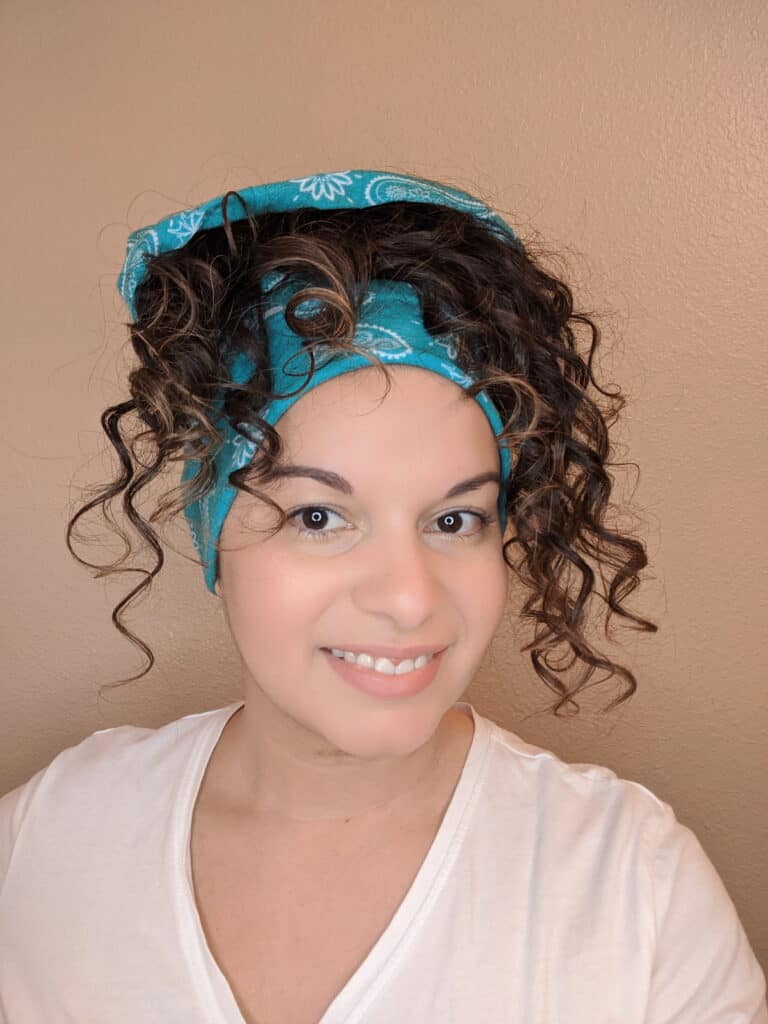 Sleep Protection
Your wavy strands can easily be damaged, even when you're asleep at night. Cotton pillowcases will draw moisture out of the strands and pull at them as you toss and turn. Switching to silk or satin pillowcases is an easy way to protect your hair, or you could wrap your hair in a satin scarf instead.
Read more: How To Sleep With Wavy/Curly Hair
Drying
Using a hair towel to plop your hair dry is gentler than rubbing it dry with a standard terrycloth towel, and will help to avoid stretching or tangling wet hair.
Best Method
Adding heat to wavy hair types often creates frizz, so let your 2A hair dry naturally as often as possible for beautiful tousled locks. If you need to dry your hair faster, blow drying with a diffuser will spread the hot air more evenly across your entire head and help to avoid heat damage. Diffusing also provides more volume.
Over-styling is another common problem for people with 2A hair, but air drying your hair will help you to understand your hair texture and manage your curls better. This will help you to style your waves more confidently and use less styling product on them.
Tips and Tricks
2A hair looks great when it's styled naturally, and you only need to apply a curl-enhancing cream or gel to damp hair before scrunching it into gentle waves and letting it air-dry or diffusing.
Apply your styling products to wet hair before plopping with your hair towel. This ensures minimal frizz and locks in hydration. Then you can air dry or diffuse.
2A Wavy Hair Routine
This 2A wavy hair routine is a good example of how to style your waves for more definition and a longer lasting style.
For those days when you want to elevate your waves to the next level, here are a few extra tips and tricks to try out.
Using a curling iron on fully dry hair will add volume and bounce to your waves, giving you loose curls with a more elegant appearance.
Try a blowout with a round brush or paddle brush to straighten your hair and give it masses of touchable volume.
Pin curls are a fabulous, heat-free way to transform your waves into well defined curls. Leave the curls in place overnight for the best effect.
Sock curls is another popular heat-free method of creating soft waves.
Try The Curly Girl Method
If you have not been wearing your hair in its natural texture for a while you can try doing the curly girl method to revive your natural waves and curls.
The curly girl method, or CGM for short, is a special way to care for your curls to enhance their natural texture and improve the health of your hair. Over time, your hair will curl a little more and you'll spend less time styling it.
My hair used to be mostly 2A and 2B and now it's much curlier, mostly 2C and 3A, thanks to the curly girl method.
Read more: The Ultimate Guide to The Curly Girl Method for Wavy & Curly Hair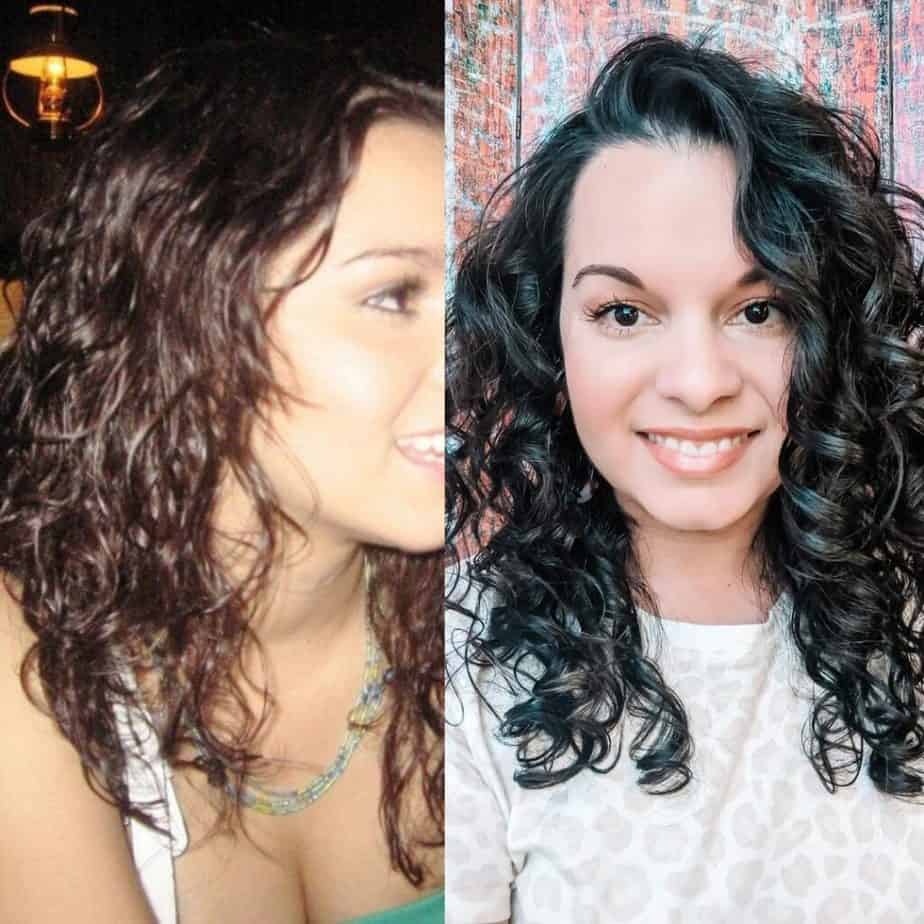 How to Style 2a Hair
The texture and loose waves of 2A hair mean that it can be easier to style than most other types. It suits a wide range of styles from pixie cuts to shoulder-length bobs, and you can choose whether to leave your hair naturally wavy, straighten it or enhance the curl with defining products or a curling iron.
You can have lots of fun changing the look of your wavy 2A hair, but you do need the right cut, hot tools, and styling products.
Women
There are a few things you can do to make styling your 2A hair easier:
Choose the right length – a blunt, shoulder-length cut will show off your waves and reduce frizz.
Try a deep side part – fine hair can look flat and lifeless, but a deep side part will give it an instant lift.
Get beachy waves – your natural waves lend themselves to a tousled, beachy look, which is really easy to achieve with some sea salt spray and a curling iron if needed.
Men
If you struggle to style your wavy hair, it might be easier to keep your hair shorter. Longer hair gets more weighed down by styling products and natural oils from your scalp, which can spoil the look of your waves.
If you have thick, wavy hair, you could ask your barber to reduce the bulk with thinning scissors or a razor.
Hair Type 2A FAQs
If you've still got questions about your 2A hair type, here are some of the most popular questions that we get asked:
How Do You Know What Your Hair Type Is?
If you have wavy hair but you're not quite sure which exact type, how can you tell what hair type you have? Here's how to tell the difference between the different wavy hair types:
2A hair has a slightly wavy texture and the least prominent waves
2B hair has beachy waves that can be prone to dryness
2C hair has tight waves that are close to curls, it can also tend to be frizzy
It's normal to have a mix of curl patterns anyway, so may have more than one. Don't stress trying to find the one pattern you have. Knowing it won't change anything either way.
And don't forget that when you are choosing products and styling techniques, it's more important to know your hair's texture, density, and porosity than your hair type.
Still not sure what hair type you have? Try our easy hair type quiz to find out for sure.
What Are the Best Products for 2A/2B Hair?
Wavy hair isn't usually prone to dryness but it still needs gentle treatment. It's important to avoid drying ingredients like alcohol and parabens to avoid stripping moisture from your 2A or 2B locks.
To pamper your waves and combat frizz, look for products that are packed with nourishing, moisture-rich ingredients like shea butter or argan oil.
Check the products for 2a hair section above for specific recommendations.
How to Make 2A Hair Curlier: Is It Possible?
You can enhance your wavy hair by using curl-defining products that are suitable for type 2 hair. 2A hair tends to struggle with flat roots so a volumizing product will help to give it extra body and vitality, or you could add a texturizing mousse to help make it look thicker.
A curl activator, or curl enhancer, can also encourage more wave formation to make your 2A hair curlier. And a gel will hold the style longer.
Don't forget to use your diffuser attachment on your blow dryer to accentuate your 2A curls and lock moisture in for better frizz control. Always use heat protectant before you start drying your hair and a finishing spray will help to set your styled hair.
Fine Hair vs Medium Hair: What's the Difference?
The terms fine, medium, or coarse hair describe three different hair textures. Fine hair has strands that are smaller in width than medium hair.
You can tell the difference between fine vs medium vs coarse hair by rubbing a single strand between your fingers. If you can't feel the strand, you have fine hair. If you can feel the strand, your hair strands are medium and it will feel thick and coarse if you have coarse hair.
Final Thoughts
Although your type 2A hair isn't as curly as some of the other hair types, it's still important to know your hair type. Combined with other factors like its porosity and texture, this will allow you to tailor your 2A hair routine and choose products and techniques that bring out the beauty of your 2A hair's soft waves every day.
---
Want to remember this? Save A Guide on Caring For 2A Hair to your favorite Pinterest board!