The Best of 2022: Hair Products I Loved
This post may contain affiliate links, and I will earn a commission if you purchase through these links. Please read the disclosure policy for more details.
Here is a roundup of all of my favorite curly girl approved products of 2022 so far. Once again, I tried many new curly girl method approved products and brands, but you'll see a few repeats from last year because some products are just so good and I happened to find them early on.
For reference, my hair is 2c 3a, high porosity, thin, and low density. It is very easily weighed down and over moisturized so I tend to go for really lightweight products and am fairly minimal with my routine. I am not a product junkie and I can't use that many products on my hair anyway so it works out.
Remember that just because something works great for me doesn't mean it will for you even if your hair is nearly identical to mine. There are so many factors that affect how a product performs on hair like hair health, climate, and daily care.
Top Picks
In a hurry? Here are my top picks for 2022.
Why I Chose These products
Good curly hair products for me mean they adequately cleanse, don't build up, provide volume and definition, don't have a strong or artificial scent, and last a long time.
Many of the products I linked to Amazon but they are often available in other stores like Target. Also, I have a discount code for some which I list in the description.
Keep reading to see which products made my list of favorite curly girl products of 2022!
Cowash
Miribel Naturals Creamy Hair Cleanser – This is the only cowash that I have been able to use that actually cleans my hair. It is lightweight enough that it doesn't cause buildup, although I cannot go as long between washing when I use this compared to when I use a low poo. I like to use this in between low poo wash days if my hair feels dry and doesn't have buildup. I love how this cowash has little beads to exfoliate and it's a lightweight formulation. Find my full review of this cowash here or shop the Creamy Hair Cleanser here.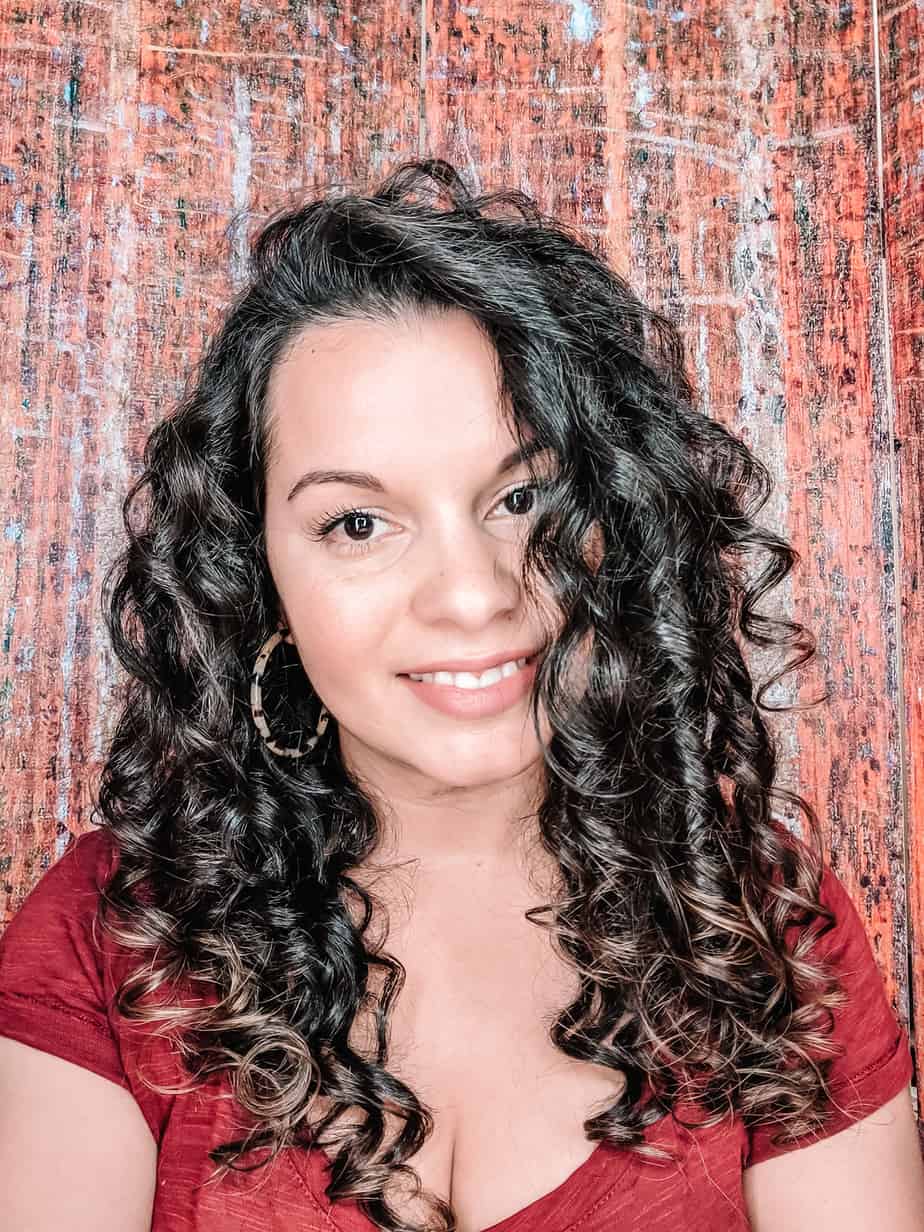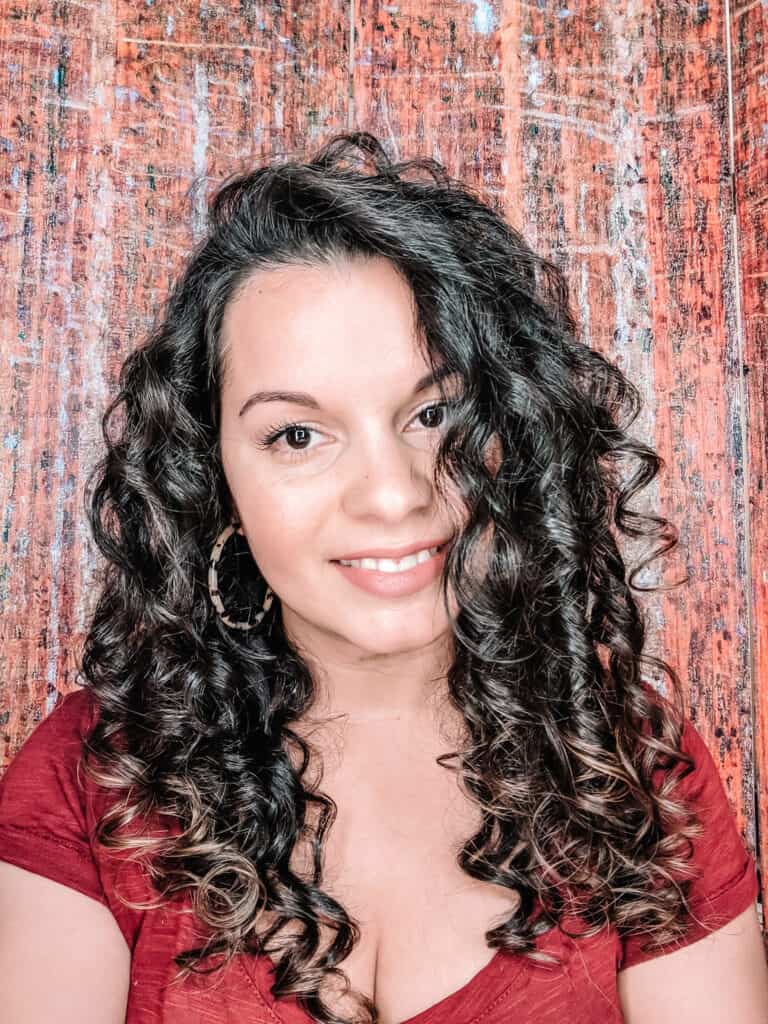 Low Poo
Giovanni Tea Tree Triple Treat shampoo – I love this shampoo because it is a pretty strong cleanser, which I know many in the curly world don't like, and for how it soothes my scalp. It has that nice minty feeling on the scalp and my scalp is always itchy so I reach for this one all the time. It doesn't dry out my hair but I know it can do that to others. Many people like to use the conditioner as a cowash but I have not tried that.
EVOLVh SmartCurl shampoo – This is the one I reach for the most. It has the perfect balance of moisture and cleansing. Some say it is stripping like the Giovanni TTT shampoo but again, that is not the case for me. My hair really likes stronger cleansers. This one also smells really nice and I don't need much. Use code HE15 for a discount.
EVOLVh InstaVolume Cleanser – Whenever I want volume, this is my go-to shampoo. It lathers, has a night light scent, and provides a little moisture. Use code HE15 for a discount.
Vida Bars Clarity shampoo bar – It's so crazy that a shampoo bar made it on this list but this is such a great product. The only curly girl approved shampoo bars out there, they come in 4 options. I chose clarity for my thin hair and it's perfect. It has great lather and scent, and works just like regular liquid shampoo.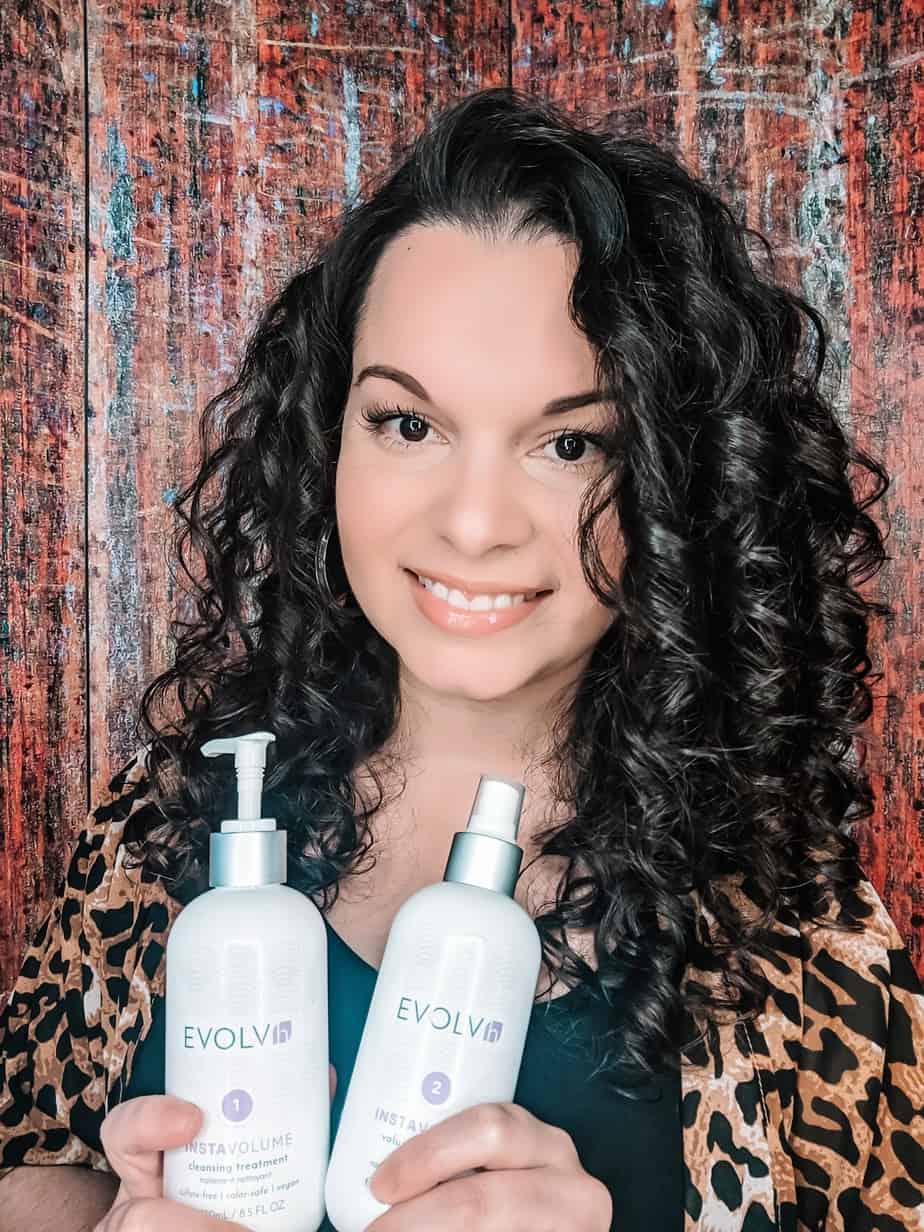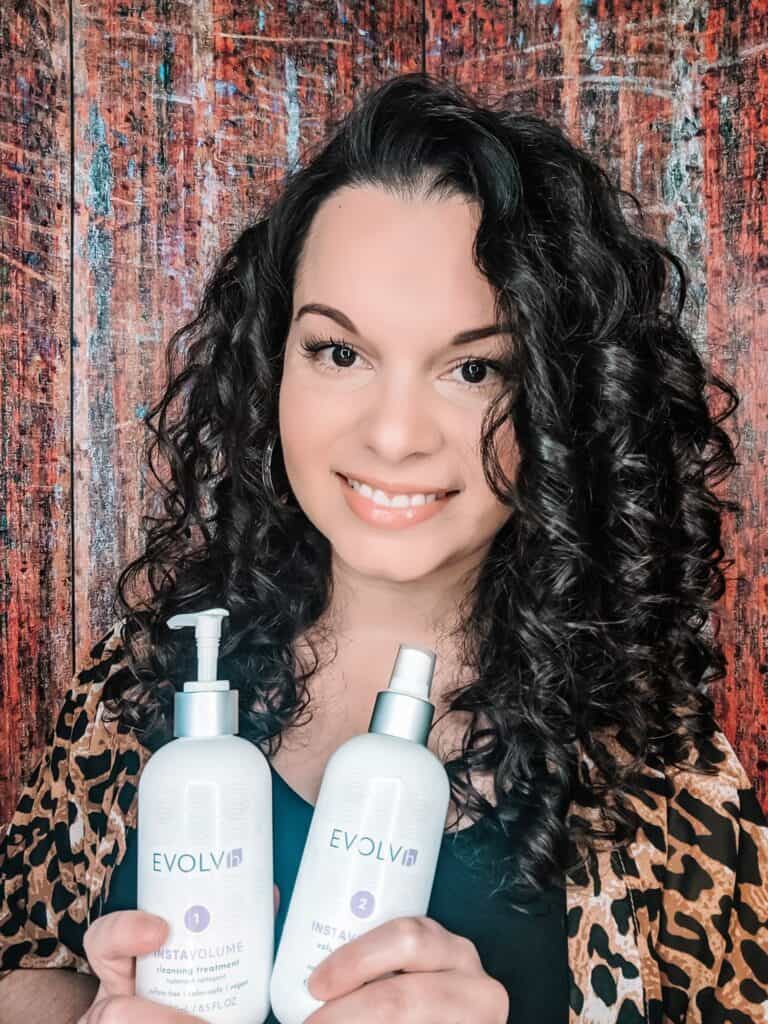 Clarifying Shampoo
Remember that clarifying shampoos should contain the ingredient olefin sulfonate so many of the CG approved "clarifying" shampoos are not really clarifying. Check out my post all about clarifying if you're struggling with buildup or weighed down curls.
Malibu C Wellness Hard Water Shampoo – Since moving to an area with hard water, I needed a stronger chelating shampoo and this did the trick. It's stronger than KCCC so I don't have to use it as often but it removes all that mineral buildup that makes my hair dull, greasy, and limp.
MopTop Detox Shampoo – This is another affordable option that is stronger than the KKCC but not as strong as the Malibu C. It creates a nice fluffy lather, removes product and mineral buildup, and has a light scent. Use code HE10 to save.
TWIST Hit Reset Light Clarifier – I love this shampoo and can use it daily. It does have a sulfate but I don't find it drying. This is a medium-strength clarifier that creates a nice lather.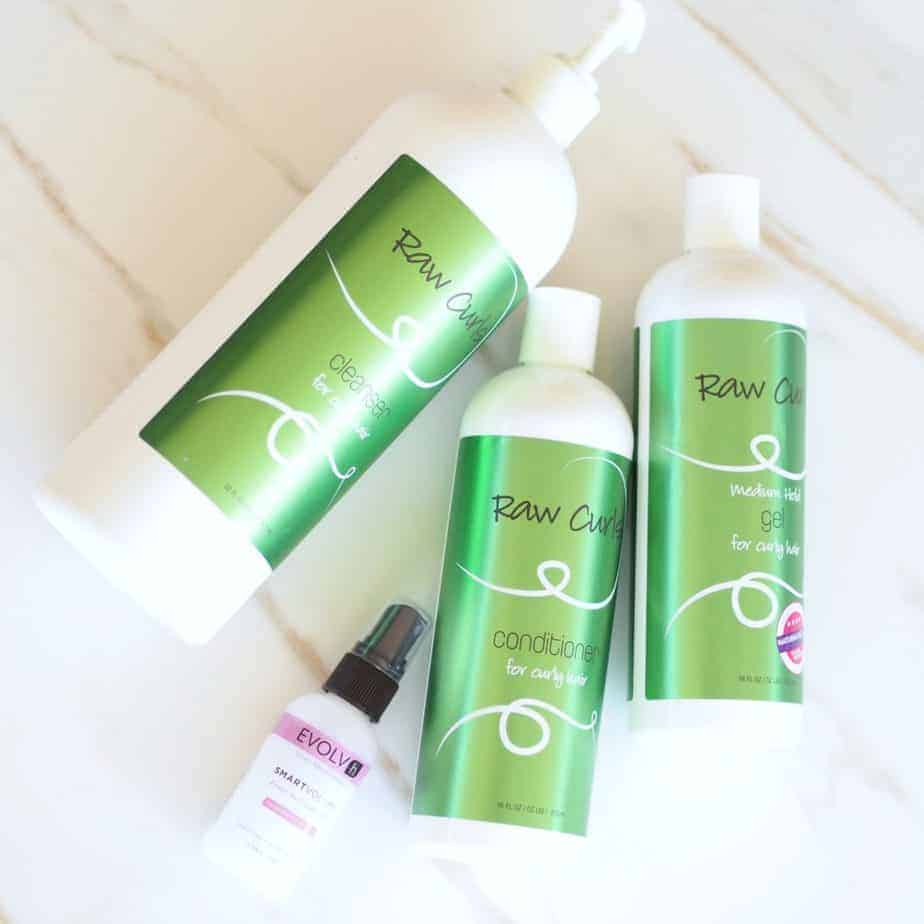 Conditioner
MopTop Daily Conditioner– I love the consistency of this conditioner and that it's moisturizing without being heavy. The light citrus scent is nice and it instantly softens my hair to help with detangling. This is a concentrated product so a little goes a long way. Use code HE10 to save.
Giovanni Root 66 Max Volume conditioner – I love volumizing formulas and this one doesn't disappoint. It has a lotion like consistency, light scent, and is a little more lightweight than the conditioners on this list.
Vida Bars Clarity conditioner bar – The conditioner bar from this set is also pretty amazing! It works just like regular conditioner and is actually very softening without being heavy. Really, I have no complaints about this product and love having a zero waste option!
TreLuxe Untie The Knot – This conditioner is also a leave-in and has such great slip! I use it mostly on my daughter's hair to soften and detangle every night. It's too moisturizing for me to use on a regular basis but it's great when my hair needs extra moisture. My one complaint is the strong cinnamon scent, but most people cite this as a benefit. Use code holisticenchilada15 to save.
TWIST Weather or Not Conditioner – This is a conditioner made specifically to combat humidity! It's light but still moisturizes and softens. And it works really well when paired with the TWIST Weather Up Gel.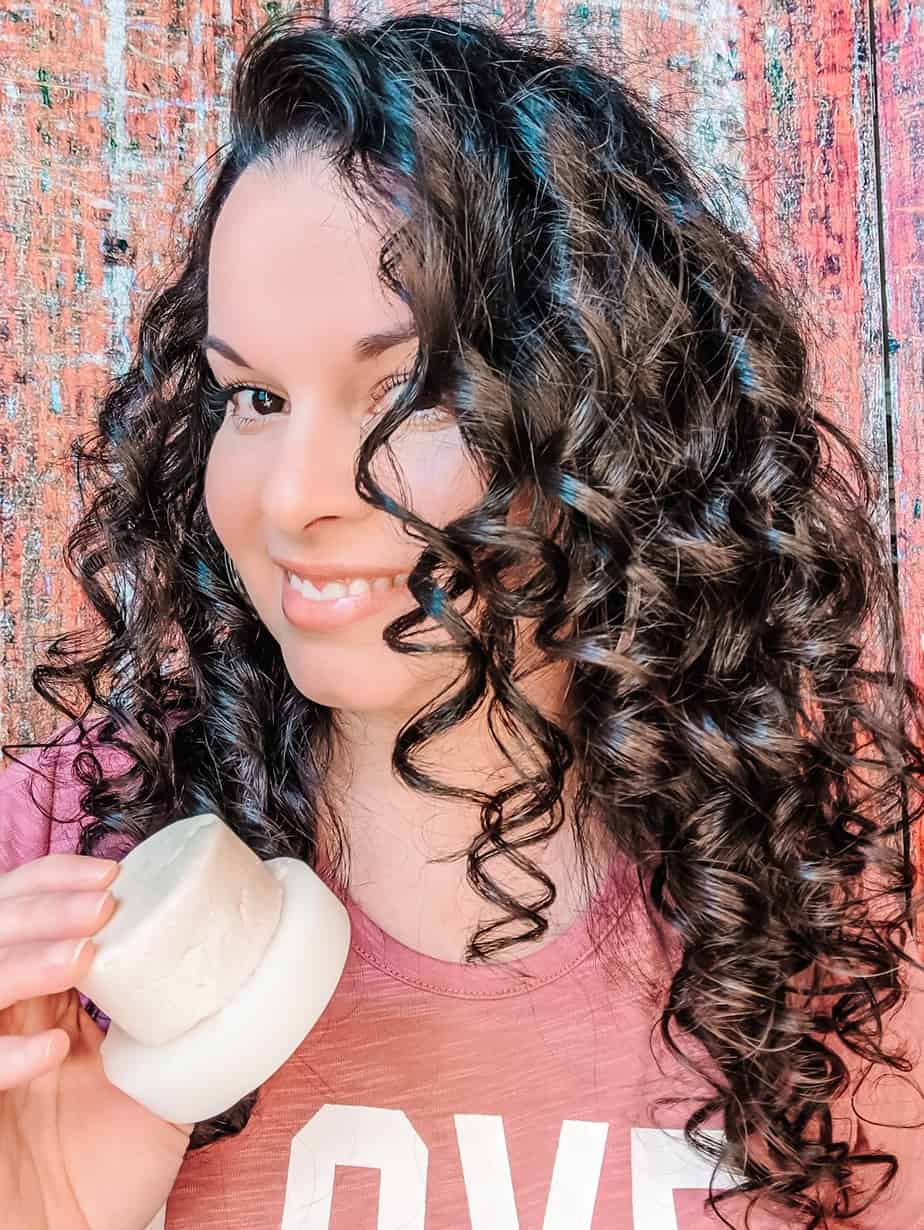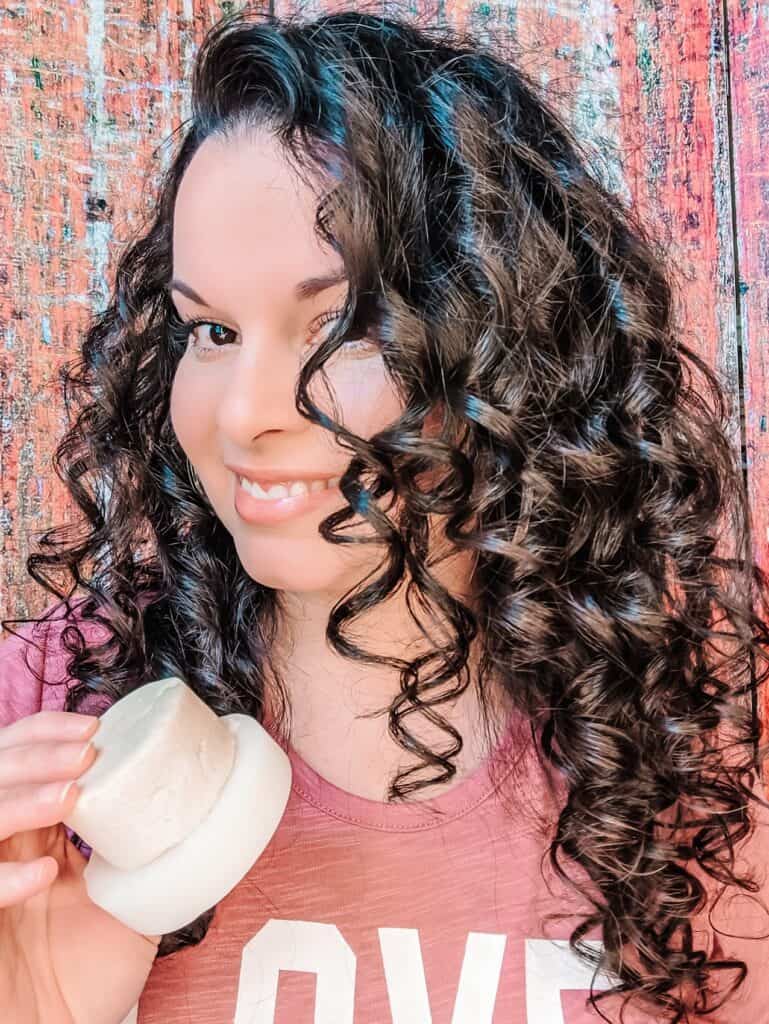 Leave-in Conditioner
EVOLVh InstaVolume leave in – My absolute favorite lightweight leave in when I want volume. I love that it is a spray and it really helps give me volume. I usually do a few sprays, let it sit for a few minutes, then scrunch and rake to distribute and detangle. I add more water to help with clumping. Use code HE15 for a discount.
Giovanni Direct Leave-in Weightless – This brand has so many great products but their leave-in is my favorite. It is really lightweight, lightly scented, and my curls clump so well with it. This and their gel seem to be well loved by the curly community.
Ecoslay Rice Pudding – I'm not such a fan of the scent, but this has great slip and softens my hair so well. I use it as a rinse out of course. It has rice water in it which my hair loves.
Miribel Naturals Powerhouse Protein Cream – For a good dose of protein and moisture, this is my fave. It has great slip, a nice light scent, and a little goes a long way. I actually use it as a rinse out but it works well either way.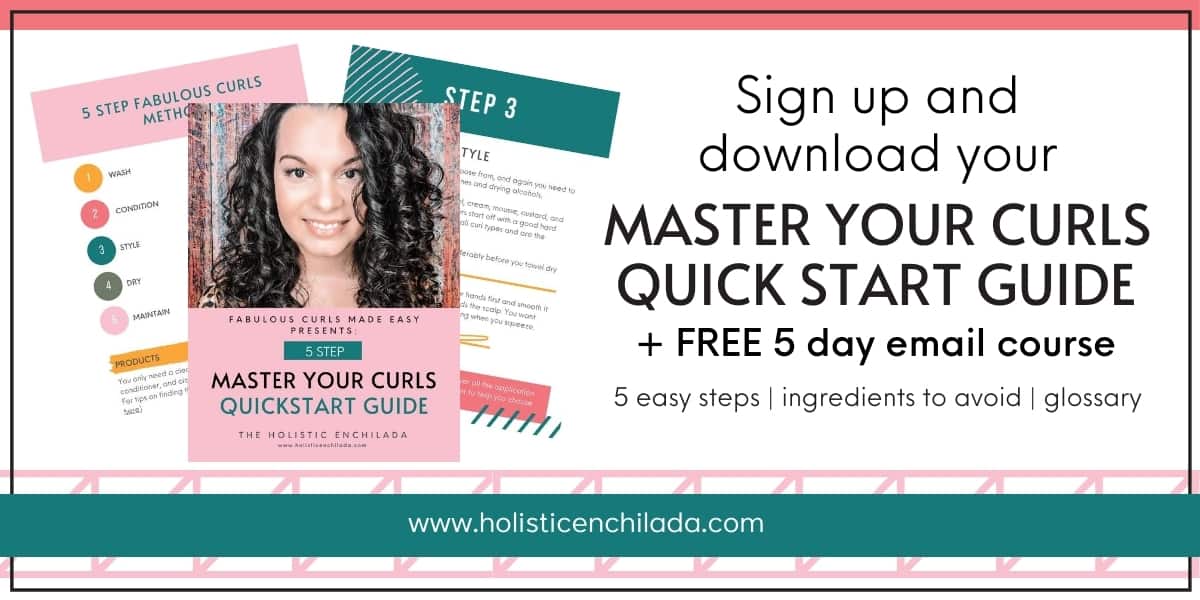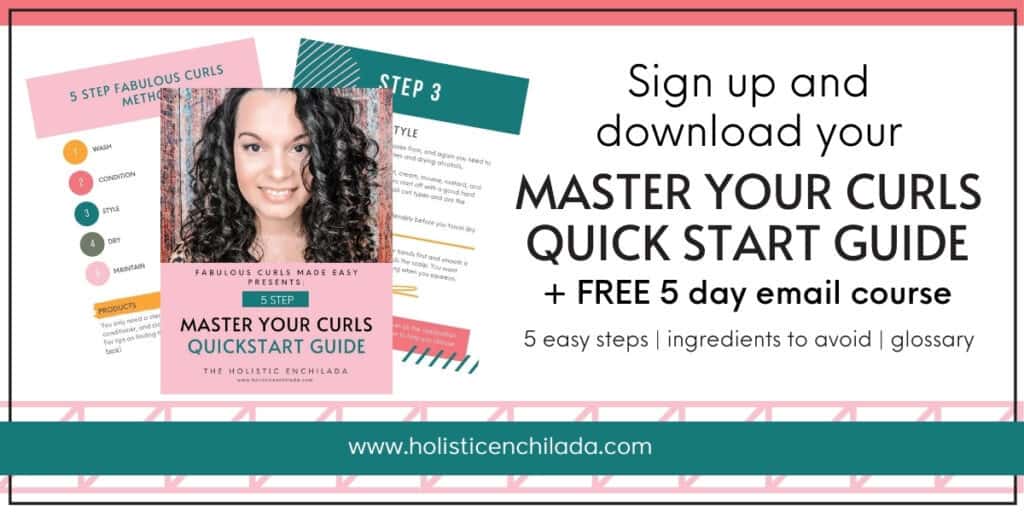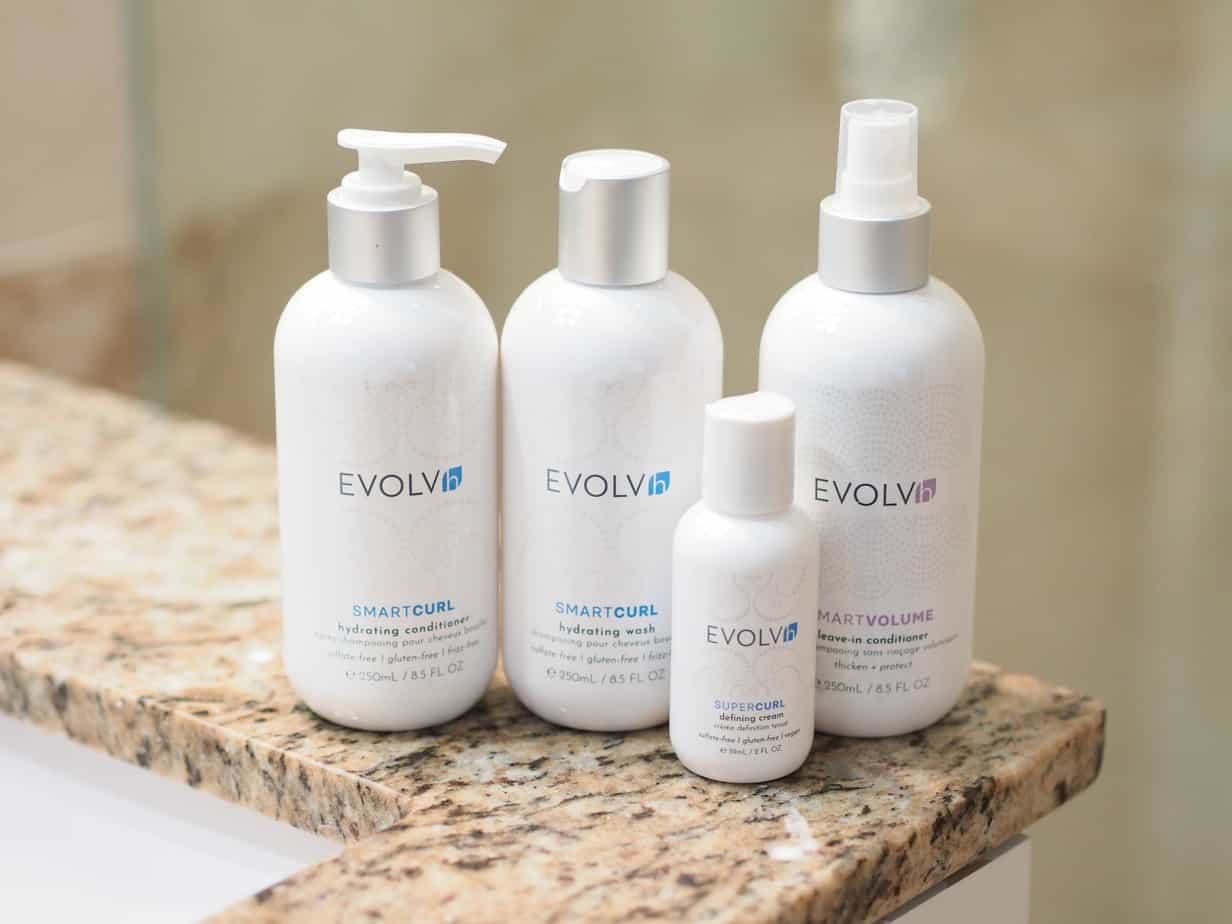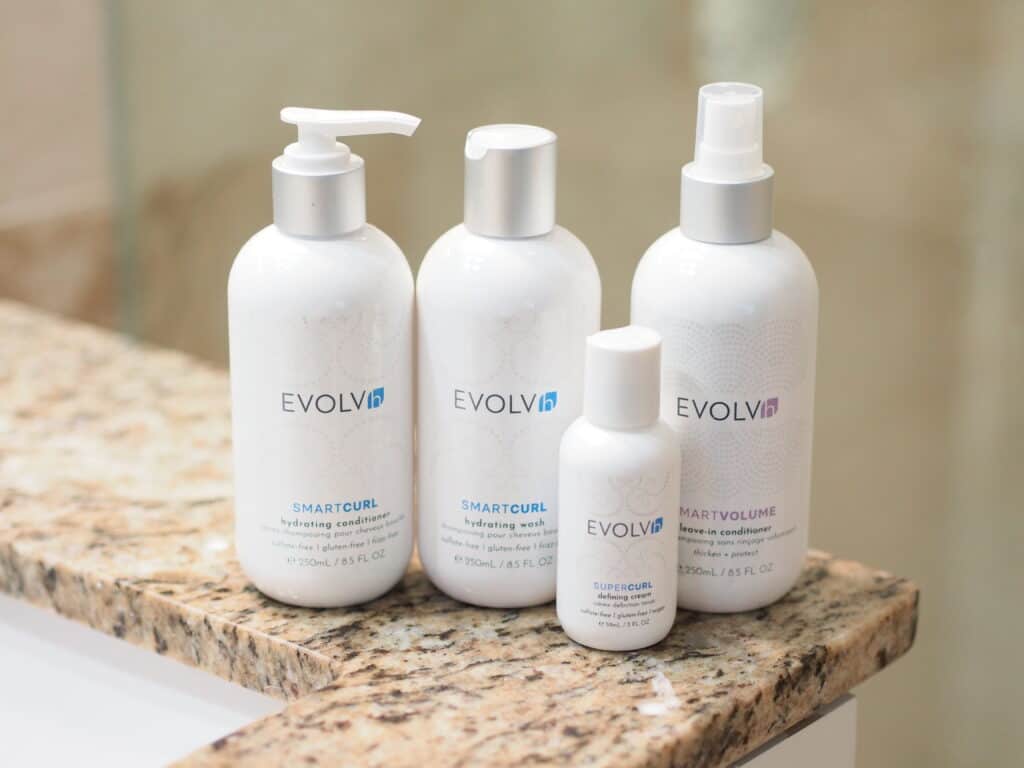 Deep Conditioner
Ecoslay Matcha Boost – My hair does not do well with deep conditioners so I need protein heavy options. This one is jam packed with protein so it doesn't ever leave my hair over moisturized. It has the scent of matcha tea but it's light and goes away quickly.
EVOLVh UltraRepair Reconstructing Masque – This is the perfect lightweight protein rich and moisturizing hair mask. It's concentrated like all other EVOLVh products and it doesn't weigh down my hair as most deep conditioners do. Use code HE15 to save.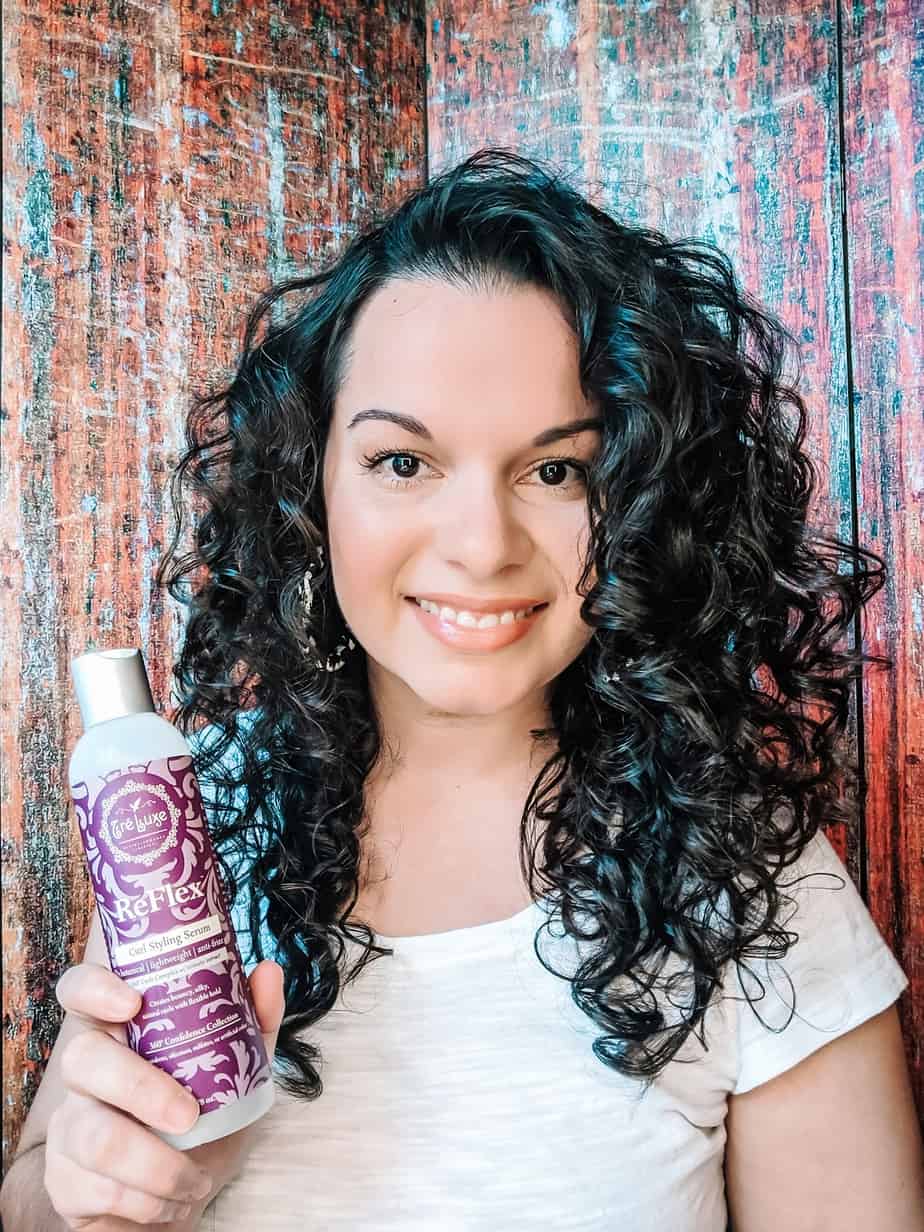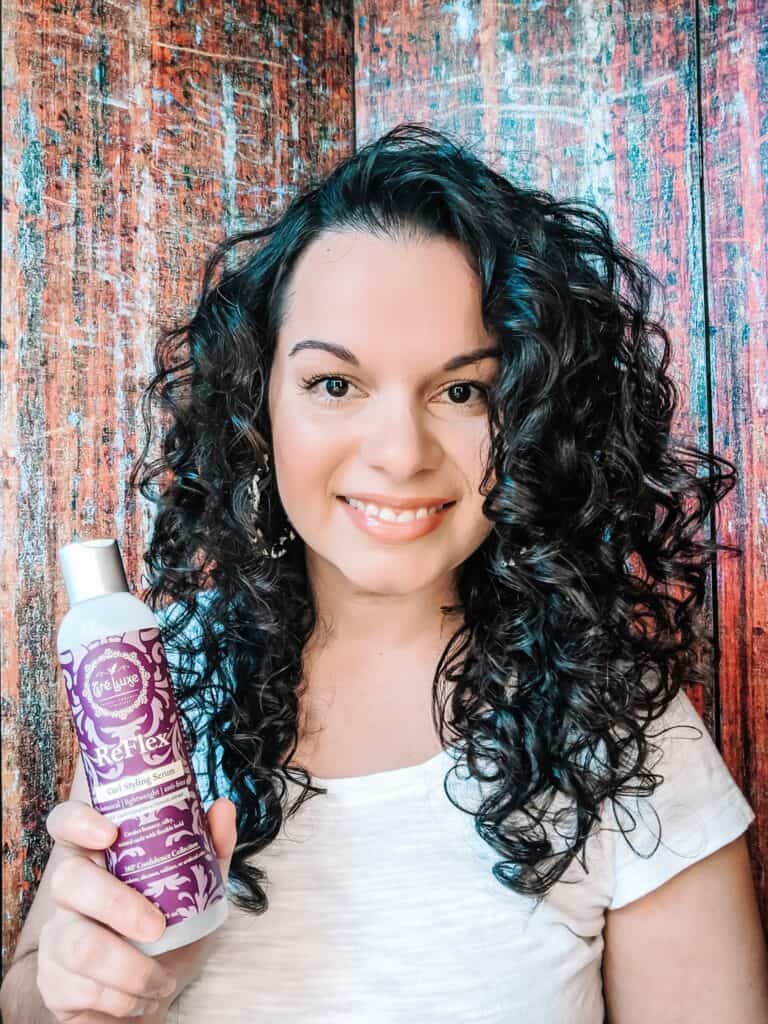 Styling Products
Gel
I love gel so there are quite a few on this list. I truly do use these on a regular basis, rotating and choosing different gels based on the needs on that wash day.
EVOLVh DreamGel – This new gel does it all – defines, hydrates, holds, adds volume & a little texture… what else could you ask for? It is a great one and done styler, and a little goes a long way. Check out my full review of this gel here. Use code HE15 to save.
Ouidad Advanced Climate Control Stronger Hold Gel – I have used the regular version of this gel with not so great results but this one works so well for my hair. It has amazing hold, offers some moisture so no flash drying, and doesn't smell too strong even though it's not the cleanest of brands.
Ecoslay Jello Shot – This is truly one of the hardest hold gels out there, but it can be tricky to figure out. I use a tiny bit, like a pea sized amount, on very wet hair. If I don't, it doesn't work. It can also cause flash drying but since my hair doesn't like much moisture, it's fine for me. Most people would need to layer something moisturizing underneath.
Raw Curls medium hold gel – My absolute favorite gel that gives me a cast. For ultimate definition, this is what I go for. It always gives me a nice cast and scrunches out to soft, shiny curls that last. No buildup or heaviness either! It is pretty thick but since I apply my styling products to soaking wet hair that is not a problem for me. This is my preferred styler for when I air dry because of the cast. My hair needs a strong cast to air dry well.
Giovanni LA Hold gel – This gel is very similar to the Raw Curls gel but it can be a bit drying so I like to use it when my hair feels too moisturized. It is also thick, has a light scent, and is hard hold. I don't get as good of a cast as with Raw Curls so I usually diffuse when I use this gel.
DIY Flaxseed Gel – My flaxseed gel recipe has proven to be one of the best gels I've ever used. It gives a great cast, lots of shine, leaves me with soft curls, and provides great definition that lasts. It's also extremely cheap to make and lasts a long time!
TWIST Weather Up Gel – This is a great affordable option for a hard hold gel that does well in the humidity. It's similar to the Giovanni and Raw Curls gel, less moisturizing than others and more likely to create a cast. It has a light scent I don't need a lot of product.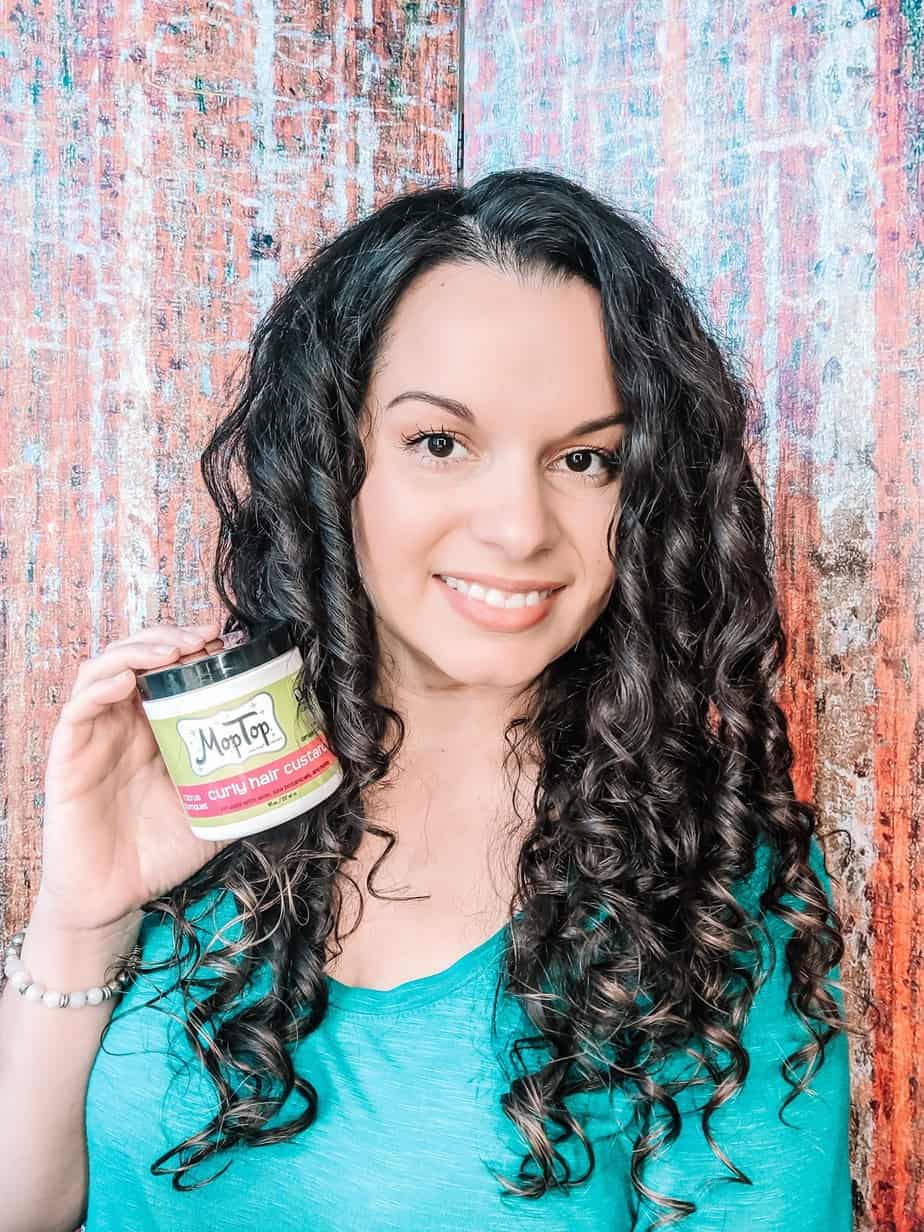 Custard
MopTop Curly Hair Custard – This is one of the best styling products I have ever used. It defines my curls like nothing else and provides enough hold for my curls to last. The only drawback is the amount of glycerin in this product means I can't always use it. Use code HE10 to save.
Cream
EVOLVh Total Control Styling Creme – This is my favorite styling product when I want more volume. It's more of a lotion and little goes a long way, though it's hard to feel the product in your hair when you apply it. It always gives me really soft, bouncy curls but I don't use this if the humidity will be really high. It does better with diffusing since it doesn't give me a cast. Note that this is not a moisturizing product. Use code HE15 for a discount.
Ecoslay Orange Marmalade – This is a curl enhancing and defining cream with hard hold. It creates great definition and for some even a hard cast. It can be used as a single styler, but I layer a gel over it since it's too moisturizing for me to use it on its own.
EVOLVh SuperCurl Defining Cream – At first, I was not a fan of this cream. But I later realized I was using it wrong. When in just the right amount, it works well for my hair. I get definition, moisture, hold, and some volume. It's more moisturizing than the Total Control Cream so in general, it's better for curls. Most people will need to use something over it. Use code HE15 for a discount.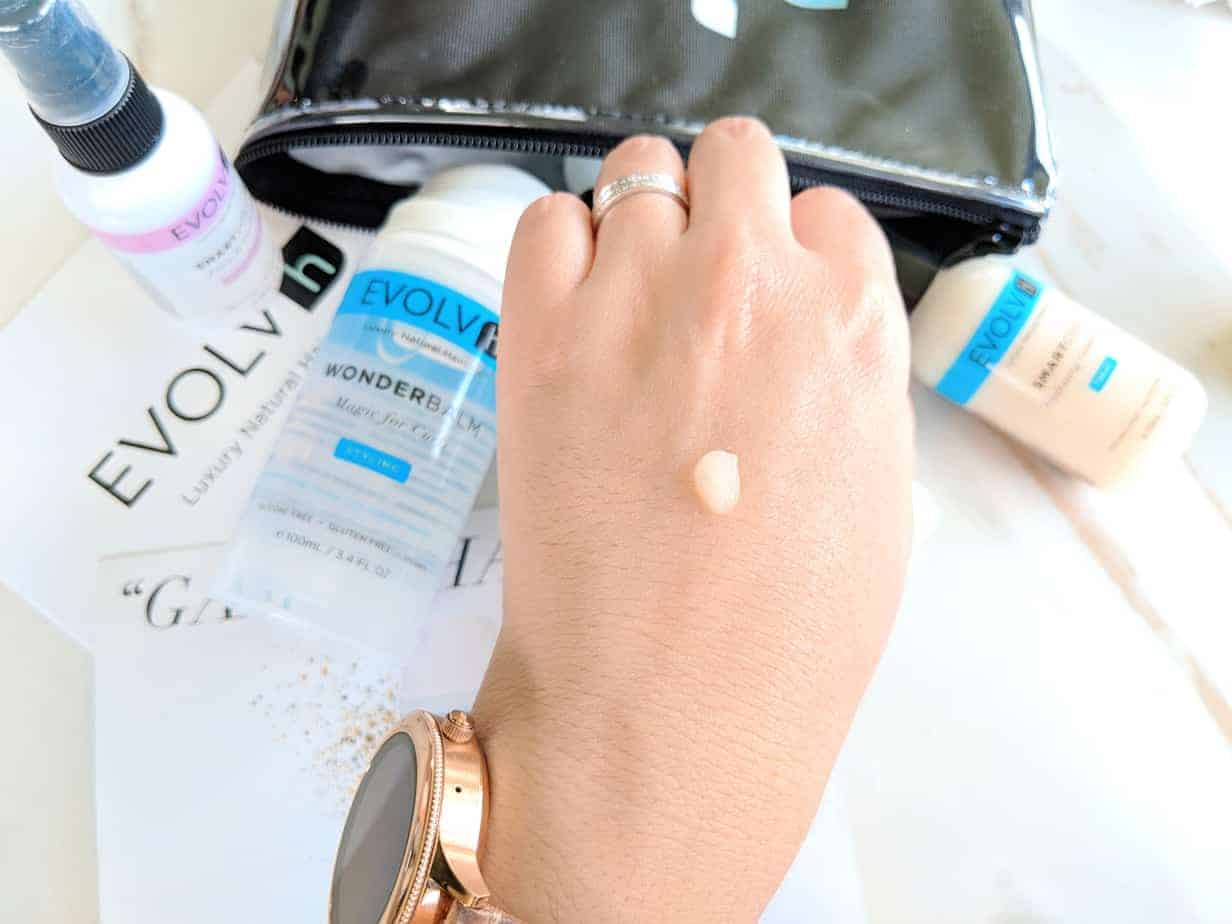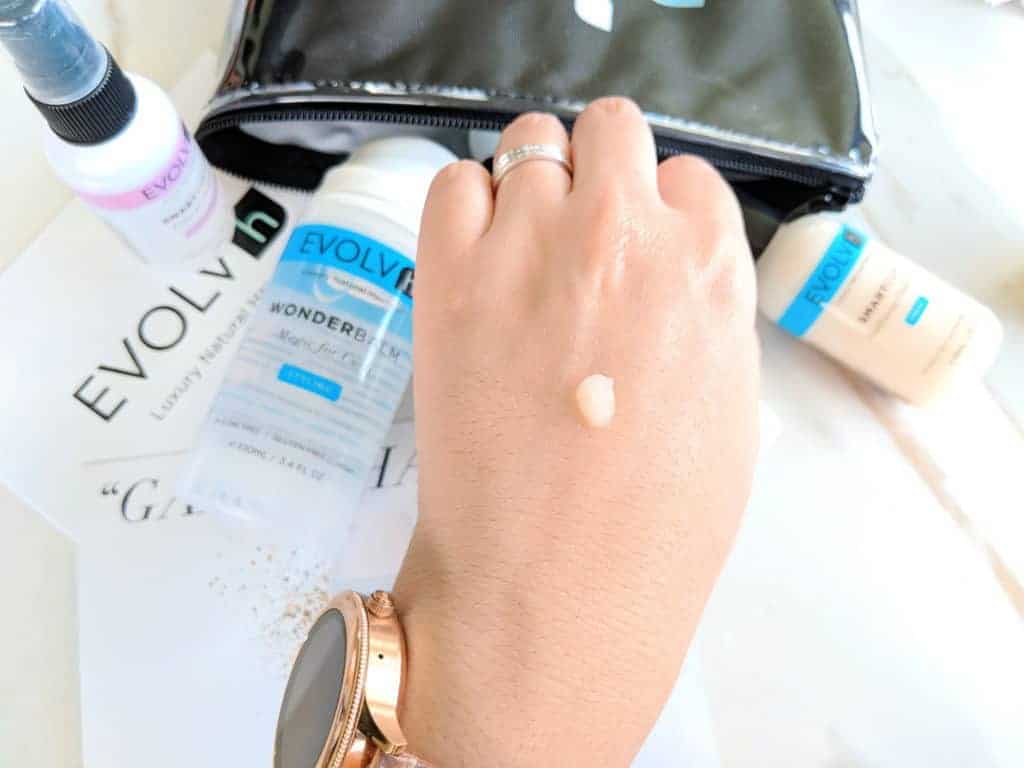 Mousse/Foam
Innersense Volumizing Foam – Whenever I reach for a foam, which is pretty rare, this is my favorite one. It gives me great definition and volume, but it doesn't have much hold. The ingredients are also great. I can get away with using this on its own but that's not the case for most people.
EVOLVh InstaVolume Foam – For ultimate volume, I pair this foam with the InstaVolume line and the Total Control Creme. Nothing gives me more volume than this combo. Check out my volumizing styling routine here. Use code HE15 to save.
Serum
TreLuxe ReFlex Serum – This liquidy serum is amazing for my fine curly hair. It provides flexible hold, tons of shine, and really smooths out my curls. I can use it on its own to style but most people need to layer something else over it. Be warned, the scent is strong. I wish it didn't have such a strong scent but I use it away because it's just so good. Use code holisticenchilada15 to save.
EVOLVh WonderBalm – I use this to scrunch out the cast and fluff my hair. It reminds me of the Biosilk serum I used to use on my straight hair many years ago to prevent frizz. I emulsify a tiny pea-sized amount in my hands then smooth it all over for extra shine and softness. It also provides some definition when used on wet hair but can be stringy looking if you use too much. Use code HE15 for a discount.
Color Wow Dream Cocktail Carb Infused – This isn't really a clean product but it's not too bad. I love it for adding bulk to my fine hair and making it look fuller. It has a water soluble silicone so it doesn't build up on my hair and gives it a nice slip for styling.
Briogeo Scalp Revival Treatment Serum – This water based serum is my savior for itchy scalp. I rub a few drops on my scalp on wash day and 2 days after to reduce the itching and flaking. The bottle lasts a long time and it's not oily so it doesn't build up or make my hair look greasy.
Dry Shampoo
Not Your Mother's Plump For Joy dry shampoo – This is not a curly girl approved product because it has alcohol which can be drying, but since my hair is always battling too much moisture, I don't worry about it. I use this on days 3-4 to soak up the oil in my roots and give me some volume.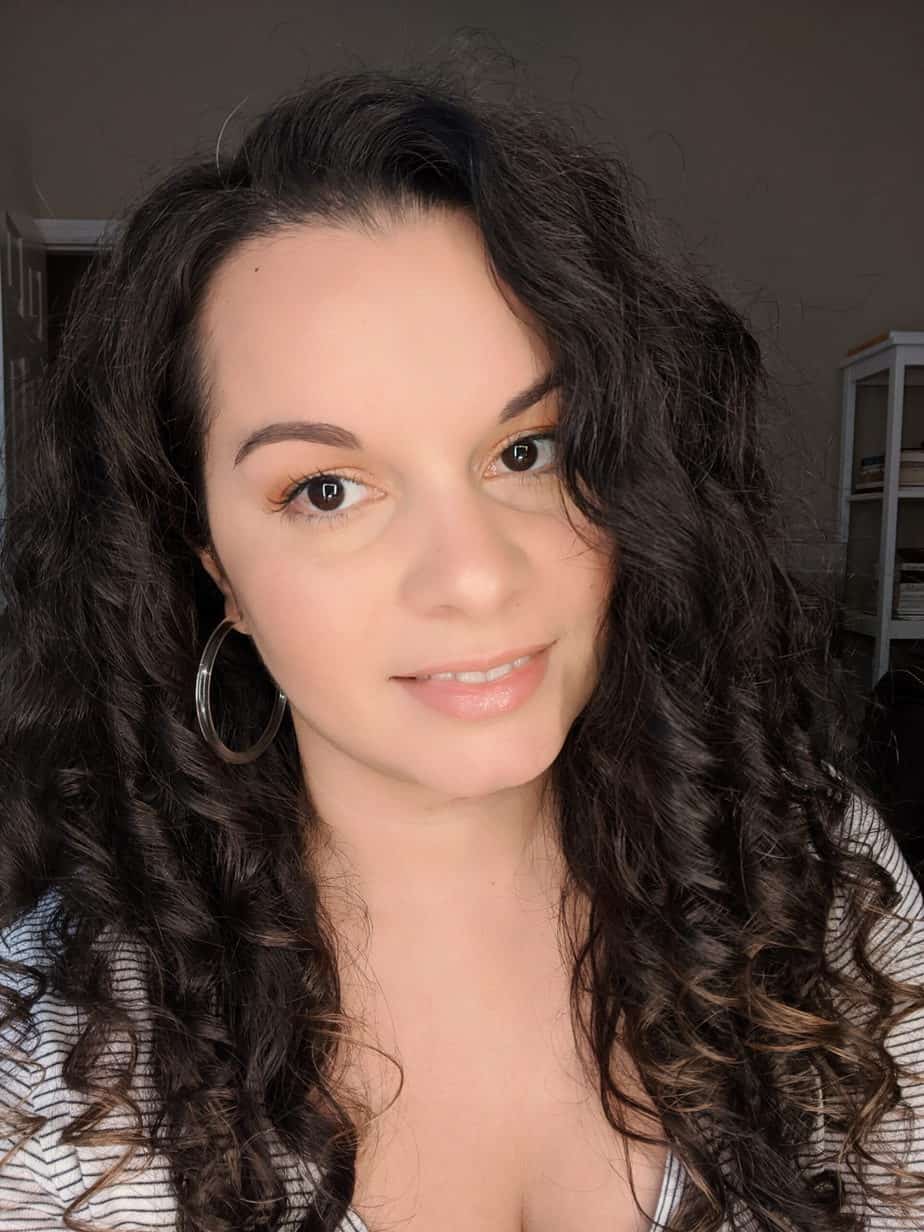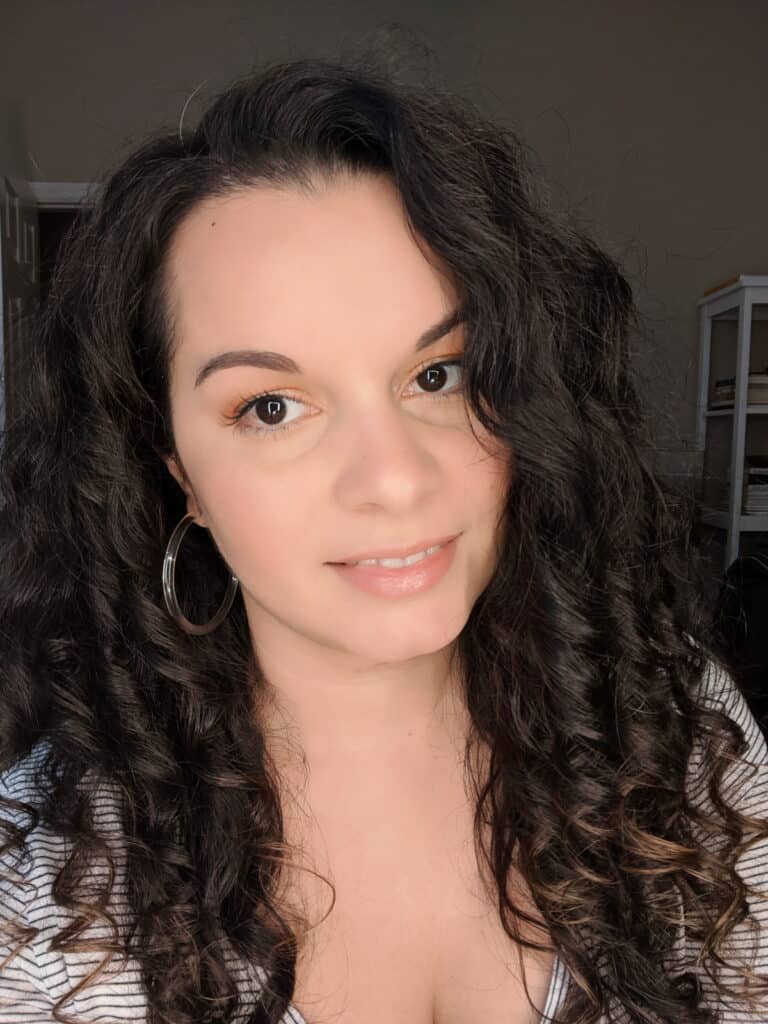 Curly Hair Accessories
Briogeo Vegan Boar Bristle Brush – For dry detangling before washing my hair, this is my favorite brush. And for creating nice curl clumps, this one works the best. It's the only brush I can get to create enough tension in my fine hair to create nice clumps.
Tee-Owels Hair Towel – I have tried so many hair towels and this one is by far my favorite. I love how big it is so it makes tying it up very easy if I decide to plop, but usually I just micro plop. It doesn't remove too much moisture and I get so much less frizz with this towel compared to any other. Use code HOLISTICENCHILADA to save.
Bizzy B Crafts headbands – These are new to me but I love them for changing up my style and since I don't refresh they're great for post wash days. I love that they come in so many cute patterns and styles and don't give me a headache.
Hair buff – I cannot live without this. Seriously the best investment I have made since starting CG. It makes such a big difference in how my hair looks the next day. So much less frizz and tangling, and it works so well I never refresh. Just take it out of the buff, fluff, and go.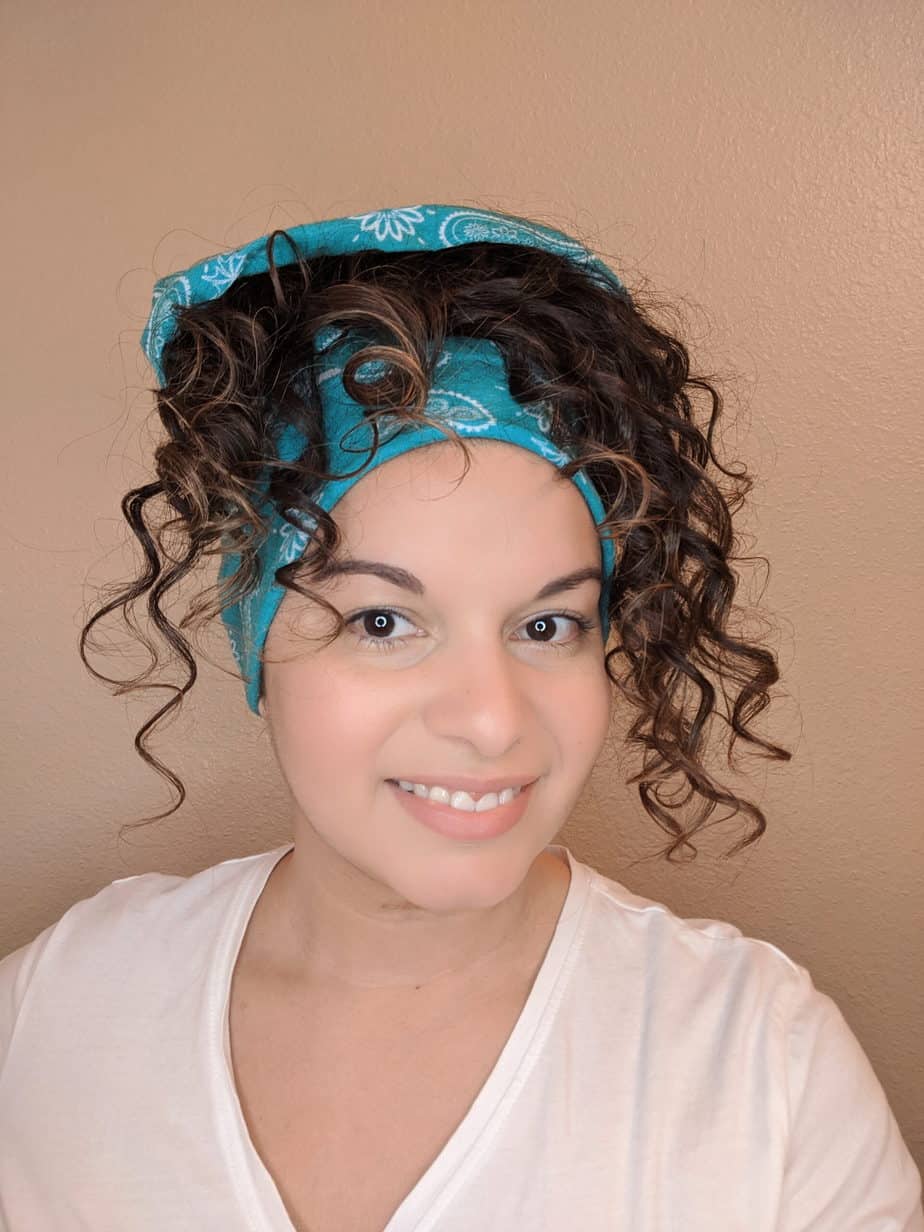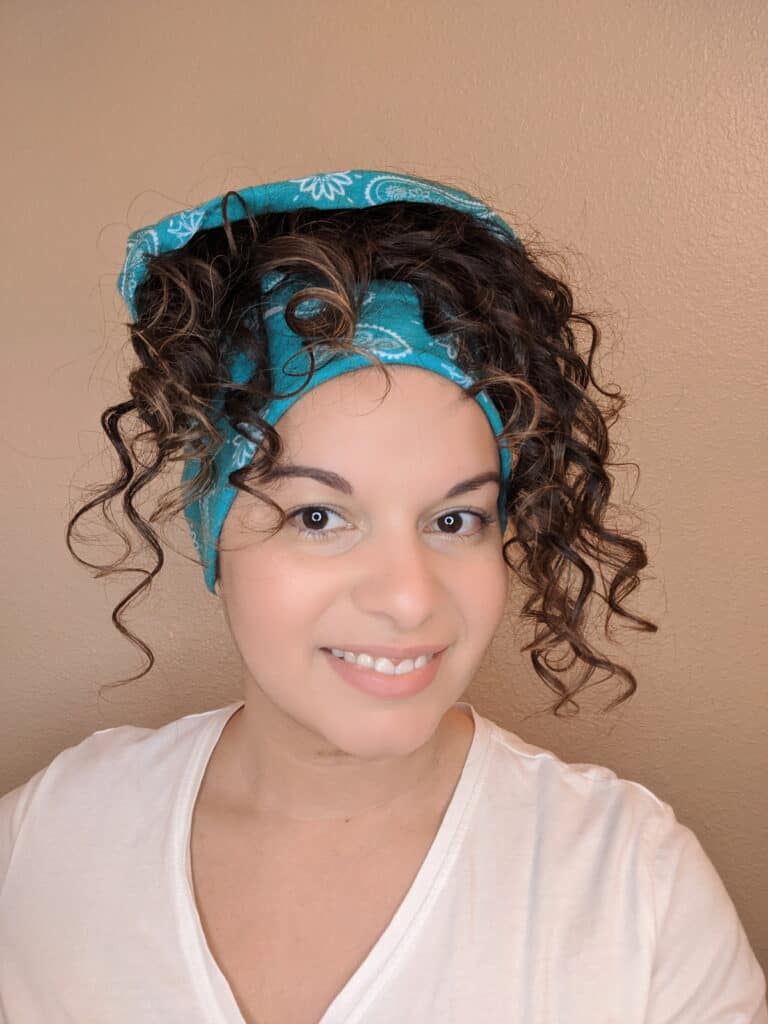 MYK silk pillowcase – This is my insurance in case my buff falls off. Hair glides on silk so it doesn't cause frizz and tangles as regular pillowcases do. I like the MYK brand because they offer an affordable pillowcase that is only silk on one side.
Reusable shower cap – Super important to make your washes last longer. Steam absolutely ruins my hair. It frizzes and falls flat within minutes. So I pineapple my hair and put it in a shower cap every shower in between washing my hair.
Invisibobble hair ties – These are great for when I put my hair up to shower or if I need it out of my face for a while. They don't really work well for updos for me since my hair is so thin though.
Tezam scalp massager – This is totally not a necessary product but I love it. It always helps my scalp feel better and it's a good practice for scalp health to do daily massages. You could just use your fingers though. I like that this one vibrates and I like the shape.
Xtava Black Orchid diffuser – I love this diffuser because of how big it is. My curls coil in nicely and dry with minimal frizz.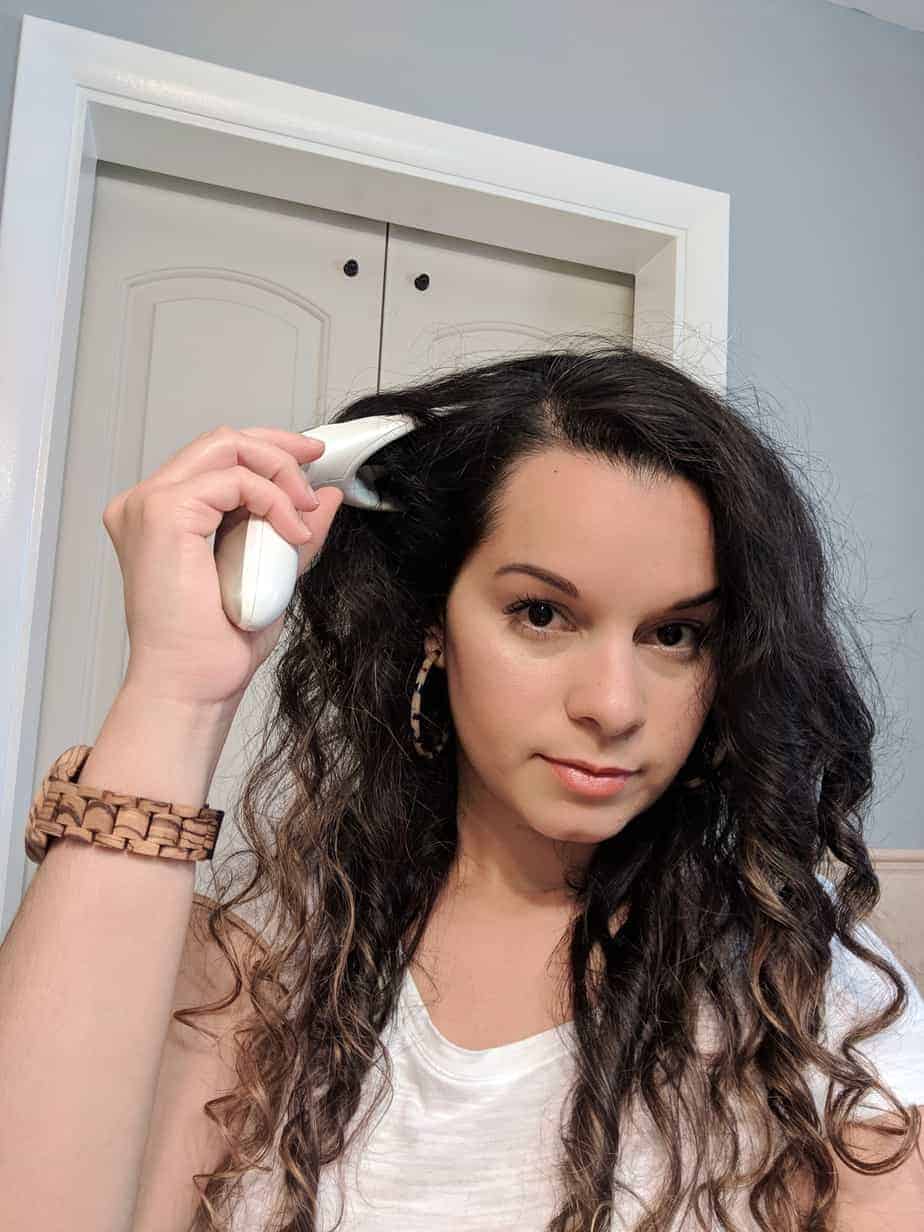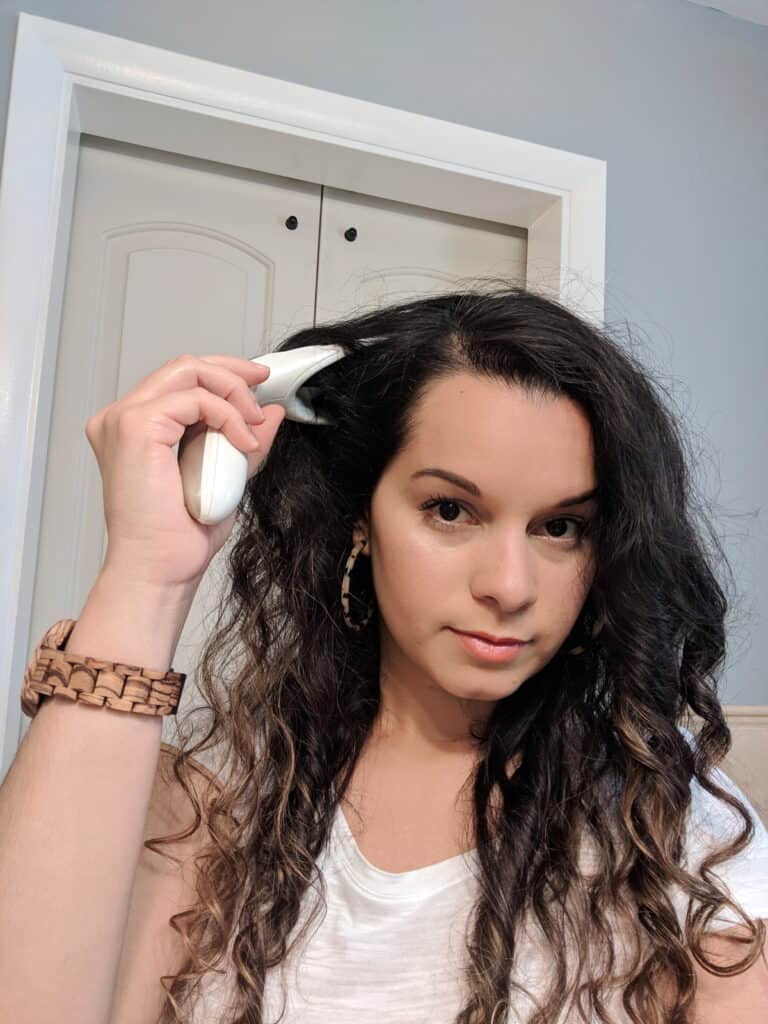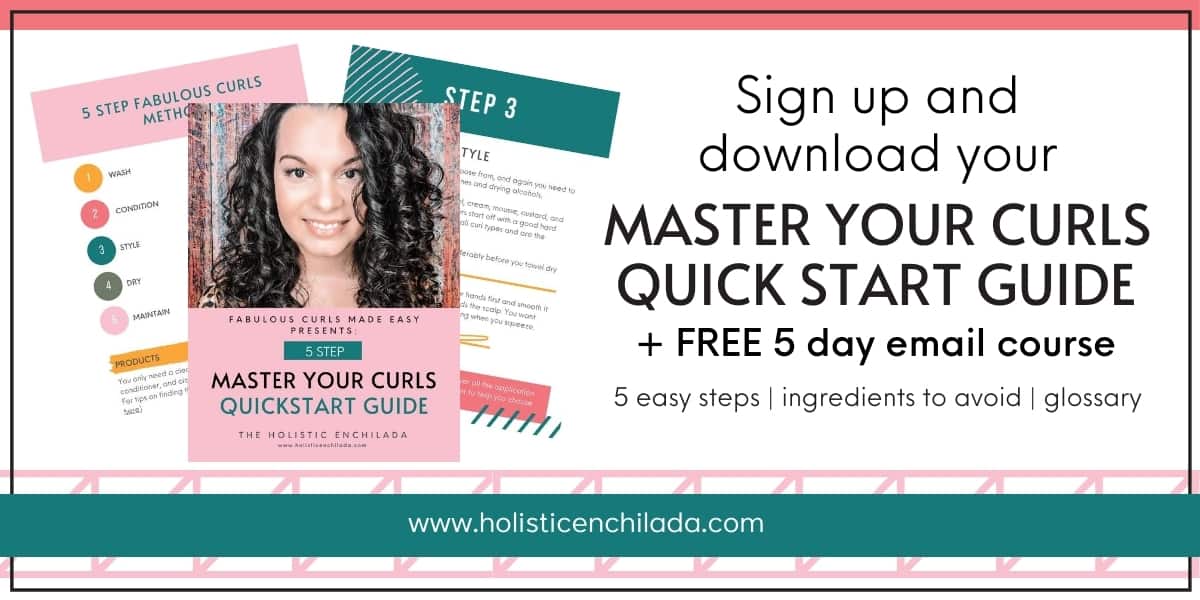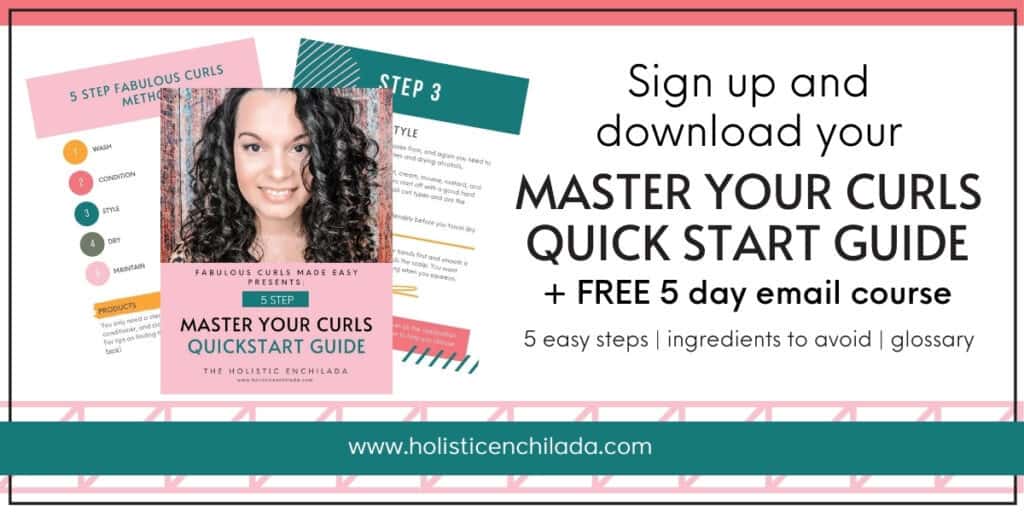 If you want help with embracing your naturally wavy or curly hair, you can join my FREE email course and download my FREE pdf guide, THE QUICK START GUIDE TO MASTERING YOUR CURLS, full of everything you need to know to get started and bring out your beautiful waves and curls.
You can also read my other popular posts on curly hair:
Want to remember 1this? Save My Favorite Curly Girl Products of 2021 to your favorite Pinterest board.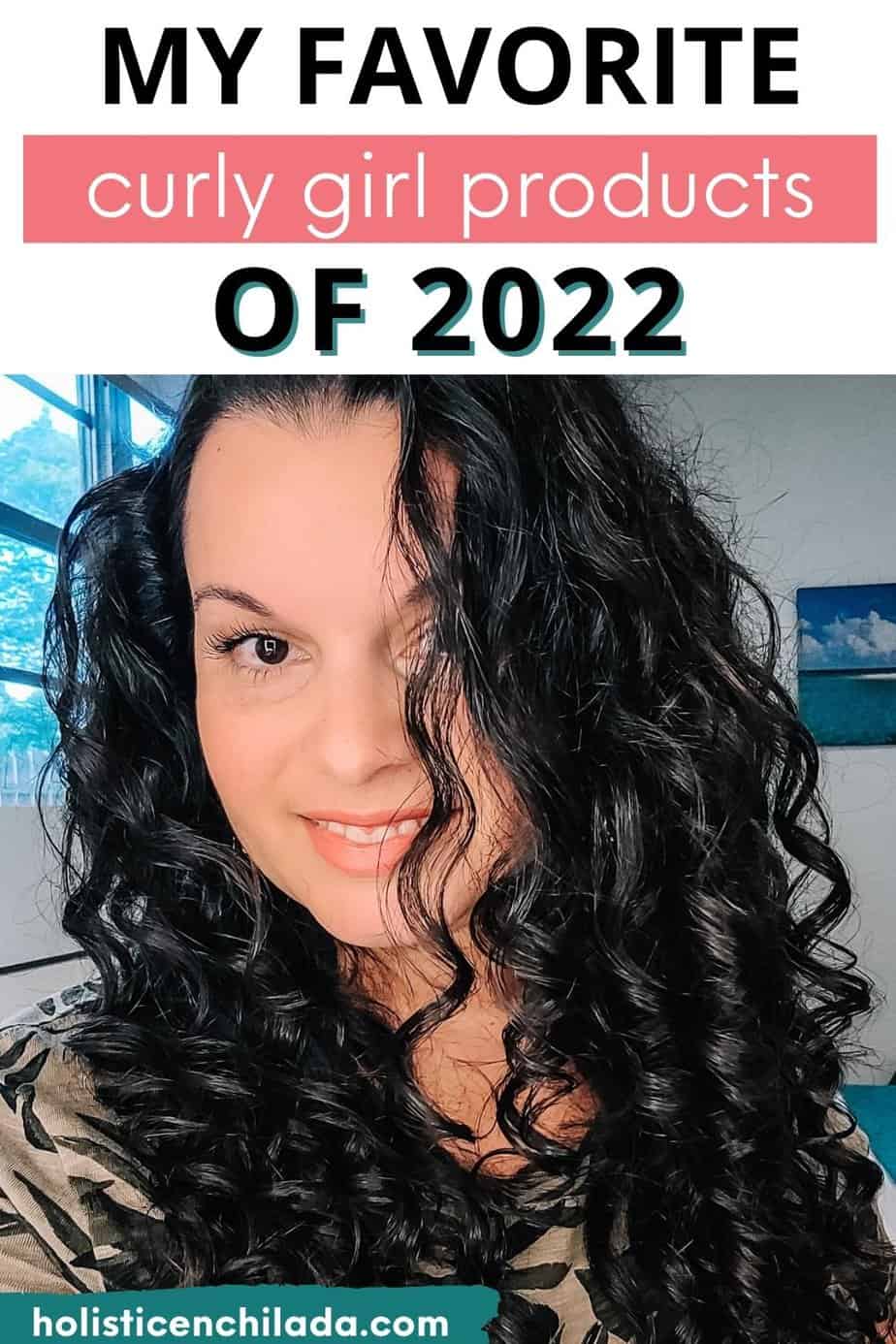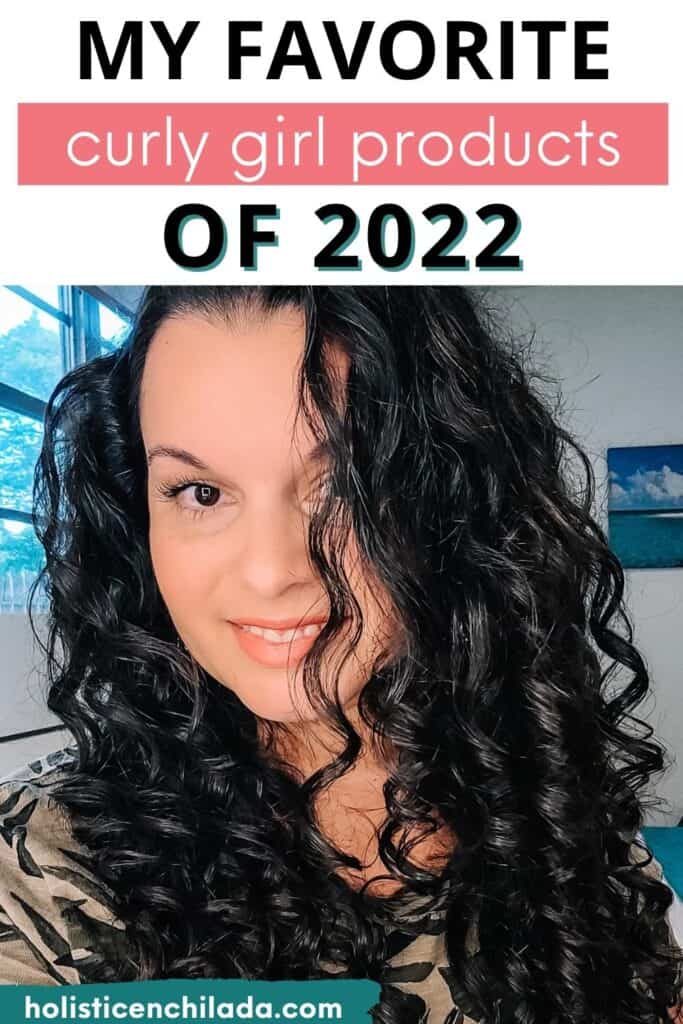 Thank you for reading and let me know what product or products were your favorites this year in the comments!
Fabulous Curls Academy
Fabulous Curls Academy is my monthly membership program that gives you access to several online courses that will guide you through creating a simple routine that gives you fabulous results. Learn what your hair type is, which products and ingredients will work for you, and how to style according to your hair type by creating a simple routine that works. No more confusion about products or methods or battling frizz and time. Click here for more info.