A Review of the Me Time Botanicals Brand's Beauty Products
This post may contain affiliate links, and I will earn a commission if you purchase through these links. Please read the disclosure policy for more details.
If you're looking for affordable nontoxic skincare, look no further than Me Time Botanicals. This artisan brand features staple skincare products at affordable prices, and even better, they're all multi-tasking!
I have been using a few Me Time Botanicals products for months now and will share with you my thoughts on each one.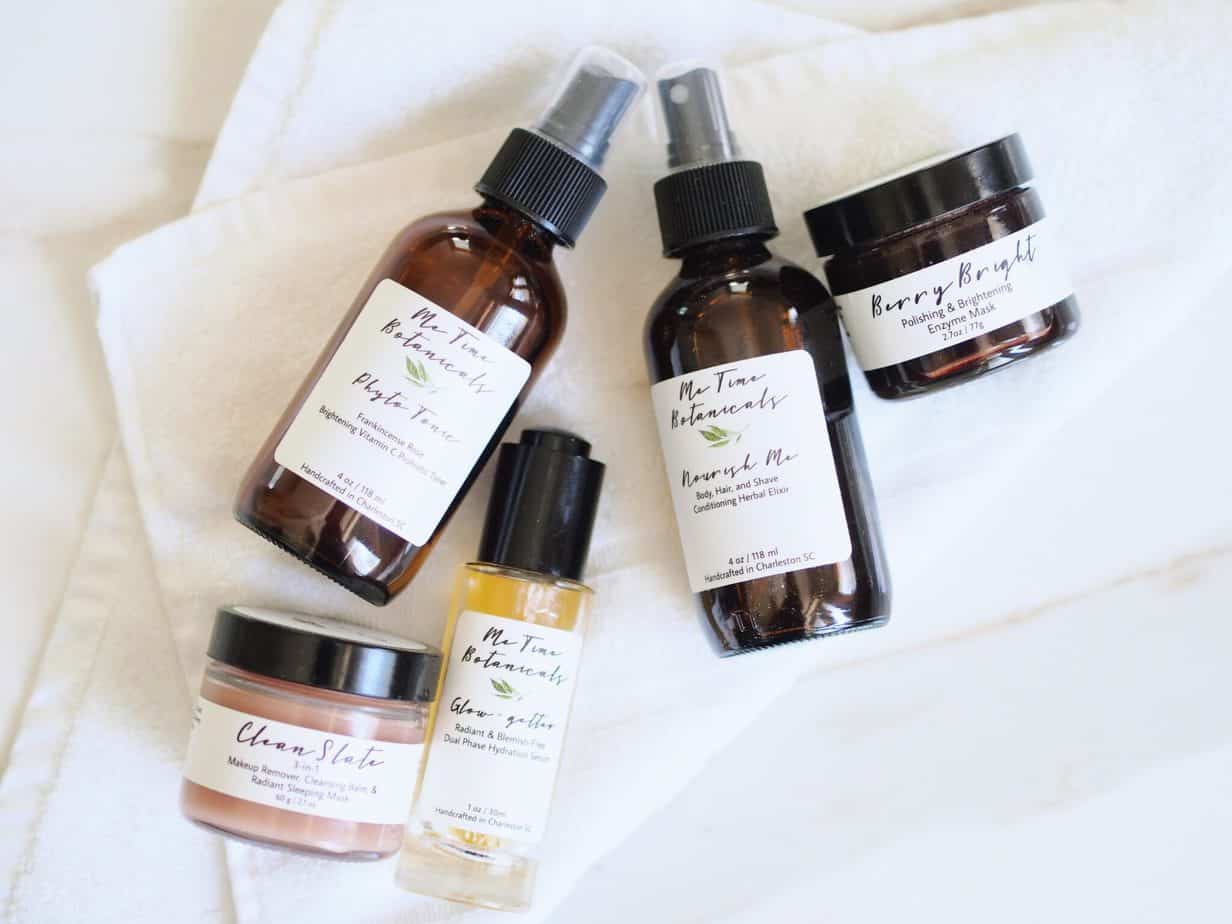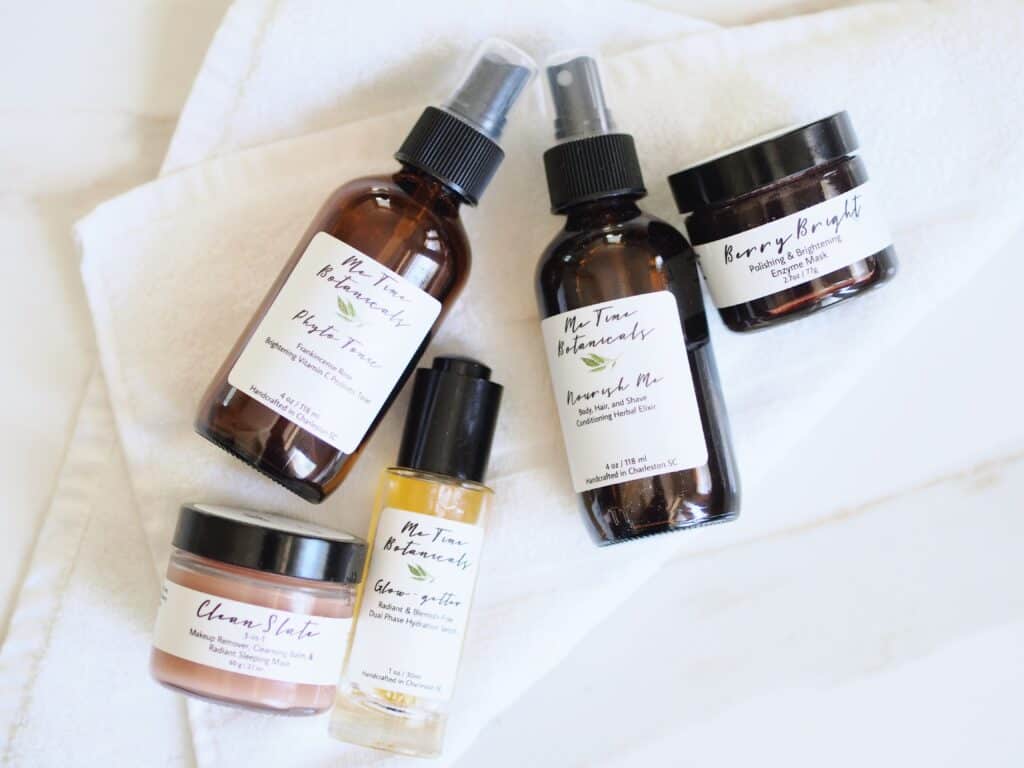 This serum is my favorite product from the line. Just look at how gorgeous it is! It has such a beautiful color and glow, AND this serum works so well.
This serum delivers moisture and hydration while fighting blemishes, plumping skin, blurring pores, and brightening skin tone. What more could you ask for?
It's a mix of botanical oils, a natural form of retinol, and several plant extracts. It has a light scent and comes in a glass bottle with dropper.
I love using this serum twice a day. When applied to damp skin, it absorbs quickly and doesn't leave any residue or greasy feeling.
I started using this serum in November 2019 and have continued since then. It works so well on my hormonal acne and really has brightened my skin. My acne scars and hyperpigmentation have diminished. At only $42, this is the most effective affordable serum I have used.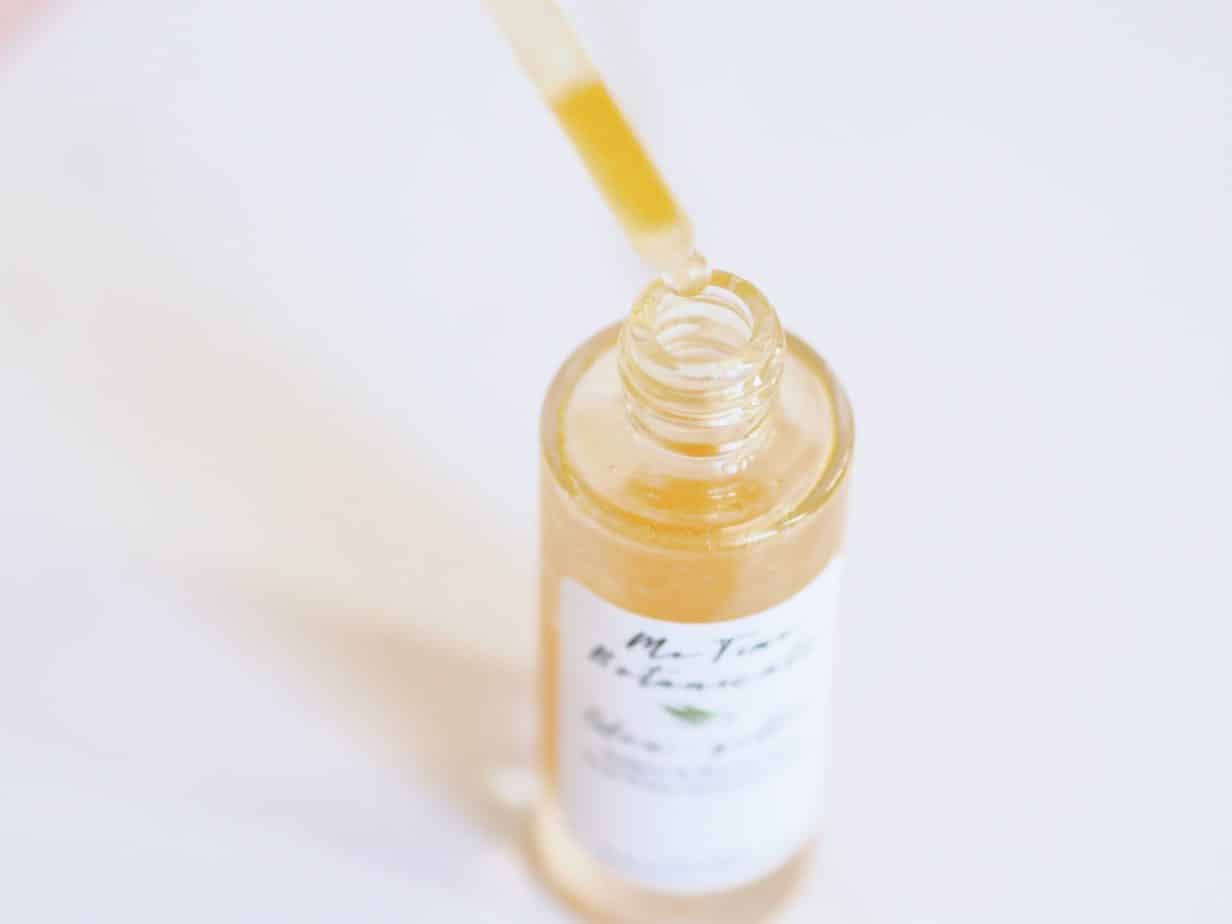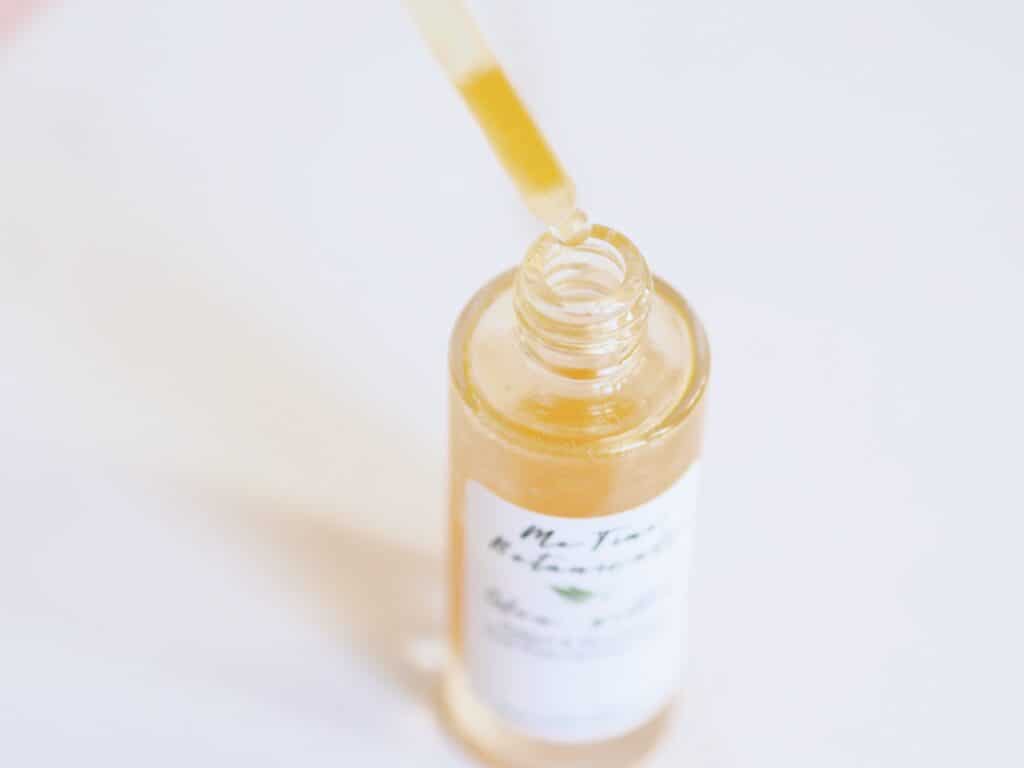 My second favorite product from this brand. It's an amazing compliment to the Glow-getter serum.
This facial mist hydrates, plumps, and brightens skin tone. It's formulated using organic distilled hydrosols, vitamin c, and plant extracts which are rich in antioxidants. It also contains natural probiotics to freed the microbiome of your skin.
I love spraying this mist all over my face a few times. The light frankincense scent is very grounding and the mist feels refreshing on my skin. Then I massage the serum over and it all soaks in beautifully.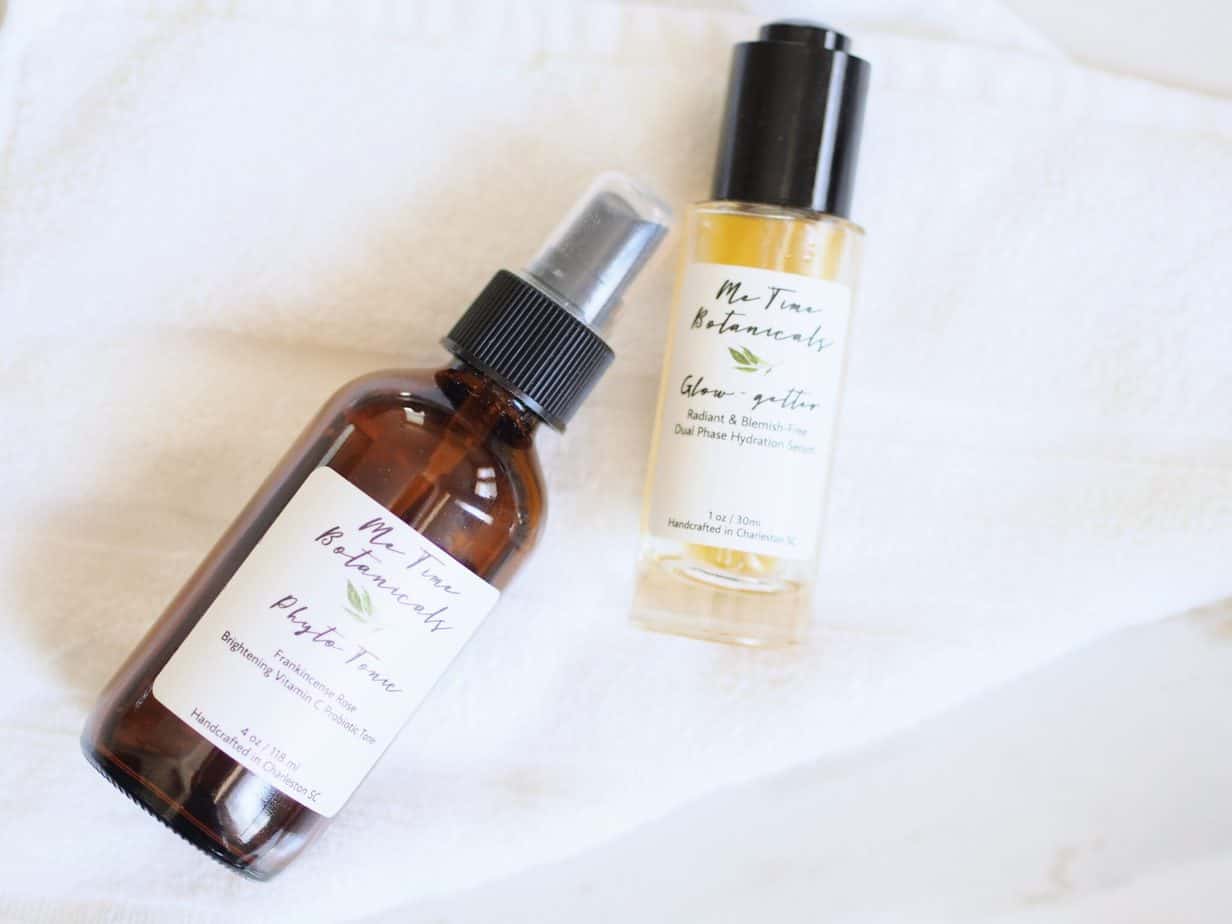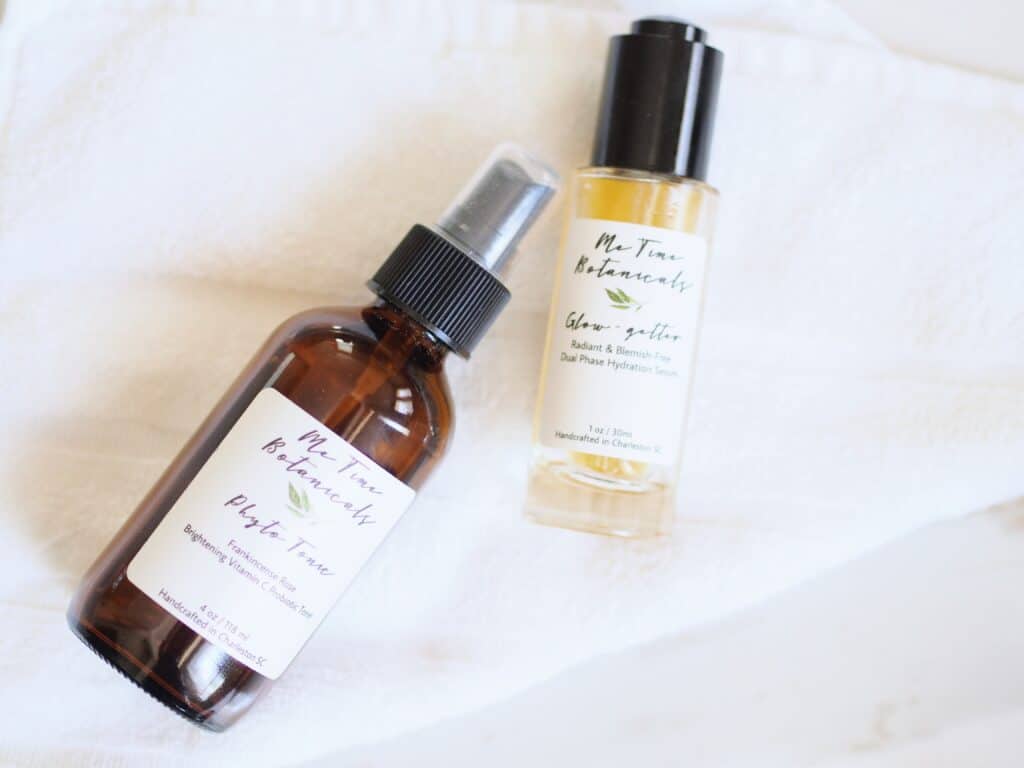 I love exfoliating masks and this is a delicious one! It smells amazing, and makes my skin feel really soft.
The base is raw honey and it has a blend of berry powders, along with other extracts and essential oils. This mask helps to brighten, exfoliate, plumps, and hydrate skin.
You can use this mask to do a quick exfoliating cleanse or leave it on longer for the full ritual. You might even be tempted to eat it!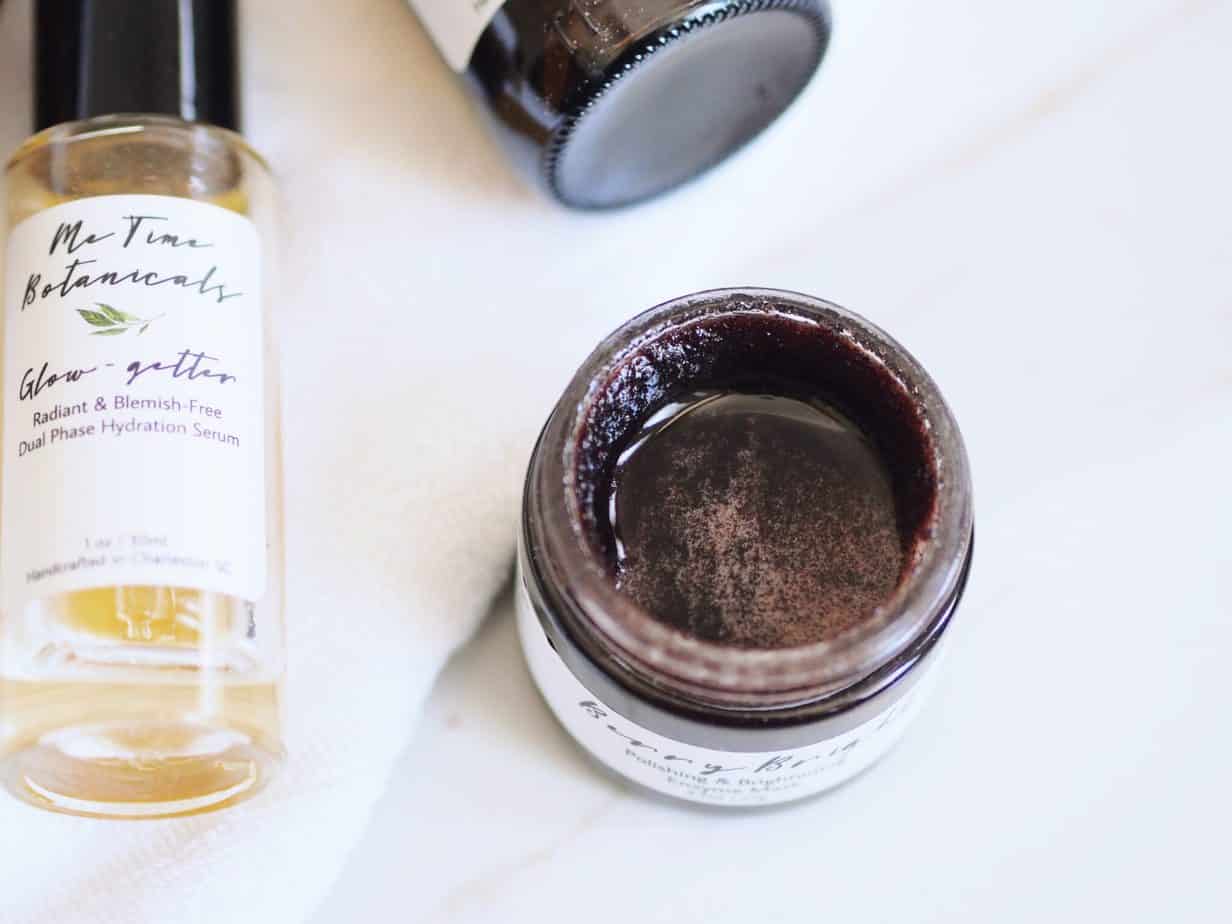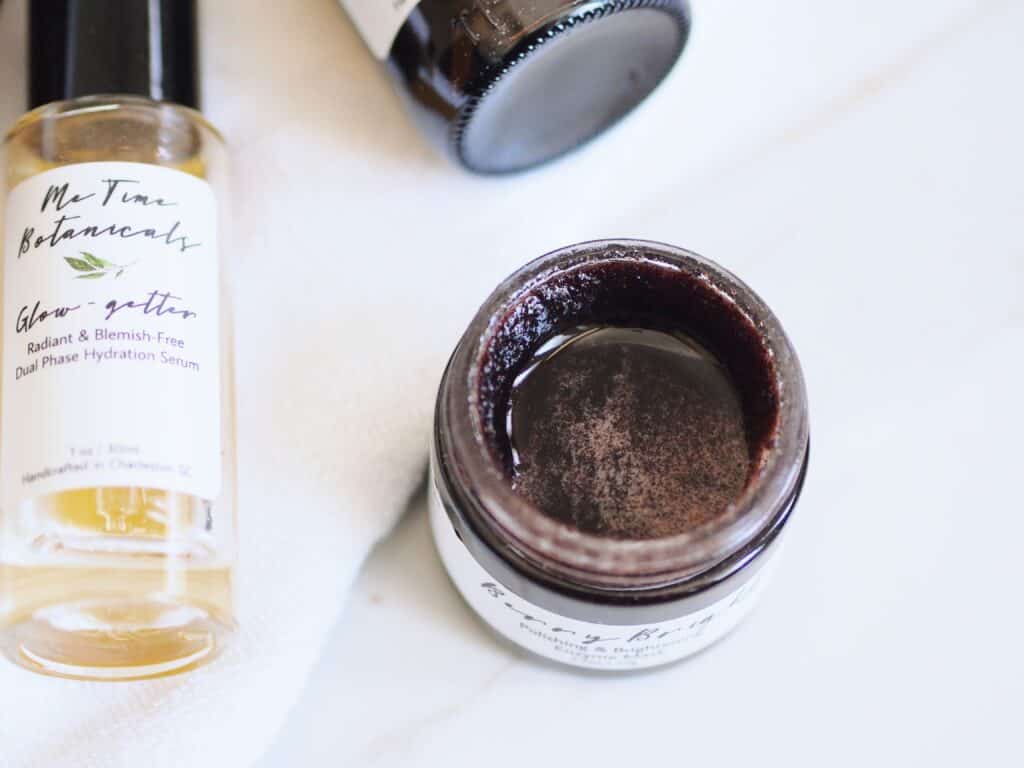 This amazing multi-tasker is a makeup remover, cleansing balm, and sleeping mask. I love to dab a bit of this into my skin at night before sleeping for extra moisture.
It's formulated with mango butter and a few skin loving oils, plant extracts, and clay for all skin types. It is unscented which I appreciate for my sensitive skin.
If you've never tried a cleansing balm, it's a great way to remove makeup and do a double cleanse. If you don't wear makeup you could probably just use this to cleanse your skin. It doesn't rinse off since it is butter and oil based, so you need to use a warm, damp cloth to remove it.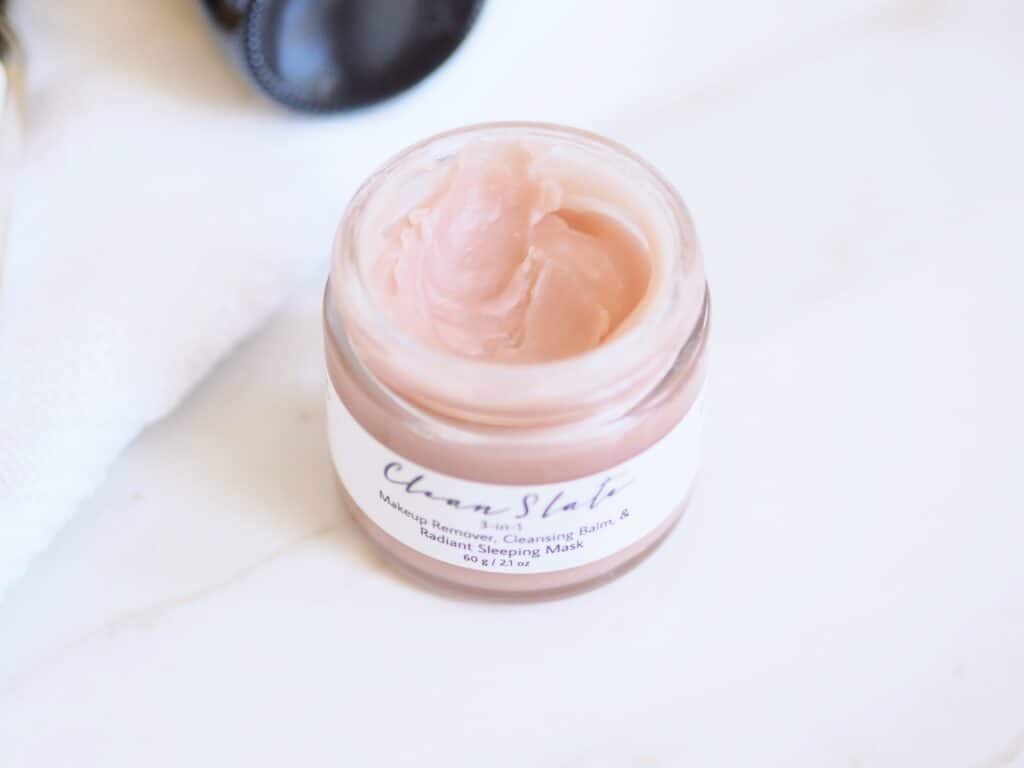 My dry skin loves body oils so this gets a lot of use. I spray it on after my shower, and it works best when applied to damp skin so this timing is perfect. It also has a beautiful scent, from a mix of orange and frankincense essential oils.
This blend of organic oils and herbs strengthens the skin barrier, softens, and moisturizes. It also nourishes the scalp and can be used to smooth down frizz (just a tiny bit). You can also use it as a shave oil, but I have not tried that yet.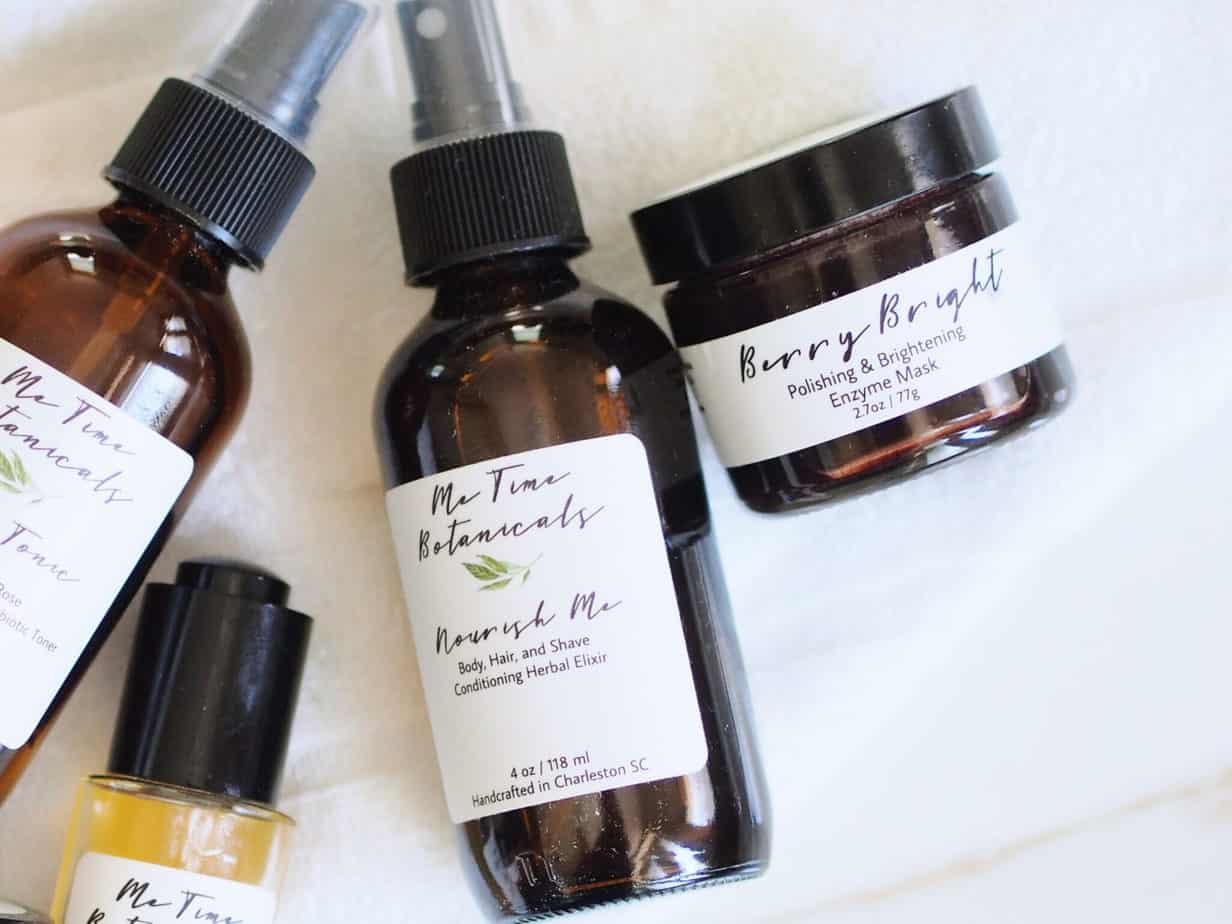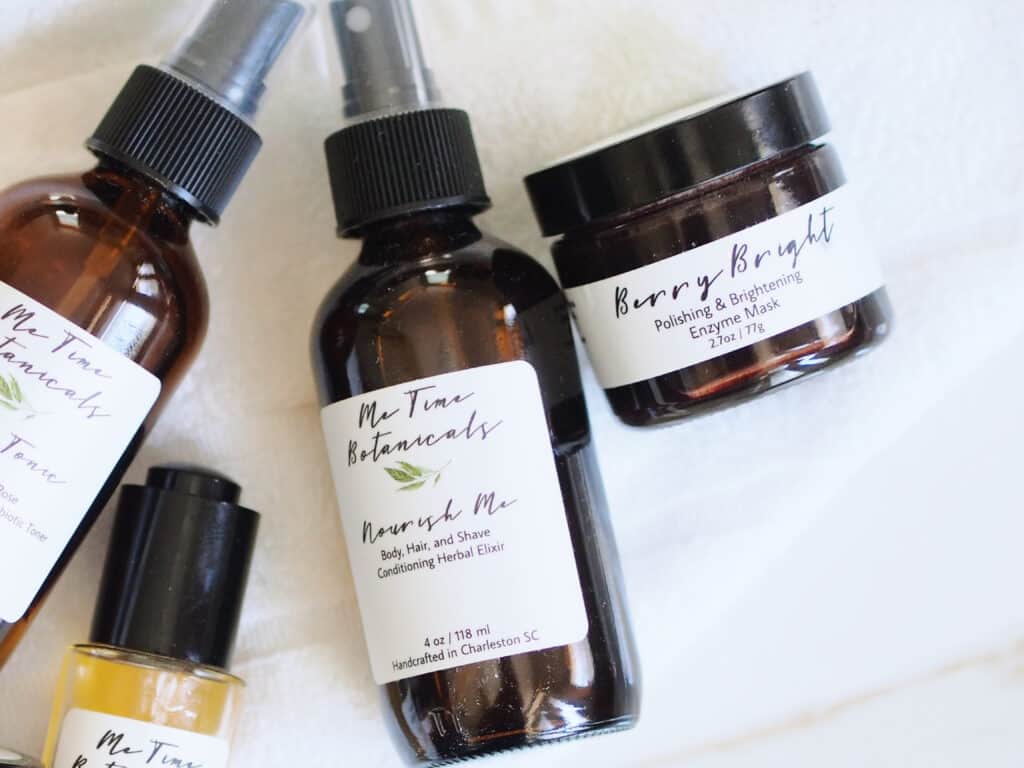 Another great multi-tasker! Clay Play polishes, purifies, and cleanses skin leaving it softer and brighter. It's one of my favorite clay masks to use on my sensitive skin because it doesn't get that tight, dry feeling.
This mask is made with skin softening clays and soothing organic botanicals for all skin types. It's a powder that you mix with water and apply to your skin.
To use it as cleansing grains, you use it as a face wash and rinse off right away. As a purifying mask, you would apply to your face and leave it on for 15 minutes.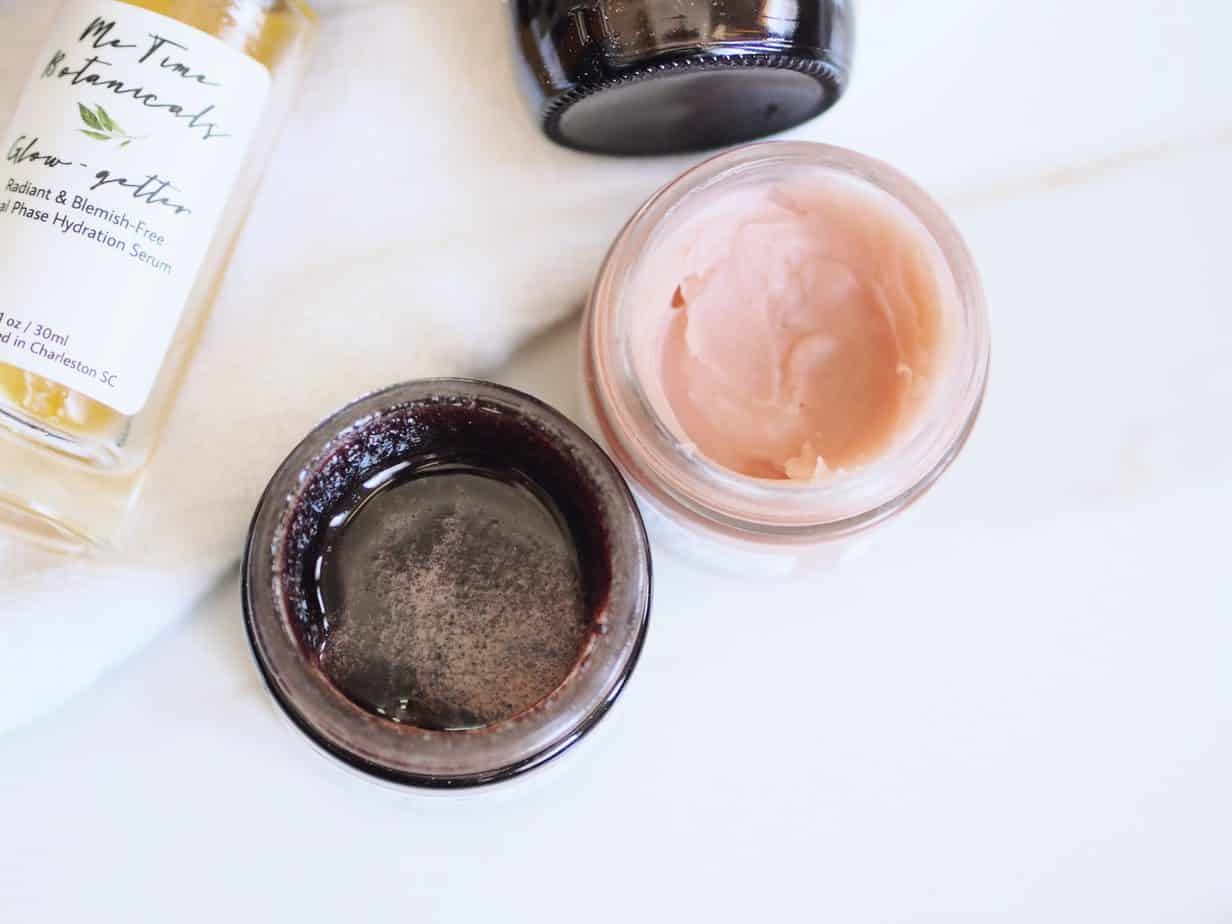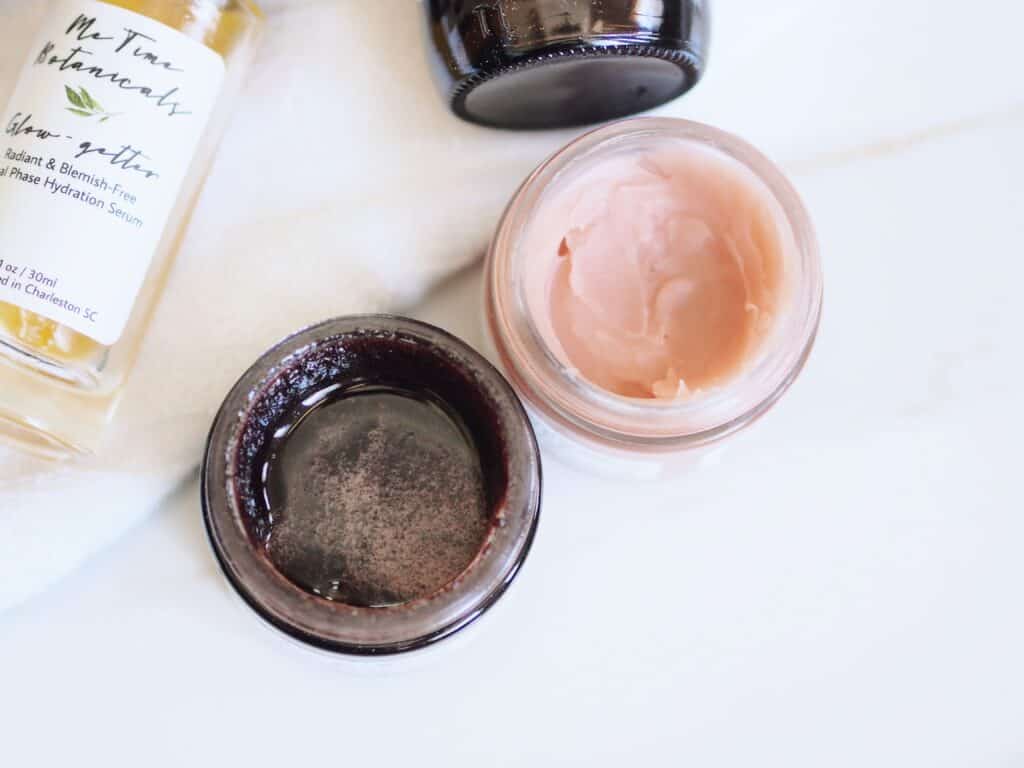 Final thoughts
Me Time Botanicals is a brand I fully support with products I love to use. I know that many clean beauty products and brands are expensive and Me Time Botanicals offers the same quality at a fraction of the cost.
If you want to try out some of these products, you can try the Me Time Mini Sample Set. This set contains 6 samples of the top sellers and includes free shipping.
Check out these related posts:
LOOKING FOR BUDGET NATURAL BEAUTY PRODUCTS?
Sign up to my email list and get access to my clean beauty shopping guides along with weekly emails with clean beauty and curly hair tips.
Clean Beauty Coaching
I now also offer Curl & Clean Beauty Coaching sessions virtually! You can book a 15-minute, 30-minute, or 45-minute session with me to help you solve your curly hair or clean beauty struggles. Click here to learn more.
Want to remember this? Save Me Time Botanicals Review to your favorite Pinterest board!