How To Dry Curly Hair
This post may contain affiliate links, and I will earn a commission if you purchase through these links. Please read the disclosure policy for more details.
Drying curly hair requires different methods and techniques from other hair types. Often, as curlies we struggle with maintaining curl clumps, reducing frizz, and having a lasting style. But there are a few tips and tricks to help dry your curls with lasting results whether you air dry or diffuse.
Ready to transform your frizz into defined, bouncy curls and waves? Join my free Quick Start Guide To Mastering Your Curls email course below and be on your way to fabulous curls in just a few steps!
Check out my Tips For Drying Curly Hair YouTube video at the bottom of this post if you prefer video content.
Don't touch your hair while it is drying.
This is probably one you have heard before but it is just so important that I have it listed first. The more you touch your hair, the more you disrupt the curl pattern and cause frizz.
Those clumps you have when your hair is wet will only stay if you style your hair and then leave it alone until it is dry. Wait for that cast to form if you used gel and scrunch it out after you are 100% sure your hair is dry.
Gently flip the part while it is drying.
To avoid having your hair set in a funky place or for better root volume GENTLY flip your part from side to side as it dries. It is key for you to be gentle because remember you want to avoid touching your hair as much as possible. Doing this will allow you to easily change your part if you want to over the next few days.
Try root clipping for volume.
When I had my professional Devacut the stylist used root clips to help lift the hair off my scalp and get more root volume. I have been unable to successfully replicate this technique but I have seen many curlies who do it.
Whenever I try the clips just fall over and create kinks near the roots that look worse. So watch some YouTube videos on this and give it a try to see if it will work for you.
Try different kinds of plopping.
There are a few different kinds of plopping like wet plopping and microplopping. Some people also sleep in the plop.
Plopping is when you take your hair towel and pile your hair on your head then wrap the towel around to leave your hair to dry for some time. Some people do this for 15 minutes and others will do it for hours or even overnight.
Microplopping is when you use the hair towel to push the hair up towards your scalp and press against your scalp to absorb the water. This is repeated all over the head until your hair isn't dripping. See my post below for a video tutorial of microplopping.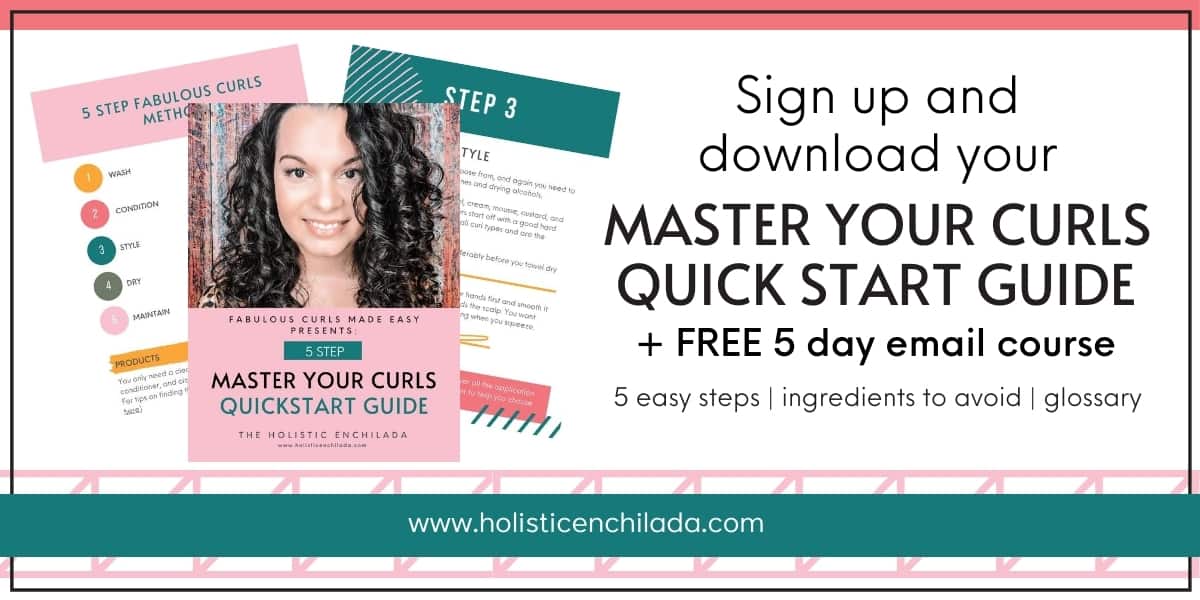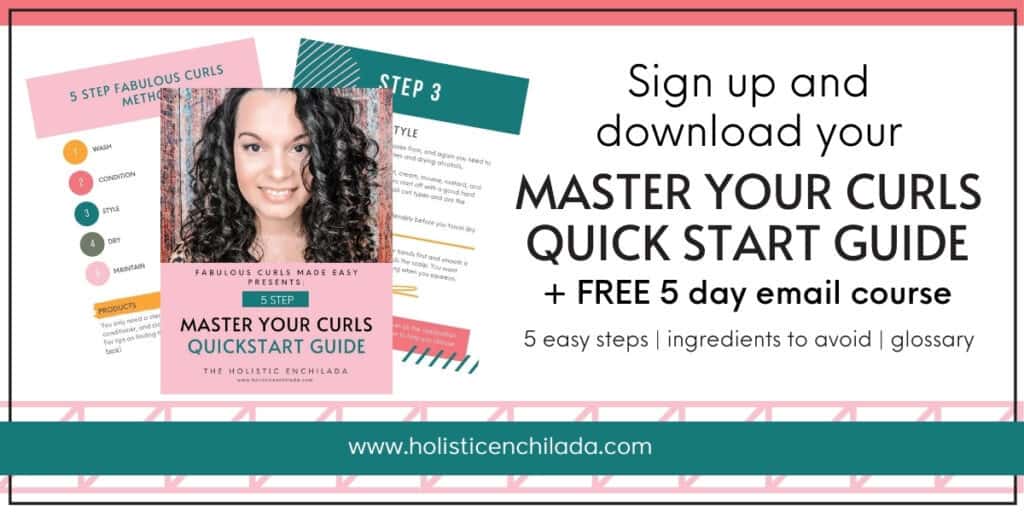 Wait at least 15 minutes before diffusing.
It's really common for people to style their soaking wet hair then start diffusing right away. But when you do this your hair is still not set and it can cause some frizz, wonky curls, or not allow you to get a cast.
I noticed whenever I diffused soon after styling my hair would look more stringy, frizzy, and would not get a cast. I would have so many weird curls with strange curl, or really not curly, patterns.
When I waited at least 15 minutes (my hair dries quickly) then I would get a cast which meant my curls were disrupted less by the hot air blowing and it maintained the clumps which resulted in less frizz and nicer curls.
Experiment with a few different times, and definitely start with more if your hair takes a long time to dry. Ideally, you want your ends to have a cast before you start diffusing.
Hover diffuse the root area before diffusing the ends.
Not only does this give me more volume in the root area, but it also helps the clumps stay in the roots so that I actually have more definition close to the roots.
I also have less wonky looking curls since it gives even more time for the ends to form a cast and dry in their proper curl pattern.
You want to spend the least amount of time heat styling your ends so this ensures that since the other parts of your hair are what takes the longest to dry.
Wait at least 2 hours for your hair to set before leaving the house or going to bed.
This is one of my best tips for you. I know it can be difficult for some to follow this, but I have switched to washing my hair int he evening so that it is dry by 9 pm and I usually go to bed around 11. This way my hair has around 2 hours to set and it is much less likely to be ruined in my sleep.
If I have to leave the house this also allows it to be much less affected by the weather. The sooner you expose your freshly washed hair to the elements, the more likely it is to be affected by it resulted in frizz and loss of definition.
How To Air Dry Curly Hair
Now I usually don't air dry because I am impatient but when I do there are a few things I make sure to do. As I mentioned in the tips above, I don't touch my hair and I move my part while it is drying so it doesn't get flat near my roots.
When applying products, I don't apply too much and I don't apply any near my roots. I focus on the lengths of my hair and scrunch up to get some product near the root with the squishing. This way I don't weigh it down. The more product you use the longer your hair will take to dry. All I use is a gel but I know some curlies need more than one product.
I try to get as much moisture out of my hair by microplopping after applying my styling products to soaking wet hair. For some people, it helps to apply styling products to damp hair instead of soaking wet. But for my best clumps, my hair has to be dripping wet when applying products. You want to have nice, frizz free clumps but you don't want them to be too big or too wet once you're done styling and letting them air dry.
If I see frizz, I wet my hands and add a teeny tiny amount of styling product, like less than pea sized, emulsify in my hands then finger coil the frizzy curl.
How To Diffuse Curly Hair
Again, as I mentioned before I always wait at least 15 minutes then start to hover diffuse the root area before drying the ends. I like to pixie diffuse which is when you place your ends in the diffuser then push up towards the scalp and leave it there for about 30 seconds, then repeat all over. You could hover diffuse all over if you don't want much shrinkage.
Also, you don't want to keep your hair in the same position while drying. I start with my head almost upside down, then flip to one side and dry, then flip to the other side and dry. This helps have an even curl pattern and then you can choose where you want to part your hair. This also helps the hair stay off the scalp while drying for better root volume.
If you see some frizz when you go to diffuse, then wet your hands and finger coil the frizzy curls. You shouldn't need to add more product.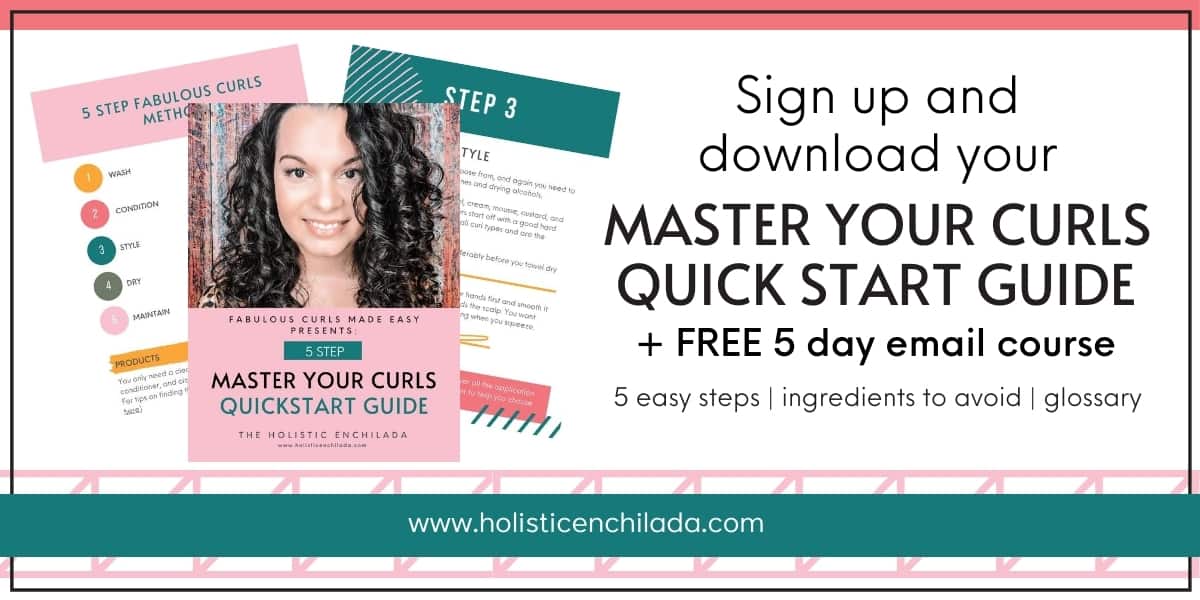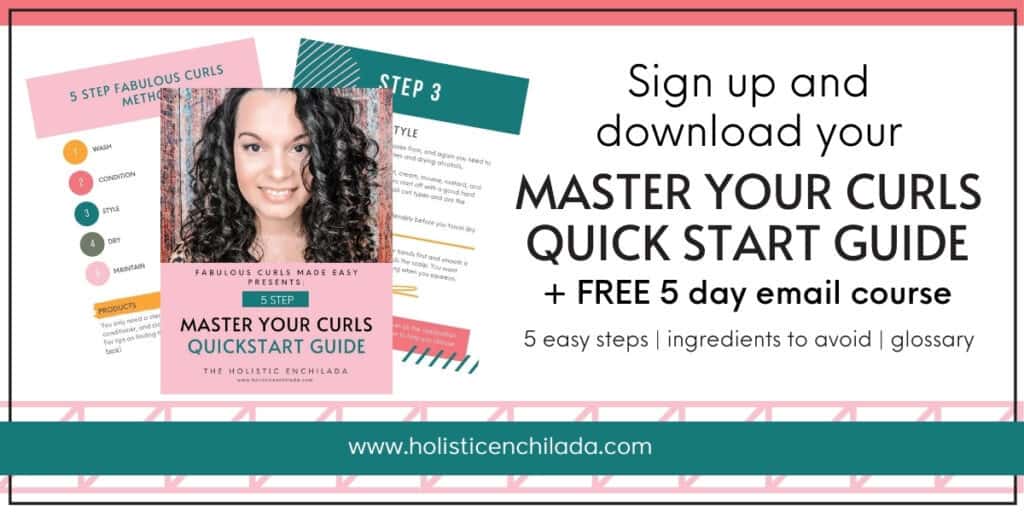 If you want help with embracing your naturally wavy or curly hair, you can join my FREE email course and download my FREE pdf guide, THE QUICK START GUIDE TO MASTERING YOUR CURLS, full of everything you need to know to get started and bring out your beautiful waves and curls.
You can also read my other popular posts on curly hair:
Want to remember this? Save How To Dry Curly Hair to your favorite Pinterest board.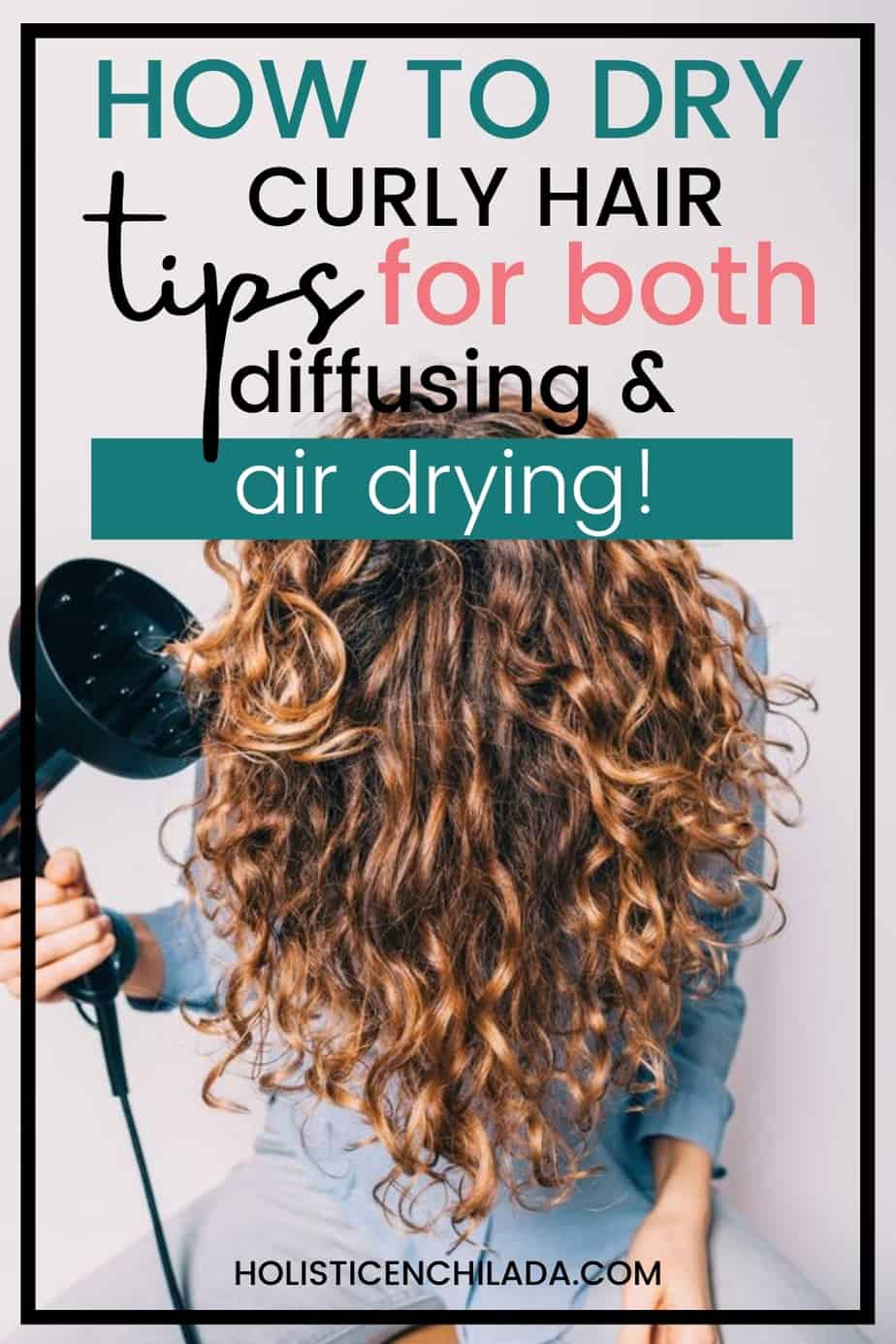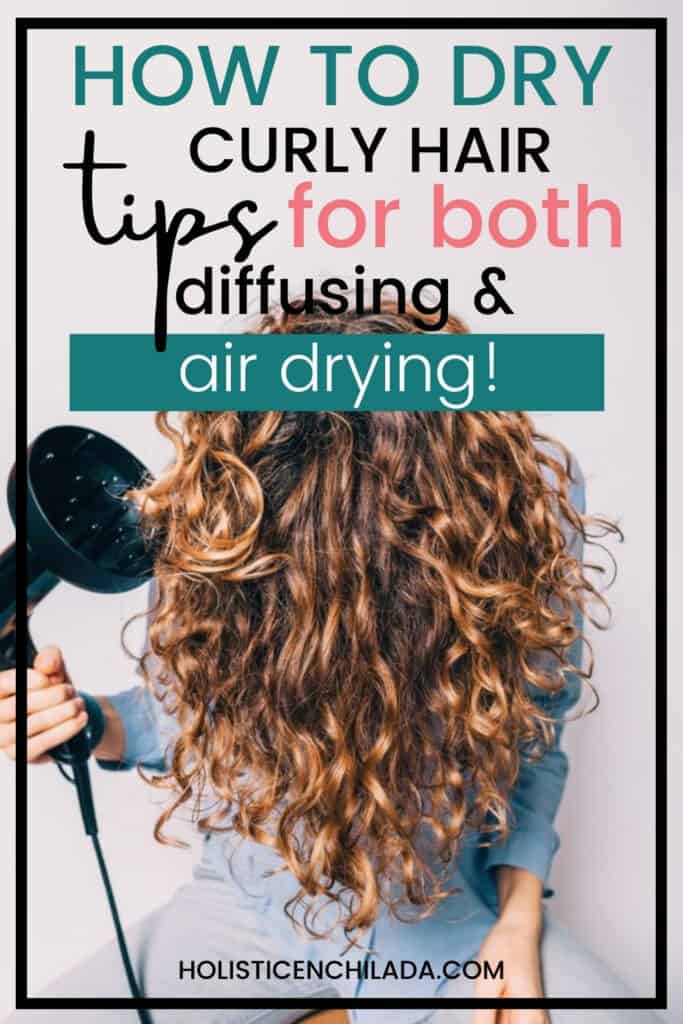 Fabulous Curls Academy
Fabulous Curls Academy is my monthly membership program that gives you access to several online courses that will guide you through creating a simple routine that gives you fabulous results. Learn what your hair type is, which products and ingredients will work for you, and how to style according to your hair type by creating a simple routine that works. No more confusion about products or methods or battling frizz and time. Click here for more info.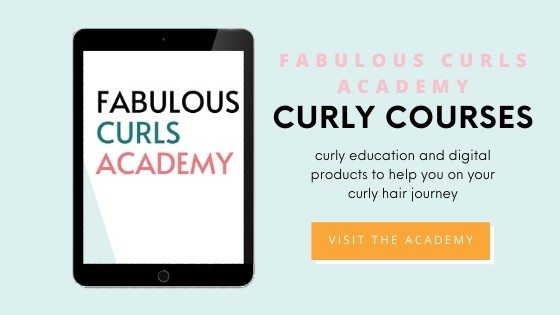 Curl & Clean Beauty Coaching
I now also offer Curl & Clean Beauty Coaching sessions virtually! You can book a 15-minute, 30-minute, or 45-minute session with me to help you solve your curly hair or clean beauty struggles. Click here to learn more.